This homemade gochujang sauce is insanely rich in flavor, can be used multiple ways, and takes only 10 minutes to make. It's the ultimate combination of sweet, spicy, and savory!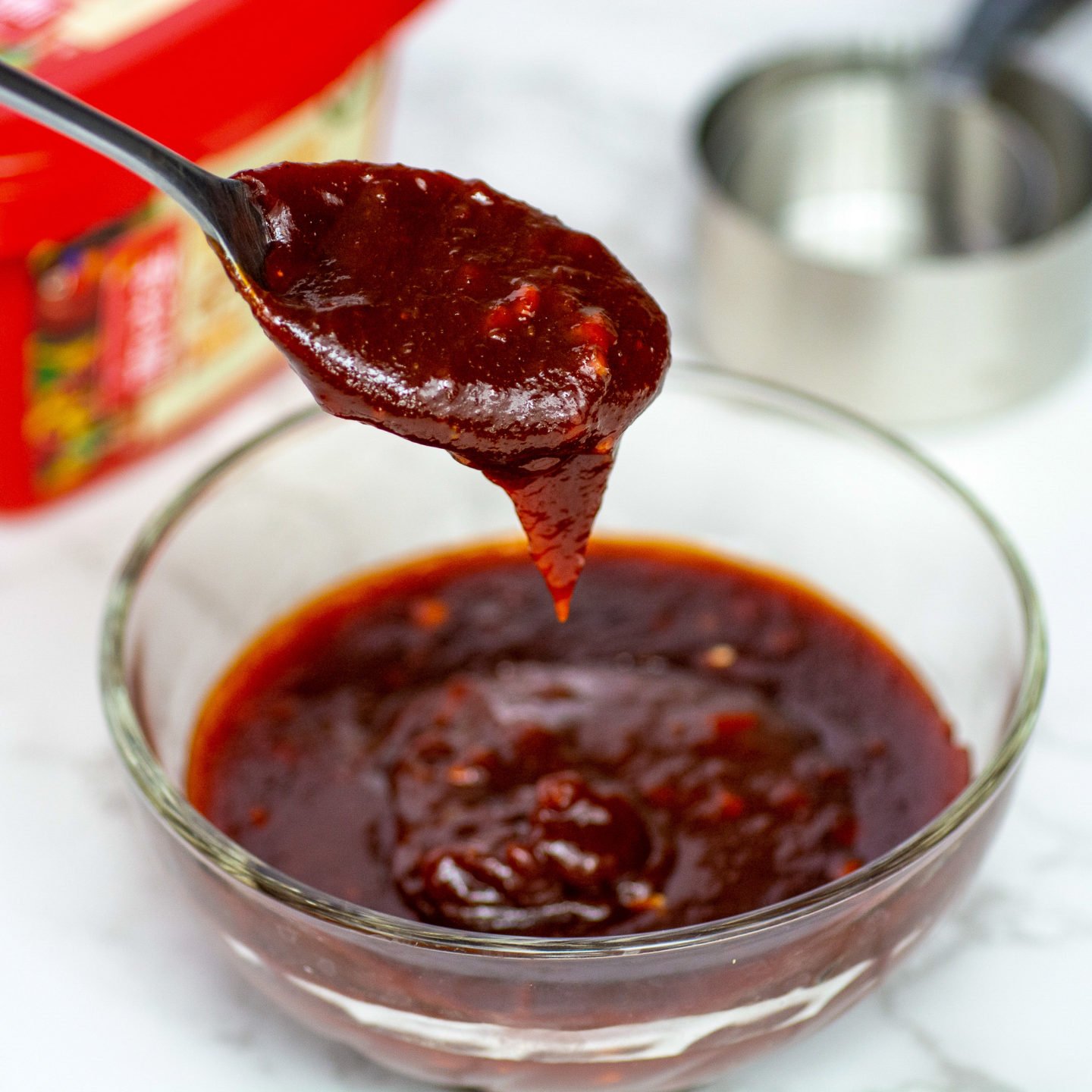 There's nothing quicker and easier than making this sauce. And trust me, with the right ingredients, you'll want to make it over and over again.
Even though this sauce has become so popular because of bibimbap, it's not the only dish with which it can be served. Make this sauce in advance and store it in your fridge for the perfect addition to any meat, stew, veggies, ramen, or even soup.
Table of Contents
What Is Gochujang Paste?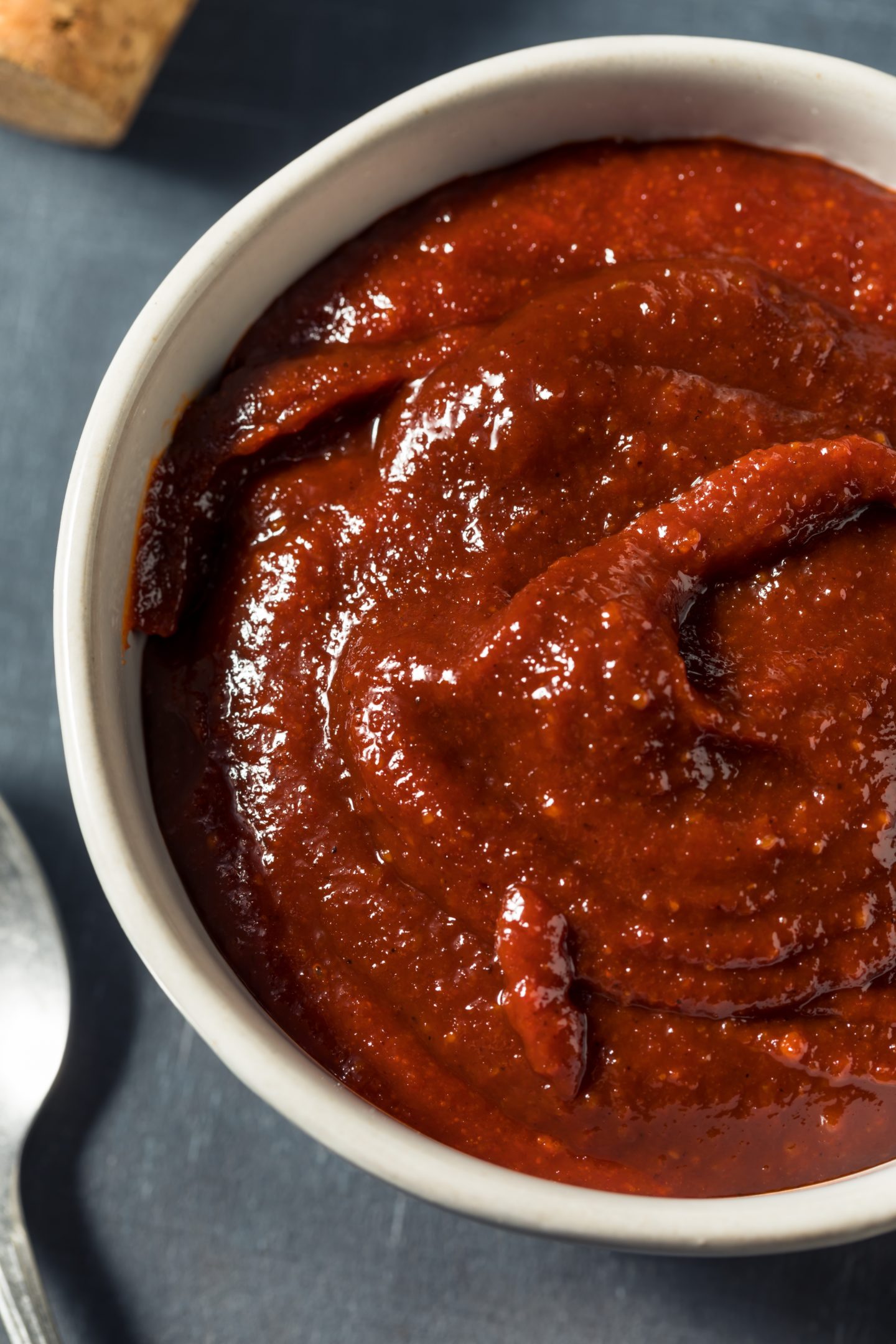 Gochujang is a Korean chili pepper paste used as a base for stews, dipping sauces, meat marinades, and even soups. It is basically made of red chile peppers, sweet rice powder, and soybeans. It's the ideal ingredient for reaching a strong umami flavor in any dish.
You can purchase this paste at almost any grocery store. But if you want to be sure that you find it, check any of your local Korean stores. Also, you can always buy it at an online retailer.
Gochujang Sauce Ingredients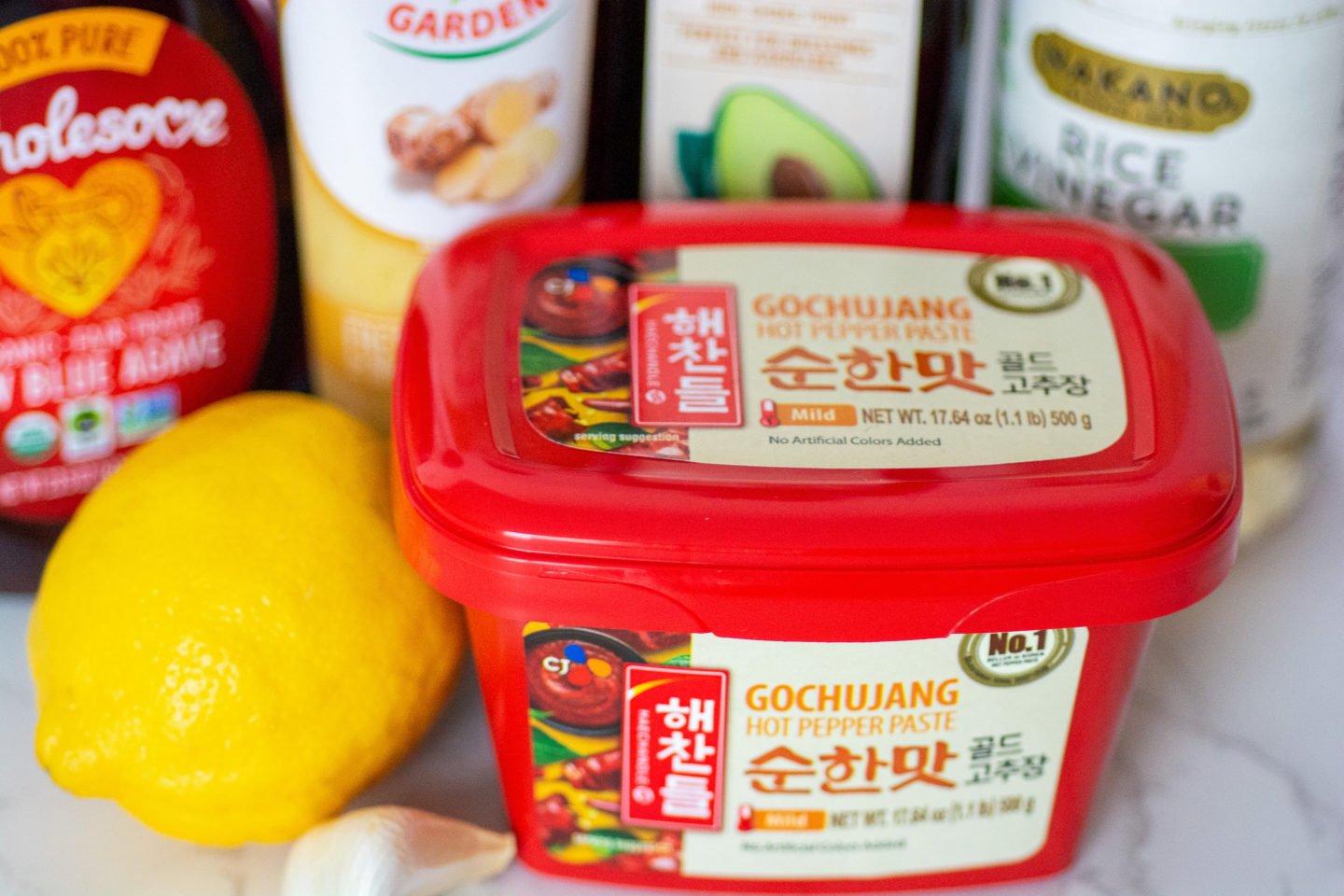 To make this gochujang sauce, you'll need 10 simple ingredients. But depending on your preferences, not all of the ingredients are necessary. So, here's what you should prepare for this gochujang sauce:
Gochujang paste — Keep in mind that not all paste brands have the same level of spiciness. So depending on what brand you choose, the amount of heat in your sauce may differ.
Agave nectar — It seems perfect for this sauce. But if you don't have any, you can easily substitute this ingredient with honey, maple syrup, sugar, or any sweetener. Just make sure you choose the right amount.
Rice vinegar — It helps reach that umami flavor.
Lemon juice — This one is totally optional, but I just felt like it is just what the sauce needed.
Soy sauce — Yes, definitely add this one, especially if you're planning on using the gochujang sauce for stir-frying or stew.
Avocado and sesame oil — I don't like adding too much sesame oil, so using a combination of these two was the perfect option. But if you want to, you can use just the sesame oil.
Ginger paste — It gives extra flavor, so definitely add it. It's okay to use either ginger paste or freshly grated ginger.
Garlic — What's a better combination than ginger and garlic?
Salt — Since the gochujang paste itself isn't salty, you can add salt to the sauce. But that's optional since the soy sauce that you add also helps balance out the taste.
If you notice that the gochujang sauce is turning out too thick, add a tablespoon or two of water into the sauce when making it. Water helps to reach the desired thickness without causing any harm to the sauce's flavor.
How to Make Gochujang Sauce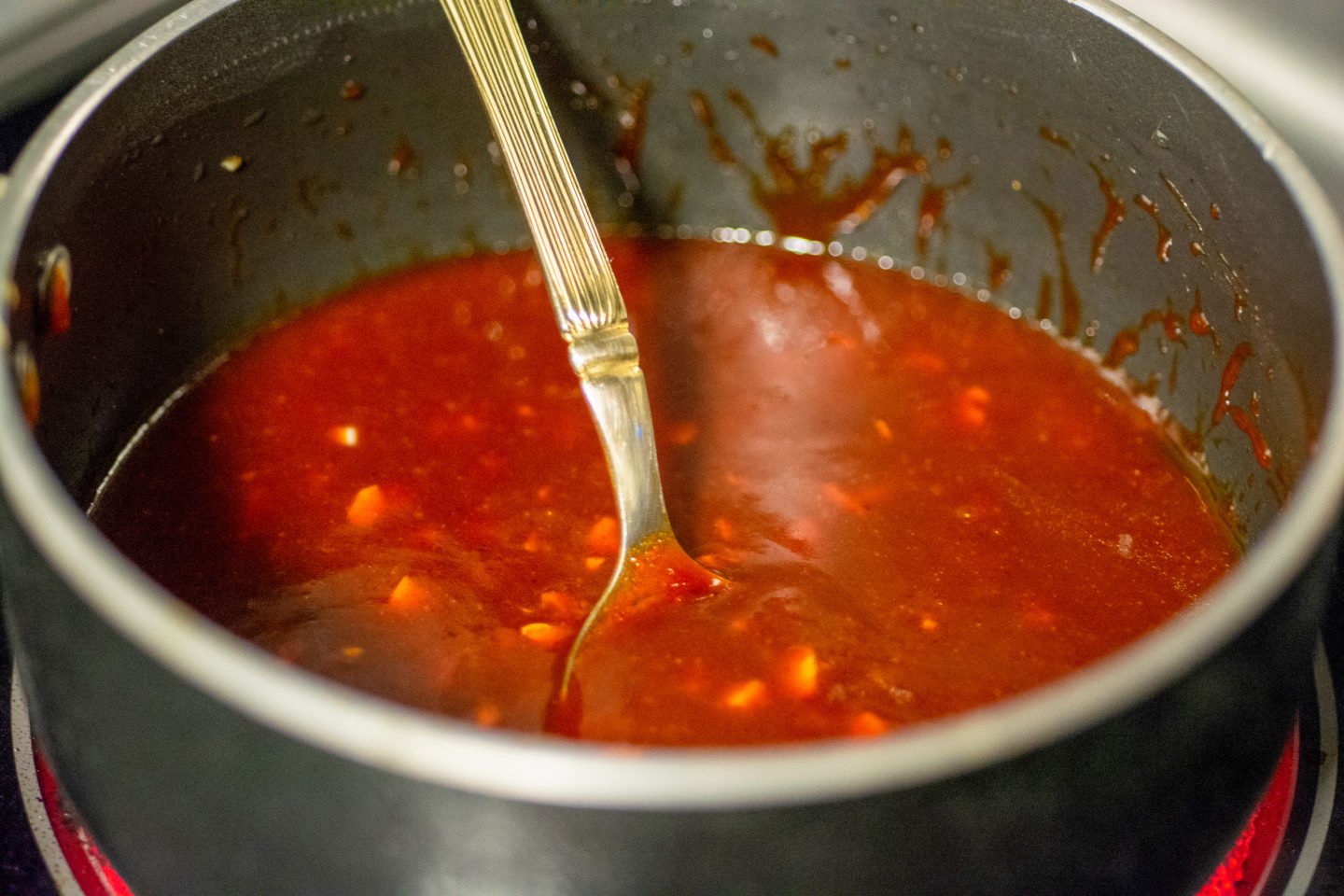 Making this gochujang sauce is as straightforward as it gets — you'll need to take two simple steps. But before you start making it, make sure that you prepare a small pan.
Here's what you should do next:
Step 1. Stir fry the garlic: add the garlic, avocado oil, and sesame oil into a pan and cook the garlic until brownish.
Step 2. Add everything else: in a bowl, combine all other ingredients and add them to the garlic. Let the sauce simmer for a few minutes, and then serve.
Ways to Use Gochujang Sauce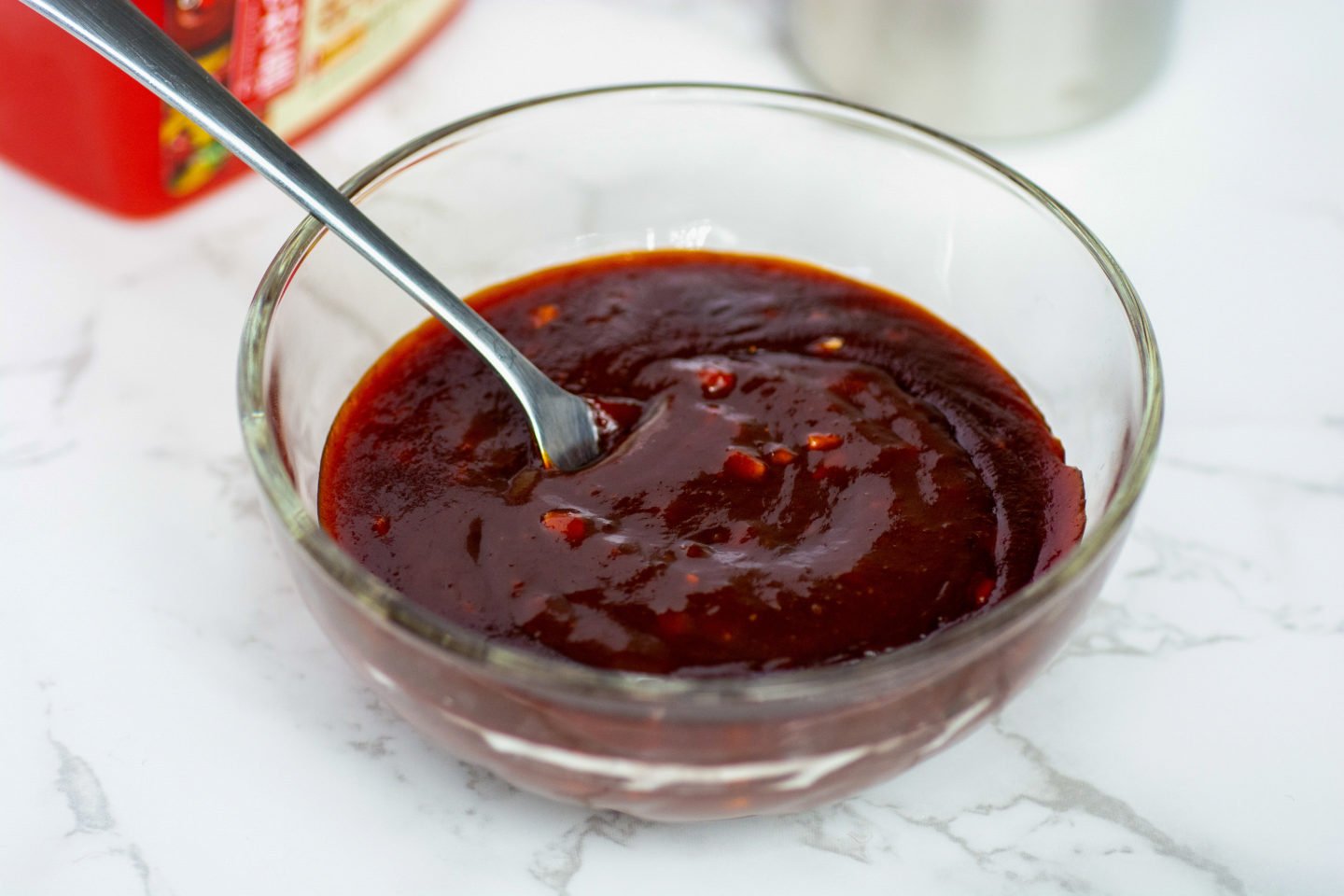 The most popular way to use this gochujang sauce is to drizzle it over bibimbap (Korean rice bowl). You can definitely spice things up with this sauce if you love rice and veggie bowls since it goes great with almost anything if you love rice and veggie bowls.
The gochujang sauce can also be used as a dipping sauce. Try serving it with these air fryer radishes, tofu sticks, or garlic brussels sprouts.
This sauce can also be added to stews and stir fry meat. If you want your dish to have that umami flavor, then don't even double guess it and add some of this sauce to boost the flavor. Here are a few more ideas of where to add the gochujang sauce:
Storing Instructions
Once the sauce is ready and completely cooled down, transfer it to a glass jar and place it in your refrigerator. It can be stored in your fridge for up to two weeks. Then whenever you feel like cooking something with this sauce, you'll always have it prepared.
If you want the gochujang sauce to last longer, you can freeze it instead. Just make sure to use a freezer-friendly container or a zipper bag.
Recipe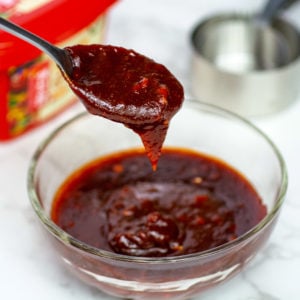 Easy Gochujang Sauce
This homemade gochujang sauce is insanely rich in flavor, can be used multiple ways, and takes only 10 minutes to make. It's the ultimate combination of sweet, spicy, and savory!
Ingredients
3

tbsp

gochujang paste

1

tsp

agave nectar

2

tbsp

rice vinegar

1

tbsp

lemon juice

2

tbsp

soy sauce

1

tbsp

avocado oil

1

tbsp

sesame oil

1

tsp

ginger paste

2

cloves

garlic

diced

½

tsp

salt

water

add to adjust the thickness
Instructions
In a small bowl, combine the gochujang paste, agave nectar, rice vinegar, lemon juice, soy sauce, ginger, and salt.

Add the garlic, avocado, and sesame oil to a small pan and place it over medium heat. Cook until slightly brownish (about 2-3 minutes).

Pour the gochujang sauce mixture into the pan and stir. Let the sauce simmer for 3-5 minutes. Add some water to adjust the thickness.
Nutrition
Calories:
186
kcal
Carbohydrates:
13
g
Protein:
3
g
Fat:
14
g
Saturated Fat:
2
g
Polyunsaturated Fat:
4
g
Monounsaturated Fat:
8
g
Sodium:
1594
mg
Potassium:
147
mg
Fiber:
1
g
Sugar:
6
g
Vitamin A:
48
IU
Vitamin C:
9
mg
Calcium:
16
mg
Iron:
1
mg