Table of Contents
Durians are a divisive fruit that some love and others loathe. They are notorious for giving off a pungent odor that stops most in their tracks. But don't let the aroma deter you from attempting this durian cake. It's moist and bursting with sweet, buttery durian flavor – but not overwhelmingly so.
This cake is a perfect example of East meets West. If you're looking for something new that you've probably never tasted, then this is the recipe for you.
Do you know your tropical fruit varieties?
The jackfruit and durian are two completely different fruits? Can you tell the difference? You wouldn't want to mix up these two ingredients up, so check out our article on the difference between jackfruit and durian.
Recipe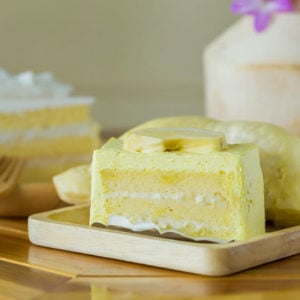 Durian Cake
This cake is a perfect example of East meets West. If you're looking for something new that you've probably never tasted, then this is the recipe for you.
Ingredients
Cake
1

cup

butter

¾

cup

caster sugar

3

eggs

1

cup

durian meat

2

tbsp

milk

1

cup

self-raising flour

⅛

tsp

baking powder

¼

tsp

bicarbonate of soda
Frosting
3 ½

cups

powdered sugar

½

cup

butter

softened

1

tsp

vanilla

1

tbsp

milk
Instructions
Preheat oven to 340°F. Grease and line a 9" baking tin.

Add butter and caster sugar to a large bowl. Beat until creamed. The mixture should have turned pale in color.

Continue beating the mixture, adding one egg at a time until they are all well combined.

Use a spoon to stir in the durian and milk.

Sift in the flour, baking powder, and bicarb soda. Fold the dry ingredients until fully incorporated into the mixture.

Scoop batter into a 9" baking tin and bake for 40-50 minutes until cooked or until a skewer inserted into the cake comes out clean.

Allow the cake to cool for 5 minutes before turning out onto a wire rack to cool completely. Slice the cake into thirds and ice the top of each layer.
To make the icing
Beat the sugar and butter with an electric mixer until combined. Start the mixer on a low speed to avoid a mess.

Add vanilla and milk and continue beating until smooth and well combined. If the frosting is a little dry, keep adding a small amount of milk at a time until it reaches a spreadable texture.
Choosing the right durian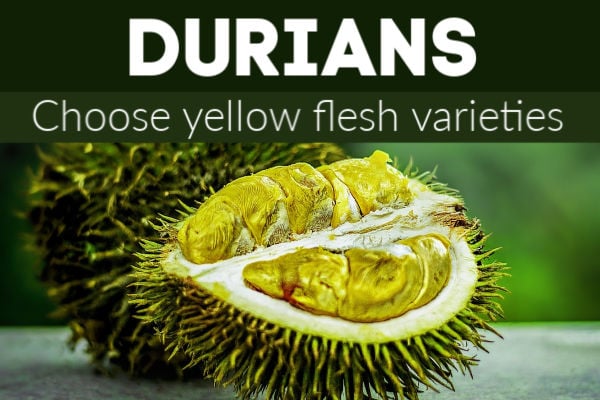 Durians come in different varieties, all of which have varying flavor. If you have the choice at a market, choose a durian with the darker yellow-colored flesh. Durians with pale flesh are usually a combination of sweet and bitter, which isn't ideal for cake making.
If you enjoy cake then be sure to check out our genoise sponge which doesn't use baking powder to get its lift. Check out how we do it now! Prefer something a little easier to make? Find out how to bake banana bread.
Tips to improve your durian cake
Get organized before starting
When making a cake, it's a good idea to use ingredients that are at room temperature. So remove all refrigerated items 30 minutes before starting.
Cream sufficiently
The initial step in making a cake is to cream the butter and sugar. This step is essential and shouldn't be rushed. If you stop beating too soon, there won't be enough time to incorporate air into the mix. The result will be a dense cake with air pockets as the air can't be released from the mixture as it cooks.
During creaming, the mixture should turn a pale color and be light and fluffy. You'll notice that the volume in the bowl has increased by around 50%.
Add the eggs slowly
When the time comes to add eggs, crack them in one at a time. Allow each one to mix into the sugar and butter thoroughly. Rushing this step could cause the egg to separate from the mixture resulting, once again, in an unpleasant textured cake.
Double sift dry ingredients
Getting the dry ingredients distributed throughout your durian cake will help produce a delicious, evenly formed end product. A useful extra step is to sift the dry ingredients into a bowl then mix it for a minute. This will ensure the raising agents (baking powder and bicarbonate soda) aren't in clumps through the flour. Finally, sift the dry into the wet ingredients. It doesn't take long to add this step, and it reduces those unsightly large bumps in your cake.
Go easy on the flour mixing
When you add the flour into the wet ingredients, use a gentle folding technique, and stop immediately once the ingredients are combined. Over-stirring can cause air bubbles in the baked cake.
Divide the mixture before baking
If you've decided to make a layer cake, slicing the layers can be a challenge. Another option is to use weighing scales to even out the mixture then add to separate baking tins. This handy trick will result in even, perfectly uniform layers.
If you have a crack at making this durian cake, please let me know how it tasted in the comments below.
Further reading
If you enjoy tropical fruit, then take a look at this resource on what does papaya taste like or learn how to tell the difference between pawpaw and papaya. Have you tried a feijoa? Not a lot of people have in the United States. Discover what a feijoa tastes like here.