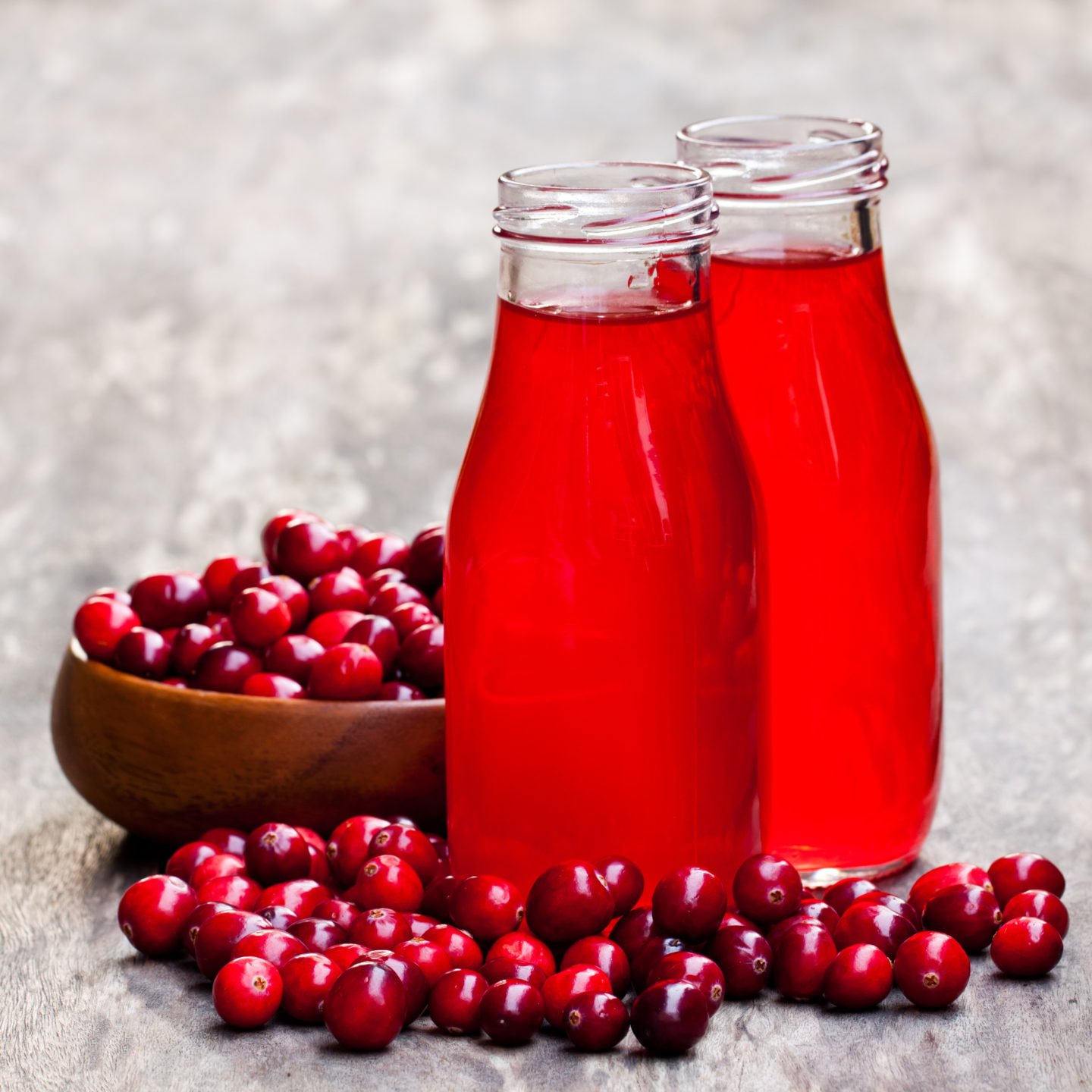 Cranberries have long been beneficial to women. Your grandmother might even remember this small sour fruit as a solution to women's monthly menstrual woes—that is, menstrual cramps.
Cranberry juice helps relieve premenstrual symptoms such as cramping, bloatedness, stress, and mood swings. It also lowers the chances of getting those muscle spasms in athletes.
Learn how exactly this miraculous fruit works against menstrual cramps, its other health benefits, and some other natural remedies to relieve muscle cramps.
Table of Contents
Cranberry Juice and Cramps
Cranberries and cranberry juice have long been used as supplements to relieve menstruation discomfort. Many women swear by cranberries for PMS relief, saying that cranberry juice can help with bloating, fluid retention, and cramping.
However, there is no one size fits all. Some may find relief, but others may not find it as effective. There is science behind the claim, though. Some research has shown cranberry juice to help decrease inflammation, scavenge free radicals, prevent UTI, and balance the body's minerals like potassium and magnesium.
Provides Balance of Potassium, Magnesium, and Calcium
Cranberries contain potassium, which can help the body retain less water and reduce bloating associated with PMS. It can also assist in preventing muscle cramps due to its effect on maintaining efficient muscle contraction.
Another vitamin in cranberry juice, manganese, can help women avoid PMS symptoms. Studies have shown that magnesium levels in women with PMS are lower than those without the condition. Experts have also advocated magnesium supplementation as a PMS prevention and treatment strategy.
Manganese also eases some of the exhaustion women experience during their period.
According to a review of magnesium's effect on PMS, you will need to include cranberries in your diet for two months to see the results. However, further well-designed clinical trials need to be conducted to enhance the data.
Decreases Inflammation
Cranberry juice also contains quercetin, an anti-inflammatory that can lower prostaglandin levels in the body. Prostaglandins have a role in cramping and pain during periods.
Researchers have also shown that an imbalance between calcium and magnesium can cause inflammation, while low magnesium contributes to cramps. A diet high in magnesium, such as cranberry juice, can help alleviate PMS.
Contains Antioxidants
During PMS, mood swings, depression, anxiety attacks, and stress may occur. Because cranberries and cranberry juice are rich in Vitamin C and other minerals, they help alleviate stress. This juice contains powerful antioxidants that help ward off free radicals that further damage cells.
A group that received 100 mg magnesium, 4 mg zinc, 400 mg calcium plus 200 IU vitamin D twice a day for 12 weeks showed decreased stress.
Prevents UTI
The uncomfortable symptoms of a woman's menstrual cycle and a urinary tract infection are a terrible combination. It can cause more severe muscle cramping.
Cranberry juice contains nutrients that prevent bacteria from causing bladder or kidney infection. It is thought to inhibit E. coli, the most common bacteria that cause urinary tract infections.
Helps Produce Effective Muscle Contraction
Potassium is an essential component in nerve conduction and muscle contraction. A lack of potassium can cause a range of symptoms, from simple muscle cramps to irregularities in heartbeat.
Cranberries are a good source of potassium, benefitting women who suffer from cramps during their menstrual cycle and athletes who may also be prone to its depletion.
Cranberries' Influence on Menstruation
The presence of vitamin K in cranberry fruit juice is implicated to be beneficial in regulating women's menstrual cycles. Vitamin K can influence estrogen production and prevent excessive bleeding, but most studies involving humans are inconclusive.
Other Health Benefits of Cranberry Juice
Vitamin C, quercetin, flavonoids, and anthocyanins are just a few of the antioxidants found in cranberries. Half a cup of cranberries contains 3.3 mg of magnesium, 44 mg of potassium, and 4.4 mg of calcium, among its many vitamins and minerals.
Although some antioxidants are lost during juicing, cranberry juice still contains a significant amount of these substances. It provides more than 78 percent of the Daily Value (DV) for vitamin C in one cup or 240 mL. Thus, fresh cranberry juice is the best way to reap its health benefits.
Supports a Healthy Gut
Helicobacter pylori (H. pylori), a bacteria that causes stomach ulcers, can be inhibited by A-type proanthocyanidins found in cranberry juice. The antioxidant effects of cranberry can also provide prevention against colonic cancer.
Prevents Breast Cancer
An organization against breast cancer reports that women who intake large amounts of vitamin C are less prone to developing certain types of cancer, including breast cancer.
Provides Antioxidants
The antioxidants in cranberries reduce the risk of developing various diseases such as hypertension, heart disease, and vascular conditions.
Supports Cardiovascular Health
Vitamin C in cranberries helps reduce low-density lipoprotein or the "bad" cholesterol and slows the damage to the heart's blood vessels.
Promotes Better Dental Health
Proanthocyanidins, a vitamin found in cranberries, prevent germs from causing plaque formation.
Causes of Cramps
If you've ever been startled awake in the middle of the night or halted by a sudden stiffening of the legs, you know how painful muscular cramps can be. A muscle cramp is a sudden and involuntary contraction of one or more muscles. In most situations, the cause is unknown.
The risk of getting muscle cramps increases as you get older, when dehydrated, during pregnancy, or have medical problems like diabetes and nerve, liver, or thyroid diseases.
In men, leg cramps, particularly in the calf, are the most common type of muscle cramp. They can be caused by overuse of a muscle, dehydration, muscle strain, or just holding a position for an extended amount of time.
In women, there are also muscle cramps that occur with the menstrual cycle. Dysmenorrhea causes cramps in the lower abdomen that occurs shortly before and throughout periods. These are contractions of the uterine muscle triggered by molecules called prostaglandins, which are implicated in pain and inflammation. The higher the levels of prostaglandins, the more severe the pain.
Some more severe causes of cramps require medical attention. Contact your doctor if you experience severe muscle cramps that interfere with daily living. Some possible reasons are:
Inadequate blood supply
An inadequate blood supply can cause arteriosclerosis of the extremities, the narrowing of the arteries that deliver blood to your legs, leading to cramps.
Nerve compression
A cramp-like pain radiates down your legs when the spine's nerves become impinged. This type of muscle pain worsens when walking.
Mineral deficiency
A diet low or unbalanced in potassium, calcium, or magnesium can contribute to leg cramps. Also, medications such as those used to treat high blood pressure can deplete these minerals.
Endometriosis, uterine fibroids, adenomyosis
These are gynecologic conditions in women that cause severe menstrual cramps.
Pelvic inflammatory disease
This infection of the female reproductive organs can cause lower abdominal pain. Sometimes, health experts mistake this symptom as a urinary tract infection or a common menstrual cramp.
Natural Methods to Relieve Cramps
Muscle Cramps
Avoid dehydration—fluids aid in the contraction and relaxation of muscles and keep muscle cells hydrated. Replace fluids at regular intervals throughout your activity, and continue to drink water or other fluids after you've stopped exercising.
Stretch your muscles before and after using them for an extended amount of time. Stretch before bedtime if you suffer leg cramps at night. Light exercise before bedtime, such as pedaling a stationary bicycle for a few minutes, can also help reduce cramps when you sleep.
Menstrual Cramps
Choosing light, nutrient-dense foods is one of our top pieces of advice for surviving period pains. Aside from eating the right foods to avoid menstrual cramps, make sure you eat regularly.
Avoid skipping meals because feeling hungry will worsen the cramping. Also, drink plenty of water because dehydration worsens muscle spasms, resulting in more severe cramping.
During your period, treat your body with respect. Get as much rest as you can, and keep as comfortable as possible when you don't have to be active.
The National Institute of Health also recommends exercise as it can help decrease stress, which has been linked to worsening menstrual symptoms, including cramping.
Taking a hot bath, placing a heating pad over the belly, or massaging the lower abdominal wall may also help.
If self-care practices don't work, a nonsteroidal anti-inflammatory medication can usually help you feel better.
How Much Cranberry Juice to Drink
Even when it is good, everything needs to be in moderation. The same is true with cranberry juice. Studies show that 120-750 mL daily doses for up to 90 days are required to get maximum health benefits. But, always speak with your healthcare provider to find out what dose might be best for you.
Because cranberry juice is rather acidic on its own, store-bought blends sometimes combine other juices or add a lot of sugar to make the drink taste more pleasant. Make sure to avoid any cranberry juice combination with less than 100 percent juice.
Drinking pure, unsweetened cranberry juice is the healthiest option. However, it may interfere with certain medications such as blood-thinners, atorvastatin, nifedipine, medications broken down by the liver, and diclofenac. Seek professional advice if you have other maintenance medications.
Summary
Muscle cramps can be irritating and disabling. Thankfully, drinking cranberry juice and resorting to other home remedies can help relieve them. If your pain does not go away after some time, do not hesitate to contact your doctor.
In all things, moderation is key. Cranberry juice can be acidic, so keep an eye on how much you consume.