There is something so decadent about the rich flavor of coffee in velvety smooth ice cream. Coffee is one of America's favorite ice cream flavors, but is it caffeinated?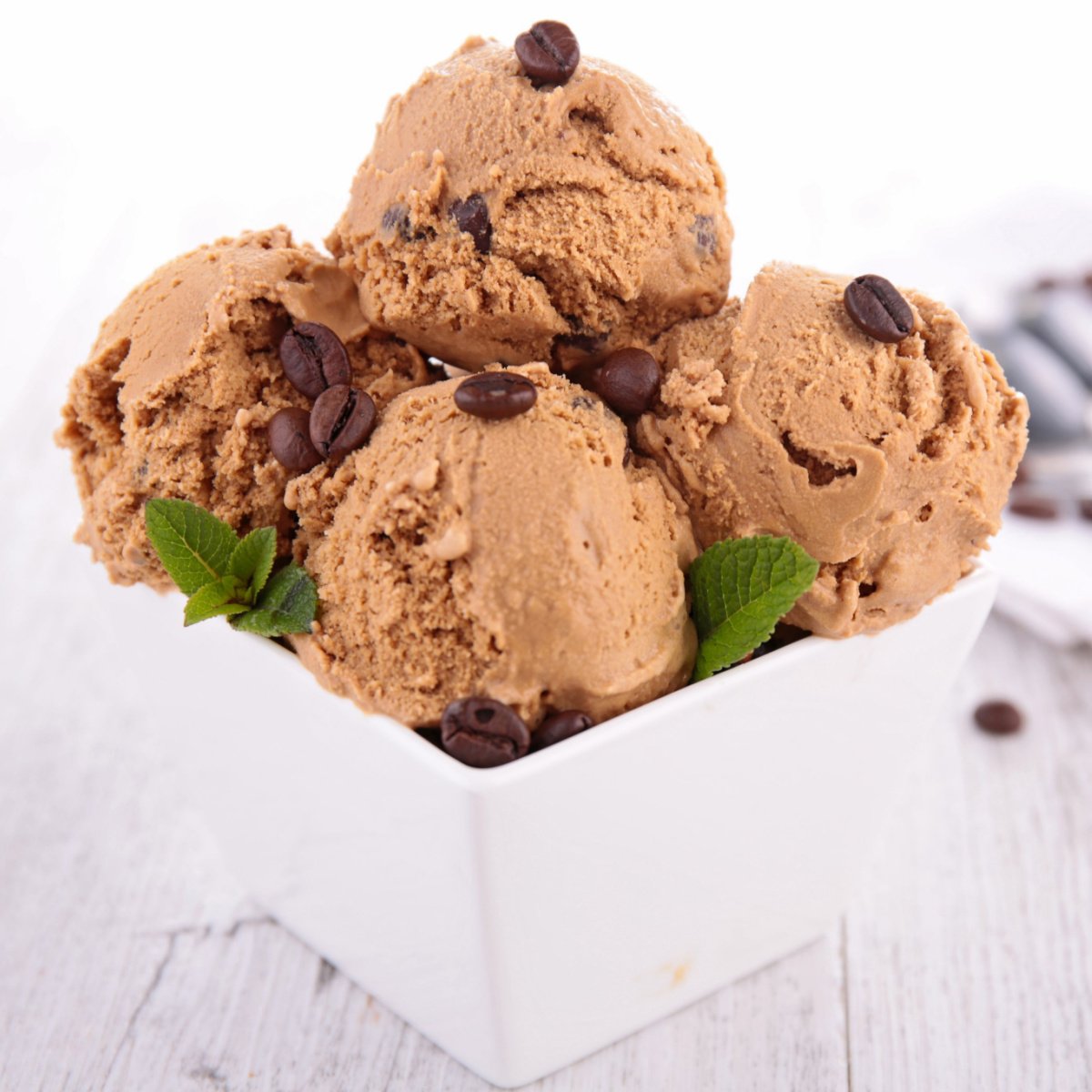 Lusciously smooth coffee ice cream does have caffeine. The average coffee ice cream has between 20-45 mg of caffeine per serving. It may not give a seasoned coffee drinker a buzz, but it's a lightly caffeinated treat.
Table of Contents
How Much Caffeine is in Coffee Ice Cream?
Coffee ice cream has the perfect balance of sweetness and full coffee flavor. There is no better dessert than coffee ice cream, but is it so caffeinated that it will keep you up? Luckily, the average coffee ice cream only has between 20-45 mg of caffeine per serving. That's not enough caffeine to keep you up.
The USDA provides a tool to help find the caffeine values of common drinks. According to their tool, the average cup of coffee has 95 mg of caffeine, while soda has 29 mg. That makes coffee ice cream's caffeine content closer to soda than regular coffee.
How Ice Cream Makers Infuse Coffee into Ice Cream
Like the options at your favorite cafe, coffee ice cream comes in many varieties. No matter how you take your coffee, there is an ice cream version for you. Each variety infuses caffeine into the cream in its own way.
A straight cup of joe is the most common way to get that coffee flavor into ice cream. Regular coffee gives the icy treat its flavor and low caffeine content.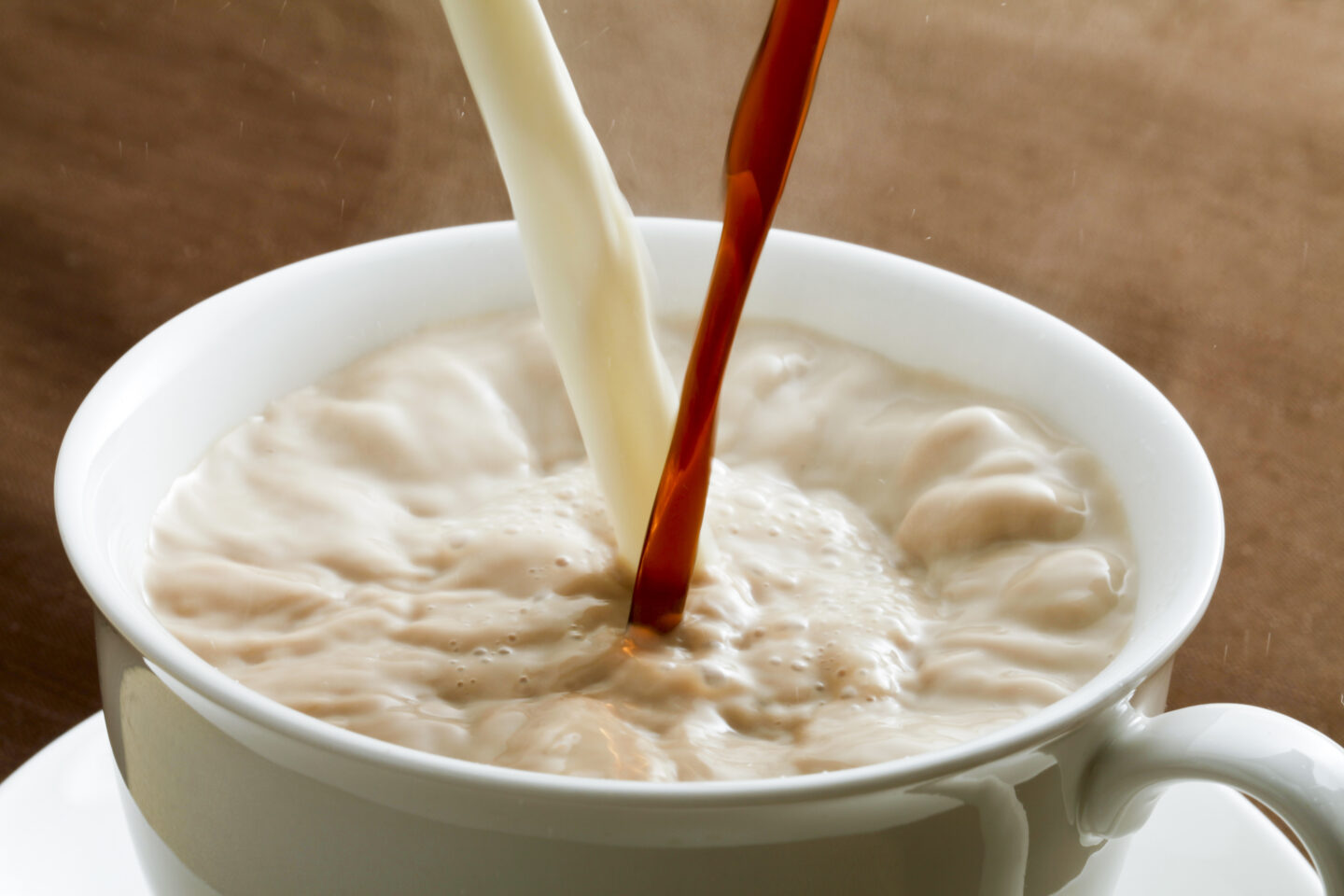 Some coffee ice creams have a little something extra. Some brands use cold brew, espresso, and even coffee beans in their mixture. These extra caffeinated elements make the dessert higher on the caffeine spectrum, closer to 45 mg per serving.
Coffee is added to the ice cream while the mixture is still liquid. The coffee churns in with the dairy making a sweet and smooth icy delight. Solid caffeinated ingredients like coffee beans may be folded into the completed ice cream to add texture and flavor.
Is There Decaffeinated Coffee Ice Cream?
Coffee ice cream is so sweet and delicious that even non-regular coffee drinkers love it. If you're not used to caffeine, coffee ice cream may be too much of a boost before bedtime. The caffeine levels in coffee ice cream are fairly tame, but some people may still want a lower caffeine choice.
The secret of decaf is that it is not caffeine-free. Even decaf coffee has a small amount of caffeine. Decaf coffee has about 2 mg of caffeine per cup.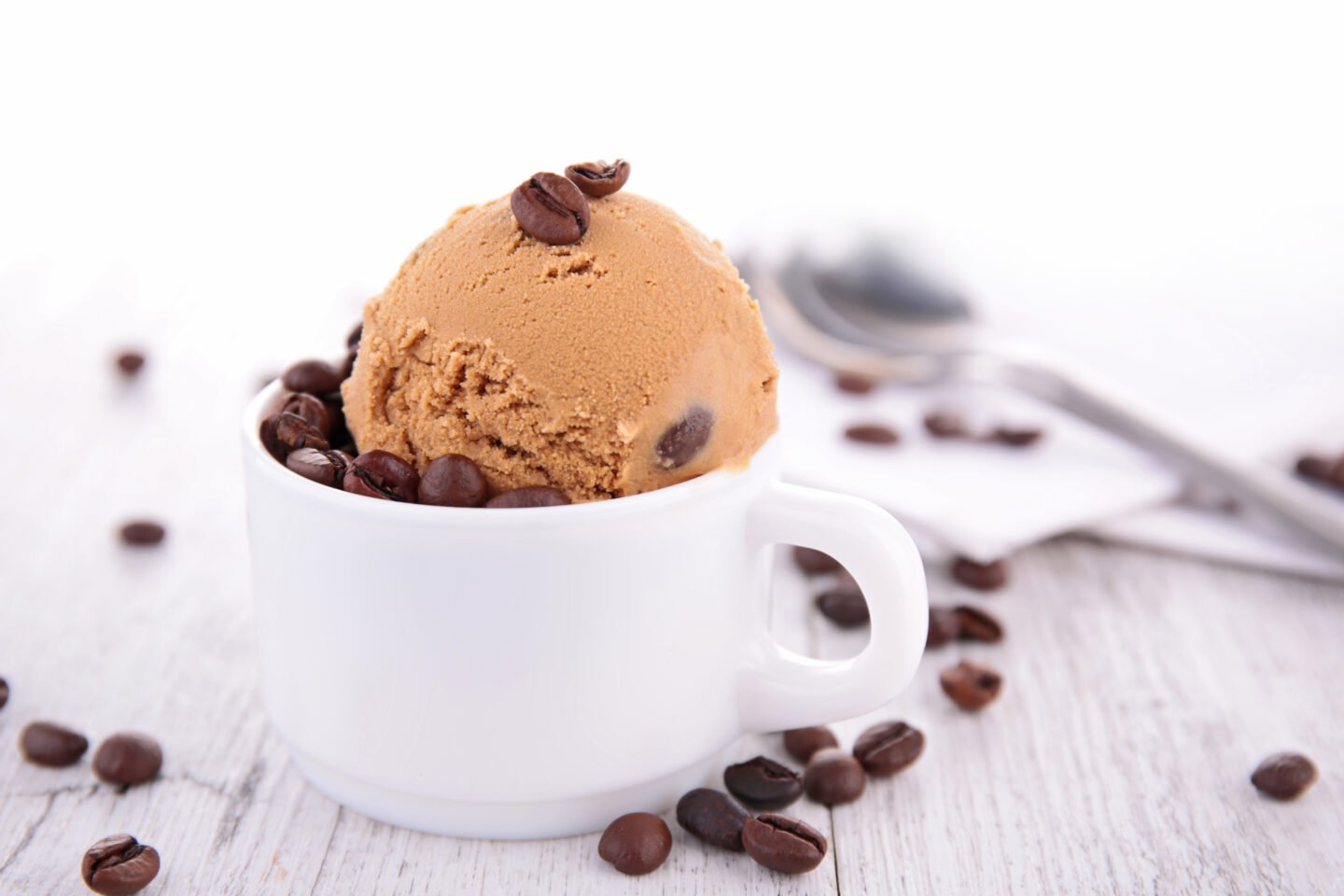 There are very few truly caffeine-free choices for coffee ice cream. But that doesn't mean non-coffee drinkers should despair. There are some incredibly low-caffeine choices out there.
One great choice in low-caffeine coffee ice creams is the Talenti Coffee Chocolate Chip. According to their website, their coffee ice cream has .002 mg of caffeine per serving. That makes a serving of this ice cream even lower in caffeine than a cup of decaf.
One company that makes sleep-friendly snacks is Nightfood. They make a Cold Brew Decaf ice cream. It gets its coffee flavor from decaf, so there's only about 2 mg of caffeine in a whole pint.
You can also try a homemade coffee ice cream float. Brew decaf, let it cool, then add a scoop of vanilla ice cream. It's a tasty twist on an ice cream float with almost no caffeine!
Other Ice Cream Flavorings that Add Caffeine
Coffee is not the only ingredient that can increase the caffeine content of your ice cream. People may not realize it, but chocolate has a little caffeine. The USDA tool clocks milk chocolate at 34 mg of caffeine per serving.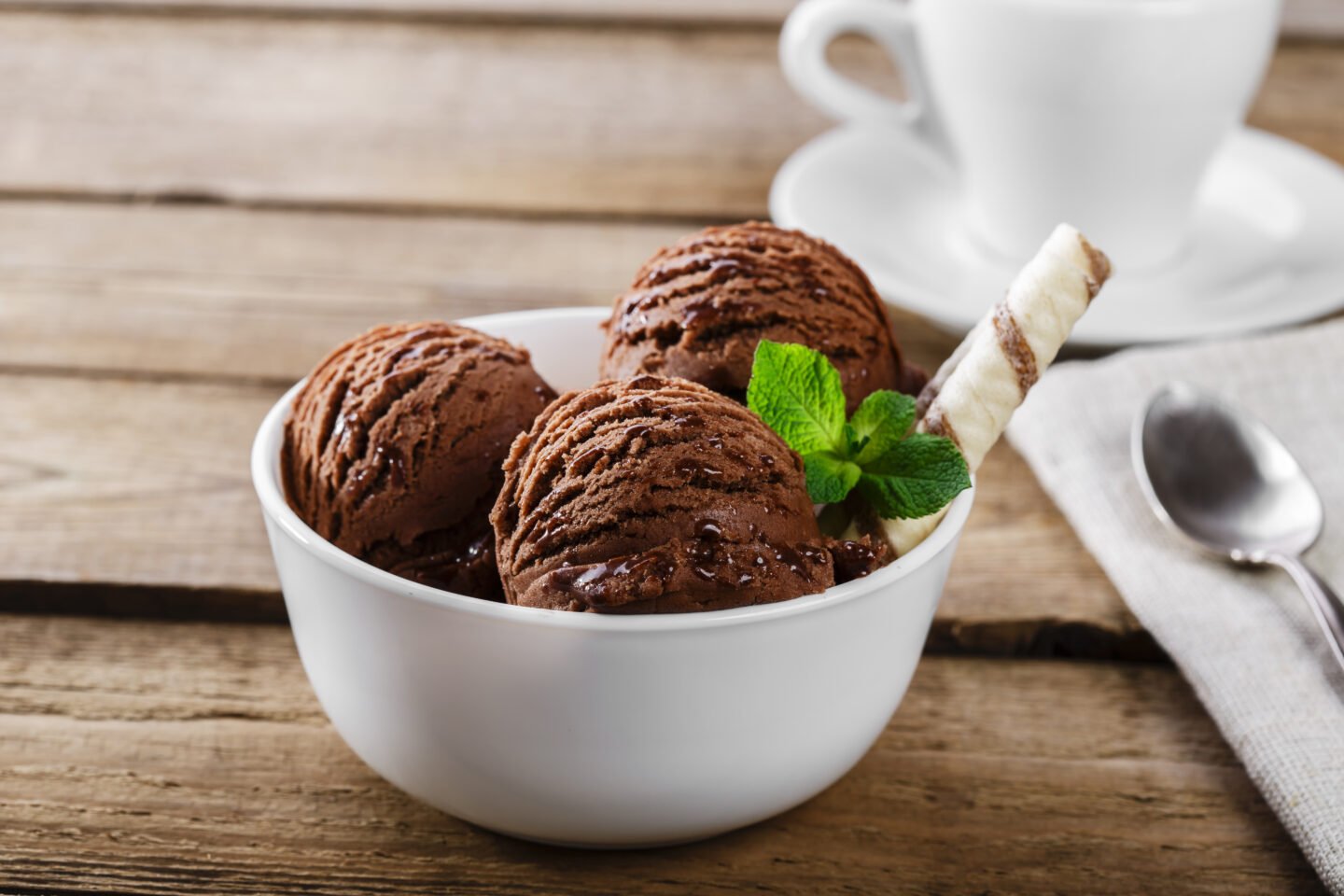 The small quantities of chocolate used in coffee ice cream don't have enough caffeine to affect most people. That said, coffee ice creams with extra chocolate tend to have more caffeine.
Chocolate espresso beans are a common ice cream mix-in with a lot of caffeine. According to the USDA tool, a 1-ounce serving of chocolate-covered espresso beans has 227 mg of caffeine. That makes this ice cream mix-in a caffeine powerhouse!
If you are looking for a coffee ice cream with extra flavors that don't add more caffeine, you have a couple of choices. Other flavorful add-ins like caramel or white chocolate are caffeine-free. Nuts are also a great caffeine-free complement to coffee ice cream.
Different Types of Coffee Ice Cream
The most common type of coffee ice cream is simple coffee-flavored, but there are many twists on that classic. Coffee ice cream is like going to a cafe—you can have it just how you like it. Some add chocolate syrup, others caramel, but all versions are delicious!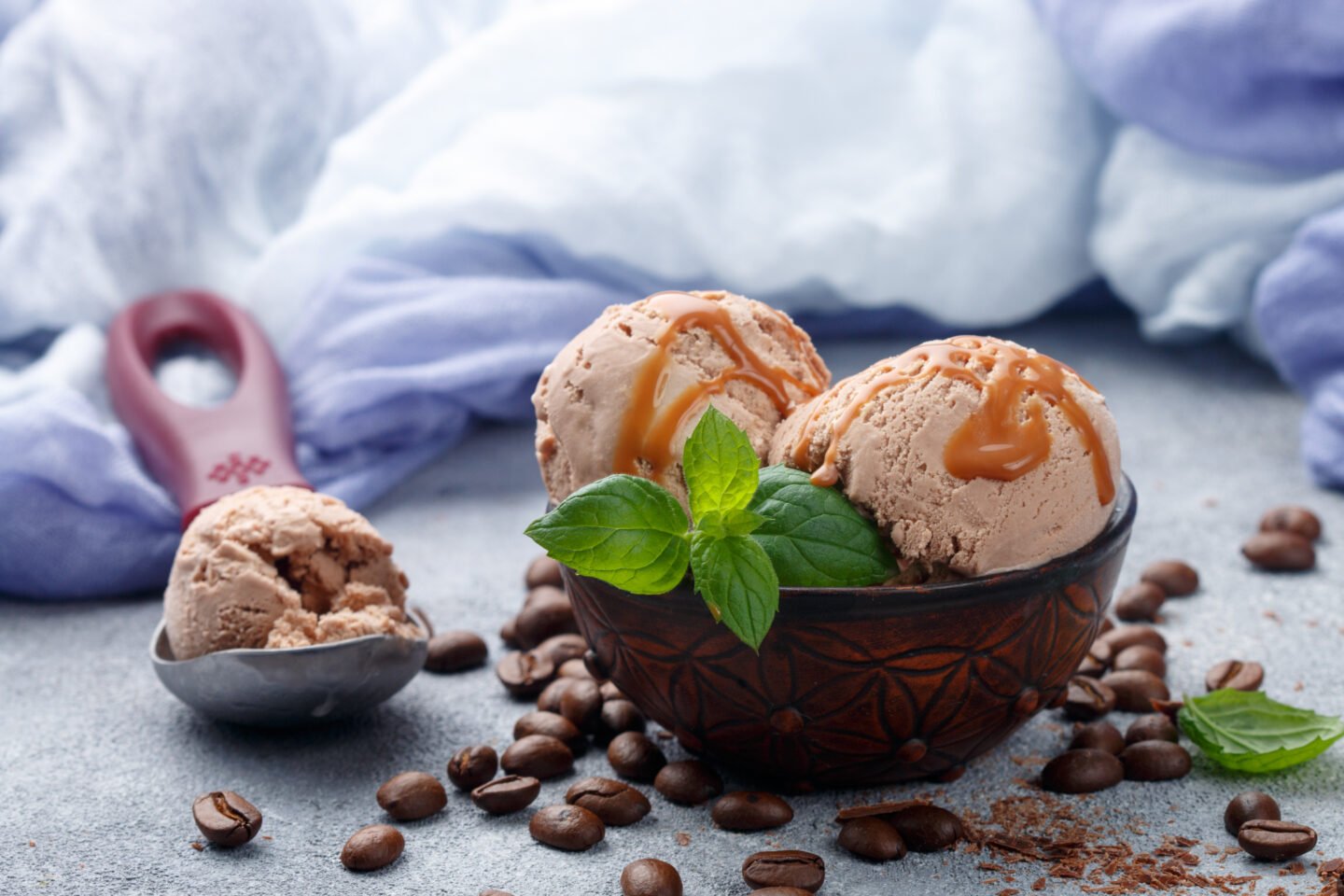 One popular version of coffee ice cream is Ben & Jerry's Coffee, Coffee BuzzBuzzBuzz! This flavor uses espresso bean fudge to give the ice cream an extra buzz. Coffee and chocolate or fudge is a common ice cream combo.
The texture is a big factor in mix-ins for coffee ice cream. Combining coffee and toffee results in a great, toothsome ice cream pairing. Nuts add a nice texture to coffee ice cream, so many ice cream treats also incorporate nuts for crunch.
Can Caffeine-Sensitive People Eat Coffee Ice Cream?
Coffee ice cream affects everyone differently. Some may feel more of a caffeine buzz than others, but coffee ice cream is too tasty to avoid! If you are caffeine sensitive, try eating coffee ice cream in the early afternoon.
Generally, American pediatric regulatory agencies believe that children should not consume caffeine. Since caffeine consumption is discouraged before age 12, there are no American guidelines for ages younger than that. From age 12-18, the Mayo Clinic says 100 mg per day is an acceptable caffeine intake.
The effects of caffeine on children's developing nervous systems are not fully known. Some parents will allow caffeine much earlier, but the official recommendation is to wait. Luckily, that leaves more coffee ice cream for the parents!
5 Best Overall Coffee Ice Creams
Coffee is considered one of America's top ice cream flavors. Almost every major brand of ice cream makes a coffee flavor, and smaller creameries offer it, too.
With so many tasty ice cream options, how do you choose the best coffee ice cream? Picking between flavors and caffeine content can be tricky! Here are a few standouts in the delicious world of coffee ice creams.
This is a classic coffee ice cream. It perfectly balances the rich, bold flavor of coffee and the sweetness of the cream. This ice cream doesn't need anything extra to be irresistible, just deliciously sweet coffee flavor!
This ice cream is guilt-free! It uses natural ingredients and no added sugars to make a delicious coffee ice cream with chocolate chips. They don't list their caffeine content, but it is likely fairly mild.
If you want a coffee ice cream treat that you can hold, this is a perfect choice. The coffee ice cream is coated in crunchy almonds and chocolate to make the perfect bar. This is a great grown-up ice cream indulgence!
If you can't choose between coffee ice cream and cookies and cream, this is your answer! This delicious gelato uses coffee and sandwich cookies to make a chunky coffee treat. It has a great balance between coffee, chocolate, and cream you'll love!
If you love coffee ice cream but need to watch your dairy intake, this is the perfect treat! It combines the rich flavors of almonds, fudge, and coffee ice cream to make a crunchy ice pop. The best part is that it uses almond milk, so there's no dairy in this icy coffee treat.
Conclusion
Coffee ice cream is an excellent treat for anyone who loves that freshly brewed flavor. Nothing beats ending a long day with a sweet bowl of coffee ice cream. This low-caffeine treat is relaxing for most, but it can be too much for some.
If you are a seasoned coffee drinker, you probably won't even notice the caffeine buzz from this sweet treat. Generally, coffee ice cream has a fairly low caffeine content per serving.
Also, remember that kids have plenty of energy on their own. They don't need extra caffeine, so save the coffee ice cream for yourself!