A fruity Refresher may catch your eye on Dunkin's menu if you're not in the mood for coffee. But before you go to order, you might wonder if Dunkin Refreshers have caffeine.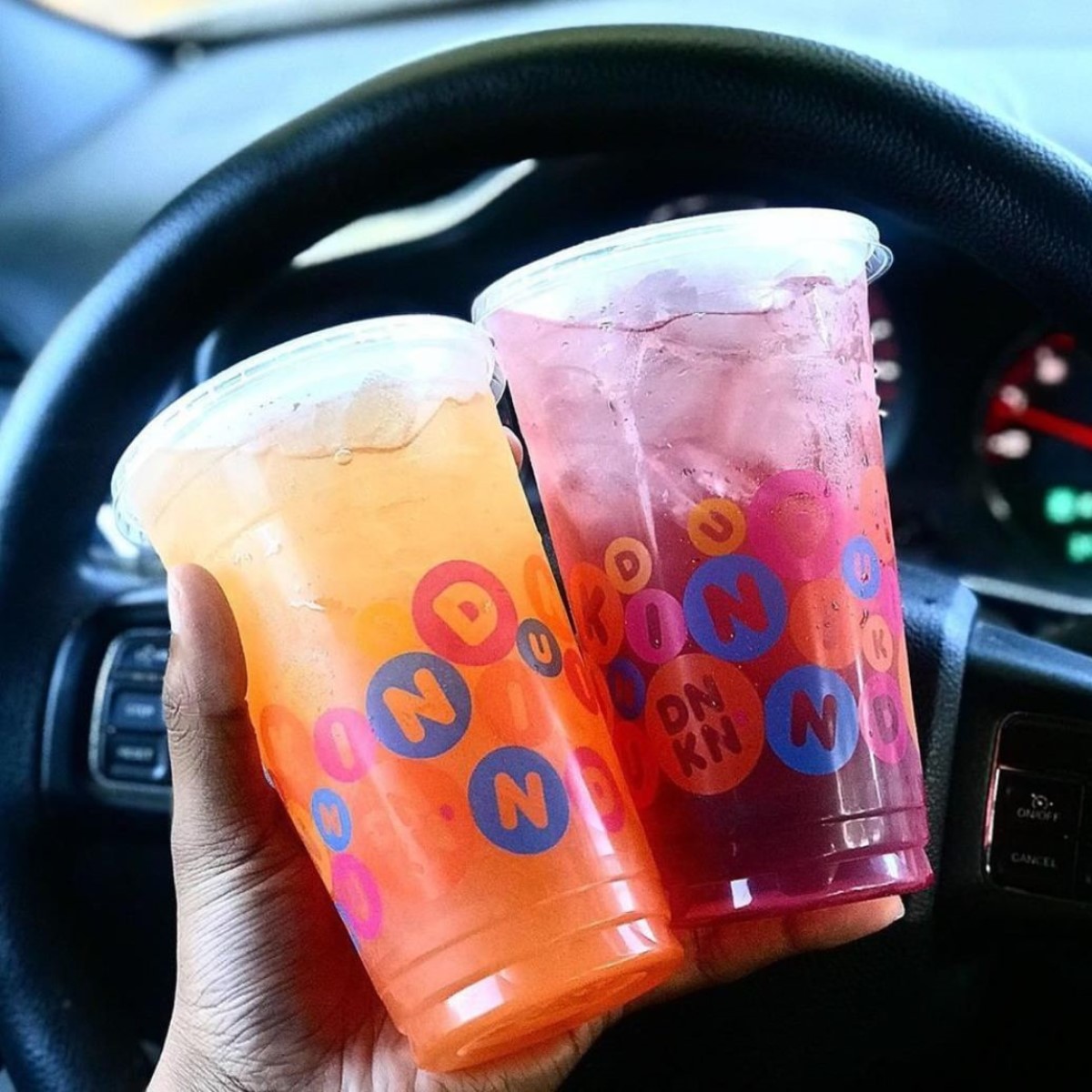 All of the Dunkin Refreshers have caffeine. The caffeine comes from green tea and green tea extract. Depending on the size you order, you will get between 66 to 132 milligrams of caffeine.
This article will teach you everything you need to know about the caffeine in Dunkin Refreshers. We will help you decide whether this is the right drink to order on your next trip to Dunkin.
Table of Contents
Do Dunkin Refreshers Have Caffeine?
Given they are fruity beverages, you might assume that Dunkin Refreshers don't have caffeine. But that's not the truth.
All Dunkin Refreshers do contain caffeine, no matter the flavor.
The caffeine in Dunkin Refreshers comes from green tea and green tea extract. These are combined with fruit juice concentrate to make for a tasty drink.
Along with caffeine, the drink will contain relatively high amounts of vitamin B due to the fruit. This may help to enhance your energy levels further.
How Much Caffeine is in a Dunkin Refresher?
The amount of caffeine present in a Dunkin Refresher will primarily depend on the size you order. The larger the size of the Refresher, the more caffeine will be present in it.
Here is a list of the amount of caffeine in each Refresher based on its size:
Small: 66 milligrams of caffeine
Medium: 99 milligrams of caffeine
Large: 132 milligrams of caffeine
Needless to say, you will get an energy boost from caffeine by ordering this drink. If you're using it primarily to increase your energy, you may want to opt for a larger size.
Amount of Caffeine in a Dunkin Refresher Compared to Coffee
If you're trying to decide between a coffee or a Refresher at Dunkin, you'll want to know which one has more caffeine.
This will depend on the type of coffee you order. But ounce per ounce, coffee will have more caffeine than a Refresher.
A small cup of coffee from Dunkin will have approximately 215 milligrams. And one shot of espresso at Dunkin will have about 75 milligrams of caffeine.
Dunkin Refreshers will have quite a bit less caffeine relative to coffee. But this doesn't mean that it won't still give you a hit of energy.
Amount of Caffeine in a Dunkin Refresher Compared to Starbucks
You may have noticed that Refreshers are available at both Dunkin and Starbucks. This probably has you curious about which Refresher has more caffeine in it.
Both Dunkin and Starbucks Refreshers use green tea as the main source of caffeine, but Dunkin Refreshers will have more caffeine than Starbucks Refreshers.
Here is a breakdown of the caffeine present in each size of a Refresher at Starbucks:
Tall: 35 milligrams
Grande: 45 milligrams
Venti: 70 milligrams
Trenta: 90 milligrams
When you compare this to the Dunkin Refreshers, it's 20 milligrams less for similar-sized drinks on average.
If you want the most caffeinated Refresher available, you may opt for a Dunkin Refresher. However, they each offer different flavors of Refreshers. So you may also want to consider your flavor preference when making the decision.
Will the Caffeine in a Dunkin Refresher Give You Jitters?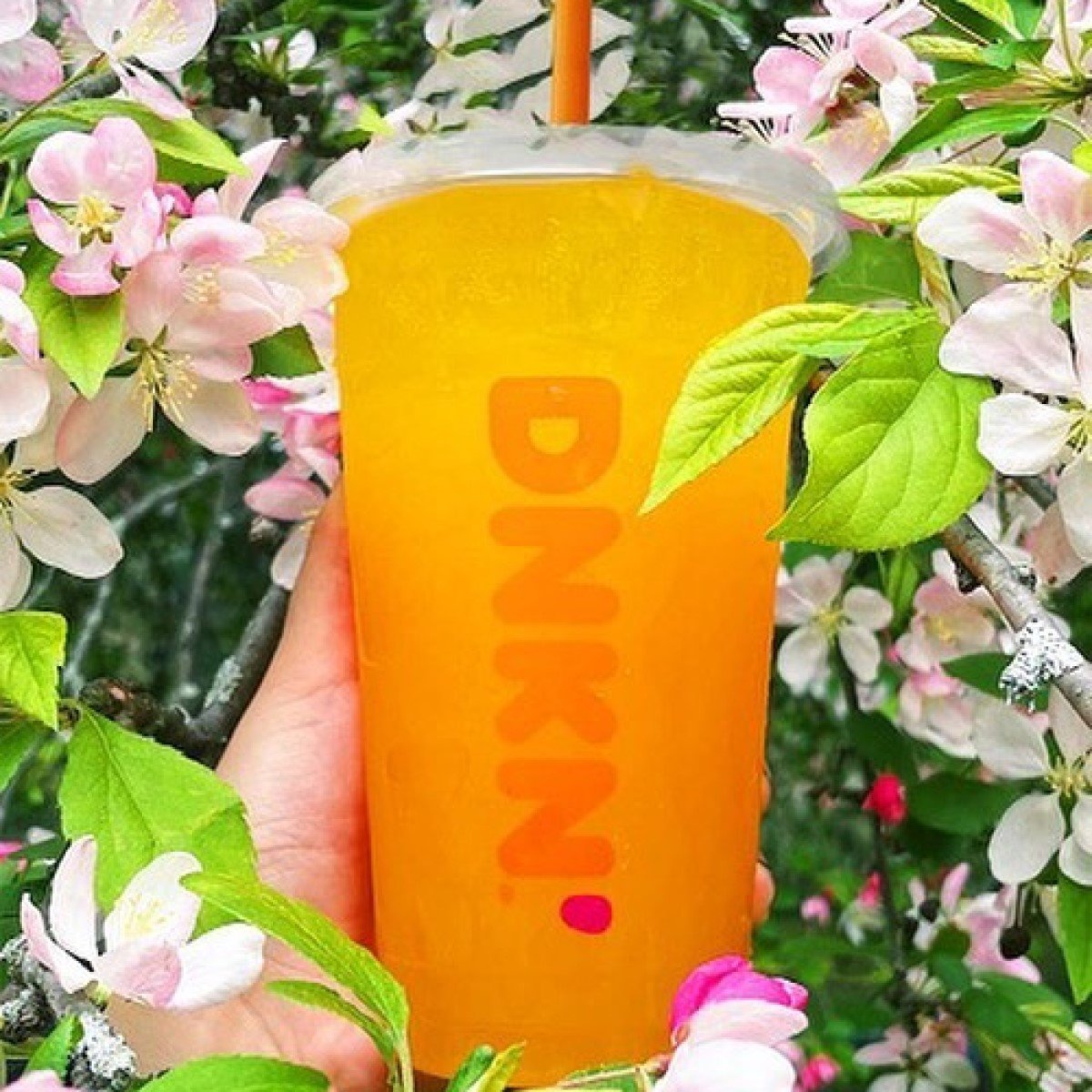 The answer to this question depends a lot on your physiological makeup.
Research suggests that we all have unique metabolisms when it comes to digesting caffeine. So some people will be very sensitive while others will hardly notice it.
The reality is caffeine is still caffeine, whether it be from a coffee bean or green tea. So if you're a caffeine-sensitive individual, a Dunkin Refresher may still give you jitters.
However, recall that the amount of caffeine in a Refresher is generally less than the amount in coffee. So a Dunkin Refresher may be a good way to lessen your jitter response while still getting some caffeine.
Also, some people will respond slightly differently to the caffeine from green tea vs. coffee. Ultimately, you have to try it and see how your body responds.
Is the Caffeine from Green Tea in the Refresher Healthier?
As we discussed earlier, the caffeine in a Dunkin refresher comes from green tea and green tea extract.
The caffeine from green tea isn't necessarily healthier than other forms of caffeine. But the compounds in the green tea add health benefits to the Dunkin Refresher drink.
Some of the research-backed health benefits associated with green tea include:
Lower blood pressure
Enhanced weight loss
Reduced risk of developing type 2 diabetes
Improved cardiovascular function
Overall, the caffeine in green tea may be no healthier for you. But the benefits from the other compounds found in green tea are fantastic for your health.
Other Ingredients in Dunkin Refreshers that May Boost Energy
Dunkin Refreshers have other ingredients besides caffeine that may boost your energy.
One of these ingredients is vitamin B. Vitamin B has been shown to improve your energy levels and reduce cognitive fatigue.
Along with vitamin B, Dunkin Refreshers also have 27 grams of added sugar. While this may not be the best for your health, it will temporarily boost your energy.
For a short time, the increase in glucose from the sugar should help increase your energy. However, keep in mind that you may experience a sugar crash if you're sensitive to sugar.
Who Should Order a Dunkin Refresher?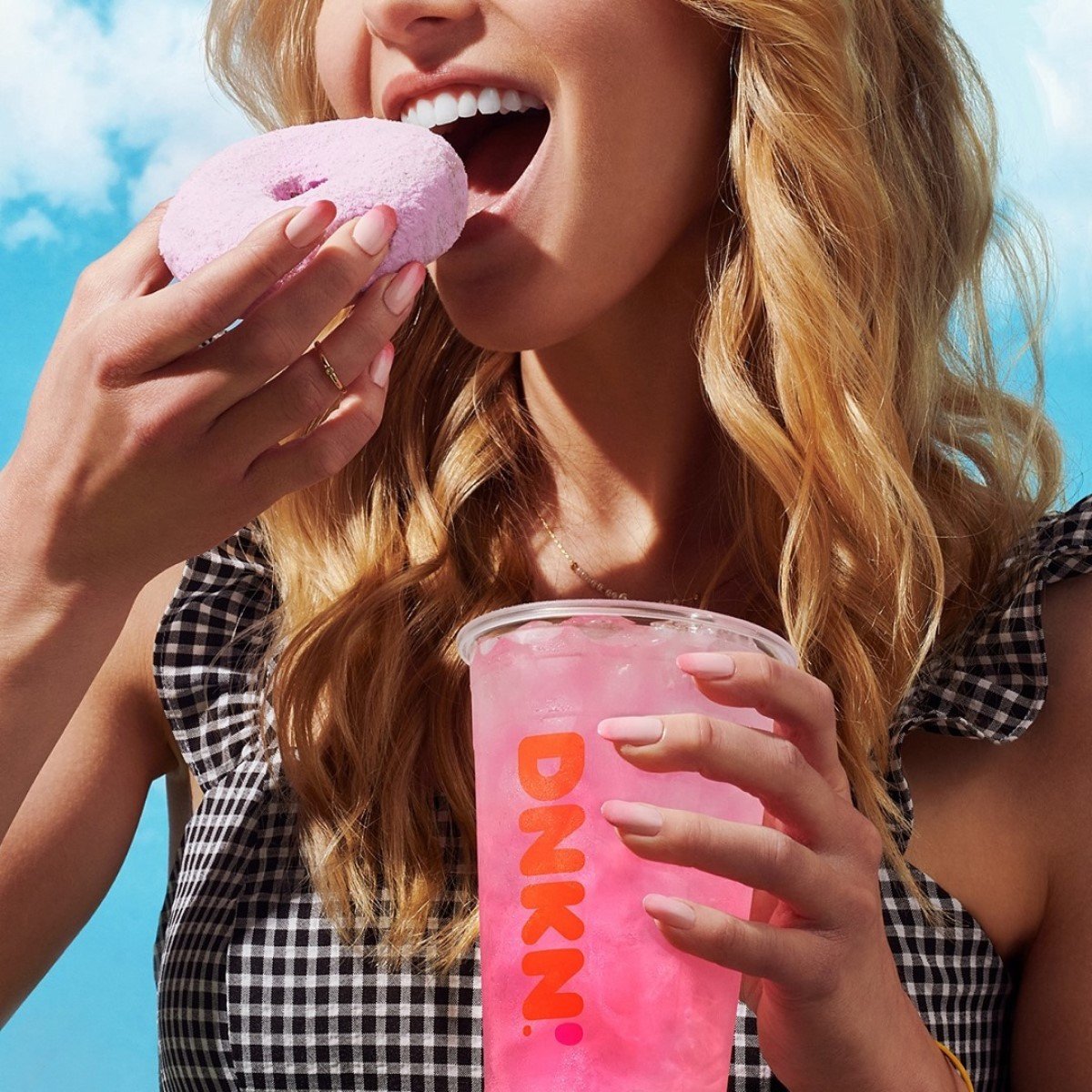 A few groups may benefit more from ordering a Dunkin Refresher over a Dunkin coffee.
One of these groups is caffeine-sensitive people. Recall that the Refresher has significantly less caffeine than coffee from Dunkin.
If you find that coffee makes you anxious or gives you jitters, then a Refresher may be a way to avoid that. However, it still has caffeine. So it's best to start with the smallest Refresher size if you're caffeine sensitive.
Another group of people who may benefit from a Refresher are those who show up at Dunkin in the afternoon or evening. Because there is less caffeine in the drink, it's less likely to disrupt your sleep relative to an afternoon coffee.
And if you hate the taste of coffee, then a Refresher may be more up your alley. You can still get a little energy boost with a sweet and enjoyable fruity flavor.
What Flavors of Refreshers are Available at Dunkin?
Now that you know all about the caffeine in a Refresher, you're probably wondering what flavors you can choose from.
Dunkin offers two flavors of Refreshers. Your choices are either a Strawberry Dragon Fruit Refresher or a Peach Passion Fruit Refresher.
Each flavor will have the same amount of caffeine because the green tea base doesn't change between the two drinks.
Both flavors will also have the same amount of calories in each size. Because both flavors have the same amount of caffeine and calories, all you have to do is choose the one that sounds best.
Cost of Dunkin Refreshers Compared to Dunkin Coffee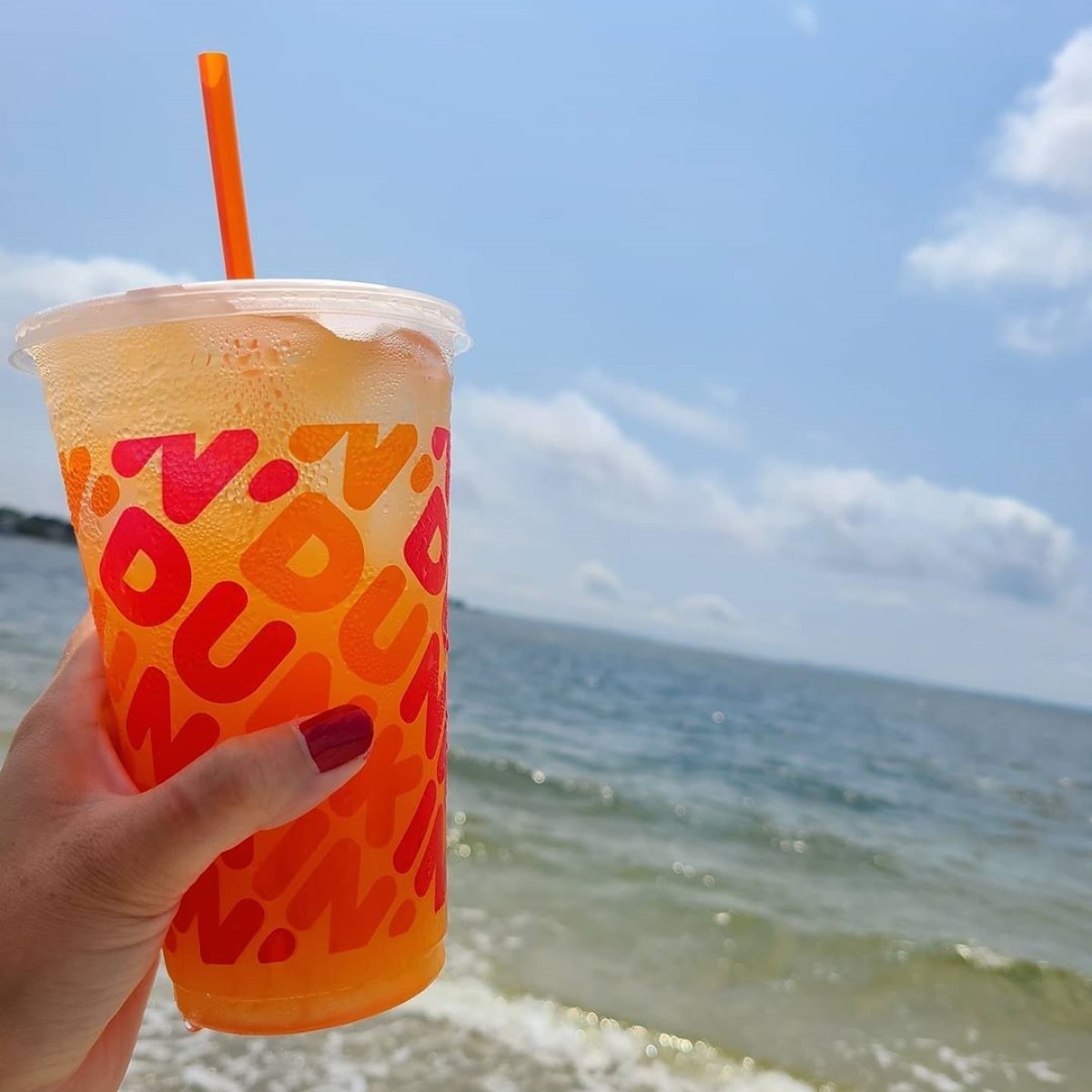 If you want to get the most bang for your buck on caffeine, you probably want to know the price of a Dunkin Refresher.
A small Refresher is currently $2.38, a medium is $2.69, and a large is $2.89. This is more expensive compared to plain normal coffee at Dunkin.
A small coffee will cost $1.59. While a medium and large coffee at Dunkin will cost $1.89 and $2.09, respectively.
Keep in mind this is the price of plain coffee. Specialty drinks and lattes from Dunkin will cost more.
Overall, a Dunkin Refresher will cost you more than plain coffee and has less caffeine. If caffeine content is your priority, then coffee at Dunkin will be the most cost-efficient choice.
Final Thoughts
Dunkin Refreshers do have caffeine. The caffeine comes from green tea and green tea extract in all the Refresher flavors.
A small Dunkin Refresher will have 66 milligrams of caffeine. A medium and a large will have 99 and 132 milligrams of caffeine, respectively.
There is much less caffeine in a Refresher compared to Dunkin coffee. This makes it a good choice for caffeine-sensitive individuals and people ordering drinks in the afternoon or evening.
The vitamin B and sugar in Dunkin Refreshers will also boost your energy. And the green tea in the Refresher will provide many benefits for your health alongside the caffeine.
If coffee doesn't sound like it will hit the spot, maybe it's time to try a Dunkin Refresher. You will still get a nice caffeine hit and may just discover your new favorite fruity drink.