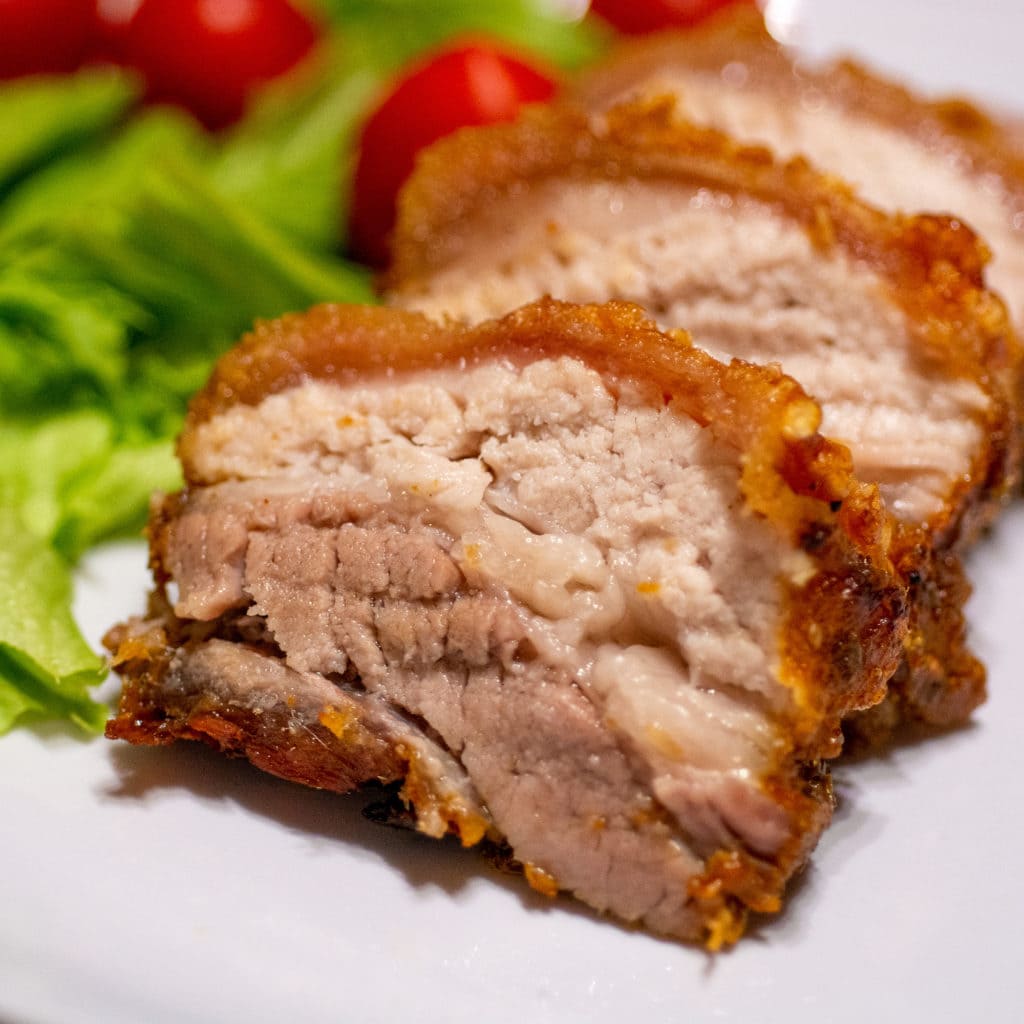 This is the best oven-roasted pork belly I've ever made. The juicy and perfectly seasoned pork meat combined with the crackling is impossible to resist. And it's also very easy to make: you'll only need to spend about 10 minutes prepping it and your oven will take care of the rest.
I've tested many keto pork belly recipes, and the one thing that bothered me the most is that they were all too complicated and took way too much time. And finally, I put together this recipe: there's no need to score the pork skin, marinade the meat, or cook it for endless hours.
It's totally up to you when choosing the seasoning for the pork belly, but I think that the spices listed in this recipe card are the best match. If you want an even simpler option, you can use just some salt and pepper. The pork belly will still be juicy and flavorful thanks to the cooking method I'm using.
Table of Contents
How to Choose the Best Quality Pork Belly
If it's your first time cooking pork belly and you have no idea how to choose such a pork cut, I'm here to help you. Actually, there's nothing complicated about buying pork belly, but there are a few things that you should remember:
The meat should be pale pink and firm. Don't buy pork belly if the meat is saggy.
If there are grey-shaded parts on the meat, avoid buying it since there is a chance that it's not as fresh as one might want.
The fat layer should be white. If it has a different shade to it, don't buy such pork belly.
For this recipe, I used a two-pound pork belly cut. But you can choose either a smaller or larger cut and adjust the recipe ingredients accordingly.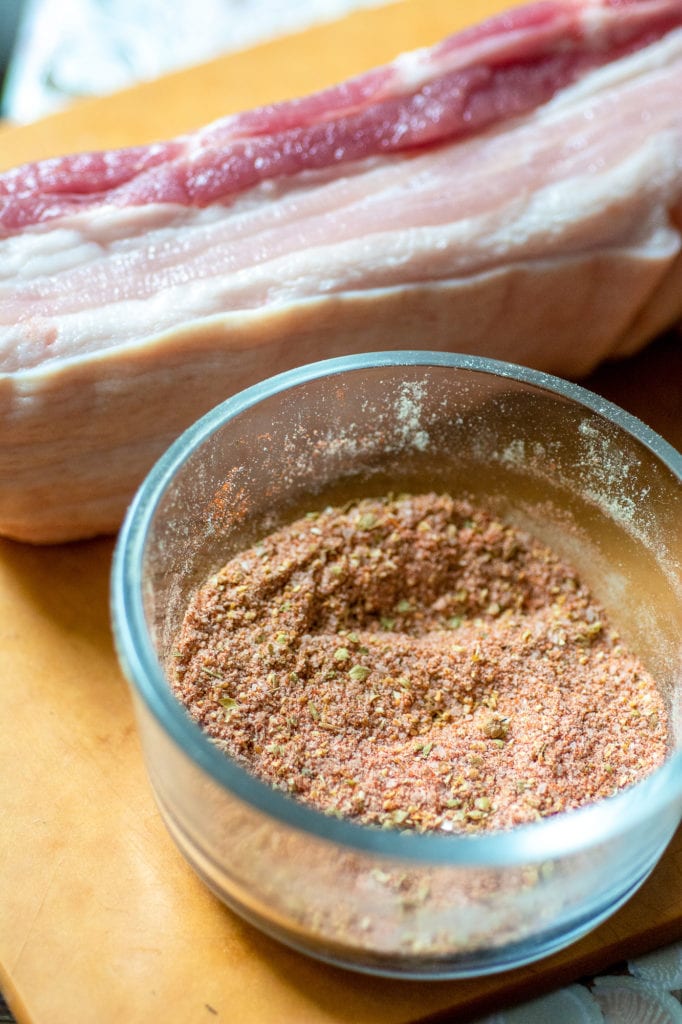 Other Ingredients
Now that you know how to choose pork belly, let's get to the other ingredients needed for this keto recipe:
Salt. You'll need some salt for the meat part of the pork belly, as well as for the skin.
Paprika. You can adjust the amount of paprika you add depending on whether you want the pork belly to be spicy or not. For extra heat, I like to add a bit of cayenne pepper powder.
Ground black pepper. I can't imagine this recipe without some black pepper.
Granulated garlic. I like to use granulated garlic since it adds more flavor to a meal than garlic powder. But you can definitely swap it for garlic powder or even freshly minced garlic.
Ginger powder. If you've checked out a few other pork belly recipes out there, I bet ginger powder isn't listed there as an ingredient. But, once you tried baked pork belly seasoned with some ginger powder, you wouldn't want to make it any other way.
Dried oregano. It goes well with pork. If you don't have any, you can use dried basil or rosemary instead.
Olive oil. You'll need to rub in some olive oil on the meat part of the pork belly before rubbing the seasoning.
Head to the recipe card at the bottom of this page to find out the exact amount of each ingredient needed for this recipe.
Why Cook It In the Oven?
I love crispy pork belly and since the only way to get that crispiness is to cook it in the oven, I always choose this cooking method.
Of course, it's possible to make it in an air fryer, instant pot, or a slow cooker. But I've noticed that the pork belly comes out a bit dry from an air fryer. And if you make it in a slow cooker, it will be perfectly moist, but you won't be able to get that crackling.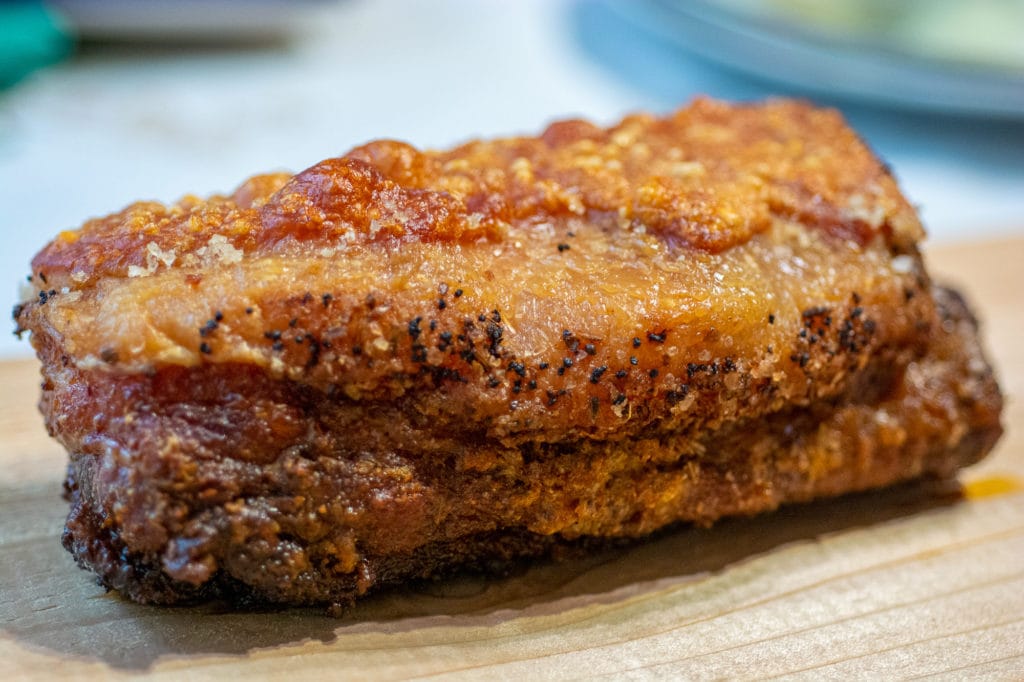 Storing Tips
If you have any pork belly leftovers, you can store them in your refrigerator for up to 4-5 days. You can serve them cold directly from the fridge or reheat it in a microwave (but personally, I like pork belly served cold).
Another thing that you must know is that this crispy pork belly is freezer-friendly. You can freeze it after it is fully cooked. Just let it cool down, cut into slices, and either place it in a container or wrap it in food wrap. Then, whenever you wish to serve the meat, let it thaw in the fridge overnight.
Serving Ideas
It is best to let the fully-cooked pork belly cool completely before cutting it and serving. To make cutting the meat even easier, place the pork belly in the refrigerator overnight and cut the next day. This way, you'll be able to cut it into thin slices.
Here's what goes well with this keto pork belly:
Fresh salad
Slice of low-carb bread
When I have some pork belly leftovers, I like to make a to-go low-carb bagel with it. Or, for a quick breakfast, you can add some of the pork belly together with some fresh veggies into a cheese wrap.
If you want to, you can serve the roasted pork belly with a low-carb sauce. Here are some ideas for you to try:
BBQ sauce
Ranch
Ketchup
Buffalo sauce
Recipe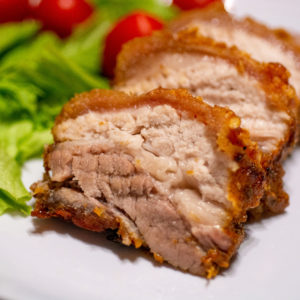 Oven Roasted Crispy Keto Pork Belly
The juicy and perfectly seasoned pork meat combined with the crackling is impossible to resist. And it's also very easy to make: you'll only need to spend about 10 minutes prepping it and your oven will take care of the rest.
Ingredients
2

lbs

pork belly

2

tsp

salt

2

tsp

paprika powder

½

tsp

ground black pepper

1

tsp

granulated garlic

1

tsp

ginger powder

1

tsp

dried oregano

1

tbsp

olive oil

or avocado oil

extra salt for the crispy skin crust
Instructions
Preheat your oven to 425 degrees F.

In a separate bowl, mix the spices: salt, paprika powder, ground black pepper, granular garlic, ginger powder, and dried oregano.

Rub the pork belly (all sides except the skin) in the olive oil and then with the spice mix.

Take a piece of aluminum foil and place it on a baking pan. Put the pork belly skin-side up on the foil. Fold all of the foil sides up.

Place as much salt as needed on top to fully cover up the skin.

Bake the pork belly in the oven for 1 hour.

Take the pan with the pork belly out of the oven. Remove the salt from the top.

Change the oven temperature to 350 degrees F and cook the pork for 30 more minutes (or until the skin is of the desired crispiness).

Let the pork belly cool completely before cutting (best to leave it in the refrigerator overnight).
Nutrition
Calories:
486
kcal
Carbohydrates:
1
g
Protein:
9
g
Fat:
50
g
Saturated Fat:
18
g
Polyunsaturated Fat:
5
g
Monounsaturated Fat:
23
g
Cholesterol:
65
mg
Sodium:
495
mg
Potassium:
187
mg
Fiber:
1
g
Sugar:
1
g
Vitamin A:
210
IU
Vitamin C:
1
mg
Calcium:
10
mg
Iron:
1
mg