If you can't imagine starting your morning without a cup of coffee or snacking on delicious snacks throughout the day, your perfect subscription box service exists. Craft Coffee Club is a subscription box service that brings you unique and world-class coffee with every box and an array of tasty snacks to pair with your coffee or eat on their own.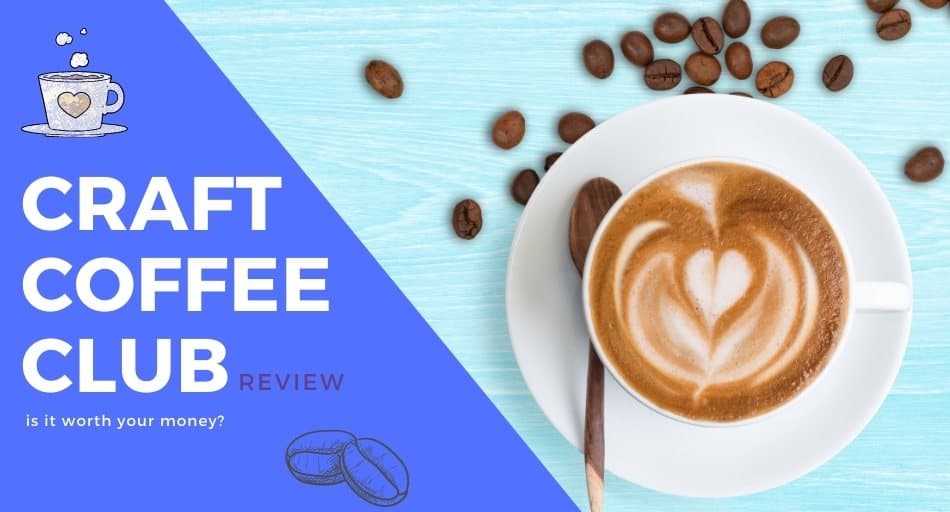 This sounds like the dream subscription box, right? Let's take a look at what all Craft Coffee Club has to offer and if subscribing is worth it or not.
If you buy through the links on this page, we will get a small commission at no charge to you. Thank you for supporting our website.
Table of Contents
What Your Monthly Subscription Includes
When you subscribe to Craft Coffee Club, you can rest assured you're getting some of the best coffee in the world with every box. In every box, you'll receive two bags with freshly roasted coffee. These bags are 250 grams each. That equates to about two cups of coffee per bag.
Sometimes the coffee comes in whole beans, and other times it comes ground for you. The brains behind Craft Club Coffee select each bag of coffee from the top 5% of speciality coffees in the world. Then they're roasted by independent British roasters.
If you're concerned about not having freshly roasted coffee, you can forget about that. Every bag of coffee is roasted to order, so you're always getting the freshest possible coffee.
Along with your two bags of coffee, you'll receive their Coffee Corner Magazine. This pamphlet is printed to showcase the origins of the coffees you received in your box. This includes different recipe ideas, brewing techniques, and tasting notes.
The snacks that accompany your coffee all come from up-and-coming British artisan brands. They don't just throw snacks into your box without careful consideration, though. Each and every snack is selected to compliment the coffee you received in that box.
If you're interested in learning more about why they paired which snacks with which coffees, the pamphlet included will give you an idea. But, you don't have to eat the snacks with the coffee if you don't want to. Some of the snacks they've included in boxes before are a variety of jellybeans and bacon maple popcorn.
One feature that Craft Club Coffee offers to subscribers is to change the frequency of your delivery. Not a lot of subscription box services allow you to do this. You can choose between a monthly subscription, bi-monthly, or quarterly.
If you ever change your mind about how frequently you would like a box of snacks and coffee, you can easily change it via your account. Regardless of how often you choose to receive a package, each box costs only £24.95. Another great feature that Craft Club Coffee offers is to add an extra bag of coffee to your subscription.
If you choose to add a third bag of coffee, it will be £4.95, making your new total £29.90.
Give the Gift of Coffee
If you're not a massive fan of coffee, but you have a good friend or family member who is, you can gift them Craft Club Coffee's subscription box. When you choose to give someone this gift, they'll get all the same things you would if you ordered it for yourself.
Depending on how generous you're feeling, you can choose from a one-time box, three months, six months, or even the whole year for someone. Regardless of which subscription level you choose, this is a unique and fun gift that will make any coffee lover's day.
Craft Club Coffee Gives Back
As if a box full of delicious coffee and snacks weren't enough, Craft Club Coffee gives back to the communities they source coffee from. This company is committed to helping the farmers and the communities they source their coffee. They want these communities to thrive and become stronger economically and continue to care for the environment they live in.
To do this, Craft Club Coffee works with organisations that specialize in agricultural communities. When you're paying for your subscription box, Craft Club Coffee makes sure that some of your membership fees go back to those communities.
Even though it's a small portion, you can subscribe to their service knowing that they're ethically sourcing coffee and giving back at the same time. They give back to these communities by partnering with organisations that provide clean water pumps, trees for reforestation and helping children receive an education.
They're Good to the Environment and Good to Farmers
It's clear that Craft Club Coffee loves giving back to the farming communities where they find their coffee. But they're also good to individual farmers, not just their communities. They source all their coffee either through direct trade or Fairtrade. Coffee farmers are always being paid a fair price for their coffee, or they're being paid more than Fairtrade pricing for their product.
Craft Club Coffee is also doing its part to help the environment. They can't do much about carbon emissions when it comes to shipping their boxes, but they make up for it in other ways. All of their packaging is fully compostable and recyclable.
Final Thoughts
So, is Craft Club Coffee worth it? If you're a coffee lover and love supporting companies that care for the environment and ethically sourcing products, then there's nothing not to love about this company. The subscription box is incredibly affordable for what you get in every box, and you're doing a small part by helping farming communities around the world.
The coffee you receive every month or however often you choose is always of the highest quality. You get to taste coffee you may not have ever tried before and may end up with a new favourite. The same goes for the snacks. You're supporting British brands who come up with unique and tasty treats for you to pair with your coffee.
Some of these snacks you may have never tried otherwise, and you may find a brand you'll buy for life. At the end of the day, this is a fantastic company for coffee lovers and those who are looking to broaden their coffee horizons.
All the links in this review are affiliate links. If you subscribe to Craft Coffee through them, we'll get a small commission at no cost to you. Thanks for that 😉 We did not get any products or editorial guidance for this review. This is simply our opinion.