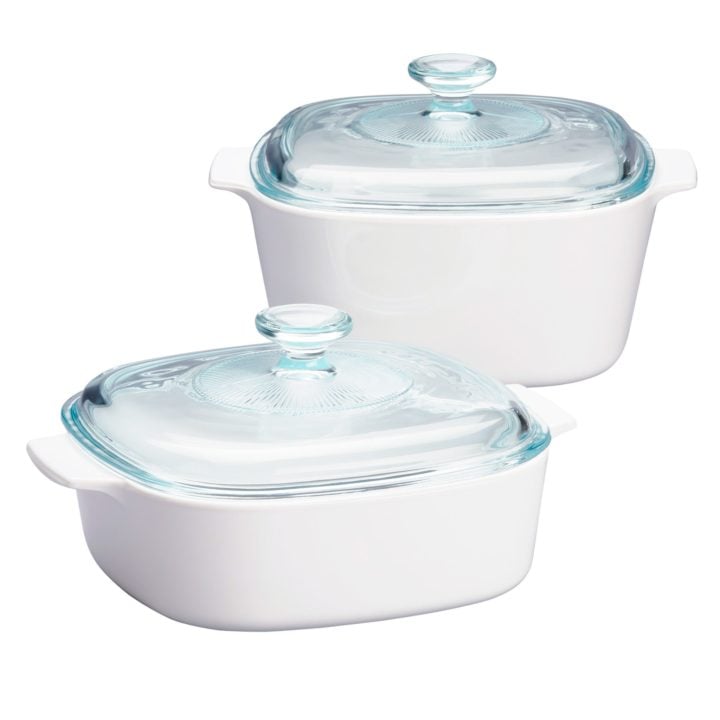 Let's cut to the chase and get straight to the point - YES, most CorningWare cookware can go inside the oven. In fact, all CorningWare glass-ceramic cookware is compatible with any type of oven. May it be convection, conventional, toaster, or microwave ovens.
In addition, you can use CorningWare glass-ceramic cookware on the range top, in a broiler, inside a freezer, and even into the dishwasher. It's no surprise since CorningWare is of excellent quality and the cookware counterpart of Corelle.
So, what else do you need to know about CorningWare products going inside the oven? There's a lot more you should know and that's why you need to keep on reading. If you own a couple of CorningWare cookware at home or plan to buy one, then you should definitely keep on reading.
Table of Contents
Maximum Heat Tolerance of CorningWare Cookware
First of all, the most important factor you need to know is the maximum heat tolerance of CorningWare cookware inside the oven. Maximum heat tolerance means the cookware won't break or get damaged when exposed to that temperature degree.
Typically, oven cooking ranges between 200 to 450 degrees Fahrenheit. Depending on the CorningWare product, the maximum heat tolerance can range between 400 to 450 degrees Fahrenheit. The stoneware, glass ceramics, and ovenware from CorningWare can withstand extreme thermal conditions, so most of them are oven-safe.
Some people say they even heat their CorningWare cookware inside the oven for up to 500 degrees Fahrenheit without facing any issues. However, always refer to the manufacturer's instructions to confirm the cookware's heat tolerance.
Can All CorningWare Products Go in the Oven?
Yes, you can put almost all CorningWare cookware inside the oven. The best type of CorningWare for oven use is glass-ceramic ware. However, you can also place stoneware and other ovenware inside the microwave or a preheated oven.
Almost all CorningWare products are designed to resist thermal shock and can withstand high heat cooking inside the oven. Depending on the product, CorningWare products can resist heat within the range of 400 to 450 degrees Fahrenheit.
Although it is always best to check the product label and manufacturer's recommendation on how much temperature the cookware can withstand inside the oven. It's always important to read the product label so you can ensure your CorningWare will last long.
Can Vintage CorningWare Products Go Inside the Oven?
No, not all vintage CorningWare casserole dishes can go inside the oven as they don't have the same composition as newer products. As you may not know, the production of CorningWare stopped in the early 2000s.
The brand relaunched as a line of new and improved stoneware-bakeware the year after under a new company. Some CorningWare products manufactured before the year 2000 were not as strongly built like the ones recently manufactured. Some cannot even withstand heat up to 425 degrees Fahrenheit.
Undoubtedly, CorningWare cookware lasts for a long time. Unfortunately, not all their vintage products are oven-safe. It's always best to check whether the CorningWare product you have is oven-safe and the maximum heat it can withstand inside the oven.
Can CorningWare Cookware Be Used Under the Broiler?
Broiling occurs at high temperatures typically ranging between 500 to 550 degrees Fahrenheit. So what goes inside your conventional oven may not be compatible with the broiler. Some CorningWare products can only withstand heat up to 425 degrees Fahrenheit, which is unsafe for broiler use.
However, CorningWare also designed products that are broiler-safe. All their All Glass-Ceramic Line and some Pyroceram are broiler-safe. For instance, the Corningware Pyroceram Just White Casserole can withstand high temperatures under the broiler.
Always take extra precautions when using any cookware inside the broiler. Do not confuse the oven-safe marking with the broiler-safe marking. If a baking vessel is not broiler-safe, it may crack or shatter inside the broiler because of the intense heat.
Make sure to check the manufacturer's recommendation on its maximum heat tolerance. Typically, look for a CorningWare product that can withstand at least 500 degrees Fahrenheit or more. If you're in doubt that a product is not broiler-safe, do not risk using it.
Can CorningWare With a Glass Lid Go in the Oven?
CorningWare is the original oven-stove-freezer-refrigerator-safe bakeware that can withstand extreme cold and heat. So what about their casseroles with glass lids? Are they oven-safe? Not all. The glassworks of CorningWare have undergone a considerable transformation over time.
Not all CorningWare glass lids can withstand heat fluctuations as the baking dish. Remember that not all glass cookware is oven-safe. The makers of CorningWare suggest preheating the oven below 350 degrees Fahrenheit before putting the bakeware with a glass lid inside the oven.
Furthermore, glass lids can only tolerate temperatures inside the oven of up to 450 degrees Fahrenheit. If you use glass lids inside the oven more than its maximum heat tolerance, it may break due to the thermal shock.
Moreover, if you don't preheat a CorningWare bakeware with a glass lid, there is one consequence - you may end up with an undercooked meal that requires a higher temperature when cooking.
Just remember that the bakeware and glass lid have different heat tolerances, so always consider the dish you're cooking. So, if you're cooking bread pudding in the oven, using a CorningWare glass lid is fine since bread pudding only requires 160 degrees Fahrenheit of baking inside the oven.
On the other hand, if you plan to reheat food, preheat the oven first and cover the dish at room temperature with a glass lid. Furthermore, if you plan to place a dish with a glass lid inside the freezer, don't. Instead of using the glass lid, use an aluminum foil to cover the dish.
CorningWare Care and Usage Instructions
CorningWare is extremely versatile in the oven, freezer, microwave, stovetop, and even the dishwasher. No matter how cold or hot the dishware is, you can rely on the durability and top-notch quality of CorningWare cookware.
So, how can you ensure your CorningWare cookware lasts for a lifetime? It's by following the recommended care and usage of the products. After all, proper maintenance is the key to owning long-lasting products. Here are some reminders you should take note of.
Stovetop Use
You can use CorningWare cookware on gas, electric, or ceramic stovetops. Since CorningWare retains heat well, you can use lower heat than normal and save on energy usage. This prevents food from sticking or burning as well. To achieve the best results, prepare the food that is stirred or have the sauce as a cooking medium.
Oven and Griller Use
As mentioned earlier, CorningWare cookware is ideal for all types of ovens. May it be convection, conventional, or toaster ovens. However, for cookware with glass lids, take extra precautions.
As mentioned above, most glass lids can only withstand temperatures inside the oven for up to 450 degrees Fahrenheit. Also, remember never to use the glass cover inside the griller or toaster oven. This may result in breaking or chipping the glass.
Microwave Use
When using CorningWare inside the oven, there's not much problem you'll encounter. Just make sure to use potholders or oven mitts as the bakeware may become hot when heated.
Refrigerator and Freezer Use
What's great about CorningWare stoneware and bakeware is you can transfer it from the freezer or refrigerator directly to the stovetop or oven. Unlike other cookware that cannot withstand a sudden temperature change.
Usage and Care Tips
Always use wooden, plastic, or nylon utensils when cooking in CorningWare cookware. Never use metal utensils as they may leave gray marks or scratch the cooking surface.
When cleaning, use only nylon or plastic cleaning pads. Also, it is best to use non-abrasive cleaners like the CorningWare Cleaner and Conditioner.
CorningWare cookware is easy to clean and will not retain odors. However, to remove food stuck to the cooking surface, soak the cookware in warm soapy water. As for the glass lid, let it cool for a while before soaking it in warm soapy water.
Avoid cold contact with a hot glass lid, even a wet cloth, as this may cause thermal shock and cause the glass to break.
The glass and ceramic materials are breakable. Be careful not to drop it.
Never use any CorningWare bakeware for deep frying, making popcorn, caramelizing sugar, and making candy.
Never heat an empty CorningWare dish inside the microwave.
Never use cracked, chipped, or broken CorningWare cookware and glass lid for cooking. Cracks may worsen inside the oven, or broken glass may mix with the food.
Never place a hot CorningWare cookware directly on the countertop. Use a countertop mat or trivet mat when placing hot CorningWare on the table or countertop.
Final Thoughts
Discussion closed! Yes, CorningWare can go in the oven. But always take note that the glass lids have a limited heat tolerance at 350 to 450 degrees Fahrenheit only. Also, remember that what goes inside the oven may not be compatible with the broiler.
Just remember the drill to check the product information on its maximum heat tolerance and see if it's oven-safe and broiler-safe. If you have CorningWare cookware at home, I'm sure you can attest to its great uses inside the kitchen.
If you plan to buy one, you're definitely making a good investment. CorningWare products are available on Amazon. Their best-seller is the CorningWare 10-piece set of French White Ceramic Bakeware — make sure to check it out.