If you're baking at home and want to make the perfect cookie, then they can't just taste good, they need to look good. Making consistent cookies in a range of fun shapes is simple with a cookie press. We've researched and tested all the best cookie press brands to see how they measure up.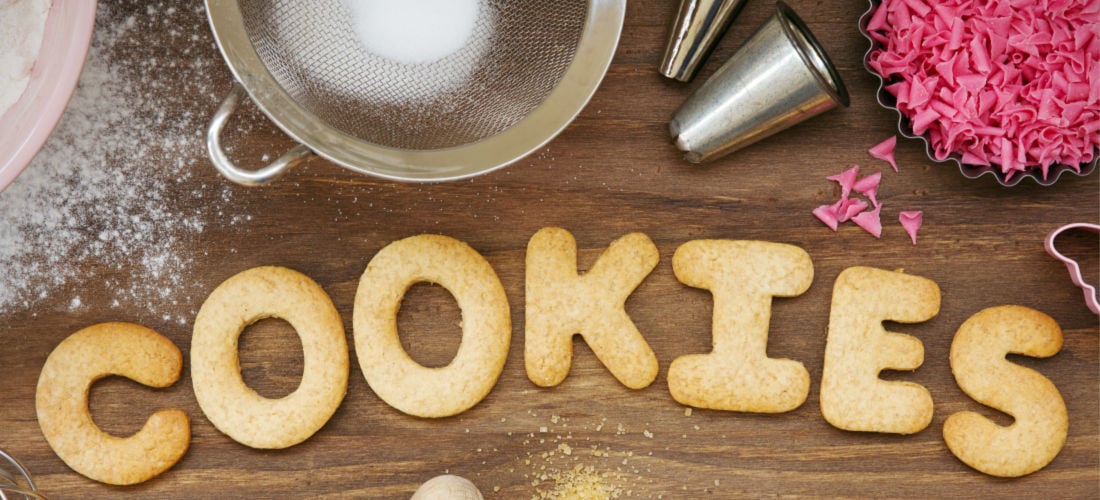 Summary of the best:
Table of Contents
What is the best cookie press?
1. Oxo Good Grips
Number of disc shapes: 12
Cake decorating tips: 0
Weight: 1.6 pounds
Decorating shapes: Flower, Daisy, Tree, Heart, Butterfly, Bear, Sunflower, Fleur-de-lis, Shell, Leaf, Snowflake, and Wreath.
The OXO Good Grips Cookie Press offers an excellent mid-priced unit that has some useful features. It is our preferred press overall and is very popular amongst home bakers. To start with, the cylinder has a clear barrel so you can easily see how much dough is left. It's also easy to see if there are any gaps or air bubbles in the dough. This is important because gaps result in poorly formed cookies.
You will find the Oxo cookie press comes with a good selection of 12 stainless steel discs; enough to let your creativity go wild. For those that like plenty of options, additional shaped discs can be purchased separately.
The discs come in a plastic case so you never have to worry about losing them in the bottom of utensil drawers. It also helps protect them, meaning you'll get more use from your set.
Pros
Comes with 12 discs
Additional disc shapes available
Transparent cylinder
A nice looking cookie press
2. Marcato Atlas Deluxe
Number of disc shapes: 20
Number of decorating tips: 0
Weight: 1.8 pounds
Decorating shapes: Leaf, Daisy, Snowflake, Heart, Wreath, Flower, Butterfly, Fleur-de-lis, Tree, Sunflower, Bear, Shell.
The Marcato 8307 Atlas Deluxe biscuit maker is made in Italy and is our pick for the best premium cookie press. From the moment this product is unboxed you'll notice the high-quality anodized aluminum, ABS, and steel. This press has an impressive-looking design and is built to last.
Our favorite feature of the Marcato Altlas Classic is that the size of the cookie can be adjusted. It is easy to make a large batch of small cookies if there is a herd of kids coming over for a party. Increase the size to the maximum setting for large cookies. We loved the bigger size as they were excellent for decorating.
The design of this spritz cookie press is intuitive, allowing you to easily put together the parts. It is also easy to disassemble after use which is a handy feature for those who intend to make biscuits frequently as it will save a lot of time.
Keep in mind the Marcato Atlas isn't dishwasher safe so you'll have to wash it by hand. It also comes with a 10-year warranty for peace of mind.
The Pros
Powerful enough to pump out thick dough
Great selection of cookie discs
Quality materials and design
Easy to assemble/disassemble
Adjustable cookie sizes
Produced the best looking, perfect shapes
The Cons
Not dishwasher safe
No icing nozzles
Not priced for the budget-conscious
3. HGHMLIFE Cookie Press
Number of disc shapes: 16
Number of decorating tips: 6
Weight: 11.4 oz
Decorating shapes: Xmas tree, flower, heart, butterfly, snow flake, teddy bear, and various other shapes.
The HGHMLIFE Cookie Press is our top pick for people who need an inexpensive cookie press. Its pistol grip handle makes it easy for the home baker to hold the press steadily and extrude cookies.
There are also a large number of discs to create a wide range of cookie shapes. A set of icing tips are also included, which are perfect for getting creative during birthdays, Christmas, and other celebration dates.
The HGHMLIFE Cookie Press is manufactured from clear plastic which makes it easy to see the amount of dough inside. This is useful as you'll know how much dough is left in the chamber. You'll never run out of dough mid-squeeze.
Keep in mind that plastic isn't the most robust material, so if you expect to make a lot of cookies, it may not last the distance.
The Pros
Low cost
Transparent barrel
Ergonomic handle
The Cons
Not as robust as other models
4. Wilton Preferred Cookie Press
Number of disc shapes: 12
Cake decorating tips: 0
Weight: 13.6 ounces
Decorating shapes: Heart, Leaf, Pumpkin, Sunflower, Snowman, Flower, Tree, Wreath, Biscuit, Turkey, Starburst, Pinwheel.
The Wilton Preferred Press Cookie Press is an excellent option if you're looking for a quality brand without a high price tag. They've been making kitchen products for almost 90 years and have developed a reputation for making innovative kitchen tools.
Although this press is made from mostly plastic parts, it has a solid feel to it. The ergonomic handle will allow you to produce large quantities of cookies without hand strain.
Included with this press are 12 discs which include some fun holiday-themed shapes. You may be pleased to know that includes a Christmas tree, perfect for those festive season cookies.
Our only fault that we could find with this press was the final cookie shape we pushed out. Compared to other models, the Wilton cookie press produced fairly average shapes that didn't have a lot of precision.
The Pros
Affordable
Ergonomic handle
Creative disc shapes
The Cons
The cookies weren't shaped well
Plastic discs
Not dishwasher safe
5. Kuhn Rikon Clear Cookie Press
Number of disc shapes: 14
Cake decorating tips: 6
Weight: 6.6 ounces
Decorating shapes: Daisy, Wreath, Tree, Pinwheel, Heart, Butterfly, Flower, Sunflower, Bear, Leaf, Shell, Snowflake, Bat, Pumpkin, Camel
The Kuhn Rikon Clear Cookie Press stands out from its opposition by doubling as a decorating gun. You can make cookies using one of the 14 disc shapes, then ice them by selecting one of the 6 icing tips.
We liked using the star disc because it was excellent for making professional-looking cheese straws.
The Kuhn Rikon cookie press comes with a storage case to keep the various parts in order. This is useful if you like an organized kitchen.
The Pros
Creative, wide selection of discs
Includes six decorating tips
Case to house all the parts
Dishwasher safe
The cons
The discs aren't dishwasher safe
6. Kitchen Aid Cookie Press
Number of disc shapes: 12
Cake decorating tips: 0
Weight: 1.9 pounds
The KitchenAid cookie press gets points for its innovative design and sleek look. At a glance, it looks like it'd do a great job of pressing out cookies.
This model includes a spring-loaded lever to help push out the dough. Unfortunately, it didn't work for our cookie-making. We spent at least 30 minutes trying to get it to work, but a lot of the dough simply didn't come out of the chamber. Maybe we got unlucky with our purchase, but further research revealed that this is a known issue.
The Pros
A good selection of discs
Easy to use and clean
Dishwasher safe
The cons
Not built for purpose
Expensive
Update: At the time of writing this review, the KitchenAid cookie press was temporarily unavailable from Amazon, but it could be purchased on other online stores.
7. Cuisinart CCP-10 Electric Cookie Press
Number of disc shapes: 12
Cake decorating tips: 8
Weight: 2.05 pounds
Decorating shapes: Flower, Pinwheel, Christmas Tree, Doily, Wreath, Pumpkin, Heart, Daisy, Dot pattern, Butterfly, Sunflower, and Biscuit.
The best electric cookie press that we could find was the Cuisinart CCP-10 Electric Cookie Press. This press is easy to use thanks to its one-touch functionality that allows automatic operation. Simply fill the see-through barrel with dough and close, then hold down the button to create cookies.
This press comes with 12 discs and 8 design tips made of stainless steel. Create a wide range of seasonal cookies with ease thanks to the comfortable ergonomic handle.
Pros
Comfortable handle grip
Automatic unit
3-year warranty
Cons
Less technical users may find setup difficult
Difficult to wash
8. Wilton Comfort Grip Cookie Press

Number of disc shapes: 12
Cake decorating tips: 0
Weight: 6.7 ounces
Decorating shapes: Christmas Tree, Wreath, Ribbon, Daisy, Pumpkin, Heart, Butterfly, Flower, Sunflower.
The Wilton Comfort Grip Cookie Press allows you to pump out a large batch of cookies in a few minutes. As the name suggests, operating this tool isn't a struggle, thanks to a comfortable grip. It also has a handy non-slip base to help make cookies and crackers with ease.
Unlike some models that recommend chilling the dough before use, this model works best when it's at room temperature. For at-home bakers who are short on time, this is a big help.
Pros
Can use dough at room temp
12 plastic discs
Transparent barrel
Affordable
Comfortable ergonomic grip
Cons
Dough doesn't always release easily from gun
9. Fante's Silver Cookie Press
Number of disc shapes: 5
Cake decorating tips: 0
Weight: 14.4 ounces
Decorating shapes: Star, zig zag, twist, and more.
The Fante's Easy Cookie Press has been helping home cooks make precisely-shaped, creative cookies since 1906. It has built a solid reputation for pumping out thick dough that many other models would struggle with. Unlike many other models that push out the dough, this tool has a handle that gets rotated. It can force out even the most challenging sugar cookie or butter cookie dough.
With only five shapes to choose from, this model has fewer options than the others on this list. However, cleanup is quick and easy, and it is a classic press made from stainless steel construction. This product will be an appealing option for anyone happy with a few basic cookie shapes.
Pros
Easy cookie press to setup
Makes well-shaped cookies
Effective for use with thick dough
Cons
Cookie Press Comparison Chart 2021
Check out this comparison table for a quick view of the top cookie presses and how they vary.
| Brand | Weight | Material | Number of discs | Number of piping nozzles | Color |
| --- | --- | --- | --- | --- | --- |
| Oxo Good Grips | 1.6 pounds | Plastic | 12 | 0 | Black and white |
| Marcato Atlas Deluxe | 1.8 pounds | Anodized aluminum | 20 | 0 | Silver |
| HGHMLIFE | 11.4 ounces | Plastic | 16 | 6 | Yellow |
| Wilton Preferred | 13.6 ounces | Plastic and metal | 12 | 0 | Silver and black |
| Kuhn Rikon | 6.6 ounces | Plastic and stainless steel | 14 | 6 | White |
| Kitchen Aid | 1.9 pounds | Stainless steel | 12 | 0 | Black |
| Cuisinart CCP-10 Electric | 2.05 pounds | Plastic | 12 | 8 | White |
| Wilton Comfort Grip | 6.7 ounces | Plastic | 12 | 0 | White |
| Fante's Silver | 14.4 ounces | Stainless steel | 5 | 0 | Silver |
What is a cookie press?
A cookie press is also known as a cookie gun or biscuit maker. It is a handheld tool that squeezes cookie dough through a variety of shapes to create impressive-looking biscuits. A press comes with a range of discs allowing you to pipe a range of shapes like flowers, hearts, and pumpkins. Kids adore the shapes and adults seem to enjoy them too.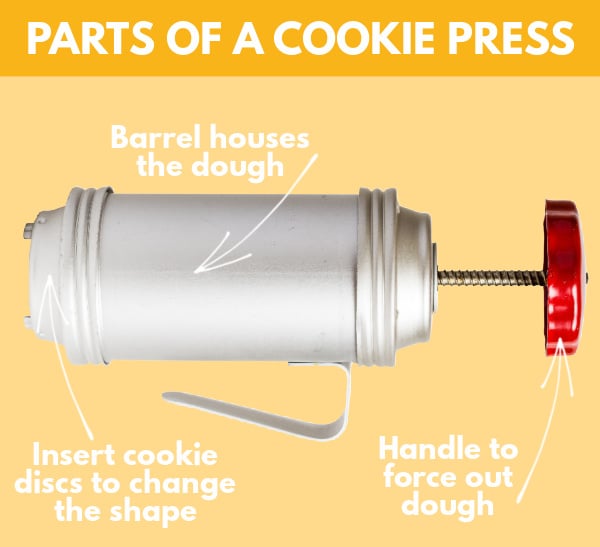 Cookie presses often look like a mini version of a caulking gun. Some require a firm grip to force the dough out onto the baking sheet. Others are electric and the simple touch of a button will extrude the raw cookies for you.
The cookies made by a cookie press are called spritz cookies which means "squirt" in German. It refers to the fact that you squirt out the dough into different shapes.
What to look for in a cookie press
There is no perfect cookie press on the market, each has its pros and cons. The best cookie presses should rate well on at least one of the following criteria. Check out which of the following attributes are most important to you.
1. Consistent cookie shaping
The biggest benefit a press offers is making perfectly shaped cookies fast. If your press doesn't provide this, it's time to look for a different product. Surprisingly, not every cookie press will give you the same neat, tidy shapes. We found the Marcato Atlas or Oxo Good Grips provided excellent form.
2. Manual Vs Electric
A manual cookie press will cost you less than the electric version and they're easier to use. A big benefit of choosing a manual press is that you can force thick, heavy dough through the nozzle. Most electric models are designed to pump out cookies made from thinner spritz dough.
If you aren't on a tight budget and you'll be making cookies out of dough that isn't too heavy, then electric may be a good option. You'll be able to produce loads of perfect-looking cookies – hearts, faces, animals, flowers, and much more. Next fundraiser, you'll be the star of the event thanks to your exquisite looking sweet treats.
Electric cookie presses cost a lot more than manual models. We only recommend the automatic models if your budget is no concern or you make a lot of cookies throughout the year. An electric press is also a good option for frail elderly and those without wrist strength.
3. Durability
The materials used to make a cookie press vary by brand and some will last longer than others. If you use a cookie press often, then choose one made of stainless steel or aluminum to avoid any problems with rust. A metal cookie press will take the knocks and feel sturdy in the hand, even after squeezing out 150 cookies.
Heavy-duty plastic is your next best option, and these models usually cost you less. For the occasional spritz cookie maker, a plastic cookie press should do the job. Remember to choose a food-grade, BPA-free option.
4. Cookie press discs
Are you a creative type that loves making cool-looking food? We suggest looking for a cookie press with lots of discs. For variation, the Marcato is one of the best with 20 different cookie designs to choose from. Some brands sell add-on packs of cookie shapes so check that out too.
Tip: look for discs that are die-cut as they are built to last.
5. Appearance
How your cookie press looks won't be the most important feature for some cooks. But if you've got the budget, why not choose a sleek-looking stainless steel tool that looks impressive as it pumps out dough.
6. Chamber capacity
A large chamber will make life easier because you won't have to constantly refill it with dough. However, larger units can be difficult for kids to handle. If you have kids that are itching to use the cookie press, you may want to opt for a smaller chamber so that they can handle it easier.
7. Ease of cleaning
Cleaning a cookie press can be frustrating for anyone who doesn't enjoy washing up – we guess that's almost everyone. The chamber, die-cut discs, and nozzles have some hard-to-reach places. Choosing a dishwasher-safe press is your best bet to save time washing up. Some products that have a simpler design are easy to clean in warm soapy water.
9 Tips for using this device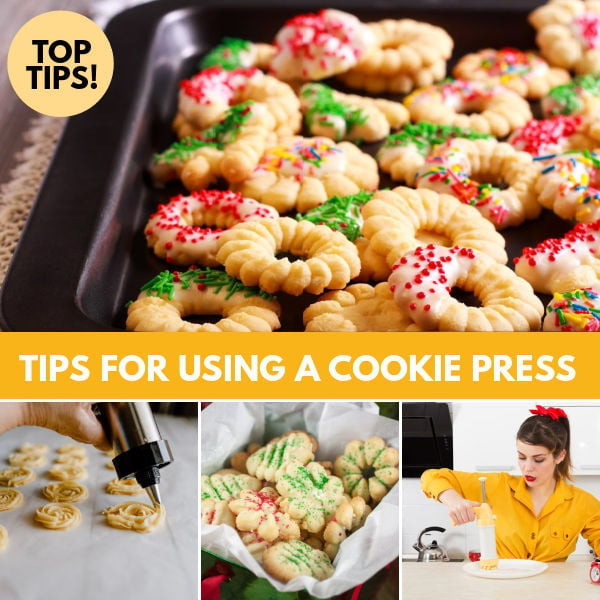 Leave a one-inch gap between each cookie on the baking sheet to allow for spreading out. You don't want all your cookies to join together into one massive cookie (or do you?).
When adding dough to the chamber, get rid of any air pockets by using a spoon to push it down.
Squeeze the cookies directly onto the baking sheet rather than dropping them from a height.
Use a lined baking tray without greasing or spraying with oil. The cookies won't form the way they're supposed to if the baking paper is greased.
Freeze the baking sheet 30 minutes before use to help the dough adhere to the sheet and try to avoid non-stick sheets.
Never add ingredients like raisins or chocolate chips to the dough. You won't be able to pump them through the tip of the press.
Choose an appropriate cookie recipe that is designed for squeezing through a press. It needs to be the right consistency - softer than the dough you're used to when making cookies by hand.
Cleaning the press immediately after use is much easier than leaving it to wash up later.
Place all the parts of your cookie press in its original box to make sure nothing gets lost.
How does a cookie press work?
The cookie press is a simple tool that consists of a tube that houses the dough. Squeezing a handle will force out the dough onto a baking sheet. There is a tip that allows you to change the disc, creating different-shaped cookies.
Related reading:
Check out our in-depth review of the Avanti Cookie Press to get step-by-step pictures of this tool in action.
Benefits of a cookie press
achieve perfectly shaped, uniform cookies every time.
create fun shapes that you couldn't do by hand.
produce lots of cookies fast.
provide kids with a fun activity in the kitchen.
Cookie press fact: The cookie press has been around for hundreds of years.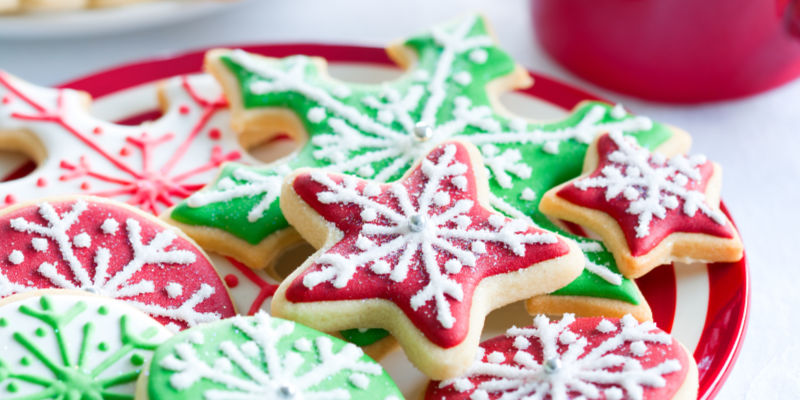 How we chose our cookie presses
Online research: We conducted 3 hours of online research on Amazon, Reddit, and Google Reviews to discover the leading products and what people think of them.
Group discussion: Following our online research, we reached out to various baking and cooking groups on Facebook to get their opinions on our shortlist of products. We also wanted to ensure no popular brands were missing from the list.
Group discussion: Following our online research, we reached out to various baking and cooking groups on Facebook to get their opinions on our shortlist of products. We also wanted to ensure no popular brands were missing from the list.
Practical testing at home: Finally, we purchased or borrowed the cookie presses and gave them a workout. Using a range of shapes, we tested each press looking at a range of criteria.
Final words
Baking cookies is a fun activity that anyone can get involved in. Kids love helping out and sneaking the occasional piece of dough to eat. When you need to bake a lot of them or you want an exact shape, a quality cookie press is what you need.
All the products mentioned on this page have their strengths and weaknesses, but our favorite is the Marcato 8307 Atlas Deluxe. This model is built to last and makes impressive cookies. If you want an icing piper included, then the Kuhn Rikon or HGHMLIFE are good options.
A cookie press doesn't have many moving parts so it should keep on serving you for many years before needing replacement. Happy baking!