Cold coffee is the perfect caffeinated drink for hot summer mornings. Or even when you just need a break from drinking mug after mug of steaming hot coffee.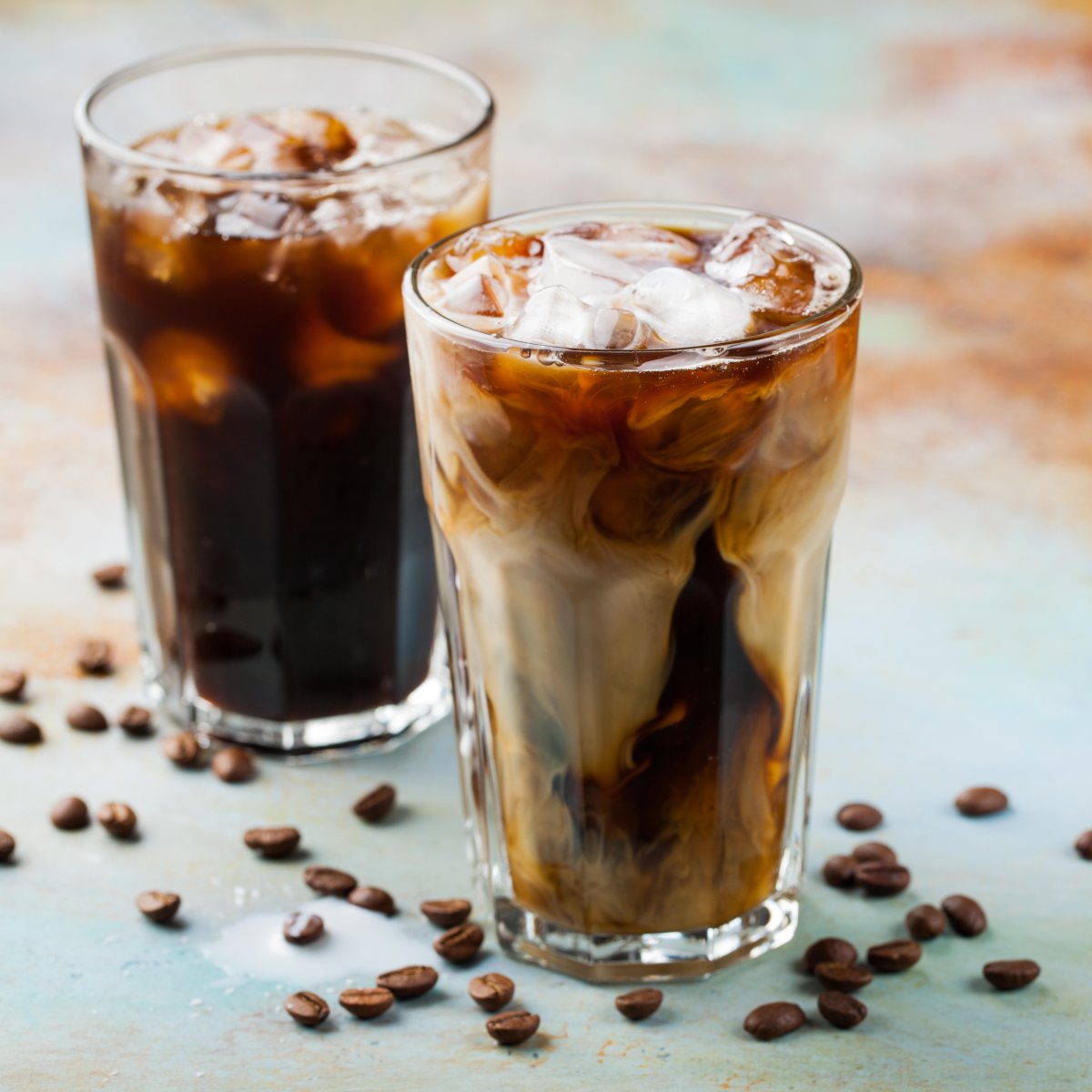 But did you know that there are actually two main types of cold coffee?
That's right. Iced coffee and cold brew are two very different things.
The main difference between cold brew coffee and iced coffee is that cold brew is brewed cold, while iced coffee is brewed hot and cooled down later. I'll admit, that's just scratching the surface of the differences that really separate the two drinks.
So, in this article, let's take a deep dive into the world of cold coffee. I'll give you an overview of each type of cold coffee and how to make it yourself. Then, I'll put them against each other to demonstrate how they differ.
Let's jump straight in!
Table of Contents
The Basics Of Cold Brew Coffee
Cold brew has taken the world by storm in the last few years. And in all honesty, there's a good reason.
It's delicious.
Cold brew has a smooth, naturally sweet taste that accompanies the coffee's natural flavor profile. But the big secret of cold brew hides in plain sight: cold brew is brewed cold.
What exactly does that mean?
Well, it means that the water used to brew cold brew wasn't ever hot. At its warmest, cold brew is made with room-temperature water. But usually, that water is slightly colder.
When I was a barista, we used cold tap water to make our cold brew. And at the time, that was seen as too cold for making a cold brew. (Our results spoke for themselves, though!)
The benefit of using cold water to brew coffee is that you don't extract many of the oils you would with hot water. It also means you get more caffeine.
Those oils are highly volatile- and that only means they deteriorate quickly. And those oils are what make hot coffee so tasty. Have you ever taken a sip of hours-old hot coffee? It doesn't taste great, right? That's because of the deterioration of those oil compounds.
You get a much different drink if those oils don't get hot. Instead, you get a coffee that isn't as bitter or punchy. And your brew has a much longer shelf life.
The problem is that extraction happens faster the hotter the water is, and cold brew takes a long time to finish. As in, good cold brew takes anywhere from 8-24 hours.
But despite how long it takes, cold brew is super easy to make. So, let's go over a quick and easy recipe.
How To Make Cold Brew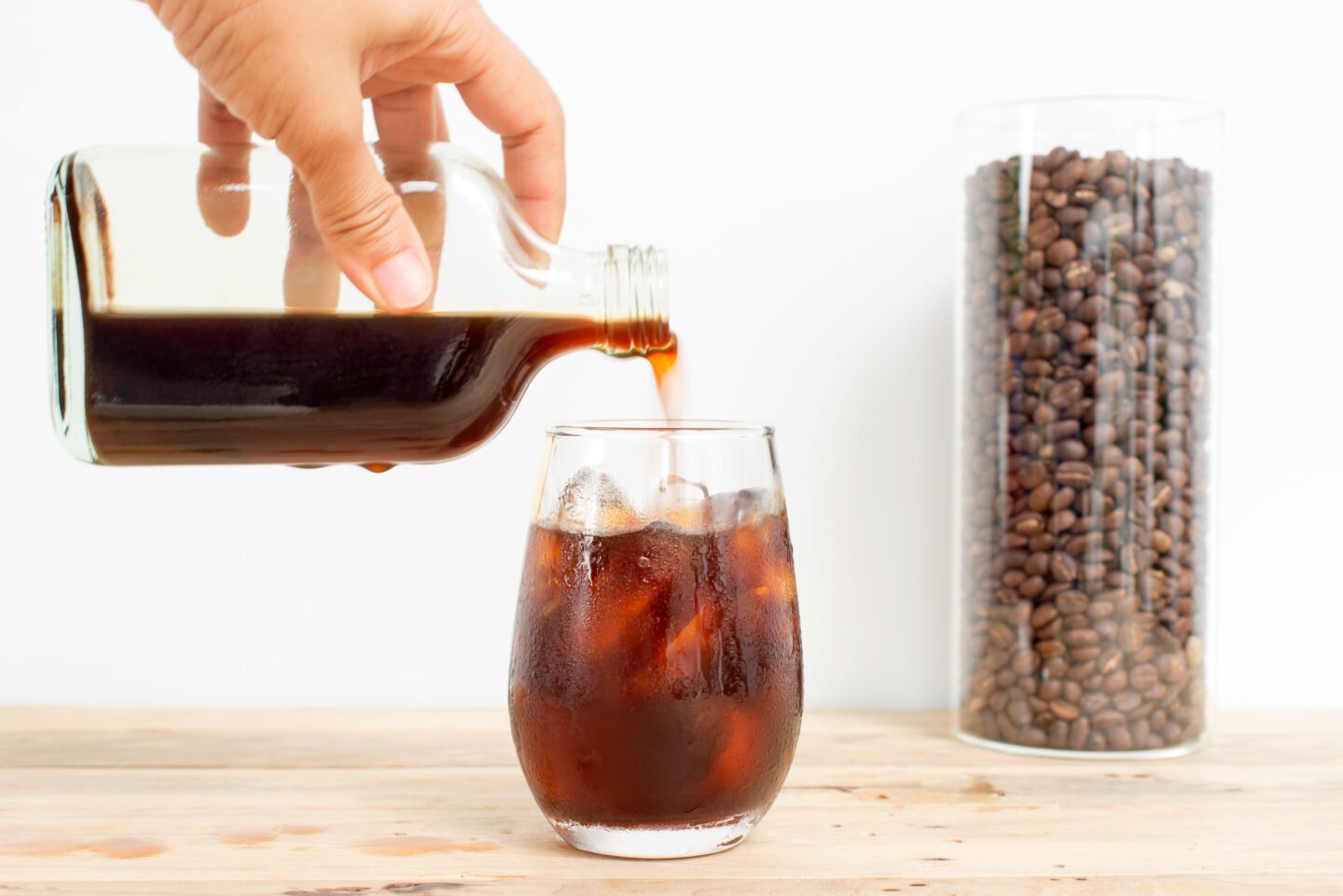 To make this recipe, you'll need a few things:
A mason jar with a lid or a French Press. I prefer mason jars.
Room temperature or colder water. Using tap water is fine.
Coarsely ground coffee. This should be much coarser than you would typically grind.
A filter or cheesecloth. This is to strain the coffee after it finishes brewing. A fine mesh metal strainer works as well.
Okay, it's time to brew:
Put 50 grams of coarsely ground coffee beans into the mason jar. Using 50 grams of coffee will give you 2-3 servings of cold brew. Adjust as needed.
Add 600 grams of room temperature or colder water. Your water should match how much coffee you use. Try to keep a ~1:12 coffee-to-water ratio.
Cover and place in a cool environment. Using the fridge is fine. A cool garage or basement works as well.
Wait 8-24 hours. Waiting longer will give you a stronger brew.
Strain.
Serve cold with ice cubes.
But that's it! The biggest challenge in making cold brew coffee is the patience required to wait so long for coffee.
The Basics Of Iced Coffee
Iced coffee is a totally separate thing from cold brew coffee.
Iced coffee is brewed coffee that is cooled down later. It's a faster way to make cold coffee drinks.
I think iced coffee isn't quite as tasty as a cold brew. Because it's usually poured over ice, it can taste watered down and diluted when the hot coffee inevitably melts some of the ice.
But there's still a time and place for it!
If you want a cold coffee and don't have 8 hours to wait, iced coffee is a great choice. I also prefer iced coffees when we're talking about specialty drinks like espresso martinis or shaken espresso. Or when I don't want as much caffeine as a cold brew.
Making iced coffee is pretty easy because it's the same process as making a regular cup. But instead of pouring it into a mug to enjoy steaming, you pour it over a glass of ice and wait a minute for it to cool down.
Cold espresso drinks like iced lattes or iced macchiatos are made using this process. It's more of a traditional iced coffee. That's because espresso shots always have to be pulled hot. That's another reason why iced coffee is sometimes certainly worth it.
But let's take a look at how you make iced coffee.
How To Make Iced Coffee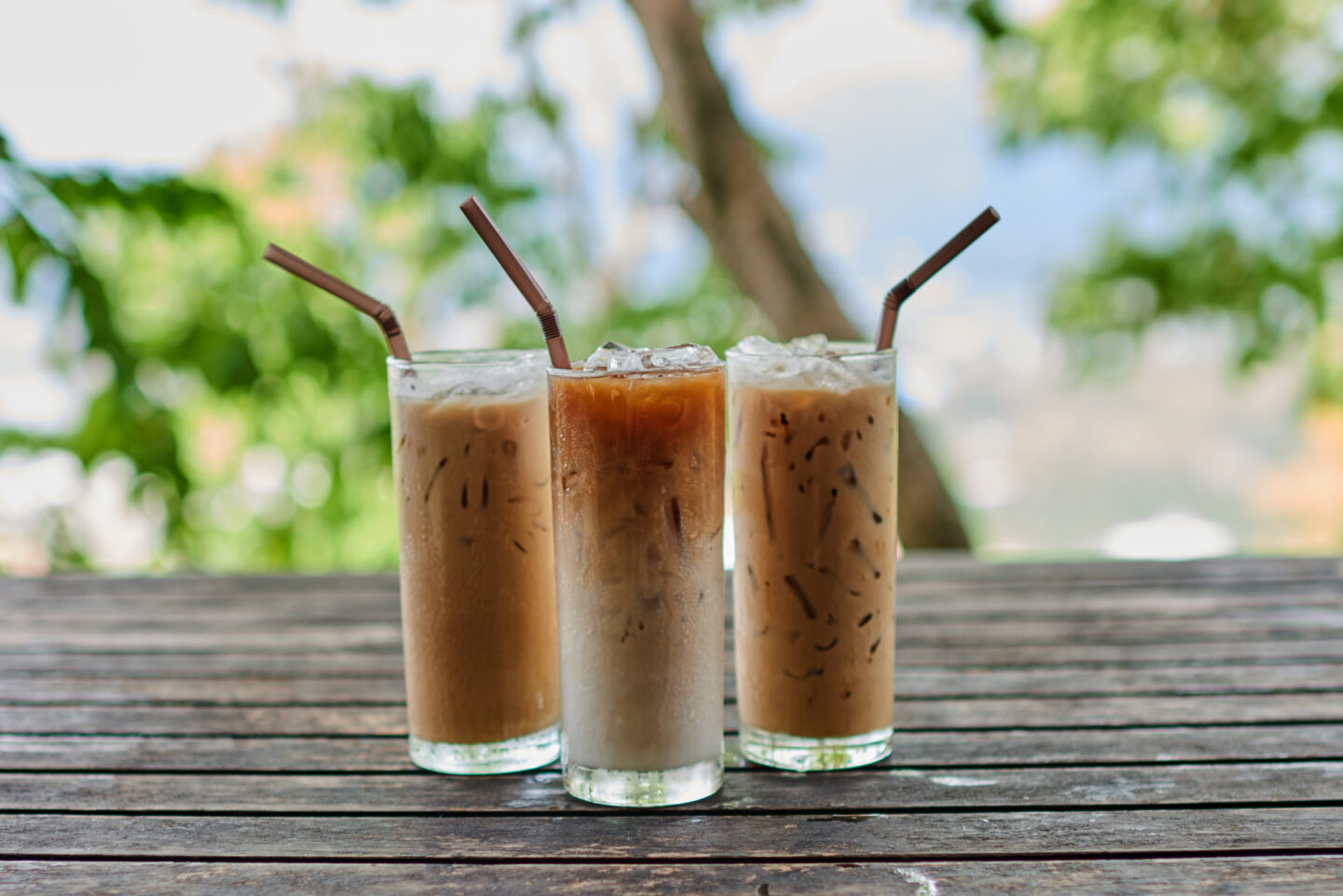 For this simple recipe, you'll need the following:
A coffee brewer. This can be anything from a French Press to a drip coffee. I really enjoy making iced coffee with my AeroPress.
Coffee beans. I prefer lighter roasts for iced coffee. They tend to have more lively and brighter flavors that come through strong in cold coffee drinks.
A glass of ice.
And here's how I make it:
Brew a cup of coffee as you normally would. However, if you like to brew at home, do that.
Wait 30 seconds after the brew is finished. Bonus points for giving it a little swirl or stir to help all the flavors mix and decant.
Pour over ice.
(Optional) Add more ice. Sometimes you need to top it off with a little more.
Cold Brew Vs. Iced Coffee: All Differences Explained
It's time we took a closer look at the differences between cold brew and iced coffee.
Ingredients
The ingredients are actually the same in both drinks.
Cold brew and iced coffee use the same two things: coffee and water.
The big difference is that cold brew uses cold water, while iced coffee uses hot water.
Water Temperature
Water temperature is the main difference between iced coffee and cold brew.
The hot water used in making iced coffee means the oil compounds in the coffee start to deteriorate faster, which means your iced coffee has a much shorter shelf life.
The cold water used in cold brew means the oils don't start to deteriorate. Cold brew has a much longer shelf life.
Brewing
There isn't any beating around the bush: cold brew takes 8-24 hours to brew, while iced coffee takes only a few minutes.
The quickness of iced coffee is one of the reasons it's still around.
It's a convenient way to make cold coffee drinks without spending hours and hours waiting around.
However, the brewing time required to make cold brew means you get a much smoother and easier work with coffee.
It's a trade-off, really.
Flavor
Speaking of smoother and easier to work with, cold brew has a much different flavor from iced coffee.
Iced coffee tends to taste like hot coffee that is cold. Wild, I know.
Cold brew, on the other hand, has a distinct texture and flavor reminiscent of a sweet and acidic brew.
Think iced tea versus hot tea. Cold brew tastes bright, lively, smooth, and rounded. Iced coffee tastes bitter, richer, and bolder.
Serving
Serving these two drinks is actually quite similar. They are, after all, both cold coffee drinks.
While they are both served over ice, iced coffee tends to look more watered down and diluted. That's because it's poured over ice while still hot. So obviously, some of that hot coffee will melt some of the ice.
On the other hand, cold brew is poured over ice. It retains a lot of its character and appearance.
Both iced coffee and cold brew can be served with a splash of cream and any flavoring syrups you like.
My Final Thoughts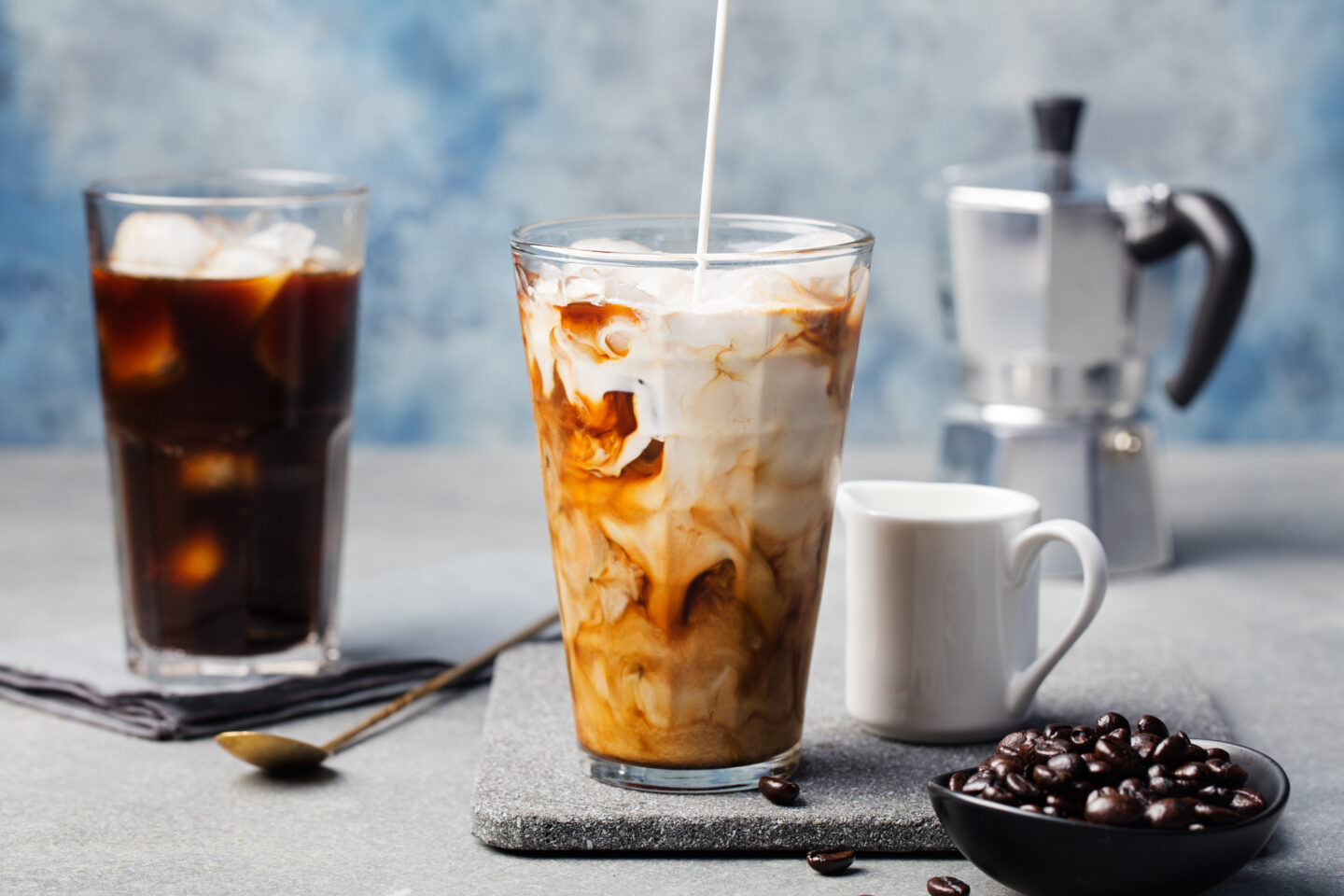 Cold brew and iced coffee are both cold coffee drinks.
But it's best not to get them confused. They are very different drinks.
Cold brew is coffee steeped in cold water for anywhere from 8-24 hours. Iced coffee, on the other hand, is brewed coffee that was brewed hot and cooled down later by pouring it directly over ice.
Cold brew also has a lot more caffeine than regular iced coffee.
I recommend cold brew to anyone who wants a smoother and slightly sweeter cold coffee. But stick with iced coffee if you want something quick, bold, and a more classic coffee taste.