White sandy beaches fringed with coconut palms are everybody's idea of what a tropical paradise should look like, and coconut water drunk from a green coconut under swaying palms is the perfect holiday treat. Coconut water, oil, milk, and flesh are now part of many people's diets, not just in the tropics.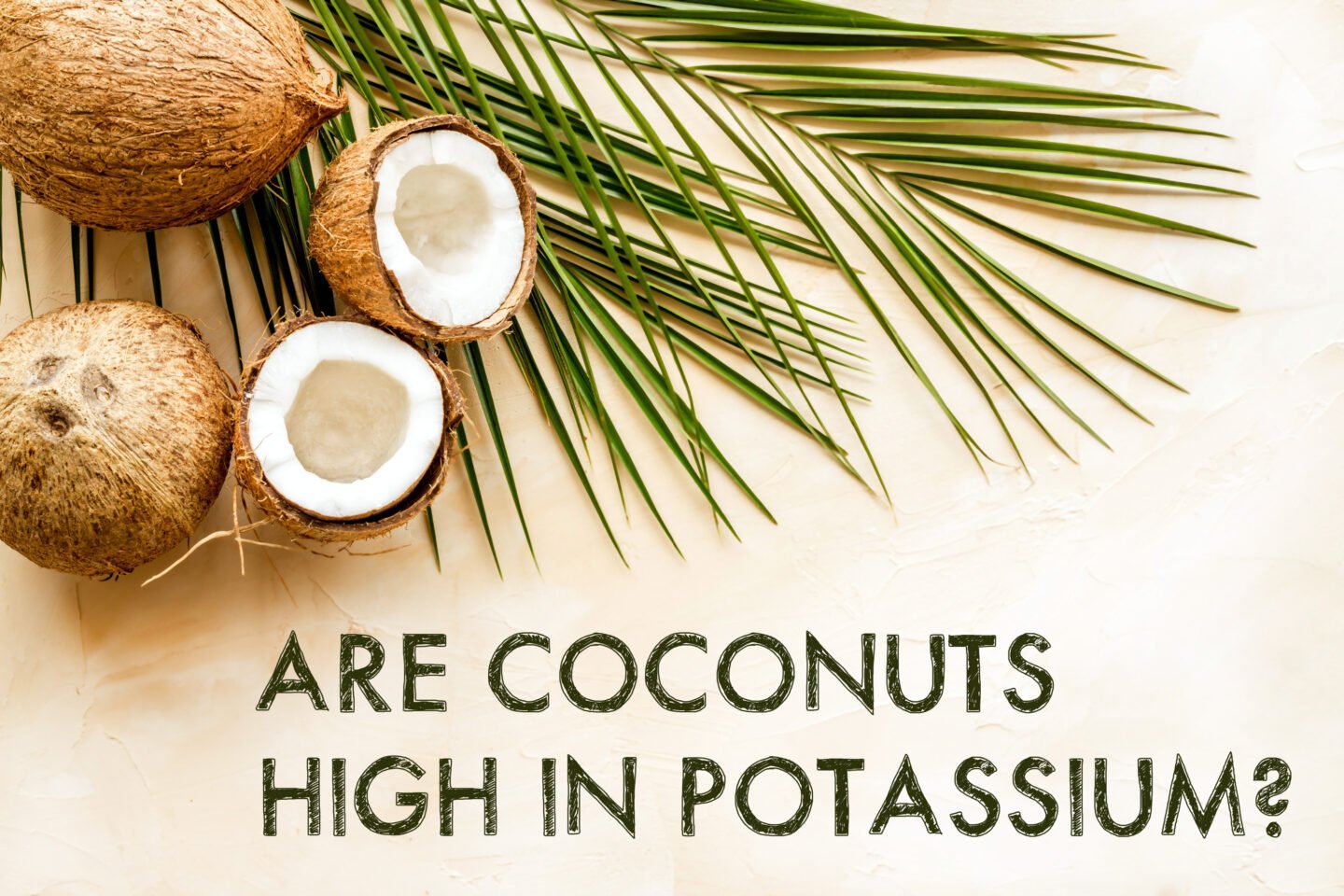 Coconut is delicious, highly nutritious, and versatile in the kitchen; it's used in everything from ice cream to curry.
However, many people follow a diet aimed at increasing or decreasing their intake of certain nutrients, such as a low-potassium diet for kidney disease sufferers.
How well does this delicious tropical treat fit into such a diet?
Table of Contents
Is Coconut High or Low in Potassium?
Coconut is high in potassium and should be eaten in moderation or avoided entirely by those on a low-potassium diet. Some coconut products are lower in potassium than others, so if your potassium sensitivity isn't too severe, you may be able to enjoy some coconut occasionally.
For those seeking to increase their potassium intake, coconut is a tasty and healthy method to achieve this. However, coconut can be high in calories, especially the flesh.
Can You Check Your Potassium Level at Home?
How Much Potassium Is in Coconut?
Three tablespoons of raw coconut cream contain 147 mg of potassium. Although this is under the 200 mg per serving threshold to be considered low-potassium, most people eat more than this in a sitting.
Three tablespoons of canned, dried coconut cream contains around 260 mg and is higher in calories, fats, and preservatives.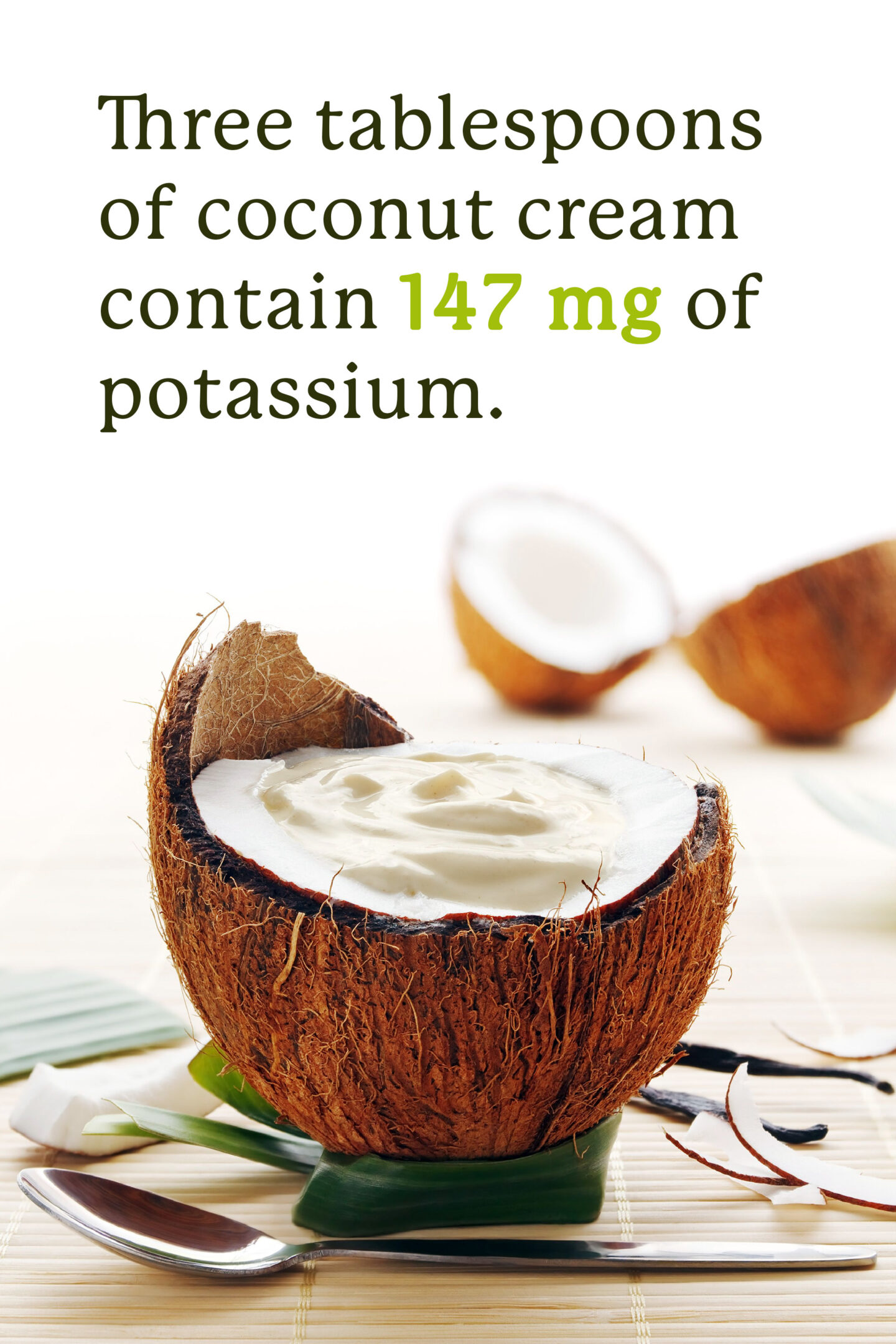 Is Coconut Healthy?
Most of the calories in coconut come from fat, but it does contain some protein. Fat from coconut is absorbed instantly in your intestines and used for energy.
Some studies suggest that eating coconut fat instead of saturated fatty acids from animal fat promotes fat loss and prevents overeating.
Coconut is low in carbohydrates but high in fiber, which studies show stabilizes blood sugar levels, reduces the symptoms of diabetes, and improves insulin resistance.
The plant compounds in coconut stimulate the pancreas to produce insulin, further reducing the risk of developing and alleviating the symptoms of diabetes.
Coconut flesh and water contain several powerful antioxidants that help flush out free radicals, preventing oxidative stress.
Oxidative stress and cellular damage increase the risk of cancer, heart disease, and premature aging.
The antioxidants in coconuts also help prevent the oxidation of good cholesterol, lowering your risk of cardiovascular disease.
Coconut flesh is an excellent source of manganese, which supports the formation of connective tissue, bones, blood-clotting factors, and sex hormones.
Manganese may contribute to normal brain and nerve function, preventing cognitive disorders. It also aids carbohydrate metabolism and calcium absorption.
Can You Get Too Much Potassium from Coconut?
Unless you are extremely sensitive to potassium, it's highly unlikely you would get too much purely by eating coconut. Those on a low-potassium diet should stay within the daily intake recommended by their doctor.
Coconut milk and water are especially high in potassium.
Is Coconut Milk High in Potassium?
One cup of raw coconut milk contains 631 mg of potassium, so those on a low-potassium diet should avoid it completely.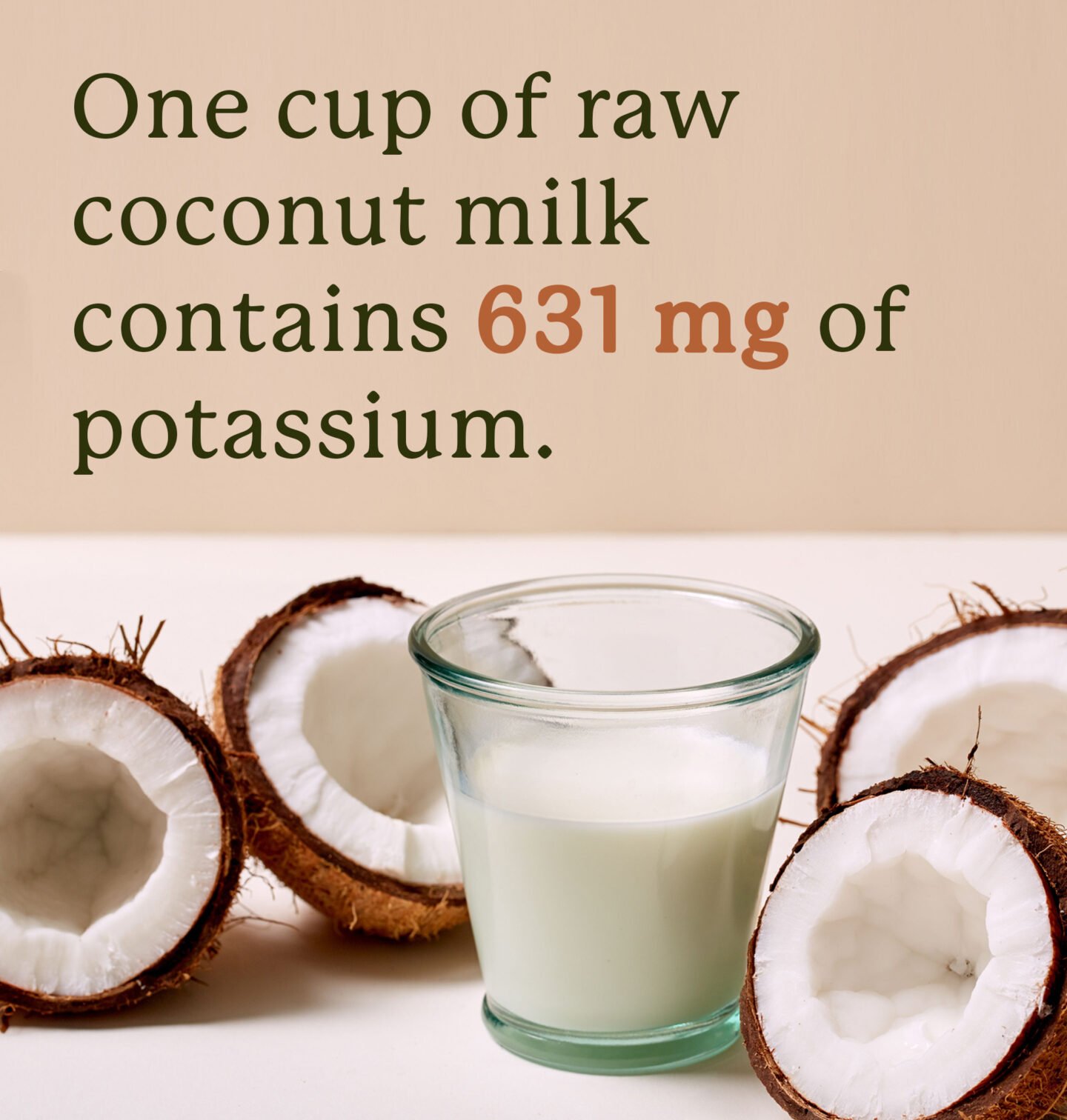 One cup of canned coconut milk contains slightly less, with 497 mg. However, it's also high in sugar, sodium, and preservatives.
Is Coconut Water High in Potassium?
One cup of coconut water contains around 600 mg of potassium, so it should be avoided if you're on a low-potassium diet.
However, it's recommended for those seeking to increase their intake of potassium, magnesium, manganese, and calcium.
It's very effective hydration, especially after a workout, and helps improve your skin health.
Conclusion
For those without potassium sensitivity, coconut is a great source of healthy fats, nutrients, and plant compounds that benefit health.
However, those on a low-potassium diet should avoid or strictly limit their intake.
Don't know which foods are high in potassium? Read our article, 15 Best Food Sources of Potassium. We also have a guide to this important mineral: Potassium 101: All You Need To Know About Potassium.