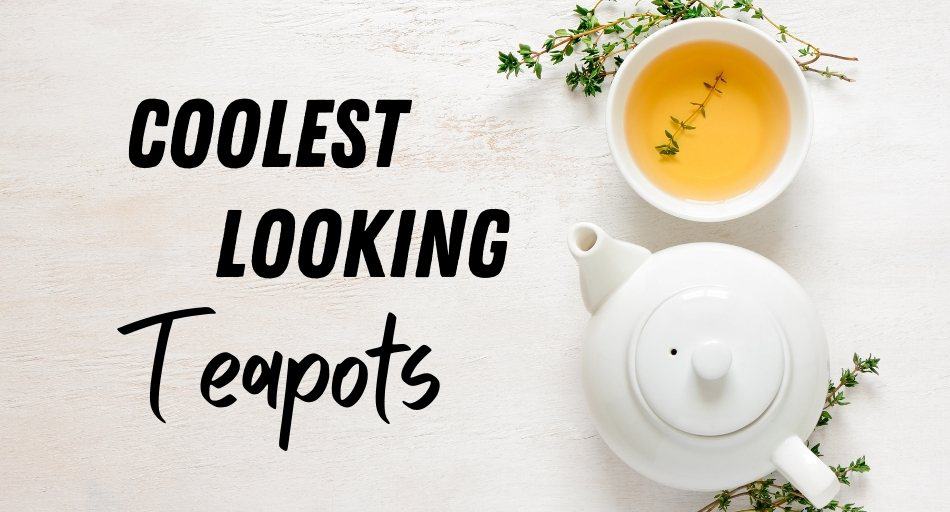 Discover the beautiful and tasteful world of teapots. We found cool and clever teapots that will make every kitchen and table look fancy and more interesting.
If you buy through the links on this page, we will get a small commission at no charge to you. Thank you for supporting our website.
Make sure to check out 19 of the Most Beautiful Electric Water Kettles
Table of Contents
Featured Cyber Monday Deal: 41% off Instant Pot Pro
Only $99.95!
1. Tealyra Ceramic Large Teapot Turquoise
Check the price on Amazon
Tealyra teapot is equipped with a stainless steel cover, which opens wide and is convenient. It doesn't interfere with the filling of tea leaves and closes tightly during the welding process. A drip-less spout allows you to pour a drink into a cup without spilling.
Beautiful, modern Daze ceramic teapot is available in black, blue, lime, orange, red, turquoise, white, and yellow.
2. ZENS Japanese Ceramic Teapot Set
Check the price on Amazon
This Japanese-style teapot is crafted with thicker porcelain and has a matte glazed surface that offers a very smooth finish. The bentwood handle gives this ceramic teapot an oriental touch. It can be turned 90 ° to the side for easy filling and can be easily removed from the side screw. Also available in blue and as a set with four cups.
3. Primula Half Moon Teapot with Removable Infuser
Check the price on Amazon
Made of heat-resistant borosilicate glass with a durable protective holder and comfortable grip handle. The high-quality glass allows for crystal clear viewing so you can easily brew to your desired strength. Also available in blue, pink, and multicolor.
4. Doctor Who Tardis Ceramic Teapot
Check the price on Amazon
Beautifully crafted and detailed teapot fashioned after Doctor Who's time machine. It holds approximately 750ml/25oz and is perfect for any tea-loving Doctor Who fan. Officially licensed product.
Complementary Doctor Who cup
5. Hiware Glass Teapot with Removable Infuser
Check the price on Amazon
This teapot is completely handcrafted, made from heat-resistant borosilicate glass, specially designed with a non dripping spout and a perfect ergonomic handle for a sturdy grip. Removable high-grade 18/10 stainless steel mesh infuser filter for loose teas or blooming teas and the lid fits the tea basket both when inserted or removed.
6. Whistling Tea kettle, Gold Silver
Check the price on Amazon
This unique stovetop teapot uses advanced food-grade raw materials and its perfect stainless steel workmanship ensures that it is rust-resistant and easy to clean. It's also available with only silver and only gold lines. All three are perfect for abstract art lovers.
7. TOWA Workshop Japanese Tetsubin Tea Kettle Cast Iron Teapot
Check the price on Amazon
This cast iron tea kettle from Japan allows gradual and even heating. It will help infuse the greatest amount of flavor from tea leaves into the water. Cast iron teapot could break down the elements of Fe2+, which is beneficial to you.
It's available in various sizes and designs.
8. Fellow Clyde Stovetop Tea Kettle
Check the price on Amazon
Clyde is a stainless steel teapot that marries a modern design with flawless functionality for the ultimate brewing experience. This matte black designer kettle will make a statement in your kitchen.
Clyde's been trained to sing a two-toned harmonic whistle alerting you that your water is boiling hot and ready to steep your tea or craft your brewed french press or pour-over coffee.
9. Onlycooker Whistling Tea Kettle
Check the price on Amazon
The very sleek and sturdy design fits the perfect modern home. This elegant 2 liters/70-ounce stovetop induction kettle is built to last. Made of premium food-grade stainless steel, Onlycooker's classic whistle kettle is high quality, durable, and rust-resistant. Its metal mirror finish is easy to keep clean and shiny and is an attractive addition and conversation starter to your kitchen.
10. Sotya Tetsubin Japanese Tea Kettle
Check the price on Amazon
This beautiful iron teapot has a traditional Japanese design and is a masterful collection for tea lovers, with a floral pattern reminiscent of Japanese cherry blossoms and will uplift your kitchen. It's also available in dark blue, dark green, and black.
11. Alessi Il Conico 90017
Check the price on Amazon
Il Conico is a kettle made of stainless steel 18/10, designed by Aldo Rossi and produced by Alessi immediately after La Conica, the coffee maker of the same designer with the same style.
The analogy between the kettle's shape and its name is not hard to observe: the cones, a constant presence in many of Rossi's architectural designs, have been finally transformed into real objects that can be touched and used, imposing them as icons, inevitable in every kitchen of design.
12. Appletree Design Road Trip Luggage Teapot
Check the price on Amazon
And now, something completely different. This road trip-themed teapot is functional and decorative. It's made of ceramic and dolomite material and constructed with quality and durability in mind.
13. BAZZEFF Tea Kettle
Check the price on Amazon
This lovely stovetop kettle comes with a precise temperature gauge which allows you to brew your pour-over coffee at the optimal temperature, making a perfect cup of coffee every time.
14. BELANKO Stainless Steel Tea Kettle
Check the price on Amazon
This stainless steel tea kettle is ideal for serving a whole family or party. The 2.7-quart capacity allows you to boil about 12 cups after a single boil, eliminating the need to repeatedly boil water frequently and saving you time.
It's also available in many different color combinations such as gloss white, gradient blue, green, and pink, gray, black, white, and milk-white.
Milk white teapot
15. Tealyra Marble Porcelain Teapot Turquoise
Check the price on Amazon
Tealyra's CHARON MARBLE Teapot is porcelain made because this material is the best for brewing large - and small-leaf or herbal tea. Porcelain perfectly withstands high temperatures, serves for a long time without losing its functional qualities and appearance.
16. Animewild Chester The Cat Ceramic Teapot
Check the price on Amazon
Adorable gift for a cat and tea lover. It's functional as well as decorative and can hold 3-4 good-sized cups. The handle stays fairly cool although it's a part of the pot.
17. Polkadot Whistle Tea Kettle for Stove top
Check the price on Amazon
What a good-looking and colorful teapot. I really love the dotted design and this teapot will definitely make your kitchen look more cheerful.
Featured Cyber Monday Deal: 41% off Instant Pot Pro
Only $99.95!