We've all been there. You got a drink from Starbucks but got caught up in something else, and now your drink is cold. The million-dollar question is: can you microwave the drink in the Starbucks cup?
Starbucks disposable cups are not safe to reheat in the microwave because of the plastic liner in the cup. Depending on the material of your reusable Starbucks cup, it may or may not be safe to microwave.
This article will teach you about microwaving your Starbucks cup, alternatives, and how to keep yourself safe from potential adverse health effects.
Table of Contents
What is Microwave Safe?
Before we dive into whether Starbucks cups are microwave safe, it's important to understand what makes something microwave-safe in the first place.
A microwave-safe product is simply any item that won't melt when exposed to the high heat created by the microwave.
Generally, items made of glass, paper, and silicone will be microwave safe.
As long as you are not reheating materials that will melt in the microwave, research indicates microwaves are a safe way to reheat items.
What are the Disposable Starbucks Cups Made of?
Now that you understand what makes something microwave safe, let's get into the materials that create a disposable Starbucks cup.
The classic Starbucks disposable cup is primarily composed of paper, which is microwave safe. Unfortunately, Starbucks cups also have a plastic lining to help contain the hot liquid contents in the cup.
This plastic lining on the inside of the cups makes the Starbucks disposable cups unsafe to microwave.
Plastic Cup Liners and the Microwave
While the plastic liner in the cup does not make up a significant portion of the Starbucks cup, it still comes in contact with the liquid in the cup.
Research shows that microwaving plastic can produce harmful toxins that leach into the beverage or food being microwaved.
Unfortunately, repeated exposure to these plastics in our food and beverages has been linked to an increased risk of developing cancer.
So while it's tempting to quickly reheat that Starbucks drink in the microwave, put it in a different cup before you reheat it. Otherwise, you could be causing some of that plastic liner to leach into your coffee.
Reusable Plastic Starbucks Cups and the Microwave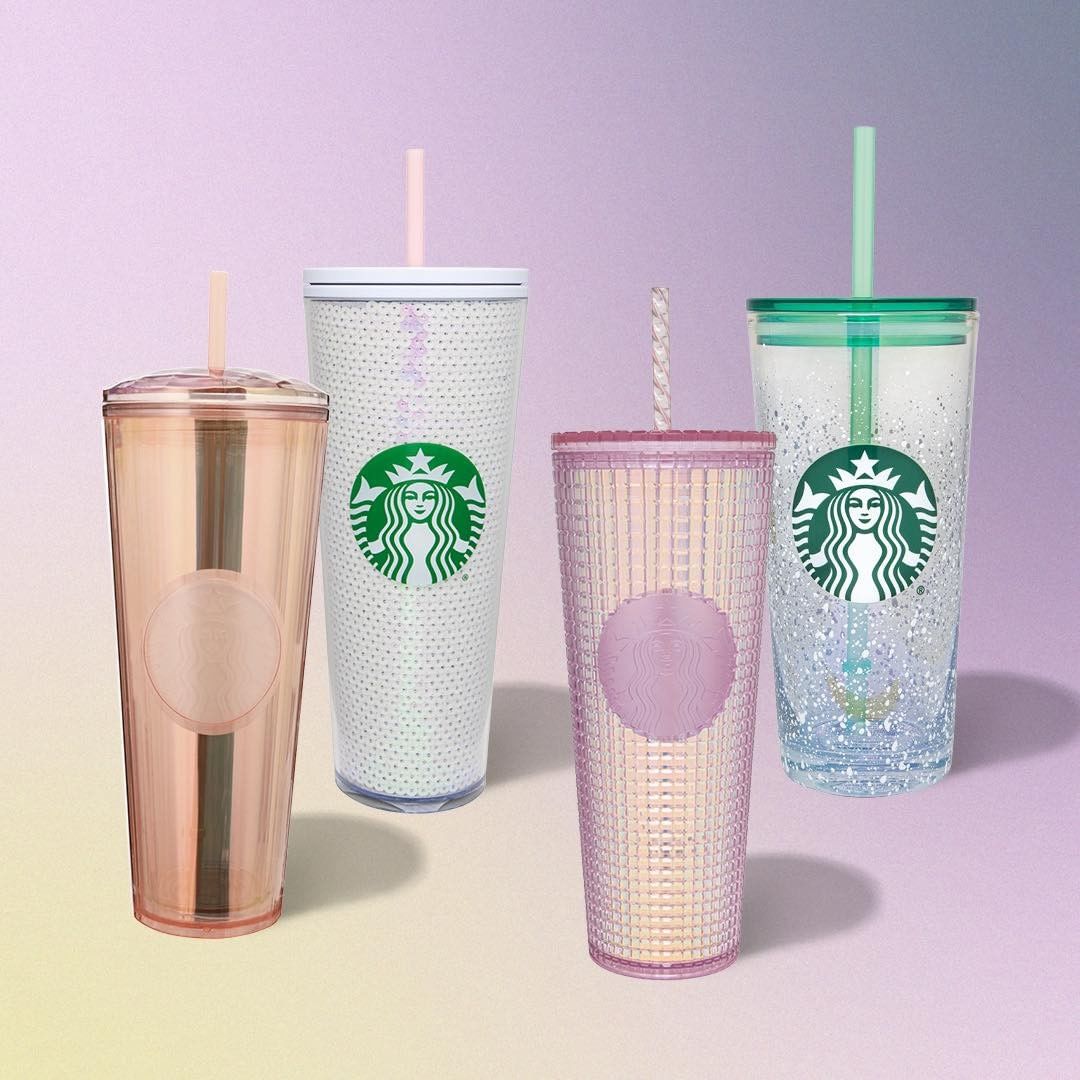 Another popular cup option at Starbucks is their reusable plastic cup that mimics the design of their disposable cups.
These reusable cups are made from a plastic material called polypropylene. When you look up polypropylene on the internet, many sources will tell you it's okay to microwave at temperatures lower than 250 degrees Fahrenheit.
And while you can technically reheat this material, it's still not advised. Research shows that microwaving polypropylene will result in some of it leaching into the food or beverage.
The amount of leaching is considered to be less than a toxic amount, but it is still leaching nonetheless. Plus, it's hard to guarantee that the cup is made of only this type of plastic as often cups like this are manufactured using multiple types of plastic.
So your safest option is to transfer your drink from the reusable Starbucks plastic cup to a microwave-safe cup before reheating it.
Travel Tumblers from Starbucks and the Microwave
Another cup option you will find available at Starbucks is the travel tumbler. These tumblers are primarily made out of stainless steel.
Stainless steel makes an excellent material for a travel tumbler, as it can typically keep your beverage hot for at least 4 hours.
However, the metal from stainless steel doesn't absorb the heat from the microwave. Instead, it reflects the radiating heat of the microwave. This can result in sparks and even a fire.
Consequently, you don't want to put your Starbucks travel tumbler in the microwave because doing so may damage it.
But if you seal your tumbler well, you might not need to reheat your coffee from this travel tumbler anyway.
Ceramic Mugs from Starbucks and the Microwave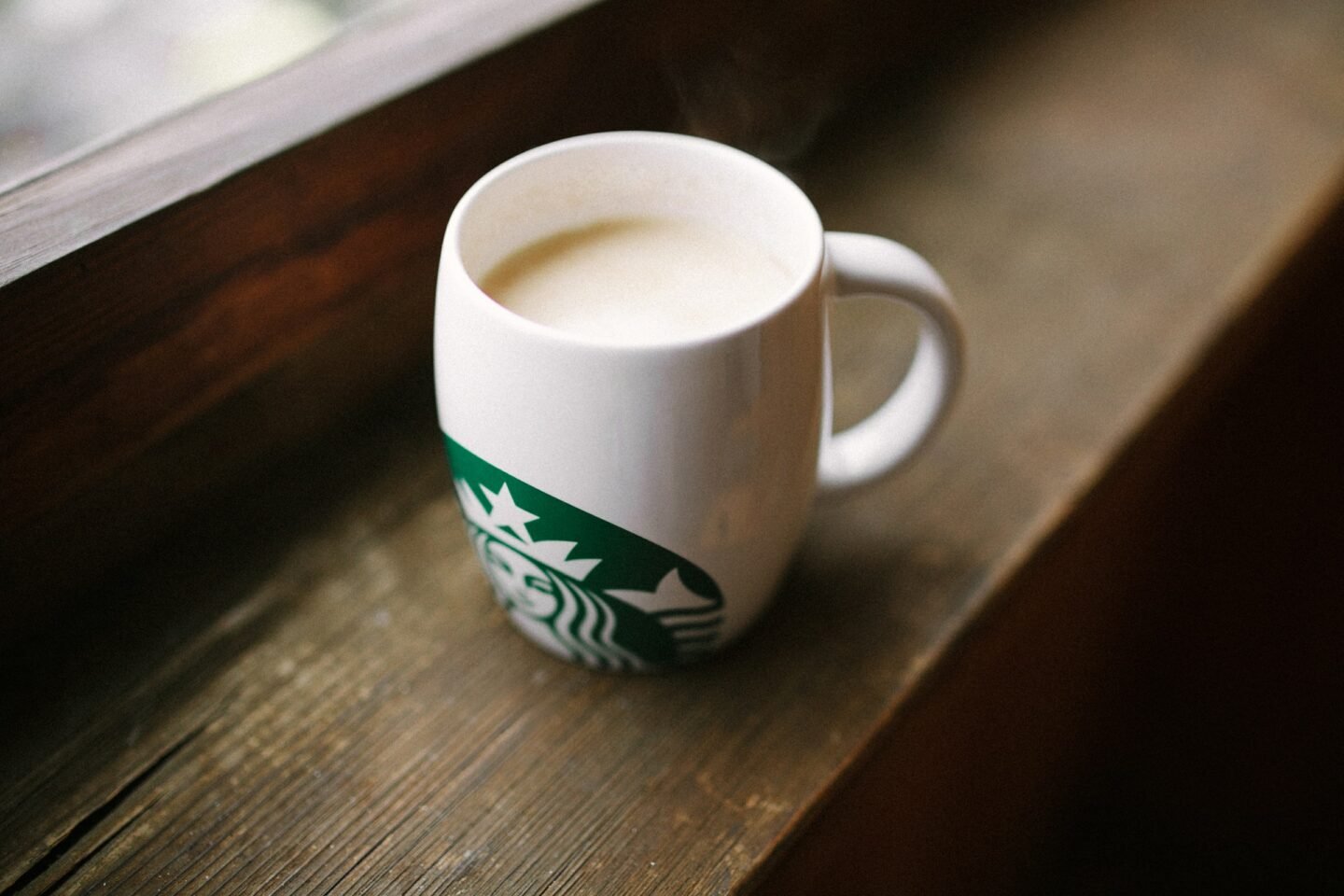 Starbucks also has a wide variety of ceramic mugs available. If you've been to a Starbucks, odds are you've seen these cute mugs with catchy designs for sale.
These cups are often made from some form of glass and are generally microwave safe. However, there are a few key considerations depending on the type of mug you purchased.
If the mug has metal gilding in the design, it is most likely not microwave-safe. Even in small amounts, metal can potentially catch fire in the microwave, making it a hazard.
The other consideration is if you have one of the Starbucks ceramic mugs with a travel lid. Their travel lids are often made from plastic.
Be sure to remove the plastic lid before putting it in the microwave to avoid the plastic leaching into your drink, as discussed above.
How to Safely Reheat Your Coffee from Starbucks
So what are you supposed to do if you find yourself with cold coffee from Starbucks that you want to reheat?
The best option is to go find a microwave-safe mug and put the contents in this mug before reheating. A simple glass mug would do the trick.
It's generally recommended to reheat your coffee in the mug in 30-second increments until it reaches your ideal temperature. However, remember that the more you reheat the coffee, the more the flavor profile may change.
If you're a frequent coffee reheater, it may be time to invest in a coffee warming plate for your mug. Just make sure your coffee is still safe to drink.
Avoid Reheating Your Coffee from Starbucks With These Options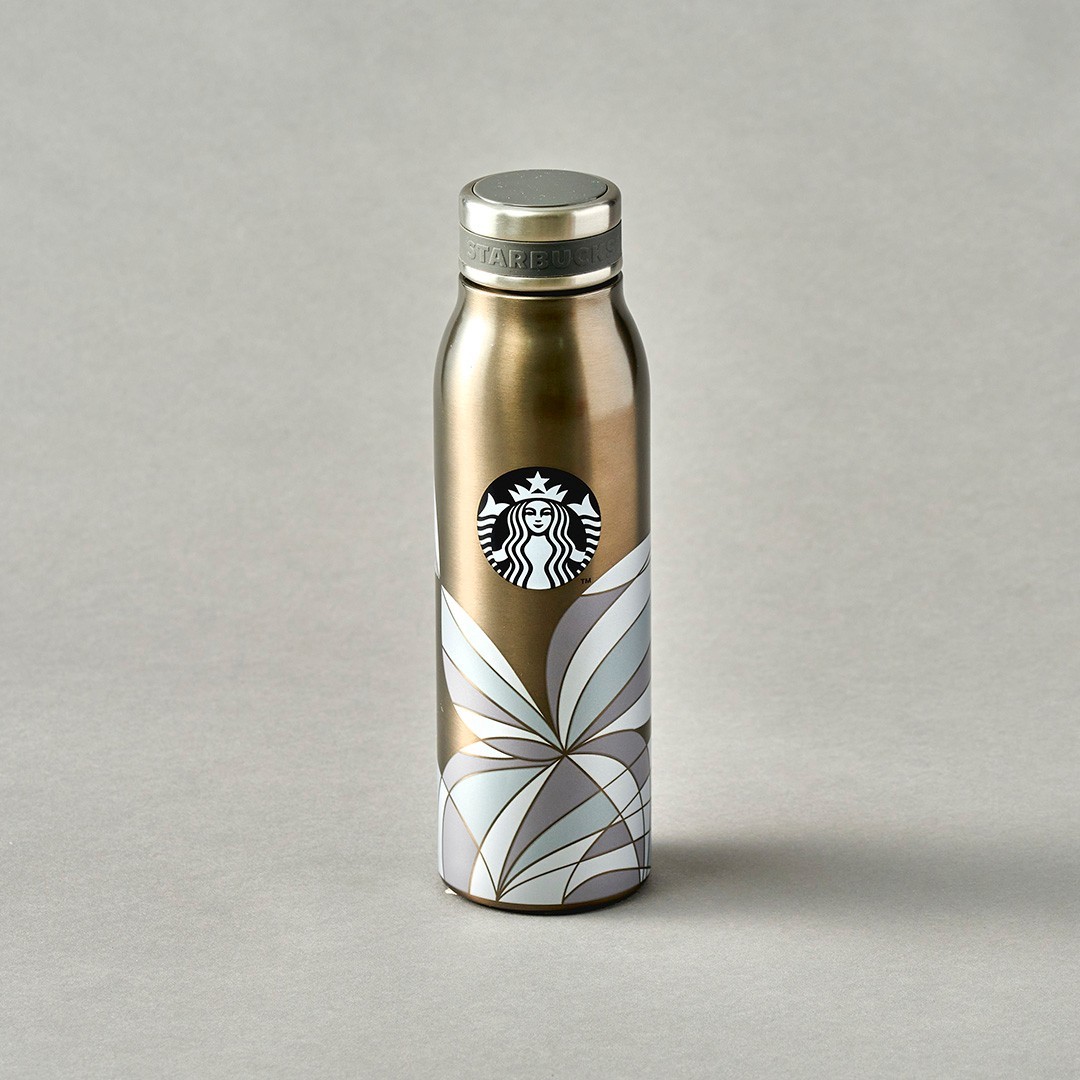 If you want to avoid reheating your Starbucks coffee altogether, you have a few options.
Earlier, we mentioned the stainless steel travel tumblers from Starbucks and how they effectively maintain heat. You can ask your Starbucks barista to make your coffee in your travel tumbler.
The other option is to transfer it quickly from the disposable cup to this travel tumbler to keep it hot longer.
In particular, consider purchasing a double-insulated stainless steel tumbler or mug. The double wall of insulation helps coffee stay warm (or cold) for up to 6 hours.
These materials will give you more time to drink your coffee without going cold and help you avoid using the microwave.
Final Thoughts
Starbucks classic disposable cups are not microwave-safe due to their plastic lining. The only microwave-safe option you will find at Starbucks is their ceramic mugs that don't have metal gilding.
The plastic lining in the disposable Starbucks cups has the potential to leach into your coffee and may cause adverse health effects. This is why you should never microwave your disposable Starbucks cup.
The reusable plastic Starbucks cups and travel tumblers are also unsafe to reheat in the microwave.
You can safely reheat your Starbucks drink by pouring it into a microwave-safe mug. Better yet, you can avoid reheating your Starbucks coffee by having it made or transferred to a double-insulated stainless steel tumbler.
When you're in a pinch and want your coffee to be hot, it can be tempting to want to put the Starbucks cup in the microwave. But your long-term health is worth the effort of putting it in a microwave-safe option before enjoying your delicious coffee.