The Breville BOV845BSS Smart Oven Pro is an oven that you should seriously consider investing in. Having owned this oven for the past four years, we're confident that you'll be satisfied with this kitchen appliance. Keep reading to find out if the Smart Oven Pro is right for your counter space.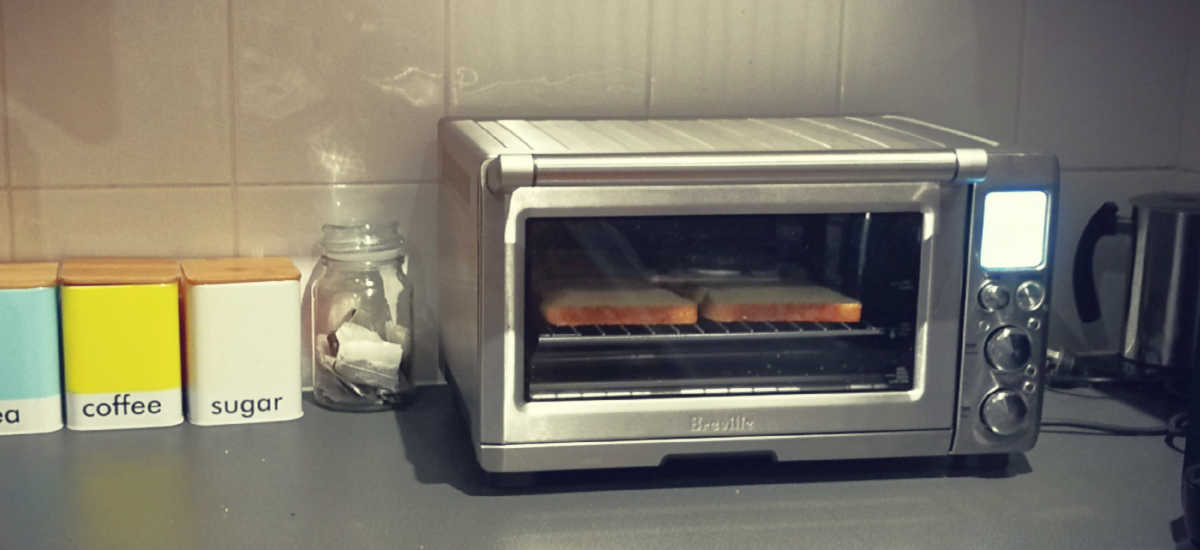 Table of Contents
Review of the Breville Smart Oven Pro BOV845BSS
The Breville Smart Oven Pro is more than a premium toaster oven. It could potentially replace your existing oven, with the ability to broil, bake, roast, slow cook and even keep food warm.
With 1800 watts of power, it doesn't struggle to cook larger food items. 13 inch pizzas, roast beef, or chicken pieces can all be cooked with ease. Although some may view this product as an expensive toaster, we look at it as an affordable multi-purpose oven.
What you get: A countertop convection oven, broil rack, baking pan, and pizza pan. Additional trays and pizza stones can be purchased separately.
Why should I buy a toaster oven?
For most people, toaster ovens will work as an extension of their existing oven. When cooking for a crowd it's a lifesaver! There's space in the main oven to cook a large roast with vegetables, while the Breville takes care of the entrees and pumpkin pie for dessert.
At first, we had doubts that a small appliance could evenly roast a chicken, bake a cake or do much more than toast bread. But we've ticked off many of the classic dishes using the Breville Oven it never fails to deliver well-cooked food.
If you have kids that love to bake, then a countertop oven like this one is ideal. Younger children find a regular oven hard to operate and it isn't safe for them anyway. The Breville Smart Oven is simple to operate thanks to a smart display that can automatically set the cooking times for you. There is also a small door that children can easily open, although you'll still need to supervise them.
Who is a toaster oven good for?
Toaster ovens do more than just toast bread. They're a multi-purpose kitchen appliance that can cook anything a conventional oven cooks, only on a smaller scale.
If you live in a warm climate, these smaller ovens are an excellent option as they won't turn your kitchen into a furnace.
People renting a house with a rundown oven can use a toaster oven as a backup if the landlord isn't cooperating.
Large families and entertainer will appreciate the extra capacity to cook more food at the same time.
If you're happy with your current oven you may want to consider this analogy of transport in Downtown, New York. Think of a toaster oven as a bicycle and a large oven as a limousine. They both have their uses and you'll get to your destination across town no matter which choice of transport you go for. The limo has the comfort of space, but the bike will get you there faster and will be a lot more efficient for short trips. This sums up a toaster oven, it's exceptionally quick and efficient for those smaller dishes. The ideal add-on to a regular oven.
What we like about the Breville Smart Oven
Sleek designed appliance that suits any kitchen bench
Cooks a wide range of foods to perfection
Easy to use, intuitive control panel
A safer option if you love to bake with children
Easy to clean
Quick to preheat
What we don't like about the Breville Smart Oven
Too small to fit muffin trays or 9×13" baking pan
Price may be prohibitive for those on a tight budget
Small kitchens probably won't have room for one
Breville BOV845BSS design
The Breville BOV845BSS is a sleek-looking, stainless steel oven that will look impressive on any kitchen bench. The unit measures 15¾ x 18½ x 11″ so you'll want to check it fits your kitchen. For small apartment kitchenettes, this appliance probably won't work for you.
At 18.5" in width, it's not the largest countertop oven on the market which can be a challenge when baking. If you enjoy making brownies in a 9×13" pan or muffins in a standard-sized tray, you'll be disappointed as they won't fit. It is an inconvenience, but we've found there is always the Breville Smart Oven Air conventional oven for those bakes.
The top of the oven looks like an excellent spot for additional kitchen storage space. But keep in mind the surface gets very hot and is meant to be kept clear. However, it does a good job of warming plates before dinner, just watch your fingers.
If you have an inquisitive child that loves to touch everything, watch them to avoid burnt hands.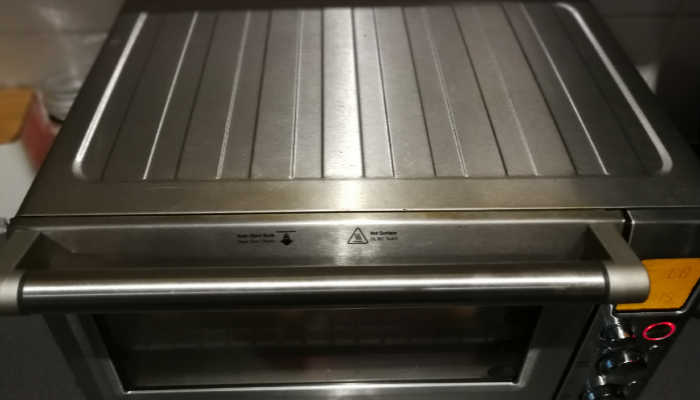 Inside the Breville Smart Oven is a non-stick surface makes cleaning up quick and easy. There is an interior light that also needs to be regularly wiped; otherwise, it can lose some of its brightness.
There are three different heights for the oven racks. If the rack gets placed on the middle level, there is a magnet that slides the tray out as you open the door. This feature is simple but very handy, especially if you're in a hurry and don't want burnt fingers.
Top rack: grilling and crumpets
Middle rack: toast, cookies, and pizza
Bottom rack: baking, roasts, reheating, and slow cooking
You don't need to worry about memorizing the above settings as there is a sticker clearly labeled on the oven door with this information.
The control panel
The intuitive controls won't help you with the recipe, but they're super helpful when it comes to the cooking stage. Unlike some appliances that are difficult to use, the Smart Oven Pro is child's play. There are only three main dials which are intuitive to use.

Function dial
This allows you to choose between grill, toast, crumpet, bake, roast, pizza, cookies, reheat, warm and slow cook. When you choose one of these options, the oven automatically adjusts the temperature and cooking time. However, you still have full control of the settings if you want to adjust them to your personal preference.
Temperature dial
Adjust the temperature or the darkness level if you're cooking toast. You'll find a Smart Oven can reach 450°F much quicker than a conventional oven.
Time dial
Set the cooking time manually or, if you're cooking toast, select the number of slices. The total cooking time for roasting or baking is two hours, for broiling it is 20 minutes and for slow cooking, you can set it to cook for up to 10 hours.
In addition to the dials, there is also a start/cancel button, light button, and a button to toggle between Fahrenheit and Celsius.
Other buttons
A convection button allows you to toggle this function on and off. By turning on the convection setting, the oven fans out hot air evenly. Food is cooked faster and more evenly using this setting. When toasting and broiling, the convection option is disabled.
There is also a frozen food selector in case you're cooking something frozen, such as bread, straight from the freezer.
As you can see, the oven has a variety of settings, but most of the time, you can simply adjust the function dial and leave it at that.
How the Breville Smart Oven performs
The oven utilizes five quartz heating elements which allow for infra-red cooking. This means that the air doesn't have to heat for the food to begin cooking. The radiation is immediately absorbed into the food which begins the cooking process. This is a useful feature as meat can be seared to perfection without drying out.
Another reason you may want a Breville Smart Oven is simply to cook lots of toast. This unit makes cooking six slices at a time easy, perfect for big families or when visitors are staying.
It will take a little over 3 minutes to toast 4 large or 6 small slices of bread until golden-brown. Toasting 4 slices will reduce the cooking time a little as you can position all the slices closer to the center.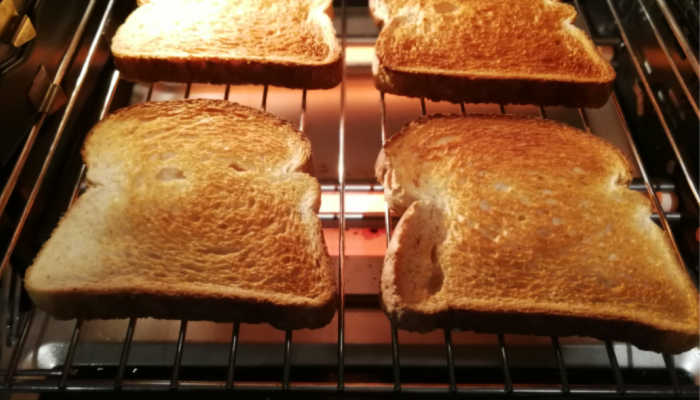 When cooking six slices of toast you'll notice that the edges of the pieces on the left and right down get completely browned. It isn't a big issue, but it may be for some.
How to clean the Breville Smart Pro
Cleaning the Breville Smart Pro is much easier than a standard oven, partially thanks to its smaller size. To help further, there is a crumb tray on the bottom of the oven which easily slides out for cleaning. The occasional wiping of the ovens interior with a damp cloth is all that's required.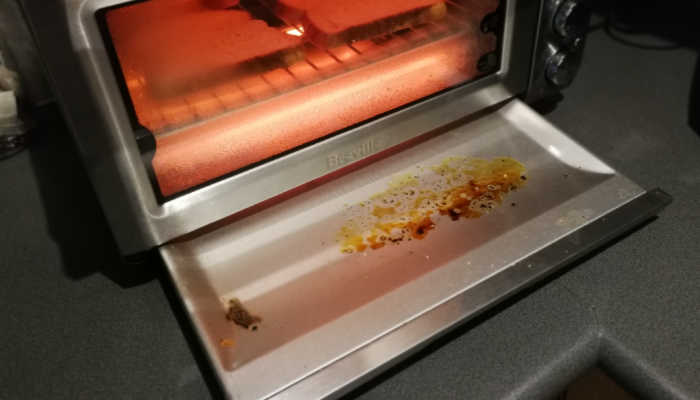 5 Recipe Ideas Using the Breville Smart Oven
Here are a few easy recipe ideas for using your new toaster oven.
Breakfast
Baked eggs: For a change from boiled or fried eggs, try baking them in the toaster oven with their shells on. Hard baked eggs take about 25 minutes to cook at 325°F.
Baked Bananas or plantains: Simply slice your Bananas or plantains in half and splash with some lemon juice. Then sprinkle with cinnamon and honey before baking for 10 minutes at 350°F.
Lunch
Tuna melt: Combine a small can of tuna with mayonnaise and diced green onion. Top white bread with your mixture and top with grated cheese. Broil until the cheese is nicely melted and golden brown on top.
If you enjoy Subway tuna sandwiches, be sure to check out this scrumptious sub recipe.
Main
Pesto salmon: Place salmon fillets skin side down on the baking tray and cover with a squeeze of lemon, a layer of pesto, and some pine nuts. Cook for 10-15 minutes on broil setting. The fish is ready when it is light pink.
Stuffed mushrooms: Place four large mushrooms on a baking tray with their stalks removed. Fill with diced bacon, chili, onion, tomato, and bell pepper. Top with grated cheese and bake for 20-25 minutes on 350°F.
Features and specifications
| | |
| --- | --- |
| Convection oven | Yes |
| Low oven height | No |
| Maximum number of slices | 6 |
| Number of rack positions | 3 |
| Maximum pizza size | 13 inches |
| Also included | Broiling pan |
| display | LCD display |
| Interior coating | Non-stick coating for easy cleaning |
| Power | 1800 watts |
| Temperature range | 120-500 |
| Dimensions (HxWxD) | 11 x 19 x 16 |
| Interior dimensions HxWxD | 5 x 14 x 13 |
| Additional functions | bake, reheat, broil ,roast, pizza, cookies, warm, slow cook |
| Warranty | 1 yr |
Final Words
Our team has used a lot of small appliances, including blenders, ice cream makers, pizza ovens, and mixers. They're all useful, but the Breville Smart Oven Pro is a favorite and the most used appliance in the kitchen. We love how you can make larger amounts of food when cooking for more people.
Also with a countertop oven, cooking with kids is safer and they seem to be less threatened by its size. The door is smaller and getting burned is a lot less likely.
The Breville BOV845BSS Smart Oven Pro won't be for everyone. If you have a small kitchen or an apartment kitchenette then you'll struggle with space. It is a decent size and transferring it into the garage or some other room will become a chore. Keep in mind this oven is a similar weight to a microwave.
If your main reason to buy this oven is for baking, then take into consideration that the internal width is 14". This size is limiting as a standard muffin tray or brownie tray will be a fraction too big.
However, this is a countertop oven and isn't meant to replace your regular oven. If you can live with the size, then you're going to be the proud owner of an appliance that is well constructed and designed to cook food to perfection for many years to come.