Heartburn and more severe cases like acid reflux and GERD are incredibly unpleasant digestive system conditions.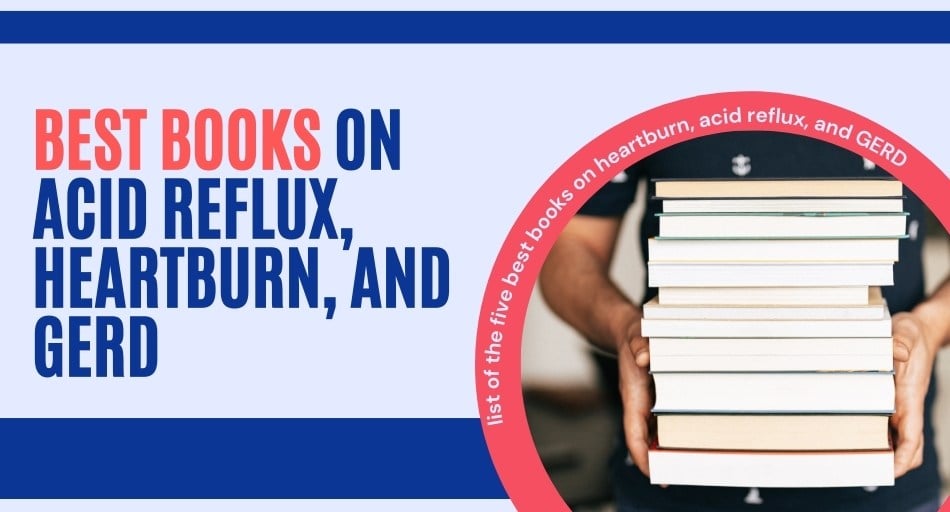 They're often triggered by specific foods, especially acidic ones. So, it's important to follow a special diet if you're dealing with these conditions.
Luckily, there are many articles, blog posts, and books available on the topic these days.
These offer new perspectives on the conditions as well as help you deal with the symptoms by adjusting your diet and using a wide variety of remedies.
So, here's a list of the five best books on heartburn, acid reflux, and GERD that you can conveniently purchase on Amazon.
Table of Contents
5 Best Books on Acid Reflux, Heartburn, And GERD
If you buy through the links on this page, we will get a small commission at no charge to you. Thank you for supporting our website.
1. The Acid Watcher Diet: A 28-Day Reflux Prevention and Healing Program
See the price on Amazon
This book targets people with acid reflux and GERD, as well as those who suffer from infrequent heartburn. It explains the relationship between what we eat, the acidity of food, and how it affects our digestive tract.
In this book, Dr. Jonathan Aviv, who dedicated his career to acid reflux research, helps people dealing with this condition recognize certain symptoms that might indicate silent reflux.
For example, he explains that bloating, sore throat, postnasal drip, and the feeling of a lump in the back of your throat can be symptoms of silent reflux. It's important to recognize these issues, as not changing your diet can even lead to esophageal cancer.
He also presents a 28-day plan that's meant to detoxify and deacidify your body and digestive system, reducing the symptoms of acid reflux.
So, if you suffer from this condition, this book might be a great way to start a low-acid, stomach-friendly diet.
2. Dropping Acid: The Reflux Diet Cookbook & Cure
See the price on Amazon
This book is slightly different from others mentioned on this list since it's a cookbook.
The authors of this cookbook state that even people who suffer from acid reflux or GERD shouldn't live without delicious food. So, they have formulated various recipes that include common and healthy ingredients that won't aggravate your symptoms.
On top of that, preparing and eating recipes from this book might help alleviate heartburn and other symptoms, such as coughing, shortness of breath, nausea, and pain after eating.
Because of that, this book is one of the most popular recipe books for acid reflux, especially for those just starting out their low-acid diet journey.
3. Acid Reflux Diet: 101 Best Foods to Treat & Cure GERD
See the price on Amazon
Written by the Health Research Staff, this book is one of the most recommended pieces of literature on the topic of acid reflux and GERD.
This book focuses on the natural, food-based approach to treating these conditions. More often than not, the researchers and authors of this book don't recommend relying on over-the-counter medications. Instead, they advocate for changing your diet.
As a result, this book presents a wide range of main foods that people with acid reflux should base their meals around. It also includes shopping lists than can make it even easier for those who are busy.
Another great benefit of this book is that it's not too pricey, so everyone can afford it.
4. How to Stop Heartburn: Simple Ways to Heal Heartburn and Acid Reflux
See the price on Amazon
This book has been written by an internationally recognized expert on digestive diseases, which makes it very reliable.
The author of this book, Dr. Anil Minocha, explains the causes of GERD and its symptoms as well as shows that this condition is treatable, especially in the early stages.
Some of the most informative chapters of this book focus on the latest treatment options for GERD, the relationship between stress and heartburn, pregnancy and acid reflux, as well as how your diet and weight might affect your symptoms.
The book is available in an e-book format, but you can also opt for a paperback or hardback if that's more your cup of tea.
5. 100 Questions and Answers about GERD: A Lahey Clinic Guide
See the price on Amazon
This is one of the best books written on the topic of GERD and acid reflux, as it was created by a gastroenterologist and nutritionist, David L. Burns.
Thanks to his knowledge, he presents a unique perspective on GERD and how to treat it in a simple and easy-to-understand way. He also offers potential remedies – both natural and medicinal – so everyone can improve their health.
He also addresses various types of acid reflux and acid reflux-like conditions as well as debunks common myths surrounding heartburn.
What's more, this book is written in a question-and-answer format, which is simple and easy to grasp. It also provides information for both patients and physicians.
So, everyone can benefit from this piece of literature.
How to find the best books on acid reflux, heartburn, and GERD?
A simple Google search will show you that there are thousands of books written on this topic. So, it might be hard to figure out which ones are worth spending your money and time on.
While popularity can be a great indicator, it's also beneficial to check the author and the credentials he or she possesses. That way, you can ensure that you're getting accurate information.
Some of the best books on acid reflux are also written by people who have been dealing with this condition for their whole life. They can give you a better perspective than doctors who have not experienced such symptoms.
Conclusion
There's a wide range of books dedicated to various digestive system issues, including heartburn, acid reflux, and GERD. But these five are the most sought-after and bought books available online.
Some of them offer explanations and reasonings behind your digestive issues, while others offer remedies and diet tips that reduce your symptoms and improve your wellbeing.
Sources: National Library of Medicine and Amazon