Blueberries are a popular superfood that's healthy and nutritious. However, are blueberries rich in iron? Let's find out.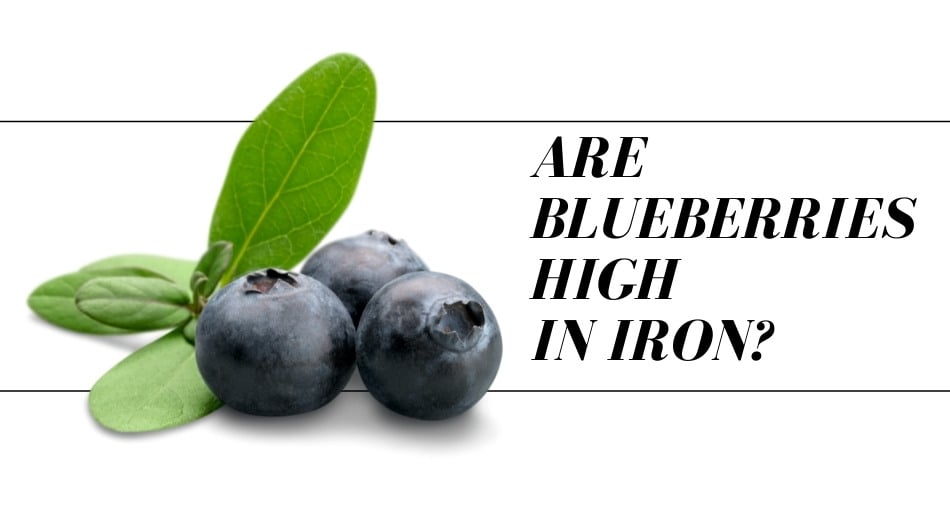 Table of Contents
Are blueberries high in iron?
Blueberries aren't high in iron. 3.5 oz (100 g) of blueberries will provide you with only 1.5% of the daily value for adult men and around 3.5% of the daily value for adult women.
Blueberries also aren't high in vitamin C, which helps absorb iron better.
How much iron is in blueberries?
A 3.5 oz serving of blueberries contains 0.28 mg of iron. That's not much and, as we already know, equates to 1.5% of DV for men and 3.5% DV for women.
If we look at a cup of blueberries (148 g), we come to 0.41 mg or 2-5% of the daily value for iron. Fruits, in general, aren't high in iron. A somewhat better choice would be dried fruits such as prunes, dates, figs, and raisins.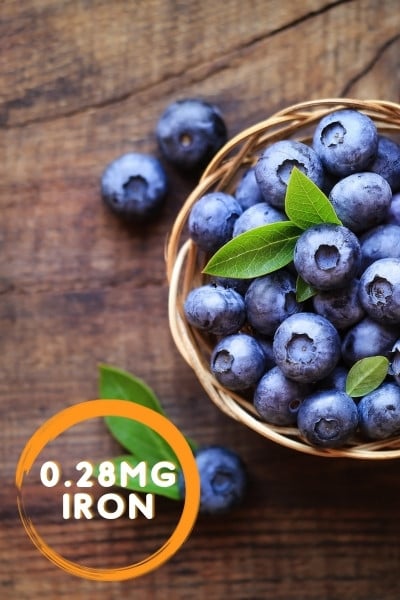 Nutritional Facts: Blueberries, raw (3.5 oz/100 g)
57 Calories
Total Fat 0.33 g
Sodium 1 mg
Total Carbohydrate 14 g

Dietary fiber 2.4 g
Sugar 10 g

Potassium 77 mg 2% DV
Protein 0.7 g
Vitamin C 12% DV
Calcium 1% DV
Iron 1.5-3.5% DV
Vitamin B6 4% DV
Magnesium 2% DV
Can you get enough iron from blueberries?
Unfortunately, blueberries aren't too high in iron. So, eating them doesn't really help you load up on this mineral or reach your daily dietary need for this nutrient.
On the bright side, blueberries contain a lot of vitamin C – a nutrient that helps with iron absorption. So, if you eat blueberries with other iron-rich foods, your body will absorb more iron than it would have otherwise.
Indulging in these small berries from time to time is very beneficial for good health.
Do blueberries block iron absorption?
Blueberries contain significant amounts of polyphenols which inhibit iron absorption. However, blueberries are also high in antioxidants that can improve iron absorption.
Research has shown that blueberries did, in fact, significantly diminish non-heme iron absorption. However, it wasn't blocked entirely.
Is blueberry juice high in iron?
Blueberry juice isn't high in iron because blueberries aren't high in iron as well. However, it can be high in iron if it's fortified. It is high in vitamin K and manganese.
Can you take in too much iron from blueberries?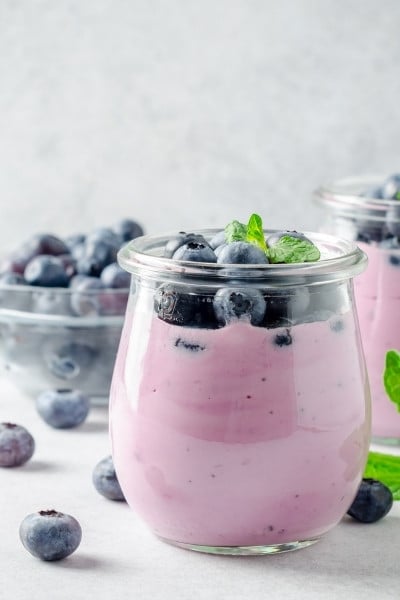 Because blueberries aren't high in iron, you can't really take in too much of it while eating blueberries or drinking blueberry juice.
The daily recommended iron intake is 8 mg for men and 18 mg for women. See the chart below for more info.
What fruits are highest in iron?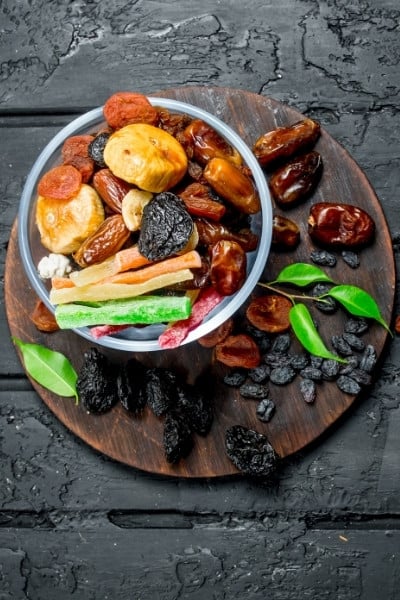 Fruits aren't the best source of iron. However, some dried fruits are a good source. Here are some of them.
Figs
Dried figs are an excellent source of iron, especially for vegetarians and vegans. 3.5 oz of dried figs contains 2 mg of iron or 11% of the DV for women and 25% for men.
Figs are also high in fiber and rich in antioxidants.
Raisins
Love them or hate them, but raisins are everywhere. That's a good thing because they are loaded with fiber, vitamin B6, potassium, and iron.
A 3.5 oz serving of raisins contains 10% of the daily value for women and 22% for men. The daily value for iron is 8 mg for adult men and 18 mg for adult women. See the chart below for more info.
Dates
Dates are an okay source of iron. That's especially true for the Deglet Noor dates because they are slightly higher in iron than Medjool dates.
However, you would have to eat a lot of dates to really get a boost in iron.
Prunes
Prunes have more iron than blueberries. However, that's not telling us much. They are, however, high in magnesium, fiber, potassium, and magnesium, but also in sugar and calories.
Recommended intakes for iron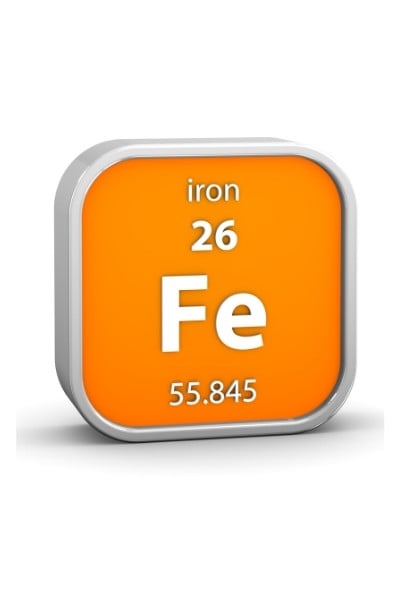 Your recommended daily intake of iron depends on your age and sex. It was developed by the Food and Nutrition Board (FNB) at the Institute of Medicine (IOM) of the National Academies.
| RDAs for Iron | | | | |
| --- | --- | --- | --- | --- |
| Age | Male | Female | Pregnant | Lactating |
| 0-6 months | 0.27 mg | 0.27 mg | | |
| 7-12 months | 11 mg | 11 mg | | |
| 1-3 years | 7 mg | 7 mg | | |
| 4-8 years | 10 mg | 10 mg | | |
| 9-13 years | 8 mg | 8 mg | | |
| 14-18 years | 11 mg | 15 mg | 27 mg | 10 mg |
| 19-50 years | 8 mg | 18 mg | 27 mg | 9 mg |
| 51+ years | 8 mg | 8 mg | | |
RDAs for nonvegetarians. The RDAs for vegetarians are 1.8 times higher than for those who eat meat.
What foods are iron blockers?
There are certain types of foods that can interfere with iron absorption. For instance, if you drink too much tea and coffee, as well as eat and drink too much dairy and certain dairy products.
Next, foods that have tannins can also block or interfere with iron absorption. Examples are corn and grapes.
Foods that include oxalic acid (such as parsley, peanuts, and chocolate) and foods that have phytates or phytic acid (such as whole-grain wheat products and brown rice) are also not good for iron absorption.
Eating iron-rich foods with foods high in vitamin C, not drinking tea or coffee with meals, and not eating foods high in calcium with those high in iron can help you get more iron in your diet.
What is iron good for?
We have known for a long time that iron is one of the most significant minerals that we can take in from food.
In our bodies, iron is mostly found in red blood cells as it plays a crucial role in constructing them and maintaining them healthy.
Adding iron-rich foods to our diets can help prevent anemia and its symptoms.
fatigue,
weakness,
irregular heartbeats,
shortness of breath.
According to a study, there is a connection between poor sleep quality and sleep issues, such as restless sleep, sleep apnea, insomnia, and iron intake. For example, consuming more iron-rich foods and drinks can help you sleep better, which, in turn, reduces fatigue and weakness throughout the day.
Are wild blueberries high in iron?
Wild blueberries contain 0.6 mg of iron in a single one-cup serving. It's slightly more than regular blueberries, but this amount still doesn't make wild blueberries an iron-rich food.
Still, wild blueberries are smaller than regular blueberries, but they're much higher in powerful antioxidants. In fact, they provide you with 33% more antioxidants than regular blueberries.
As a result, eating wild blueberries can prevent oxidative damage to your cells and reduce your risk of serious health conditions like heart disease, diabetes, and cancer.
Is blueberry jam high in iron?
Just three tablespoons (60 grams) of blueberry jam contains around 1.6% of how much iron you need per day. This is a very small amount, so eating this type of jam won't help you get any iron.
All fruit jams are also high in sugar and low in fiber, which means they're bad for your overall health in large quantities.
Because of that, blueberry jam and other jams are OK in moderation, but you should avoid eating them too frequently.
Blueberry jam is also much lower in minerals and vitamins than other blueberry-based products. So, you're mostly consuming empty calories by eating blueberry jam.
Are canned blueberries high in iron?
One cup of drained canned blueberries contains 1 mg of iron, about 7% of your daily need.
While this is slightly higher than the iron content of regular, fresh blueberries, it's important to remember that canned blueberries are packed with heavy syrup.
Because of that, they contain a lot of added sugar, which is bad for your health in the long run. So, while canned blueberries make for a decent snack, it's best to limit your intake of this canned product.
If you really enjoy canned blueberries and can't remove them from your diet completely, try choosing canned blueberries packed with light syrup. This variety is lower in sugar, which means they're slightly healthier.
Some varieties might also have added vitamins and minerals, including iron. So, make sure to read the nutritional label before purchasing any product.
Frequently asked questions
Do blueberries make you poop?
Because blueberries are high in fiber and water, they can make you poop and relieve your constipation by adding bulk to your stool and helping to speed up your next bowel movement.
Do blueberries help you sleep?
Blueberries and other berries, in general, are full of antioxidants that can help you sleep better. Still, there are many better ways that lead to a sound night's sleep.
What is better for you, strawberries or blueberries?
All berries are incredibly beneficial for you. Nevertheless, strawberries have much more vitamin C, folate, and other minerals, and for that reason, some people prefer them to blueberries.
Are blueberries high in fiber?
Blueberries are high in fiber that helps lower cholesterol levels, control blood sugar levels, maintain bowel health, and to normalize bowel movements.
Conclusion
Although blueberries and fruit, in general, aren't high in iron, they still have many benefits to our bodies and minds and should still be incorporated into our diets.
Source: USDA