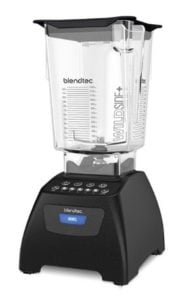 Are you on the lookout for a blender that's powerful, high-tech, and easy to use? But are you keen to save a little money as well?
Depending on what you're looking to blend, and how often, The Blendtec Classic 575 might work for you.
This review will help you understand where the Blendtec 575 sits in comparison to blenders around the same price, and whether or not it represents good value for money.
====>> In a rush? Click here to see the current price for a Blendtec 575 Classic on Amazon
Otherwise, read on for the full review and feel free to use the table of contents below to quickly navigate through the article:
Table of Contents
What's Noteworthy about the Blendtec Classic 575?
There are a lot of notable features in the Blendtec Classic 575, as listed below:
It's an all-in-one machine. Its power is sufficient to handle food processor functions. The 3-horsepower motor offers 1,575 watts of power so that you can quickly and efficiently make your smoothies, soup, and salsa.
The control interface makes it easy for you to use and clean. You just need to wipe it down every now and then.
If you want to do things your own way, you also get 5 incremental speeds set to 50 seconds each, and you get a pulse setting too.
You have 4 different preprogrammed cycles to choose from. You can press one button for making smoothies, another button for a 60-second cycle, and a button for a 90-second cycle.
There's even a special button for the "clean" cycle. The manual equivalent is to blend at a low speed for 15 to 25 seconds. You start with a low speed, gradually increase to a high speed, and then decrease the speed again before you stop.
The WildSide jar is big enough for a 90-ounce load, so you can make a large batch of smoothies for your whole family with a single preparation. The jar is made from BPA-free materials for your safety, so you won't have to worry about contaminants. The jar can be the WildSide or the FourSide version. The classic 32-ounce FourSide offers easy use and cleanup, but the WildSide comes with a narrow fifth side that helps you make a smoother blend in a shorter period of time.
You also get the illuminated LCD timer that displays the remaining time on your blends. This display helps you when using the manual settings, as you can shorten or lengthen the blending time to get the customized results you want. Or you can also use a pre-programmed setting so you can do other tasks as the blender does its job.
You can pick from among 6 different colors so that you can match its look with your aesthetic preferences or with the look of your kitchen. But if you want to put it away, you won't need much storage space, as it only measures 7" wide x 15" tall x 8" deep. And transferring it from one place to another is easy because it only weighs 7.28 pounds.
The warranty is more than sufficient, as you get 8 years of coverage on every part of the Blendtec Classic 575. That's partly because Blendtec uses hardened metal for its drive socket. It's also made in the US.
What Do Reviews of the Blendtec Classic 575 Say?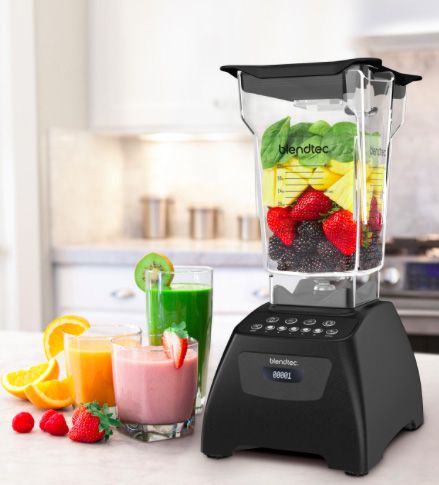 Many of the reviews on sites like Amazon gave the Blendtec Classic 575 high marks, which is why it currently has a 4.4-star average rating.
Just about every reviewer has praised the power of the blender. Put ice and frozen fruits into the pitcher, and you won't ever have to worry that it won't be able to handle the load. The vast majority of reviewers also say that they could create smoothies much more efficiently, and the results are always extremely satisfying. There were no clumps of unblended ingredients to mar the experience.
It's also very easy to use, while the manual settings allow for various customization options. In other words, the reviewers found that they can just push a button to get the kind of smoothie they want, or they can experiment with the manual settings to tailor the results to match their preferences. Many of the customers even said that they somehow felt more excited and eager to use it as often as they could.
Those who did report using it often mostly found that the blender can really take the workload without any problem at all. One did mention that his blender failed after 300 uses, but for the most part, people simply find the Blendtec Classic 575 a true workhorse. Even some restaurants and coffee shops use this particular model.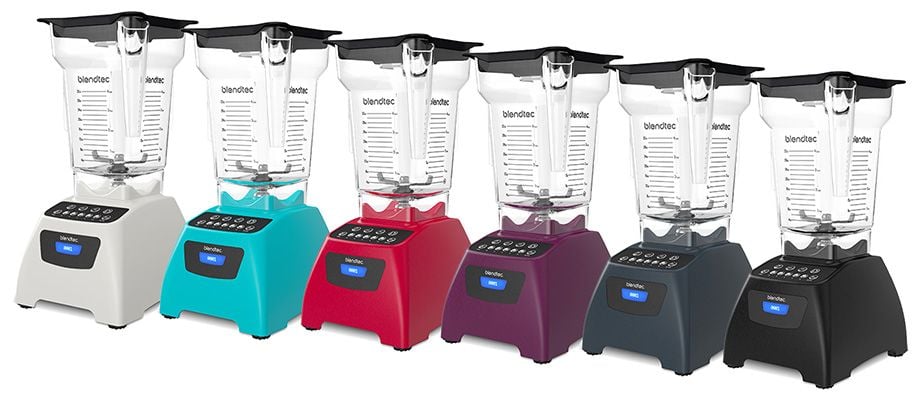 Surprisingly, no one really complained about the price. That's probably because buyers were prepared to pay a high price for their blender in the first place. In fact most of the comments raved about how they got great value for their money.
Of course, some professional reviewers do wonder if all these features are worth the expensive price. But for the vast majority of customer reviewers, the features and durability are worth the expense. They consider this blender "amazing" and they highly recommend it.
Does Blendtec 575 make ice cream?
The Blendtec 575 does have the functionality to slow-churn and crush ice in order to make delicious ice creams. While it will not cool the milk or cream like an ice cream maker designed for only that purpose, the Blendtec is a great multi-function appliance that will give you many options beyond just ice cream but will make ice cream all the same.
Blendtec 575 Blender vs. Vitamix 7500
[css3_grid id='575-7500']
Both Blendtec and Vitamix represent the very pinnacle of quality in the blender industry. They're like the Mercedes-Benz and the BMW of the industry. But a direct comparison between the Blendtec 575 Classic and the premiere Vitamix 7500 shows that in some ways the Blendtec comes out ahead.
This starts with the power of the motor. With the Blendtec 575 you get 1,575 watts from the motor. With the Vitamix 7500, you only get 1,440 watts. Granted, this power should be enough for just about any ingredient you'll put inside the blender.
But with the greater wattage of the 575 you will have fewer worries that your blender won't be able to handle the load, and you're assured that you get quicker results. On the other hand, the greater power does make more noise, as the Vitamix blender's comparatively weaker motor doesn't produce as much of a racket.
The blades are different too. The blades on the 575 are blunted for safety, so you won't have to worry about finger and hand lacerations when you clean them. After all, it's been found that most of the injuries concerning blenders are caused by sharp blades. These blades are 80% thicker. According to Blendtec, they're also 10 times stronger than the blades found in other blenders.
The other main difference is in the controls. The Vitamix is a bit retro here, as it uses an old-fashioned dial for you to set your desired settings. There are no pre-set programs for you to use. This means you will need to follow the recipes closely, and you'll need to be ready to set the dial at different settings to get the ideal results for your smoothies. The dial also makes wiping down the blender a bit more complicated.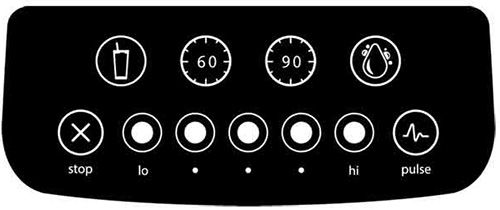 On the other hand, Blendtec offers much more modern controls. You get to push buttons on the interface, so cleaning it is easier. You get preprogrammed one-touch buttons for a variety of functions. And you also get a screen with a timer, so you can see it count down as you use the preprogrammed settings, or count the seconds if you use it manually.
Finally, even though it may seem like the Vitamix is less powerful and more difficult to use, it is considerably more expensive than the Blendtec! Factor in the fact that the Blendtec offers an 8-year warranty while Vitamix offers only 7 years, and the value for money of the Blendtec rises even higher.
Blendtec 575 vs Blendtec Total Blender
Blendtec classic 575 has a four-side jar that is black in color just like the Blendtec total blender. They both have a black base and are completely BPA-free. Nevertheless, they both have preprogrammed blending cycles, automatic shutdown, and digital touchpad control. Blendtec classic 575 measures seven inches wide, eight inches long and fifteen inches high.
While Blendtec classic 575 blenders require 1575 of power, Blendtec total blender requires 1560 watts. This indicates that the Blendtec total blender requires more power than the Blendtec classic 575. The total blender has two spin blades while classic 575 blenders have just a single blade. So, these are fairly comparable machines in many respects.
vs Blendtec Stealth 885
The 575 is a blender for the home. The Stealth 885 is a blender for cafes and restaurants. Or really obsessive blender nerds who will settle for nothing but the best. The 885 gives you a sound enclosure to dramatically reduce the noise level. It gives you many more speeds and much more power than the 575. It also costs close to twice as much. Are those features worth the investment? I leave that up to you.
vs Blendtec 570
The Blendtec 575 and 570 are nearly identical blenders. They are both part of the same classic series of blenders from Blendtec. Both have the same dimensions and come with the same horsepower motor. The difference is that the 575 comes with 4 blending cycles, while the 570 only comes with 2. Furthermore, the 575 has 5 speed options, and the 570 has 3 speed options.
Lastly, the 575 comes in 6 different colors, but the 570 comes in only 2. So, if you are looking for more features, the 575 is the better option. However, if you just want a quality, simple blender, then the 570 is a great choice.
Blendtec 575 vs Blendtec 625
Blendtec designer 625 has a wild side jar while Blendtec classic 575 has four sided jar. The Blendtec designer 625 measures 7" X 8" X 8", which means that the two blenders have identical measurements. In addition, these blenders both have a touch interface and a preprogrammed cycle. The Blendtec classic 575 blender has a five speed cycle increase and pulse while designer 625 has a six speed cycle and pulse speed cycle increment and pulse.
The Blendtec designer 625 weighs 13 pounds while Blendtec classic 575 only weighs 9.8 pounds. The other feature that is common in these two Blendtec blenders is their being BPA free. Since the two blenders are both manufactured by Blendtec Company they come with the same touch controls. So, the only real difference here is that the 625 is a bit more "heavy-duty" than the 575, but both will handle the same applications fairly well.
Blendtec 575 vs Vitamix 5300
Vitamix 5300 blender has a black base just like the Blendtec classic 575. The major difference between the two blenders is on the blades whereby Vitamix has several blades while Blendtec classic 575 has a single blade. The Vitamix 5300 blender also comes with a 7-year warranty while Blendtec classic 575 comes with an 8-year warranty. Additionally, Blendtec classic 575 has preprogrammed cycles while Vitamix 5300 blender lacks preprogrammed cycle feature and instead its speed is adjusted manual and allows you to be in control during blending.
These blenders are both BPA free hence safe for your health. Moreover, Vitamix 5300 blender weighs 19.6 six pounds while the Blendtec classic 575 weighs 9.8 pounds. Both companies are produced by reliable companies so you can be sure you will have support if anything should go wrong with either.
Blendtec 575 vs Vitamix 4500
Vitamix turboblend 4500 countertop blender is another high-performance blender that is free from BPA just like the Blendtec classic 575 blender. Further, the Vitamix turboblend 4500 countertop blender comes with a 5- year warranty while Blendtec classic 575 blender comes with an 8-year warranty. Their heights also vary whereas classic 575 blender is fifteen inches high, the Vitamix turboblend 4500 countertop blender measures twenty inches in height.
The Vitamix turboblend 4500 blender has a base measuring 7.2" X 8" X 8" while the base of the Blendtec classic measures 7" X 8". Both will also come with some cookbook tips to help you along the way. Another notable difference is in their weight: the Vitamix turboblend 4500 countertop blender is heavier, weighing 13 pounds while Blendtec classic 575 is lightweight at 9.8 pounds.
Blendtec 575 vs Vitamix 750
Vitamix professional series 750 blenders has a massive weight of nineteen point six pounds while Blendtec classic 575 is lightweight measuring nine point eight pounds. The two blenders are all BPA free and made from stainless steel. Vitamix professional series 750 has an excellent brushed stainless steel finish while the Blendtec classic 575 is black in color.
The Blendtec classic 575 measures 7" X 8" X 15". On the other hand, Vitamix professional series 750 measures 7" X 7" X 9.4". The blade radius of the Vitamix professional series 750 is wider than those of the Blendtec classic 575. While the Blendtec classic 575 has four side jar, Vitamix professional has 64 Oz container. Blendtec classic 575 requires 1575 and does not come with a warranty while Vitamix professional series 750 requires 1200 watts of power and comes with an decent 7-year warranty.
vs Vitamix E320
Given the choice, I'd go with a Blendtec 575 on this one. The Explorian range of Vitamixes aren't as feature-heavy as the ones I've compared above, and they're not as durable (with less stainless steel parts and a subsequently reduced warranty). The Explorian E320 is also significantly more expensive than the Blendtec, coming in at $449 RRP.
vs Vitamix E310
At least with this blender the price is closer? Otherwise, feature for feature, the Blendtec 575 beats it out. It's got a bigger container, it's more durable and quieter than the Vitamix E310.
Where can I find a refurbished or reconditioned Blendtec 575?
If you are looking to save a little money on a Blendtec and do not mind one that has been refurbished by the factory, you can often find these refurbished models at various places. The best prices for these kinds of models are often found on the Blendtec website and come with the same warranties as a new model. So, this is a great way to get a good deal.
Click here to buy the 575 certified refurbished from blended.com at just $319.95.
What's The Best Price for a Blendtec 575 Classic?
You may want to buy the Blendtec Classic 575 directly from the Blendtec website, which will direct you to a store where you can buy the blender for just $$419.95, to be exact. This price is for the blender with the WildSide jar. With the FourSide jar, it's even more affordable at $399.95.
On other websites, you need to make sure that the Blendtec Classic 575 they're offering comes with the 1,575-watt motor. Sometimes they offer the 1,560-watt motor instead.
That's also the case on the Shopping Channel, where you can get both the WildSide and the FourSide jars along with the 1,560-watt motor. Here, it's sold for $499.
Verdict: Is It Worth Buying?
We're going to assume that you are dead-set on a very powerful blender if you're considering the Blendtec Classic 575 as one of your top choices. And we're also going to assume that you can afford it. If these statements describe you to a T, then it may be an option worth considering. Sure it's a tad expensive, but the high quality does assure you that you get many years of good use for your blender.
It works with any food ingredient, it's very easy to use and clean, and best of all, it will last for a very long time. What all these things mean is that the Blendtec Classic 575 is a very worthwhile investment.