The phrase "we are what we eat" is in this case turned on its head, as human beings are 70% percent water. In this instance, we drink what we are. All jokes aside, anyone who's spent anytime in a kitchen knows how central the sink is to any activity taking place there, and anyone who's been alive more than two seconds knows that water is essential to human existence.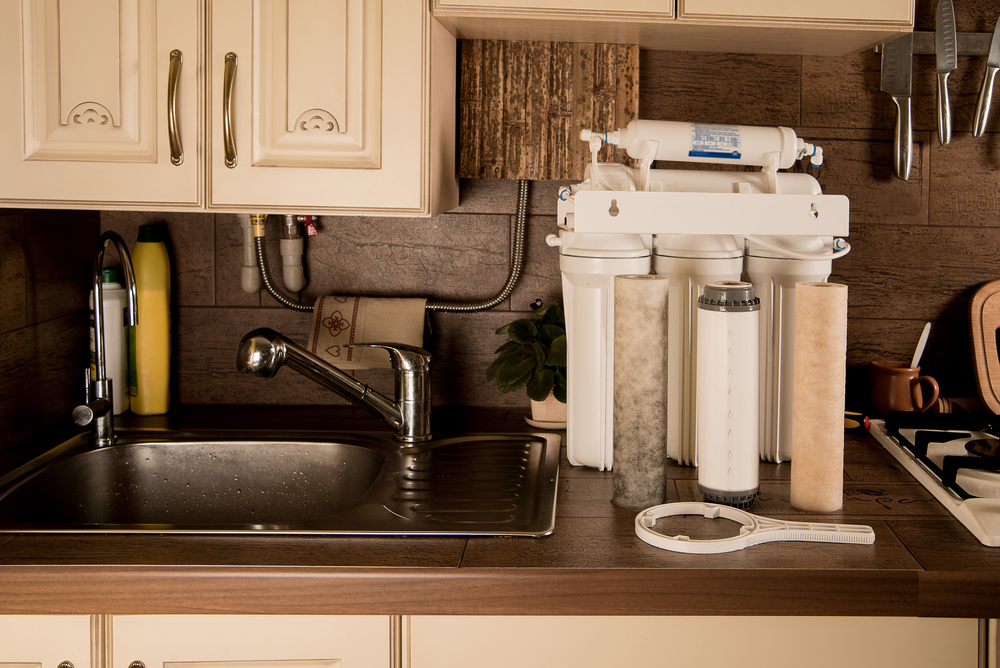 It's actually true that human beings can survive between 40-60 days without food and only three days without water. While water is literally our lifesaver, it is also true that it is always contaminated with microorganisms and cysts that wreak havoc on our bodies, as well as chemicals, pesticides, and sediment, picked up from the soil and the pipes. Hence - under sink water filtration - not as costly as whole house filtration is highly effective in purifying and improving the safety and taste of the water that we drink and mix into our food. Here we'll discuss what you need to know when buying an under the sink water filtration system and which filtration system is right for you.
Carry on reading or jump straight to our number #1 pick below.
Table of Contents
What Should I Look For When Buying an Under Sink Water Filter?
While it's widely acknowledged that it's important to make a good purchase, it can sometimes be confusing to wade through the brands and advertising targeted to convince you that buying their product is the correct decision. When it comes to water filtration, a good rule of thumb is to have a list of ready criteria to judge the efficacy of the machine for you. These criteria are as follows: cost, function, certification, warranty, and ratings.
#1. Cost: Not to be confused with worth, the price is how much money you need to give for something to be yours. Worth is how valuable it is to you. Knowing what to buy is directly connected to knowing how to compare the cost to the subjective worth. If the cost exceeds its worth to you, then it's not a good buy no matter how much money it tells you you're saving. Therefore, this is one of the criteria we'll use to determine the five best under-sink water filters.
#2. Function: Each consumer needs something different from his or her water filter, and each water filter provides different services. In order to best determine which under-sink water filter is best, knowing the functions of each filter and what it actually removes is key.
#3. Certification: The USA has national water health standards, and while all the water filter companies are privatized, the most effective filtering systems have certifications, indicating that they are nationally acknowledged to effectively treat your water for impurities. We can use these certifications to distinguish the high-functioning filtration systems from the lesser ones.
#4. Warranty: While we never make a purchase that's product is unreliable, the warranty is always an insurance policy against wasting money. It is in every companies' best interests that they never have to foot the bill for repairs or replacements, so companies that offer good insurance policies indicate that they are pretty certain that they won't have to actually pay up - a very good sign for us when judging the quality of the product. Additionally, for high-quality products that do need repairs, we definitely want to have bought a product where this is covered by the company.
#5. Ratings: As we said before, a company has a vested interest in your buying their product, so any information disseminated by the company is naturally biased to paint the product in the best light. Therefore, our only bias-free (or at least not necessarily biased in the company's favor) information comes from the ratings and reviews available online. These will be a key way to check the effectiveness of these products and get a broader knowledge of the user experience for each product.
Here's How We've Determined the Best Under Sink Water Filter for You
Using all the criteria discussed above, I compiled a list of under sink water filters sold by many different brands and graded them one by one. When only those remained that were really high performing, I compared them to each other and eliminated one at a time until I was left with a list of the top five best under sink water filtration systems available on the market today.
The Frizzlife Under Sink Water Filter is a single canister that hooks up directly to your water below your sink to give you clean, filtered water for an incredible price. I really cannot stress this enough - the asking price for the Frizzlife is not only extremely affordable but made incredible for the quality of the machine being sold.
While the exterior looks simple (a filter faucet is not included), an initial perk that should catch your eye is that the design is intended to be eco-friendly. Instead of replacing the canister every time your machine needs a filter change, you only replace the internal filtering material, thus cutting down on wasteful plastic usage by treating non-decomposable materials as disposable. Within the filter is pp-cotton, ultra-fine mesh for removing sediment and small particles, activated carbons for chlorine and chemical reduction, and an additional mesh which specifically targets lead removal.
The Frizzlife water filter system removes 99% of lead, copper, chlorine, arsenic, fluoride, cysts, and VOCs (Volatile Organic Compounds) to name a few, as well as mercury and carcinogens, filtering down to as fine as 0.5 microns (a measurement used to measure down to a millionth; for comparison purposes, a human hair is 70 microns), thus eliminating odor and improving the clarity and color of your water.
The flow rate for the Frizzlife is as high as 2.5 gallons per minute, and replacing the filter is made quick and efficient, simplified by an automatic shut off function when the filter is detached, saving you and your household from unwelcome flooding. Instead, as soon as the cartridge body is detached (a simple twist-off), water flow through the filter is automatically stopped until the filter is reattached.
The Frizzlife under counter filter can last up to 2 years or 1,600 gallons, although the suggested time span is 6-8 months before a cartridge switch. This is because the lead filtration needs more frequent switches, as the lead is most effective for 1,000 gallons, while the carbon can filter effectively for as much as 5,000 gallons of water.
This filter is NSF certified in compliance with NSF standards 42 and 53, which are respectively standards that have to do with the successful elimination of chlorine, taste, odor, and particulates, and the ridding of cryptosporidium, lead, VOCs, and asbestos.
Finally, reviews on this product were numerous and enthusiastic, with comments on the great tasting water, quick and helpful customer service, and general excellence of the product. The few bad reviews indicated that it is a serious advantage to purchasing the upgraded filter caps instead of the standard, as they are much more durable and prevent leakage.
Overall, satisfaction for the Frizzlife Under Counter Water Filter was high, and there is no filter that matches this product in quality for the price. A wonderful buy, if you're looking to provide your family with safe clean water at a money-saving price, look no further than the Frizzlife.
---
The Aquasana OptimH2O is a high performing under sink filter, and at more than double the price of the Frizzlife, fulfills every aspect of a luxury purchase. The faucet included is 100% metal and 100% lead-free, and is available in three colors - nickel, oil-rubbed bronze, and chrome. Self-installation is simple and filter replacements are a straightforward twist-off technique, maximizing user convenience. The filter itself is a three cartridge filtration setup, with an additional remineralization chamber.
The first cartridge compartment contains basic activated carbon, which filters out the chlorine taste and odor. This first step is key to protecting the delicate reverse osmosis membrane in cartridge two. Reverse osmosis is widely acknowledged as the most thorough filtering process available, as it forces the water through matter, essentially ridding it of chromium, fluoride, arsenic, and nitrate, as well as TDSs, or totally dissolved solids. The third cartridge contains advanced claryum carbon, which removes any remaining chlorine, chloramine, lead, and other heavy metals, as well as pesticides and herbicides that have contaminated the water supply.
The Aquasana is so effective that it filters fluoride and chlorine out up to 97%, and is 99% effective in filtering out bacteria, other chemicals, and contaminants. The final step of the filtration process is remineralization, where minerals are added back into the water supply to balance pH. A side effect of the thoroughness of the reverse osmosis is that it actually removes healthy trace minerals in addition to the unwanted chemicals and bacteria, so the remineralization conditions your water making it balanced and healthier for you and your family.
The water capacity for this under sink water filter is 355 gallons, and the flow rate is 0.5 gallons per minute, which while significantly slower than the Frizzlife, is a necessary sacrifice for the level of the filtration taking place. The Aquasana Under Sink Reverse Osmosis is the only filter that has the NSF certifications 42, 53, 401, 58, and P4732, each of which insures full filtration of contaminants from your water. (I will include at the bottom of this article what each provision is for.)
The Aquasana provides a 90-day money-back guarantee, as well as 1 year warranty on parts. The Aquasana reviews were positive and consumers were pumped about the quality and taste of their water after installing the Aquasana. When it comes to actual filtration, there is no better under sink water filter than the Aquasana Reverse Osmosis, and for those who are willing to splurge a little more for the best, this is by far the best choice.
---
#3: APEC 5-Stage (Best Filter Locally Made)
Similarly to the Aquasana, the APEC is a reverse osmosis water filter, providing you with clean water in a compact filter design. The filtration system itself is pure white, and the faucet provided with this filter is sleek and modern, with a chrome finish.
Although the APEC looks similar to the Aquasana with its three cartridges and remineralization chamber setup, in actuality the two filters function very differently. The filtration process begins with an ultra-fine sediment filter, removing particles like dust, sand, rust, and dirt picked up before and while flowing through your pipes. Then, your water flows through not one but two premium quality carbon blocks, which remove the chlorine, VOCs, pesticides, fluorine, arsenic, lead, and nitrate from your water. Finally, the water flows upwards through the reverse osmosis compartment, ridding your water of all microparticles and dissolved solids, rendering it completely clean. The fifth and final step before your water is potable is remineralization, where balance is restored to your water by returning healthy minerals to it like calcium and potassium.
The APEC Under Counter Water Filter is designed and produced in California, and so gives business to American business owners, an important consideration during these trying times.
The price is more of an investment than the Frizzlife, however still very affordable - in short, you get what you pay for. While the Frizzlife packs general filtration into a single canister and thus sells for a lower price, the APEC is a comparably affordable model of RO systems, with more filtration being provided. Notably, the system is built to accommodate self-installation, saving you time and money, as well as having a twist design similar to the Aquasana for replacing filter cartridges.
This system is recommended for treating well water, as its double carbon blocks make it heavy duty and no fuss, so it will not be clogged by harsh water. Importantly, this machine is tested and certified by the WQA (Water Quality Association) to comply with NSF regulation standards in removing contaminants like chlorine, fluoride, arsenic, lead, barium, cadmium, chromium, copper, and radium. With a two year warranty, this machine is made to satisfy every consumer.
In accordance with that aim, the reviews were really positive, one person commenting that "it actually tastes good, maybe even Fiji Water good." With its modern yet functional design and premium spigot, this is an amazing buy for someone in harsh water areas looking to support a local business.
---
The Express is kind of a monster when it comes to bringing high-quality filtration to the customer. Most of the filter comes preassembled, making installation easy and maintenance time considerably shorter. The exterior is white with colorful labeling, making setup easy to understand, and the Express has unique designs that make adding or removing filtering systems easy (much like a Lego piece), so that water filtration can be tailored to the specific needs of the consumer. This means that, while the linked model of the Express is a 5 stage filtration setup with a sediment filter and three types of carbon filter, in addition to an RO system, there is also the option of adding UV radiation or deionization later on down the road, simply by ordering the additional piece that seamlessly attaches on.
Important to note, the price of this machine, while generally affordable, does vary based on what filtration system you want.
On the whole, the Express is a very high performing filter that removes up to 99.99% of lead, chlorine, fluoride, nitrates, calcium, arsenic, cyanide, giardia, and bacteria from your water, and it flows at 0.8 gallons per minute, combining maximum filtration with comparatively fast water flow.
The way it works is by starting off with a sediment filter, beginning the process by getting rid of the large particles discoloring your water like rust and dirt. Then, the second and third stages are carbon filters - one a carbon block and the other granular. The granular carbon is more effective at stopping larger particles, trapping them and damaging bacteria, as well as removing chlorine taste and odor from your water. The second carbon block removes chlorine from your water as well as other chemicals and stops the finer sediments.
Then, once the water has been made safe for the reverse osmosis membrane, it flows through, eliminating all dissolved solids and the most difficult contaminants to remove, like lead, arsenic, chromium, and fluorine. The fifth stage is a final carbon filter pass, to get any remaining odor and bad taste, and the final stage is the remineralization process similar to the Aquasana and the APEC, ensuring that your water is properly balanced.
The almost Lego-esque design means that upgrades and changes are easy. For instance, moving to a new area with well water might require a UV filter, to kill off hardy bacteria, and such an addition would only cost as much as the canister, not the price of a new filter. The coconut carbon fibers that are included give this filter an additional leg up, and the emergency leak detector, which shuts off the flow of water when a leak is detected, makes this machine one you can depend on.
Finally, the Express had overall high ratings and good reviews, with customers who lived in high iron and sulfur areas commenting that the Express stood up well to both and did not become clogged under pressure. Additional comments were directed at the faucet, noting that it looked nice and meshed well with the rest of the kitchen.
If you're looking for a versatile, high performing machine, the Express Reverse Osmosis Under Sink Water Filter is the right one for you.
---
Going back to the simpler design of the Frizzlife, the Waterdrop is an understated, single canister under counter filtering system that is the most affordable of all the above-mentioned filtering options. The filtered water faucet supplied with the Waterdrop is stainless steel and has a sleek, modern appearance. The filter itself is small and really packs a startling level of filtration into a petite, nondescript black frame. The interior of the filter is split up into five parts: polyester membrane, activated carbon, KDF media, fluoride remover, and scale inhibitor.
The first of those listed, the polyester membrane, is the simplest and is responsible for removing large particles like dust, dirt, sand, and rust. Next is the carbon filtration block, which forms a ring around the remaining filtration materials, and is responsible for eliminating chlorine and odors, improving turbidity, and removing other chemical contaminants. Then comes the KDF media, which is the copper and zinc combo discussed previously, responsible for filtering out and permanently damaging microorganisms, rendering them harmless. The fluoride removal is pretty self-explanatory as is the scale inhibitor, although it does pay to mention that scale inhibition is not the same as water softening, the purpose here being to prevent limescale buildup not remove these minerals from your water supply. Finally, with the Waterdrop your water flows at a rate of 2 gallons per minute and is filtered up to 8,000 gallons before a replacement filter cartridge is necessary, which is notably very easy to install.
This filter is efficient in removing lead, copper, arsenic, chlorine, cysts, and fluoride from your water, as well as improving the look, taste, and odor of water, in addition to preventing limescale. The WQA certifies this machine to meeting NSF standard 372 which is specific to lead removal. In terms of filtration, the Waterdrop is a stellar and high performing machine and is most suitable for areas where the TDS is generally to do with dissolved minerals and not dissolved chemicals, as, without the reverse osmosis (RO) system, the Waterdrop cannot remove totally dissolved solids from your water supply.
Finally, due to its simple installation and long term water filtration performance, the Waterdrop did very well in ratings and reviews, with a high approval rating and many positive comments that said the water taste is great and that the brushed nickel finish of the water spout is an attractive setup.
For those seeking cheap and easy filtration with uncomplicated twist-off replacement, this is the perfect water filter for you.
---
Budget Options
While it's always tempting to find a cheaper option, the danger with this is that cheaper options are frequently low quality, ultimately costing you more in replacements and repairs than an originally more expensive, higher quality purchase. Under-sink filters certainly range from less to more expensive depending on which version and which type of filtering setup you need, so within the above list are products that range between $70 and $250. Anything below this price range I eliminated as just not enough of a quality purchase. Of course, it's always possible that you'll be able to find a special deal or new products will emerge. However, on the whole, other lower-priced products seemed not to perform well enough to be a truly trustworthy purchase.
Therefore in this section, instead of including cheaper forms of under sink filtration systems, I'm adding a sub-section on faucet filters, as a different but legitimate option to the more expensive under counter models. While less of a long term solution than the more lasting under counter water filter, faucet filters offer a quick, hassle-free, filtering experience at a much more affordable price.
Under sink filters are, of course, more well-equipped to target really tough water that needs more specific treatment like UV radiation, reverse osmosis, and even water softening for hard water areas - possibilities that are just inconsistent with the design of the faucet filter. However, for basic water filtration, the faucet filter can be and is more than sufficient. While under sink filters have much more longevity when it comes to water filtering capacity, for minimal filtering water use, the faucet filter is more than sufficient for your needs.
Faucet filters can be hit or miss, but these specific models are high-performing and guaranteed to give you clean, clear water. If you do take this course, keep in mind that faucet filters do require a standard faucet head and that a special faucet head will not be compatible.
'Nuf said. These are the top budgeting faucet filter options.
For the full faucet filter article check out The Best Faucet Water Filter
Large and constructed from stainless steel, the Engdenton is the most durable of the faucet filters, in a market where most faucet filters are plastic. This filter eliminates dirt and sediment, removes chlorine thus improving the taste and smell of your water, and inhibits bacterial growth. Worth noting is that this filter does not eliminate dissolved solids and is capable of filtering up to 200 gallons of water before needing a cartridge replacement. With great reviews and positive customer feedback, if budgeting is for you and you're looking for a cheaper but durable solution, the Engdenton is your perfect compromise.
While the Pur filter's 100 gallons of water filtering capacity is not as long-lasting as the Engdenton in terms of time between filter cartridge changes, the Pur Faucet Filter is NSF certified to reduce heavy metals like lead and mercury, as well as chlorine, pesticides, and herbicides. Additionally, the product is available in a series of different colors (with varying prices) - unique in a market where a single color dominates. Pur reviewers said that while the plastic casing can leak between 3 months to a year, the filtration capacity is higher than that of the Engdenton. While frequent replacements would be necessary, they would again be very affordable. For a short term but high-quality solution, consider the Pur Faucet Filter.
The Waterdrop is the most affordable of the faucet filters, yet arguably the highest performing. The water capacity removal is up to 320 gallons, and it removes up to 94.5% chlorine, as well as doubling down on lead, fluoride, and sediment. The activated carbon works hard to give you clear, sediment-free water. The reviews on this product were very positive, with the comments indicating that installation was the most trying aspect of this filter, and not so tough at that. If you're looking for a long-lasting filter with the greatest capacity for water filtration and the cheapest by far, the Waterdrop is your budgeting ideal.
Weird Water Terms
Learning about new topics can sometimes be like learning a foreign language because words exist or are used completely differently than in every other form of speech. Here are some key terms like this for the world of water filters.
VOC - Volatile Organic Compound: VOCs are gases that are emitted through their use in creating some sort of product, like formaldehyde when creating plywood, and methylene chloride which can be found in some spray paints, car cleaning sprays, and pesticides. There are many different types of VOCs. They can be found in the air supply, water, and soil, and some have been directly linked to causing cancer. While the likelihood of being exposed through your drinking water to a high enough concentration of a VOC to see any effects is so improbable as to be nigh impossible, it is just another of the chemical compounds which your filter works to eliminate to provide you with safe water.
NSF - National Sanitation Federation: This is a government organization that determines the national standard for sanitation. Something can be certified according to specific NSF standards and not all of them, as is true for many filtering systems. Each number (some shown below) represents a specific filtering standard that the machine fulfills.
42 - Refers to filtering chlorine and improving the overall taste and odor of your water.
53 - Most commonly certifying products with carbon filtration. It assures that the product is sufficient in getting rid of cryptosporidium, lead, volatile organic compounds, and asbestos.
58 - Standard that exists for reverse osmosis systems that effectively eliminate fluoride, arsenic, barium, chromium, and radium as well as other dissolved solids.
401 - A product's certified ability to reduce herbicides, detergent, pharmaceuticals, and emerging pesticides, as well as other chemical contaminants.
P4732 - Verifying that this filter successfully eliminates PFOAs and PFOSs to below the health advisory levels set by the EPA. These are man-made chemicals, that are used in production of a wide range of products and make their way into the soil and water supply, and that have adverse effects on your health. It's noted on the official Web page that Aquasana filters are the first to receive this certification.
372 - A certification that is specific to greatly reducing lead from your water supply.
WQA - Water Quality Association: A non-profit association that tests filters to the standards of the NSF but independently certifies them.
How Do I Test My Water?
While I know that many of you might have an idea about what's in your water, there are many more of you that don't know what causes the bad smells and discoloration. It could be a multitude of things. It could be because your city water is treated with chlorine to kill off bacteria, giving it that chemical smell and that unpleasant taste. It could be because you live in a more rural area where you source your water from wells or other natural sources, meaning that your water has a plethora of living things breeding in it - not a pleasant thought and certainly contributing to that weird sulfur smell that kinda reminds you of eggs. Or, it could be none of the above, and you could just have a case of hard water. Regardless of which problem you have, or which problems, there are a couple of ways you could go about figuring out what water problem you have.
Hard water is a problem that plagues most of the US, ranging from mild to extreme, and it occurs when your water is so rich in minerals that they build up over time, harming your appliances, clogging and damaging your pipes, and building up around your faucets, showers, and toilets in these ugly white deposits. A fun DIY method that I found for checking if your water is hard, is to fill a bottle a third of the way, and then add soap. Shake vigorously and then observe the results. If the water is cloudy and did not get sudsy, your water is hard. If it did form bubbles, then you're water is mildly hard. (You're one of the lucky ones.)
That fun home trick aside, there are more official channels to pursue when testing your water. People who pay into communal water supplies are issued a water quality report once a year, so that you have the data on your water and its quality. Someone living off their own water supply will of course have to rely on other methods for testing his or her water, and even people who live in the cities need to conduct personal tests to determine what their water content is when it finally comes out of that tap, as it has run its course through the plumbing and is not quite as pristine as it was in its storage area.
To get someone else to test your water, you can often turn to your county health departments, and they can help you test for bacteria or nitrates. If they do not offer this service or are not available, you can turn to a certified state lab, which can test your water and send you the results. Most services will provide a container and all of them will provide instruction for mailing them your sample.
Home tests are of course an option, however with a couple of caveats. Many different water tests exist, each to flag down a different contaminant in your water. To know what is a water concern for you, you'll probably need to get a comprehensive test from your local lab, and then, after you get your results, you can test independently with testing strips on a yearly basis. Additionally, while testing strips can give you an indication of what are your approximate concentrations of different substances, they are not nearly as accurate nor as reliable as the in-lab tests.
Many consumers make the mistake of using a pool test kit on their fridge or tap water, thinking that the results should be indistinguishable in terms of accuracy. While it can help, it is rather inaccurate because of the difference in ideal conditions between the two waters.
Pool water is desirably skewed to a higher pH, as the desired pH of a pool is between 7.2 and 7.8, while the ideal pH of drinking water is 7. And then there's the TDS. Consumers have run into continuous problems when they check their TDS (totally dissolved solids) and have discovered that it's unchanged by their filter. While this seems to be a failing on the part of the filter, especially when pool test kits make this seem like a problem, it's actually another way that using a pool test kit can be misleading. According to the World Health Organization, the ideal TDS level is actually around 300, meaning that anything below that is fine, and TDS even as high as 500 is still considered totally acceptable.
Totally dissolved solids include anything from the minerals in your water to other naturally occurring substances, as well as chemicals and adverse pollutants. While your filter actively removes these from your water, a good quality filter will still give a high test result when it comes to TDS because this has nothing to do with the safety of your water. Regardless of what you eventually decide, see what's available in your area, and then make an informed decision.
Replacing Your Filter Cartridges
Once you've installed your under the counter water filter, it can be tempting to forget about it and never look back. However, changing your filter cartridges is a necessary step to keeping your water fresh and clean, and filter cartridge replacements are too easy to make to be reasonably avoided.
While the exact steps for when and how you change these cartridges differ based on the model of filter, they mainly follow the same structure. All of the filters have some sort of external casing, that with a simple twist-off (or other easy motion), detach, allowing you to remove the internal filter and replace it with another. Then, all you need to do is reattach the external casing, and you're done.
Verdict: Your Best Under Sink Water Filter
Alright people, we had lots of content to get through today, discussing the pros and cons of each filter, as well as reasons for getting an under sink water filter versus a cheaper, more short term solution like getting a faucet filter. However, if long-term, thorough filtration is in your budget, then these are your best bets.
For the general best value for an economic price, the Frizzlife is the top, most high-quality filter available on the market. If you can afford to spend as much as necessary to get the best of the best, then the Aquasana OPTIMH2O Reverse Osmosis is your number one choice. Finally, if you're looking for flexibility, then the Express Under Sink Water Filtration System is your top choice, for the ability to add on or change the filtering specifications depending on your needs, which can change over time.
Finally, it's been a pleasure learning and analyzing with you. I hope your endeavors prove fruitful and that this helped simplify your decision-making process. Good luck and good hunting.