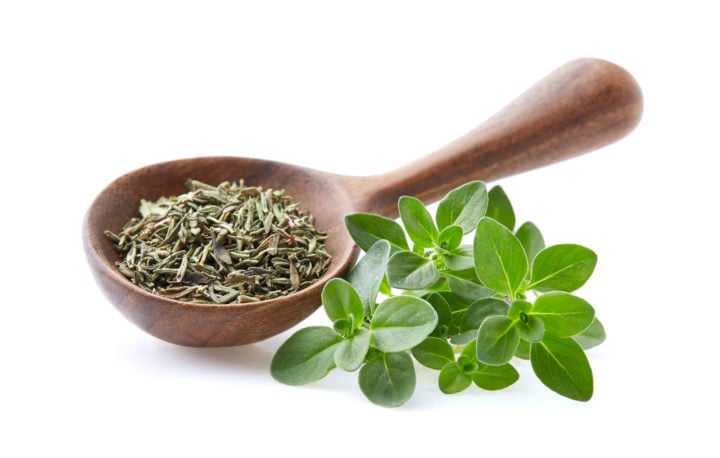 If you love steak and roasted turkey or chicken, you probably enjoy thyme very well. Thyme, also known as Thymus vulgaris, is a Mediterranean plant that grows woody stalks with tiny, spherical green leaves and is closely related to oregano, mint, basil, and shiso. With its earthy, minty, and somewhat lemony flavors, it is undeniably a must in stepping up your recipes.
Thyme is a savory herb frequently used to season foods alone or in combination with other plants. Sage, rosemary, and oregano are common herbs to use with thyme. There are over a hundred types of thyme, many of which have names that correspond to their taste qualities, such as regular thyme, common thyme, orange, caraway, and za'atar thyme.
Dried thyme offers a strong flavor and is the best option you can go for whenever you run out of fresh thyme. Other fresh herbs like oregano, basil, marjoram, savory, parsley, rosemary, tarragon, dill, and sage are excellent alternatives. You can also use spice blends such as Italian seasoning, Herbes de Provence, Poultry seasoning, Za'atar, Blackening seasoning, and Bouquet garni as they contain thyme.
Table of Contents
Best Thyme Substitute
1) Dried Thyme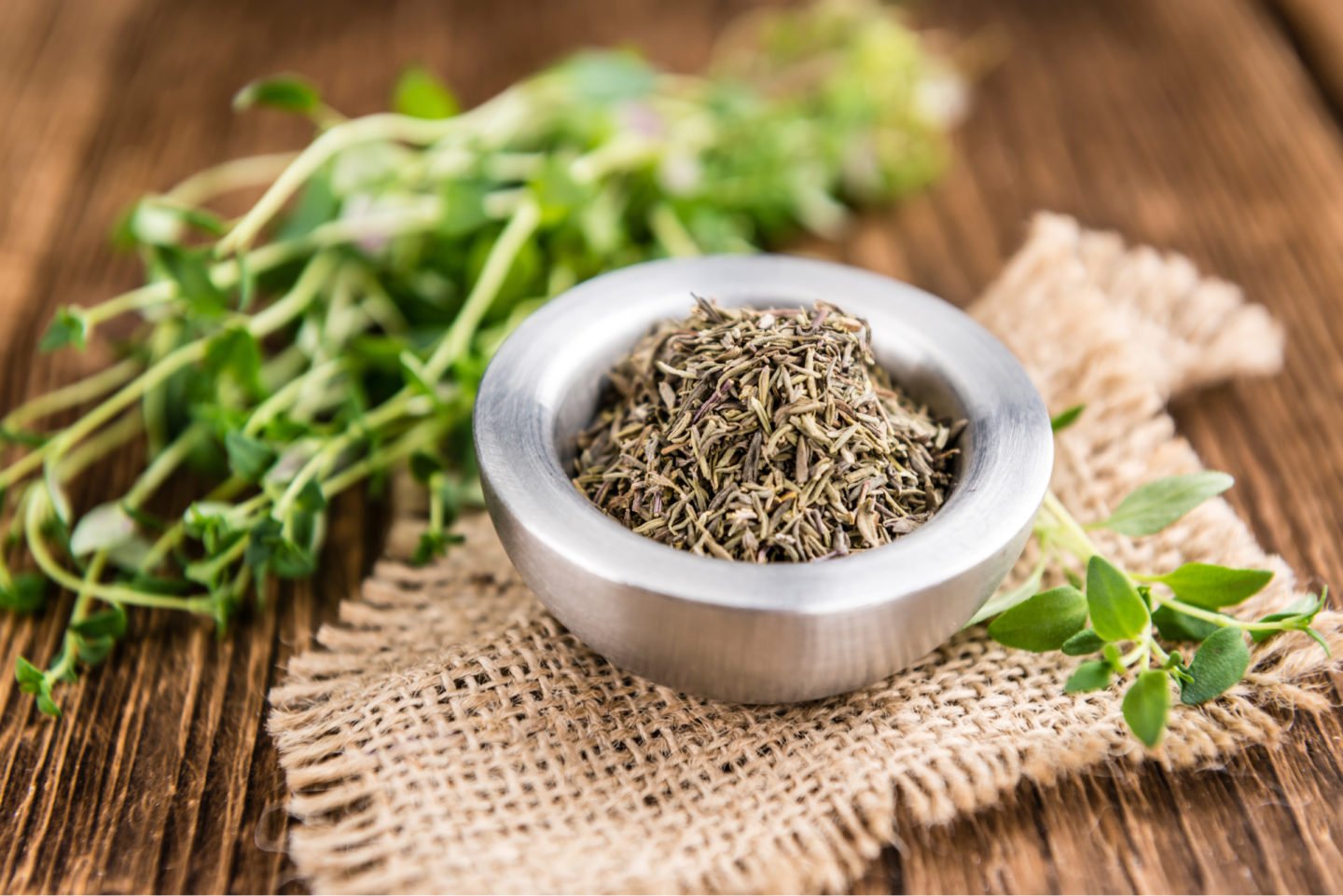 If you're someone who uses thyme so often, we suggest you keep bottled dried thyme that you can purchase from local groceries or make one at home. You can expect all the flavors at a higher concentration with dried thyme, so you should be careful when adding this to the recipe.
Start by using half a teaspoon of dried or ground thyme for every teaspoon of fresh thyme required. Then, if you wish to make dried herb at home, just get a bunch of fresh thyme. Let it dry under the sun or use a dehydrator. You can then place the dried herb in an air-tight container. This homemade dried thyme can last up to 6 months.
The only difference when using dried thyme is the need to rehydrate them to release the flavors. However, that is not a problem as most dishes have sauce, broth, a dairy base, or even water. Therefore, when used as a topper, you might not experience the full flavors of dried thyme.
2) Oregano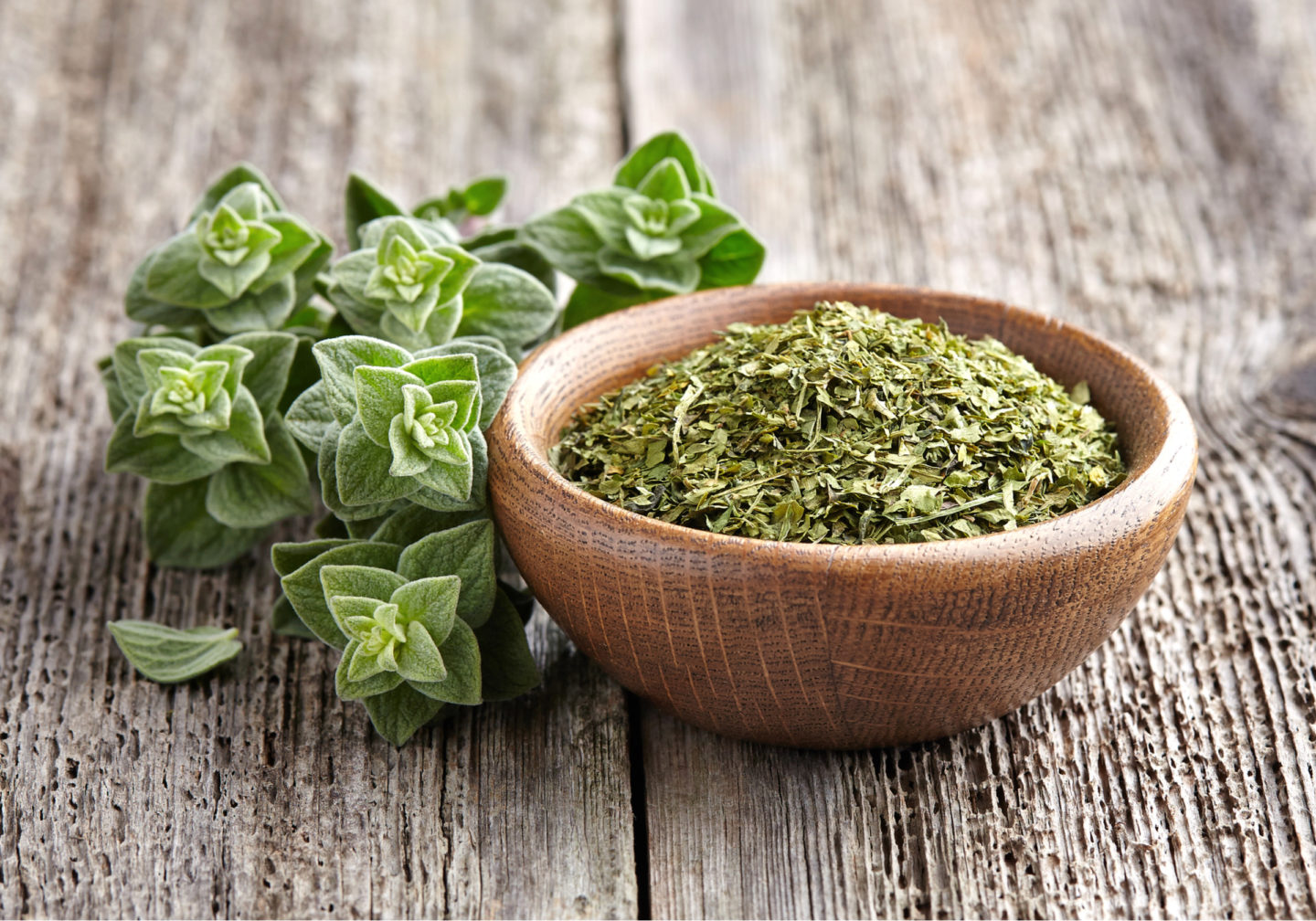 Whether fresh or dried, oregano shares the same earthy, minty, savory, and somewhat bitter characteristics as thyme, making it one of its best substitutes. It also has a spicy, herbal taste, which adds to its richness. Fresh oregano is an excellent substitute for fresh thyme, while you can use dried oregano in place of dried thyme.
Oregano and thyme complement each other's flavors very well and often occur together in many dishes. Oregano can replace thyme's vibrant herby flavors from pasta to oil-based dishes. When mixed with other spices, oregano also creates a well-balanced flavor, so overpowering taste wouldn't be a problem.
If you're replacing dry thyme with fresh oregano, use twice as much oregano. If you're substituting dry oregano for fresh thyme, use only half a teaspoon of oregano for every teaspoon of fresh thyme, as the dried herb can be powerful.
3) Basil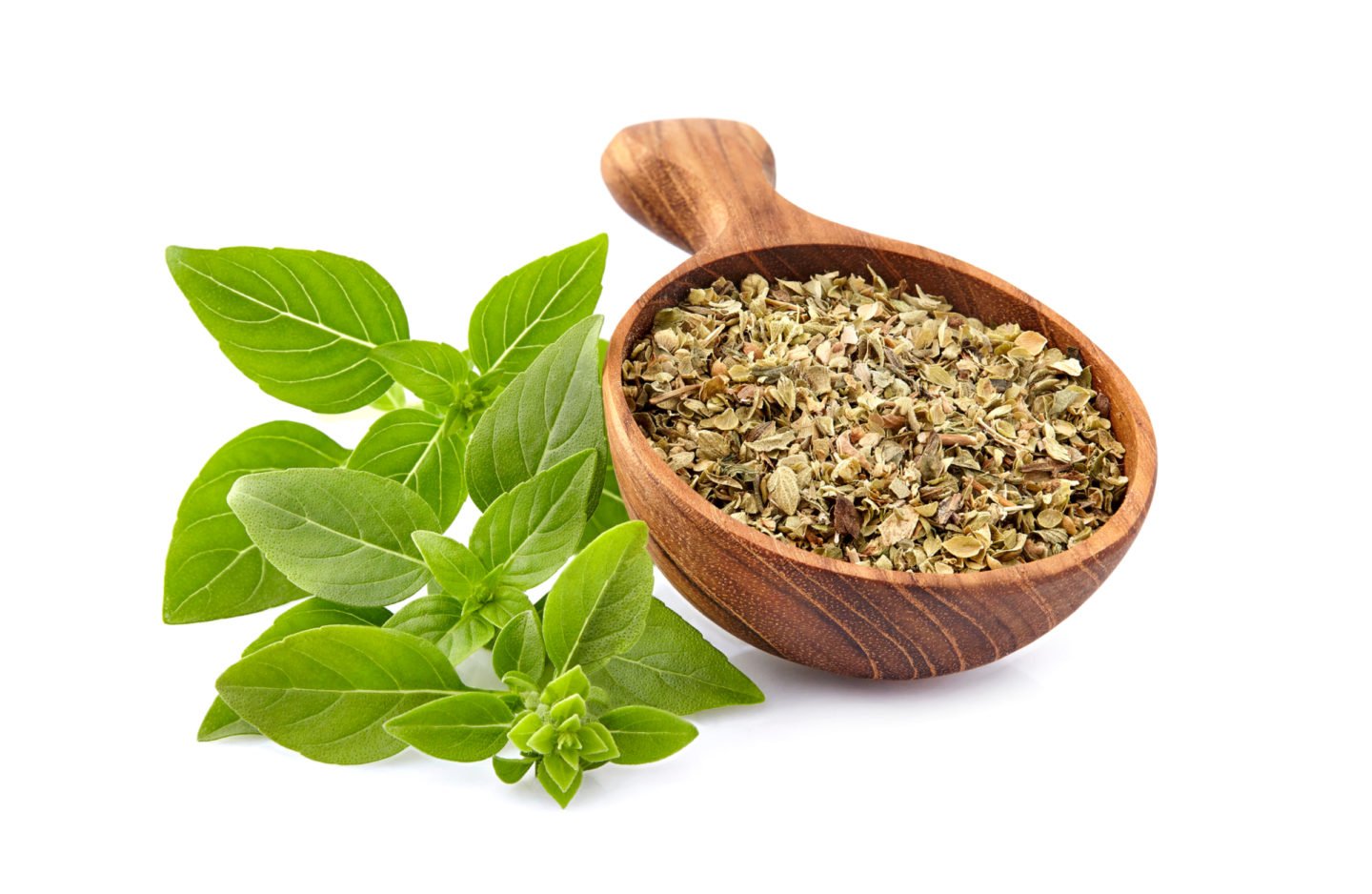 Since basil and thyme belong to the same family, you can freely use one as a substitute for the other. You can expect a more vibrant licorice flavor, a sweet, salty, sour, and bitter taste. However, basil's complex flavors might be overwhelming, so you have to start small and just build your way up.
Dried basil does well with sauces and toppers on pizza, while fresh basil gives a vibrant taste to salad dressing and can be pureed into soups. Basil is also an excellent thyme substitute in savory dishes and cocktails.
When using this fresh herb, you can start adding half a teaspoon of chopped leaves for every teaspoon of fresh thyme needed. However, basil loses some of its flavors when dried, so you can just do a 1:1 substitution ratio.
4) Marjoram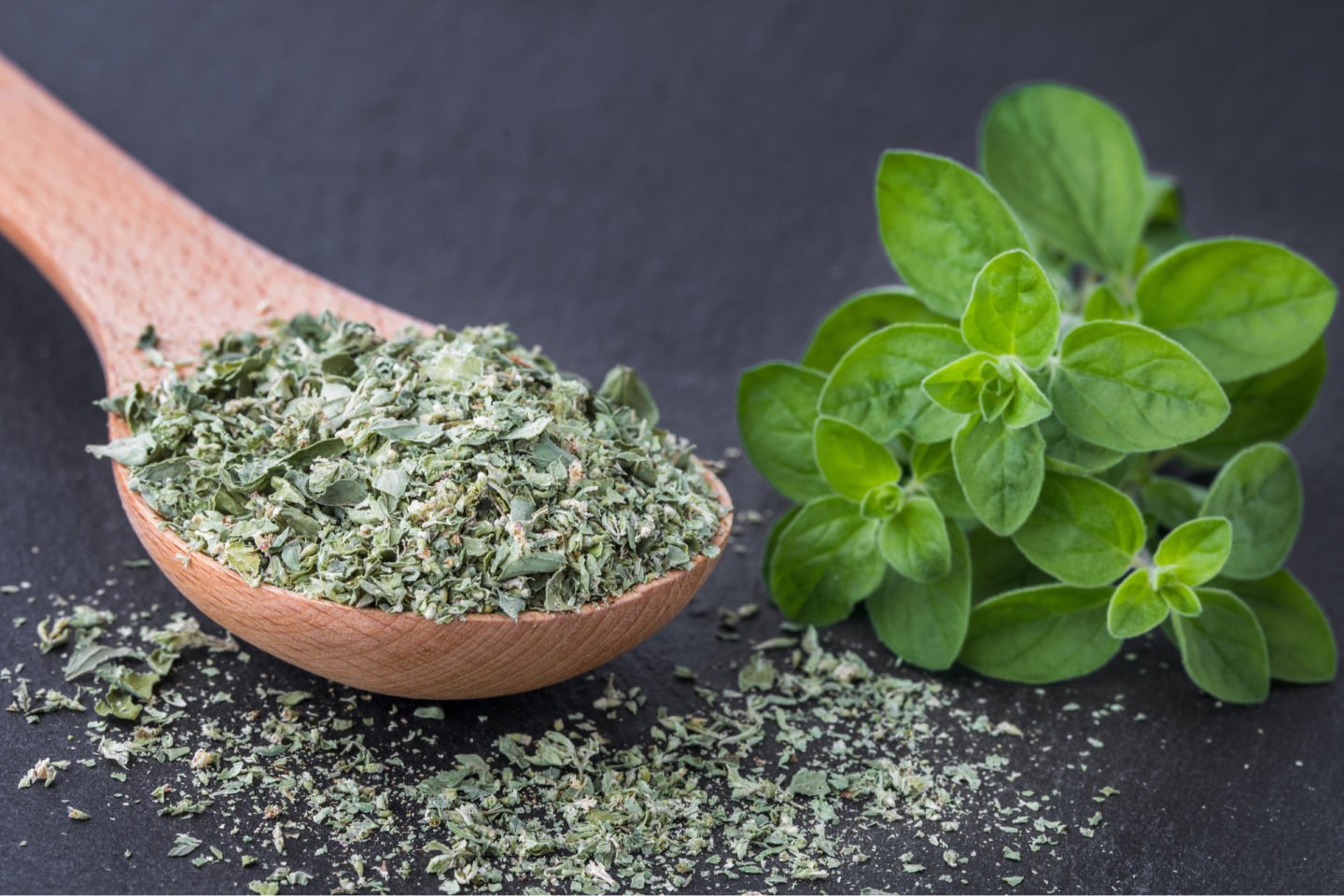 Marjoram is a herb that many home chefs don't use very often and may not even know of. However, like oregano and thyme, it's a versatile herb that's a terrific addition to any spice cupboard. The woodsy and flowery scents of fresh marjoram are similar to those of thyme and oregano, although milder than oregano. It's also a tad sweeter.
Fresh marjoram is a key herb in the spice mix Herbes de Provence as it balances well with other herbs and is not as overpowering as oregano. Marjoram is the perfect substitute for you if you want a rich flavor without the solid herby scent.
To substitute, use half the amount of dried marjoram when replacing fresh thyme. Dried herbs tend to have more robust flavors, and you can add more if desired.
5) Savory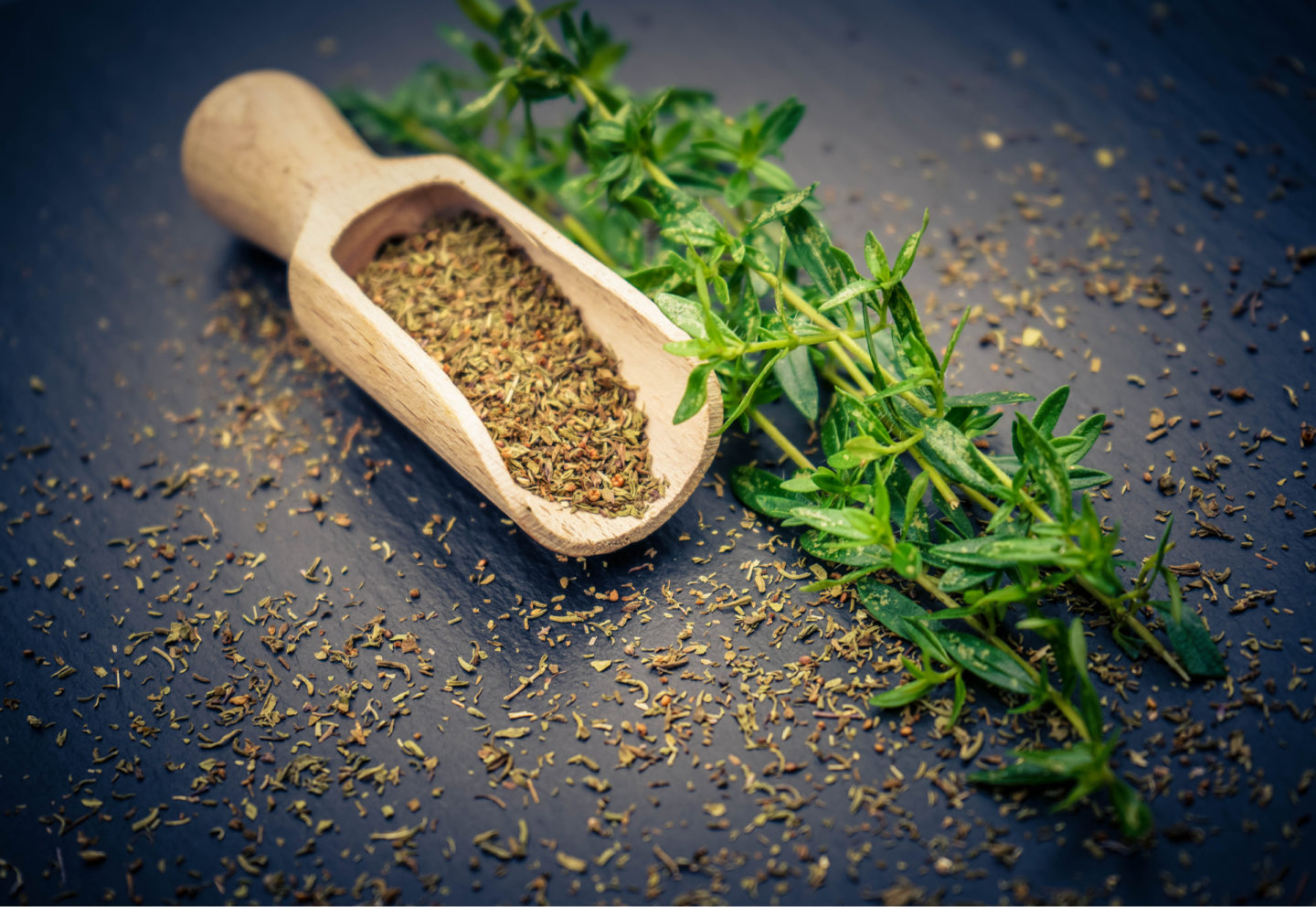 Consider using savory as one of the best thyme substitutes when trying out recipes. Less frequently seen in most kitchens, this plant belongs to the same family as those listed above. When compared to thyme, savory has a lighter overall flavor profile, yet it has an excellent nuanced earthy and peppery flavor that complements other ingredients in a meal.
Winter savory has a more understated earthy flavor compared to summer savory's pronounced flavors. Nevertheless, you can use both and expect a great outcome, especially when dealing with meats.
When used as a thyme substitute, you can start with a 1:1 ratio when replacing fresh thyme with fresh savory or when replacing dried thyme with dried savory. When using fresh savory to replace dried thyme, use a 2:1 ratio.
6) Parsley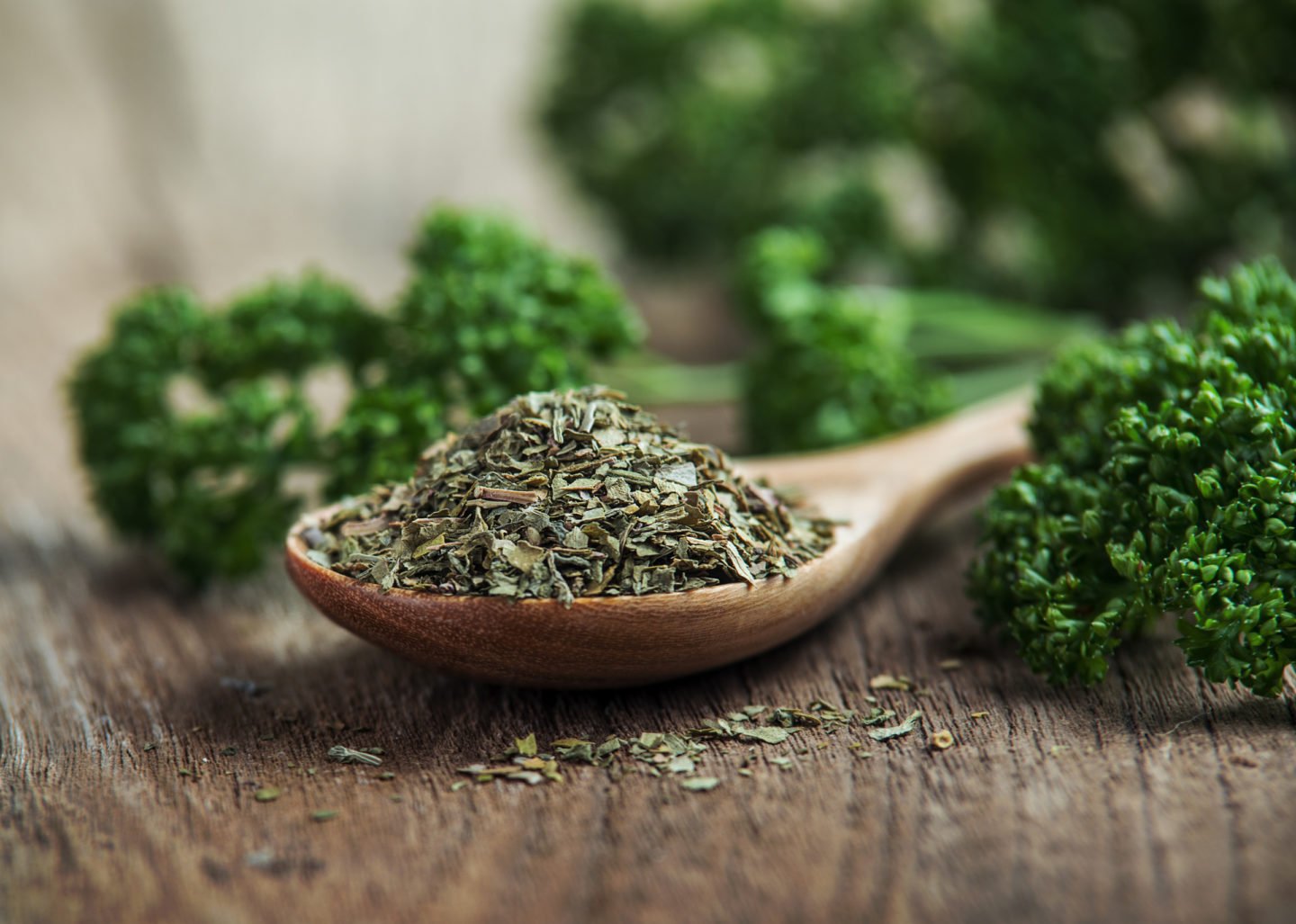 Due to its versatility, parsley is considered one of the most famous spices. It offers a clean, peppery taste with a balanced earthy flavor, making it a great all-around spice. Fresh, chopped parsley brings a new taste to any dish, from salads to stews, pasta sauce, or grills.
While parsley does not entirely come close with thyme's flavors, we added this to the list as you can always use this in a pinch, and it blends well with other spices like marjoram, creating a thyme-like taste.
When using this fresh herb as a substitute, you can simply do a 1:1 ratio when replacing fresh thyme with fresh parsley. If the recipe calls for dried herb, use a 2:1 parsley to dried thyme ratio.
7) Marjoram and Parsley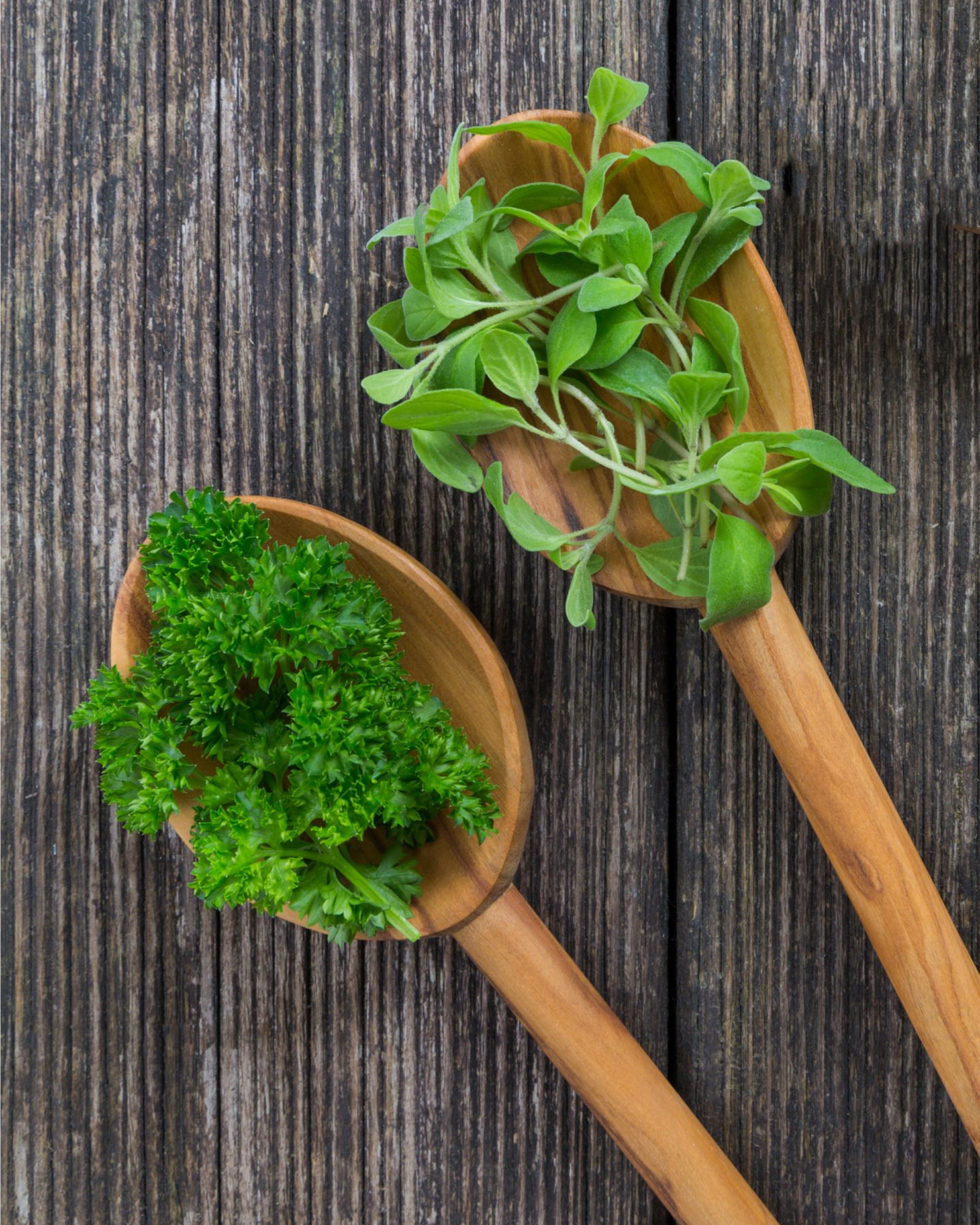 As mentioned above, the mixture of marjoram and parsley is an excellent thyme substitute. Since marjoram is a sweet spice, it complements parsley's clean, earthy taste very well. In addition, the mixture provides a well-balanced texture and flavors that thyme provides.
To achieve the perfect mixture, add 1 teaspoon of marjoram and mix with half a teaspoon of parsley. You can then use this spice blend to substitute 1 teaspoon of fresh thyme needed in your recipe.
8) Rosemary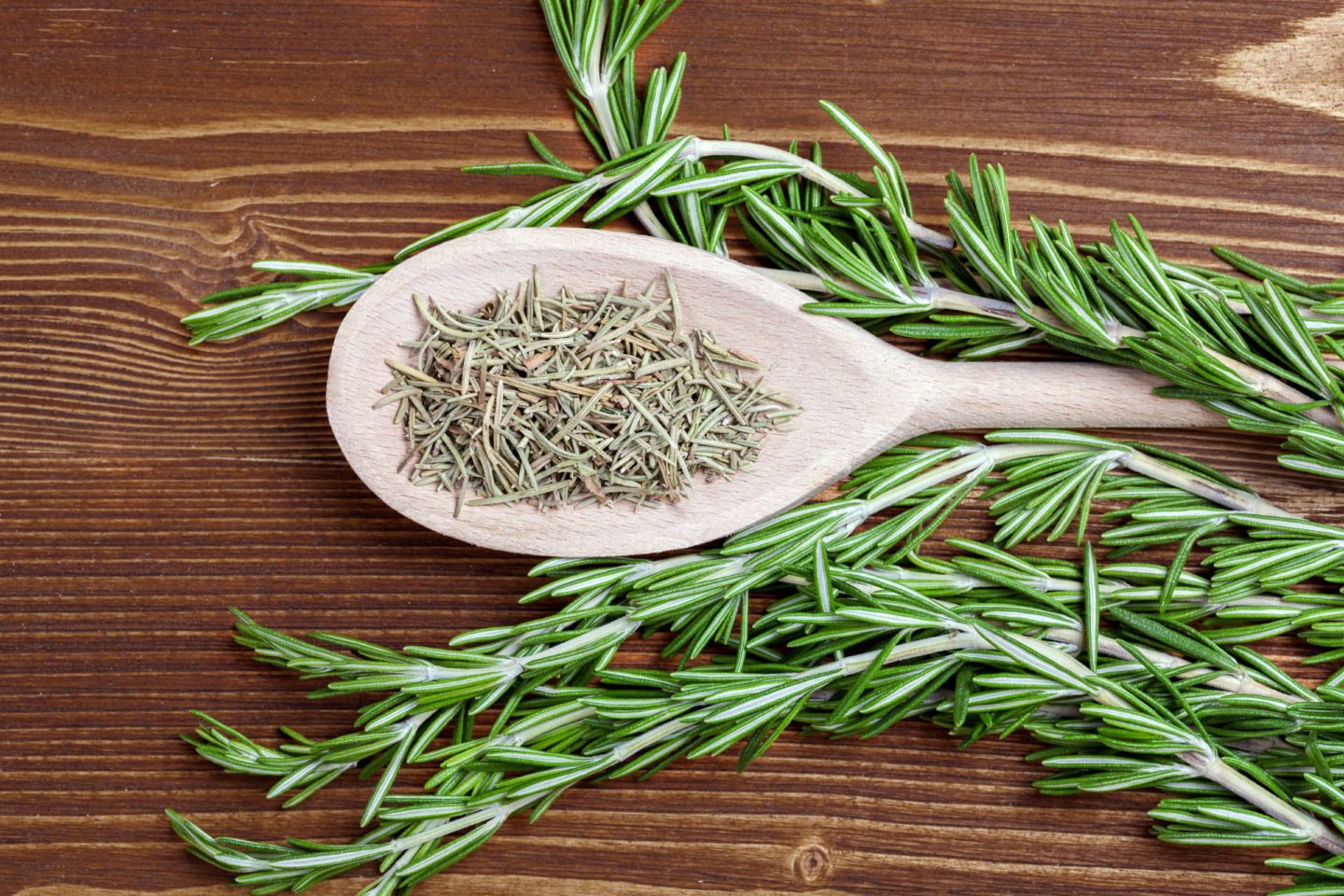 Rosemary's taste is a little stronger than thyme's. To acquire that peppery undertone, you can combine dried rosemary with other herbs such as marjoram or parsley—the spice blend works well with seafood, soups, stews, and Italian cuisine.
When used as a substitute, you can replace 1 teaspoon of thyme required with half a teaspoon of rosemary. Rosemary is also an excellent herb to use in combination with thyme. If you only have a small amount of thyme but not enough for a dish, you can try mixing it with rosemary to create a more realistic substitute.
9) Tarragon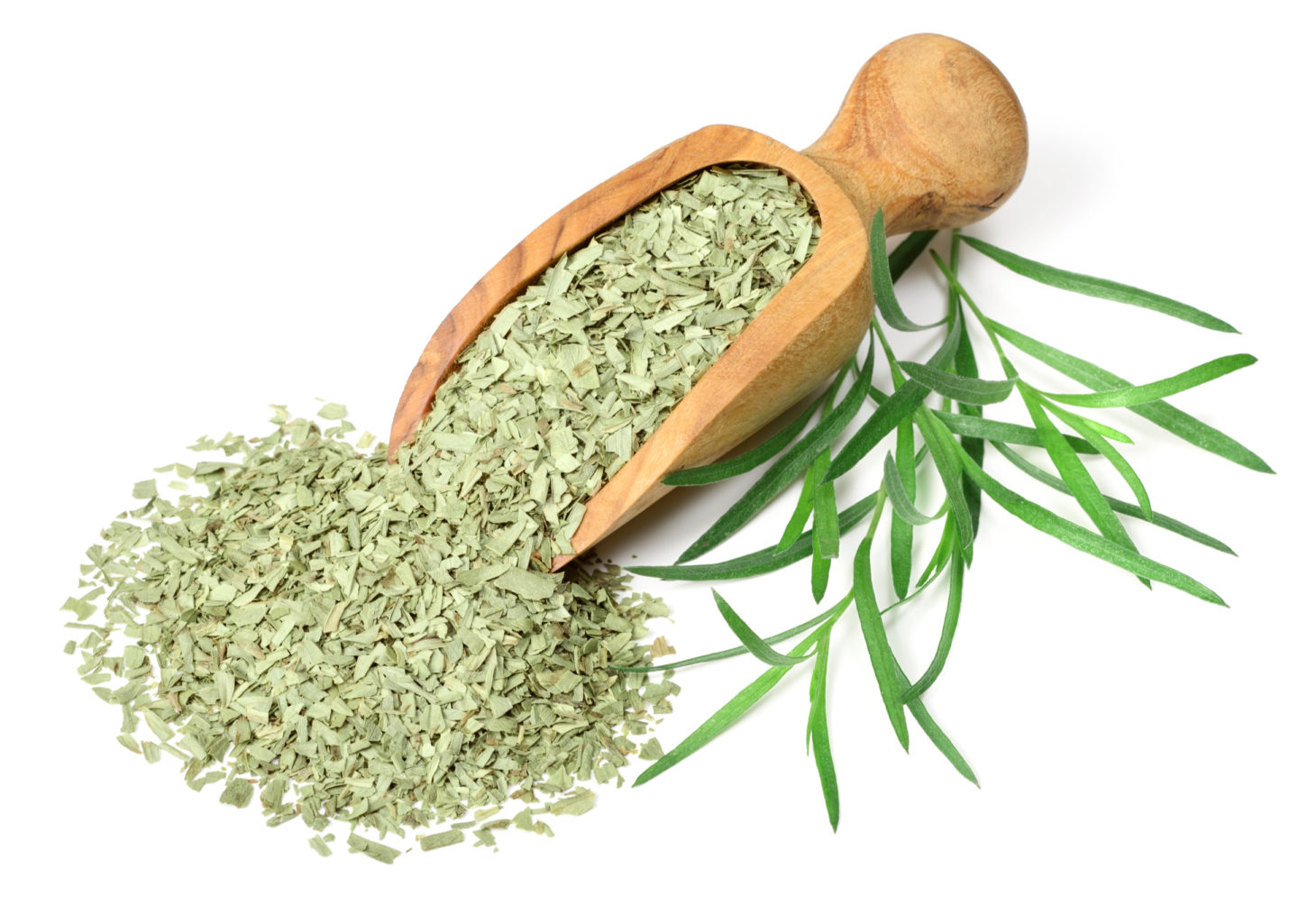 If you're in need and don't have any thyme on hand, tarragon comes in handy. Tarragon has a slightly sweet and somewhat bitter flavor closely similar to thyme's combination of flavors. However, tarragon's aroma appeals overpowering to some, so using a small amount at first is a must.
If you're making a fish or chicken dish, tarragon is an excellent choice because it complements the meat's characteristics. It does not only give a fantastic taste and aroma to dishes, but it has a lot of health benefits, including reducing blood sugar and increasing appetite.
When used as a substitute, you can start by adding half a teaspoon of tarragon for every teaspoon of thyme required and just add more when desired.
10) Dill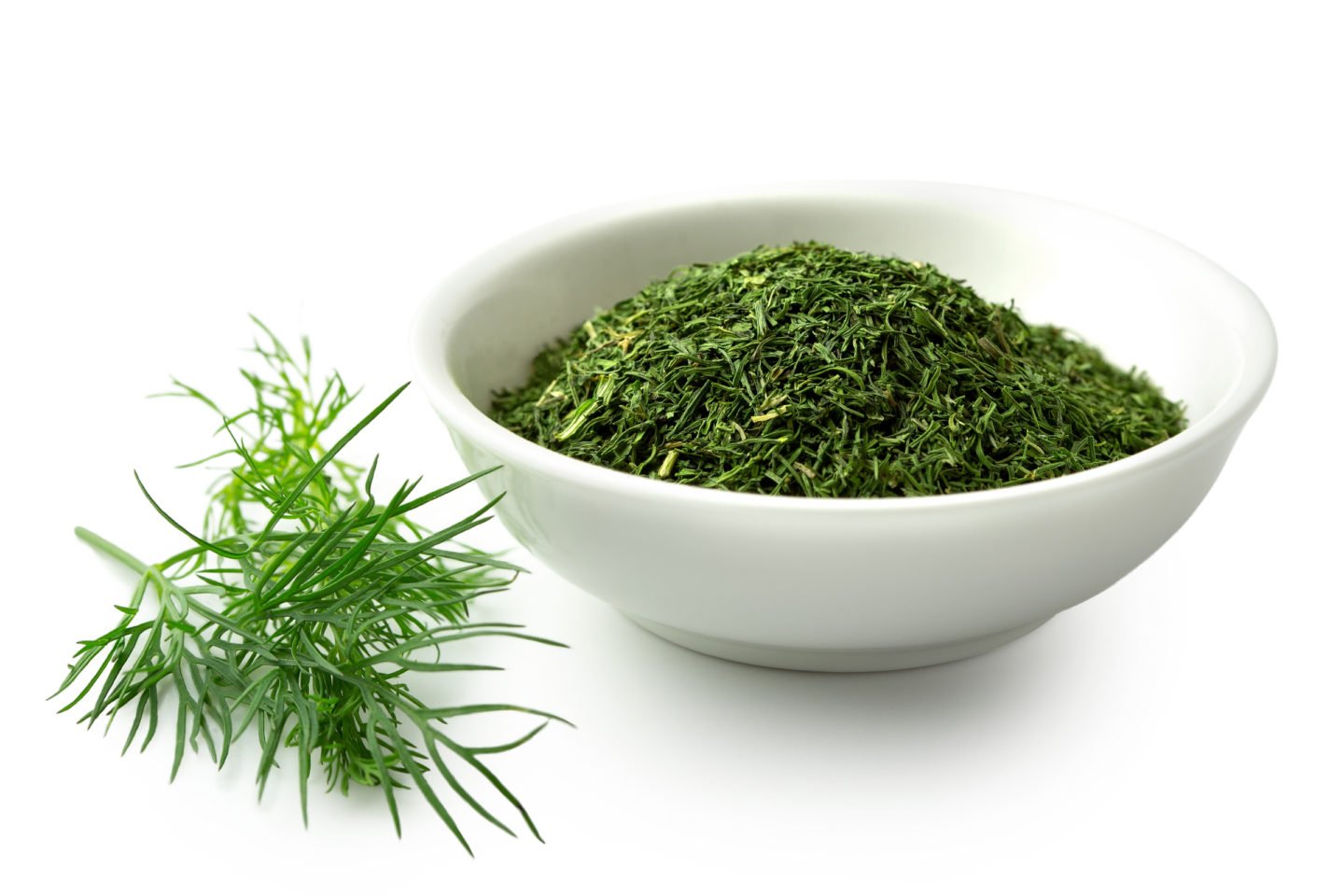 Dill is a common garnishing component in many Asian dishes. Being a parsley family member, Dill has a distinctly fresh, citrusy, and a little grassy taste that is quite similar to thyme. If you're following a recipe on Eastern meals such as soups, shrimp, pig, potato, salad dressing, and so on that requires thyme, feel free to use dill instead.
As an herb, dill also has known health benefits, including improving digestive health and increasing appetite. When used as a substitute, you can replace every teaspoon of thyme required with ¾ of a teaspoon of dill to prevent overpowering the other ingredients.
11) Sage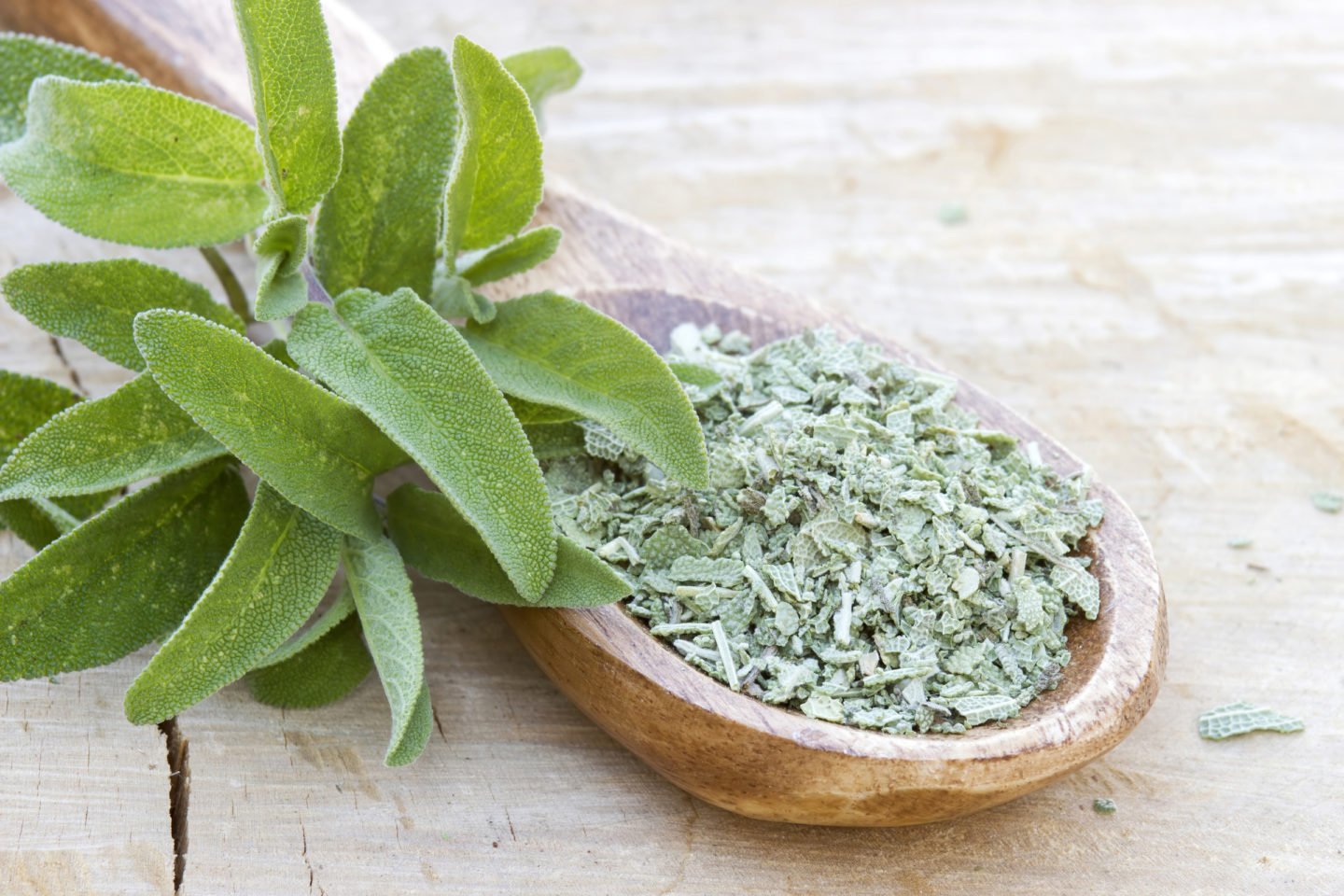 Sage is a plant that receives a lot of attention around the Thanksgiving season, but it has a lot to offer all year. It has a similar earthy flavor to thyme, making it an excellent replacement. However, sage has its particular flavor, so be aware that it will somewhat alter the overall taste.
Sage also brings out the flavors of the foods you mix it with. As a result, it's a terrific alternative when you need a spice substitution in a meal with many other flavors. When used as a substitute, we suggest replacing every teaspoon of thyme with half a teaspoon of sage, adding more when necessary.
12) Italian Seasoning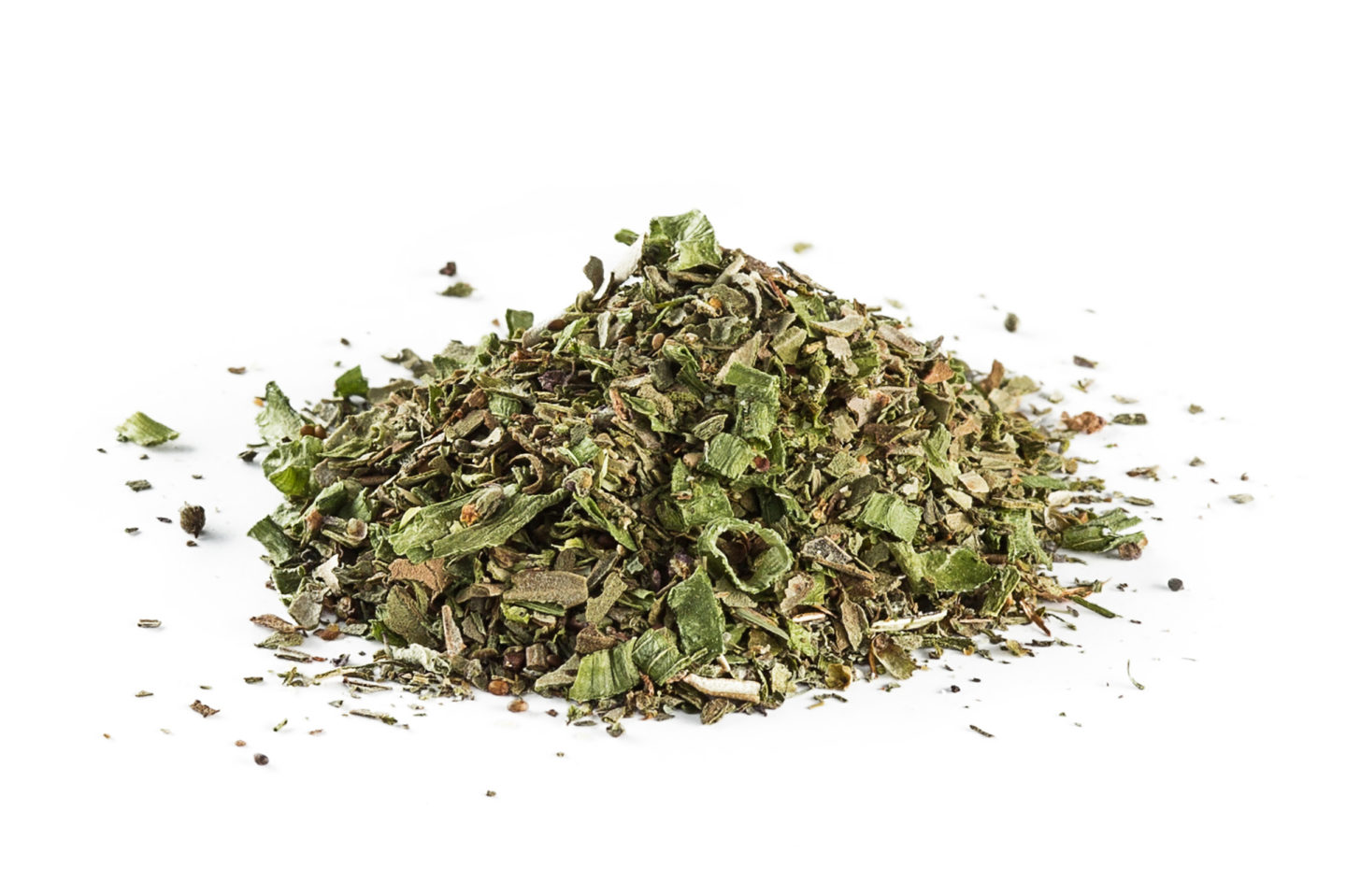 Another spice blend used in place of thyme is Italian seasoning. It's best used in Italian cuisine, but it also goes well with grilled meats and Mediterranean cuisine. Thyme and many other thyme substitutes, including oregano, savory, and marjoram, are included in Italian seasoning. You can also taste basil, rosemary, sage in this blend.
The addition of basil to the mixture makes it smell rather sweet, balancing it out. When used as a substitute, you can start by replacing one teaspoon of thyme with one teaspoon of Italian spice. However, due to the diversity of other tastes present along with the thyme, you can start adding a small amount and just add more when needed.
13) Herbes de Provence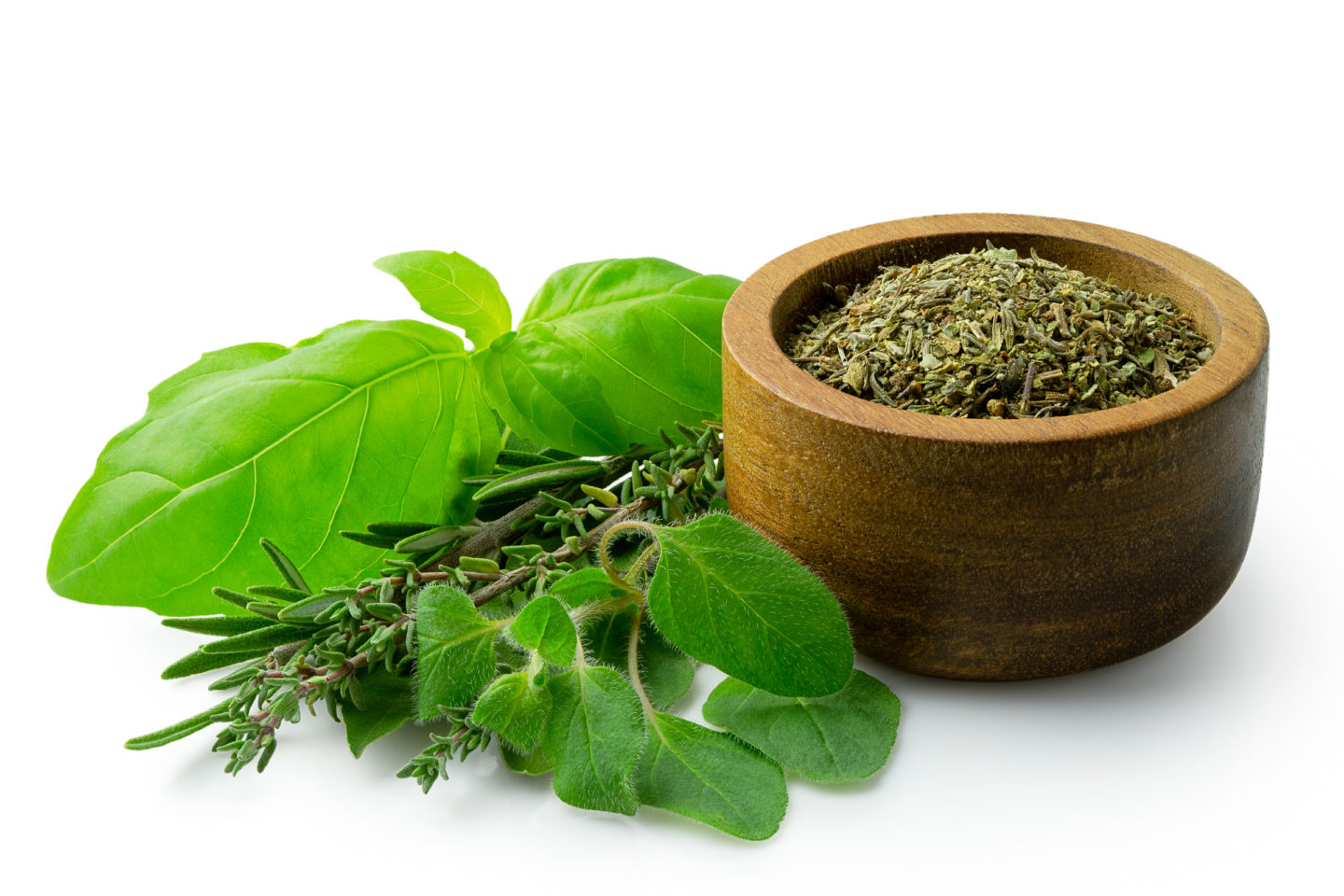 Thyme, rosemary, basil, lavender blossoms, basil, marjoram, bay leaf, and savory are all included in this herb blend. Because of the variety of tastes in the product, the delicate flavor supplied by thyme alone may not be the same, so keep that in mind.
When using this as a thyme substitute, you can do a 1:1 ratio, but we recommend adding half a teaspoon first and tasting the mixture before adding the remaining seasoning. This spice blend works well with fish or chicken dish
14) Poultry Seasoning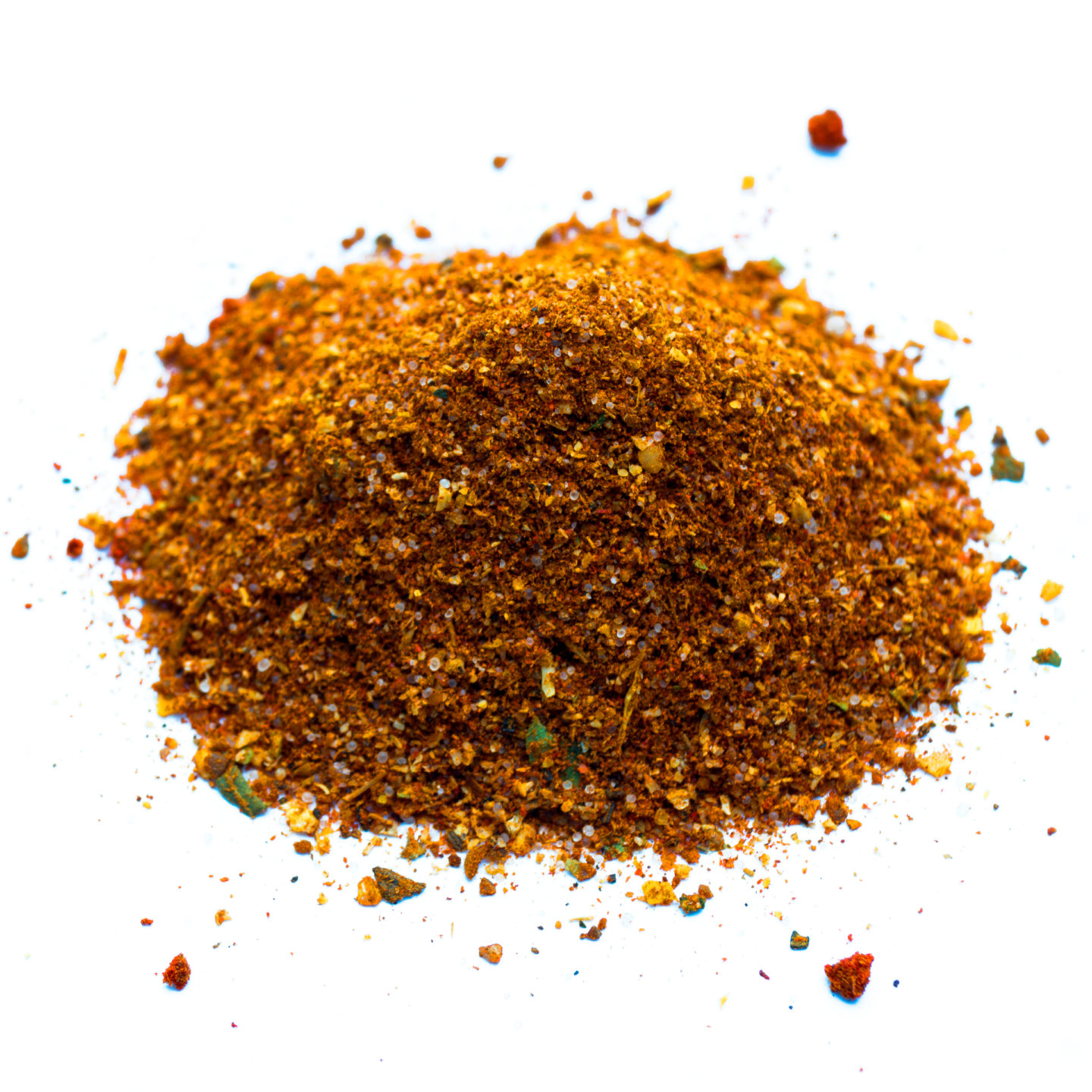 Poultry seasoning is a commercial spice blend that contains thyme as its main herb. Other ingredients include sage, marjoram, rosemary, nutmeg, and black pepper. These primary herbs offer complimentary flavors to chicken, turkey, lamb, pork, veal, and every type of meat in general. Since thyme is the main herb in this spice, we recommend a 1:1 thyme to poultry seasoning ratio.
15) Za'atar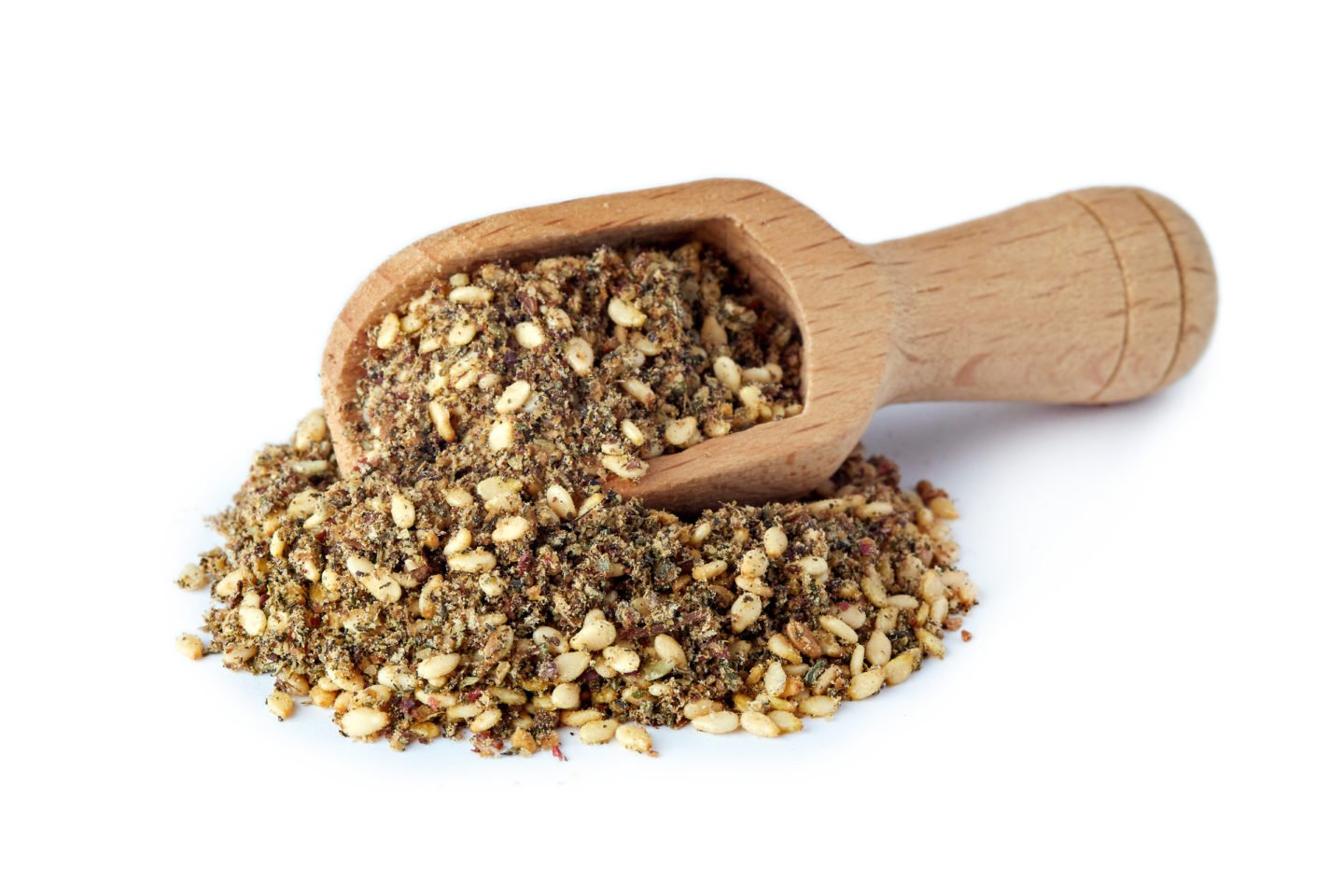 Za'atar is a herb blend from the oregano and marjoram families and adds a sour, nutty, or herbal taste to your food. Za'atar, otherwise known as Thymbra spicata, has a taste profile that includes a tiny trace of mint.
Za'atar is a common spice in Middle Eastern cuisine and may be used as a dry rub for meats. It also works best in seasoning veggies, side dishes, spread and dips, and snacks. However, Za'atar contains sesame seeds and sumac, which can alter your dishes' overall presentation.
For that reason, we recommend using half a teaspoon of Za'atar for every teaspoon of thyme required in a recipe.
16) Blackening Seasoning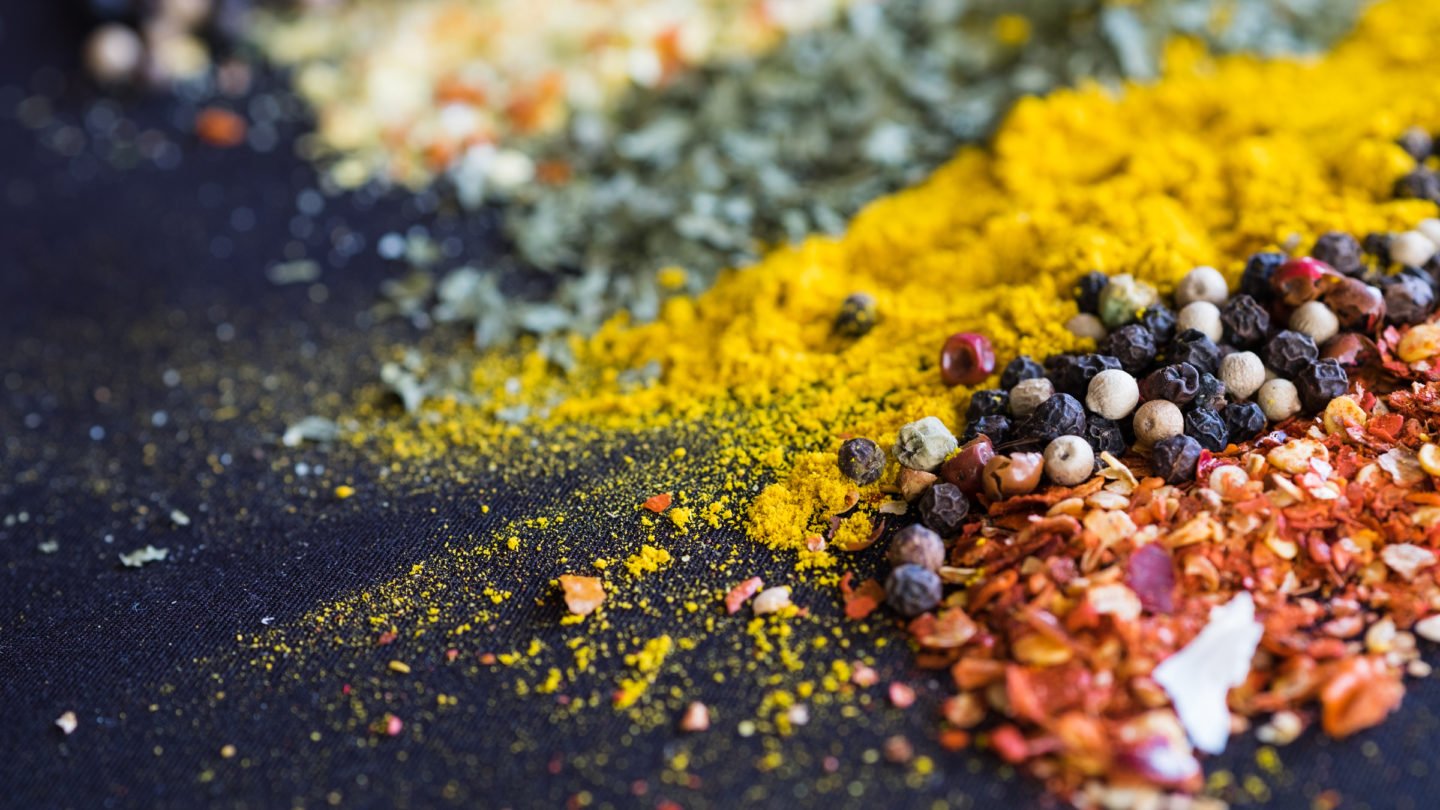 Another great all-around seasoning that contains thyme is Blackening seasoning. Aside from ground thyme, this spice blend also contains oregano, paprika, cayenne pepper, ground onion, and ground garlic, all very popular spices. Due to the presence of chili powder, spicy lovers will enjoy this addition.
To avoid the overpowering spicy flavor, we recommend the use ¼ teaspoon of blackening seasoning for every teaspoon of ground thyme and adding more as desired. This seasoning is perfect for salmon, as it contains the ideal blend of necessary spices.
17) Bouquet Garni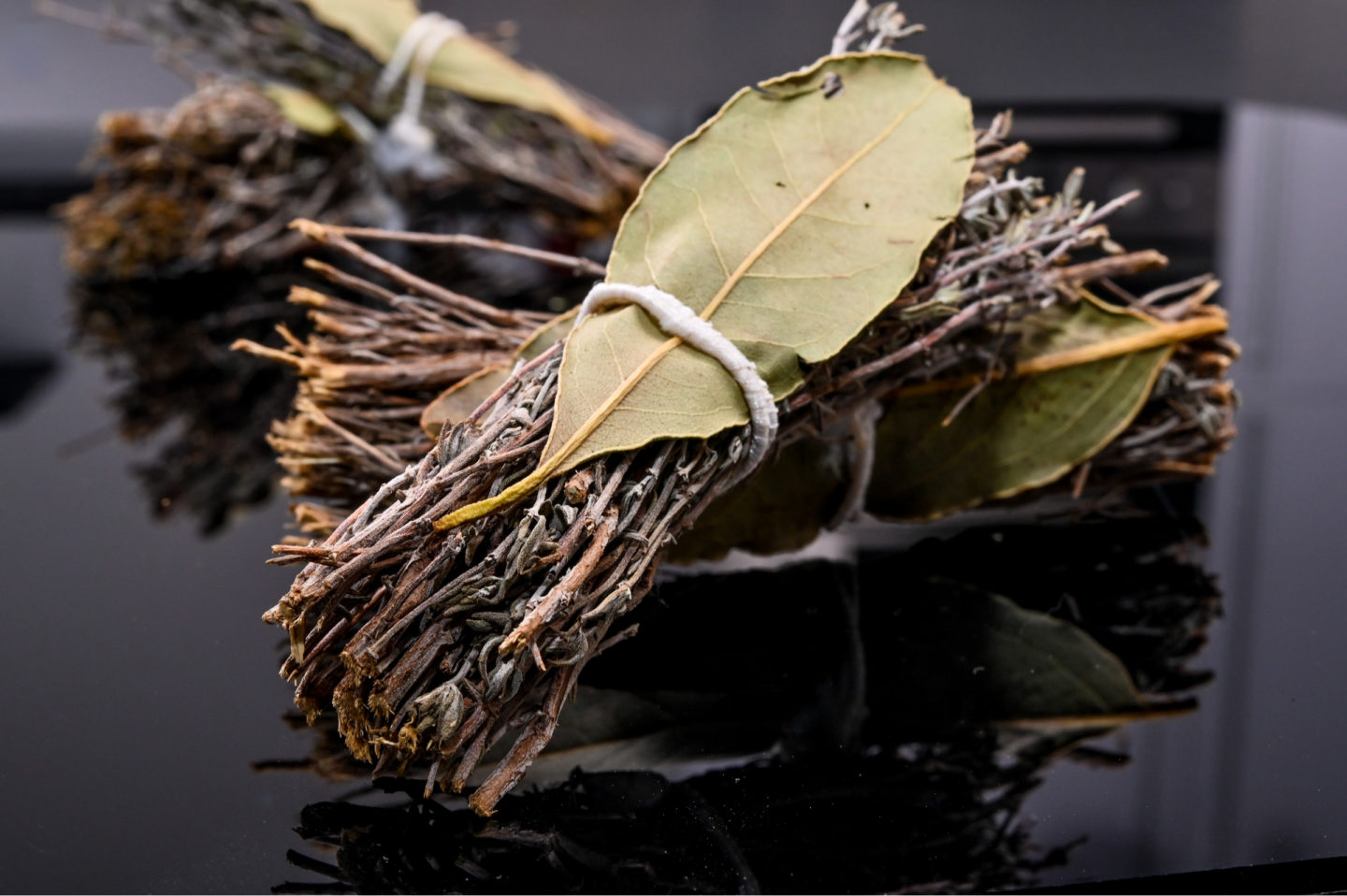 Bouquet garni is a bunch of herbs that you can make at home or buy at local stores. Although no definite set of herbs is included, traditional French Garni always involves thyme. So whenever you see a bouquet garni, you can pick it up and use it to flavor your soups, stocks, and casseroles.
Since bouquet garni comes in a tied set of herbs, you can try picking out the thyme and using it for your recipe. Another way is just to use the whole bunch to add more flavors to your dish.
Summary
Here's a quick rundown of the best thyme substitutes you can use for your recipes.
| Substitute | Notes |
| --- | --- |
| Dried Thyme | The best substitute. Offers the same flavors and has a longer shelf life than fresh thyme. |
| Oregano | Provides the same minty, earthy, savory characteristic. Great for pasta sauce and oil-based dressings. |
| Basil | It offers a stronger flavor when fresh but can do a 1:1 substitution ratio when using dried basil. |
| Marjoram | Has a lighter woodsy and flowery scent. Provides a sweeter finish, great for every dish. |
| Savory | Has a lighter overall flavor profile, a perfect herb in place of thyme when dealing with meats. |
| Parsley | A universally pleasing spice. Best added with marjoram but can still be used alone in a pinch. |
| Marjoram and Parsley | A well-balanced sweet and earthy taste. Mixture: one tsp of marjoram and ½ tsp of parsley. |
| Rosemary | Can be paired with other neutral herbs. Rosemary works well with seafood, soups, and stews. |
| Tarragon | Slightly sweet and bitter. Perfect substitute when cooking fish. Has the ability to increase appetite. |
| Dill | Fresh, citrusy, and grassy. Dill improves digestive health and increases appetite. |
| Sage | May alter the overall flavor of a dish. Using half of the recommended thyme is advised. |
| Italian Seasoning | A seasoning including thyme. Provides a variety of well-complementing flavors. |
| Herbes de Provence | Works well with fish and chicken. Contains other herbs, and starting with a small amount is advised. |
| Poultry seasoning | Complements well with all types of meat. Also contains other herbs that work well with most dishes. |
| Za'atar | Contains sesame seeds and sumac. An excellent herb blend for side dishes, spreads, and dips. |
| Blackening Seasoning | A spicy alternative. Blackening seasoning contains cayenne pepper, paprika, ground onion, and garlic. |
| Bouquet Garni | A bouquet of herbs that always contains thyme. Great for soups, stocks, and casseroles. |
Related Question
How to substitute fresh thyme for ground thyme?
Ground thyme, which is dried, has more concentrated flavors than the fresh herb. If you have bottled ground thyme and want to use it instead, you can start by adding half a teaspoon to replace a teaspoon of fresh thyme. The only downside of ground thyme or dried thyme, in general, is the need for rehydration. Other than that, ground thyme is still a good substitute.
How do you substitute dried thyme for fresh?
Some herbs season better when dried, and thyme is one of them. Due to the concentrated flavors, when compared to fresh thyme, a good rule is a 1:2 dried thyme to fresh thyme ratio. This means that for every teaspoon of dried thyme, you will use two teaspoons of fresh thyme.
Can you use parsley as a substitute for thyme?
Although parsley offers different flavors than thyme, it provides a clean, earthy taste similar to what thyme does. However, we recommend mixing parsley with marjoram to achieve a more realistic effect. Simply mix a teaspoon of marjoram with half a teaspoon of parsley and use that to substitute one teaspoon of thyme.