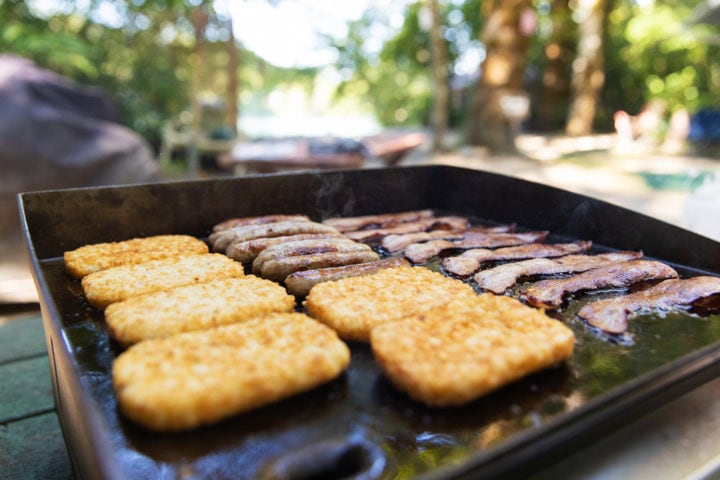 Seeing the beauty of nature, making new friends or bonding with old ones, cooking outdoors, and enjoying the food are just some reasons camping is a universal hobby. The pandemic has made this even more apparent. From hardcore adventurers to posh glampers, everybody enjoys it! In essence, the wide-ranging audience also brings about a variety of camping gear preferences. Portable camping griddles are no exception.
Some will prefer the portability of a griddle tray, while others welcome the convenience of a griddle table station. And, some groups like the middle-ground and opt for a tabletop griddle. Each category offers excellent products, and we didn't want to compromise with the assortment of options. So why not list the best portable griddles for camping per class? Well, that's precisely what we did.
We classified the best portable griddles into three distinct classes, and we chose the best of the best. Have a look at our top picks for griddle trays, tabletop griddles, and griddle table stations. Oh, and remember, "Life is better by the campfire." Happy camping!
Table of Contents
Best Griddle Tray, Aluminum: Coghlan's Two Burner Non-Stick Camp Griddle, 16.5 x 10-Inches Black
Coghlan's Two Burner Non-Stick Camp Griddle
A featherweight griddle you can use on different stovetops. No second-guessing when bringing this to camp.
Pros: Affordable; very light; dishwasher safe; a hook for storage and drying; heats fast; large nonstick cooking surface
Cons: Unserviceable handles; shallow walls
Coghlan's Two Burner Non-Stick Camp Griddle is a griddle tray that fits a multitude of burners. The fact that you don't have to buy another stovetop burner is a big advantage for this portable aluminum griddle. And it is portable indeed, weighing just 1.8 pounds at a size of 16.5 by 10 inches. We definitely don't mind adding the tray to our list of camping essentials.
The Coghlan griddle also features a nonstick surface you can wipe with a paper towel or a clean cloth. Plus, it is dishwasher safe. That's an advantage you'll definitely appreciate after a tiring camping trip.
As a griddle tray made of aluminum alloy, it heats up very quickly, almost instantly, which is another advantage for the Coghlan griddle tray. But with the griddle's fast heat absorption and shallow sidewalls, you should probably avoid grease-heavy dishes like burgers and steaks. The grease inevitably spills out and, with the open fire, causes flare-ups. You should use a charcoal grill grate to distance the griddle from the flame. Doing so prevents the griddle from warping, too.
Also, you may want to distance the griddle from the flame because of its two small, tight handles. At the handles' size and elevation, they're practically useless, unfortunately. Well, maybe not entirely useless. You can hang the griddle tray by its handle, saving you some storage space.
The Coghlan is our top griddle tray pick for aluminum lovers, considering its very affordable price, versatility, and ease of maintenance.
Best Griddle Tray, Cast Iron: Lodge Pre-Seasoned Cast Iron Reversible Grill/Griddle With Handles, 20 Inch x 10.5 Inch - One Tray
Lodge Pre-Seasoned Cast Iron Reversible Grill & Griddle
A two-faced griddle tray that will probably outlive your camper van.
Pros: Made of durable materials; oven-safe; grill-griddle combo; grease gutter; metal utensil safe
Cons: Regular seasoning is necessary; not dishwasher safe; very heavy
Similar to Coghlan's nonstick camp griddle, the Lodge Pre-Seasoned Cast Iron Reversible Grill/Griddle
Not a fan of cast iron or aluminum? Well, we'd be remiss not to include steel. This heavy-duty steel griddle is sold in three sizes to fit single burners, double burners, or three burner stoves. More specifically, these include the 14 by 16 inch and 16 by 38 inch. Or, you could use two small griddles side by side on a double burner stovetop.
Although there was no mention of steel-grade material, the Camp Chef appears to be made of durable materials. The griddle is also thick and heavy for its size, with the smallest one weighing about 18 pounds, the medium at roughly 33 pounds, and the largest close to 42 pounds.
Unfortunately, if hassle-free maintenance is why you like steel griddles, then this isn't it. The Camp Chef griddle requires regular conditioning, just like cast iron.
Interestingly, this griddle by Camp Chef is the only one on this list with a heat diffuser plate. This base plate ensures equal heat distribution onto the griddle tray. Basically, no hot spots and uneven cooking.
And like the griddle trays on this list, Camp Chef's has a grease gutter and a hole to catch the excess fat. But don't forget to mount the grease holder and make sure you place a cup for the grease — they don't include one. Even so, this is the best steel griddle tray you can buy now.
Best Griddle Tray, No Tool Set-Up: GameMaker Open Fire Cooking Grill & Skillet Combo
SAVE 17%
GameMaker Open Fire Cooking Grill & Skillet Combo
Stripped down to its bare essentials, the no tool setup feels raw and fitting for fire pits, fire rings, or campfires.
Pros: Easy assembly; takes up very little storage space; grill-griddle combo with swivel mechanism; large cooking surface
Cons: Expensive; heavy
Do you like the raw appeal of fire pits, fire rings, or campfires? Then the GameMaker Open Fire Cooking Grill & Skillet Combo is your best bet. This grill-griddle combo was designed with firesides in mind and takes up very little space in camping bags that you really should just bring one. By the way, it's called a grill-skillet combo, but the shallow walls have us calling the GameMaker a grill-griddle combo.
Have this portable grill, griddle, and pole in your bag, and you're set. No complex set-ups nor tricky dismantling measures. Simply secure the pole to the ground, adjust its height if necessary, and position your grill and griddle. Set a fire and start cooking.
The trays also swivel 360 degrees, which means you can quickly move them in and out of the fire. Not to mention, you have the option to select which tray to place near the fire and which one acts as a holder for your ingredients.
GameMaker boasts a large cooking surface at approximately 18 by 16 inches each. And we do recommend coating the surfaces with a thin layer of oil before using and storing. That's just one of the best practice habits we constantly push for.
So what's the catch? It's relatively expensive and heavy, weighing almost 22 pounds. So while it is portable, the weight can be an issue for some campers. But with a feature-packed griddle tray like this, we say it's a good investment.
Best Tabletop Griddle, Single Burner: Royal Gourmet PD1202R 18-Inch Portable Table Top Propane Gas Grill Griddle for Camping
Royal Gourmet Portable Table Top, Propane Gas Fueled Grill & Griddle
A piezoelectric ignition system-enabled tabletop griddle that's lighter and cheaper than some griddle trays.
Pros: Detachable porcelain-enameled griddle; available in two colors; piezoelectric ignitor; affordable
Cons: Side griddles do not heat as much; no adapter for a large propane tank; regular seasoning is necessary
For the best single burner tabletop griddle, our pick is the Royal Gourmet PD1202R 18-Inch Portable Table Top, Propane Gas Fueled Grill & Griddle. But with one stove for the 18-inch cooking surface, you're bound to find cold spots. Nevertheless, read on if you're in the market for a single burner.
This portable tabletop griddle features a removable top with porcelain enamel coatings, a small grease tray, and a piezoelectric ignition system. Let's go through each of these in detail.
The black porcelain enamel coating on the griddle gives the cooking surface a nonstick finish. We recommend seasoning the griddle to maintain its nonstick attribute. If you've seasoned other cookware, then this shouldn't be a problem with the detachable griddle. Once separated, the griddle is easy to wash with a soft sponge and running water.
Next is the grease tray. For it to work properly, there is a small slant in the griddle's position, with enough slope to direct grease to the grease tray below.
And the last feature we mentioned is the piezoelectric ignition system. We especially liked the Royal Gourmet for this. Forgot to bring a match? Not a problem with the PD1202R.
Altogether, these features more than offset the inevitable cold spots from choosing a single burner tabletop griddle. In fact, they're good enough for us to disregard the need for a separate large propane gas adapter. Whether you choose the red or silver variants, you can't go wrong with the Royal Gourmet PD1202R.
Best Tabletop Griddle, Double Burner: Blackstone 22-Inch Tabletop Grill Without Hood, Propane Fueled
Blackstone Tabletop Grill for Camping, Tailgating and Going on Picnics
A powerful heavy-duty tabletop griddle with two adjustable heat controls.
Pros: Large cooking surface; detachable cold-rolled griddle top; two burners with adjustable heat settings; with rear grease cup
Cons: Heavy; high energy consumption; no adapter for a large propane gas tank
A step up from the Royal Gourmet PD1202R is our pick for the best double burner tabletop griddle, the Blackstone Tabletop Grill. With its 22-inch cooking surface and high-powered burners, cooking for a crowd is a cinch.
Also, like the PD1202R, its cold-rolled steel griddle top requires seasoning before use. This prevents food from sticking to the surface. The griddle top is also removable, which makes cleaning easier.
But unlike the Royal Gourmet single burner, Blackstone angles its griddle top slightly to the back, so grease flows to the rear grease cup or grease tray. This is probably a better design anyway.
Moreover, with Blackstone's two "H" style burners generating 12,000 BTU each, you won't have to worry about heat transfer and heat distribution. From our experience, griddle burners do heat up quickly. Another plus point is the ability to adjust heat settings separately — each burner has a dedicated knob.
That said, you will need to get an adapter to fit a large propane gas canister. Blackstone doesn't include the accessory, and we think that's a missed opportunity to impress. Still, if you want to up your game from a single burner tabletop griddle, then the Blackstone griddle is the best alternative in the market.
Best Tabletop Griddle, Three Burner: Royal Gourmet PD1301S Portable 24-Inch 3-Burner Tabletop Gas Grill Griddle with Cover
SAVE 29%
Portable 3-Burner Table Top Gas Grill & Griddle with Cover
A decently priced portable griddle that combines the features of the Royal Gourmet PD1202R with Blackstone's power capacity.
Pros: Detachable porcelain-enameled griddle; comes in two colors and a cover; piezoelectric ignitor; three adjustable heat burners; large cooking surface; with a side grease tray; relatively affordable and doesn't weigh a ton
Cons: Flawed grease hole design
If our first two tabletop griddle choices sound restricting, then you're probably in the market for a three-burner. Our selection, once again, is from Royal Gourmet. The PD1301S Portable 24-Inch 3-Burner Table Top Gas Grill & Griddle with Cover shares many features with the PD1202R single burner.
These highlights include a removable griddle top coated with porcelain enamel, a piezoelectric starter, and a grease tray. The PD1301S three-burner is also available in two colors — red and silver. It even comes with a nice cover.
You also won't have to worry about cold spots with the large 24-inch because the three burners cover the entire cooking surface sufficiently. These triple burners generate a combined capacity of 25,500 BTU. Although they don't generate as much power as the Blackstone's 12,000 BTU per burner, their combined capacities are still higher.
Unfortunately, one issue we did have is with its grease hole. The oil leaks slightly to the side, barely dropping to the tray. Royal Gourmet could have fixed this with tighter manufacturing tolerances. One workaround is to make the grease openings longer, so they're directly under the grease tray.
That said, the minor setback isn't enough to deter us from selecting the Royal Gourmet PD1301S as the best three-burner tabletop griddle. Look no further; this is the best "large" tabletop griddle you can buy.
Best Tabletop Griddle, Hooded: Blackstone Stainless Steel Propane Gas Portable Flat Griddle Grill Station
SAVE 12%
Rounding up our list of the best tabletop griddles for camping is another product by Blackstone. It looks like Blackstone and Royal Gourmet are the best when it comes to this category of portable camping griddles. Most table top griddles sell without a hood, so finding one is refreshing: the Blackstone Stainless Steel, Propane Gas Fueled, Portable Flat Griddle-Grill Station.
This griddle has a neat black covering with a large handle to open and close the hood. Speaking of the hood, it encloses the heat for cooking and acts to protect the griddle top when stored away. Of course, the add-on hood adds a bit of weight and girth, making this tabletop griddle somewhat bulky and heavy to carry around. While still portable, it is relatively more cumbersome to haul than similar non-hooded options.
Fortunately, Blackstone offers the tabletop griddle in two sizes: a 17-inch and a 22-inch. The smaller-sized griddle has a single burner, whereas the bigger one has double burners. Each burner generates 12,000 BTU. As for capacity, the 17-inch can house nine burgers while the 22-inch can simultaneously cook up to 12 burgers.
Both sizes also have grease catchers found at the back. And since the griddle top is not detachable, this grease cup also collects water waste and food residue. Not to worry, though, because stainless steel is straightforward to clean — just pour hot water onto the surface and use a metal scraper for stubborn sediments.
Like our other tabletop griddle selections, this set does not provide an adapter for a large propane tank, which is another cost to consider. But with all of our top picks missing this piece, then it's probably a wash. Ultimately, Blackstone's hooded portable tabletop griddle is a fantastic investment for your RV for all its pros and cons.
Best Griddle Table Station, Double Burner: Blackstone 28-Inch Flat Top Gas Grill Griddle Two-Burner Propane Fueled
SAVE 13%
The Blackstone 28-Inch Flat-Top 2-Burner Propane-Fueled Grill & Griddle is the complete package. Ironic, considering it doesn't come packaged with anything else. Nevertheless, it is full of features.
Here's the rundown: Blackstone's powerful 15,000 BTU burners totaling 30,000 BTU, a detachable griddle top, cantilevered and bottom shelves, rear grease catcher, foldable legs with two locking casters, and a battery-operated push-button ignition. That's not even mentioning its convertibility to a griddle tabletop.
Let's begin with the star of the show, the cold-rolled steel griddle top itself. The tray is detachable from the unit, which means cleaning is a breeze. It does require constant upkeep and seasoning, just like the tabletop griddles we mentioned from Blackstone and Lodge.
The Blackstone 28-Inch griddle table station has cantilevered shelves beside and under the griddle top. This is a handy feature for setting aside ingredients, cooking utensils, and so on. It also has a grease catcher in the form of a separate cup. Remember to mount it at the back before cooking.
Next is portability. Although this is a table station, its folding legs allow you to use it as a tabletop griddle. Moreover, two of the four legs have wheels with locking casters.
Now, although we think this griddle table station is an absolute beast, it isn't perfect. The unit is pretty expensive, and we were hoping it came with a cover, at least. Disassembly also means carrying the shelves and griddle top separately. And without a bag, it's a matter of time until you lose components.
Also, its push-button starter is battery-powered, so don't forget to bring spare batteries. Unless you have a lighter or a box of matches, or that you know how to make fire by striking flint against a stone or rubbing two sticks together. Maybe this isn't such a bad thing. After all, you are camping.
And finally, some of us found the griddle table's height relatively short. There is an easy workaround, though, by placing it on elevated ground. Nevertheless, Blackstone could have included adjustable legs.
But really, we're just nitpicking. We love this griddle table station! And we think it is between this or Blackstone's 1554 — see our review below. As a matter of fact, it's a choice between a two-burner and a four-burner in the best griddle table station category.
Best Griddle Table Station, Four Burner: Blackstone 1554 Cooking 4 Burner Flat Top Gas Grill Propane Fueled
Propane-Fueled, Restaurant-Grade Professional 36-Inch Outdoor Griddle Station with Side Shelf
A scaled-up version of the Blackstone 28-inch griddle table station.
Pros: Detachable cold-rolled steel griddle top; four foldable legs with wheels and two locking casters; battery-powered push-button ignition; cantilevered shelves on both sides and a bottom shelf; available in two types of steel frames
Cons: No accessories included; components carried separately; height can be a bit short; even more expensive; high energy consumption; not advisable to be converted to tabletop
The Blackstone 1554 Cooking 4-Burner Flat-Top Propane-Fueled Gas Grill is the big brother. With many of the features found in the 28-inch variant, this alternative also sells in two types of steel body frames: a black powder-coated steel frame and a stainless steel frame. Get ready to shell out even more for the stainless steel variant. That is, if you're lucky and find it in stock — demand for it usually outpaces supply.
The higher price, thankfully, comes with even more useful features. Unlike the Blackstone 28-inch, all four legs have casters, with two of them having lock-in features for stability. That said, the legs still aren't adjustable, bad for some of our taller folks. But again, the workaround is easy.
The Blackstone 1554 has two additional burners to complement its larger cooking surface, still at 15,000 BTU each. This brings us to a total of 60,000 BTU. Because of its incredibly high heating power, Blackstone discourages using it as a tabletop griddle. Too much heat may cause damage to the table. We'd like to err on the safe side, however, and follow Blackstone's advice. Also, the two Blackstone table stations we've covered use a push-button ignition, which you'll need to replace every now and then.
Nonetheless, both sides now sport cantilevered shelves. This means more space for condiments, cooking utensils, and so on. We can forgive its lack of accessories, too. A cover or bag would've been nice, but we understand how selling accessories can add to Blackstone's bottom line. Have you seen the surround-table accessory you can buy for this? Gorgeous. Still, the Blackstone 1554 is a worthy investment for campers.
Buying Guide for Portable Griddle for Camping
Looking at the plethora of choices, the process of buying a portable camping griddle can be intimidating. One approach we found helpful is to separate them into distinct classes. For our list, we segregated them into griddle trays, tabletop griddles, and griddle table stations.
Once you dial in on a class you like, it's a matter of going into the details of its components. We specifically focused on their differences in materials, cooking surfaces, walls, grease gutters and cups, burner capacities, portability, and budget.
Material
Cast iron, aluminum, and cold-rolled steel are just some of the options to choose from. Each will have its advantages and compromises. For instance, cast iron is a sturdy material that we expect to last for generations. But it requires adequate seasoning and care.
Aluminum's heat absorption is superb compared to other metals. It is light and generally dishwasher safe. But then it may warp under extreme heat. And finally, cold-rolled steel, through additional processing, is stronger. But this then adds to its cost.
Griddle Surface
Griddles can have cooking surfaces that are "flat" or "with ridges." Generally, flat cooking surfaces are suitable for pancakes, crêpes, and eggs. Conversely, griddles with small ridges are best for grease-heavy food such as steaks and burgers. The humps help strain juices and greases.
Walls
Griddle walls typically measure between half an inch to an inch. Shorter walls make it easier to flip food. That also means grease can flow off from the griddle tray.
In contrast, high side walls prevent grease from spilling; however, they make flipping tricky.
Gutters and Grease Cups
Gutters and grease cups collect grease and juices, and not every griddle will have the same design. Gutters are generally found in standalone griddles. While griddles that sell with a burner have a grease cup, most of the time.
Burner Capacity
Burner capacity is the maximum BTU a burner can generate under adequate conditions — stable flame emission and efficient combustion. BTU standards for "British Thermal Unit" and is a unit of measure for energy. Simply put, it is the amount of energy required to raise the temperature of a pound of water by one degree Fahrenheit.
A higher BTU means more power and higher energy consumption. Different cooking styles require varying degrees of BTU. Stir-frying uses high flames in short bursts, while browning or searing requires constant low to medium temperatures.
Portability
At a quick glance, griddle trays seem like the most portable options. They are easy to lug around, for sure. But, consider the burner or charcoal grill you will need, as well as the other necessary stuff. The portability of griddle tabletops and table stations can be surprising, all things considered.
Budget
Certainly, price is a factor. It's usually the counterbalance to convenience, durability, and other benefits. Most of the time, you get what you pay for. That said, there are budget options that offer fantastic value-for-money. With a multitude of choices, you're sure to find one that suits your budget.
FAQs
What is the best type of camping griddle? Which camping grill or griddle should I get?
Camping griddles come in all shapes and sizes, and we categorize them into griddle trays, tabletops, and table stations. The "best one" is subjective. A griddle tray may work best for people with existing equipment or on strict budgets. Or, say, if your outdoor stove top is due for replacement, then consider getting either a griddle tabletop or a griddle table station and enjoy the upgrade.
How do you clean a camping griddle?
Camping griddles are generally made of materials that are easy to clean. Moreover, their grease gutters and grease cups considerably reduce cleaning time.

For stubborn dirt and grime, spray warm water on the residue, then scrape them off. If cleaning time is an issue, then consider getting the stainless steel variants.
What are you cooking on your camping griddle?
You can basically cook any meal that's typical for camping trips. Some of our favorites are pancakes, eggs, hash browns, hotdogs, sausages, bacon, steaks, fries, fish, and burgers.
Which is healthier, cooking on a griddle or grilling?
Because griddle and grill cuisines use significantly less cooking oil, they're generally healthier than frying. Neither is healthier than the other. The only difference lies in the type of food you're cooking.