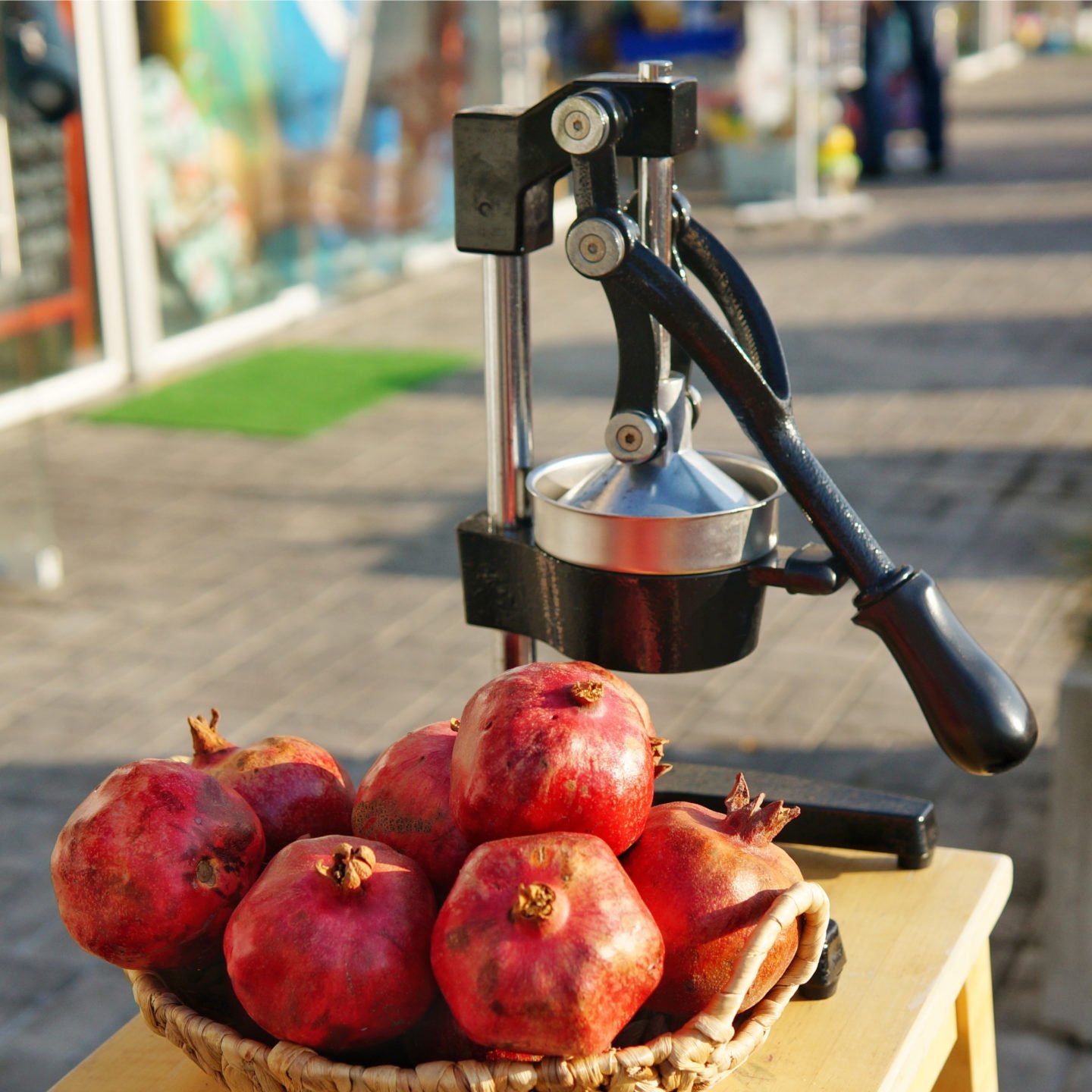 If you're a juicing enthusiast, you'll know that despite their benefits, pomegranates are difficult to juice. Pomegranate seeds cannot be extracted with any ordinary juicer. Separating the mature juicy flesh from the seeds will also be a challenge.
So then, what is the best pomegranate juicer? It is the type that can produce a large yield with little effort. You will need a machine that can handle all the small pieces and break the hard shell for good juice quality.
Overall, manual hand press or citrus juicers work better than slow masticating juicers to extract pomegranate juice. However, choosing the best pomegranate juicer is not as easy as it may seem.
Table of Contents
Best Overall: Zulay Extra Tall Juicer
SAVE 46%
Zulay Extra Tall Juicer
The Zulay Extra Tall Juicer uses its lever action to do all the work for you.
Pros: Compact design; two filters and a liner; BPA-free parts; corrosion-resistant metal parts; fits 32 oz tumblers; large juicing chamber
Cons: No rubber on the handle
The Zaksenberg Commercial Citrus Juicer
The Tribest Pro MJP-105 XL Juicer
This Commercial Grade Can-Can Pomegranate and Citrus Juice Extractor
The Bnunwish Pomegranate Juicer
The Eurolux ELCJ-1700 Electric Citrus Juicer is more compact than most manual juicers, and it looks sleek and attractive on the counter.
It includes a built-in filter that helps catch seeds, pulp, and skin, which aids in the extraction of the purest fruit juice possible. The juicer also has suction cups that attach to your counter for increased stability.
The juicer is also very simple to operate. No additional buttons are required for automatic-start or stop; merely push down on the fruit to start and raise it off to stop. The fruit juice will automatically collect and will cause no mess at all.
However, the juicing cone is a little small, so if your pomegranate is huge, you may need to chop it in half.
Pomegranate Juicers Buying Guide
Durability
When it comes to finding the best pomegranate juicers, durability is crucial. Because pomegranates are one of the toughest fruits, you'll need a machine that can exert enough force to extract the juice. Take a look at the material your juicer is composed of as well. In general, stainless steel and cast iron are highly durable.
Solid Base
Because more force is required while juicing pomegranates, you will need a strong base that ensures your juicer will remain stable during the whole process. The best pomegranate juicers have solid rubber feet or well-functioning suction cups that provide more stability while in use.
Cones and Handles
Look for juicers that need little effort to operate. The amount of force you need to use is determined by the handle on your pomegranate juicer. Longer handles are more advantageous because they reduce the leverage required to extract the juice. Also, look for comfort and non-slip grips.
Because pomegranates have a broad structure, huge cones are better than small ones. You also don't want your fruit to slide around while on the cone. So, look for a stainless steel cone to ensure optimal durability during juicing to get all individual seeds.
Filters and Funnels
The funnels and filters must be well-functioning. In other words, there shouldn't be a lot of seed skin, foam, or pulp in your juice. Choose a pomegranate juicer that does not get clogged easily to save you time.
Size
Select juicers that are both tall and slender. Because tall juicers can juice more and have a slim or compact structure, they are space-saving and easy to handle.
Ease in Cleaning
After juicing, you must clean your machine to ensure it remains at its best. If you plan on juicing frequently, look for citrus juicers that are easy to clean. Consider juicers with detachable pieces that are dishwasher safe. Furthermore, the assembly and disassembly process should be simple to save time.
Manual or Electric
Your personal preferences primarily determine the sort of juicer you purchase. However, a manual citrus juicer is better for juicing pomegranates than a typical electric juicer. Typical electric juicers can easily juice various fruits or veggies but may have difficulty juicing citrus fruits.
FAQs
What are the health benefits of pomegranate juice?
Drinking pomegranate can provide you with three times more health benefits. Antioxidants, like Vitamin C, protect cells from harm, prevent diseases like cancer, reduce inflammation, and protect against the aging process. It is also essential for heart health, blood pressure, and diabetes control.
How much pomegranate juice can be extracted from a pomegranate?
You can extract up to ¾ cup of juice from a giant pomegranate.
How many calories are in pomegranate juice?
Pomegranate juice has 140 calories per cup. Carbohydrates provide the majority of the calories.
Is a juicer required to juice pomegranates?
In theory, you don't need a juicer to create pomegranate juice. You can use a blender or even your hands to juice pomegranates, but using a pomegranate juicer is the simplest, cleanest, and most successful way.
What is the best pomegranate juicer?
A manual or citrus juice press is undoubtedly the best pomegranate juicer. After cutting the fruits, you can produce fresh juice in no time. You won't need to deseed the fruits before juicing.
On the other hand, you'll need to deseed the pomegranates first if you're using an electric juicer or a manual crank juicer. Deseeding pomegranates is time-consuming and messy.
The main drawback of juice presses is that you can only juice citrus fruits and pomegranates with them, nothing else. You'll need a manual hand crank juicer or a decent masticating juicer if you want to juice a wider variety of fruits and vegetables.
What are the steps in using a pomegranate juicer?
It's simple to make pomegranate juice with a juicer. Simply cut the pomegranates in half, place the halves in the juice press, and squeeze the handle down. The juice begins to flow into the cup you placed beneath the fruit juice press almost immediately.
It takes longer to juice with a slow masticating juicer or a hand crank juicer, but the results are just as delicious. Of course, you must first remove the pomegranate seeds. They are then carefully fed into the juicer, producing the fruit juice.
When should pomegranate juice be consumed?
A glass of fresh pomegranate juice in the morning is ideal since it provides your body with essential nutrients and vitamins while keeping you full for longer. Furthermore, research shows that drinking a glass of fresh pomegranate juice on an empty stomach is the most effective.
How long does homemade pomegranate juice last?
You should chill freshly squeezed juice as soon as possible. Freshly squeezed juice will typically last two to five days in the refrigerator, but it can last frozen for up to six months if you want to keep it longer.
Is it possible to consume too much pomegranate juice?
Pomegranate juice is generally safe to consume; however, only twice a day is recommended. Even if it is high in health benefits, too much of anything is unhealthy for your body. Those allergic to this citrus fruit should avoid eating it. Otherwise, they may experience itchiness, irritation, breathing difficulties, and other issues.
Healthy, Easy Meals