Keeping track of the many Ninja blender models is pretty overwhelming when you realize just how many there are. They have "series" lines that follow similar features and uses, each with multiple models. Some are great for simple smoothies while some offer the whole shebang of kitchen uses.
In this article, we explore the best Ninja blenders on the market. You will find the best Ninja blenders for smoothies, shakes, frozen drinks, juices, and food processing. You'll also find a list of the best choices according to your budget.
(Just for your reference, the Ninja series are: Auto-IQ series, Ninja Series (simpler designs), Total Crushing series, Chef series (replaced the Ultima line which is discontinued), Intelli series and the Nutri Ninja DUO).
Let's find the best Ninja blenders so you can take the right one home...
Table of Contents
What is the best Ninja blender for smoothies?
Smoothies are generally made with hard, frozen food like frozen berries and bananas. They can often feature gristly greens too, such as spinach and kale. And as the name demands, they must be smooth, not chunky or grainy. For this reason, they require strong blades and a rapid blend, preferably with auto functions to make the work a bit easier.
NutriNinja Duo (BL641)
The NutriNinja Duo with Auto iQ has been chosen for this section because it is awesome at pulverizing frozen foods, which are often a key smoothie ingredient. Frozen berries and ice are not a match for the slightly scary-looking "total crushing blades" which stretch vertically through the center of the pitcher.
It even has a programmed button especially for "frozen drinks and smoothies". You've also got an "ultra blend" button for extra smooth smoothies. If you want a personal smoothie to take on the go you can use the "pro extractor blades" and the bullet/personal cup instead of the pitcher.
Top features
1300 watts of power for easily blending the smoothest smoothies
"Total crushing blades" for pulverising ice and frozen berries
"Pro extractor blades" and bullet/personal cups for making one-serve smoothies
Sip lids for taking smoothies on the go (with the personal cups)
"Frozen drinks/smoothies" button
"Ultra blend" button for super-smooth results
The BL660 is really similar to the 641 in the sense that it has a 72 oz pitcher with "total crushing blades", portable bullet cups, and bullet blades. However, this model is a little cheaper which is always helpful for tighter budgets. The wattage is slightly less but is still very impressive at 1100 watts.
The main difference is the control panel and choice of settings. The 660 has a simple layout with three speeds, a pulse button, and a single-serve button for when using the bullet cups. It's great for smoothies because of the powerful blades, powerful motor, and the option to use a high speed followed by a few pulses to make sure every little ingredient is smoothly blitzed.
Top features
1100 watt motor for easily blending frozen berries and other tough smoothie ingredients
"Total crushing blades" for quickly and thoroughly blending smoothies
Bullet cups and blades for making personal smoothies to go
Affordable
3 speeds and a pulse function
What is the best Ninja blender for juicing?
As most Ninja's are primarily blenders, you're not going to get the same result as you would from a juicer. However, some Ninja models are so suave that they do in fact have a function especially for juicing. What's more, if you're into "whole juice", (in other words...juice which includes all the pulp and solids) you can achieve that with the following blender...
Nutri Ninja Personal and Countertop Blender (BL642)
Yes, this is pretty much the same as the BL641 but it has a slightly lower wattage, (there's only a difference of 100 watts). Also, this model has 3 bullet/personal cups instead of 2, which gives you more options for taking juices with you when you're out and about. This one has been chosen for the juicing section because of the 1200 watt motor, the total crushing blades and the "ninja ultra blend" function.
The total crushing blades (which we are familiar with already) are designed to pulverise anything in their path, including fruit pulps and solids. If the pitcher and total crushing blades don't cover your needs, the bullet vessel and pro extractor blade might be better suited, and you've got the option of both.
I also like the "pulse" option with the BL642 for juicing, as sometimes you need the control to start and stop the blending process to reach the exact juice consistency you want.
Top features
1200 watt motor, more than enough for blitzing fruits and veggies to make whole juice
Total crushing blades for making juices which contain ice
Pro extractor blades for ultimate nutrient extraction and smooth juice blending
Low, medium and high speed buttons
Pulse button for controlling consistency of juice
Ultra Blend button for the smoothest results and dealing with tougher ingredients
What is the best Ninja blender for protein shakes?
Protein shakes very rarely contain anything hard or gristly. To me, they contain banana, protein powder and liquid. For this reason, they don't need the highest wattage or the fanciest of controls. However, you still want a blender which can multi-task and handle some tougher jobs as well as blitzing those P.Shakes. That's why this particular Ninja has been selected...
Nutri Ninja Auto iQ BL482
The BL482 is a pretty affordable model, with some great features, without cluttering your kitchen and life with too many parts and accessories. For shakes and the odd smoothie or juice, it's ideal. The wattage isn't as high as other models, but still very generous at 1000 watts.
It has that awesome Auto iQ technology which means you just need to press a button, either the "blend" or "ultra blend" and walk away. The blender will take care of your protein shake for you, so you can potter about and do other things for a minute or so.
You also get a pulse button so you can give a few quick blitzes if you want or need to add a dash more of protein powder or liquid. You get a large, a medium and a small vessel and sip lids so you can take protein shakes with you to the gym, work or anywhere you wish.
Top features
1000 watt motor, great for blitzing protein shakes and almost anything else
Pulse button for incorporating extra ingredients or reaching the exact consistency you like
Blend and Ultra Blend auto buttons which do the job for you, creating a smooth result with just one touch
Comes with 18oz, 24oz and 32oz cups with sip lids for portable protein shakes
Easy on the wallet
Strong blades for crushing ice and making smoothies with tougher ingredients, as well as protein shakes
What are the best ninja blender and food processor combos?
Nutri Ninja doesn't just specialize in blenders, they also branch out into food processor territory too. The cool thing is that they have combined both. The three models below are the best blender/food processor mash-ups.
Ninja BL770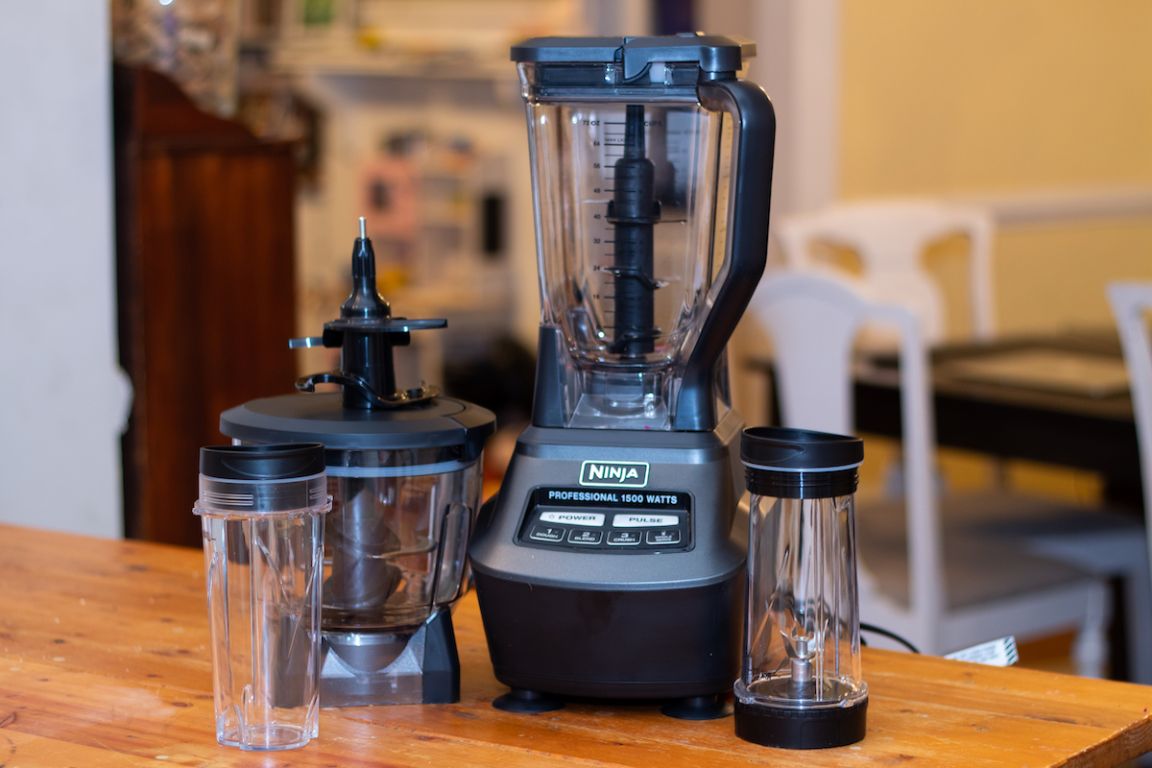 The so-called Mega Kitchen System is a tidy little bundle considering how much it offers the user. You have a bullet blender and a food processor bowl, both of which click into the same power base. You also have a food processor blade, a bullet blender blade, and two dough hooks to use with the food processor. The wattage is 1500, which is high compared to other Ninja models.
1500 watts is more than enough for most tasks such as making smoothies, chopping veggies for salsa, mixing doughs, and making dips. The range of cup sizes isn't huge, in fact, you only get 16oz bullet cups (3 of them), but that's fine if you're only looking to make single-serve smoothies and drinks.
Some customers do find the larger Nutri Bullet cups to be too large and difficult to carry around, so the smaller cups will be very pleasing to such customers. To me, this is a good choice for people with smaller kitchens and the need for space-saving, multi-tasking appliances. Would also suit a couple or a single person who doesn't need a full-blown blender and food processor.
Top features
Comes with one 1500-watt power base for the blender and food processor vessels
Comes with a 40oz food processor bowl for chopping, pureeing, and blitzing
Comes with three 16oz bullet cups and sip lids for sipping on the go, without spilling
Tidy, small, compact, and easy to store and stash
Dishwasher-safe parts
Ninja Master Prep
Here we have another bundle of Ninja goodness which seems uninspiring at first look. You might be surprised to know that the wattage is only 450, however this blender/food processor duo is actually very efficient. Thousands of reviews speak highly of how easy, versatile, and reliable this collection is.
You get a 48oz pitcher, 40oz food processor bowl, and a 16oz chopper bowl for quickly chopping veggies. You get two blade sets, both of which are stacked which means they evenly chop and blend from the top down.
Top features
Comes with a pitcher, a food processor, and a chopper bowl for most meal-prep jobs
Comes with two blade sets, (one with 4 blades and one with 6) for thorough blending and chopping
All of the jars and vessels have their own airtight lids so you can store food in the fridge or transport without spilling
Dishwasher-safe parts
Can be used for smoothies, frozen drinks, dips, salads, salsas, chopping herbs etc.
What is the best ninja blender for frozen drinks?
A frozen or ice-based drink needs to be creamy, smooth, and chunk-free in order to be worthy of consuming, in my opinion...I'm sure you'd agree. To achieve that, you need a motor with a very decent wattage, strong blades, and some options for speed and pulsing.
Ninja Ultima BL830
The Ultima does not skimp on wattage, it has 1500 watts in the motor, ready to smash ice to bits and turn it into creamy deliciousness. You get a 72oz pitcher with Total Crushing Blades and High Speed Cyclonic Technology. But you also get a bullet-style blender with bullet cups and the Pro Extractor Blade.
This means you can either make a big batch of frozen cocktails (or ice-based smoothies or desserts) with the pitcher, or a single serving in the bullet cup. Note that the Total Crushing Blades are designed for turning ice to creamy, snowiness so it's probably best to choose the pitcher.
There are 10 speeds to choose from, as well as a pulse button, so you have total control. This is great for people who prefer manual controls as opposed to pre-programmed auto-blend cycles.
(Note: this model (the BL830) is exactly the same as the BL810 but the BL810 only has 2 16oz bullet cups and the BL830 has 3).
Top features
Has both a pitcher and a bullet blender for large and small batches of frozen drinks
Total Crushing Blades for completely pulverising ice and frozen foods (for the pitcher blender)
Powerful 1500 watt motor easily and efficiently smashes through icy ingredients
10 speeds (with a manual dial)
Pulse button (with a flip switch)
Comes with 3 16oz bullet cups
Ninja BL770
The Ninja BL770 could really be placed into many categories in this article. It would fit into the smoothie section, the blender/food processor combo section, and obviously, this section dedicated to frozen drinks. The reason I have placed it here is because it has that ice-blitzing Total Crushing Blade which has been designed especially for turning "ice to snow".
What's more, it has a wattage of 1500 watts to power it through the task with ease. It also comes with an extractor blade and two 16oz bullet cups with lids so you can make icy smoothies to go. If multi-tasking is your thing, you'll like that it also comes with a food processor bowl and blade for chopping veggies and mixing dough.
So you can make frozen cocktails, chop a salsa or salad and blast a quick shake, juice or smoothie all with one bundle and motor base...pretty good value if you ask me.
Top features
1500 watts for easily and powerfully blitzing ice-based drinks
Comes with a pitcher with Total Crushing Blades designed for whipping ice and frozen foods to a creamy consistency
Can also be used as a personal/bullet blender with the extractor blade and bullet cups (great for whole juices and smoothies)
Comes with a food processor bowl and blade for chopping veggies and mixing dough
What is the Best low-end Ninja Blender?
You can get an absolute wonder of a Nutri Ninja blender without compromising on functionality, efficiency, and quality. These are the best cheap Nutri Ninja models to get you blitzing and blending without leaving a sizeable hole in your bank account.
Nutri Ninja Professional 900 BL456
The BL456 is a simple, modest bullet blender with a great track record for high-rated reviews. It has a 900-watt motor which is plenty of power for making smoothies and whole juices with ice and harder veggies. It has been designed for maximum nutrient extraction so you can bet that it will easily handle most things you feed it i.e. seeds, nuts, gristly greens, and drier produce such as apples.
It doesn't come with a whole lot of accessories, but I think that's good for people who just want the bare basics and a blender fit for the job. What I also like about the BL56 is that it is controlled by the user by manually pushing down on the vessel.
This means you don't have to use any buttons or controls, you simply push down and release according to how long you want to blend for. You can pulse or go for a longer blend, or both.
Top features
900-watt motor for easily blending smoothies shakes and whole juices
Pro extractor blades for smooth results
Controlled manually by pressing down on the vessel, allowing you to pulse, long-blend, and a mixture of both
Comes with an 18oz and a 24oz vessel with a sealable flip-top sip lid for both
Affordable
Ninja BL610
The BL610 is a pitcher blender with 1000 watts of power, a pulse button, and three speeds. It has Total Crushing Blades which are designed for smashing ice into a smooth texture and render any ingredient into a silky consistency.
It's great for people who aren't interested in a bullet or personal blender, and who need a large enough capacity to feed multiple people. The pitcher has a capacity of 64 ounces, which is more than enough for about four smoothie servings.
Top features
1000-watt motor for powerful blending
Pulse button
Three speed buttons, "low", "medium" and "high"
Sturdy pitcher with a liquid capacity of 64 oz
Affordable
Total Crushing Blades for crushing ice, pureeing foods and making super smooth smoothies
64 oz pitcher
What is the best ninja blender to buy used?
When blenders are sent back to the manufacturer because of a fault, they are often refurbished by a team of technicians. They are fixed and thoroughly tested to ensure they run as new. On Amazon, these are labelled as "certified refurbished".
If you're going to buy a used appliance, you may as well buy one which has been tested to ensure it's no longer faulty. Otherwise, you may as well buy a new model and get the warranty in case of any hiccups.
Ninja BL482 Certified Refurbished
The Ninja BL482 (which we have reviewed earlier in the article) is a good model to buy used as a "certified refurbished" model on Amazon. It is one of the more affordable Ninja's as it is, and the refurbishment brings the price down a bit more.
The BL482 has the best of both worlds in terms of blending. You can control it yourself with the pulse button, or use the Blend and Ultra Blend auto iQ buttons which set the blender off on an auto cycle. I'd say it's one of the very best choices for a bullet/personal blender
Top features
1000 watt motor
Pulse button for controlling the blend
Blend and Ultra Blend auto buttons which blend with just one touch of a button
Comes with 18oz, 24oz and 32oz cups with sip lids
Strong blades for crushing ice and making smoothies
Nutri Ninja 2-in-1 Kitchen Blender QB3004 Certified Refurbished
I've added the 2-in-1 QB3004 to this list because it's a great option for a multi-tasking blender kit for a reduced price. You get one power base with 700 watts of power. It's not the most powerful base out of the Ninja team, but it's definitely powerful enough for most uses.
You get a bullet blade and cups, a food processor bowl and blade, and a large pitcher and blade. So that's 3 blades in total, and three different blending styles to choose from. The blade which goes with the pitcher has been designed for smoothly blending ice and frozen foods, so it's ideal for smoothies and frozen cocktails.
For baking lovers out there, you'll love this as you get two dough hooks to use with the food processor bowl. You can also use the bowl for chopping veggies and blending dips and salsas.
Top features
Comes with a bullet blade and vessels (for smoothies and drinks)
Comes with a food processor bowl and blade (for doughs, chopping veggies, blending dips etc.)
Comes with a 56oz pitcher and blade for blending ice and frozen foods
Bullet blender vessels come with flip-top sip lids
One 700 motor base to be used for all three blending vessels
Certified Refurbished to ensure smooth running and no faults
Affordable due to refurbishment
Conclusion
Hopefully, by now you've got a clearer idea of which Nutri Ninja model/s suits your needs most fittingly. You've got the simple bullet blenders with no controls or buttons. You've got the multi-tasking, bullet blender/food processor combos that offer all kinds of smoothie making and meal prep functions. You've got pitcher blenders boasting a large capacity, and vessels of all sizes.
Consider these questions to help you narrow down the choice:
What's your budget?
What do you need your blender for mostly? I.e. smoothies, ice drinks, shakes?
Are you going to be blending tough or hard ingredients? If so, a higher wattage is a good idea...
How much counter space do you have? Do you need something really compact?
Do you need a food processor as well as a blender?
Are you catering for yourself or for multiple people? This will help you choose between a bullet blender or a pitcher blender
Do you like to use manual controls or do you prefer the auto-blend style?
How many cups and vessels do you require, and what sizes?
Once you've figured out those aspects you can match them up to the Ninja models in this list to find the best one.