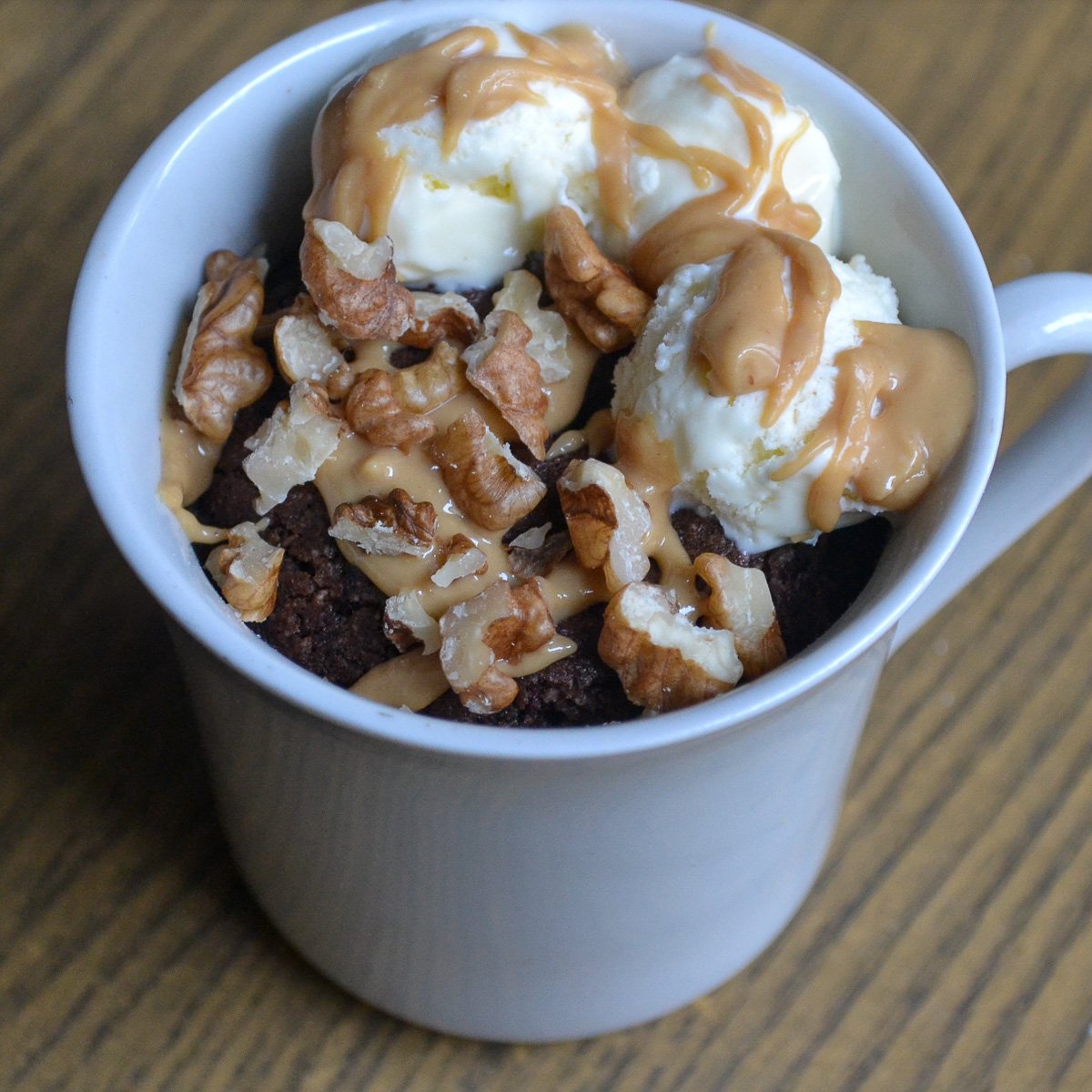 Table of Contents
Looking for an easy and tasty keto dessert? This microwave mug cake is one of my favorite desserts that can be ready in less than 5 minutes.
I've experimented a lot to find the perfect ingredients for a low-carb keto mug cake, and here they are - coconut flour, cocoa powder, eggs, milk, butter, baking powder, and sweetener. This way, the ready cake turns out healthy, chocolate, and a perfect match for the ketogenic diet.
The recipe ingredient proportions are perfect for one person, so there will be no leftovers. And the moist and soft texture of the coconut mug cake will make you want to cook it over and over again.
Adjust the Recipe to Your Taste
You can use this recipe as the basis for keto mug cake and combine various ingredients to make it even tastier. For example, you can add coconut butter instead of the usual butter for a richer coconut flavor.
If you prefer vanilla desserts over chocolate ones, try not to add cocoa powder to the mug cake, but instead pour a splash of vanilla. Or, if you're just as devoted to peanut butter as I am, throw in a tablespoon of your favorite sugar-free peanut butter into the cup and mix with the other ingredients before baking.
Sometimes I also like to add some raspberries or strawberries to the mug cake. It will add some extra calories, but these fruits can still be consumed in small amounts even when following the keto diet. Another delicious option that you must try out is adding peach slices and a dash of cinnamon to the cake.
Be Careful When Substituting Flour
Remember this when cooking any keto dessert - never swap flour types. You need to know how to replace one sort of flour with another to avoid disappointment. For example, one tablespoon of coconut flour is not equal to one tablespoon of almond flour. You need to pick the right ratio.
So if you have no coconut flour left, you can easily add almond flour instead. Just keep in mind that one tablespoon of coconut flour equals three tablespoons of almond flour, and your keto mug cake will turn out as it should.
You can also use flax meal to substitute coconut flour and the egg in the recipe and make this keto cake even more low-calorie. To do this, mix half flax meal and half almond flour. Instead of one tablespoon of coconut flour, add three tablespoons of this mix.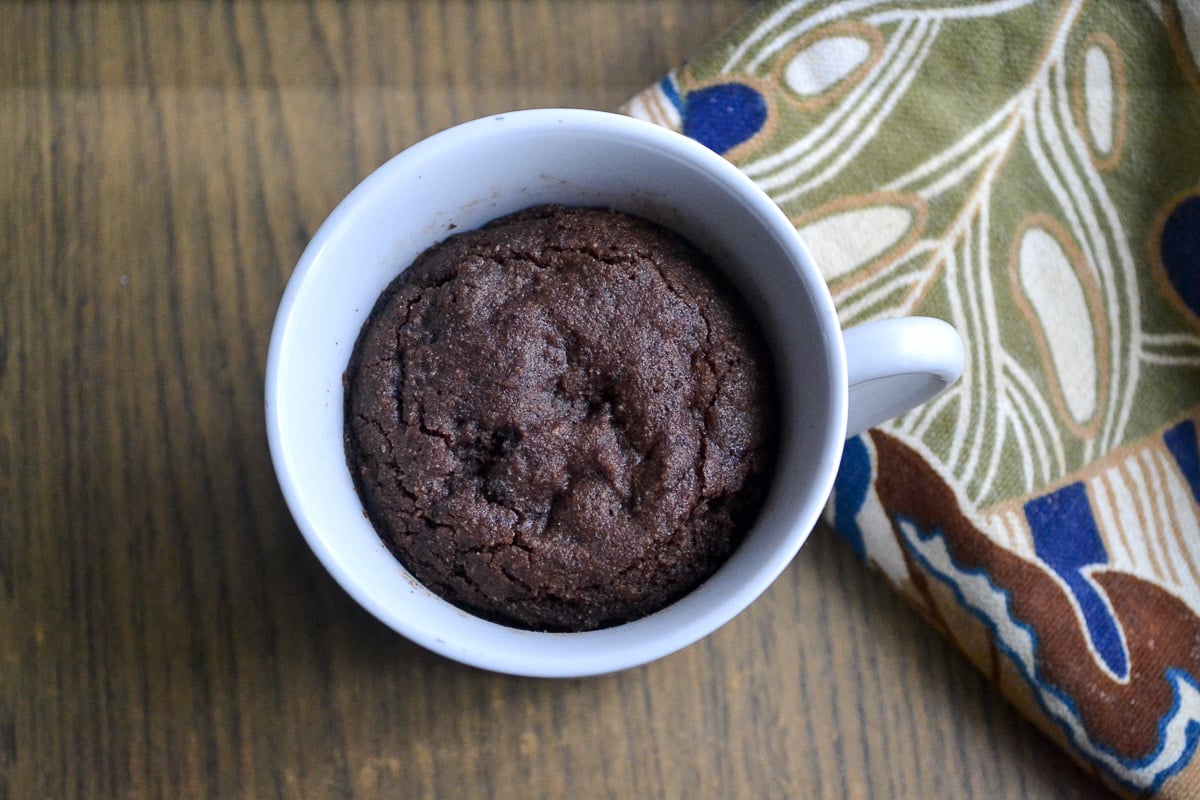 Choose the Right Sweetener
The main reason why people stop eating sweets when following a ketogenic diet is sugar. So to make your mug cake low-carb, sugar-free, and still taste like a normal dessert, you should choose a good sweetener.
Personally, I always go with erythritol. Even though it has 4 grams of carbs per teaspoon, it has properties that help to lower blood sugar levels. Other great options are stevia, Splenda, xylitol, or any other sweetener that you normally use.
Bake in a Right-Sized Mug
Make sure that you choose the right mug. If you choose a too small mug, the cake may try to run away, and that is not a joke. It actually has happened to me a couple of times.
To prevent this from happening, it is best to use a mug that is at least 15 oz large. Or, if you have only small mugs, just divide the ingredients listed in the recipe card in half.
Also, there is one trick that helps me to keep the cake inside the mug at all times, which is to open the microwave every 15 seconds for the cake to lower down and not go over the top.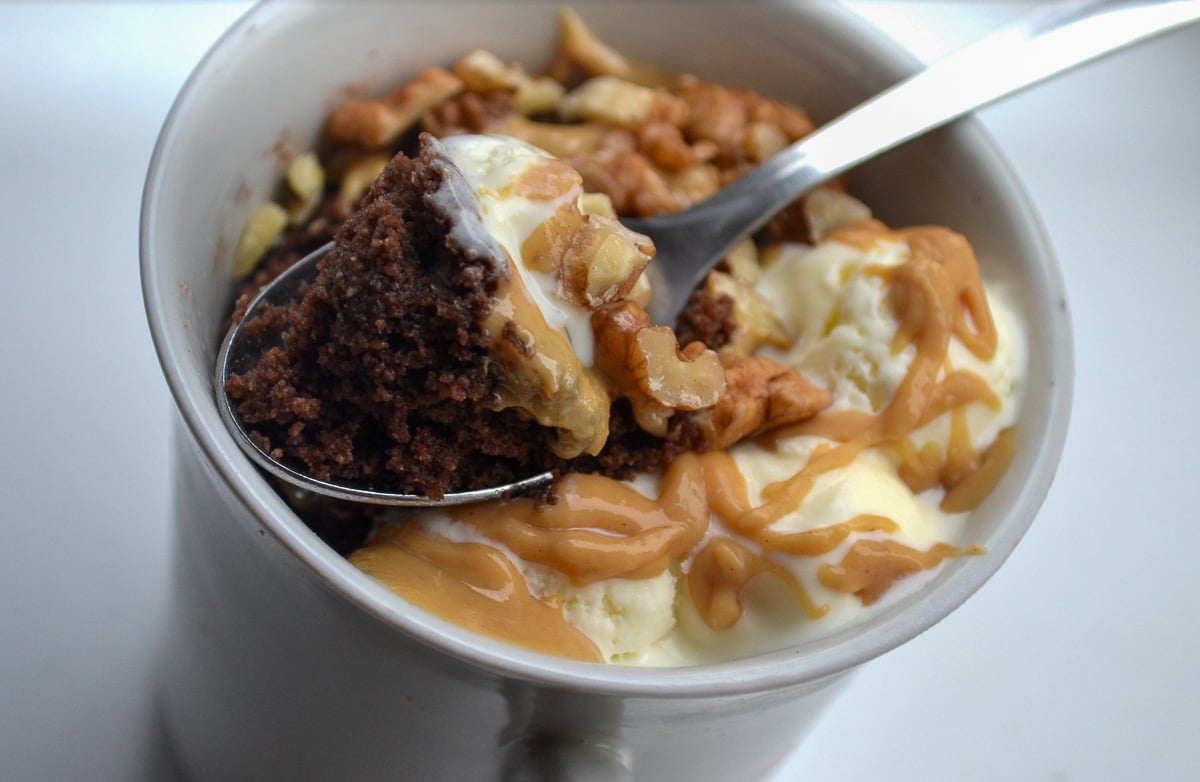 Add Toppings
To enhance the taste of the keto mug cake, let your imagination run wild with the toppings. You can use almost anything sugar-free - syrup, caramel sauce, condensed milk, chocolate spread, whipped cream, etc.
A good idea is to add some nuts either to the mug cake before cooking or after it is ready as a topping. But since not all nuts are keto-friendly, the best option is to throw in some pecans, walnuts, or Brazil nuts.
For me, this choice is the most complicated. I always struggle between my homemade keto ice cream and sugar-free caramel sauce. And in the end, I usually go with both.
Recipe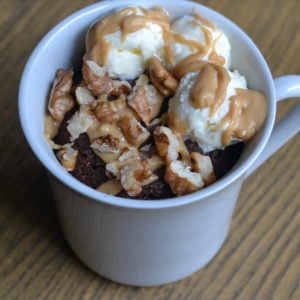 Easy Keto Chocolate Mug Cake
Looking for an easy and tasty keto dessert? This microwave mug cake is one of my favorite desserts that can be ready in less than 5 minutes.
Ingredients
1.5

tbsp

coconut flour

1

tbsp

cocoa powder

1

tbsp

sweetener

(erythritol)

1

egg

2

tbsp

melted butter

5

tbsp

milk

¼

tsp

baking powder
Instructions
In a bowl, whisk together the egg and milk.

Take another bowl and mix all dry ingredients.

Combine everything together and pour into a mug.

Place it into the microwave on high for 1 minute. If you'd rather use the oven, preheat it to 350 F and cook the mug cake for 15 minutes. Let it cool down a bit before eating.
Nutrition
Calories:
371
kcal
Carbohydrates:
14
g
Protein:
11.4
g
Fat:
31
g