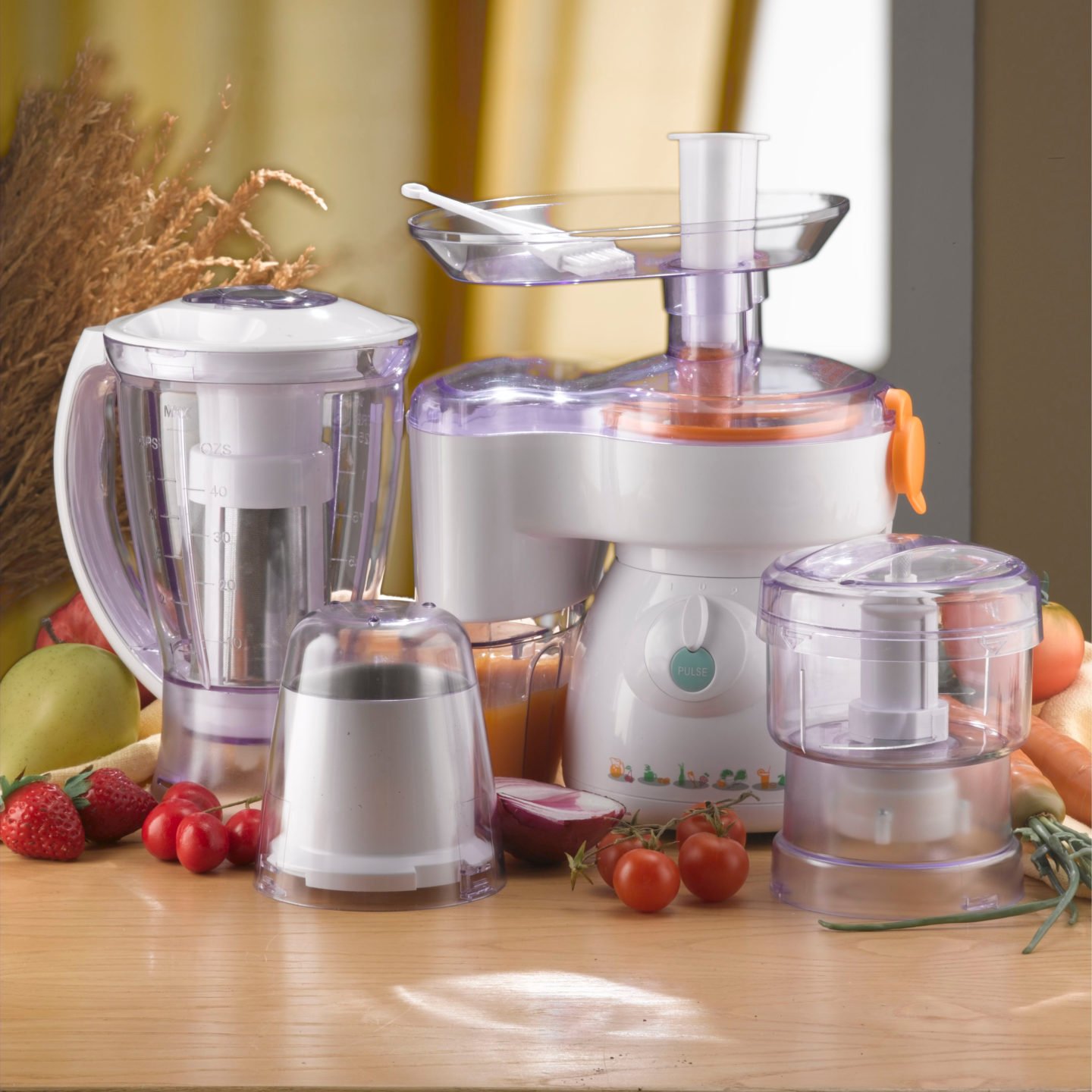 Smoothies and juices are two of the best ways to increase your nutrition. So if you can't decide where to begin your journey towards better health, why not try both? A juicer blender combo will let you enjoy the best of both worlds.
Blenders are different from juicers. A blender is designed to break up the fiber in the food, making it easier to digest and ingest while still maintaining the nutrients and fibers. On the other hand, a juicer removes the pulp, leaving you with only the fresh juice and its nutrients, without the fibers. The best juicer blender combo is versatile, sturdy, and has an effective pulp filter.
There are many combinations of juicers and blenders in the market, but surprisingly, only a few hit the right mix of blending and juicing. We've put them together in this article, so you won't have to look any further.
Table of Contents
Best Overall: Breville BJB615SHY 3X Bluicer Blender & Juicer in One
SAVE 30%
Breville BJB615SHY 3X Bluicer Blender & Juicer in One
A versatile juicer blender with an interchangeable die-cast base.
Pros: Easy to assemble and disassemble; dedicated juicing and blending features; interchangeable motor bases; large feed chute; effective pulp filter
Cons: Less durable plastic juicing jug; no replacement parts; difficult to clean screen filter
For most people, having free countertop space is a necessity. A multipurpose machine like the Breville BJB615SHY 3X Bluicer Blender & Juicer in one will help save space on your kitchen counter.
This blender-juicer combo operates at 1000 Watts, making it one of the most powerful machines in the industry. It has a die-cast base and several features that let you create everything from nutritious green smoothies and fresh fruit juices to blended drinks and cold soups. You can even make a juice-smoothie combination—combine your apples, cucumber, and celery in the centrifugal juicer, then shift to blender mode and add in kale, spinach, or wheatgrass for added nutrition.
Whole-fruit processors are also the trend nowadays, and this machine does not fall short. This blender juicer has a 3.5-inch extra-wide chute to process whole fruits and vegetables, saving you some preparation time. It even has an ice-crush, smoothie, and pulse setting.
Cleanup is also easy. It uses the Kinetix Blade & Bowl technology to keep food traps at bay. You can clean the juice extractor with a brush under running water or simply place it in a dishwasher. If the filter holes are blocked, you only need to soak the filter basket in hot water with 10% lemon juice, and the issue is solved.
Most Versatile: Cuisinart CFP-800 Kitchen Central Juicer Blender Combo
SAVE 20%
There are limits to what blenders and food processors can do individually. Both appliances can be used to produce various foods, such as purées and salsas, but food processors are poor smoothie makers, while blenders struggle to shred vegetables.
This is why you need Cuisinart CFP-800 Kitchen Central Juicer Blender Combo. It can work as a food processor, blender, and juice extractor. This machine might just be what you need. This gunmetal-colored three-in-one kitchen equipment is indeed highly versatile.
The unit is powered by a 350-watt motor and weighs around 14.25 lb. The base is fitted with suction cups to ensure stability while at work. Plus, the blades are made of stainless steel, ensuring their sharpness.
Best in Technology: Ninja IV701 Blender Vacuum Duo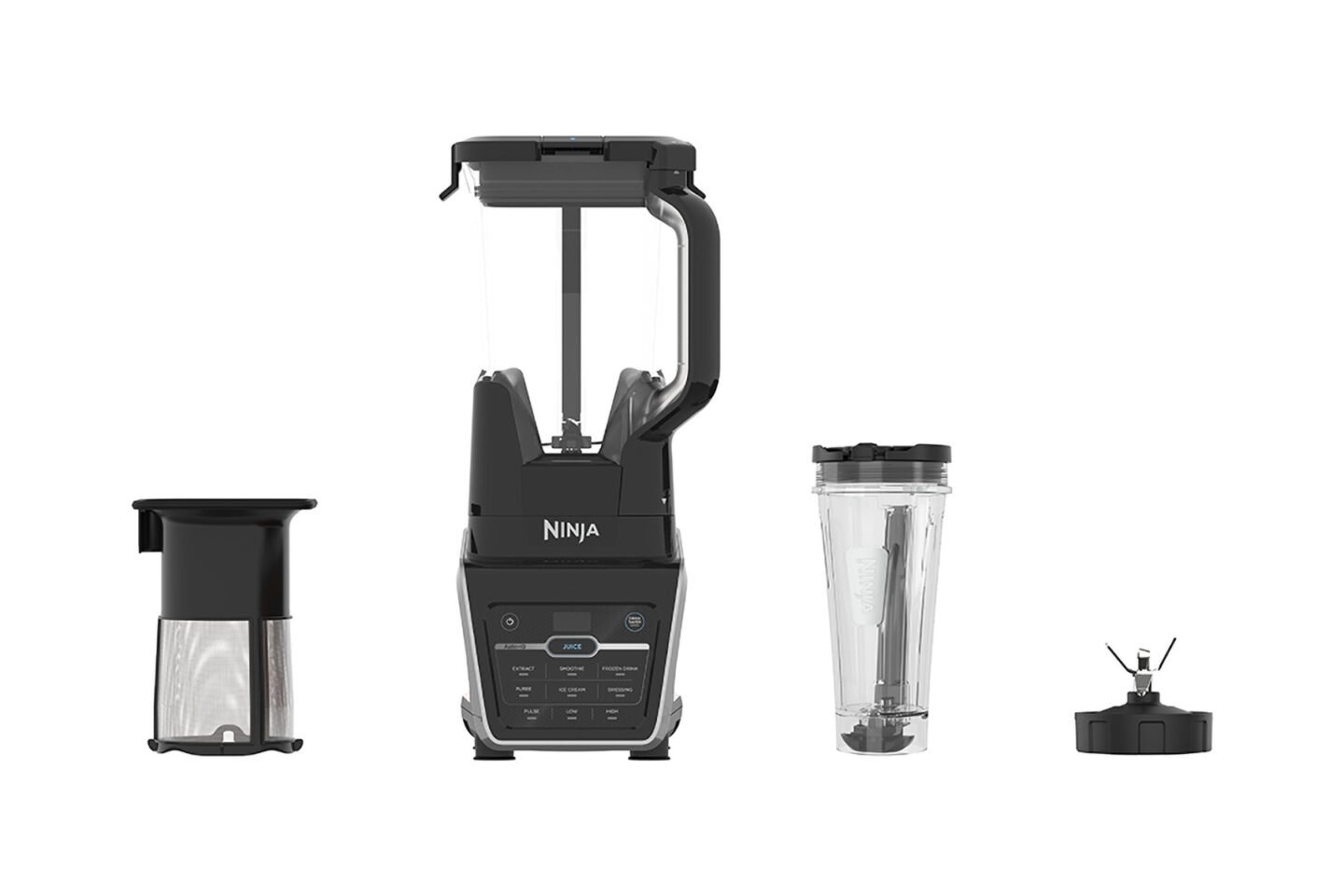 The Ninja Blender Duo IV701 is equipped with a technology that makes your jaw drop.
Pros: Easy to use; one push program button; nutrient-dense smoothie cup
Cons: Fairly new
The Ninja Blender Vacuum DUO with Micro Juice Technology is a 1400 watt peak blender from Ninja's SmartScreen range of blenders. This is Ninja's first try at a blender juicer combo appliance, and it's new to the market. It has a Vacuum Pump, Micro Juicer Filter, Intellisense Smart Detect, Auto IQ programs, and all its current design features.
This juicer blender combo also utilizes vacuum blending, the process of removing oxygen from juice, thereby creating a light and refreshing but never foamy juice. This juicer blender can also store your drinks for up to 48 hours without spoiling from oxidation.
Also, a unique feature of this blender is the Micro-Juicer technology, a removable juice filter that sits inside its 72oz pitcher.
Automated with advanced technology, its 7 Auto IQ programs is a feature that detects when ingredients are under-blended and has preset pulse and pause for perfect blending. The mixer will automatically turn on and break down the food if they need more blending. If you're techy and savvy, move away from the traditional rotatory motion of operating blenders and switch to a highly automated blender juicer combo like this.
Most Budget-Friendly: Cuisinart CPB-380 Hurricane Compact Juicing Blender
SAVE 20%
The Cuisinart Hurricane Compact Juicing Blender delivers big blender performance while blending in a convenient 'To Go' cup. Two 16oz travel cups with travel lids, one double-wall, and one single-wall are included—a special plus for backpackers and travelers.
It is equipped with a 600W motor that is not the most capable but still manages to crush everything you put inside it. It has three-speed settings: low, high, and pulse. These settings may just be incredible for your day-to-day usage.
There's no denying it works more quietly than a lot of other blenders. It doesn't take up much counter space and is easy to clean up.
A drawback of this juicer blender combo is its blade assembly, as it twists in the opposite direction than we're used to. Nonetheless, it is still worth it.
Most Compact: Nutribullet ZNBF30500Z Juicer Blender Combo
NutriBullet ZNBF30500Z Juicer Blender Combo
With this juicer blender combo, you can switch between single-serve and large-capacity juicing and blending.
Pros: Simple interface; slip-proof suction cups; three blending containers; comes with a tamper
Cons: Unattractive black plastic design; no slow settings; cannot achieve the best smooth blend; noisy
NutriBullet has dominated the blender sector for a long time. That won't change with the Nutribullet ZNBF30500Z Juicer Blender Combo on our list. It's a one-stop shop for all of your juicing, grinding, and mixing requirements in the kitchen. It comes with three jars: a 64-oz pitcher for large juicing and smoothie needs and 36-oz and 24-oz personal-sized cups, both with a handle.
It is equipped with three precision speeds. The 1200-watt motor can make smoothies, soups, sauces, and nut butter. However, it has difficulty handling ice if there is minimal water.
The sleek and substantial stainless steel build makes it an excellent juicer blender combo, even if it'll never be a commercial-grade device. Its blades are made up of robust stainless steel with cyclonic action. They aren't the sharpest, but it still gets the job done. This NutriBullet ZNBF30500Z has a couple of rubber suction cups at the bottom to enhance its stability.
All Nutribullet juicer and blender parts are dishwasher safe; you can easily clean the extractor blades with soap and water.
Most Powerful: Nutri Ninja Personal and Countertop Blender
Nutri Ninja BL642 Blender Duo
Aside from its powerful 1200-watt motor, this juicer blender combo also boasts timed, intelligent blending programs.
Pros: Blends fast; ideal for personal blending; strong and sturdy stainless steel extractor blades
Cons: Extremely sharp blades
Coined the "smoothie king," the Nutri Ninja Personal Countertop Blender has Auto-IQ technology, sharp stainless steel blades and comes with different-sized jars for customized use. It has a large 72 oz pitcher and smaller 18, 24, and 32 oz jars.
The Nutri Ninja Personal Countertop Blender is a true multi-tasker. Its control panel gives a variety of settings for different functions. Thanks to Auto-IQ technology, the juicer blender combo enables timed pulsing, blending, and pausing patterns that do the work for you. It also has low, medium, and high buttons and two speed-driven power settings. There are also two more 'Blend' and 'Ultra-Blend' features.
Its size and design are also its plus factor. It's easy to program, has sharp and thick stainless steel blades, and its parts are not difficult to clean.
This powerful juicer blender combo also extracts a lot of nutrients and enzymes. It doesn't create oxidation because the smoothies aren't overheated. It pulls more nutrients from food than any other juicer combination we've ever seen. For this alone, the Nutri Ninja deserves a spot on our list.
Best In Self Cleaning: Vitamix Professional Blender
SAVE 13%
Vitamix Professional Blender
This juicer blender combo is equipped with a professional-grade, self-cleaning mechanism.
Pros: Powerful; blends well with other Vitamix attachments; connects to an app; air-craft, professional-grade, hardened blades
Cons: Jar is not dishwasher-safe
Restaurant owners will especially like the Vitamix 5200 Professional Blender.
This machine is the most innovative juicer blender on our list, including built-in wireless connectivity that detects the size of the jug used and adjusts the program settings and times accordingly. But it does not impose. If you want to make something chunkier, you can easily adjust the speed from 1 to 10.
The hardened stainless steel blades are designed to handle the toughest ingredients. The blades are aircraft-grade, ensuring they are strong and long-lasting.
The Vitamix professional blender is the go-to gadget for juicing and creating smoothies during family meals. It has a self-cleaning mechanism that cleans itself in 30 to 60 seconds, so you won't have to worry about cleanup.
Thermal sensors are built into all Vitamix blenders to prevent the machine from overheating. When this happens, switch off the blender for up to 45 minutes to let it cool down or reset. A radial cooling fan and a thermal protection system are also included.
Best Use for Citrus: Juiceman JM3000 3-in-1 Total Electric Juicer (Discontinued)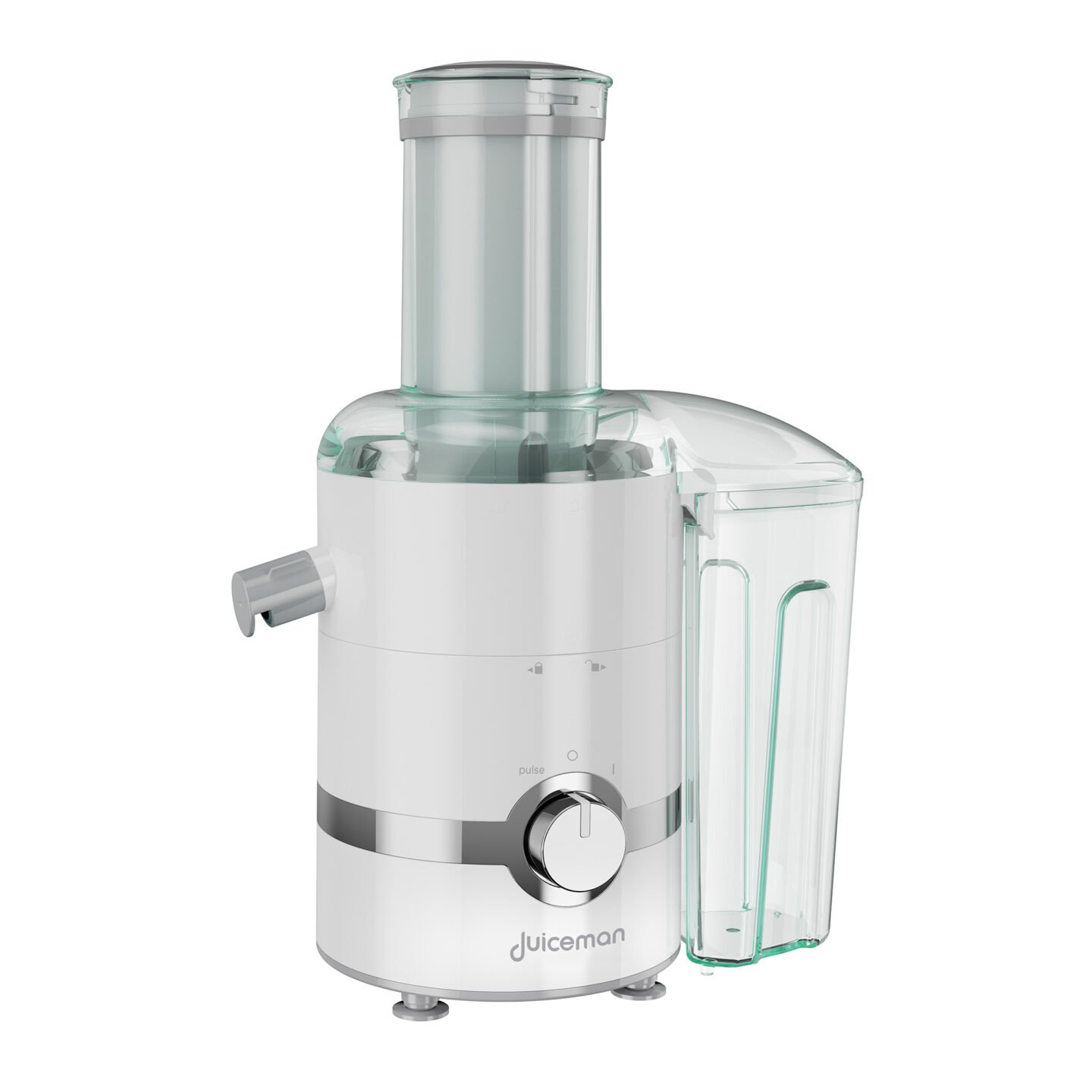 A blender, juicer, and a citrus juicer all in one machine.
Pros: Easy to use; comes with a travel lid that prevent spilling
Cons: Difficult to clean; spout breaks easily
The Juiceman JM3000 3-in-1 Total Electric Juicer can not only blend and juice, but it can also press citrus fruits for fresh juice. Juicing citrus with a regular juicer doesn't always result in the best-tasting fruit juice, but this powerful Juiceman equipment can easily combine any fruit or vegetable with citrus juice. You need not bother about changing out the juicing cone because the citrus juicer can press citrus of any size you wish to make.
Thanks to a stainless steel filter, the juice extractor can adequately separate the pulp and juice from your ingredients. The four steel blades in the blender can quickly chop through food, resulting in a velvety purée that you'll love.
All these are made possible by its powerful 800-watt motor. Whether it's juice or smoothie, the flavors are natural, and the health benefits are retained.
Best Juicer Blender Combo Buying Guide
Jar Shape
The size and jar shape of blenders do matter. The two things you should look for in a juicer blender combination are height and a curved bottom. Jars with wide and flat bottoms will not produce a consistent blend.
Tall juicer blenders, on the other hand, have a significant disadvantage. Tall jars might be difficult to store when fully constructed on countertops or low-hanging cabinets.
Wide, flat-bottomed jars come in handy in these situations. But keep in mind that you might be sacrificing performance for convenience.
Motor Strength
The more powerful the motor, the faster and more efficiently it can function. Most manufacturers use Watts, but some measure it in horsepower.
The juicers we examined in this article all feature powerful motors. A juicer blender with a motor power rating of 1000 Watts can effectively juice. On the other hand, smaller ones will be good with 500-600 Watts.
Blades
A machine with a stainless steel blade that spans the breadth of the jug is recommended. No fruit or vegetable particle will escape the blade action with this set-up. The juicer's blade is crucial since it determines how smooth and quick the blending will be. Make sure the blade is sharp and made of high-quality materials.
Type and Size of Its Jug
The most common materials used to produce jugs are glass and polycarbonate. Still, plastic containers are also available for some machines. Note that glass jugs are more susceptible to fracture and wear than plastic ones.
Jugs also come in different shapes: round or square. Square jugs are efficient because the components hit the walls and bounce back to the blade.
The more ingredients the jug can contain at one time, the better, especially if you are juicing and blending for a large family.
Speed Control
In addition to incredible power, a good juicer blender should feature various speed control options. Many versions include cutting-edge technology that allows you to pre-define your preferred settings. This function eliminates the need to reprogram the device every time you use it.
You'll be able to use the machine for more than just mixing now that you have more programming options. Check if the speed limit is acceptable for the motor's power. If the blender's speed exceeds the power limit, this will impair the blender's performance.
Ease in Cleaning
Even if the juicer has a high-performance rating, using the blender can be a hassle if it has a complicated cleaning routine. So make sure your blender juicer combo is not difficult to clean. Because blenders contain sharp blades within, use extreme caution when cleaning the inside of the blender.
Attachments
The juicer blender's extra attachments will allow you to use the juicer for various purposes. Juicer blenders with many attachments are affordable and indispensable in any kitchen. Some juicers even have bottles that you can bring along with you right after juicing!
FAQs
1. Which is more preferred, a smoothie or a juice?
A glass of freshly squeezed juice has more fruits in it than a bowl of smoothies. However, it eliminates beneficial fibers and seed extracts, both of which are essential for good health.

On the other hand, smoothies have a more significant number of healthy ingredients than juices. It aids in the active and healthy functioning of the digestive tract. However, not everyone can handle lots of fiber in their diet.

In general, smoothies are a healthier beverage. However, you should be taking them in moderation.
2. What are the best products to juice or blend?
Fruits and vegetables are packed with nutrients. Antioxidants are abundant in most fruits, which are essential for healthy health. On the other hand, vegetables provide a significant amount of fiber, necessary for maintaining a healthy digestive system. Thus, fruits and vegetables are the best products to juice or blend.
3. Do centrifugal juicers destroy nutrients?
While some people believe that centrifugal juicers destroy nutrients due to oxidation and heat, the truth is that there isn't enough heat created in a centrifugal juicer. Yes, centrifugal juicers diminish health benefits because of unavoidable oxidation, but this is not significant enough to cause nutritional loss.
4. Which is more valuable for my money: a blender or a juicer?
A juicer blender combo is the best way to get the most bang for your buck. If you don't want to go that route, you can always buy a good-quality blender off the shelf. You get a lot more than just a juicer.

Furthermore, a blender can often operate according to your kitchen's requirements. A blender can handle several jobs, from grinding spices, preparing food, boiling soup, to kneading dough.