Healthy smoothie recipes have become all the rage in the dietary community recently, with many believing that a good smoothie can provide many benefits. While medical science still debates this fact, many people try out smoothies every day. Each smoothie recipe is designed to offer different benefits. Some may find that they want a smoothie for weight loss. Others may want a better nutritional balance.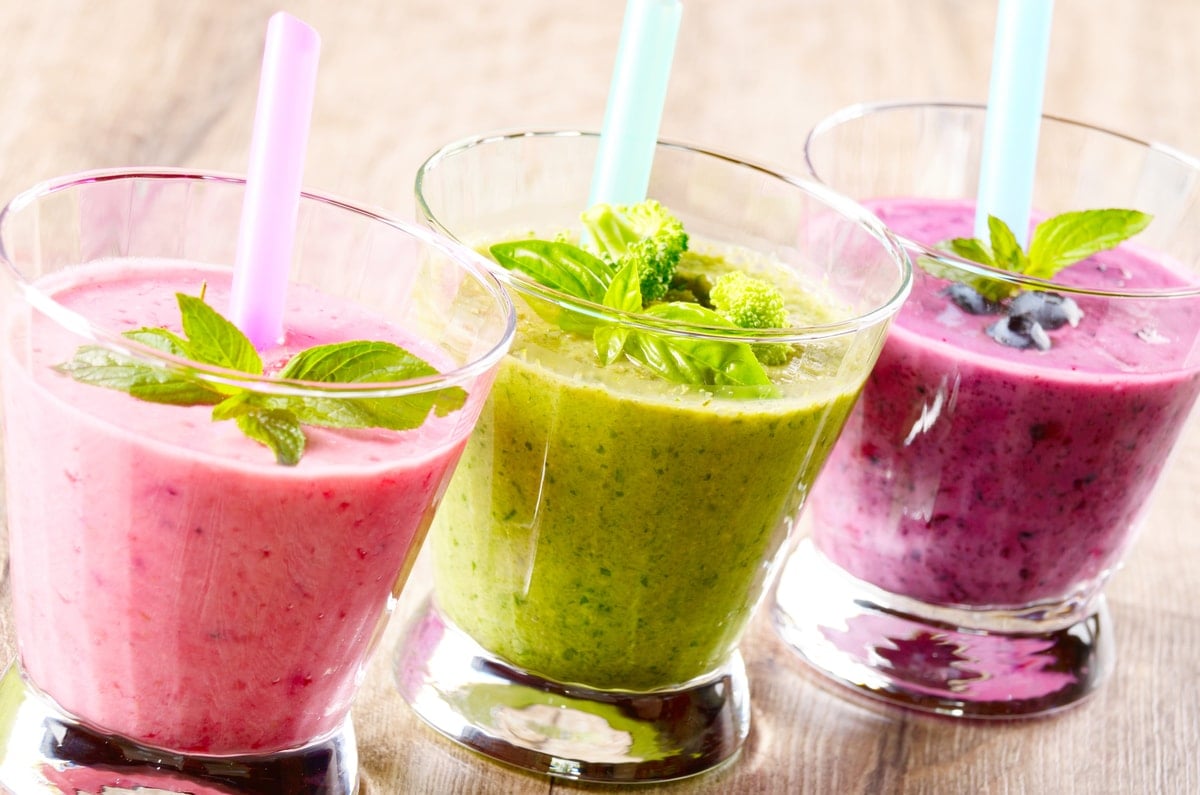 In this article, we'll take a look at the nature of smoothies and the smoothie bowl. First, we'll go over how to create a green smoothie and whether protein powder is needed. Then, we'll discuss five different healthy smoothie recipes we found online. Next, you'll learn more about ingredients, like almond milk, frozen fruit, chia seeds, and Greek yogurt. And you'll learn how to blend these items.
In this way, you can master making a breakfast smoothie with frozen fruit, peanut butter, or other smoothie ingredients. Just as importantly, you can choose the items you want based on their nutritional value. In this way, you can create tasty and healthy smoothies. You might even be able to make some using almond milk and chia seeds that your children will like! So let's get started.
Table of Contents
What are Smoothies?
Green smoothies combine multiple health ingredients (like milk, nut butter, coconut milk, yogurt, and fruit) into a single drink. Each component is carefully chosen to provide specific nutritional value. For instance, you might use fresh fruit to get vitamin A, C, and K into your diet. Or you might use breakfast smoothies with hemp seeds to enhance your immune system. The options here vary based on your needs.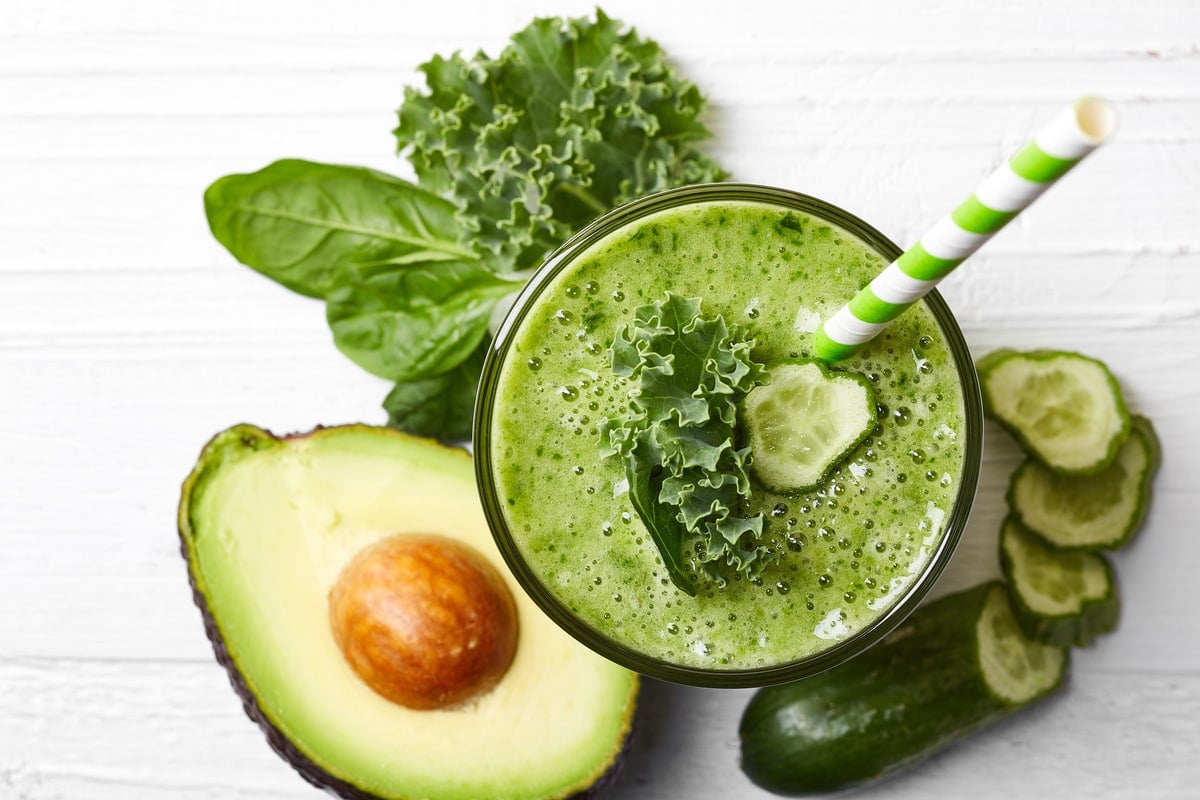 Some people use a healthy smoothie recipe as a way to wake up in the morning. Breakfast smoothies provide many benefits for these individuals. However, others may use protein smoothies to help boost their body's recovery after a workout. Likewise, some may temporarily replace their regular diet with nothing but smoothies.
When creating a healthy smoothie recipe, it is best to understand what you want to achieve. Unfortunately, too many people start mixing frozen bananas, fruit, yogurt, and coconut milk into a drink without knowing their ultimate goal. This step is significant because you might end up getting effects you hadn't wanted. Therefore, you must carefully choose your ingredients to minimize any issues.
Why Do People Drink Them?
People drink green smoothies for many different reasons. While medical science does not recommend them as a substitute for a regular diet, a temporary smoothie detox may be beneficial. This process requires you to make a delicious healthy smoothie that includes all of your nutrient needs. Most people go through these cleanses for 3-11 days. Beyond that, their vegan smoothie may damage their bodies.
However, researchers believe that an occasional delicious smoothie can help infuse a person's body with a higher concentration of vitamins and minerals. Fruits and vegetables contain essential items like vitamin A, vitamin K, vitamin C, iron, protein, and fiber. Things like kale, mango, flaxseed, and even soy milk work incredibly well. In this way, you can get vegetables in your diet.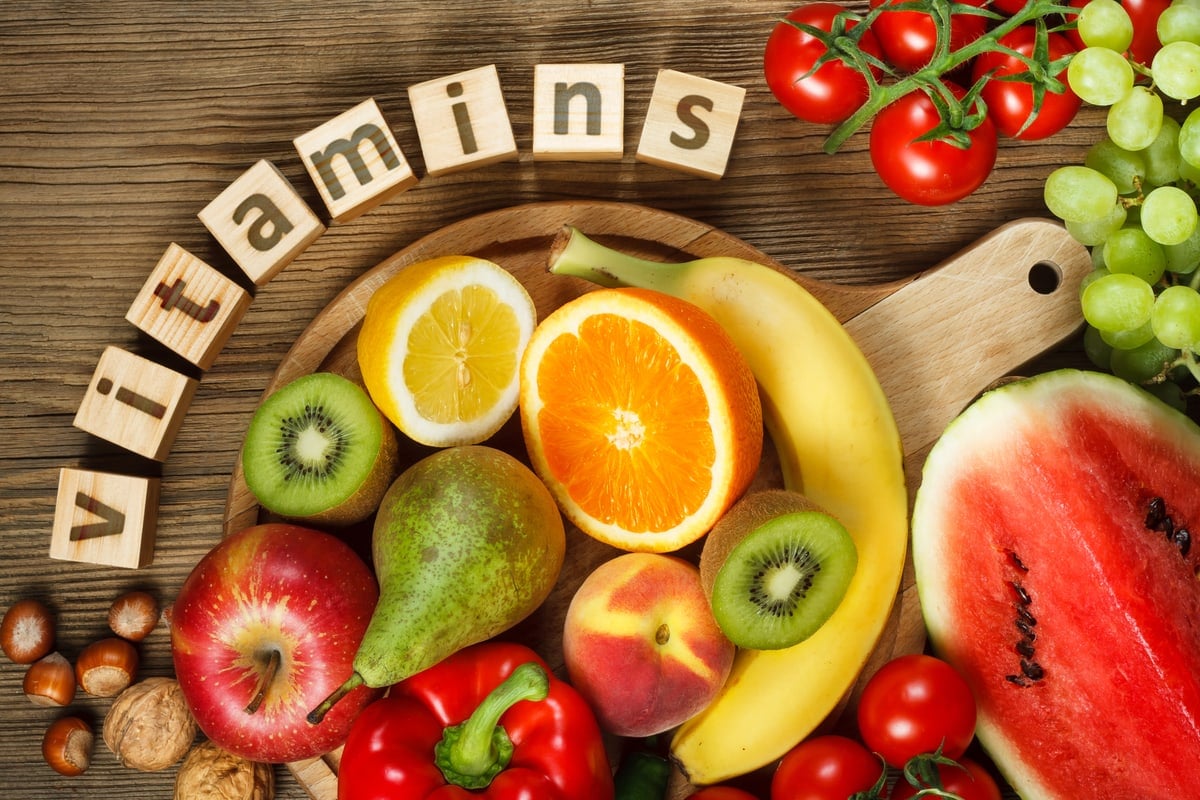 However, some people may create drinks with frozen cauliflower, vanilla, blueberry, almond, and maple syrup for a touch of added sugar. Doing so may help to decrease inflammation, heart disease risk, and even slow age-related issues. These potential benefits center around the added ingredients. Each of these items is proven to provide many health advantages.
Before you start mixing strawberry, spinach, avocado, and ice cubes to create a healthy breakfast, you need to understand the possible downsides of fruit smoothies. While a watermelon smoothie or a vegan smoothie may provide benefits, they could also cause other issues. These include a potentially low intake of fiber, higher blood sugar, and even kidney damage. The careful use of juicing is required to minimize these risks.
Are They Truly Beneficial?
While testimonial evidence grows in favor of healthy smoothies, some doctors remain on the fence. They worry that blending could remove the fiber and protein from many of these drinks. And they fear that the long-term replacement of a normal diet with juice could cause many side effects. That's why a juice cleanse is only 3-11 days. However, other studies have been more positive.
For example, one study published at Portland State University examined how smoothies helped with blood pressure. They discovered that the careful use of green smoothies could lower blood pressure. And they also found it could help provide other quality-of-life improvements. This study helped fuel a cottage industry of smoothie recipes across the internet.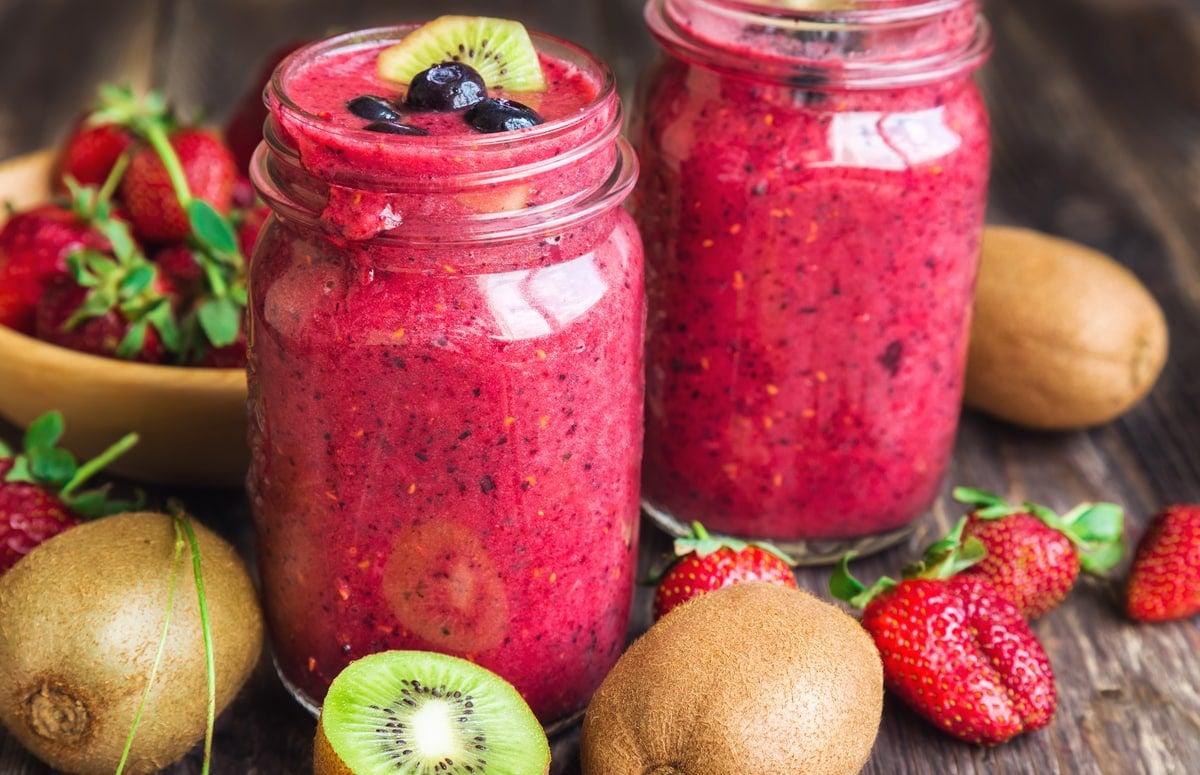 And Penn State University has gone all-in on what they call The Green Smoothie Project. This project examines the benefits of green smoothies for those with inadequate dietary intake. They believe that smoothie recipes help provide people (particularly children) with a great dose of healthy vitamins. Therefore, they concentrate specifically on supplemental smoothies rather than dietary replacement.
So while other individuals find some complications with long-term smoothie use, it is clear many benefits do exist. It is vital to understand these downsides to help prepare for them. For example, some may want to add protein or fiber powders to their green smoothies. These help to minimize many complications and add more vitamins and nutrients at the same time.
How Do You Make Smoothies?
Smoothies require very little work to make. Once you gather all your food ingredients, please place them in a powerful blender. Find a blender that allows you to create both liquid and puree drinks. In this way, you can change up your smoothie recipe from time to time. Some people may want a specialized blender instead of a traditional option. The type doesn't matter much, to be honest.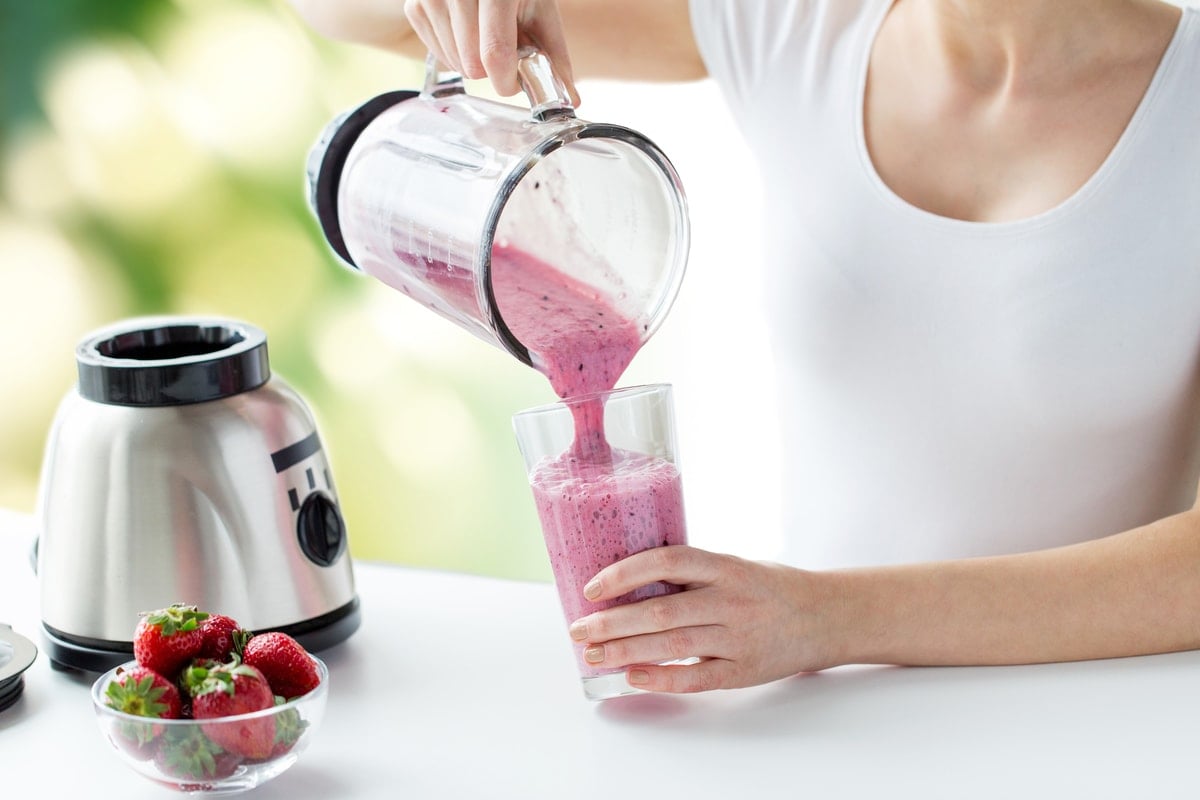 Make sure to clean all of your ingredients before adding them to your drink. Cleaning removes potential bacteria and viruses that may be on their surface. It also helps to make them easier to blend. Chop them up into small bits and add fluid to the blend. Some people use water, though this is bland. Almond milk, soy milk, maple syrup, or even blended kale milk could be helpful here.
After blending your drink, serve immediately. While you can chill a smoothie in a refrigerator, it will likely only last so long before going bad. And when making the recipes listed below, you can increase your ingredient count to create more smoothies. For example, if you want to make a smoothie for three people, increase doses like one cup to three. But, of course, doing so creates multiple drinks.
Five Healthy Smoothie Recipes (Including Their Health Benefits)
The recipes listed below were carefully chosen based on their benefits. Each was discovered online and was created by a juicing specialist. Carefully read through this list to find a smoothie recipe that makes sense for your health needs. Or try them all! You might find that changing up your smoothies makes this process more enjoyable.
Recipe One: An Immune-System-Enhancing Smoothie Recipe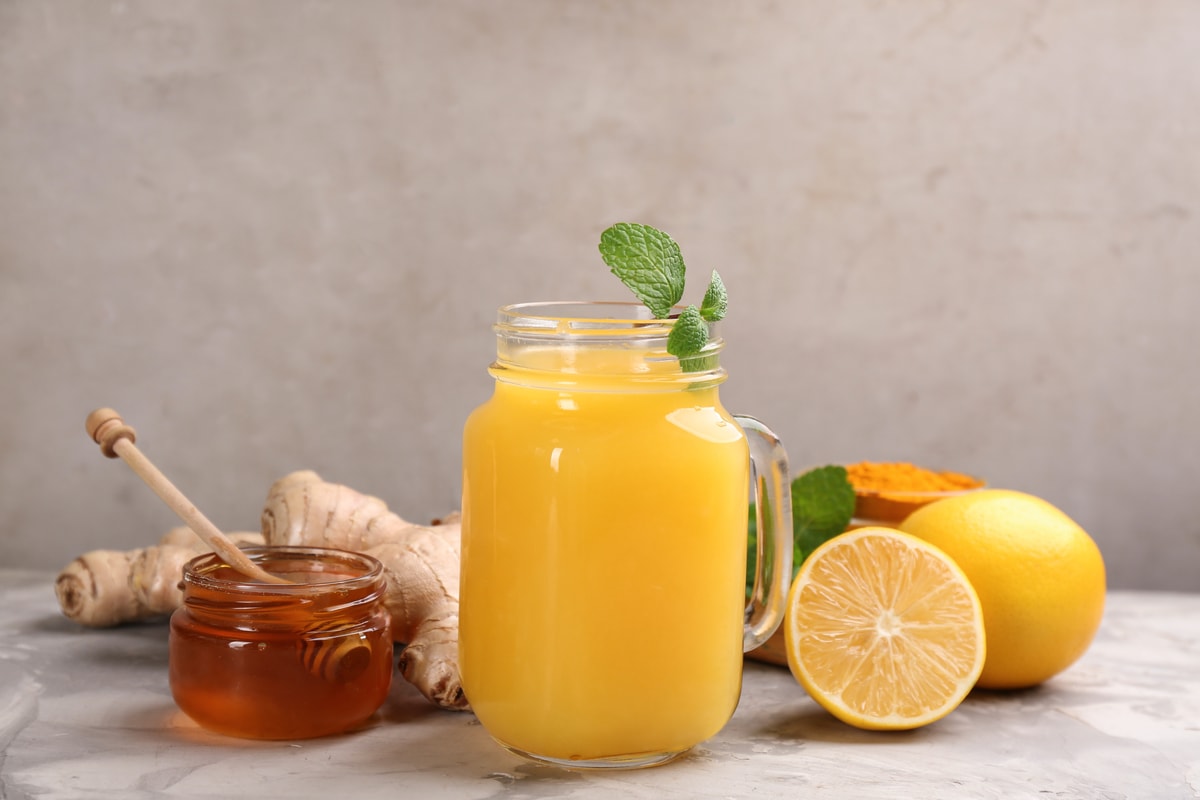 Boost your immune system by mixing one orange, a half lime, a half lemon, two tablespoons of honey, a pinch of salt, and one-half inch ginger. This recipe will boost your immune system by providing a high content of vitamins C, various types of minerals, and antioxidants. In this way, your body should cleanse itself reasonably quickly.
Oranges, in particular, help fight inflammation and boost the body's immune system. They also help to improve iron absorption throughout the body. Limes also provide many benefits, like a high concentration of fiber that helps to make this drink easier to ingest. They also protect heart health and boost weight loss.
Recipe Two: An Iron-Boosting Smoothie Recipe
Fight anemia and low iron by boosting your vitamin C, iron, and lutein levels. Mix one cup spinach, one cup watermelon, one orange, one-half cup kale, one-half banana, two tablespoons of pumpkin seeds, and a tasty fluid like almond mix into a blender.
The ingredients here help to boost your iron in many ways. For example, spinach has high fiber, few calories, and vitamin K for bone health. And watermelon helps to hydrate your body, provides little added sugar, and has high levels of vitamins B1, B5, and B6.
Recipe Three: A Smoothie Recipe to Eliminate Constipation
If you suffer from constipation, this smoothie recipe should help. Mix one-third cup aloe vera juice, one peeled kiwi, one-half cup papaya, one-half cup kefir, one-half cup ice, and a teaspoon of maple syrup for taste. Blend well and drink once per day to help improve your bowel movements.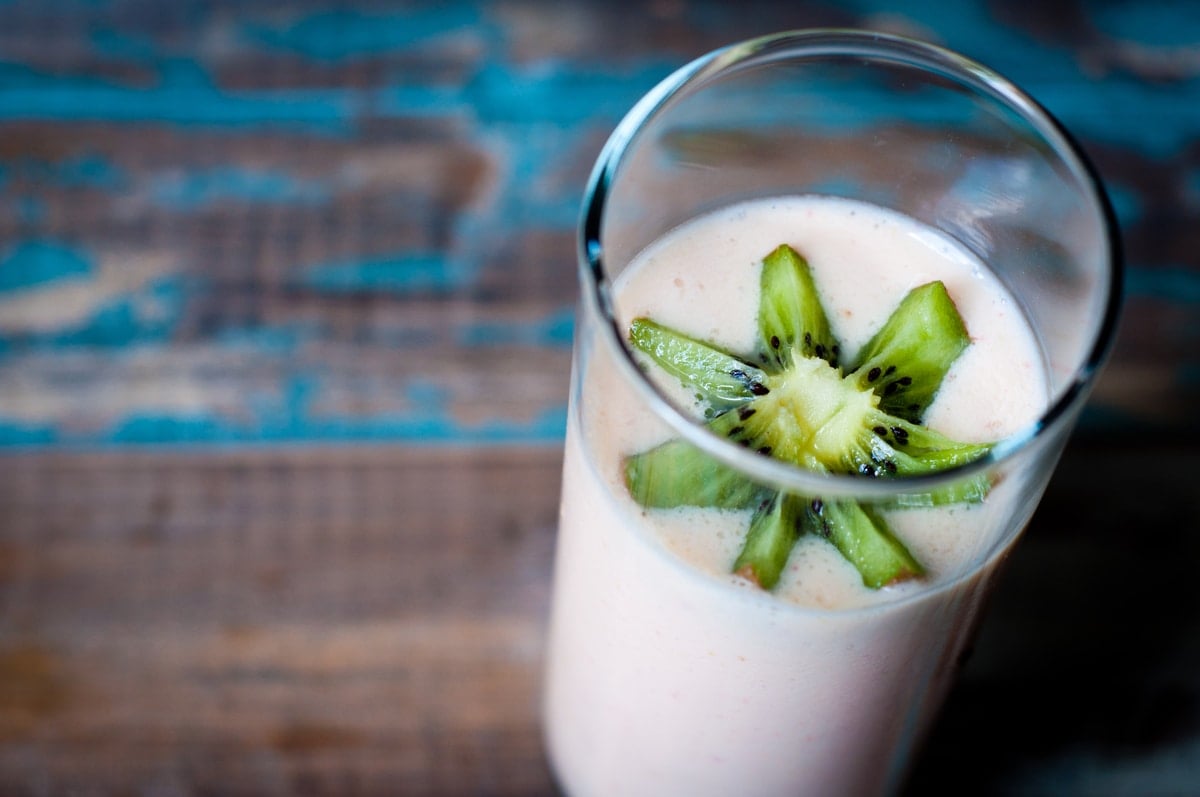 The kiwis in this blend are particularly healthy because they have many vitamins C, K, and E. They also contain folate, potassium, and rich amounts of antioxidants. And papaya can help manage your cholesterol levels, boost your immunity, and provide fiber for more regular bowel movements.
Recipe Four: A Smoothie Recipe for Weight Loss
A high-quality smoothie recipe can help you lose weight if you use them for an occasional meal replacement. You must mix one-half banana, eight strawberries, two tablespoons of almonds, one teaspoon of chia seeds, one-quarter cup granola, one-cup unsweetened Greek yogurt, and one cup of soy or almond milk. Add honey to taste, if you like, avoiding adding more than a teaspoon or so.
Make sure you use organic strawberries, as these are packed with vitamin C and K, folate, potassium, and fiber to help improve your metabolism. And bananas (while they get a terrible reputation as bad for weight loss) add to the taste. They also have large amounts of potassium, which helps to lower blood pressure. Bananas also have a decent amount of fiber that allows you to lose weight.
Recipe Five: A Green Smoothie for Detoxification
You can help the detoxification process by enjoying this high-quality smoothie recipe. Mix almond milk, pineapple, frozen banana, spinach, avocado, and ginger in proportions that make sense for your taste. Add ice cubes to help liquefy it. Almond milk goes perfectly with this drink.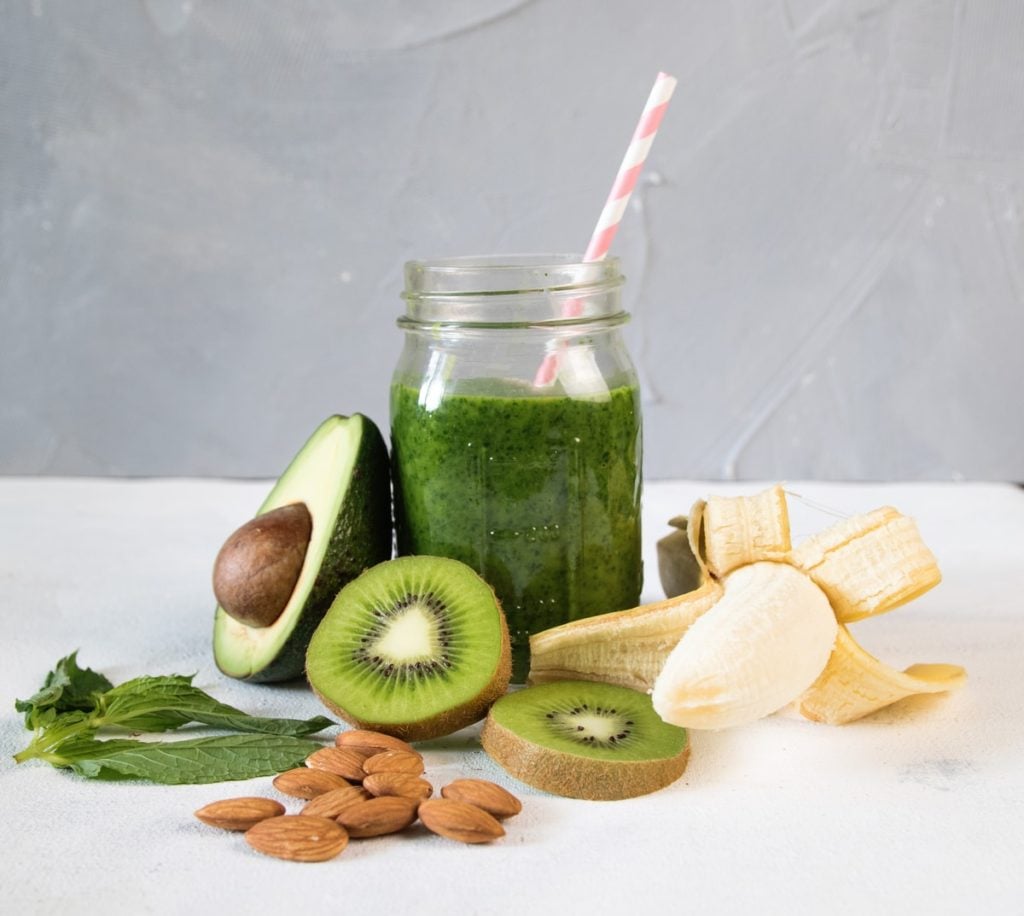 We particularly like the use of ginger in this recipe. It doesn't get enough credit for being a potent anti-inflammatory and anti-oxidant food. And avocados are one of our favorite superfoods! They not only help to detoxify the body potentially but have many vitamins and minerals as well.
Work With Your Doctor to Find a Great Smoothie
Before trying any of these healthy smoothie recipes, you should find a dietitian who can help you. These medical professionals will gauge your overall nutritional health. Then, they'll test you for allergies or any other health issues. Doing so helps to ensure that they spot any problems before they worsen.
This type of process is vital for many reasons. First, it helps to minimize complications. Second, it helps educate you on the benefits and downsides of your dietary change. Finally, work directly with your medical professional, and you can choose smoothies that make sense for you.
Resources:
The Spruce Eats: Are Green Smoothies Good for You?
Eating Well: Green Smoothie Recipes
WebMD: Green Smoothies, Are They Good for You?
Healthline: Does Green Juice Have Benefits? All You Need to Know
Portland State University: The Effects of Green Smoothie Consumption
Penn State University: The Green Smoothie Project
Nutrition Facts: Green Smoothies: What Does the Science Say?
Live, Eat, Learn: How to Make Green Smoothies (for Beginners!)
Nutritious Minimalist: How to Make Green Smoothies: The Basics
Blender Authority: 7 Immune Boosting Smoothie Recipes
WebMD: The Health Benefits of Oranges
University Health News: 8 Amazing Health Benefits of Lime
Vibrant Happy: 7 Iron-Rich Smoothie Recipes for Anemia
Health.com: 6 Health Benefits of Spinach, According to a Nutritionist
Healthline: Top 9 Health Benefits of Eating Watermelon
University of Michigan: Constipation Smoothie Recipe
Healthline: 7 Health Benefits of Kiwi
MSN: 11 Health Benefits of Papaya
Fitwirr: 5 Satisfying Healthy Smoothie Recipes for Weight Loss
Healthier Steps: Green Detox Smoothie
Healthline: 11 Proven Benefits of Ginger
Healthline: 12 Proven Health Benefits of Avocados
North Carolina Academy of Nutrition and Dietetics: Find a Registered Dietitian
Healthgrades: How to Find a Nutritionist