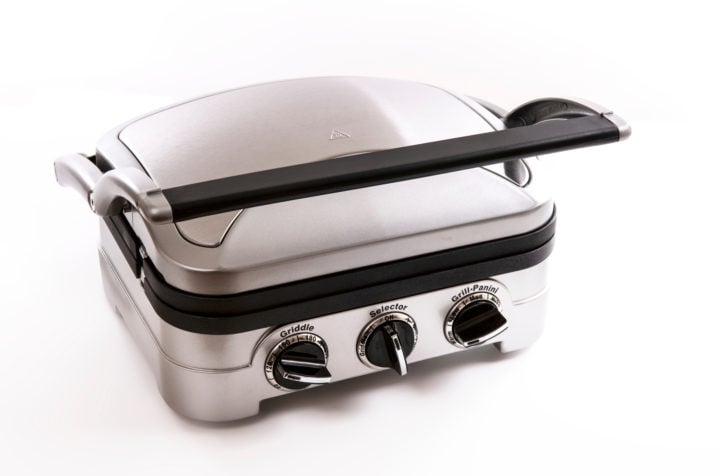 As home cooks continue to grow savvier with their money and cabinet space, more of them are on the hunt for kitchen multitaskers. Grill and griddle combo pans offer the perfect solution for them, as the pans let them cook a variety of dishes. Whether you're hungry for a char-grilled steak or a batch of pancakes, these combo pans are the perfect tools for the job.
However, a surprising number of people still don't know how to find the best grill and griddle combo cookers. Since they come in such a wide variety of styles, it's not always easy to know where to start.
For this reason, we've put together this best-of list, featuring all the top products available today. To make our selection, we factored in style, fuel type, heat output, portability, and more to narrow the list down to only the best of the best. See which ones stand out to you and make a more informed decision.
Table of Contents
Best Overall: Royal Gourmet GD401C Flat Top Gas Grill
SAVE 17%
When choosing the best grill and griddle combo, prioritizing power and cooking space is key. However, it can be difficult to find an option with both that fits into your budget. The Royal Gourmet GD401C flat top gas grill excels in both areas at a price that won't strain your bank account.
At 48,000 BTU you'll never be wanting for power, even when charring burgers at high temperatures. The grill has four gas burners total, letting you control the temperature of each zone separately. This is especially useful for managing different foods or large quantities of meat for parties.
Half of the cooking space is dedicated to a flat top griddle, while the other half is a grill. You can choose to use both sides at the same time or just one when needed, giving you complete control.
However, these details are just the tip of the iceberg when it comes to features. Automatic ignition, an oil management system, and fixed side tables are all included. Together, they simplify cooking and put all of your grill's power at your fingertips.
Overall, this grill and griddle combo offers everything you could ever need when perfecting burgers, steaks, and a wide range of other foods. Plus, it's much less expensive than similar products without sacrificing quality. However, if you're looking for something to use indoors, take a look at the electric appliances below.
Best Outdoor: Blackstone Tailgater Stainless Steel 2-Burner Portable Grill and Griddle Combo
No products found.
With the range of products available today, grilling and griddling can be done inside or outdoors as needed. However, many prefer to cook outdoors, saving their home from grease splatter, smoke, and heat. The No products found. offers a pared-down design that offers cooking power made for the outdoors.
At around 75 lbs, this grill and griddle may be a bit heavy but the size still fits inside your car or van. You can take this camping or to a beach party. Its legs are collapsible, letting you squeeze it into small spaces for travel.
Even with a collapsible design, this appliance is stable enough to carry heavy loads. The legs lock securely in place to ensure safety while cooking.
With a full 35,000 BTU split between two burners, it offers plenty of power despite its small size. Each of the burners can be controlled independently, letting you grill or griddle depending on your needs.
Give this outdoor grill and griddle combo a try if you need a balance between power and portability. It's a great option for those starting out, as it comes with a selection of tools needed for professional-level griddling. Just remember that since it's a bit smaller than other outdoor cooking appliances, it also lacks some of the more popular features.
Best Indoor: Hamilton Beach 3-in-1 Electric Griddle
Hamilton Beach 3-in-1 Electric Indoor Grill and Griddle
The reversible griddle plates give this kitchen gadget loads of versatility, setting it apart from other indoor models.
Pros: Reversible griddle plates, removable grease trap, dual cooking zones
Cons: Smaller cooking surface, doesn't contain splatter well
While some of the most powerful grills are made for the outdoors, there are plenty of indoor versions with their own advantages. With more compact designs and easy-to-clean parts, they are a great solution for weeknight dinners. The Hamilton Beach 3-in-1 Electric Griddle packs a surprising amount of versatility into a small package.
Setting up this grill and griddle combo is simple with the dual reversible griddle plates. Each has a smooth griddle surface on one side and raised grilles on the other. This lets you switch back and forth easily or even use one of each at the same time.
It's true that it doesn't have as much cooking space as an outdoor grill, but it's huge compared to most indoor appliances. With a full 180 square inch cooking surface, you'll never be at a loss for space. At the same time, the removable plates are small enough to clean easily and can even be put in the dishwasher.
You'll love this grill and griddle combo if you're looking for a lightweight and compact option with lots of versatility. Of course, while powerful for an indoor griddle, it can't compare with the BTU output of full outdoor grills. So, don't be fooled into thinking it can char grill a steak in the same way.
Best Combo Pan: Camp Chef Reversible Grill/Griddle
SAVE 25%
Camp Chef Reversible Pre-Seasoned Cast Iron Griddle
The fact that this combo pan comes preseasoned gives it the edge over other cast iron options.
Pros: Raised edge contains drips, comes preseasoned, durable cast iron construction
Cons: Susceptible to rust, heavy for such a small pan
The fact is, a grill and griddle combo doesn't have to be expensive or complicated. With a combo pan, you can get all the versatility and deep-seared flavor in a simple and affordable package. The Camp Chef Reversible Grill/Griddle
If you want to taste the meat and not the heat, there's no better option than gas grills. Using portable propane canisters, these grills are mobile and are great for high-powered cooking. The Cuisinart CGG-888 Gas Grill features a unique, circular design that's perfect for griddling and grilling.
Rather than a hood-style cover, this gas griddle has a stainless steel lid that fits over the top of the cooking surface. This makes it a great tool for steaming, smoking, or even baking in addition to grilling and griddling. Plus, it can be removed for easy cleaning.
However, where this product really shines is griddling. It features a 360-degree grease management system, which drains drippings as they come off your meat. The grease drains into a removable cup for easy disposal.
Compared to other products on this list, the grilling features aren't as strong. However, the smooth cooktop pairs perfectly with wire racks, which can be placed on top for grilling.
You'll love this gas grill and griddle for its range of different cooking options and quality construction. However, be aware that it's a better griddle than a grill, and the grilling features are a bit limited. If you want to get classic sear marks on your steaks, a more traditional grill might be a better idea.
Best Charcoal: Blackstone 1819 Griddle and Charcoal Combo
Blackstone 1819 Griddle and Charcoal Combo
We love the portable design of this griddle which makes it easy to reposition or transport.
Pros: Side wheels make it easy to transport, durable design, dual cooking zones
Cons: Smaller cooking area than other grills, the side table is a bit small
Charcoal grills are the best way to get a classic barbeque flavor, which is why they're so well-loved among barbeque enthusiasts. However, making good use of this fuel requires a quality grill. The Blackstone 1819 Griddle and Charcoal Combo takes charcoal grilling to the next level and adds in a professional-grade griddle.
The advantage of this grill and griddle combo is that its small size makes it easy to assemble, use, store, and transport. This makes it an especially good choice for those planning on taking it camping or who are worried about storage issues.
However, its smaller size does come with a few drawbacks. It has a lower heat output at just 12,000 BTU and smaller cooking areas compared to others on this list. It might sound like a disadvantage on paper, but the reality is that it's powerful and large enough for most uses.
This grill and griddle combo is a top pick for anyone who wants to try a charcoal-powered griddle for themselves. However, don't forget that charcoal grills take a bit of extra effort to get up and running. If you're looking for a low-hassle option, propane is likely the better choice.
Best for Camping: Camplux Propane Griddle Grill Combo
Who said enjoying the great outdoors has to mean eating canned beans and charred hot dogs for dinner? With the right grill, you can experience all the beauty of nature with a fresh-seared steak once you're hungry. The Camplux Propane griddle grill combo is the perfect choice to take on your next trip.
While this compact grill doesn't have all the features of full-sized models, you'll be surprised at some of its high-end features. A quick ignition system is a great perk that lets you start cooking in a flash. Two independently controlled heating zones give precise control when managing larger quantities of food.
On either side of the grill are two tabletop surfaces, which can fold down to make it easier to transport. The two lower wheels also simplify repositioning after it's in place.
The grill can be switched to a griddle by replacing the metal wireframe with a flat top insert. Each piece slides out easily. So transitioning between the two is never difficult. When griddle cooking, the excess grease drains in a removable cup for simple disposal.
This grill is a great pick for anyone planning on getting in some griddling on their next camping trip. Just make sure you understand its limitations before making your purchase. While powerful in its own right, it's not on the same level as full-sized grills.
Best Electric: hOmeLabs Smokeless Indoor Electric Grill
If you're planning on doing most of your griddling at home, an electric griddle is a great way to cut down on the hassle. They require no excess fuel and come in more compact sizes, and are great for preparing quick weeknight meals. The hOmeLabs smokeless indoor electric grill is a convenient smokeless grill that's made to be used right in your kitchen.
At first glance, it may be hard to believe that this tiny appliance can compete with any of the full-sized grills on this list. However, it delivers both power and versatility. With six adjustable heat settings, it can reach up to 450 degrees Fahrenheit, which is perfect for grilling meat.
While the cooking space may not be as large as an outdoor grill has, it has over 200 sq inches of space. This is enough to cook burgers for the whole family or a pair of large steaks. The smaller cooking surface can be removed and cleaned in the dishwasher hassle-free.
This product includes both a grill and griddle plate for versatile cooking. The glass lid not only helps contain grease splatter while grilling, but it also diversifies your cooking. Since it traps heat, it also lets you steam and bake.
Try this electric grill and griddle combo if you want to create professional-quality grilled foods without the hassle of a full-sized barbeque. While it might not reach the same heat as an outdoor grill, you'll be surprised at the range of dishes you can create with it.
Best Tabletop: Hamilton Beach Raclette Electric Indoor Grill
Hamilton Beach 8-Serving Raclette Electric Indoor Grill
This indoor grill and griddle stand out for its eight warming trays, which make it extremely versatile.
Pros: 8 warming trays, variable heat controls, dishwasher-safe design
Cons: Trays take a while to clean individually, less power than an outdoor grill
One of the greatest advantages of indoor electric grills is the ability to cook and serve food at the same table. This opens up whole new kinds of dishes, including Korean BBQ and raclette. The Hamilton Beach Raclette electric indoor grill is made for versatility, with two cooking zones and a bevy of other features.
This appliance is equipped to handle anything you can throw at it, with eight removable warming trays and a dual-zone cooking surface. The cooking surface is split between a flat top griddle and a grill and can be used simultaneously. The warming trays slide beneath and are great for sides or foods that require lower temperatures to cook.
The fact that the trays and cooking surfaces are dishwasher-safe is a helpful feature. Especially because the extensive collection of components would take a long time to clean by hand. Of course, the electronic base can't be put in the dishwasher and should be wiped down with a damp sponge.
The heat can be controlled by a single knob on the front of the grill. This allows for precise temperature control, making it a good choice for everything from beef to shrimp.
Add this indoor electric grill to your wishlist if you're looking to diversify your cooking. The ability to cook a variety of foods right at the dinner table is what makes this product worth the investment. However, if you don't have a dishwasher, cleanup may take some time, so plan accordingly.
Best Compact: tectake Electric BBQ Smokeless Grill is
While electric griddles don't have all the power of outdoor ones, their advantage is that they are much more compact. This makes them easy to store when not in use and easy to bring along when on the road for get-togethers. The tectake electric BBQ smokeless grill is perfect for both these purposes, with a slimmed-down design.
The cooking surface of this grill/griddle combo can be swapped between a flat top griddle and a grill. Each piece is made of ceramic-coated aluminum, which cuts down on weight while also being easy to care for. To switch between each surface, simply slide out the plate and replace it.
The ceramic coating helps improve durability while also adding a nonstick quality. This is especially useful for griddling, making it even easier to flip burgers and pancakes. The durability of this material also means you can use metal utensils without fear.
The grill function is designed for indoor use and is made to cut down on smoke released from cooking. This lets you get some of the flavors of an outdoor grill without setting off your smoke alarm.
Try this grill/griddle combo if you're looking for a low-hassle option that won't take up too much cabinet space. It's also a good choice for anyone who wants to take it camping or to parties. However, for home use, some may find that its simple design is missing some wanted features.
Best Clamshell-Style: Hamilton Beach 4-in-1 Indoor Grill & Griddle
You'd be surprised at the variety of indoor grill designs available today, all made to improve versatility and performance. Clamshell-style grills incorporate all the functionality of a grill and griddle combo, plus the ability to make paninis and other unique dishes. The Hamilton Beach 4-in-1 indoor grill & griddle is a great example that excels in cooking many different foods.
This device includes an indoor griddle, grill, grill/griddle combo, and bacon cooker. Also, because of its clamshell design, it clamps shut to create pressed sandwiches. This second function is also a great way to cook burgers or other meats in half the time.
Both cooking plates are removable for easy cleanup, letting you put them in the dishwasher after use. There are three nonstick plates included, one flat griddle for the top and bottom and a grill plate that can be switched with either. The lower griddle plate contains a grease gutter, which drains excess fat away from your food as it cooks.
Keep in mind, however, that this griddle is only 100 square inches, making it one of the smallest options on this list. However, when you're cooking burgers, pancakes, or other flippable foods, this isn't such a big drawback. The upper cooking surface allows you to cook twice as fast, heating the top and bottom of your food at once.
Add this kitchen gadget to your collection if you're looking for a novel way to boost your versatility in the kitchen. It's a great choice for everything from pressed sandwiches to basic dishes like eggs and pancakes. However, if you don't want anything too complicated, you may be better off choosing a more basic appliance.
Best High Capacity: Camp Chef Flat Top Grill Combo
Camp Chef Flat-Top 4-Burner Grill & Seasoned Griddle
We love the 600-square-inch cooking surface on this grill, making it one of the largest available.
Pros: Very large cooking surface, two ample storage shelves, four independently-controlled burners
Cons: Heavy and bulky, not as powerful as other large-scale grills, cannot grill and griddle at the same time
One of the main reasons grills and griddles have become so popular is because they can turn out delicious food quickly. If you find yourself frequently cooking for a crowd, going for a high-capacity grill and griddle combo is worth considering. The Camp Chef Flat Top Grill Combo is one of the biggest around, with a 600 sq inch cooking surface.
To give you an idea of just how big this 600-square-inch grill really is, it's enough to cook 20 burgers at once without feeling cramped. On top of that, the grill features two folding storage shelves to keep all your other grilling tools on hand. Of course, don't forget that all this comes with some extra weight, and the entire grill is about 140 lbs!
You can switch from grilling to griddling by installing the included flat top cooking surface over your grill. It's made of smooth stainless steel, making it durable and easy to scrape down after use. It also includes a grease management system for easy cleanup.
The grill is powered by four separate heating elements, totaling 12,000 BTU. Each can be precisely controlled by the four knobs on the front.
This grill is a great choice for anyone who loves to host backyard barbecues or has an exceptionally large family. However, if you don't see yourself needing to cook more than a dozen burgers at once, a more modest option may be the better pick.
Best Versatility: Ninja Foodi IG651 Smart XL Pro 7-in-1 Indoor Grill/Griddle
SAVE 26%
Grill and griddle combos are already highly-versatile appliances, but what if they could do more? The Ninja Foodi IG651 Smart XL Pro 7-in-1 Indoor Grill and Griddle takes the standard model and adds boatloads of features. No matter what you want to cook for dinner, this machine can do it all.
The list of this appliance's functions includes grilling, griddling, baking, broiling, air frying, roasting, and dehydrating. This is made possible by its powerful heating element which lets you cook up to 500 degrees Fahrenheit.
All of these functions can be controlled via the simple interface on the front of the cooker. It includes a digital display, eight buttons, and a dial to fine-tune temperature. While it may be a bit complicated for some, kitchen gadget enthusiasts will find plenty to appreciate here.
The large size is perfect when cooking weeknight dinners. It's large enough for four burgers, a pair of steaks, or four pancakes at once. At 27 lbs, it is a bit bulky, but still light enough to pick up and store without extra hassle.
You'll love this appliance if you're the kind of cook who doesn't mind spending a bit more on extra features. However, if you're looking for a more basic grill and griddle combo, this may not be for you. The wide range of features can be overwhelming for those who don't have much experience.
Best Budget: Amazon Basics Pre-Seasoned Cast Iron Reversible Grill/Griddle
Sometimes simplicity is best, especially when you're trying to cook a quality meal on a budget. The truth is, grilling and griddling never have to be expensive, especially when you have a quality, low-cost pan. The Amazon Basics pre-seasoned cast iron reversible grill and griddle offers everything to grill and griddle on your stovetop, at a fraction of the price.
While there are cheaper griddle pans out there, the fact that this one is made entirely of cast iron makes it stand out. This makes it extra durable, meaning it won't warp under high heat or scratch when used with metal utensils. It can even go in the oven, up to 500 degrees Fahrenheit.
If you're worried about all the extra cleaning and maintenance that comes with cast iron, don't be. This pan comes pre-seasoned, which is a feature that's especially helpful for cast iron beginners. The initial coat of seasoning will last for months without needing to be reseasoned, giving you plenty of time to learn the technique.
The pan features a flat top grill on one side and a griddle on the other, letting you switch between the two by simply flipping over the pan. The seasoned cast iron surface ensures that it is fully nonstick.
Give this pan a try if you've been hunting for a low-cost option that's made to last. Even though it can't do everything a high-end grill can, you can still make mouthwatering burgers and steaks with it. Then, once you've honed your grilling and griddling skills on it, you can consider a more high-end option.
Grill and Griddle Combo Buying Guide
Grill and griddle combo cookers come in all shapes and sizes, so knowing where to start can be a challenge. If you need a bit of help picking yours, try considering these criteria first.
Indoor vs Outdoor
The first question to ask is what type of appliance you're looking for. Outdoor combo cookers are large and often heavy, working in much the same way as a backyard barbeque. They're great for searing large amounts of meat at a high temperature.
Indoor combo cookers are usually electric and are small enough to fit inside your kitchen cabinet. They can't cook as much food as an outdoor model, though they are typically big enough for weeknight dinners.
Fuel Type
Outdoor grills use two main types of fuel: gas and charcoal. Gas grills run a little cheaper and are also easier to use for those new to grilling. Charcoal grills might not be as user-friendly, but they add a distinctive flavor to the food that can't be replicated.
Heat Output
Gas or charcoal grills' heat output is usually measured in BTU, or British Thermal Units. Depending on the size of the grill, this can range between 8,000 and 20,000 total. Usually, 12,000 BTU is plenty for most grilling applications.
Electric grills measure their power output in watts, which determines how hot it can get and how quickly it heats up. Look for appliances between 1,000 and 1,500 watts.
Portability
Most outdoor grills are portable in the sense that they don't require a power outlet to function. However, if you're planning on taking one for a camping trip, look for models that are lightweight and compact. Some can even fold up to a small size to fit easily into the back of a car.
FAQs
If you're planning on investing in one of the best grill and griddle combo cookers above, be sure to equip yourself with the knowledge you need to succeed. Below are some of the most frequently asked questions about grills and griddles.
What's the difference between grilling and griddling?
Griddle cooking is done on a large flat-top cooking surface — usually, cast iron or stainless steel. This leaves plenty of room to flip and reposition the meat. While it doesn't give the same charred flavor as grilling, it is one of the most versatile ways of cooking.

Instead of a stainless steel flat top, a grill has a series of metal grates that serve two purposes. First, they allow fat to drip through rather than collect on the cooking surface. Second, they add flavor to meat and vegetables by charring thick sear lines that caramelize the natural sugars in your food.
Is grilling healthy?
Grilling is naturally healthier than most other cooking methods, as grills are designed to allow fat to drip through. This makes for much leaner cooking than griddles or stovetop pans. Of course, many of the foods traditionally cooked on a grill are high in fat themselves, so the resulting meal may still be calorie-dense.
What foods can be cooked on a flat top griddle?
The best thing about griddle cooking is that it's highly versatile. Most foods that can be cooked in a traditional frying pan are also well-suited to griddle cooking.

However, there are certain foods that griddles excel at making. Burgers, steaks, eggs, pancakes, and hash browns are just a few examples.
How do I grill meat?
Cooking a steak on a backyard grill results in a tasty meal and is probably easier than you think. Just follow these simple steps to perfect your grilled meats.

First, pat the meat dry and season with salt and pepper. This helps get a deep char and extra flavor.

Second, throw your steaks on the grill at 450 to 500 degrees Fahrenheit and close the lid. It's important to allow the steaks to cook without touching them, as this creates clean grill marks. After two to three minutes, flip your steaks and cook for another two to three minutes.

Third, allow your meat to rest for five minutes before cutting into it. Then, you can cut down the middle to check for doneness.
What's the proper way to clean an outdoor grill after cooking?
It's important to keep your grill clean after use so that it doesn't contaminate the next food you cook on it. While the grill is still hot, dip a stiff wire brush in water and run it up and down the metal grilles. If there are any heavily-crusted bits of char, you can use a scraper to dislodge them.

Then, after the surface of the grill has cooled, use a damp cloth to wipe any remaining residue off.