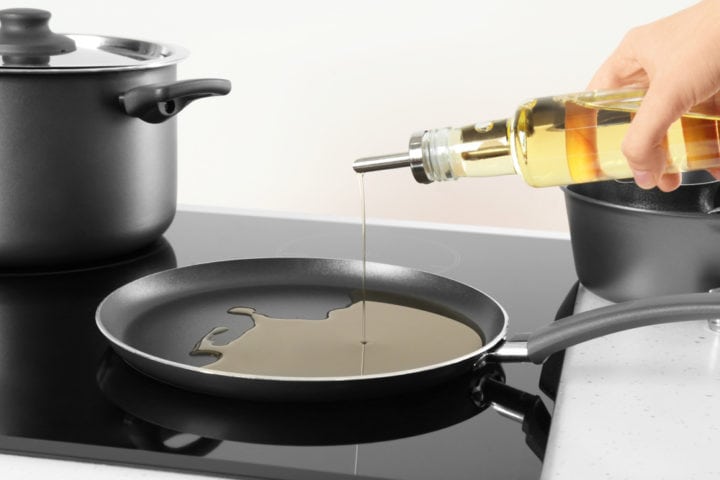 The rising popularity of induction cooktops is fascinating. They waste less energy, meaning you cook your food faster, plus they're also safer. No grease flares mean no risks of your kitchen burning.
But even though induction cooking has been gaining ground, there's still a lot of information gaps to fill. For instance, how would you know which griddle works best? Why can't you use aluminum, copper, or glass cookware, by themselves, on an induction hob? And what do cast iron, carbon steel, and stainless steel have in common that makes them work on induction hobs?
In a word: magnetism. Induction technology uses magnets to heat griddles. This means induction cooktops work with magnetic alloys like cast iron, carbon steel, and the magnetic stainless steel series. This also means it's possible to use a non-magnetic alloy like aluminum as long as it's layered with a magnetic sheet.
From cast iron griddles to stainless steel options, carbon steel pans, and aluminum ones, we've narrowed down what we think are the best griddles for induction cooktops sold today. So, if you're cooking for a crowd or just want something nice to cook pancakes on, then this list is for you.
Table of Contents
Best Cast Iron Griddle for Induction: Lodge Cast Iron Griddle 10.5 Inch
Lodge Cast Iron Griddle
A cast iron griddle with shallow walls for easy flipping of crepes, french toasts, and omelets.
Pros: Available in different shapes, sizes, handle options, and select accessories; made of durable materials; oven-safe; affordable; stovetop compatible
Cons: Regular seasoning is necessary; not dishwasher safe; low and short handle; heavy weight
No surprises here; renowned brand Lodge takes our best cast iron griddle for induction choice. They sell the griddle in small and large sizes, round and oval shapes, and with or without handles. They also sell a fajita set, which includes the griddle, plus a red-stained half-inch routed wooden underliner, and a chili pepper-designed mitt.
The walls of the Lodge's cast iron griddle stand at about half an inch. We found that it does make flipping easier than higher-walled griddles. But at this wall height, we do not recommend using the griddle for burgers, steaks, or chicken. The meat juices that ooze out can splatter off of the griddle plate.
Now, let's talk about the pros and cons of using cast iron. The big advantage of using the alloy is its durability. Expect the griddle to last for generations, assuming it is adequately taken care of. This brings us to its first drawback — the hassles of caring for it. With cast iron, you'll need to regularly condition the griddle, plus it isn't dishwasher safe.
Also, cast iron is a lot heavier than the alternatives available on the market. Not only does it make moving around the kitchen more difficult, but you also risk breaking your induction hob. Needless to say, be mindful when you set it on top of induction cooktops. Incidentally, the Lodge cast iron griddle is also stovetop compatible.
While cast iron's pros outweigh its cons, the Lodge griddle has a very low and short handle — at least, some of its variants have it. What we mean is the handle's position is nearer to the induction than we would like at about 1.5 inches from the surface. The handle is also shorter than optimal, measuring around five inches long. Although we do recommend wearing protective gear anyway, these are improvements we wished Lodge would make on its griddle variants with handles.
But at its price, durability, and versatility, you can't go wrong with Lodge's griddle. If cast iron is your thing and you're looking for an induction-compatible griddle, then this is undoubtedly our top pick.
Best Stainless Steel Griddle for Induction: Cuisinart Double Burner Griddle, 10" x 18", Stainless Steel
Cuisinart Double Burner Griddle
An extremely large stainless steel griddle that weighs as light as a big bottle of ketchup.
Pros: Large double burner nonstick cooking surface; three-ply; dishwasher safe; very light given its size; high walls; tall handles; dishwasher safe; stovetop compatible
Cons: More expensive than other options; too large to fit some dishwashers
As a double burner griddle, Cuisinart's tri-ply stainless steel offering will surely save you time when cooking. Two stainless steel films act as protective layers to the griddle's aluminum core, explaining why it is more expensive than the rest. But at 10 by 18 inches, it is a double burner that uses two induction rings. This may also mean uneven heat distribution if your stove top has no bridge feature. Not really an issue if you segregate your dishes anyway.
There is a layer of nonstick coating on the cooking surface, which keeps food from clinging to the griddle. But as with nonstick coatings, be aware of how metal utensils may scratch the layer of coat.
Regardless, Cuisinart certainly got the handles to their griddle right. There are two very tall handles riveted on opposite ends of the deep walls, so handling the griddle is especially easy — the walls, which are about an inch high, prevent grease from splattering, too. These sturdy handles not only suit the large griddle's design, but also stay cool even when cooking. Although we always recommend using kitchen mitts, the cool-to-touch handles are reassuring.
The Cuisinart griddle is also dishwasher safe. But at its size, it may be too large for most household dishwashers. Still, it's encouraging to know. Cleaning and maintenance aren't as intricate.
With its stovetop compatibility, time-saving potential, and ease of maintenance, we'd be happy to forgive the Cuisinart griddle's relatively high price. That's a minor setback for what we think is the best stainless steel griddle for induction cooktops.
Best Carbon Steel Griddle for Induction: Lodge Carbon Steel Griddle, Pre-Seasoned, 18-inch, Black
SAVE 20%
Lodge Pre-Seasoned Carbon Steel Griddle
This is a sound investment that's sure to be one of your kitchen's permanent fixtures.
Pros: Tall and large handles; heavy weight; thick and sturdy body frame
Cons: Regular seasoning is necessary; not dishwasher safe; expensive
Blending elements of our first two products, this 10-by-18-inch Carbon Steel Griddle is also manufactured by celebrated brand Lodge and is as large as the Cuisinart double burner. It boasts tall and large stainless steel handles, too, much like the Cuisinart.
But as a carbon steel griddle, it isn't as light as the Cuisinart. Specifically, the griddle's body frame is made of 12-gauge carbon steel. With this alloy, though, the griddle heats up faster than our choice for the best cast iron griddle, also by Lodge.
Like cast iron, carbon steel will require some intricate care and conditioning to prevent rust from forming and maintain its nonstick surface. This also means you can't wash the Lodge carbon steel griddle in a dishwasher.
Even so, this is an investment we expect will stay in your kitchen, with adequate care and maintenance, for a very long time. And when you look at it from that perspective, the price you pay sure is worth it.
Best Hard Anodized Aluminum Griddle for Induction: KitchenAid Hard Anodized Induction Nonstick Square Grill Pan/Griddle with Pouring Spouts, 11.25 Inch, Matte Black
KitchenAid Hard Anodized Induction Nonstick Square Grill Pan/Griddle
KitchenAid's hard-anodized aluminum griddle is a winner with its two spout lips, triple-layer nonstick coating, and incredibly portable weight.
Pros: Incredibly light; multiple layers of nonstick coating; dishwasher safe; oven safe; long handle; two spout lips; surface with small ridges
Cons: Relatively expensive
Despite its popularity in the stand mixers market, the is a top-notch offering that belongs on this list. It sports two spout lips, cooking surface ridges, triple layers of nonstick coating, and a long riveted handle for better handling. We particularly like how the spout lips make cleaning tidier, as pouring grease becomes easier and mess-free. Not to mention, the griddle pan is also dishwasher safe.
Furthermore, the hard-anodized griddle pan has three layers of nonstick coating which, needless to say, really are non-stick. However, we still recommend using wooden utensils to avoid scratching the nonstick coating.
The small ridges on its cooking surface are also a plus. These humps serve as mini strainers of fat or grease — a handy feature for cooking burgers, steaks, or chicken.
Its handle measures 7.76 inches, which is sufficiently long for a good grip. Add this to the fact that it only weighs 2.31 pounds, and you've got yourself an incredibly portable griddle. But the handle does get hot quickly, so don't forget to wear some protective gear.
As for how it works with an induction cooktop? Well, this aluminum griddle has a magnetic stainless steel plate fixed to its base. Aside from working on an induction cooktop, the griddle is also oven safe with a maximum tolerable temperature of 500 degrees Fahrenheit.
And although this square griddle costs as much as our best double burners, we're happy to recommend the KitchenAid griddle for the user experience — easy to clean, versatile uses, and next-to-nothing weight given its durability.
Best Die Cast Aluminum Griddle for Induction: MasterPan Non-Stick Grill Pan Wooden, Folding Handles
SAVE 25%
MasterPan Non-Stick Grill Pan
This is the best budget alternative to KitchenAid's aluminum nonstick griddle.
Pros: Cheap; available in two sizes; foldable handle to save space; special nonstick coating; two spout lips; has ridges; light weight; dishwasher safe; oven-safe
Cons: Flimsy handle
If the KitchenAid appeals to you but is out of your budget, then MasterPan's die-cast nonstick griddle is a wonderful alternative. At a price point that is less than half the cost of our hard-anodized alternatives, this griddle definitely raises a compelling argument.
The MasterPan square griddle sells in two sizes: an 8-inch and an 11-inch. Aluminum is incredibly light, and that is fortunate, considering how the long handle feels a bit wobbly. And when we say "a bit," we mean it's really unstable compared to the other griddle handles on this list. That's because the MasterPan comes with a folding handle. All is not lost, however, because this also means the griddle saves on storage space, whether in your kitchen cabinet or a bag ready for transport.
But be careful when you're pouring grease out of the griddle. The hot oil will burn your hands, and we wish MasterPan would add a lock on the handle to keep it from moving.
Very much like the KitchenAid's square griddle, Masterpan's also has two spout lips on its two sides, as well as ridges on its cooking surface. On the other hand, the cooking surface has a Whitford Xylan coating plus two additional layers of non-stick films. These three layers of coating effectively prevent food residue from sticking, so cleaning is a breeze. This griddle is also dishwasher safe, making care and maintenance really hassle-free.
Ultimately, we can forgive the foldable handle and the lower oven temperature it can bear — 350 degrees Fahrenheit. For its low price, you get a lot of the features of the KitchenAid aluminum griddle. That's fantastic value-for-money indeed!
Best Enameled Cast Iron for Induction: Le Creuset Enameled Cast Iron Rectangular Skinny Griddle, 13" x 8.5"
Le Creuset Enameled Cast Iron Griddle
Beautiful and well-crafted medium-sized griddles with enameled finishes in and out. Choose the color you like.
Pros: Sturdy material; no seasoning required; large cooking surface; available in six hues; stovetop compatible
Cons: Extremely expensive; tight and low handles; a bridge burner is necessary; very heavy
Cast iron has a lot going for it. But most people agree the seasoning requirements are a bummer — as an aside, we enjoy the seasoning process. So, if you prefer to spend time cooking rather than seasoning, then the Le Creuset Enameled Cast Iron Griddle might be the best choice for you.
This rectangular griddle is made of cast iron with a black enamel interior finish. This means the standard seasoning process isn't as necessary, unlike a regular cast iron-made pan like the Lodge on this list.
Aside from the slick cooking surface, its exterior also has an enameled finish. In fact, you get to choose from six delightful colors: cerise, deep teal, flame, marseille, ocean, and quince. That said, all this enamel comes at a price, and the Le Creuset griddle is very expensive. Don't say we didn't warn you.
At 13 inches long and 8.5 inches wide, the enameled griddle covers two burners. And without a bridge burner, you're likely going to see some uneven heat surfaces. Also, bear in mind that this is made of cast iron, which means it is heavier than the other induction-compatible griddles on this list. The low and tight handles don't help either. You'll definitely need to use kitchen mitts for this.
But as a Le Creuset offering, you're assured of its quality. This is an overall fantastic griddle that can prove to be a worthwhile investment.
Our Buying Guide on Griddles for Induction Cooktops
The first question you'll have to think about is the base material of your griddle. Do you have a preference for cast iron, stainless steel, carbon steel, or aluminum? If so, then consider screening your options based on your material of choice. There will likely be sizes, shapes, and budgets that suit your needs for every type of alloy.
Other factors you will want to consider are your griddle's walls, handles, and level of flatness. All pretty common considerations when buying griddles. With that said, let's get right into it.
Base Material
Induction compatibility depends on the magnetic properties of the griddle's base. Or, more specifically, an induction hob will not work on non-magnetic materials. Metals with magnetic properties, and therefore metals naturally suited for induction cooktops, include cast iron, carbon steel, and the magnetic stainless steel series.
Each material will have its unique selling points. Weight, durability, rate of heat absorption, heat distribution, and heat retention will be your main considerations. There will be necessary compromises among these options. For example, cast iron's durability also means it's heavier than others.
As for non-metallic materials like aluminum, the workaround is to add a layer or layers of metallic alloy, such as the magnetic stainless steel series.
The Size and Shape of the Griddle
Griddles come in many shapes and sizes, from the traditional round shape to more contemporary shapes of square or rectangle. Griddles also sell at varying diameters and lengths.
The heat distribution for round griddles will likely be better compared to rectangular-shaped griddles. Also worth noting is that the large rectangular-shaped griddles may cover two burners. As such, uneven heat distribution will be more pervasive.
The tradeoff, of course, is that larger griddles will let you cook larger volumes simultaneously, which may lead to significant reductions in cooking time. These time savings are especially meaningful when you're cooking for a crowd. But even just 10 minutes saved of daily breakfast cooking for the family can add up over time.
Base Size and Flatness
While a smaller griddle can actually work on a large induction ring, there are compelling reasons to get a griddle that fits just right. For one, a griddle base that measures exactly as your induction ring will be more energy efficient. Secondly, a smaller griddle pan on a large induction ring requires constantly adjusting the heat setting to avoid burning your food. After all, there's a reason the rings come in different sizes.
The flatness of your base is another consideration. As you might expect, a larger surface area in contact with the induction hob will translate to faster energy transfer. Therefore, a flatter base will likely be better for induction cooking, assuming the same base size.
Handle
Small griddles are usually single-handed; large griddles or double burner griddles have two handles on opposite ends. Some griddles don't have handles at all.
Handles may also come long or short, lean or stout. They may be bare metal or covered in heat-resistant materials like rubber, bakelite, silicone, and wood. Some like the MasterPan offer an entirely different handle that's hard to categorize — the MasterPan's is a folding handle.
Walls
Griddle walls prevent grease from flowing off. These sides typically stand between half an inch to maybe one inch. Having shorter walls will mean it's easier to flip ingredients. But this undermines its ability to keep grease inside. On the flip side — no pun intended — having taller walls will make flipping dishes harder. But they do prevent splattering of hot oil around.
While most griddles have solid sides, a few griddles sport spout lips, intended for pouring grease out with ease.
Cooking Surface
The two basic choices here are "flat" or "with ridges." Griddles with flat cooking surfaces are best for pancakes, crêpes, and eggs. On the other hand, modern-made griddles feature mini humps or ridges on the surface that strain meat juice and grease. These also create the illusion of grill marks.
Budget
And finally, like all buying guides, you will need to consider your budget. There are necessary tradeoffs, for sure. The premium investments might offer a better user experience or may last longer. Meanwhile, value-for-money options give superb bang for the buck.
This list of the best griddles for induction cooktops spans a multitude of options, from the best budget choices to incredible premium buys. What you get will come down to preference. The good news is you can't go wrong with any of our top picks.
FAQs
What is an induction griddle?
An induction griddle is a griddle that's compatible with induction cooktops. Induction cooktops rely on magnets to create heat. This translates to safe and energy-efficient cooking. Since induction cooktops rely on magnets, an induction griddle is an alloy with magnetic properties, naturally or with workarounds.

Inherently magnetic metals include cast iron, carbon steel, and the magnetic stainless steel series. The standard workaround for non-magnetic metals, such as aluminum, is to layer a magnetic metal like the magnetic stainless steel series.
Will cast-iron scratch on an induction cooktop?
Because cast iron cookware typically have bumps, they can scratch induction cooktops. One hack is to place parchment paper in between your cast iron griddle and induction hob. You could also use a thin silicone baking mat.