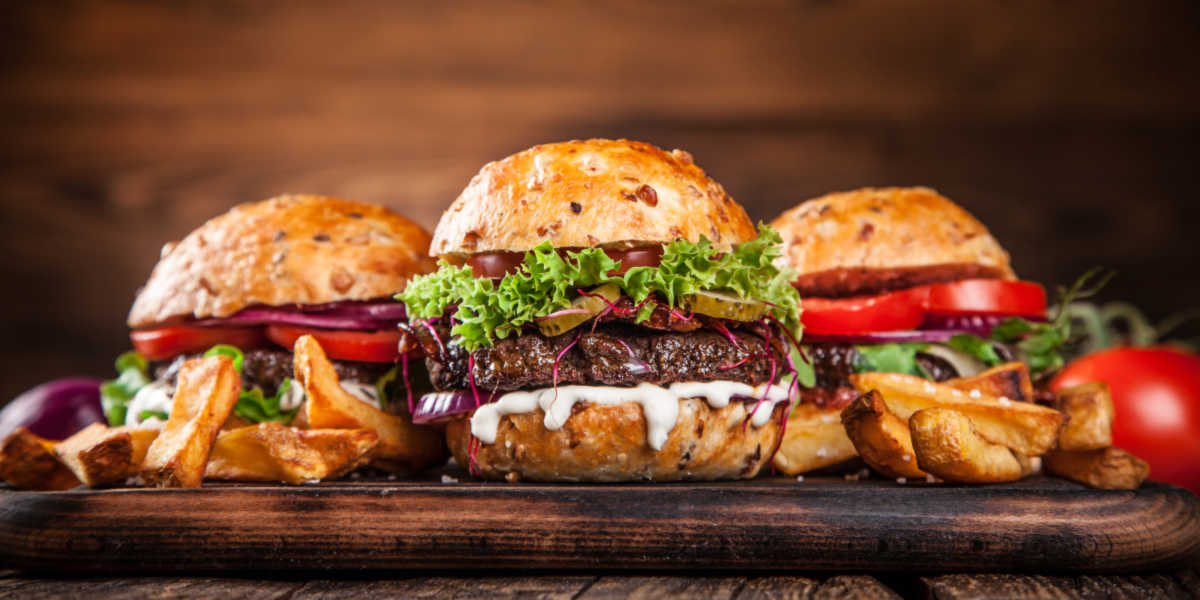 Are you looking for the best frozen hamburger patties currently available? We spent the weekend reviewing 16 different premade burger brands. After an eating marathon, a shortlist was created of the top eight options. We then reached out to our food-obsessed network on Facebook for their favorites as well as researching what people thought online.

Table of Contents
Best Frozen Burgers in 2021
#1 Best Overall Frozen Burger Patties: Ball Park Beef Patty at Amazon.
"100% beef meat with a flame grilled flavor".
#2 The Runner Up: Mount Pleasant Beef Burgers at Amazon
"Quality grass fed meat".
#3 Best frozen vegan burger: Dr Praegers Veggie Burger – at Amazon
"The tastiest burger patty without any meat".
Our favorite 4 frozen hamburger patties
1. Ball Park Patties – Best Overall
Ball Park Beef Patties are made from 100% premium beef and taste juicy and full of flavor. Each bag contains 6 patties that have been pre-cooked using a flame grill method. Once flash frozen, the barbeque flavor is sealed in for maximum taste.
Although grilling is your best option, these patties can also be microwaved. You'll get amazing smoky-tasting meat in minutes! There is no need to worry about raw meat on the inside, being pre-cooked meat.
The Ball Park patty is gluten-free as well as being free from by-products, preservatives, artificial colors, and flavors. It contains an impressive 19g of protein per serve.
Pros
Lovely, flame grilled taste
Pre-cooked for convenience
100% beef patties
An excellent microwave burger
Cons
---
2. Mount Pleasant 100% Grass Fed Beef Burgers – Runner Up
Mount Pleasant Beef Burgers come in a box of 12. If size matters, then you'll love these massive half-pound patties that are very juicy and flavor-packed.
Okay, so this product is shipped throughout America as a fresh, uncooked product. So, not technically frozen. But they had to be included in this review as their meat quality is so high. You can pop them in the freezer once they get to your home.
Mount Pleasant Beef Burgers are made from high-quality grass-fed cows that graze on the Estrella Range in Texas. No GMOs, hormones, grain, soy, or antibiotics are used on these cattle. The result is tender meat that creates the perfect burger!
The meat is made up of 90% meat and 10% fat which is a lower fat content than most competitor brands. For those looking for high protein meals with less fat, this is a better choice than most burgers on the market.
Pros
Thick, half-pound patties
Excellent quality meat
Preservative-free
Cons
They're big, so not ideal for kids that aren't big eaters.
Not pre-cooked
---
3. Dr Praegers Jumbo Veggie Burger – Best frozen vegan burger
With veganism trending upwards, it is important to include a vegan patty that most people on a plant-based diet can enjoy. The Dr Praegers Veggie Burger offers a huge 5.5-ounce burger, enough to satisfy any hunger craving.
Made from kale, carrots, onion, spinach, zucchini and a range of other vegetables, these patties are full of flavor and all-natural. They're also a good source of fiber and free from preservatives and trans fat.
Flexitarians who are happy eating meat protein may find these burgers enjoyable for the occasional meat-free Monday dinner.
This burger offers 5g of protein. While less than others on this list, it is still a useful serve of protein. They also only contain 130 calories and are gluten-free. Combining these patties with a toasted bun will provide a healthy, delicious dinner.
Pros
Gluten free and plant-based
Verified Non-GMO
Free from fillers, MSG, preservatives
Cons
The flavor won't suit everyone's palate
---
4. Bubba Beef Chuck Patties
A box of BUBBA Beef Chuck Patties will get you two juicy, fresh-tasting ⅓-pound patties. Made from 100% USDA Certified Angus beef, this product offers exceptional value for money. There are no unwanted fillers in this product, just quality ground beef.
The Bubba patty stands out from the competition having excellent texture. It always looks like the patties have been hand-formed – they look and taste like they're homemade.
Flash-freeze technology locks in the flavors during processing. It's like eating the fresh version, only there's a lot less preparation work.
The company behind the Bubba Burger doesn't just produce delicious meat patties. They have policies in place that minimize waste reduction and conserve energy.
Pros
Excellent taste and a good size
Great value for money
USDA approved, 100% Angus beef
Filler free
Cons
They're big, so not ideal for kids that aren't big eaters.
Our criteria for testing the patties
Taste and texture
We placed the most weight on the flavor of each burger patty. Why have a nutritious patty if it tastes awful? A rustic patty with chunks of distinguishable meat scored well.
Type of meat used
The wellbeing of a cow during its life plays an important role in the quality of beef burgers. A stressed cow provides tougher meat. We looked for brands that offer meat made from free-roaming, grass-fed cows. We also looked for hormone-free, GMO-free ground beef.
Appearance
A burger patty needs to look mouth-watering sandwiched between the buns. Size, juiciness, color, and texture are all important criteria when choosing the leading meat patty.
Price
As with any product comparison, price is always a consideration. If two brands were similar in quality, then price was the deciding factor.
Nutrition
For some people, nutrition is a big factor in the buying decision. Frozen meat retains its high levels of protein, making it an excellent post-workout meal. However, some brands of frozen meat patties contained high levels of sodium and had lots of added binders and additives. The brands on this page scored higher on this attribute than many other products we looked at.
5 benefits of buying frozen burger patties
Food safety
Bacteria, like E. Coli, thrive in fresh meat left out of the fridge. Although there are precautions the home cook can take to reduce getting sick, frozen food is relatively safe. Transferring food from the freezer directly to the grill is a safe way to cook frozen burgers.
Convenience
Cooking with ready-made burgers is as easy as opening a box. No mess, no hassle, and less washing up. If you're time-poor, then you'll appreciate this time-saving.
Flexibility
Is your household prone to extra friends or family showing up for dinner? It's handy to have a box of patties ready to go for this situation.
Less food waste
Food waste is a big problem on this planet and even the smallest reductions can help. When you make a batch of fresh patties it's hard to get the quantity spot on. Using frozen hamburger patties is an exact science; simply count, cook and serve.
Great taste
If you're new to cooking then over-seasoning is possible. Choosing frozen patties means all you need to worry about is getting the right combination of fillings.
How to make the perfect burger
Once you've chosen the perfect patty and cooked it, you'll need to add the extra fillings. Check out the infographic below which shows how to make a delicious burger. If you prefer to make your own meat patty too, check out this burger recipe.
FAQs
Can I grill frozen burgers?
Frozen burgers can be grilled, baked, or microwaved directly from the packet without defrosting. Because the internal meat is frozen, it is important to check that the patties are cooked through before serving.
Is it OK to eat pink hamburger meat?
Eating beef patties with a little pink inside is considered safe, so long as the internal temperature of the meat has reached 160°F (71°C).
How long is frozen beef good for?
The shelf life of frozen beef patties will vary depending on the ingredients. Refer to the "best by" dates to determine the shelf life of your meat.
How do I keep burgers from shrinking?
The most common reason that burgers shrink is cooking at a temperature that's too high for the meat. To reduce shrinkage, cook the burgers at a lower temperature for longer. Choosing a patty with a meat-to-fat ratio of 80/20 will provide a good tradeoff between taste and shrinkage reduction.
Final Words
We researched and taste-tested the best frozen burger patties on the market so that you know what's good and what's not. Although there were some unpleasant-tasting products, the majority made excellent eating. All the options in this review are worthy contenders, but we'd recommend Ball Park Beef Patties based on flavor, meat quality, and price. For a vegan option try the Dr Praegers Veggie Burger. It may not sound appealing to the average meat-eater, but you may be pleasantly surprised.
Another product we didn't get the opportunity to taste test was Greensbury Organic Grass Fed Beef Burgers. There is excellent online feedback about this brand so they are also worth a try.