In the who's who community of water filtration, faucet filters seem to be shunted to the side. After all, what could be better than shelling out several thousands of dollars to buy a filtration and softening system, ensuring that even your toilet water is soft and sediment-free? So let's give the hype back to this nifty compromise between expense and safety. If you understand the need to filter your water but can't afford a big purchase, then a faucet filter is the ideal solution.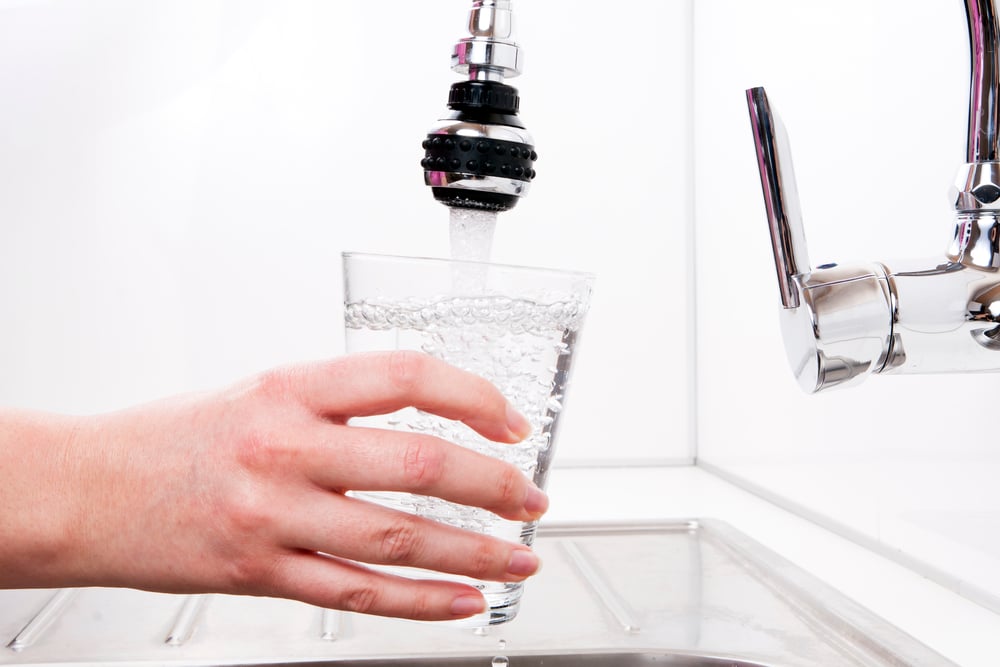 Unfortunately, the inevitable danger of trying to save money by buying a cheaper product is...well, getting a cheaper product. The world is not lacking for disreputable companies that flood the market with cheap goods that are so poorly made as to be utterly useless; that is, if they arrive at all.
So here we are. In this report, we'll discuss the details to pay attention to, the criteria to look for when buying a faucet water filter, as well as the top 5 best faucet water filters available today.
Carry on reading or jump straight to our number #1 pick below.
Table of Contents
Is a Faucet Water Filter Right for You?
What you have to remember about faucet water filters is that they are a superficial fix to a very large issue. The faucet filters below are the best of the best, but a faucet filter, no matter how high performing, is just not physically equipped to function at the standard of a larger machine, like a whole house filtration system or even an under the counter setup.
If you live outside city limits, where your water is hard in minerals and untreated for bacteria, a faucet filter will not protect your plumbing from scalage or remove odor from your living space. It will also need very frequent filter changes, which on average are equal in cost to the initial expenditure of the whole faucet filter setup.
What faucet mount filters do provide is a temporary fix for a systemic issue, and at a vestigial price. While a whole house filter system ranges in the $$$, the faucet filter is always affordable, saving you A LOT of money in the short term. Long term, however, the faucet mount filter will be a constant monetary expense - kind of like making money installments every two months to change the filter - and additional investments to replace the whole tap water filter when it begins to leak.
While it would be reasonable to expect any other sort of filter system to last 10+ years, the faucet filter (much like fridge filters) ideally lasts two years before beginning to break down. That being said, if you're looking for short-term economy and can't afford a bigger, more expensive machine, the faucet filter is perfect for you.
What Should I Look For When Buying the Best Faucet Water Filter?
Your faucet water filter will be constantly visible - front and center for every party and family gathering, so the choice is not one you can make and then shove into a drawer and forget about like last year's bell-bottoms. Not only will your tap faucet water filter hang right before your eyes whenever you use your kitchen faucet, but your health and your family's health are directly linked to your water filter, so educating yourself on the commonly considered criteria is a necessary evil to make a wise purchase. When you buy your faucet mount water filter, your yardsticks for determining worth are cost, features, warranties, certification, appearance, and ratings.
#1. Cost: Really the main thing stopping us from eating out every night (aside from Corona), cost always plays a major role in determining what we can and can't do, or in this case, what we can and can't buy. Luckily with this product, the price differences are not extreme and the product is affordable. Nevertheless, the cost can never be ignored and always factors into the decision making process.
#2. Features: Each filter is different, and while one might filter out pesticides, a different brand might be designed only to remove sediment from your water. Filters vary on function and installation, as well as how much maintenance they require or how frequently, so the decision process factors all these pieces into the final choice.
#3. Warranties: As with any product, the warranty is your insurance policy. You pay and are assured that the product will work for a set period. If it fails to do so, your warranty swoops in to save the day, assuring that you get your money's worth and that the company provides replacements or repairs. The warranty policy is an important caveat and will be discussed in each product rundown.
#4. Certification: Sanitation is a national standard, and there are entire organizations meant to ensure that filters and other sanitation practices meet the national code of health. If a filter has a certification, it is worth noting for the confidence it provides.
#5. Appearance: Technically the least objective of all these criteria and the least important, appearance is still a consideration for the thoughtful homemaker. Faucet water filters do not get put away after use. They are constantly seen and used in your kitchen or bathroom, so considering how they blend in with the rest of the decor is a wise choice, if only to give you the space to decide that the aesthetic doesn't matter to you.
#6. Ratings: Our most honest record of the user experience, ratings are our unbiased informants on how well the product performed and the general user experience. With no personal motivation against or for the company, the ratings and comments tell us what it was like for the consumer. Whenever I research a product, I make sure to read the comments religiously, so I'll be sharing plenty of those gospel truths in this article.
Here's How I've Determined the Best Faucet Water Filters
I researched faucet water filters until I had a list of about 20 faucet filters, and then I read through the details about them, eliminating one by one until I had narrowed it down to the top 5 best faucet water filters on the market. I created a graph and compared the qualities of all the best products, using the criteria listed above - price, appearance, and ratings. Finally, I considered the top five and organized them based on how they scored in the more important categories like function, with appearance being one of the less important grades.
The top five items listed below are arranged not from best to worst but instead distinguished to fill a specific consumer need. While some might just need a simple sediment filter, others whose water source is well water require more advanced filter functions.
The Waterdrop Faucet Water Filter is a white, one pound, plastic filter and is by far the best value for the most affordable price of the top five candidates. With a simple but classy exterior, the Waterdrop is a relatively unobtrusive addition to your kitchen and has a convenient switch to shift smoothly from filtered to unfiltered water. When using water in your cooking, you have access to filtered, and when washing your dishes, a simple switch allows you to switch, minimizing the unnecessary use of your filter.
Designed to remove sediment, chlorine, fluoride, and lead, etc., the Waterdrop contains within its small frame a pre-filter, which is responsible for eliminating rust, sand, dirt, and other small particulates. After the pre-filter, the activated-carbon fiber does its work, neutralizing and removing the chlorine, fluoride, and other chemicals up to 94.5%, as well as removing odor and improving the taste of your faucet water. The subsequent post-filtration and steel-mesh filtration layers filter out increasingly smaller particulates that made it through the prior filters, leaving you with clean, great-tasting water flowing from your tap.
Not to be outdone by other faucet filters, the Waterdrop filters out up to 320 gallons of clear water before requiring a filter change, far outstripping its competitors. This faucet water filter system is NSF certified, meaning that it has been tested for performance and precision and has a 30-day return guarantee.
While your household's water usage directly affects when you need a filter change, the standard time is anywhere between four to six months. Not only is the Waterdrop filter system incredibly affordable, but replacements for the filter cartridge are also available in packs for equally affordable pricing, making this purchase a smart buy.
Like all faucet filters, the Waterdrop is only compatible with the standard sink faucet head and cannot be joined to pullout or spray faucet heads. It is always important to check compatibility before purchase.
Of all the contenders, the Waterdrop received the best reviews - essentially no recorded downsides and only happy exclamations of contentment. With a high rating, some reviews even went so far as to list previous experience with the Pur and the Brita tap water filters and say that the Waterdrop outperformed these models in both function and design. With the only complaint being that it took slightly more than five minutes to install, the Waterdrop Faucet Filter is a great, affordable purchase that may be the perfect buy for you.
---
The Engdenton is distinguished as the most durable of all the faucet filters available today mainly because of its stainless steel exterior shell. While most faucet water filters are built from plastic, making them cheap but shortening their life expectancy, the Engdenton Faucet Filter's stainless steel design makes it the only faucet filter intended to last. Understandably, the superior materials make the price-hike a significant one, essentially doubling the price of the Waterdrop. While still very affordable, this is still significant when calculating cost vs value.
However, while the other models on this list are expected to last between 1-2 years, the Engdenton is expected to far exceed that, so its price must be considered in the context of a longer time frame.
The Engdenton requires a filter change after processing 200 gallons of water. Its filter replacement packets are significantly cheaper than the Waterdrop's - another way that this filter justifies its initial cost over time. Another reason the Engdenton is the best in the market is that while all the other models have registered at least one complaint of leakage over time, the Waterdrop's stainless steel frame keeps it seamless and leak-free, providing you with a long-lasting drinking water filter.
While the Waterdrop removes up to 94.5% of chlorine, the Engdenton removes 97%, improving the clarity and odor of your water. Its main functions are to remove chlorine as well as sediment such as sand, rust, and dirt. While this filter system is highly effective, for those seeking to eliminate completely dissolved solids, this is not the filter for you. I would best recommend this filter for city areas, where the main concerns are chlorine and sediment. For well-water homeowners, this is not the machine that best addresses your needs.
The look of this faucet is modern, fitting in with a minimalist atmosphere or adding a polished twist to a more rustic kitchen layout. An added perk is that the nozzle of the filter is adjustable, allowing you to alter the angle of flow at any given moment, whether that's for filling a pot or for a more convenient angle when filling a glass of water.
Similarly to the Waterdrop, this model received stellar reviews, with the exception of a few disappointed consumers who were unaware that this filter was not designed to eliminate dissolved solids. Another point to be aware of is that, while the warranty for this model is also 1 year, one consumer commented that the company did not honor the warranty. A mark against the company for sure, however on the whole, customers agreed that this model far outstripped the others in durability and real functionality.
Like the Waterdrop, the Engdenton Faucet Water Filter is designed for a standard faucet head and cannot be used with any other type of model. If you have a standard faucet head and need a faucet filter that is both durable, effective, and cool, this is the perfect water filter system for you and your kitchen sink.
---
Of all the filters rated on this list, the Culligan is the smallest and is uniquely designed. While neither its plastic makeup nor its white color make it particularly special, the Culligan is created for function and does not take up any more space than is strictly necessary. It unites minimalism with an intelligent design. Whereas all the other faucet water filter systems have a switch to shift between filtered and unfiltered water, the Culligan has a pin, which can be pulled out to get filtered water. When the water is turned off, it returns automatically to its unfiltered setting, minimizing unnecessary/wasteful uses of your filtered water.
Certified by the IAPMO, the Culligan works with carbon filters, expert at removing water contaminants like sediment, lead, lindane, and atrazine, in addition to eliminating chlorine and improving the clarity of your water. The Culligan has an average filter lifespan of approximately 2-3 months depending on your water usage. Equipped to filter 200 gallons before requiring a filter change, filter cartridge replacements are readily available.
Priced on the lower end of the price range represented by these top 5 best tap faucet water filters, this filter has one of the best company policies of all the models, ensuring high performance for you and your family for two years, not just one. Additionally, Culligan's record when it comes to longevity competes only with the Engdenton. While not coming close to the stainless steel design of that filter, the Culligan has no registered complaints of leakage common to faucet water filter reviews.
As with all faucet filters, the Culligan is only compatible with standard faucet sizes and shapes, not the newer more specialized designs. The Culligan received enthusiastic reviews, with one woman commenting that she has happily used hers for four consecutive years with no complaints. If you're looking for a filter that will last longer but is cheaper than the Engdenton and is equipped to eliminate dissolved solids, the Culligan is right for you.
---
If a faucet could ever look like the space robot Wall-e from that movie about how mankind turned into flabby humanoids with no work ethic, the Brita Faucet Filter system would be it. A white, plastic design with a filter change sensor and an LED indicator, lighting up to tell you when it's due for a new filter cartridge, the Brita has a uniquely designed switch that gives it a new-age vibe, as it slides from right to left instead of from up to down. This allows for more comfort when switching between filtered and unfiltered water, reviewers said.
Another unique aspect of the Brita Faucet Filter is its ability to provide filtered water in both stream and spray, allowing more versatility in the kitchen for both washing vegetables and drinking a glass of water.
Only slightly more expensive than the Waterdrop, the Brita works to removes 99% of lead, as well as asbestos, copper, chlorine, sediments, and other small contaminants during the filtration process. Like the other filter systems on this list, it is only suited to a standard faucet head.
This filter is equipped to filter up to 100 gallons before it requires a filter change. Replacements come in packs of two for relatively low incremental expenditures. This, more than anything else, makes Brita tap mount filters suitable for single-person to small families, as the lower the water usage, the longer the life of the Brita filter, before it needs a filter cartridge change.
The Brita has a one-year warranty and was rated high in user satisfaction as well as in effectively providing clean and clear water. Its few critics had mainly this to say about the Brita—that it leaked after a couple of months. Considering that the filter longevity is roughly two months anyway, and that the cost of the whole system is so low, this is still a money saver for someone tired of using a copious number of plastic water bottles and wasting money as well as resources.
Many had nothing but good things to say about the Brita, and some customers who had previous experience with the Pur said that the Brita was so much better than they expected, as their expectations had been lowered through previous bad experiences with other brands. If you're solo or a small family that wants the maximum versatility possible provided by a faucet filter, the Brita is the right choice for you.
The Pur is by far the most varied in terms of appearance and cost of all the filter options mentioned above. Coming in black, chrome, metallic grey, sea glass, stainless steel, and white, and with a switch on the side to shift between filtered and unfiltered water, the Pur is designed to meld perfectly with any kitchen, with its modern design and fun color palette, sure to satisfy any customer.
Not compatible with pull out or handheld faucets, the Pur Faucet Water Filter is easy to install and ranges in price from extremely low to on par with the Engdenton, depending on which color the water filtration system is purchased in.
The Pur faucet is designed with an interior mineral core that is surrounded on all sides by carbon layering to maximize exposure and filtration. The activated carbons reduce the heavy metals in your water, like mercury and lead, as well as pesticides, and the mineral core eliminates chlorine and odor, providing you with clean, clear bottled water straight from your tap.
The Pur Faucet Water Filter is NSF certified, and filter cartridges are available in large filter replacement packs, making filter changes cheap and affordable. The Pur needs a filter change after every 100 gallons of filtered water. To put that in perspective for you, you're eliminating the use of 800 16-ounce water bottles by using this tap filter, per filter change.
While satisfaction for this product was high, a few customers voiced displeasure that returning shipping fees were not covered by the company and shock that their plastic water filter did not last longer before springing a leak. However, they said that the taste of their water exceeded even the Brita in terms of quality, and most were generally satisfied with the performance of the system.
Overall, the Pur is a short term solution to water filtration issues. An aesthetically adaptable product that suits any kitchen space, if you require filtration and have carefully constructed your home, look no farther then the Pur Faucet Water Filter.
---
How Do You Install a Faucet Water Filter?
Installing a faucet water filter is very simple, and there is definitely no need to call in a plumber. Most faucet filters come with specific measurements and directions, that usually run as follows.
If there is a specialized faucet head remove it. Then, based on if your sink faucet has internal or external gripping, you'll be provided with a twist to create the grip necessary for the filter, and then you attach the filter. That's it!
How Do You Replace the Filters?
Replacing your water filter cartridge is also very easy. First, for the cartridges themselves, many can be bought online through Amazon in packs, making them cheap and affordable. Some brands sell their own filter cartridge, and others are compatible with a generic cartridge, so check ahead of time before you shop.
When you're ready to replace, check with your specific brand to see if your faucet filter is a twist-off or some other replacement design. Some faucet filters are a straightforward, easy twist-off, where you replace the main body of the faucet filter every time.
Others are more complex, requiring you to remove and replace the cartridge before reinstalling. Whatever the situation, pay attention to how long your faucet filter is meant to last and make sure you have extra cartridges on hand.
Can My Faucet Filter Soften Hard Water?
To explain why not, you first must understand what hard water is and what the water softening process entails.
Hard water is water that is minerally dense, and so leaves rings of discoloration or even build up in your toilets, showers, and on the faucets. These minerals also build up in your pipes forming scalage, which damages them and causes quicker deterioration.
Additionally, hard water has adverse effects on all your water-based appliances, like a washing machine or coffee maker, causing the hardware to wear down faster, and thus you need to make more frequent repairs or replacements.
These are the main hard water issues, although a smaller and less frightening (although still upsetting) one is that soap doesn't lather, making it more difficult to clean dishes, and even after a full cycle they still emerge streaked with grime.
Water softening is a large (if not complicated) process whereby your minerals like potassium and magnesium are switched out for sodium ions. This is at the very least a two-tank system for the actual softening process and the storage of the brine solution which recharges the resin beads to be ready for future softening.
All these mechanics make it impossible for a faucet filter to soften water, as it just doesn't have the simple size capacity necessary to complete the task. However, that's not to say that a faucet water filter won't be effective in treating your water of some of its harsh quality.
Common complaints about hard water are that it causes itchiness and is generally hard on the skin. While a water softener does not remove the hard minerals, it does treat your water for all the harsh chemicals which contribute to these skin problems, thus significantly improving the quality of your water and the feeling of it on your skin.
Is Chlorine Really a Health Risk?
Obviously, chlorine in large doses can be deadly. There is virtually no situation where being overexposed to any chemical is positive. Specifically, chlorine can cause itchy skin, eye irritation, and scratchy throat, all common symptoms of being in a pool for a long time.
However, this is not a symptom that you get after drinking from the tap, because the concentration of chlorine is just so much smaller. Chlorine in undiluted doses can be fatal, but those are side effects that are not applicable to tap water - kind of like comparing an orange to an orange tree.
The Water Quality and Health Council actually requires a detectable level of chlorine in tap water, as it kills microorganisms and preserves it from other contaminants. If your water is not treated with chlorine, it is actually more dangerous than with the presence of chlorine, as not adding chlorine to the water supply would allow all sorts of bacteria to multiply, ultimately making it unsafe to drink.
However, the obvious ideal is to have neither the bacteria nor the chlorine, as one causes illness and the other gives a bitter taste to the water, which is why at-home systems of water filtration are so popular.
Ultimately, while straight exposure to chlorine can be fatal, the concentration of chlorine in your water is nowhere near sufficient to cause real health risks, so removing the chlorine from your tap water is more for aestheticism than for safety. Real contaminants do exist in water that is not compromised by chlorine, so while testing your water at home is a responsible decision, but there is no need to fear chlorine side effects.
Verdict:

The Best Faucet Water Filter for You

If all around general excellence is what you seek, the Waterdrop provides the most function for the best value.

If you're looking for the most long-lived faucet filter, the Engdenton is the right one for you.

Finally, if you're looking for a high performing and aesthetically cool faucet filter to add a dash of spunk to your kitchen, the Pur is the answer.

I hope this article has brought you clarity. In your purchase as in life, good luck and a good day!