We went in search of the best electric potato peeler on the market. Because peeling potatoes sucks.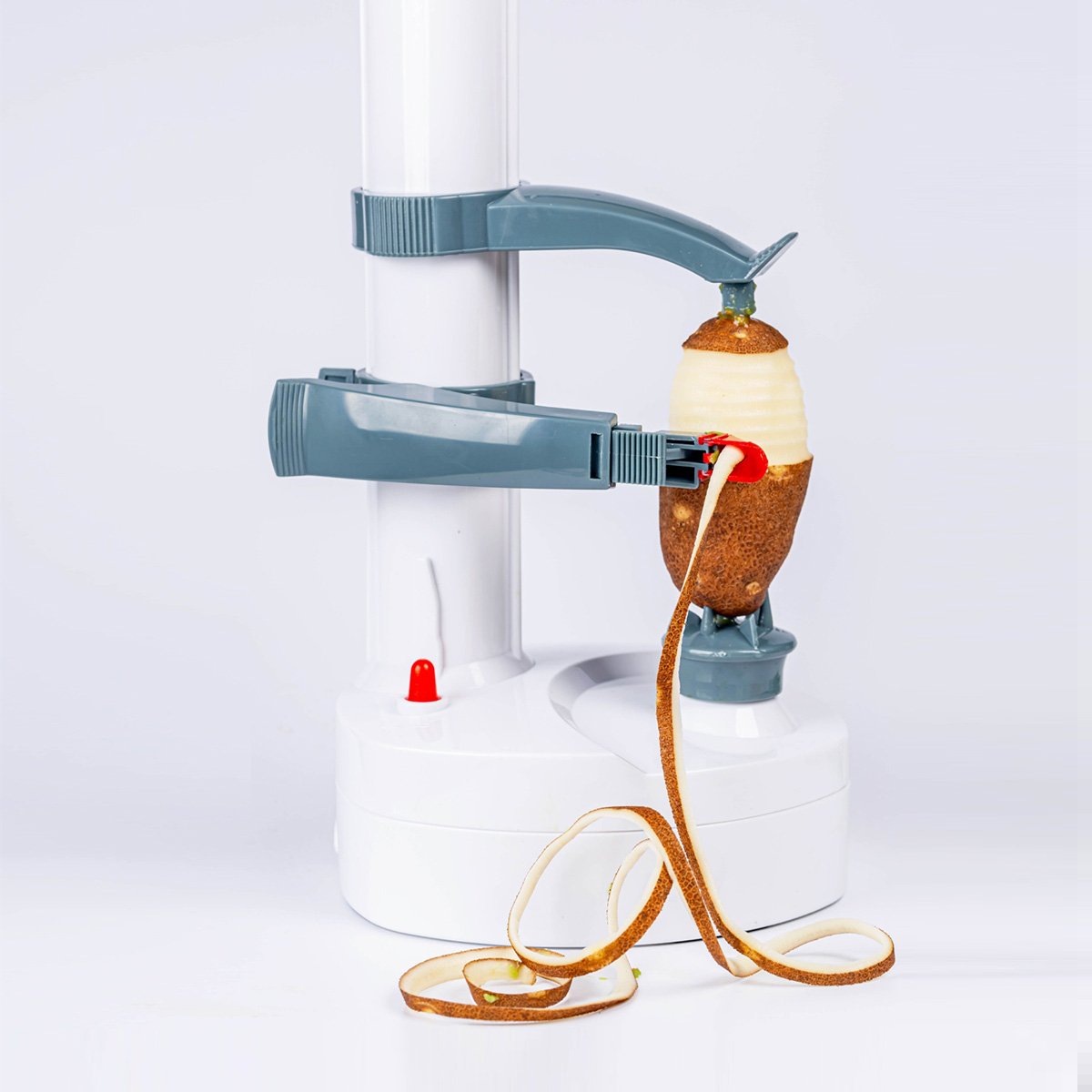 For generations, we've clung to that same old hand-held peeler, grudgingly removing the unwanted skin from potatoes and other vegetables. That ends today. We have researched the ten best automatic potato peelers that will make your life a lot easier.
A potato peeling machine can come in all shapes and sizes, but they all share one feature - peeling potatoes fast and with precision. Let's jump in and look at the top electric peelers, their features, and what makes them stand out from the other brands.
Table of Contents
The Best Electric Potato Peeler - 10 Brands Compared
1. Starfrit 93209 Rotato Express
SAVE 20%
Starfrit Rotato Express, Electric Peeler
Weight: 1.9 pounds
Dimensions: 6.3 x 6.5 x 11 inches
Plop on a potato, peel it and pare it in 10 seconds flat!
Non-slip base
Comes with 2 spare blades stored underneath the unit
Comes with a thumb knife to pare potatoes
Includes a 6 V adaptor
The Starfrit 93209 Rotato Express is a popular potato skinner. It was introduced in response to a swag of different poor-performing auto potato peelers. Unlike its predecessors, the Starfrit cleanly peels the potato without all the leftover bits.
Also included in the box is a tool to remove the eyes and other unwanted bits that the peeler would have trouble removing.
You don't need to limit yourself to potatoes though. This appliance will make quick work of apples, carrots, eggplants, and cucumbers. Even delicate fruit like kiwifruit and pears are easy work for the Starfrit.
The Rotary Express is an easy-to-use tool. Simply place the vegetable on the bottom holder then position the top holder into place. Finally, sit back and wait for roughly 10 seconds until it's finished.
Although this appliance is electric, you could easily take it on your next holiday to the beach or camping, thanks to a handy battery-powered option.
Quick video of the Starfrit in action
Pros
Leading brand on the market
Quick and easy to operate
Peel a wide range of fruit and vegetables
Includes extra cutting blades
Nonslip base
Cons
Struggles with tougher skins like yams
Constructed from plastic
2. Lohome Electric Potato Peeler
The Lohome Electric Potato Peeler looks and works a lot like the Starfrit brand. A potato is positioned between a lower and upper holder, and the potato is then rotated, allowing the peeler to do its work.
An adjustable arm adapts to different thicknesses. This makes it easy to skin different shaped fruit and vegetables.
Pros
A popular leading brand in this category
Includes 2 extra blades and thumb knife
Non-slip base
Cons
Struggles with tougher skins like yams
Constructed from plastic, potential breakage over longer term
Repeated cleaning required to keep the tool functioning
3. KitchenAid KSM2APC Spiralizer Attachment
SAVE 34%
KitchenAid Spiralizer Plus Attachment with Peel, Core and Slice Functions
Weight: 2.4 pounds
Dimensions: 12.4 x 5.8 x 2.9 inches
3 Spiraling Blades - Medium, Fine, and Extra Fine
3 Slicing Blades - Slicing (Large Core), Slicing (Small Core), and Thin Slice (Small Core)
1 Peeling Blade
All blades are dishwasher-safe on the top rack. The body can be wiped clean with a warm damp cloth.
The KitchenAid KSM2APC varies from the other options on this list as it isn't a stand-alone product. You'll need a Kitchenaid to use this attachment. Even the old Kitchenaid mixers made back in the 1940s are compatible with this add-on.
The KitchenAid brand is well-respected and is known for producing high quality, built for purpose appliances. An excellent feature of this peeler attachment is that it is made of stainless steel. A solid piece of equipment that's more robust than most of its opposition on this list.
Although potato peeling is made simple by using this tool, you'll find it can perform other tricks that are sure to impress. There are spiraling blades that can spiralize fruit and vegetables. Choose between medium, fine, and extra-fine blades. This feature is perfect for making impressive-looking salads. It's an easy way to get the kids to have fun and eat their greens with less fuss (for one of two meals anyway!).
Pros
High quality build from a trusted company
The attachment fits all KitchenAid mixers
Dishwasher safe
Multi-purpose usage - peel, core and slice
Cons
Big and heavy, not ideal for apartments
Struggles with awkward vegetables like beets and turnips
The vegetable holder is made of plastic and is a little flimsy
4. Weimei Multifunctional Electric Automatic Peeler
The Weimei Multifunctional Peeler is an automatic potato peeler that can also skin apples, lemons, pears, cucumbers, and more. Simply position your vegetable of choice on the holder, press the start button, and sit back and watch.
Pros
Economical model
Battery powered option
Cons
Struggles with tougher skins like squash or sweet potatoes
Lesser known brand
Constructed from plastic
5. Dash Go Rapid Peeler
The Dash Go Rapid Peeler is a good option if you're on a budget and looking for something basic. It will get the job done if you're looking for occasional use and aren't cooking for large numbers.
This unit is smaller and lighter than the others on this list which is a positive if you're short on bench or cupboard space. The trade-off is that you won't be able to use larger vegetables with this peeler as they won't fit.
The Dash Go Rapid includes replacement blades, housed in the bottom of the unit as well as a paring knife to remove those pesky potato eyes and blemishes.
Pros
Affordable unit
Includes replacement cutters and paring blade
AC or battery-powered option
Includes recipe book and recipe database
Cons
Difficult to adjust arms
Blade clogs easily
Lesser known brand
Constructed from plastic
6.WMT Multifunction Peeler
The WMT Multifunction Peeler is another product on this list that's relatively small, making it ideal for those lacking space in the kitchen. Its size means you won't be able to peel anything longer than six inches; so, if you enjoy cooking large sweet potatoes, they won't fit.
Like most of the other units, it can peel potatoes as well as other vegetables and fruit. It takes 15-20 seconds to peel an average potato, which is slower than the leading brands but faster than manually peeling them.
We found that this peeler struggled to get within an inch of the vegetable's top and bottom. This means you'll need a knife or hand peeler ready to touch up the ends. Although this isn't ideal, the whole peeling process was quicker and easier than doing it all by hand.
The unit includes extra blades which are stored underneath in a small compartment.
Pros
Economical unit
Includes replacement cutters
AC or battery powered option
Cons
Not suitable for vegetables over 6 inches in height
Lesser known brand
Constructed from plastic
7. Maison Huis Multifunctional Potato Peeler
The MAISON HUIS Multifunctional Automatic Electric Peeler is a relatively new model to hit the market. It is an affordable option that is easy to use and comes with two replaceable blades.
This tool will appeal (excuse the pun) to those who have very small kitchens and don't want to add another appliance to their already cramped space.
Cleaning up is simple as the blade easily detaches from the rest of the unit. Perfect for those busy mid-week nights when you're short on time.
The peeler doesn't have a power adaptor but runs on 4x AA batteries which still offers plenty of power to peel the most stubborn skins.
Pros
Affordable
Small, easy to store
Less breakable as there are fewer moving parts
Ergonomic handle
Includes 3 stainless steel blades
Uses long-lasting USB rechargeable battery
Cons
No mains power, batteries only
Peeler only, no spiralizer
Constructed from plastic
8. TX Heavy Duty Stainless Commercial Potato Peeling Machine
The TX Heavy Duty Potato Peeling Machine is a large commercial product, so if you need to peel a lot of potatoes frequently, then this is a brilliant option.
You can peel over 33 pounds of potatoes in around 120 seconds without raising a sweat. That's a lot of sweet potato pie!
Take note of the size of this machine and measure out your bench space before buying one. It is only suitable for those with an expansive kitchen or a separate area near your cooking space.
Pros
Quality built, stainless steel model
Commercial product for large quantities of potatoes
Wash and peel over 33 pounds of potato in under 2 minutes
Cons
Expensive relative to others on this list, but excellent value for money
Large unit, best suited for restaurants or homes with plenty of space
9. Luckstar Electric Peeler
The Luckstar Electric Peeler is another automatic peeler similar to the Starfrit and Lohome models. With minimal fuss, you can peel potatoes, apples, zucchinis, eggplants, and more.
The Luckstar is a good option for those on a budget. It does a reasonable job of peeling but is too small to deal with vegetables larger than six inches.
Pros
Includes replacement cutters and thumb knife
AC or battery powered option
Cons
Not suitable for vegetables over 6 inches in height
Constructed from plastic, potential breakage over longer term
10. Succi Shan 2016
The Succi Shan 2016 Peeler is an automatic vegetable peeler that can also peel fruit such as apples, pears, and oranges.
As with many units on the list, the peeler comes with spare blades in the bottom of the unit so that you don't have to worry about buying replacements.
Pros
Includes replacement cutters and thumb knife
AC or battery powered option
Cons
Peel tends to clog up the blade quickly
Not suitable for vegetables over 6 inches in height
Lesser known brand
Constructed from plastic, which can result in breakage
Features to Look for When Buying an Electric Peeler
Size of unit
It is important to consider the size of your kitchen bench as well as the available storage space. If you're only going to occasionally use this appliance, you may want to use a handheld electrical peeler that will easily fit into the utensil drawer.
In this review, we included a range of different sizes, from small hand-held peelers through to commercial-sized products that require significant space.
Construction materials
Choosing an appliance constructed with better materials will offer the advantage of longevity. Frequent peelers may want to look at the KitchenAid attachment which is built with stainless steel. It is a solid product that is backed by a trusted brand.
Performance
The job of an auto potato peeler is to make life easier. You may find it frustrating having to follow up with a normal peeler to manually finish the missed pieces. Look for category leaders such as Startfrit who have been in the game for many years now and know how to make a product that performs.
You may also want to look at the size of the model. Smaller units won't be able to peel larger vegetables. If you're only interested in potatoes though, this won't be a problem for you.
Features
Peeling potatoes is a good starting point, but how about spiralizing food for salads? Does your unit come with a range of cutters for varying shaped cuts? Are spare blades included? These are nice to have extras, but they won't be a priority for every purchaser.
Warranty
A solid warranty is usually a sign that the brand stands behind its product. They're confident you'll have a trouble-free purchase. If you see a warranty offered, it is a good sign; the peace of mind is an extra reason to buy.
Related reading:
Once you've got yourself a new peeler, be sure to check out our delicious recipe for roast potatoes. We also have an awesome guide to some common potato types and how they can be used in the kitchen.
Final Words
Whether it's French fries, roasted, baked, or mashed on top of a shepherd's pie, the average American eats their way through more than 33 pounds of spuds each year¹. That's a lot of potatoes, which means a lot of potato peeling! This recurring chore can be made much easier, thanks to an innovative range of electric potato peelers.
Overall, we recommend the Starfrit 93209 as it's a trusted brand that does a great job of peeling. But if you own a KitchenAid mixer, the KSM2APC Spiralizer Attachment is worth your consideration. This tool will allow more than just peeling, and it's made from quality stainless steel. It is a premium product that is backed by a long-established quality manufacturer.
Happy peeling!
References: