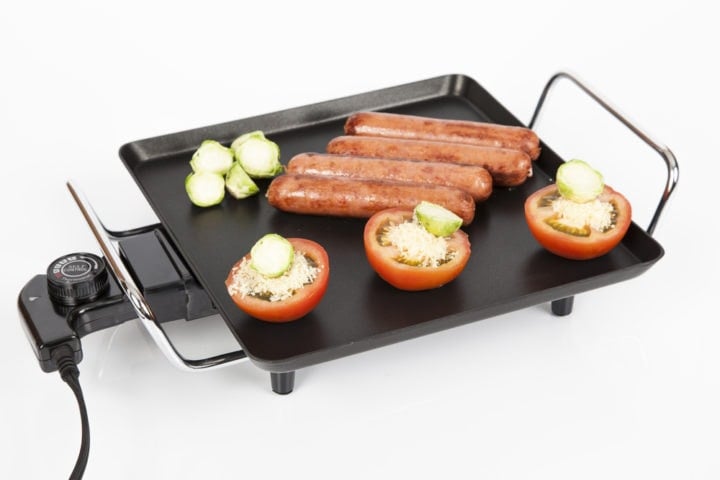 There's something special about classic diner foods — burgers, pancakes, eggs, and sausage. With an electric griddle, you don't even have to leave your house for that restaurant-quality cooking and a plate of your favorite diner fare. The wide, smooth surface found on home griddles lets you prepare any of these foods in a flash.
Of course, not all electric griddles are created equal, and choosing the right one is about knowing what to look for. Size, material, power, and other factors all play a role, and finding the right balance is crucial.
That's why we did the research to narrow down your search to the 22 best electric griddles. All of the models listed here are quality-made with something unique to offer. Take a look for yourself and see which best fits your needs.
Table of Contents
Best Overall: Hamilton Beach 3-in-1 Electric Griddle
The best thing about an electric griddle is the range of meals you can cook on it. Whether you're making burgers, steaks, or breakfast classics, it's always the right choice of kitchen equipment. The Hamilton Beach 3-in-1 electric griddle is specially made to pair this kind of versatility with quality cooking.
The standout feature of this electric griddle is its reversible cooking plates. It has a smooth, nonstick griddle surface on one side, and on the other is a grill plate with raised ridges. This broadens the griddle's versatility, allowing you to make authentic grilled burgers, steaks, and veggies.
Best of all, these plates are fully removable, which means they can be put in the dishwasher. The biggest tray is dishwasher safe, too, making for easy clean-up no matter what you're cooking.
Between the two plates, you'll have a total of 180 square inches of cooking space. This is enough for eight burgers or pancakes at once, making it a good choice for large gatherings or family dinners. Each of the cooking plates has independent temperature controls, letting you cook different foods at once.
It's a good choice for anyone who values versatility and a low-maintenance design. The only drawback is that it's a little bulky and possibly not ideal for those cooking for just one or two.
Best Budget: Dash 8" Express Electric Griddle
Electric griddles heat up quickly, without the need for an array of cooking utensils or other gadgets. This makes them a good no-fuss option for nightly dinners for one or two. This Dash 8" express electric griddle is a perfect example of this, at an affordable price that suits everybody.
The Dash's 8" griddle looks a bit like a waffle maker, with a pair of nonstick heating surfaces that clamp together. This allows you to create quesadillas, paninis, and other griddle classics without any flipping.
This unique design makes it an excellent choice for quick and convenient cooking. Its smaller size allows it to heat up quickly, and while it's not dishwasher-safe, it can be hand cleaned in seconds. Its folding function also makes it ideal for traveling.
Its 8-inch diameter makes it big enough to cook a single sandwich and serve it at once. While this might not be ideal for larger families, it's a great option for campers or dorm rooms. It lacks some of the features of larger griddles, though this makes for easy plug-and-cook use.
Best High-End: Wolf Gourmet Precision Griddle
The reason restaurant burgers taste so good has everything to do with the hardware they were cooked on. For those who take griddle cooking seriously, it pays to invest in a quality appliance. Its large cooking surface, even heat distribution, and responsive temperature control put this Wolf Gourmet Precision Griddle in a class of its own.
The knob controls give a high level of precision when controlling the temperature on this griddle. Heats ranging from 150 to 450 degrees Fahrenheit are available, making it perfect for a variety of foods. Everything from pancakes to seafood and steaks is possible, all with a professional finish.
The quality results this griddle produces are made possible by high-grade heating elements. They activate quickly, are highly responsive, and evenly heat the entire cooking surface. This helps avoid hot or cool spots for quality cooking.
The 250 square inches of cooking space make it large enough to cook for a crowd, with room to space. This does make for some intensive clean up afterward, though the stainless steel lid and removable grease tray help here.
If you're looking for a high-end electric griddle that can compete with professional hardware, this is for you. Of course, all its advanced features come with a hefty price tag, though the results will speak for themselves. You can be sure of the quality, as Wolf Gourmet offers a 5-year warranty to buyers.
Best Large Griddle: Luxury Cool-Touch Biggriddle
Whether you're cooking for a large group or just prefer to have a bit of extra elbow room, an extra-wide griddle can be a great kitchen helper. This Luxury cool-touch big griddle offers a full 288 square inches of cooking space for anything you're cooking.
To give you an idea of just how big that is: it's wide enough to cook a meal for between six to ten people. That's 50% more than what an average griddle can do for you.
You might think that all this extra space comes with its share of scrubbing afterward. However, the tilt-and-drain design of this griddle greatly simplifies cleanup. By simply lifting the cooking surface, you can easily let excess grease slide into the grease trap.
One downside to consider is that its larger size means it takes a bit longer to fully heat. Be prepared to wait ten to fifteen minutes after plugging it in before it's ready to go. It only has a single temperature control knob, so you can't cook different foods simultaneously.
Try this griddle if you need an efficient way to cook a dozen burgers, pancakes, or eggs at once. Though if you don't have plenty of cabinet space to devote to it, you may be better off finding a more compact option.
Best Compact Griddle: Presto Liddle Griddle
A full-sized griddle isn't always necessary if you're just cooking for one or two people. Sometimes, a more compact option with a few practical features is a better choice. The Presto Liddle Griddle comes with everything you need to cook a quality breakfast for two, with a durable design that's made to last.
Its base is made of cast aluminum, with a thick and sturdy design that resists warping. It has a nonstick coating and fairly good heat distribution for a griddle so small. The auto-temperature control is a nice feature, which ensures even cooking without having to constantly adjust.
The cooking surface is lined with a pair of built-in grease channels, which direct excess fat off the upper surface. There is no removable grease trap but rather a recessed area at the end of the griddle to collect grease.
Even without a grease trap, cleaning should never be a problem, as this griddle is fully submersible. That means it can be soaked in soapy water for easier cleaning.
If you're looking for a compact griddle that can last for years and produce quality burgers, try this one. Just keep in mind that it can't cook for more than two at once and doesn't have some of the features enjoyed by its high-end counterparts.
Best Multi-Tasker: Cuisinart 5-in-1 Griddler
When investing in a new piece of kitchen hardware, it pays to choose an option that can fill multiple roles. Electric griddles are natural multitaskers, able to cook a variety of dishes to diner perfection. The Cuisinart 5-in-1 griddler is a great option, with a range of surprising features.
One standout perk is the panini press design, which allows you to easily make pressed sandwiches. It's large enough to prepare two side-by-side on the 11" x 9" cook surface.
Aside from this, it also includes a smooth top griddle and full grill top by reversing the nonstick cooking plates. In addition to paninis, this lets you cook burgers, steaks, pancakes, and other breakfast favorites all on the same device. When you're done, simply remove the cooking plates and place in the dishwasher.
Each of the different cooking functions can be controlled with the turn knobs on the front of the device. They allow you to independently control the panini, grill, and griddle temperatures to five different settings.
Give this electric griddle a try if you're looking for a multitasker that you can use for more than one meal per week. However, if you're serving more than two, keep in mind that you'll have to work in batches.
Best for Portability: Black+Decker Family Size Griddle
Griddles are extremely useful tools, but even more so when you can take them on the go for camping or other gatherings. A portable griddle should be slim and lightweight, but also have enough features and cooking space. The Black+Decker family size electric griddle isn't the smallest griddle on this list, but it has a good balance of features.
The 13" x 22" cooktop is the standout feature here, which is big enough to cook food for the whole family. However, even with such a wide space, it still weighs in at under five pounds and is slim enough to squeeze in tight spaces.
Even with its compact size, it still manages to fit a surprising number of features. It has a built-in warming tray to keep foods hot until they're ready to serve and a drip tray to collect grease. The cooktop heats at 1500 watts, meaning it can heat fast and reach a high temperature.
Go with this griddle if you're looking for a good all-around electric griddle that you can take with you on the go. While it doesn't offer some of the more advanced features found on other options, it will serve you well.
Best Ceramic: Bella Electric Ceramic Griddle
Ceramic is a great choice for cookware and appliances, as it heats evenly and is naturally nonstick. On electric griddles, it's a premium material that is durable and easy to clean. The BELLA electric ceramic griddle offers all of this and more, thanks to its 189-square-inch fully ceramic cooktop.
The 1500-watt heating element works quickly and can heat the ceramic cooktop up to 400 degrees Fahrenheit. That makes it perfect for searing steaks and burgers on high heat. The nonstick ceramic coating is able to withstand the griddle's full heat easily and won't degrade.
Like any good griddle, this one has a few helpful features to simplify cleaning. The warming tray is removable and can be put in the dishwasher. While the rest of the griddle needs to be hand-washed, it's an easy task as ceramic is naturally easy to clean.
This ceramic griddle is a good choice for families who want an affordable appliance that's made to last. Aside from a few minor complaints, there are very few drawbacks to this product.
Best Aluminum: Presto 22-Inch Aluminum Electric Griddle
Alongside ceramic, aluminum is another ideal griddle material that's lightweight, quick to heat, and easy to care for. This Presto 22-inch aluminum electric griddle offers an extra-wide aluminum cooktop that's all of these and more. With a full 300 square inches of cooking space, it's a natural fit for most homes.
Aluminum offers the advantage of being lightweight and inexpensive but also lacking in durability. However, this griddle makes up for it with an extra-thick base that's made to last. It's made to resist warping, so you don't have to worry about cranking up the heat.
Its large size is big enough to cook a full breakfast for four. This does make it a little harder to store, though the removable handles allow it to fit in most kitchen cabinets. They're attached with latch clips that allow you to detach them without tools.
When it comes time to clean, the entire griddle is fully submersible to simplify the process. The smooth aluminum surface is easy to wipe-down with soap and water.
This electric aluminum griddle is an ideal choice for anyone looking for a low-maintenance option with plenty of extra space. While it may not be a luxury griddle, it still offers a good selection of helpful features.
Best Griddle and Grill Combo: Wolfgang Puck Electric Reversible Griddle
Grilling and griddling are close cousins in the culinary world, though they usually require different appliances. A grill and griddle combo is designed to handle both expertly, saving you money. The Wolfgang Puck electric reversible griddle is an affordable combo griddle with a unique design.
Switching between grilling and griddling is easy with this appliance. The cooking surface detaches completely and is simply flipped over when changing cooking modes. It's then held securely in place with a safety locking system.
Aside from this added versatility, this griddle comes with plenty of power. The 1800-watt heating element allows you to cook at 400 degrees Fahrenheit. It heats quickly and evenly, and lets you have precise control over temperature at any given time.
This griddle is a great choice if you can spend a bit of extra money on quality. However, if you think you don't need all the features it can offer you, it may be better for you to choose a simpler option.
Best for Grease: Secura Smokeless Indoor Griddle
Cons: Cooking surface is prone to scratching, condensation can build on the lid
Splatter and cleanup is always a problem to consider when griddle cooking. Luckily, many electric home griddles include several features to help contain mess and simplify cleanup. The Secura smokeless indoor griddle offers a quality cooktop with a few unique quality of life features.
One feature we don't see on many griddles is the dome-shaped glass lid. This helps contain splatter and protects the cook from grease burns. While it does tend to collect condensation, it's removable when needed.
It also has grease channels to drain excess fat away from your food. This is crucial to getting crisp meats and vegetables and makes it easier to clean. Like the glass lid, the drip tray is removable for easy cleaning.
Aside from these maintenance features, the griddle itself is quality-made. It heats to 450 degrees Fahrenheit and boasts 180 square inches of cooking space. The cooking plate is reversible, letting you grill or griddle as needed.
Try this griddle for yourself if containing mess and simplifying cleanup is your top concern. It's durable enough to stand up to regular use, though if you're hard on your cookware, it may be better to try a different option.
Best Low-Maintenance: Hamilton Beach Durathon Ceramic Griddle
Especially when you're cooking breakfast, simplifying the cooking process is a good idea. A griddle can be the perfect way to do just that by eliminating pots and pans altogether. The Hamilton Beach Durathon ceramic griddle features a simple design that's easy to clean.
The ceramic cooktop featured on this griddle is what sets it apart from its aluminum counterparts. Ceramic is easy to clean and maintain and offers a slick nonstick coating. It's also especially durable, so you know it's a good investment.
The cooking surface is 200 square inches in total, which is large enough to cook meals for the entire family. However, it's also small enough to keep cleaning from becoming a chore.
The cool-touch handles make this griddle easy to pick up and move around the kitchen. They're easy to grip while staying small enough to save storage space in your kitchen cabinets.
Try this ceramic griddle if you're looking for a no-hassle option that can make breakfast easy. Keep in mind, however, that it doesn't have all the features of some higher-end models. Still, it offers all you need to cook quality meals.
Best Heavy-Duty: Bella XL Ceramic Titanium Griddle
An electric griddle can last for years if you know how to keep it cleaned and maintained. To ensure you get the most out of your griddle, choose an option that's made to last. The Bella XL ceramic titanium griddle is durable and efficient, with a ceramic coating that was designed to stand up to regular use.
The titanium-reinforced ceramic cooktop is what sets this electric griddle apart. It ensures the griddle won't warp when cooking on high heat, even after years of use. The ceramic exterior also helps protect against scratches and dents, keeping your cooktop smooth.
Even with all this strength and durability, the griddle itself weighs less than four pounds. This makes it easier to take out of storage or even take camping.
The heating element is 1500 watts, allowing it to cook at up to 400 degrees Fahrenheit. The high wattage means it heats quickly, as much as 30% faster than other electric griddles.
This griddle is a great pick for home cooks who want a reliable and affordable option that will last. Its features are simple and straightforward, which can be a plus or a minus, depending on your priorities.
Best for Safety: Presto Cool-Touch Electric Griddle
It's always a good idea to stay safe in the kitchen, but with high heat and grease splatter, it's not always easy. That's why we recommend griddles with a few basic safety features to keep you and your family safe. The Presto cool-touch electric griddle is a quality home appliance that offers a few surprising features to make griddling safe and fun.
The cool-touch handles are the main feature that helps keep this griddle safe. They allow you to handle the device without the risk of burning your hands. This can be especially useful for cleanup.
The thick cast aluminum base adds a bit of extra weight to the griddle, keeping it securely in place while cooking. The rubberized feet help here, too, preventing it from slipping if accidentally bumped.
It has 200 square inches of cooking space in total, which means you'll never have to worry about overcrowding. Even when cooking large batches of sausage, the slide-out drip tray will catch excess grease. It can be safely emptied by sliding it out of the low-profile base.
Give this griddle a try if you're worried about the high heat and grease splatter that comes with griddling. Of course, there are larger griddles out there, and ones with more features. If you're looking for more advanced features, it might be worth trying a higher-end model.
Best High-Tech Griddle: Cuisinart Elite Griddler
Griddles come in all shapes and sizes, but if you haven't been keeping up with the latest trends, you might be surprised at the high-tech features some of them have. The Cuisinart Elite griddler is a great example with its digital interface that opens up whole new possibilities.
This griddle features a full six cooking options, including contact grill, panini press, full griddle, full grill, grill/griddle combo, and top melt. These options, along with the temperature, timer, and heat, can be controlled via the digital interface. It even offers two separate heating elements that can be controlled independently.
It's one of the most versatile griddles on our list, but it backs up its array of features with power. Its sear mode can reach up to 500 degrees Fahrenheit for up to two minutes at a time. It's the perfect way to put a professional finish on your steaks and burgers.
Of course, all these features and power come with a bit of extra weight, so you might need help hefting it out of the kitchen cabinet. Though if you're planning on investing in one, you may prefer to keep it accessible on your kitchen counter anyway.
You'll love this griddle if you want to add a new high-end kitchen gadget to your arsenal. However, if you'd prefer something more simple, there are plenty of other less expensive options that might be a better choice.
Best Nonstick: Toastmaster 10x20 Inch Griddle
One thing all griddles should have is a perfectly sleek nonstick cooking surface. Combined with the right spatula, it's what makes diner classics like pancakes and burgers possible. The Toastmaster 10x20 inch griddle is a great choice for both, with a wide cooking surface and power to back it up.
The aluminum cooking surface of this griddle is durable, lightweight, and of course, completely nonstick. It has a grease channel running around the perimeter of the cooktop to drain excess fat. These filter into the removable drip tray, which can be easily emptied when needed.
The nonstick coating makes for perfect browning, whether you're cooking pancakes or searing vegetables. The nonstick cooking surface is also a health benefit, requiring less oil to get the same quality results.
It only has a single temperature control knob, but it features six separate heat settings. These allow you to fine-tune your cooking to get the results you're looking for.
Try this griddle for yourself if you want a classic, no-fuss option with a perfectly nonstick surface. Its mid-range size, weight, features, and power make it a balanced option for everyday use.
Best for Crepes: NutriChef Electric Griddle Crepe Maker
Crepes are a close cousin to the pancake, meaning that they're a natural match for an electric griddle. The smooth surface and quick heating of electric griddles can be a great way to improve your crepe game. The NutriChef electric griddle and crepe maker is designed specifically with this in mind and is loaded with helpful features.
The 12-inch diameter may not be ideal when cooking for a crowd, though it's perfect when turning out crepes. It's perfectly sized for this purpose, making it easy to correctly portion your crepes and master your technique. It's also good for eggs, pancakes, or a single burger.
Its small size is in some ways an advantage, as it heats more quickly and evenly than larger griddles. It's also small enough to fit in most bags, in case you need to take it on the go.
The controls are straightforward, consisting of a single knob and an LED indicator light. However, it has a surprising amount of temperature control, which is a nice perk when cooking delicate foods like crepes. The indicator light lets you know when your desired temperature has been reached.
You'll love this electric griddle if you're planning on using it to make crepes on a regular basis. However, if you're looking for a griddle that excels at a range of different foods, you might be better off with another product.
Best for Burgers: Yescom 14" Countertop Griddle
If you're looking to capture that authentic diner burger taste, the only way is to get the right equipment. The key here is to go for power and choose a griddle that can put the perfect sear on your patties. The Yescom 14" countertop griddle comes with a 1500 watt heating element and outpaces most other home griddles when making burgers.
The reason this home griddle is ideal for burgers is because of its sheer power. It's able to reach a heat of 572 degrees Fahrenheit, which is ideal for searing. It heats quickly, too, and distributes heat evenly over its stainless steel cooking surface.
Since burgers often create a lot of splatters, the stainless steel guards around the cooking surface are a plus. The cooktop is also designed to drain grease into a removable drip tray.
While it is a bit more expensive than other electric griddles, it's highly durable. The full stainless steel exterior is scratch-resistant and easy to maintain. The cooktop itself is thick and won't warp even when cooking on high heat.
If you're hoping to perfect your burgers, hot dogs, and other meats at home, this is the griddle for you. However, keep in mind that it will need a dedicated spot in your kitchen. If you're looking for something that can be stashed in your cabinet when not in use, try another product.
Best for Breakfast: Bella Ceramic Titanium Griddle
Griddles and breakfast food are a natural pairing, which is why both are seen so frequently in diners. If you want to serve pancakes, eggs, and sausage in record time, a large and powerful griddle is the first equipment you should get. The Bella ceramic titanium griddle is a great place to start, with a wide ceramic cooktop and a 1500-watt heating element.
The large ceramic cooktop is the star here. It's large enough to fit eight pancakes at once, letting you cook and lay out your breakfast on the table in a matter of minutes. Its surface is fully ceramic, which is known for its durability and nonstick qualities.
The raised lip around the perimeter of the cooking surface helps contain grease. This is especially helpful when cooking bacon or sausage. When you're done cooking, cleanup is simple, with a removable drip tray.
The heating controls are a bit simplistic, though they should be enough for all your breakfast classics. It heats all the way up to 400 degrees Fahrenheit and holds heat well thanks to its titanium core.
Try this griddle if you're planning on cooking dinner for four or more regularly. Though if you have a smaller family or only plan on using it infrequently, a smaller one may be a better option.
Best Dishwasher-Safe: Chefman Electric Griddle
The fact is, griddle cooking can get pretty messy, with grease splatter and plenty of cleanup afterward. That's why a dishwasher-safe griddle is always a good option to consider. The Chefman electric griddle is designed to be low maintenance and easy to clean.
While other electric griddles are advertised as 'fully submersible' this doesn't always mean they can be put in the dishwasher. This one, however, can be. All you have to do is detach the temperature control and load it in for a thorough cleaning.
This by itself sets it apart from other options, though it's far from its only time-saving feature. The removable grease trap is also there to gather excess fat as you cook. The griddle's smaller size also helps speed cleaning while staying large enough to cook six pancakes at once.
This is the ideal griddle for anyone looking to cut down on maintenance. Don't forget, though, that it is a bit smaller than the other options on this list. If you are cooking for a large family, try a bigger one instead.
Best User-Friendly: Presto Tilt 'n Drain Electric Griddle
Not everyone is a master griddle cook, which means sometimes simpler is better. While extra features are nice, too many can clutter and over-complicate an otherwise good griddle. The Presto tilt 'n drain electric griddle has a nice balance of features with a simple design that's a joy to use.
There's nothing complicated about this griddle, with a single dial that lets you control the heat from 200 to 400 degrees Fahrenheit. Aside from that, there are no other controls to worry about, letting you focus on cooking.
Many of the other features are included to simplify cleaning and maintenance. The tilt 'n drain design allows you to easily drain excess grease by adjusting the angle of the cooktop. The heavy cast aluminum base is durable, nonstick, and easy to clean.
Give this griddle a shot if you want a straightforward design that you can use right out of the box. If you're already an experienced griddle cook and want a few extra features, a higher-end model might be a better choice.
Best Professional-Grade: BroilKing Professional Nonstick Griddle
If you're an experienced griddle cook, it pays to invest in a piece of hardware that will let you perfect your skills in the kitchen. That means going for power and durability. The BroilKing professional nonstick griddle offers both, with a design any seasoned burger chef can appreciate.
This extra-large griddle measures more than 350 square inches, making it a great choice for large families and parties. You can cook a dozen burgers on it at once, with a bit of extra room to spare.
The cooking surface is made of stainless steel for durability and even heat distribution. While this adds a bit of weight to the griddle, it means you can count on it to last. The backsplash and handles are also made of stainless steel, which makes them easy to clean.
You'll love this griddle if you don't mind investing a bit of extra money for quality. However, if you're new to griddling or only do it occasionally, a more simple version will be a better choice.
Electric Griddle Buying Guide
When shopping for the perfect electric griddle, the first step is to know what to look for. Take a look at our list of criteria below so you know what questions to ask when making your decision.
Size
Some griddles are measured in square inches, while others list the length and width separately. Generally, 200 square inches (or 10 by 20 inches) is a good size when cooking for 2 to 4 people. If you want a large one, griddles around 300 square inches are available.
Material
The most common griddle cooktop materials are aluminum, ceramic, and stainless steel. Generally, all of these are quality options, with ceramic being especially durable. Aluminum is more lightweight and portable but can be prone to warping if the cooking plate is not thick enough.
Power
An electric griddle's power is measured in watts, and most griddles range between 1200 and 1800 watts. Higher wattage means higher max temperature and faster heating; however, it also usually means more weight.
Dishwasher-Friendly
Look for griddles that can be put entirely, or in part, in the dishwasher. This saves time on cleaning and also means your griddle is resistant to water damage. Otherwise, griddles that are advertised as fully submersible are good bets as they can be easily cleaned in the sink.
Other Features
Griddles that can fill more than one role are the best way to get the most for your money. Many have reversible plates that let them double as grilles, while others have splatter guards. At the very least, your griddle should have a removable drip tray to simplify cleaning.
FAQs
Still have unanswered questions about electric griddles? See what other home cooks are asking and get the answers you need.