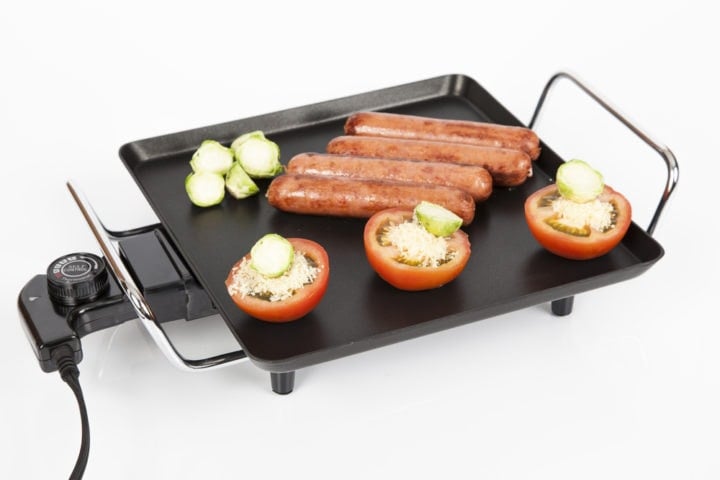 There's something special about classic diner foods — burgers, pancakes, eggs, and sausage. With an electric griddle, you don't even have to leave your house for that restaurant-quality cooking and a plate of your favorite diner fare. The wide, smooth surface found on home griddles lets you prepare any of these foods in a flash.
Of course, not all electric griddles are created equal, and choosing the right one is about knowing what to look for. Size, material, power, and other factors all play a role, and finding the right balance is crucial.
That's why we did the research to narrow down your search to the 22 best electric griddles. All of the models listed here are quality-made with something unique to offer. Take a look for yourself and see which best fits your needs.
Table of Contents
Best Overall: Hamilton Beach 3-in-1 Electric Griddle
Hamilton Beach 3-in-1 electric griddle
This Hamilton Beach electric griddle is our top pick because of its reversible cooking plates for grilling and griddling.
Pros: 180 square-inch cooking surface, grease tray is dishwasher safe, reversible cooking plates
Cons: Aluminum cooktop heats unevenly, a bit bulky
The best thing about an electric griddle is the range of meals you can cook on it. Whether you're making burgers, steaks, or breakfast classics, it's always the right choice of kitchen equipment. The Hamilton Beach 3-in-1 electric griddle
Electric griddles heat up quickly, without the need for an array of cooking utensils or other gadgets. This makes them a good no-fuss option for nightly dinners for one or two. This Dash 8" express electric griddle
The reason restaurant burgers taste so good has everything to do with the hardware they were cooked on. For those who take griddle cooking seriously, it pays to invest in a quality appliance. Its large cooking surface, even heat distribution, and responsive temperature control put this Wolf Gourmet Precision Griddle
Whether you're cooking for a large group or just prefer to have a bit of extra elbow room, an extra-wide griddle can be a great kitchen helper. This Luxury cool-touch big griddle
A full-sized griddle isn't always necessary if you're just cooking for one or two people. Sometimes, a more compact option with a few practical features is a better choice. The Presto Liddle Griddle
When investing in a new piece of kitchen hardware, it pays to choose an option that can fill multiple roles. Electric griddles are natural multitaskers, able to cook a variety of dishes to diner perfection. The Cuisinart 5-in-1 griddler
Griddles are extremely useful tools, but even more so when you can take them on the go for camping or other gatherings. A portable griddle should be slim and lightweight, but also have enough features and cooking space. The Black+Decker family size electric griddle
Ceramic is a great choice for cookware and appliances, as it heats evenly and is naturally nonstick. On electric griddles, it's a premium material that is durable and easy to clean. The Elite Gourmet ceramic griddle
Alongside ceramic, aluminum is another ideal griddle material that's lightweight, quick to heat, and easy to care for. This Presto 22-inch aluminum electric griddle
Grilling and griddling are close cousins in the culinary world, though they usually require different appliances. A grill and griddle combo is designed to handle both expertly, saving you money. The Wolfgang Puck electric reversible griddle
Cons: Cooking surface is prone to scratching, condensation can build on the lid
Splatter and cleanup is always a problem to consider when griddle cooking. Luckily, many electric home griddles include several features to help contain mess and simplify cleanup. The Secura smokeless indoor griddle
Especially when you're cooking breakfast, simplifying the cooking process is a good idea. A griddle can be the perfect way to do just that by eliminating pots and pans altogether. The Hamilton Beach Durathon ceramic griddle
An electric griddle can last for years if you know how to keep it cleaned and maintained. To ensure you get the most out of your griddle, choose an option that's made to last. The Bella XL ceramic titanium griddle
It's always a good idea to stay safe in the kitchen, but with high heat and grease splatter, it's not always easy. That's why we recommend griddles with a few basic safety features to keep you and your family safe. The Presto cool-touch electric griddle
Griddles come in all shapes and sizes, but if you haven't been keeping up with the latest trends, you might be surprised at the high-tech features some of them have. The Cuisinart Elite griddler
One thing all griddles should have is a perfectly sleek nonstick cooking surface. Combined with the right spatula, it's what makes diner classics like pancakes and burgers possible. The Toastmaster 10x20 inch griddle
Crepes are a close cousin to the pancake, meaning that they're a natural match for an electric griddle. The smooth surface and quick heating of electric griddles can be a great way to improve your crepe game. The NutriChef electric griddle and crepe maker
If you're looking to capture that authentic diner burger taste, the only way is to get the right equipment. The key here is to go for power and choose a griddle that can put the perfect sear on your patties. The Yescom 14" countertop griddle
Griddles and breakfast food are a natural pairing, which is why both are seen so frequently in diners. If you want to serve pancakes, eggs, and sausage in record time, a large and powerful griddle is the first equipment you should get. The Bella ceramic titanium griddle
The fact is, griddle cooking can get pretty messy, with grease splatter and plenty of cleanup afterward. That's why a dishwasher-safe griddle is always a good option to consider. The Chefman electric griddle
Not everyone is a master griddle cook, which means sometimes simpler is better. While extra features are nice, too many can clutter and over-complicate an otherwise good griddle. The Presto tilt 'n drain electric griddle
If you're an experienced griddle cook, it pays to invest in a piece of hardware that will let you perfect your skills in the kitchen. That means going for power and durability. The BroilKing professional nonstick griddle offers both, with a design any seasoned burger chef can appreciate.
This extra-large griddle measures more than 350 square inches, making it a great choice for large families and parties. You can cook a dozen burgers on it at once, with a bit of extra room to spare.
The cooking surface is made of stainless steel for durability and even heat distribution. While this adds a bit of weight to the griddle, it means you can count on it to last. The backsplash and handles are also made of stainless steel, which makes them easy to clean.
You'll love this griddle if you don't mind investing a bit of extra money for quality. However, if you're new to griddling or only do it occasionally, a more simple version will be a better choice.
Electric Griddle Buying Guide
When shopping for the perfect electric griddle, the first step is to know what to look for. Take a look at our list of criteria below so you know what questions to ask when making your decision.
Size
Some griddles are measured in square inches, while others list the length and width separately. Generally, 200 square inches (or 10 by 20 inches) is a good size when cooking for 2 to 4 people. If you want a large one, griddles around 300 square inches are available.
Material
The most common griddle cooktop materials are aluminum, ceramic, and stainless steel. Generally, all of these are quality options, with ceramic being especially durable. Aluminum is more lightweight and portable but can be prone to warping if the cooking plate is not thick enough.
Power
An electric griddle's power is measured in watts, and most griddles range between 1200 and 1800 watts. Higher wattage means higher max temperature and faster heating; however, it also usually means more weight.
Dishwasher-Friendly
Look for griddles that can be put entirely, or in part, in the dishwasher. This saves time on cleaning and also means your griddle is resistant to water damage. Otherwise, griddles that are advertised as fully submersible are good bets as they can be easily cleaned in the sink.
Other Features
Griddles that can fill more than one role are the best way to get the most for your money. Many have reversible plates that let them double as grilles, while others have splatter guards. At the very least, your griddle should have a removable drip tray to simplify cleaning.
FAQs
Still have unanswered questions about electric griddles? See what other home cooks are asking and get the answers you need.
Can I get my electric griddle wet?
Generally, it's best to avoid getting electronics wet, especially when in use. However, if your electric griddle is labeled as 'fully submersible' that means it is safe to wash in the sink. Some are even dishwasher friendly, as long as the electrical components are removed first.

However, if you're not sure whether your griddle can get wet, it's best to wash it with a damp sponge rather than in the sink or dishwasher.
What foods are best cooked on a griddle?
Burgers, pancakes, eggs, and sausage are all ideal griddle foods. What all of these have in common is that they need to be flipped during the cooking process. Since a griddle has a smooth surface and no sides like a pan, flipping is easy.

Meats also benefit from griddle cooking because griddles are great at draining away fat. As fat drains off, burgers and steaks can have an even crispier sear.
Can I put a pot or pan on my electric griddle?
Griddles are essentially electric heating elements with cooking surfaces built on top of them. This means you can put a pot or pan on top to heat them. This can be helpful if you need an extra burger.
What's the difference between a grill and a griddle?
Grills and griddles work in much the same way but have one important difference. Griddles have smooth cooking surfaces, while grills have metal grates. This gives a similar but slightly different effect when cooking.

Some griddles have reversible cooking plates and can function as both a grill and a griddle. This is a great way to introduce a little extra versatility into the kitchen.
Why does food stick to my griddle?
There are a few reasons why food may be sticking to your griddle. The most common is that the nonstick coating has eroded. However, even when in good condition, nonstick surfaces can cause sticking occasionally.

If you find your food sticking to your cooktop, simply try adding a bit of extra cooking oil. This will help lubricate your cooking surface and let food slide off easier.
Healthy, Easy Meals