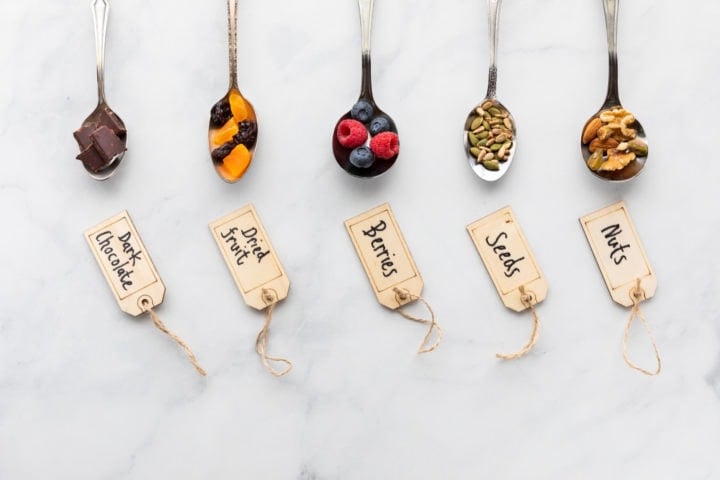 Why do people like crunchy snacks? Well, probably because the crunchy texture indicates freshness, and people subconsciously think it's "pure and healthy." Incidentally, the search for crunchy snacks is no longer limited to unhealthy food. Even people on ketogenic diets, looking for a low carb snack, are in on the fun.
Crunchy keto snacks come in all shapes and forms. We came up with the best granola, cereal, cookies, energy protein bars, crackers, chips, curls, and trail mix for this list. It's a list of crunchy keto options for all sorts of events.
So, whether you're looking for delicious snacks, to munch on after a tiring workout or on a movie night, we've got you covered. Here's a list of the best store-bought crunchy keto snacks you can buy on the market today!
Table of Contents
Best Crunchy Keto Granola: Lakanto Cinnamon Almond Crunch Granola/Berry Crunch Granola/Chocolate Crunch Granola
The Lakanto Granola is a mixture of whole rolled oats, a blend of dried fruits, seeds, nuts, oils, and natural sweeteners. This one's sure to please your sweet tooth. Heads up, though, as it can be too sweet for some.
Its sugariness comes from the non-nutritive monk fruit and erythritol. According to the Food and Drug Administration (FDA), monk fruit, also known as monkfruit or Luo Han Guo, is 100 to 250 times sweeter than table sugar. On the other hand, erythritol is a sugar alcohol commonly extracted from fruits such as watermelons, pears, melons, and grapes. Both sweeteners contain virtually no calories.
Monk fruit gives off an aftertaste. Fortunately, erythritol somewhat masks the aftertaste. But because the granola contains erythritol, we recommend consuming it in moderation. Some of the possible side effects may include headaches, diarrhea, and stomach discomforts.
Nevertheless, this is our go-to crunchy keto granola. The sweet snack is available in three delicious variants: cinnamon almond crunch granola, berry crunch granola, and chocolate crunch granola.
Cinnamon Almond
Crunch Granola
Berry Crunch
Granola
Chocolate Crunch Granola
Per Serving
30g
30g
30g
Net Carbs
4g
3g
2g
Fats
3g
3g
3g
Protein
15g
14g
13g
Best Crunchy Keto Cereal: Magic Spoon Cereal
Packaging probably shouldn't be the deciding factor when buying food. But we can't help but notice how the Magic Spoon Cereal looks pretty much like our childhood cereal loops — although a much healthier option with practically zero sugar.
One serving of about a cup of this crunchy keto cereal carries twice as much protein as a medium-sized egg. For some context, a medium-sized egg has approximately six grams of protein.
Apart from meeting our protein requirements, the different flavors are a delight. They're exceptionally similar to some of our favorite snacks, too. For instance, the frosted cereals are pretty much birthday cakes. They smell like one, too. Or how about the combination of cocoa and peanut butter flavors? Reese's Peanut Butter Cups, anyone?
One thing we did notice was how sticky they were. You'll likely get some stuck on your teeth. And they stick pretty hard.
Still, these cereals are a good breakfast option for people on a ketogenic diet. The cereals are available in five delightful choices: cocoa, frosted, fruity, peanut butter, and pumpkin chai.
Cocoa
Frosted
Fruity
Peanut
Butter
Pumpkin
Chai
Per Serving
37g
37g
38g
36g
39g
Net Carbs
4g
4g
4g
4g
5g
Fats
7g
7g
8g
9g
8g
Protein
13g
13g
13g
14g
14g
Best Crunchy Keto Cookies: Catalina Crunch Chocolate Vanilla Keto Sandwich Cookies
The Catalina Crunch Keto Sandwich Cookies are guilt-free, Oreo-like sandwich cookies that aren't as sweet or big as actual Oreos.
We love the chocolate mint variant as it reminds us of those good ole' Girl Scout's thin mint cookies. All flavors are delicious, though, as they contain the right amount of sweet taste.
Like the other keto snacks on this list, the Catalina cookies leave an aftertaste, and they stick to your teeth quite a bit. Not a huge deal, to be honest.
The Catalina cookies sell in four sumptuous flavors: chocolate vanilla, chocolate mint, peanut butter, and vanilla creme.
Chocolate
Vanilla
Chocolate Mint
Peanut Butter
Vanilla Creme
Per Serving
24g
24g
24g
24g
Net Carbs
5g
5g
5g
5g
Fats
6g
6g
6g
6g
Protein
4g
4g
4g
4g
Best Crunchy Keto Energy Protein Bars: Quest Nutrition Protein Bar
SAVE 18%
If you frequently miss meals due to work or school, then the Quest Nutrition Protein Bar can save you in a pinch. It has enough protein to satisfy your needs until the next proper meal. The keto-friendly ingredients are a bonus.
These are pretty dense energy bars packed with nutritious ingredients. But like the Lakanto granola, Quest nutrition bars contain erythritol, which may cause side effects. Some of the common reactions include stomach discomfort and headaches.
We also noticed that stored bars tend to get harder than usual. When they do, maybe try microwaving them for a few seconds. That should bring back the gooey and chewy taste. That's how we personally "fixed" the bars' texture and consistency. You can also try dipping them in coffee for that extra oomph.
Quest Nutrition sells these crunchy keto energy protein bars in seven great flavors. These include cookies and cream, birthday cake, blueberry muffin, double chocolate chunk, dipped chocolate chip cookie dough, caramel chocolate chunk, lemon cake, and s'mores.
They have sold more flavors that are, unfortunately, no longer available. While that is sad news, it also means they constantly test out new variations. Stay tuned as they introduce more exciting flavors.
Cookies and Cream
Birthday Cake
Blueberry
Muffin
Double
Chocolate Chunk
Per Serving
60g
60g
60g
60g
Net Carbs
4g
4g
5g
4g
Fats
8g
6g
7g
7g
Protein
21g
21g
21g
20g
Dipped Chocolate
Chip Cookie Dough
Caramel
Chocolate
Chunk
Lemon
Cake
S'mores
Per Serving
60g
60g
60g
60g
Net Carbs
4g
4g
5g
4g
Fats
9g
7g
6g
7g
Protein
17g
20g
20g
21g
Best Crunchy Keto Crackers: Fat Snax Almond Flour Crackers
The Fat Snax Almond Flour Crackers is our favorite keto-friendly replacement for crackers. These crackers are made of almond flour, coconut flour, egg whites, butter, herbs, and seeds. They are square-shaped, with each side measuring about an inch. They aren't thick nor thin, either. Each cracker's thickness is just right.
With more or less 34 bite-size crackers inside a bag, you could probably eat them in one sitting. Try pairing them with cream cheese, cheese spreads, sour cream, or spinach dips, and you'll definitely finish them in one go.
Should you choose to save some for later, the crackers come with a resealable pack. But be wary of the seal. They easily pop, and we recommend storing them in an airtight container.
Fat Snax sells these crackers in cheddar, sea salt, rosemary, and also as a mixture of everything. But if you especially like Cheez-It, their Cheddar flavor comes pretty close.
| | | | | |
| --- | --- | --- | --- | --- |
| | Cheddar | Sea Salt | Rosemary | Everything |
| Per Serving | 30g | 30g | 30g | 30g |
| Net Carbs | 2g | 3g | 3g | 3g |
| Fats | 11g | 7g | 11g | 11g |
| Protein | 5g | 3g | 5g | 5g |
Best Crunchy Keto Chips: Quest Nutrition Tortilla Style Protein Chips
SAVE 6%
Tortilla chips and drinks on a relaxing night. Now, that sounds like a plan. Ironically, the Quest Nutrition Tortilla Style Protein Chips go well pre- and post-workouts, too.
Each bag of tortilla chips contains 18 to 20 grams of protein. That amount of protein is comparable to some recovery drinks and should be enough to curb hunger.
However, as with regular chips, the salt content can be too much at 300 milligrams per serving. Some people think it's okay and that it's part of the appeal with the Quest tortilla chips. Nevertheless, this point is worth noting.
Quest Nutrition sells them in five different offerings: chili lime, nacho cheese, ranch, spicy-sweet chili, and taco.
Chili Lime
Nacho
Cheese
Ranch
Spicy Sweet
Chili
Taco
Per Serving
32g
32g
32g
32g
32g
Net Carbs
3g
4g
4g
4g
4g
Fats
4.5g
6g
4.5g
4.5g
5g
Protein
20g
18g
19g
19g
19g
Best Crunchy Keto Curls: PeaTos Crunchy Curls, Vegan, and Gluten-Free Snack Packs
You'd be surprised to know, but the PeaTos Crunchy Curls, Vegan, and Gluten-Free Snack Packs are our kids' favorite of the bunch. We certainly can vouch for the classic cheese — it has our children's seal of approval.
PeaTos' primary ingredient is peas, and those are a good source of vitamins, antioxidants, and other micronutrients. These crunchy keto curls don't have artificial flavors, either. Specifically, PeaTos uses natural spices and herbs for their seasoning requirements.
But like the Quest chips, these curls can have too much salt at around 200 milligrams per serving. If you need to mind your salt intake, then this can be an issue.
Still, we can't deny how much this has become a family favorite. PeaTos sells them in three interesting flavorings: classic cheese, zesty ranch, and fiery hot.
| | | | |
| --- | --- | --- | --- |
| | Classic Cheese | Zesty Ranch | Fiery Hot |
| Per Serving | 28g | 28g | 28g |
| Net Carbs | 9g | 9g | 9g |
| Fats | 8g | 8g | 8g |
| Protein | 4g | 4g | 4g |
Best Crunchy Keto Trail Mix: Fresh Daily Healthy Mix Original, 1 Ounce Bag
Trail mixes are the ideal delicious snacks for hikers and bikers, as they are easy to carry and packed with nutrients. Thankfully, the Fresh Daily Healthy Mix Original is available for mountain lovers on a keto diet.
This crunchy keto trail mix is a single-serve bag of nuts and dried fruits with a combination of almonds, walnuts, cashews, macadamia nuts, hazelnuts, pecans, pistachios, raisins, dried cranberries, and blueberries. Of these ingredients, you'll find almonds, walnuts, cashews, and macadamia nuts in all four variants.
Unlike the Quest chips and PeaTos curls previously mentioned, the Daily Fresh trail mix is unsalted. Its sweet and salty flavors are from a good balance of nuts and fruits.
While the idea of a single-serve bag for the trail is right, it is, unfortunately, missing a slit to make opening easier — kind of a bummer when you desperately need that boost. Don't forget to make a small cut before hitting the trails.
The four choices include antioxidant mix, energy mix, junior mix, and original mix. Heads up, the junior and original variants are made purely of nuts.
| | | | | |
| --- | --- | --- | --- | --- |
| | Antioxidant Mix | Energy Mix | Junior Mix | Original Mix |
| Per Serving | 28g | 30g | 20g | 20g |
| Net Carbs | 5g | 6g | 5g | 5g |
| Fats | 12g | 16g | 10g | 10g |
| Protein | 3g | 4g | 3g | 3g |
Buying Guide For Crunchy Keto Snacks
While keto diets focus on what they say is an optimal range of fat, protein, and carbs, finding the best crunchy keto snacks entails other elements.
For one, consider its allergens. Also, you may want to know its sugar alternatives and packaging.
Allergens
Food intolerance is a serious matter. Make sure your crunchy keto snacks are safe for you or the people around you to eat.
Some of the most common allergens in keto snacks include, but are not limited to milk, eggs, tree nuts, and wheat. These allergens can trigger and cause various reactions, including wheezing, swelling, trouble breathing, headache, and stomach discomfort.
Fortunately, manufacturers are required to disclose these ingredients fully, so always check the food label.
Healthy Sugar Alternatives
Also, watch out for the snacks' sugar source. It is common for crunchy keto snacks to contain healthy sugar alternatives such as monk fruit extracts, erythritol, coconut sugar, and honey.
Although you may think they're harmless with virtually zero calories, keep in mind that these are also potential allergens. Erythritol and honey are good examples of sweeteners that, when consumed in excess, may cause discomfort.
Packaging
Crunchy keto snacks generally sell in packs good for two or more servings. For these options, having a resealable lock is convenient.
On the other hand, particular snacks are meant to be consumed in one go. For example, trail mixes are, ideally, easy-to-eat snacks with easy-to-open packaging.
FAQS
What is a crunchy keto snack?
Crunchy keto snacks are treats you can nibble without breaking ketosis. This process happens when your body burns fat rather than carbs for energy. These snacks have the right ratio of fats, proteins, and carbohydrates, according to Ketonians.
Is there a healthy crunchy snack?
Definitely! The list of healthy crunchy snacks is endless. Healthy food choices can come as chips, cookies, granola bars, trail mix, crackers, and salad toppings.