Whether you have an early class in the morning or need to stay up late at night writing a paper, you likely need loads of coffee to keep going. This is precisely why the ease of having a coffee maker in your bedroom is unbeatable.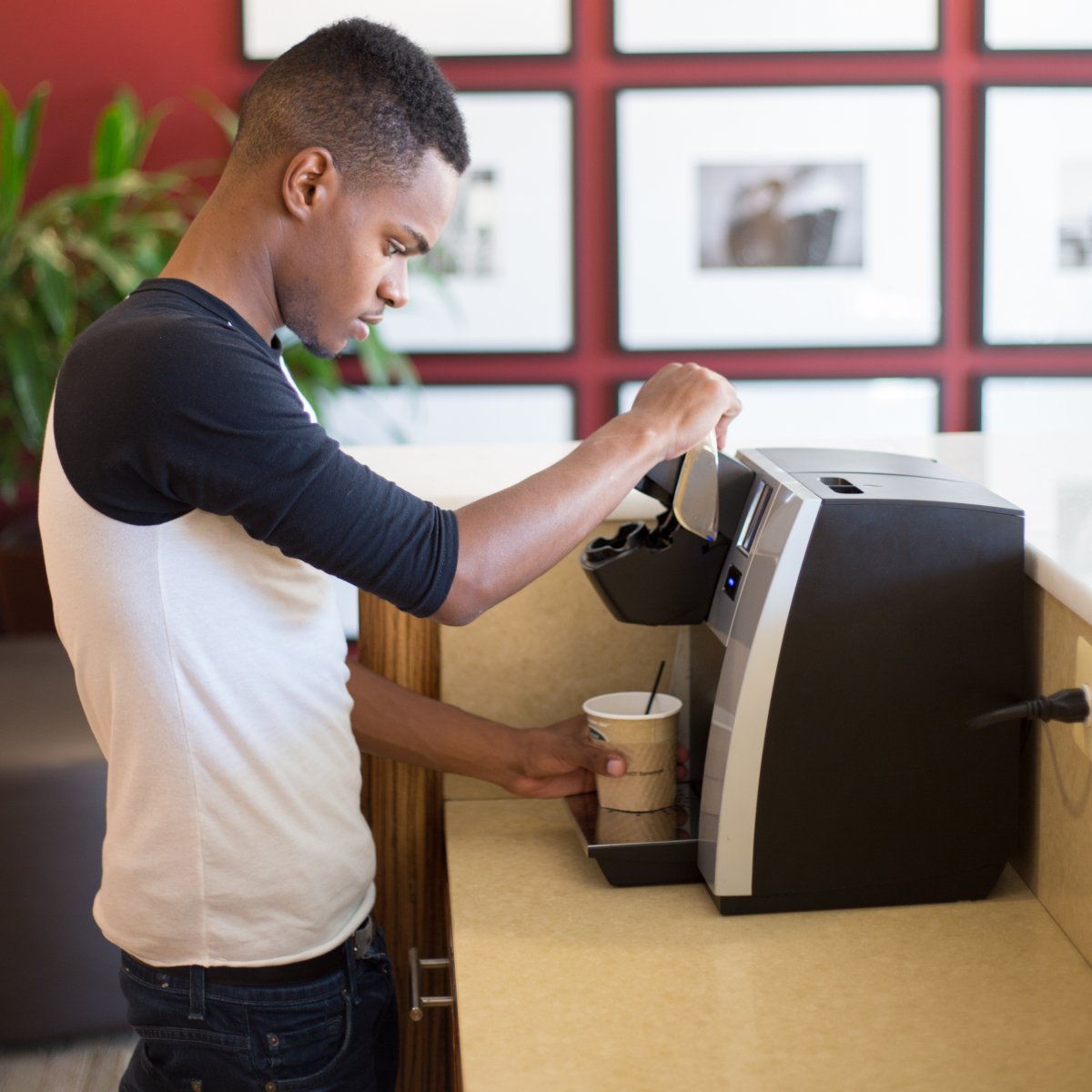 When buying a coffee maker for college, you'll need a relatively inexpensive machine, simple to use, and takes up as little space as possible.
We've compiled a list of the best coffee makers for college based on their pricing, aesthetics, longevity, size, and warranty. Overall, we found that the best coffee maker for college is the Keurig K-Classic Coffee Maker.
Read our in-depth reviews of each model to help you make a well-informed decision, and you'll be sipping delectable coffee in the luxury of your room before you know it!
Table of Contents
Top Coffee Makers For College
Best Overall: Keurig K-Classic Coffee Maker
SAVE 40%
Keurig K-Classic coffee maker
Coupled with a compact design, fast brew time, consistent brew quality automatic, and the ability to make tea or hot chocolate, the versatility of Keurig K-Classic sets it apart from other options.
Pros: Three available cup sizes (6, 8, 10 ounces), less than one minute brew time, programmable auto-off, compatible with Keurig Classic Series reusable coffee filter, user-friendly interface, lightweight.
Cons: Doesn't always reach the ideal brewing temperature.
A classic is a classic for a reason. And this Keurig K-Classic coffee maker is no exception. Simply designed yet strongly built, this sleek and compact coffee maker is perfect for students who want to have café quality brew at home.
Perhaps the best part about this coffee maker for college is its compactness, ensuring that it won't take up much of your counter space. This is super impressive, considering that it's loaded with valuable features. Keurig K-Classic gives you brew control options for mild or strong brew strengths. You can also choose between decaf or flavored coffee.
You'll certainly appreciate the fast brew time of less than a minute. Plus, the K-Classic is compatible with the most popular K-Cup pod sizes. Just ensure there is water in the 48-ounce water tank, insert the pod, press one of the three brew size buttons, and you'll have a steaming cup of coffee ready in less than a minute.
We especially loved the large 6-cup capacity of this coffee maker, which is a significant plus if you have a roommate or are a heavy coffee drinker. Besides coffee, this machine also lets you whip up hot chocolate and tea.
The safety of this machine is top-notch. It has a removable water tank, so you can drain the hot water tank and avoid accidentally burning yourself while transporting the machine.
If you're not a fan of proprietary coffee pods, you can buy the Keurig Classic Series My K-Cup reusable coffee filter and use ground coffee. Besides getting your desired brew, you can also help minimize waste.
However, the brew quality might not be consistent with the reusable filter. Factors like the high coarseness of the grind, a small amount of coffee, or soft tamping can noticeably lower the brew quality.
While the coffee maker doesn't always reach the ideal temperature—195 to 205 degrees Fahrenheit, per the Specialty Coffee Association—it comes close.
Best for Shared Dorms: Cuisinart 12-Cup Programmable Coffee Maker
Cuisinart Programmable Coffee Maker
The Cuisinart Coffee Maker can brew up to 12 cups at a time, making it a solid choice for shared dorms filled with avid coffee drinkers.
Pros: Large brewing capacity, programmable automatic brew timer, automatic shut-off option, automatic cleaning alert.
Cons: Front LED is a bit dim.
Are you looking for the best coffee maker for your shared dorm room with several other coffee lovers? Look no further than the Cuisinart Programmable Coffee Maker.
You don't have to wait for the machine to stop brewing completely before getting a cup of delicious coffee, which is a huge plus. This coffee maker's unique Brew Pause feature stops the brewing process immediately as soon as you lift the carafe off the heater plate so you can grab a cup for yourself.
The warming plate ensures that your coffee stays hot in the carafe long after the brewing process is finished. What makes this coffee maker even better for college students is its programmability.
You can set the machine to brew automatically at any time of the day. This way, you can enjoy fresh coffee when you wake up or after your classes with no wait time.
With the Cuisinart programmable coffee maker, cleaning is a breeze. It has a clean light indicator that alerts you when your machine needs a minor cleanup.
You'll love the glass carafe with ergonomic grip handles, a knuckle guard, and a dripless spout to ensure a zero-spill pour every time. However, one feature we didn't particularly like was the dim LED light in the front.
Best Budget: AmazonBasics 5-Cup Coffee Maker
AmazonBasics 5-Cup coffee maker
The AmazonBasics 5-Cup Coffee Maker offers a compact coffee-making machine at a surprisingly low price without compromising brew quality.
Pros: Compact and lightweight, single button operation, a clear water reservoir, relatively affordable compared to other coffee makers, anti-drip feature for easy pouring while brewing, highly portable.
Cons: No advanced features like a programmable timer and automatic shut-off.
Perhaps the best value for your money, the AmazonBasics 5-Cup coffee maker is noticeably cheaper than other coffee makers with similar or even lower capacity. This is super impressive, considering the high quality of the machine.
It doesn't include advanced features like programmable auto-brew & auto-off, cleaning alerts, and temp/strength control. But it more than makes up for it with its excellent brewing mechanism. As long as you're using the correct grind coarseness, the AmazonBasics coffee maker will brew consistently fantastic coffee every time.
This machine's biggest advantage is its lack of complex features, so it's incredibly easy to use. It does not have any screens or confusing menu buttons. All you have to do is fill it with water, put in your ground coffee, turn the maker on, and you'll have five cups of great coffee in no time.
While its brewing time is not as fast as we'd like, it does include a stain-resistant warming plate. So you can enjoy hot coffee throughout the day from the same brew.
Best Brew Quality: Nespresso Vertuo Coffee & Espresso Machine
SAVE 30%
Nespresso Vertuo Coffee & Espresso Machine
If you're a coffee connoisseur who cannot compromise on your coffee's taste and brew quality, the Nespresso Vertuo Coffee & Espresso Machine is your best option.
Pros: One-touch brewing system, consistently top-tier brew quality, compatible with a wide range of coffees and espressos, automatic temperature adjustment for different coffee pods.
Cons: Time-consuming manual cleaning.
Nespresso Vertuo Coffee & Espresso Machine is one of the most premium options on our list. Yes, the price tag can seem excessive, especially for college students. However, it makes up for its high cost with one of the best brew qualities on the market.
The reason behind this quality is the unique brewing method used by the Nespresso Vertuo. Instead of just squeezing warm water through a filter, the Nespresso Vertuo spins its coffee pods to speeds of 7000 revolutions per minute.
This works on a similar centrifugal force principle as a laundry dryer, where the spinning motion ensures that every drop of flavor is extracted from each pod.
Moreover, this unique brewing method doesn't cause any delay either. The Nespresso Vertuo Coffee & Espresso Machine heats up in an incredible 15 seconds and can pour a full 14-ounce mug in about five minutes.
While the brew quality alone is enough to make this best coffee maker for college worth your consideration, it doesn't disappoint in other aspects. The machine includes several quality-of-life features, such as a height-adjustable mug stand and built-in storage for used coffee pods.
The 54-oz removable water tank equals more than 35 shots of standard espresso. Its coffee pods can be expensive, but the Nespresso Vertuo comes with a welcome kit containing 12 different pods for free to get you started.
Best Features: Hamilton Beach BrewStation 12-Cup Drip Coffeemaker
Hamilton Beach BrewStation
The Hamilton Beach BrewStation Coffee Maker is filled to the brim with helpful features. Coupled with its top-of-the-line brewing quality, the machine is considered one of the best in the industry.
Pros: Large brewing capacity, removable water tank, internal reservoir to keep brewed coffee warm, multiple brew options.
Cons: Not compatible with super compact spaces.
Integrated with numerous state-of-the-art features, the Hamilton Beach BrewStation truly takes your coffee brewing process to another level. The stand-out feature is its ability to brew up to 12 cups. But instead of pouring it all into a carafe, it stores the brewed coffee in an internal reservoir.
You only need to place the cup against the dispensing bar and pour as much coffee as you want. The remaining brew stays hot and flavorful inside the reservoir for up to four hours.
The BrewStation also provides you with several brewing options. So you get to choose the strength of your coffee between standard or bold and specify the number of cups you would like.
The best part is that you can also brew iced coffee, a lifesaver for college students during summer. The BrewStation also allows you to set a brewing time 24 hours in advance. So you can have a steaming cup of hot coffee waiting for you as soon as you wake up.
The internal coffee storage means you would have to clean it fairly often. Fortunately, you can easily remove the filter holder and internal reservoir, providing easy cleaning access.
Best Compact: CHULUX One Cup Coffee Maker
SAVE 15%
CHULUX One Cup Coffee Maker
Perfectly capable of fitting in a limited space, this compact coffee machine by CHULUX is designed for individual use. It is compatible with K-Cup pods and can brew coffee in just a few minutes.
Pros: Compact, lightweight, highly versatile, compatible with several single-serve coffee pods, user-friendly interface, reusable filters.
Cons: Only compatible with single-serve coffee pods.
Single-serve coffee makers are convenient, and nobody does it better than the CHULUX One Cup Coffee Maker. What's interesting about this machine is that it's compatible with almost every pod type, regardless of the brand.
This is unlike most popular single-serve coffee makers, like Keurig and Nespresso, that use pods specifically designed for them.
Since it can hold only 12 ounces of water, this pod coffee machine can fit in even the tightest spaces. So if you're worried about your coffee maker taking up a good chunk of desk space, it's time to chillax (pun intended) by buying this CHULUX single-serve machine.
Remember that you'll typically need more than one cup at a time—particularly during exam season. So refilling the water reservoir after each cup can be relatively time-consuming.
The good news is that the remaining process is quick once you fill the tank up. Three minutes is all this coffee maker needs to brew a steaming cup of joe once you put the tray lid back on, of course!
This is for all the health-conscious folks here. With CHULUX single-cup coffee maker, rest assured that it will satisfy your stringent requirements for health and safety due to its composition of BPA-free materials.
The machine is also easy to clean and maintain, making it a convenient option for those who want a quick and straightforward coffee-making experience.
Some reviews suggest that the single-cup coffee maker isn't very durable. The plus side, however, is that CHULUX has an excellent customer service team that will help with any potential issues.
Coffee Makers For College Buying Guide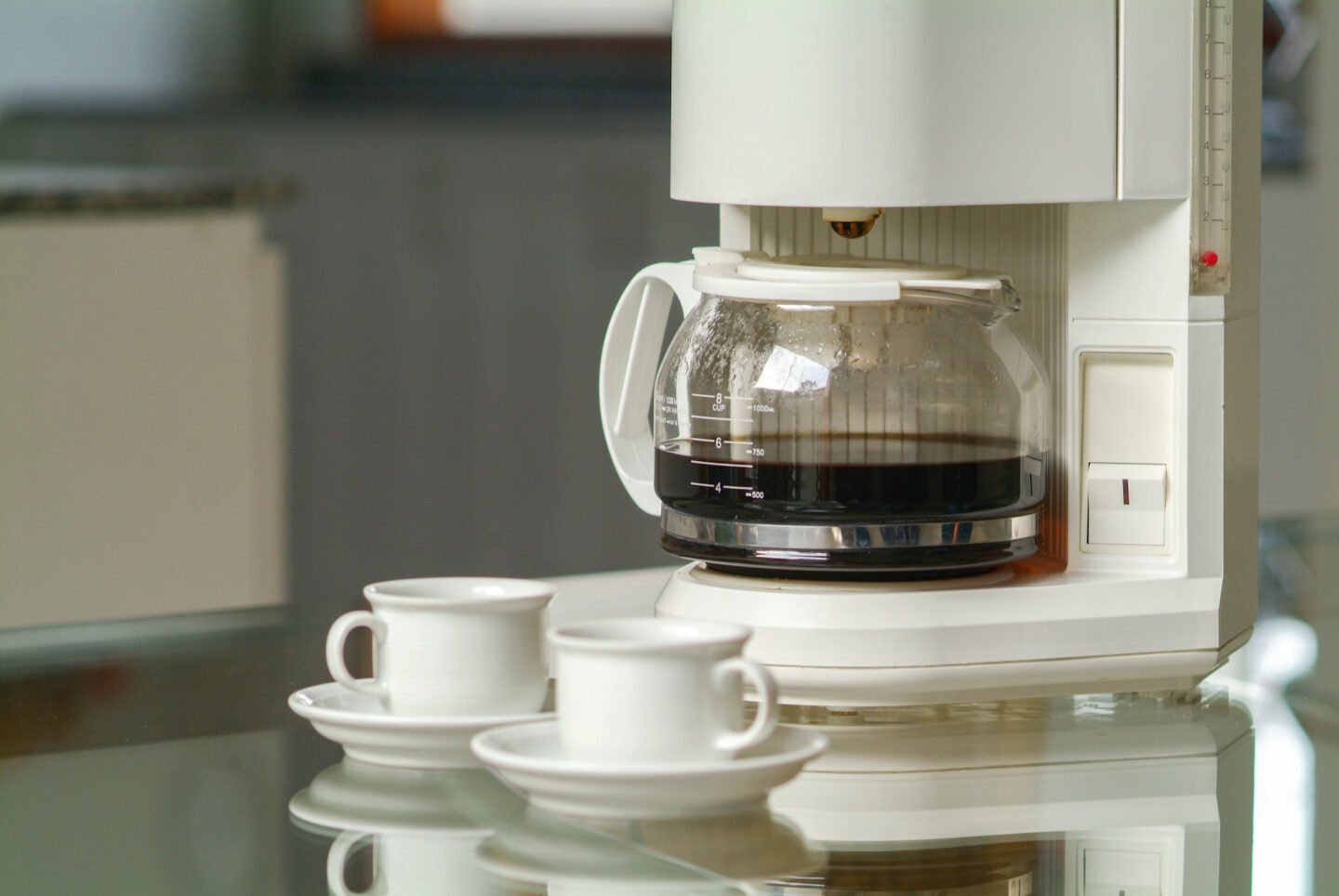 Whether you are a student or the parent of a soon-to-be college student, here are some key factors you should consider before investing in a coffee maker.
1. Brew capacity
The amount of good coffee the machine can brew is an important factor to consider when looking for a coffee maker for college. A 1-2 cup per brew size is perfect if you live alone.
Conversely, if you want to serve yourself and another person, consider getting a 2-4 cup per brew size. Opt for a 4-6 or 6-10 cup brew size if you live with several roommates.
2. Ease of use
The best coffee makers for college students are the ones that make it easy to get a quick cup of joe. The more time you can save in the morning, the better.
If you have to spend 10 minutes trying to figure out how your coffee maker works, it's a complete waste of 10 whole minutes that could have been put to better use by studying, writing a paper, or getting extra rest.
Also, look for coffee makers with large water containers that you don't have to refill often. Machines with one-touch brewing functionality will also help cut your coffee-brewing time.
Alternatively, you can opt for a coffee maker that allows you to set a brewing time in advance. While the initial setup will take some time and finesse, you can enjoy a steaming cup of good coffee as soon as you wake up.
3. Size
Consider how much space the coffee maker will occupy before investing in one. You don't want a bulky machine that takes up too much counter space.
The best way to do this is to take a tape measure and measure your free space for the coffee maker. You can then compare your measurements with the coffee maker's dimensions to ensure it fits easily. Remember that most makers have a lid on top, so ensure you have enough clearance above it.
If storage is limited, consider looking for models that have drip trays instead of water reservoirs.
Also, it is essential to remember that a large size doesn't necessarily mean more coffee per brew. So make sure you do your research.
4. Type of coffee maker
Think about the type of coffee maker you're looking for. Coffee makers come in several different types, including drip coffee makers, which consist of a carafe and filter basket; single-cup brewing systems that use pods or K-cups; espresso machines; and French presses.
While many college students prefer the simplicity of using K-cups or pods, some may prefer making their own brew with freshly ground beans.
5. Programmability
Programmability is the ability to set the time and temperature for brewing. It lets you wake up or get home from class to a pot of hot coffee already waiting for you.
This feature is also crucial for those who prefer a different coffee at different times of the day. For instance, you may want a decaf or flavored brew in the morning, then regular espresso later in the afternoon.
Programmability can also include settings like the amount of water used per cup, the number of cups made from each scoop of ground coffee beans, and how long each batch takes to get ready.
Consider making a list of all the programmable features vital to you. Then, look for a coffee maker that checks all the boxes.
FAQs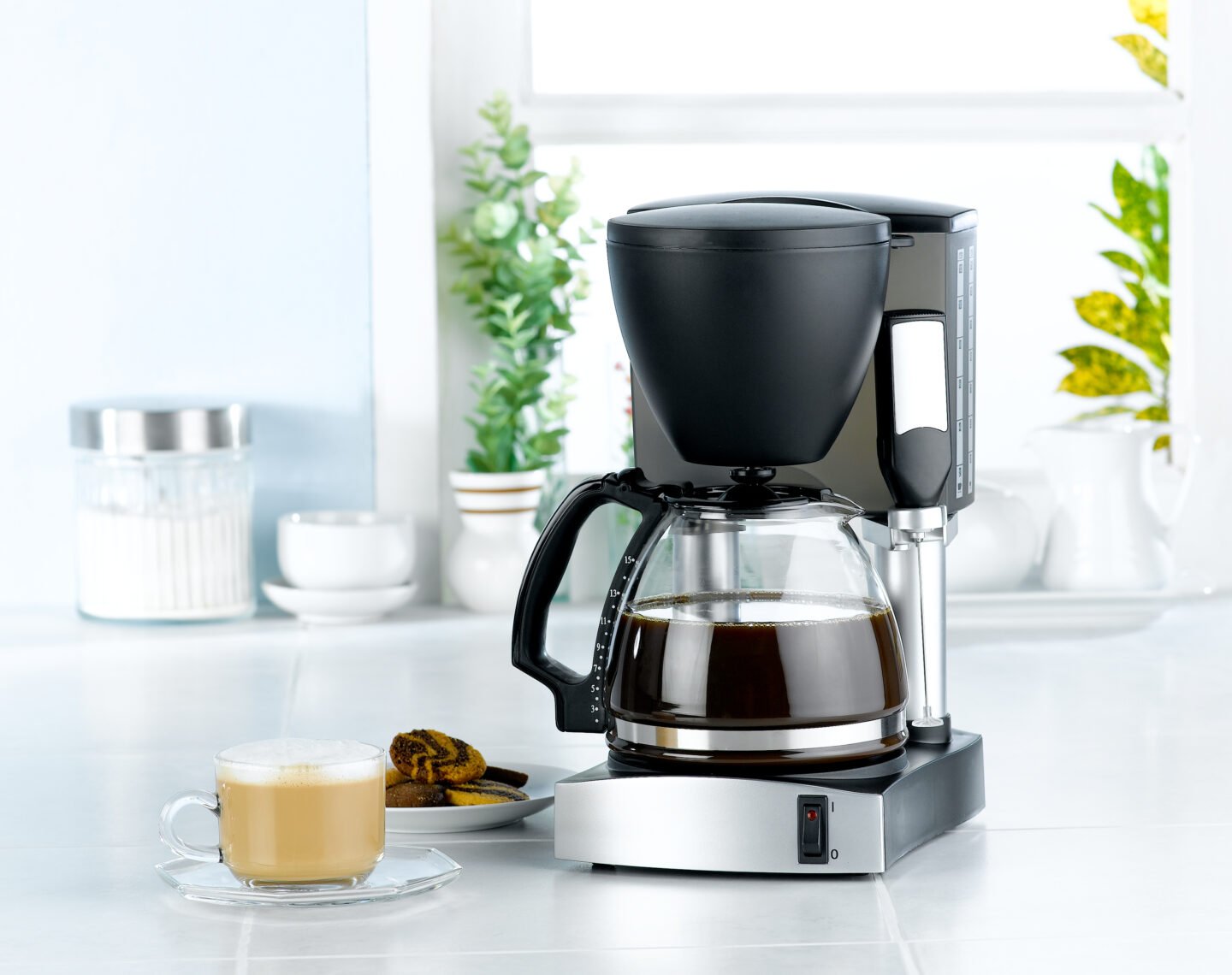 Are K-pods more economical than ordinary ground coffee?
Coffee grounds are by far the cheapest option for almost every brand. On average, one K-cup costs nearly three times as much as a pound of ground or whole beans from Starbucks, per The Atlantic.
Where should I keep my coffee beans in a dorm room?
You should store your coffee beans somewhere cool and dark to ensure that they retain their flavor. It's best not to store your beans in their retail packaging, especially roasted ones.

Store the coffee beans in an airtight, opaque container. If your place gets a lot of sunlight, don't keep the beans (whole or coffee grounds) in transparent containers. Plastic containers are also a big no-no since they can extract the beans' oils.

Opaque glass, ceramic, and non-reactive metal containers work best. You'll also need something that can easily fit into your dorm.
Are coffee makers even allowed in dorms?
Yes, coffee makers are allowed in most dorms. However, some colleges might require a UL safety certification or have other rules.

Coffee makers are not cheap. So before spending your hard-earned money on one, check in with your dorm administration. Ask them about their rules on using coffee makers at college.