Molding chocolate is as much an art as a science, so you should choose only the finest tools and ingredients. But, of course, the most important is the chocolate itself which can be as varied in type and quality as fine wine.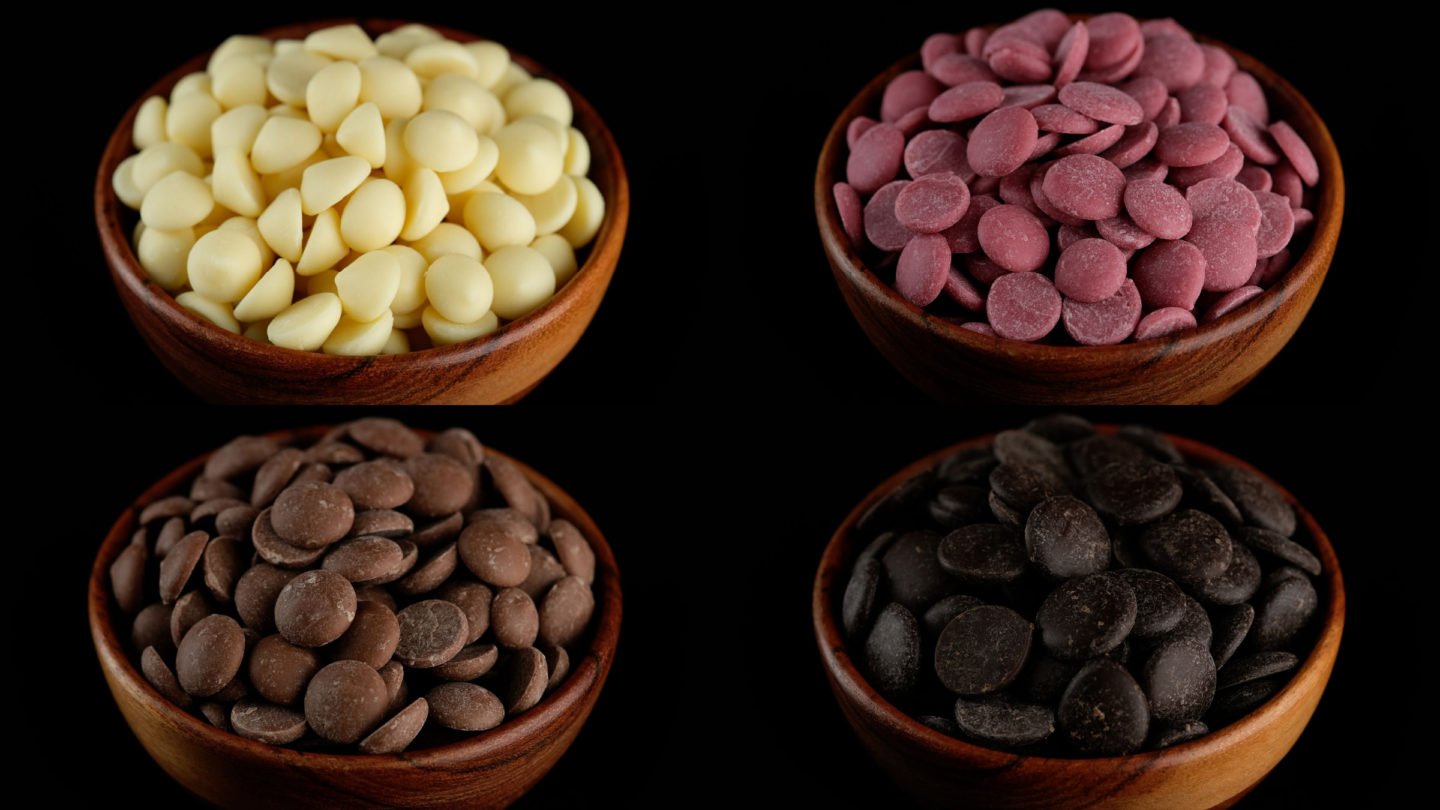 If you're looking for the best chocolate for molding but aren't sure where to start, look at our guide. We've looked at all the top brands and compared their chocolate content, shape, and available variety to bring you the creme of the crop. So take a look at a few of these quality chocolates, and choose one for yourself.
Table of Contents
Best Overall: Wilton Dark Cocoa Candy Melt Wafers
Wilton Dark Cocoa Candy Melts
Wilton's dark cocoa candy melts stand out for their wide variety and affordable price.
Pros: Affordable, available in a variety of colors and flavors
Cons: Not as high quality as some other brands
Since chocolate can vary widely from brand to brand, it pays to choose one that is easy enough for beginners to work with but quality enough for the pros. These Wilton dark cocoa candy melt wafers are an excellent choice for either, letting you continue using them as your skills improve.
Our favorite thing about this brand is how many different colors and types it comes in. Whether you want dark, milk, or white chocolate, they've got you covered. If you want blue or pink melts, they won't disappoint.
While there are higher quality options out there, this brand won't disappoint even dedicated chocoholics. Smooth, creamy, and just the right amount of sweet, they're a good choice for all kinds of molding projects.
Best Variety: Ghiradelli Melting Chocolate Wafers
No products found.
Choosing a chocolate brand that offers a wide variety of options is a good idea, so you don't have to switch to different projects. No products found. come in various flavors, with differing amounts of cacao, giving you all the options you need.
Ghiradelli is known for producing high-quality chocolates enjoyed by people all over the world. These melting wafers bring the same quality, letting you add their signature flavor to anything you make.
Of course, the wafers come with a slightly higher price tag, just like their individual truffles. That makes them a good choice for special occasions, but not if you plan on working in bulk or under a budget.
Best Chocolate Content: Guittard Organic Chocolate Wafers
Experienced chocolate aficionados will tell you that the finest chocolate is that with the highest cocoa content. These Guittard organic chocolate wafers boast 66% cacao, which delivers a rich, complex flavor for any of your molding projects.
The company also offers 74% cacao wafers, which offer a good balance of deep flavor and sweetness. They also melt easily and flow smoothly, making pouring into your molds easier.
Overall, they're a good choice, but it's worth mentioning that the wafers are a bit larger than some other brands. They're about the size of a nickel, and while still good for melting, they may take slightly longer.
Best Quality: Callebaut Belgian Dark Chocolate
While you can't use the best chocolate for everyday use, it's always nice to have it on hand for special projects. This Callebaut Belgian dark chocolate is some of the best you can find, with special attention paid to building a nuanced, layered flavor.
Callebaut starts with quality ingredients and uses a whole bean roasting method to build a truly distinct flavor. Unlike other varieties of chocolate, this brings bright, fruity flavors alongside the rich earthy notes. They finish it off with a subtle kiss of vanilla to balance the taste.
You have a few better options if you're willing to invest in quality. Otherwise, give the Guittard wafers a try if you want to save money but still enjoy a rich and complex flavor.
Best Budget: Merckens Chocolate Melting Wafers
Learning to mold chocolate takes a bit of time, and if you're just starting, it's best to choose inexpensive chocolate that still tastes great. These Mercken's Chocolate Melting Wafers are affordable and delicious and come in several different flavors.
They're affordable enough to work in large quantities without spending more than fifty dollars. In fact, they even sell a discounted 5-pound bag which is perfect for big batches.
While the flavor is great, don't expect it to have the same complex taste as more expensive varieties. However, it is still a good choice for everything from molding, baking, or just eating plain.
Molding Chocolate Buying Guide
There may be a bit more to chocolate than you originally thought, especially when it comes to molding. However, once you familiarize yourself with some of the basic characteristics of quality melting chocolate, you'll be able to find the best product for yourself.
Chocolate Content
All chocolate has three basic ingredients: chocolate solids, cocoa butter, and sugar. While these are all important, the chocolate solids make all the difference. They deliver that deep, rich flavor you're looking for. Quality brands have between 50% and 70% chocolate solids, referred to on the packaging as cocoa.
However, you're not always looking to maximize your cocoa percentage in all cases. For example, milk chocolate has a lower percentage of cocoa, while white chocolate has none at all.
Shape
Technically, you can work with chocolate in any form, and if your favorite variety only comes as a bar, there's no reason why you can't use it for melting. However, chips and wafers have the advantage of being pre-portioned and uniformly shaped. That ensures they melt evenly, without the risk of burning smaller bits or leaving larger pieces unmelted.
If you want to work with bar chocolate, you must cut it evenly before beginning the melting process.
Available Varieties
While you can always switch to another brand if you want to work with white or dark chocolate, maintaining consistency is nice. That's why brands that offer a good selection are your best bet.
FAQs
How do I melt chocolate?
There are a few methods of melting chocolate, and some are more advanced than others. While the microwave method isn't the way most professional chocolatiers would do it, it's a good place to start for beginners. Then, of course, you'll need to use a double-boiler if you want a more professional finish on your chocolate.

To melt your chocolate in the microwave, place your wafers in an appropriate bowl and set them in the microwave. Set the power to 50% and heat in 30-second bursts, stopping to stir every 30 seconds. Little by little, the wafers will begin to melt, though as long as you stir thoroughly, they shouldn't burn.
How should I store my molding chocolate?
Chocolate stays solid at room temperature, so in most cases, it's perfectly happy in your pantry. However, bear in mind that chocolate begins to melt at 86 degrees Fahrenheit, so all it takes is a single hot day to ruin its quality. If you think it's necessary, try storying your chocolate on an out-of-the-way shelf in your basement.

Try not to store chocolate in the refrigerator, except for short periods. Long-term refrigeration can cause chocolate to become damp and even develop white spots. The freezer can have similar effects in an even shorter time.
How long does chocolate take to harden?
The time it takes your chocolate to harden depends mostly on the size and shape of your molds. For large, chunky shapes, you can expect it to take as long as 30 minutes before it's ready to unmold. On the other hand, small or flat shapes can cool and harden in as little as 10 to 15 minutes.