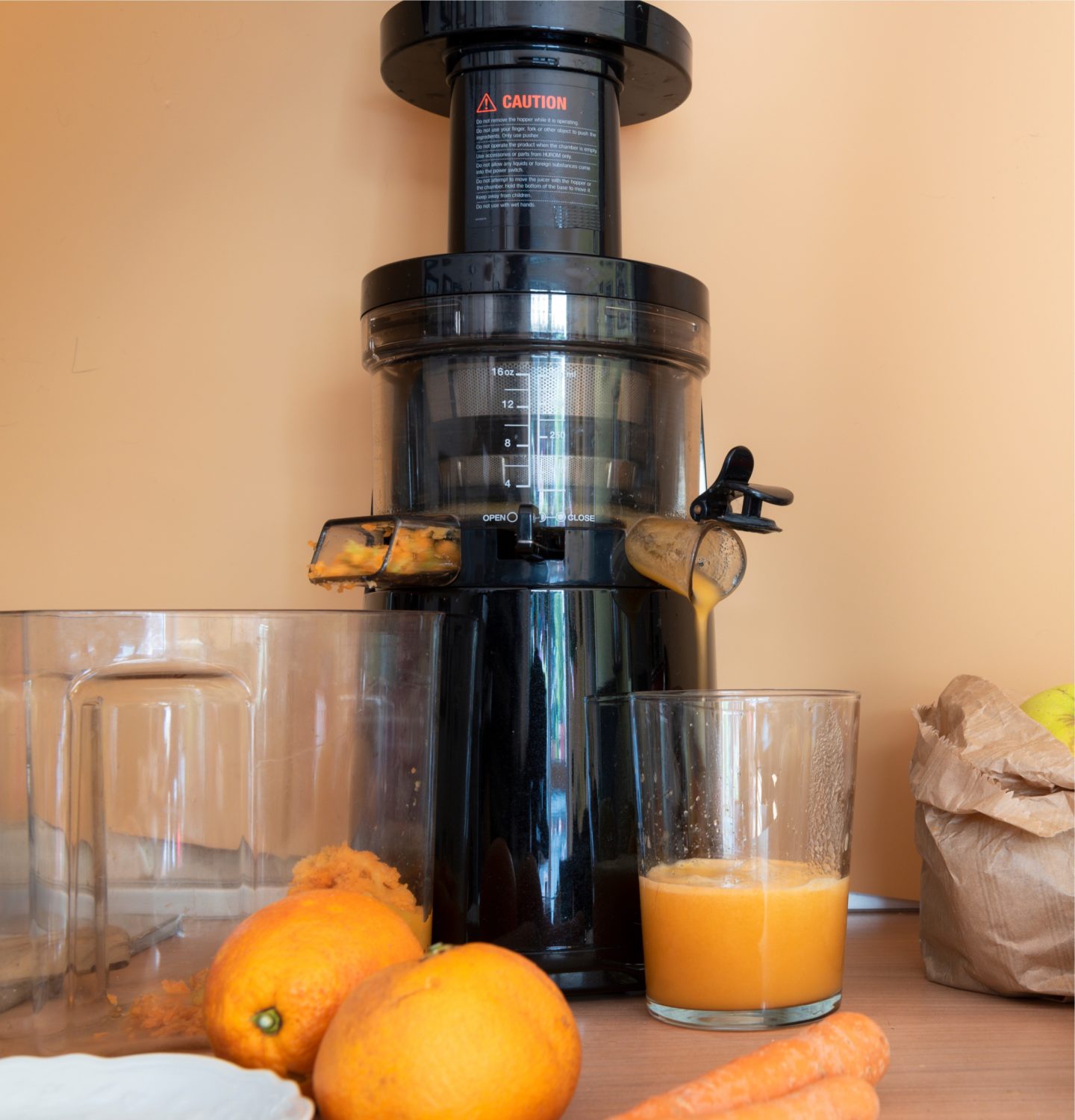 Store-bought juices are more convenient, but they can be costly and sometimes contain additives and preservatives. On the other hand, you might think that juicing at home requires too much time, but this is where centrifugal juicers come in.
Centrifugal juicers provide efficient juicing due to their ability to process at a very fast speed. Plus, they cost less than masticating or slow juicers. But before looking at your options, it helps if you already know what you need as juicers come with different speed settings, and each product requires a different speed to extract the most juice.
Also, the best centrifugal juicers have a large chute size that caters to more fruits and vegetables, cutting the preparation and processing time to half. Choosing the right juicer might be a little too overwhelming as there are hundreds of products to choose from, but we're here to help, and we've listed our top 6 centrifugal juicers.
Table of Contents
Overall Best Centrifugal Juicer: Breville JE98XL Juice Fountain Plus Centrifugal Juicer, Brushed Stainless Steel
The Breville Juice Fountain Plus is an excellent entry point into the world of juicing. It is built with a titanium-reinforced disc and an Italian-made micro mesh filter basket constructed of stainless steel.
Additionally, it has a two-speed setting. The lower speed caters to soft fruits and vegetables, while the higher speed can juice tougher ones. Aside from that, the juicer also has a froth separator, which allows you to pour more juice yield and less foam into the glass.
This juice extractor is overall easy to clean. The blade and mesh chamber is the most difficult to clean, but you can clean them with the supplied brush. Remember to wash this component immediately after use properly. Doing so will keep the blade sharp and the mesh clear of fibers, ensuring the machine works like new for years to come.
Among its features, the only concern is the 1-year company warranty. Beginners may be assured since the product has a longer warranty, especially since juicers have parts that might need repairs or replacements. However, if your goal is to make green smoothies and sorbets, this juicer may not be the best option for you.
Best Affordable Centrifugal Juicer (Amazon's Best Seller): Hamilton Beach Juicer Machine
Powered by an 800-watt motor, this juicer is perfect for tougher fruits and vegetables that might be a hassle for others. Dubbed the "Hamilton Beach Big Mouth," this juicer comes with a 3-inch feeding funnel. You can fit a giant carrot, an entire apple, a peeled orange, or a handful of greens into it without any trouble. This means you can focus on the actual juicing instead of pre-cutting.
We also appreciate that this juicer comes with a 3-year warranty, ensuring buyers, especially first-time juicers. With its price range and features, this juicer is truly a bargain.
However, this juicer has only one speed setting, which sets it apart from other juicers. It runs at 12,000 RPMs, making it unsuitable for making sorbets, nut butter, and juicing greens. So if your original plan is to make those, this might not be the juicer for you.
Also, this juicer doesn't come with a juice jug, which means you will have to manually catch the juice, making it prone to spillage and mess.
Note: If the Hamilton Beach Big Mouth Juicer Machine doesn't seem like a good budget pick for you, we also recommend the Mueller Austria Ultra Juicer. This juicer is also very budget-friendly, very easy to operate, and has parts that are dishwasher friendly for easy cleaning.
Best Value and Most Quiet: Cuisinart CJE1000
The Cuisinart CJE-1000 has a five-speed control dial that you can choose from depending on what you'll be juicing. It has a 1000-watt motor and a digital display. You can go for a maximum of 13,000 RPM, depending on your juice needs.
It has a sturdy, robust, and substantial foundation that keeps harsh noises and vibrations at bay. The outside of these juice extractor components is unshakable because of the solid die-cast stainless steel, unlike the exterior of other juicers.
When it comes to the Cuisinart CJE1000 centrifugal juicer, assembly, disassembly, and cleaning are some of the simplest procedures. It boasts a one-of-a-kind design with large operating components that are dishwasher safe. Although washing the juicer in the dishwasher's top rack is handy, you should clean it by hand immediately after use to avoid fibers from drying on the mesh filter and blade.
Even with its impressive hardware and quietness, this juicer has several drawbacks. One noticeable flaw is that the filter doesn't catch all the pulp. Also, reviews say that the juice produced by this machine has a short shelf life, which makes it unsuitable for batch-making juice.
Best Centrifugal Juicer for Leafy Greens: Breville 800JEXL Juice Fountain Elite
The Breville 800JEXL Juice Fountain Elite gives you the power of experts; a 1000 watt motor can spin up to 13,000 RPMs to provide up to 30% more juice than typical juicers. Over 40,000 filtering pores assure smooth and tasty results every time.
The Breville juicer's titanium-reinforced disc and Italian-made micro mesh filter basket are constructed of stainless steel and designed for optimal juice and nutrient extraction. While many cheaper centrifugal juicers are made entirely of plastic, the brushed stainless steel chassis should provide years of reliable service without requiring any maintenance.
The juicer also comes with a large 35.2 fl oz juice jug with a froth separator and a 3.2 qt pulp container so that you can juice to your heart's content. If you lead a hectic lifestyle and are often pressed for time, you'll enjoy the bigger feed tube, which allows you to feed in whole fruits and veggies if you're in a hurry.
Additionally, the juicer lid, stainless steel filter bowl, puree disc, and juice jug are all dishwasher safe, making it even more convenient.
If there are any drawbacks to this juicer, it would be its weight. Since it's built with an all-stainless steel exterior, moving it around becomes a tedious job. But you can place it on a spot where it's convenient for daily use, so you won't have to move it around often.
Best Compromise Between Centrifugal And Cold-press: Breville Juice Fountain Cold Centrifugal Juicer
The Breville BJE430SIL Juice Fountain Cold Centrifugal Juicer has Cold Spin Technology, allowing the juice to flow up through the cutting disc while keeping the temperature constant like a slow juice extractor or triturating juicer. This leads to lesser oxidation, which leads to the juice having a longer shelf life.
Moreover, the Breville Juice Fountain also boasts a one-of-a-kind feed tube with a 3.5-inch extra-wide funnel that allows you to juice enter entire fruits and vegetables effortlessly. This is ideal if you are in a rush because it significantly lowers preparation time.
You don't have to worry about the aftercare, too. Cleaning the juicer is a breeze because of the snap-off pieces. Except for the base, all of the components are dishwasher safe. This makes cleaning the juicer quick and simple. The Breville Juice Fountain Plus also has a cleaning brush and is easy to build and remove.
Although this comes with an extra-wide funnel feed, you must avoid overusing the machine to ensure motor longevity. Luckily, this juicer is equipped with a led monitor that lights up when it's overloaded and needs a break.
However, due to its high speed, frothing is noticed, and the pulp produced is found to have a considerable amount of moisture in it, which means less juice extraction. But if you're after the longevity of the juice produced, this is a good juicer for you.
Best Centrifugal Juicer with Powerful High-Range: Muller Austria Juicer Ultra 1100W
The Muller Austria Juicer Ultra's 1100-watt engine can juice the toughest ingredients, distinguishing it from the more costly centrifugal juicer models on the market. Not only that, but it also boasts a 3-inch broad funnel that can readily accommodate large apples or even larger fruits.
The juicer has a captivating stainless steel design, and its dual-speed capability lets you alternate between two different speed settings. The initial speed setting is between 12,000 and 15,000 RPMs, appropriate for soft fruits. On the other hand, the next speed level is between 15,000 and 18,000 RPMs, making it ideal for tougher fruits and vegetables.
WIth its stabilizing cushions that keep the gadget steady and sturdy, you wouldn't worry about waking the whole household as it doesn't create the expected noise from regular juicers. Also, if you don't like washing by hand, you can place the removable pieces of this juicer in the top rack of your dishwasher. And to make things even easier, you can put a biodegradable bag in the pulp bin.
Due to its ability to rotate at a very high speed, this juicer tends to overheat when used to juice very tough and thickly sliced items, which is its major drawback. When your juicer overheats, there's just no way you can continue with the process as it will cause damage to the machine. Hence, this machine requires time to cool down once it overheats before you can use it again.
Buying Guide
We all want our purchases to be worth every penny. Below, we've compiled the factors you need to consider when choosing centrifugal juicers.
Motor and Speed
The power of a juicer impacts both its speed and its capacity to handle a big load. Typically varying from 400 to 12,000 Watts, a higher motor wattage makes for a more powerful juicer. They are more efficient at breaking down tougher foods since less powerful motors might overheat when dealing with the same fruits and veggies. A more powerful motor guarantees that the juicer will not break down under strain.
Durable Construction
With the chamber spinning at such a high speed, the machine must be sturdy enough to keep it in place. Once in position, the disc chamber should be properly aligned with the base. The locking arm must be made from strong metal and should not feel loose when locked. At that speed, you don't want a metal disc flying at your face!
Chute Dimensions
With a centrifugal juicer, you could even fit a whole fruit in the chute if the funnel is large enough. The feeding tube should be at least three inches wide, as the larger the chute, the less time it takes to prepare. Still, despite having a big chute, you may need to use a pusher from time to time to get the vegetables running smoothly through the juicer.
Juice Container
A juice container can help to reduce spills and waste. Some of the top centrifugal juicers provide containers as optional extras. Look for accessories that enhance your juicing experience, like a longer cord or removable bins.
Brand/Durability/Warranty
Choosing a well-known brand assures excellent quality and superior after-sales service. You may be confident that your investment in homemade juices is secure with a warranty. Furthermore, reputed firms manufacture the most long-lasting and dependable centrifugal juicers on the market.
Frequently Asked Questions
What's the difference between centrifugal juicers and masticating juicers?
A masticating juicer, sometimes called a slow juicer, a cold press juicer, or a triturating juicer requires more time as the fruits and vegetables need to be cut down to smaller pieces before processing. Slow juicers result in less food waste by squeezing all the liquid out of every product.
They also differ in their cost a lot. Centrifugal juicers cost only ⅓ of masticating juicers' price.
Lastly, if you're concerned about noise, a centrifugal juicer generally makes more noise than cold press juicers do. Although no juicer will be whisper-quiet, go with centrifugal juicers with noise reduction features if you're concerned about disturbing the family or neighbors.
Do centrifugal juicers destroy nutrients?
While it is commonly recognized in the juicing world that the heat and oxidation produced by centrifugal juicers result in lower quality juice, there is no current proof that they damage juice nutrients.
Is it possible to extract juice from leafy greens using centrifugal juicers?
While most centrifugal juicers struggle with extracting juice from leafy greens, a few do a great job at it. In this review, the Omega Breville Juice Fountain Elite is our recommended model for efficient green juice extraction.
Should I peel my fruits and vegetables before using the centrifugal juicer?
While peels also contain vitamins, minerals, and fiber, they can taste awful at times. Peeling fruits such as mangoes, citrus fruits, and pineapples can help them taste better. Such peeling can assist in minimizing pulp content and prevent blockages in your juicer's filters.
What damages my centrifugal juicer?
For your juicers to last long, there are a few things that you should keep in mind. First, never wash parts in boiling water or put them in the oven as plastic parts may change forms and cause leakage. And, stuffing your juicers with too much product at a time might cause overheating and damage to the motor.
Lastly, the most common mistake is not cleaning your juicers thoroughly. Some fruits and vegetables produce acids or bases that are harmful to steel. You are responsible for keeping your juicer at its best. So with that said, choosing the best juicer and giving it the best care should go hand in hand.