There's something about the tea-making ritual that just soothes true brewing fans. We all know tea drinkers who have specific steps that they have to take every time they brew. Do you have a ritual that has to be followed?
Maybe you always brew at the same time every day. Or maybe you time your steeping down to the second. Or maybe you only brew with cast iron teapots and kettles. If so, you're not alone. A growing number of tea fanatics are finding that cast iron is perfect for their favorite beverage. Many people brew on cast iron items passed down to them through the generations, cookware sometimes older than their grandparents.
Wait, have you never tried brewing tea with cast iron kettles? If not, we think that you need to try it out as soon as possible. Our gut instincts tell us that you'll find so many amazing cast iron kettles to choose from that you'll find it hard not to dive right into this unique brewing style.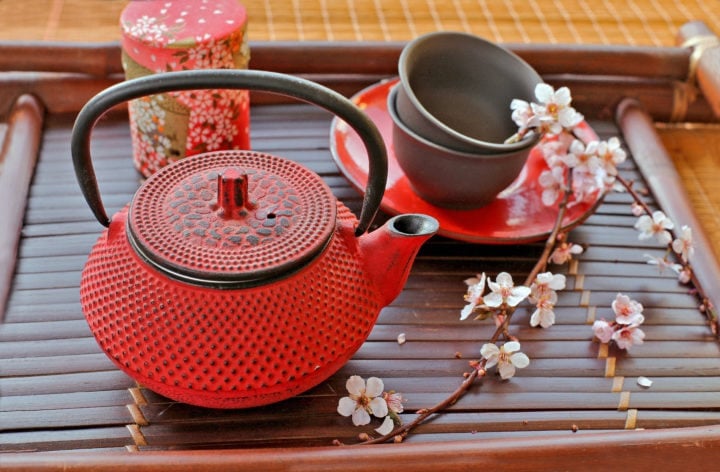 Table of Contents
The Best Cast Iron Teapots on the Market
Towa Workshop Japanese Tetsubin Tea Kettle
This traditional Japanese Tetsubin tea kettle comes with a stainless steel infuser and features an attractive black color. With a size of around 900 milliliters or three ounces, it is a perfect size for many types of tea brewing situations.
Toptier Japanese Cast Iron Teapot
If you want a different color for your teapot, this option is a great choice. It has a similar design and style to the Towa Workshop model but has a light green color. In this way, you can create a fascinating look for your home and kitchen.
Towa Workshop Tetsubin Cast Iron Teapot
While similar to the first teapot reviewed, this option is a bit smaller and more compact. As a result, it is an excellent option for those who live in smaller homes or who want only a few cups every day for their tea experience.
Paracity Cast Iron Teapot
If you want a durable cast iron teapot, this option is a great choice. Its Japanese cast iron is among the finest on this list and provides both a long-lasting and attractive style. In addition, the ergonomic fold-down handle helps this option stand apart due to its ease of handling.
Toptier Japanese Cast Iron Tea Kettle
Toptier has a well-chosen name, as this larger teapot shows. Its more extensive capacity (34 ounces or 1,000 milliliters) makes it an excellent choice for bigger get-togethers. Choose from many colors, including green, black, navy, pink, and turquoise.
Primula Green Dragonfly Japanese Tetsubin
Lastly, this extremely durable and attractive pot is perfect for loose leaf tea or tea bags. It serves as the middle ground between the smaller and bigger models listed here. The interior holds 26 ounces or 768 milliliters.
Using and Caring for Your Teapot
Follow these steps to use your cast iron teapot properly:
Remove the infuser basket before you start
Boil water in a separate pan
Use the boiled water to rinse out the cast iron kettle
Boil water in a separate pan and pour into your teapot
Add tea into your infuser
Let your tea steep before drinking
You can use a trivet with a Japanese cast iron pot, cooking it over an open fire to get a traditional taste. Then, when you're done with your tea, you can clean your teapot using these steps:
Wait for the teapot to fully cool
Clean exterior and interior with warm water
Wipe down the inside with a clean cloth
Put the pot upside to air dry
Clean other items, like the trivet
If your pot ever rusts, you can quickly restore its cast iron surface. Sprinkle the rust with baking soda, add water and liquid soap, scrub the rust away with a tough brush, clean the surface with baking soda again, rinse, dry, and season for one hour in a 350-degree oven.
Deciding On Your Cast Iron Pot Purchase
Before buying any cast iron kettle for your home, you must understand its benefits and disadvantages. And you must understand the influences behind their overall look and design. Most modern cast iron teapots use Japanese cast iron or a Japanese cast iron teapot style. This unique look is standard with most teapot models on the market. Thankfully, Japanese cast iron is quite strong, and the Japanese cast iron teapot look is attractive.
The Pros of Cast Iron Teapots
So, why are people buying cast iron teapots for their homes? An iron tea kettle has many advantages for tea fans. For some tea lovers, these advantages push them far above other kettle options. Just a few reasons that you may love a Japanese cast iron teapot include:
Long-Lasting Heat: A cast iron kettle has superior heat retention for boiling water compared to other models on the market. As a result, you can serve hot tea long after you've brewed it, keeping yourself, your family, and guests satisfied with its quality.
High-Quality Taste: Brewing your tea in a cast iron kettle will add a little of extra flavor to your drink. This extra taste occurs because your pot retains such a high level of heat that your tea gets steeped to near perfection. That secret is one of the biggest reasons why iron kettles have become so popular.
Adds Iron to Your Tea: If you suffer from low iron levels in your blood or anemia, an iron tea kettle may be proper for you. A cast iron tea spot adds a bit of iron to your tea. In this way, a tea connoisseur can get more health benefits. Note: a cast iron tea set is not a single treatment for anemia.
Intense Strength: A high-quality iron teapot is among the strongest models on the market. As a tea lover, you may find your tea pot lasts for decades without repairs. And if you get a cast iron tea set, you can anticipate a lifetime of use from it.
Diverse Range of Uses: Do you like loose tea or a tea bag when brewing tea? Or do you prefer a tea infuser? Whatever option you want, a cast iron tea pot as you covered. They are adaptable to all types of brewing methods. And you can brew green tea, herbal tea, and even black tea in your tea brewing pot.
Other advantages include an attractive look and minimal cleaning and maintenance needs. Before you rush out to buy a cast iron teapot, though, we think you need to understand their downsides. Understanding these factors helps you to make a wise and informed purchasing decision.
The Cons of a Cast Iron Teapot
So, are the best cast iron teapots inherently better than stainless steel? Not necessarily. Stainless steel tea kettles do have advantages over a cast iron teapot. Even with an enamel coating or a stainless steel infuser for loose leaf tea, you may run into these issues with cast iron tea sets:
Heavy Material: Cast iron is a heavy material, which helps to add to its durability. However, some tea connoisseurs may find them too cumbersome to use. This extra weight may also cause scratches on your stovetop if you aren't careful.
May Rust: If you don't empty your teapot regularly, it could easily rust. Thankfully, it is possible to clean and remove rust from a cast iron pot. That said, those who don't want to deal with this issue may not want a cast iron tea pot.
Small Design: Do you like a tea kettle that can serve a large group? A cast iron model may not be the best for you. A Japanese cast iron tea kettle design is compact, which makes it suitable for storage and small gatherings. However, they are not good for large groups.
Hand-Washed Design: Tea lovers who don't like hand washing their dishes may not like a cast iron pot. You cannot put these dishes in a dishwasher, as they may get damaged. Instead, it would help if you washed them by hand. Thankfully, this process is usually quite simple and easy to handle.
It's also important to exercise care when using a cast iron pot. For example, Japanese cast iron can be used on many burners, including glass designs. However, enamel lined teapots cannot be used on stovetops because the heat may crack them. Instead, you must pre-heat water in a separate pan and add it to your teapot. This extra step may frustrate some users but is critical for protecting the kettle.
What is Cast Iron?
If you're new to this website and cast iron in general, you probably need an explanation of what you're getting into here. However, if you've already read one or more of our in-depth articles or know cast iron well, you can skip this section. That said, we find that it's always good to have a refresher on this topic. High-quality cast iron is a unique material that rarely gets the attention it deserves.
So, just what is cast iron, and why is it used to make an iron teapot? Cast iron is one of the oldest iron-based building materials in the world. Archeological research has found cast iron cookware dating back centuries and even over 1,000 years. It differs from items like stainless steel in its carbon content. With a carbon percentage of over two percent, cast iron was much easier for ancient man to make than other types of iron materials.
As a result, items like cast iron cookware and a cast iron tea kettle were popular for many, many years. However, the creation of stainless steel cut back on the spread of cast iron and made it almost impossible to find for many decades. Nevertheless, a revival of interest in cast iron has helped companies like Lodge Cast Iron and more thrive. These businesses produce items like an iron teapot that mimics the old-school feel of these cookware items.
And thankfully, a modern cast iron tea kettle uses many advances to make them stronger. For example, pre-seasoned cast iron teapots are the go-to option for many manufacturers. As a result, you can use your iron teapot right away. Even better, most cast iron kettles use an enamel lining that helps the pure cast iron last longer without the fear of rust.
This porcelain enamel is a simple sealant applied directly to the exterior and interior of the teapot. An enameled interior does not change the taste of the tea. Nor do the benefits of a ceramic teapot differ incredibly from a pure cast iron teapot. So these days, a tea drinker can find a tea set with a Japanese teapot and other items, all with a protective porcelain enamel interior.
Other Material Options for Teapots
The following material types are the most common options for teapots on the market:
Glass: Work with just about any type of tea but does not retain heat and other options. They may also be more prone to cracks and damage.
Ceramic: Ceramic teapots provide a solid and attractive look for your teapot. However, this material absorbs tea taste and should only be used with one type.
Stainless Steel: Stainless steel is durable and retains heat very well. However, they may also be a bit more expensive than other options and stylistically bland.
Silver: Though not as popular as in the past, these teapots do have some advantages. They retain heat well and do not affect the taste of your tea. But, unfortunately, they're hard to find.
Cast Iron: Retain heat well and help add healthy iron to your diet. However, they cannot be heated on a stovetop if they have an enamel surface.
As you can see, these material options have advantages and disadvantages. The most versatile option is probably glass or stainless steel, though cast iron certainly compares well to these choices unique teapot designs and materials.