If you're making smoothies, cocktails or frozen soft desserts, you need a blender that's up to the job. Not all blenders are great at blending ice and frozen foods, in fact, some are notorious for leaving crunchy lumps of unappetizing ice floating in the glass.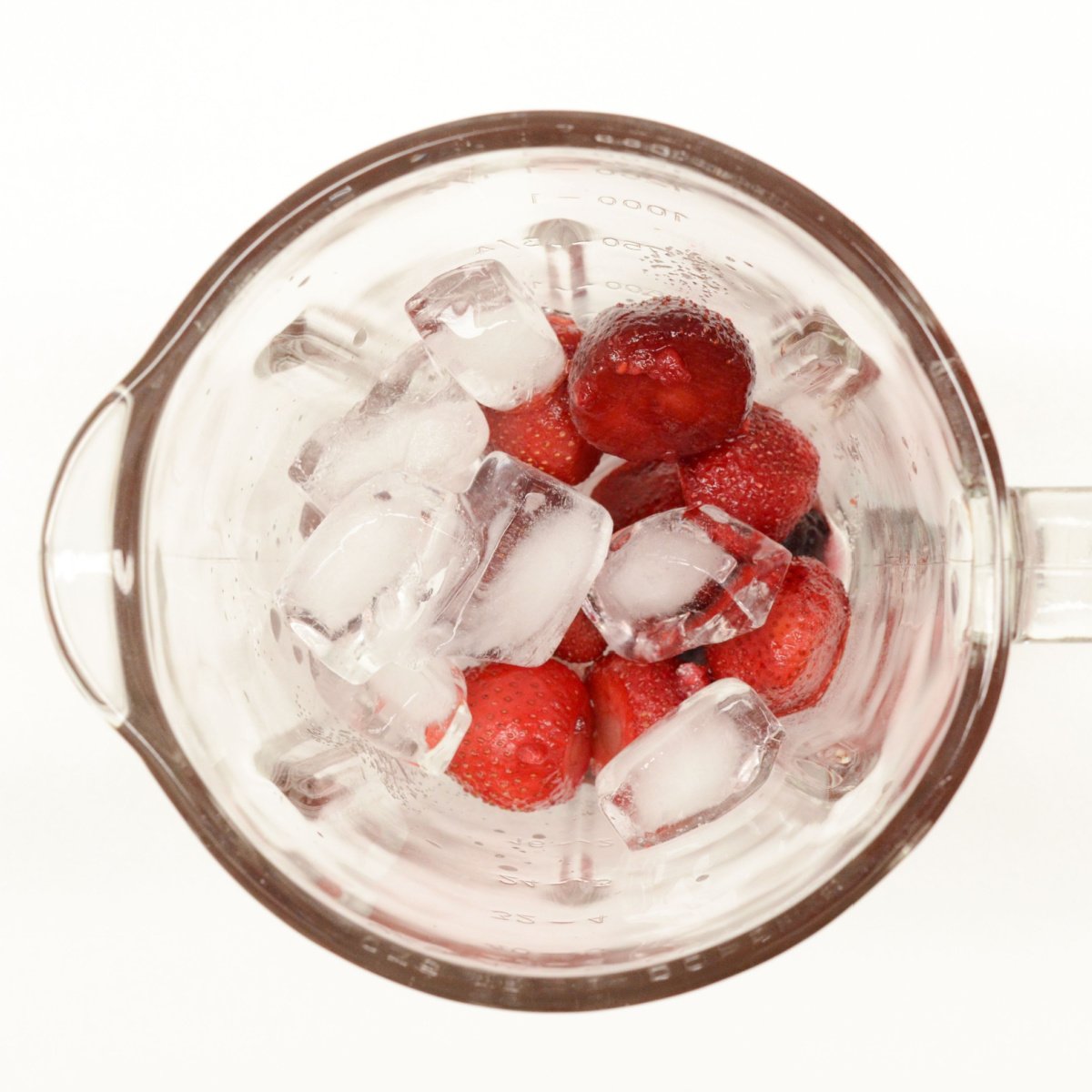 We've taken a good scour through the blender market to find what makes a blender great for ice especially.
With that info in mind, we have picked out the best blenders for tackling ice with ease. We've taken into consideration the blades, the motors, the blending options and the durability of the jug... it all matters.
Table of Contents
What do I need to take into consideration before buying a blender for ice?
First off, you should consider what kind of iced drinks you want to make. Are your main consideration smoothies and icy shakes? Or are you wanting something that can make cocktails, slushies, and ice-based desserts? If you want smoothies and shakes, then a bullet blender or personal blender with a high wattage and tough blades would be ideal.
However, if you want cocktails and desserts, something along the lines of a powerful pitcher or countertop blender would be a better choice. Do you want your blender to be a permanent resident on your counter, or do you want it to be stored away in between uses? If so, take the size and weight into consideration.
Apart from that, all you need to look out for are the crucial features that make a blender great for dealing with ice. We will get onto those below...
What makes a blender good at crushing ice or frozen foods specifically?
To crush hard ingredients you need a hardy construction. This means tough blades which have been designed to withstand hard knocks. It also means a powerful enough motor to churn through the frozen goods without tiring out or overheating. So many blenders these days are powerhouses for blending all kinds of hard, dry, and unyielding ingredients.
They're designed to churn the ingredients in a cyclonic motion so that each morsel is passed through the blades until pulverized. This means that ice and frozen goods are subjected to the blades over and over until broken down to a smooth consistency.
What Are the Key Features to Look For?
Tough, well-designed blades: ice is hard, frozen berries are often harder. Therefore, the blades must be well and truly up to scratch in order to slice through them. Look for blades described as "aircraft-grade" or at least "durable stainless steel".
High-powered motor: if a blender has a motor with low wattage, it's going to overheat or simply peter out and become jammed when dealing with hard, tough ingredients such as carrot and kale. Don't settle for less than 700 watts, and if possible, find something with a wattage of 1000+.
A high wattage keeps the blades spinning quickly and easily, no matter how hard the ingredients.
It prevents jamming, overheating, and general blender-induced frustration. (All of the models in this list have at least 700 watts).
Pulse feature/various speeds: this one isn't crucial, but I find it really handy to have a few different speeds and a pulse function so you can be in control of the consistency of your drink. For drinks or smoothies with high ice or frozen fruit content, you'll need a high speed.
A few blasts with the pulse button at the end of the blending process can ensure any little chunks are taken care of. However, blenders with auto-blend technology (meaning they blend without any buttons or manual controls) are often very reliable and can tell when the chunks have been blitzed.
Best by Price Range
Best High-end Options
These two models are at the higher end of the price scale. One is a popular all-round blending whiz that handles ice and anything else. The other is a little more specific to ice drinks... often the alcoholic kind. Take a look and see what you think. They're both really highly-rated and great quality.
We start the list with a much-loved (and pretty pricey) Vitamix blender. The 750 has 10 speeds as well as five pre-programmed settings, including one for frozen desserts and ice-based foods. Customers have raved about how easily this blender blitzes ice and frozen foods, with no chunks to be seen.
The blades are aircraft-grade stainless steel, so it's safe to say they can withstand just about anything. This is a blender to choose if you're in the market for a really good all-rounder which can make anything from ice-based foods and drinks to smoothies to desserts and nut butter.
Top features
Aircraft-grade stainless steel blades for seamlessly blending ice and frozen foods
10 speeds to choose from
Pulse function
5 pre-programmed settings including one for frozen foods
Can blend anything, no matter how hard or tough
Durable and reliable
1200-1400 watts
If you want a Vitamix but can't quite justify the spend, a reconditioned model like the 5300 will do the same job for a lot less.
This model may sound and look a wee bit gimmicky, but it's actually a fantastic choice if you need something solely for iced drinks. It is marketed as a machine for making frozen cocktails and party drinks, but many customers say it also makes great smoothies.
If you entertain a lot, you live in a really hot climate or you simply love a frozen drink then check this one out. The ice sits at the top of the machine and goes through a shaving process before it's added to the pitcher. This is what makes the blended ice extra creamy and smooth.
Top features
Sturdy glass pitcher
4 pre-programmed settings for different kinds of ice drinks (i.e. shave and blend, shave only or manual blend)
Extra-large ice reservoir so you can make lots of drinks at once (up to 3 pitchers)
Dishwasher-safe parts
Can make frozen cocktails, drinks, and smoothies (basically any ice-based drink)
Best Mid-priced Options
These blenders aren't at the highest or the lowest price tier. They are all incredibly powerful and boast super-strength ice blending abilities. Funnily enough, I think the best blenders in this whole article belong in the mid-range section.
But that's partly a matter of opinion, as I'm a sucker for a multi-tasking, versatile blender with a colossal wattage, which is what the last two blenders in this section offer you.
The jug on this Ninja blender is called the "total crushing pitcher," which refers to its awesome ability to pulverize ice into soft snow. The 1100-watt motor has major power to smash through ice and frozen foods without overheating or tiring out. It has three speeds as well as a pulse function.
You can also use this blender to make single-serve drinks and smoothies as it has a single-serve blade and cups (like a bullet blender). I think this blender (of all Ninja's options) should be high on your list of considerations.
Top features
Dishwasher-safe parts
Total-crushing pitcher for making multiple serves of creamy ice drinks
Comes with a single-serve blade, cups and to-go lids for ice drinks and smoothies on the go
Powerful 1100 watt motor
This powerhouse from Cleanblend is crazily effective at handling ice and frozen goods. The 1800 watt motor powers the tough blades through any ingredient, including nuts for nut butter as well as ice for smoothies and desserts. It comes with a tamper, a nut milk bag, a spatula, and an easy pour funnel.
It's safe to say this is a super versatile blender you can set up on your counter and use daily, for a variety of uses including icy smoothies, ice-based cocktails, and frozen desserts. The price is actually really great for what you get.
Top features
5-year warranty
Comes with a tamper, a nut milk bag, a spatula, and an easy pour funnel
1800 watt motor for easily pulverizing ice and frozen foods
Stainless steel blade and stainless steel bearings for durability and strength while blending tough, hard ingredients
BPA-free, large 64 oz pitcher
Very versatile, can make smoothies, dips, nut butter, desserts, etc.
This is very similar to the Cleanblend model above, but it has a slightly less powerful motor. However, the 3.0 horsepower motor and 10-speed settings make the six-blade blender strong enough to be an ice and frozen food pulverizer. It has been designed to be a versatile blender that can make ice-based smoothies, drinks, and desserts, as well as dips, cocktails, and even nut butter.
There are some cool little details like a non-slip base and a measuring cup built into the lid.
Top features
1800-watt motor runs on 3.0 HP for easy and powerful blending and crushing
Comes with a versatile 74oz blending jar
Comes with a 20 oz travel cup with a lid for drinking smoothies on the go
Non-slip base
includes an extra silicone pad that dampens vibration and reduces noise
Adjustable speeds
Really versatile, can make smoothies, dips, cocktails, desserts, etc.
Best Affordable Options
Now we come to the cheap options. They're all fantastically strong and can handle ice and frozen goods with professional-grade ease.
This affordable little machine is ideal for smoothie and health drink lovers. The base and cup are small, compact and easy to store or stash in small kitchens or small benchtops. It has that signature Ninja blade that can crush ice and render frozen foods to a smooth consistency.
If you need something to whip up your smoothies, shakes and any other iced-based drink but you only need one serving (or two small ones) then I would go for something like this.
Top features
700-watt motor
Comes with sip and seal lids and portable cups so you can take your smoothies and ice drinks on the go
Dishwasher-safe parts
Ninja Pulse Technology ensures all ingredients are blended until smooth
Designed for blending ice, frozen foods, and hard ingredients until smooth and creamy
A pitcher blender (as opposed to a bullet/personal blender like the one above) the Oster Reverse Crush comes with seven different speeds/blending choices and sturdy blades. The blades have an all-metal drive, which basically means that all the parts supporting and turning the blades are rock-hard and long-lasting.
With Oster, you don't need a pro model to get a smooth protein shake. Cheaper Oster blenders like the Reverse Crush can stay on your countertop as your go-to blender for all ice-based needs as well as other tasty things such as dips and sauces.
Do be aware that some customers have found that while this blender is awesome at blending, it can be prone to cracking at the base. I think this can be overlooked because of the price and the great "pros" but it's always good to know.
Top features
7 speeds (low, medium, high, high pulse, frozen drinks, and food chop)
Sturdy blades with an all-metal drive for powerful blending and durability (all-metal drive has a 10-year warranty)
Stainless-steel 6-point blades with Dual Direction Blade Technology for super-smooth results and no jam ups
1000 watts of power
Pre-programmed settings including one especially for frozen drinks
The sturdy glass jar is dishwasher safe
Lucky last, another Ninja creation. The BL610 is an affordable pitcher blender with a generous 1000-watt motor and tough blades designed especially for crushing ice and frozen goods. It has a simple control panel with an on/off button, a pulse button and three speeds (low, medium and high).
It's great for making frozen drinks, cocktails and ice-based smoothies because of the powerful blades and large, easy-pour pitcher. If you need an affordable new blender to take up residence on your counter and serve you as a multi-tasking, all-round blending machine then this is a fine choice.
Top features
1000-watt motor
Pulse function
3 speeds: low, medium and high
"Total crushing blades" designed for crushing ice and hard, frozen goods
Large 72oz pitcher for making lots of servings of frozen ice drinks, smoothies, and cocktails
Affordable.
Conclusion
There we have it. A collection of tough, high-powered blenders with ruthlessly-strong blades and great ice-crushing abilities. There's something for every budget, so don't feel limited if you only have a small allocation of cash to play with.
If I had to pick one to recommend to you, I would choose the Ninja Countertop Professional Blender BL660. My reason lies in the versatility it offers, as well as the powerful motor and ability to blitz ice to a powder. The price isn't bad either, it won't break the bank or deplete your savings.
Figure out your budget, how many servings you generally require, how much space you've got on the bench and what kind of design you prefer (i.e. bullet or pitcher?). This will help you to narrow down the choices. Perhaps you can christen your new blender with a big batch of frozen margaritas?
Happy shopping and happy blending.