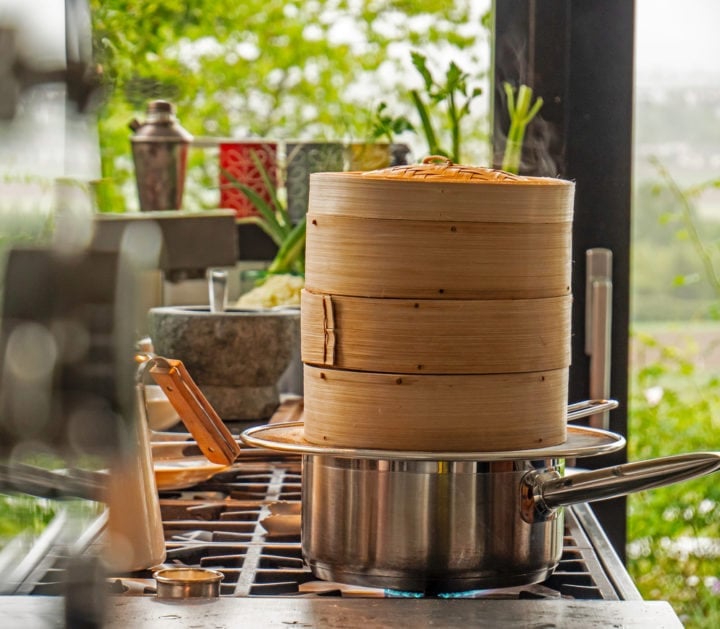 If you are familiar with Asian cuisine, you may know about this thousand-year-old technique of steaming your food in bamboo steamers. As the name suggests, a bamboo steamer consists of bamboo tied together to form layers of perforated bottoms so that the steam gets to all the layers.
Imagine eating tender and soft buns, dumplings, and juicy bao. The tenderness of the dumplings combined with the steaming hot veggies is the best thing to eat after a tiring day!
If you are into cooking, then you should always have a bamboo steamer at your place. You can diversify your meals by making some dumplings or buns in your Chinese bamboo steamer. You just have to take care of certain things like weight, size, material, and if the product is durable or not.
We have tested the nine best bamboo steamers for you so that you can just sit back at home, relax, and find the best one.
Table of Contents
Best Bamboo Steamer Overall: Prime Home Direct 12-inch Bamboo Steamer Basket
SAVE 6%
Prime Home Bamboo Steamer
This bamboo steamer set is the best choice for us! The stackable layers allow for two people to steam two servings of dumplings at the same time.
Pros: Affordable, spacious, sturdy, and water-resistant material
Cons: Not dishwasher-friendly, slight smell of wood
If you're looking for the perfect bamboo steamer, Prime Home Bamboo Steamer won't disappoint you. This 100% organic bamboo steamer offers a variety of excellent features at an affordable price. Additionally, the set comes with a 10-inch basket, two pairs of chopsticks, 50 steamer liners, and one sauce dish!
Moving on to the bamboo steamer's design, it is pretty spacious with two-stackable layers. Thus, making it possible to steam two servings simultaneously! So, we found that it's perfect for two to three people looking for a time-saving bamboo steamer.
Another strong point of this bamboo steamer is its sturdy and water-resistant material. Due to this reason, you need not worry about condensation ruining your food. Moreover, the thoughtful design offers even distribution of heat, which is often not the case in the majority of the cookware.
Note that just like most other bamboo steamers, this one is not dishwasher-safe either. So, you need to hand wash the entire set to prevent any damage.
Overall, Prime Home Bamboo Steamer steals the show for our team. But still, we found a few complaints from other buyers regarding the low-quality material.
Best Bamboo Stainless Steel Steamer: Thodd&Go Bamboo Steamer Basket - Stainless Steel
Thodd&Go Bamboo Steamer Basket - Stainless Steel
This bamboo steamer is a favorite because of its durability and efficacy in keeping everything steaming hot within.
Pros: Adjustable Ring, lightweight, durable
Cons: Powerful odor, expensive ring
Thodd&Go Bamboo Steamer Basket - Stainless Steel is made of organic bamboo and contains stainless rings around the lid. These rings are non-toxic, lightweight, and help in the preservation of steam.
The best part about this product is the adjustable stainless steel ring that comes with it. If your bamboo steamer is too big for the water pan, then you can adjust this ring on top of it so that the bamboo steamer does not fall. For example, you can change it from 7-inch to 11-inch, so you can quickly put this 10-inch bamboo steamer basket over it.
But, note that if you order the stainless steel ring separately, it will cost you more. So, it is best to get it with the bamboo steamer itself.
We would recommend you to buy this product for its durability and the additional stainless steel ring.
In addition to all the above points, it comes with four silicone steamer liners that are reusable. Furthermore, these steamer papers come with perforated holes for even cooking.
Although the product is flawless, there are a few complaints regarding the product's smell that lingers on even after its cleaning.
Best Eco-Friendly Bamboo Steamer: Annie's Kitchen Premium 10-Inch Handmade Bamboo Steamer
Honestly, Annie's Kitchen Premium 10-Inch Handmade Bamboo Steamer is the product of your dreams. This bamboo steamer comes with a lot of additional stuff like a dumpling maker with a spoon, reusable cotton liners, and two sets of bamboo chopsticks. This is a 10-inch and 2-tier bamboo steamer that is highly affordable.
Moreover, this product is eco-friendly since it is BPA-free and uses ethically sourced bamboo. Also, the kit is biodegradable and handwoven, and it does not use any type of glue or chemical to ensure longevity and durability.
But, note that a few pieces aren't woven properly. Still, many people have loved this product, so you may give it a try as well!
The best part is that this bamboo steamer has a return policy as well. So, if there is some damage to the product while delivering it, you can easily return it.
Best Budget-Friendly: Reishunger Bamboo Steamer
The Reishunger Bamboo Steamer is excellent for Chinese dumplings, rice, meat, fish, and dim sum. It includes two cotton clothes that are perforated for easy and equal steaming. You can wash it and reuse it a couple of times, which saves a lot of money.
Additionally, it comes in another size of 8 inches as well. So, if you are just starting and want to experiment with Chinese or Japanese cuisine, you should go for it.
But, note that this product isn't exactly the best one for long-term use. After a couple of usages, the layers may start to warp. Also, the bamboo steamer may begin to change shape due to excessive heat as well.
Note that even though a Chinese bamboo steamer is dishwasher safe, this one is not. So, you have to wash it gently with warm water and a cloth and pat it dry.
Overall, this product is the best budget-friendly product but not the most durable option out there.
Best Budget Splurge: Weiwei Kitchen Handmade Bamboo Steamer
This steamer retains your food's essential nutrients while keeping out the fats in your pork rolls, dim sum, and tamales.
Pros: Stylish, durable, and safe
Cons: Expensive
If you are one of those people who love to collect expensive things, then this Weiwei Kitchen Handmade Bamboo Steamer is for you.
This bamboo steamer has an excellent appearance and performance, too. It is made of bamboo and cryptomeria.
You'll find that the lid is double-weaved, which prevents the bamboo steamer from developing a dent if it falls. Additionally, it also comes with a handle for smooth handling.
Usually, the bamboo steamers are of brownish and beige color. But, Weiwei Kitchen Bamboo Steamer is of black, red, and medium brown color.
Note that this bamboo steamer is slightly more expensive than the other pieces. Yet, its durability and quality make up for the price!
Best Stylish Bamboo Steamer: Two-Tier 10-Inch Bamboo Steamer
Two-Tier 10-Inch Bamboo Steamer
Distinctively modern, yet it possesses a classic elegance! Durable and long-lasting, this steamer is a must-buy!
Pros: Sleek design with a modern twist to it.
Cons: Less handling space, thin lid
This generic 2-Tier Bamboo Steamer is the prettiest of all. It is a handmade bamboo steamer with reinforced stainless steel, which ensures its durability and longevity. Moreover, its sleek design provides a modern twist to the old bamboo steamer.
The best aspect of this bamboo steamer is that it reduces the chance of splintering because of its vertical slat design. So, this unique steamer is the talk of the table, and people love to buy it due to its design.
Another excellent point is that this product is a good investment due to stainless steel, which is highly long-lasting.
This distinctively modern bamboo steamer comes with two pairs of stainless steel chopsticks and 20 steamer papers. Thus, it is a must-buy and should be a part of your kitchen for its additional goodies!
Best 6-Inch Bamboo Steamer: Joyce Chen Bamboo Steamer
SAVE 16%
Joyce Chen Bamboo Steamer
It's designed for use inside a wok or over a stockpot. Pretty and practical for urbanites who love dim sum!
Pros: Best for small households, compact, strong lid
Cons: Not very spacious, 12-inch size isn't good enough
Joyce Chen Bamboo Steamer is for people who live alone and love Chinese food. This is the perfect 6-inch bamboo steamer for dim sum. You don't need a huge 12-inch steamer to cook something for just one person. This is the time when this 6-inch Joyce Chen Bamboo Steamer comes to your rescue.
Joyce Chen offers you three sizes of 6 inches, 10 inches, and 12 inches. However, the most viable option for you is the 6-inch one as the lid is woven tightly twice, and the bamboo slats create a soft and smooth surface.
The 12-inch one by the same manufacturer is not durable since it is held together with glue. With glue, there is always a chance of chemicals. So, the product does not remain 100% organic.
We also found that people who used the 6-inch bamboo steamer for a couple of years admired its durability.
Best Hand Tied Bamboo Steamer: Mister Kitchenware 10 Inch Handmade Bamboo Steamer
SAVE 11%
Mister Kitchenware Bamboo Steamer
This 100% organic steamer impressed us with its microwave-safe design. Even professionals trust this brand!
Pros: Completely handmade and organic, microwave-friendly
Cons: Absorbs odor, food may get caught in bamboo
Mister Kitchenware is one of the most popular brands that even professionals trust. This 100% organic 10-inch bamboo steamer is entirely handmade with no usage of glue or chemicals. The hand-tied slats allow steam to get through the two tiers.
Interestingly, since there is no stainless steel attached to the lid, you can even use it in a microwave. But, the layers are fastened with bamboo lashings, so there is a chance of food getting caught in them. So, we would advise you to use steamer papers and know how to clean the bamboo steamer in case of any mishap.
This product also comes with a 60-day hassle-free return and a money-back guarantee, which many manufacturers do not provide.
Best 3-tier Bamboo Steamer: Hcooker 3 Tier Kitchen Bamboo Steamer with Double Stainless Steel Banding
Hcooker 3-tier Kitchen Bamboo Steamer
We like this product because of its tight-fitting lids, stackable baskets, and stainless steel bands that ensure durability and efficacy in steaming.
Pros: Tight-fitting lid traps, durable and sturdy, provides even heat distribution
Cons: Slightly small in size, mold issues
For huge families, a 3-tier bamboo dumpling steamer is a must-have kitchen accessory. So, we highly recommend Hcooker 3-tier Kitchen Bamboo Steamer, owing to its durable material, spaciousness, and cost-effectiveness.
As the name suggests, this bamboo steamer comes with three stackable baskets. This allows you to prepare three servings simultaneously. Thus, reducing the amount of overall time required for steaming!
We found that the standout feature for this bamboo steamer is its tight-fitting lid traps. These lids are incredibly crucial for retaining your food's nutrients. Also, they facilitate an even distribution of heat to ensure proper steaming.
Another excellent feature of this bamboo steamer is the stainless steel edges, as they increase the appeal by improving the sturdiness and durability of the product.
The Hcooker brand also offers detailed information on using this bamboo steamer and its maintenance on the product page. This can surely help you save time to figure out everything!
Yet, we did find some issues with this bamboo steamer. First, if you don't maintain it well enough, it can grow mold. Secondly, the size is slightly smaller than what you would expect.
Why Should You Use A Bamboo Steamer Over Any Other?
There are several steamer options, ranging from bamboo to metal to plastic, available in the market. But why should you consider using bamboo steamers over any other? Well, there are a few reasons that you should know. These include:
Prevents Sogginess
When you're steaming vegetables, you might want them to have that extra crunch. And well, sometimes, they may get too soggy and wet. So, if you want to avoid this, consider using a bamboo steamer.
The walls of a bamboo steamer absorb the excess steam, unlike metal or plastic steamers. This mechanism prevents your vegetables from absorbing excess moisture and becoming soggy.
Versatile Uses
Many people believe that a bamboo steamer isn't a good investment due to its cooking limitations. But, that's not the case, as bamboo steamers are highly versatile.
You can use bamboo steamers for almost all types of Asian dishes like bok choy or dim sum. But apart from that, you can use it for simply steaming vegetables, poultry, meat, and whatnot! Also, let's not forget how steaming is way more beneficial than any other cooking method.
Eco-friendly and Safe
A lot of people strive for eco-friendliness in their daily life. If you're one of them, then a bamboo steamer is a must-have.
Unlike metal and plastic, bamboo steamers don't pose any risks to the environment. Moreover, they're safer for cooking as they don't release any impurities or toxins, unlike metal and plastic steamers.
Proper Heat Distribution
Whenever you're buying any cookware, you need to make sure that it encourages even heat distribution. Thankfully, a bamboo steamer offers precisely that.
A bamboo steamer allows the food to cook evenly. You won't find the same in metal steamers as their bottom is heated more, which causes the food to stick below.
Things To Consider Before Buying Bamboo Steamers
Choosing a suitable bamboo steamer, even from a few ones, can get extremely tricky. So, before you buy any, keep the below-mentioned things in your mind:
Material
Ensure that you are using a 100% organic bamboo steamer that is BPA-free to avoid toxins in your food.
Although the ceramic ones are trendy and people buy them for their colors, they are not good. So, always go for a natural bamboo steamer as this will ensure the even cooking of your dish.
Quality
Quality is the most important thing you need to keep in mind while choosing a bamboo steamer. If the steamer you are using does not have good quality, then it will never be durable.
You can spend a lot of money on it, and still, it will break after one use. Ensure that the quality is 100% natural bamboo; otherwise, you can have breakage in your product.
Size
Before you buy a bamboo steamer, you need to keep in mind for what purpose you are buying it. Keep the points in your mind, as your household size, to know if you want 6-inch and 2-tier bamboo steamer or a 12-inch and 3-tier one.
Always check the size you are buying, especially on online portals, as they do not guarantee a return of the product.
Sturdy Lid
A lot of people complain about the breakage in their lid or an ill-fitting one. So, always check for these issues as soon as you get the product. Otherwise, it won't be of any use to you. The lids are dome-shaped for the moisture to remain intact.
Additionally, if the bamboo steamer has a stainless steel ring attached, it should be properly secured and not loose. Moreover, a lid must have a handle to lift it, or else the bamboo steamer becomes very hot and may even burn your fingers.
Cleaning
It's best to ensure that you opt for a bamboo steamer that is easy to clean. After all, if you don't clean and air dry it very well, it can easily get moldy.
All you need to do is read the instructions carefully and then clean the product. For example, if it asks for hand wash, try to wash it with warm water. Then, pat it dry with a cloth and eventually air dry it.
If it says that you can use a dishwasher, then you can go for that as well!
Frequently Asked Questions
What Is The Difference Between A Bamboo, Metal, And Plastic Steamer?
A bamboo steamer is made from the plant of bamboo, and so, it is sustainable. While steaming anything inside the bamboo steamer, the bamboo absorbs the water and does not let the condensation fall on the food. This feature allows your food to remain intact.

On the other hand, a metal steamer consists of stainless steel. But, it gets very hot, and there is a chance for condensation to fall on the food.

Finally, a plastic steamer consists of plastic and is relatively inexpensive. But, due to plastic's toxic properties, many people don't opt for this alternative.
Are Bamboo Steamers Healthy?
A bamboo steamer is the healthiest cookware that you can possess in your kitchen. Steaming your food is beneficial as it preserves the nutrients, vitamins, and minerals of your food.

Additionally, steaming your food does not require oil, fat, or any other additives. So a bamboo steamer is a perfect cookware for you when steaming any food that you love!
How Do You Use A Bamboo Steamer?
If you're wondering how to use a bamboo steamer, then the process is pretty straightforward. Here's what you need to do:

1. First, place your wok or pan on the heat and pour some water into it. Make sure the water does not reach the bamboo steamer.
2. Then, line your bamboo steamer with steamer paper and place the food above it.
3. Now you can place the bamboo steamer in the wok or pot and then allow it to steam.
4. If you think that the water is not much in the pan, you can add boiling water. But, don't use cold water as it can interrupt the whole process.
What Size Bamboo Steamer Do You Need?
The size completely depends on your preference. For example, if you have a small household and occasionally cook Chinese meals, you can go for a 6 or 8-inch and 2-tier bamboo steamer.

If you are a part of a large household or host parties in which you serve Chinese or steamed food, then we would advise you to go for a 12-inch and 3-tier bamboo steamer.
How Do You Clean Bamboo Steamers?
Bamboo steamers are pretty easy to take care of and clean. Yet, since bamboo steamers are not always dishwasher safe, the safest way to disinfect and deodorize them is to use vinegar. Here's what you need to do:

1. Soak a cloth in 2 tablespoons of vinegar in a cup of water to wipe over the bamboo steamer.
2. Repeat this process multiple times to remove the lingering smell of bamboo in the steamer.
3. Remember to air dry it thoroughly so that it does not become moldy.
Are Bamboo Steamers Toxic?
No, bamboo steamers aren't toxic as they're made up of natural substances. However, keep in mind that the glues used to keep them together may make them slightly unsafe for some people.

Overall, bamboo steamers are still healthier than other steamers like metal or plastic ones.