I don't eat nearly enough fish at home and this has been something I've been working to correct throughout 2021.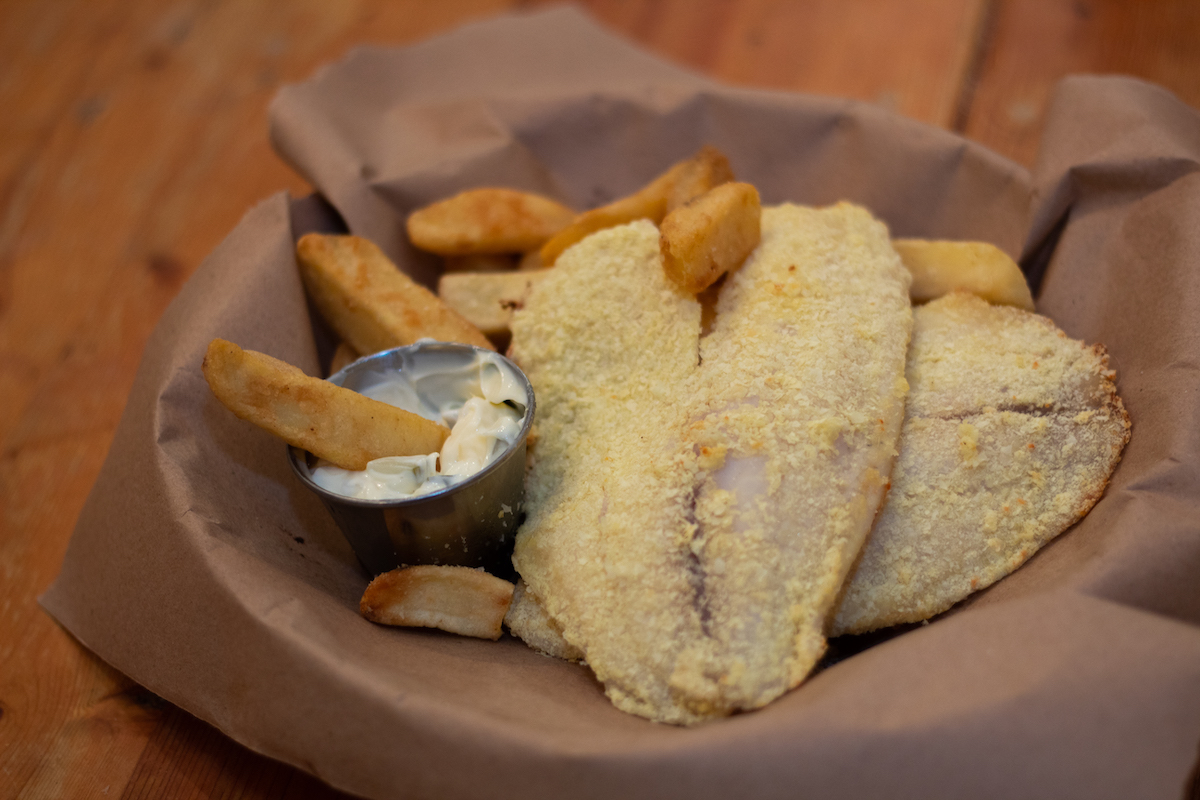 One of the biggest reasons I think I don't eat enough fish at home is availability. In restaurants, it's easy to keep great, fresh fish on hand because there's a demand for it. While at home, it's harder to keep fresh fish around because of its shorter shelf life. Moreover, fresh fish is expensive, and fewer grocery stores are continuing to carry fresh fish in the amounts they used to.
These days I turn to frozen fish filets when cooking at home, and thanks to advances in flash freezing technology, this is far less of a problem than it used to be for me. Fresh fish is amazing, but frozen fish isn't always as great. Because the freezing process can cause fish to degrade in texture, I've always avoided it in the past, but nowadays I feel much more confident in the quality of frozen fish products I see in my local grocery store.
One fish I love to cook at home is tilapia. The light, flaky flesh and neutral flavor make it an awesome blank palate for sauces and seasonings, which in turn has made it a fan favorite with my toddler, who has a notoriously finicky palate.
Recently, I've found that air frying tilapia is far easier than cooking it in a saute pan or in the oven. The high-powered fan and super strong heating element allow me to create an incredibly crispy outer texture while keeping the fish moist and flavorful. Most importantly I'm able to cook the fish without having to worry about it breaking into pieces in the saute pan, something that frozen fish is more prone to doing.
Table of Contents
The Strategy
One of my favorite air fryer hacks is to lightly bread air fried foods in a mixture of mashed potato flakes/instant dried mashed potatoes and seasonings. The thin layer of dried mashed potato flakes adheres to the outside of the air fried item and creates a thin, almost lacy, crispy coating.
By combining the instant mashed potatoes with parmesan cheese and lemon zest you are able to evenly coat the outside of the frozen tilapia given it a lightly breaded texture that's wildly addicting. The cheese creates a crunchy, savory flavor that combines with the mashed potato breading to build an almost french fry-like quality that goes perfectly with the lemony fish.
Thanks to the high-powered convection fan and super hot air in the air fryer oven chamber the air fryer tilapia is able to "fry" quickly, creating a classic fried fish texture with none of the fat and all of the flavor!
Why This Works
By lightly coating the air fryer tilapia with a mixture of parmesan cheese and potato starch we are able to create a light, lacy coating that helps lock in moisture while keeping the outside of the fish super crispy and delicous.
Thanks to the high-powered convection fan and strong heating elements we are able to use an air fryer to create crispy, flaky, "fried" air fryer fish that's just as good as fish fried in a deep fryer.
Recipe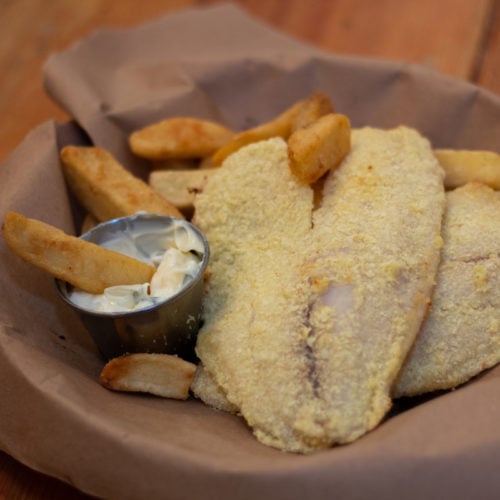 Air Fryer Tilapia Recipe (AKA Healthy, Easy Fish & Chips)
There is probably no healthier (or quicker) way to make fish and chips for dinner at home.
Ingredients
4

tilapia filets

1

cup

instant mashed potato flakes

1

cup

parmesan cheese

1

tsp

kosher salt

1

tsp

ground black pepper

1

tsp

lemon zest
Instructions
Preheat the air fryer to 375°f.

While the air fryer is preheating combine the parmesan cheese, salt, pepper, and instant mashed potato flakes in a bowl or dish.

Season the tilapia with lemon zest and a little lemon juice.

Dredge the tilapia in the flour/parmesan cheese mixture making sure to coat all the surfaces.

Once the air fryer has fully preheated, place the breaded fish into the air fryer basket.

Insert the air fryer basket with the tilapia fillets into the air fryer oven chamber and set the timer for 12 minutes.

Once the fish has finished frying, remove the cooked air fryer tilapia fillets from the air fryer and enjoy!
Notes
Calorie data from MyFitnessPal, based on a serving of 2 fillets, without the fries.
Nutrition
Alternative Approach
Personally, I enjoy the gluten-free, lightly breaded texture of this air fryer tilapia recipe but I also love fully breaded, thick and crispy fish filets as well. Though an air fryer isn't great for making traditional beer-battered fish you can create well breaded, fried style fish filets with ease.
To make, crispy breaded air fryer tilapia fillets use a standard breading procedure, of flour, egg wash, and panko bread crumbs. First, dip the fish in the flour and then into the egg wash. Finally, coat the fish evenly with the panko bread crumbs and cook it in a preheated air fryer in the same way you would with the potato breading.
The fully breaded air fryer tilapia may take a few more minutes to cook than the potato starch version so make sure to check the air fryer tilapia before removing it from the air fryer.
If you want to skip the breading all together that will work fine as well. Simply season the outside of the tilapia fillets with salt, pepper, olive oil, and whatever other seasonings you like before placing the tilapia fillets in the air fryer to cook! The unbreaded tilapia fillets will cook slightly faster so remove a minute or two from the cooking time for this recipe.
The Perfect Accompaniments for Air Fryer Tilapia
One of my favorite things about my toaster-oven style air fryer is the ability to air fry multiple foods at once. For example, if I wanted to serve onion rings or seasoned fries with my air fryer tilapia, it's easy to air fry fish on one level while air frying the starches on a separate one.
Another great way to enjoy these delicious fish filets is over a hearty English pea risotto with lemon zest and ricotta. Alternatively, you could substitute the parmesan cheese in the recipe with some cayenne and ranch powder and serve it on fresh corn tortillas to make easy fish tacos.
Mistakes To Avoid
The major area for an issue with this air fryer tilapia recipe is improper preheating of the air fryer. Preheating the air fryer properly is the best way to ensure a fully crispy outer texture with a moist flaky interior. While most air fryers come equipped with a preheat function, I've found they are often inadequate for the task.
To ensure your air fryer is properly preheated, set the timer for 5 minutes longer than the recipe calls for and allow those extra 5 minutes for the air fryer to reach the proper temperature before loading the air fryer basket with the air fryer fish.
FAQs
Can You Use Frozen Tilapia for this?
Yes, you can absolutely use frozen tilapia to make this air fryer tilapia recipe. In fact, I really don't think I've noticed much difference between fresh or frozen tilapia when making this recipe. Make sure to thaw the tilapia completely before frying for the best results.
Can You Reheat it in the Air Fryer?
Reheating fish, especially breaded fish is best done in an air fryer in my opinion. Thanks to the superheated, high-powered air produced by the convection fan, you are able to easily and efficiently reheat fish while keeping it crispy and delicious.