Tater tots, like frozen french fries, are a comfort food item that most of us can identify with. I am sure at some point almost anyone reading this article will have had the privilege of eating a tater tot or shredded potato product like a pre-made hash brown or potato cake.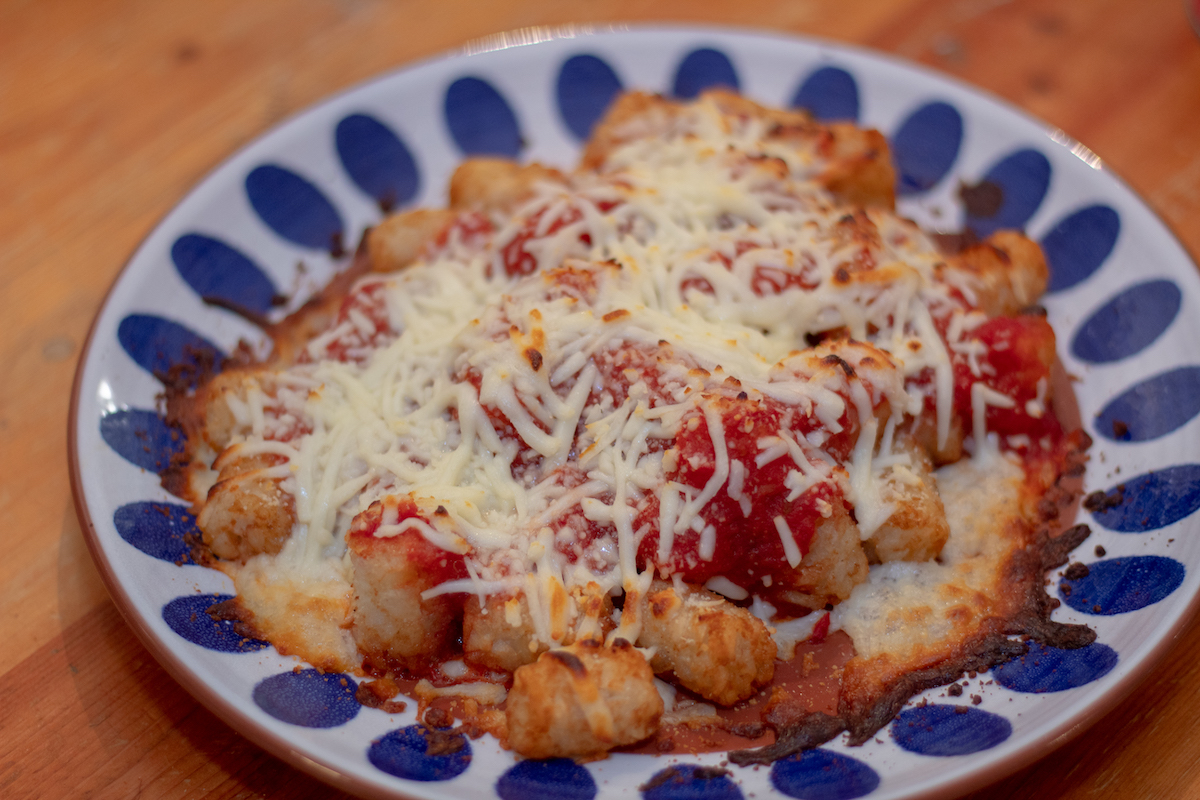 While tater tots are not strictly a culinary high point for most of us, they are crispy, crunchy, salty, and delicious. With the perfect blend of rich, shredded potato goodness and a crisp, crunchy exterior, well-fried tater tots make an amazing snack.
In my work in professional kitchens, I've seen tater tots go through a bit of a renaissance in recent years. What was once the provenance of school lunches and weeknight dinners, has become a trendy snack that you might find yourself ordering in your favorite bar or burger joint. I've prepared tater tots in a number of different ways throughout my career and at one restaurant we went as far as to make our own tots by hand (it's actually a really fun process).
These days it feels like I've come full circle and I'm now keeping tots on hand as an easy weeknight dinner option for my toddler whose palate seems to run toward starches at the moment. Thankfully I've also got an air fryer to help create the best tater tots possible.
I like to think of tater tots like a blank canvas for other flavors. While they are delicious on their own, I feel tater tots really start to shine when you adding toppings and sauces. A pile of crispy tater tots, a little buffalo sauce, some ranch dressing and you've got a simple snack that will satisfy any palate, young or old and I find myself eating just as many as my toddler does!
Table of Contents
The Strategy
Like frozen french fries, oven-roasted tater tots have been a grocery store staple for as long as I can remember. While delicious, a frozen tater tot is never as good in the oven as in a traditional deep fat and this is where an air fryer can be really handy.
Thanks to the super-powered convection fan and top-mounted heating elements, air fryers are able to create super crispy "fried foods" with 90% less fat and this is doubly true with frozen potato dishes like tater tots.
Though I like using air fryers because of their inherently lower-calorie cooking method, I do like to get a crispy, golden brown tater tot so to help increase the caramelization factor we are going to spray the tater tots lightly with some cooking oil. Since I've begun using my air fryer more frequently I find keeping a canola oil spray bottle has been a real-time saver for me, but a can of pan spray or spray oil will work just fine.
By spraying the outside of the tater tots before frying them we introduce a small amount of oil to act as a heat conductor, this helps the convection oven crisp and brown the outside of the tots to a further degree than would be possible without it. Though this will increase the fat content of these air fryer tater tots slightly, it's worth it in my opinion because the final product is so much better overall!
Why This Works
Air fryers are simply high-powered convection ovens that allow superheated air to create a deep fat fryer-like consistency especially with foods like tater tots or frozen french fries.
By spraying the outside of the food with a small amount of vegetable oil we increase the effect of the high powered hot air, allowing more browning and a crispier texture
Recipe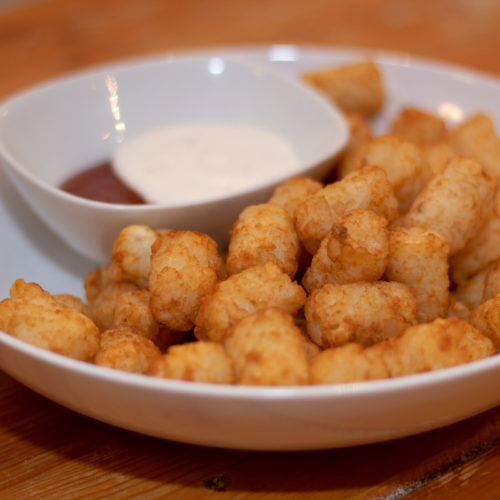 Perfect Air Fryer Tater Tots Recipe
Here's how to not mess up the humble Tater Tot when cooking in your air fryer.
Ingredients
1

bag

frozen tater tots

1-2

tsp

canola oil spray or spray cooking oil

Salt and pepper or the seasoning blend of your choice
Instructions
Preheat your air fryer to 400°F.

Once your air fryer is preheated spread the tater tots out in the bottom of the fryer basket/oven chamber. Make sure the tots are spread in a single layer with little to no overlap to promote quick even cooking. If you are using a toaster oven-style air fryer you can load the basket while the air fryer preheats.

Set the timer for 16 minutes and load the fryer basket of tater tots into the oven chamber.

Once 8 minutes have elapsed shake the fryer basket to help ensure even cooking/crisping of the air fryer tater tots.

Allow the tater tots to continue cooking for the remaining 8 minutes

Once the air fryer tater tots have finished cooking remove the tots from the fryer basket and season them with salt and pepper or your preferred seasoning blend.

Top the tater tots with whatever toppings you wish or serve them with your favorite dipping sauce!
Notes
Calorie data from MyFitnessPal, based on a serving of 10 tater tots with - sadly - no toppings.
Nutrition
Now for The Pizza Toppings
Air Fryer Tater Tots are one of the best foods for topping and serving as a fun side dish or appetizer for parties or get-togethers. Their small size and universal appeal make them a great option for almost anyone and the fact that they're naturally vegan and gluten-free only sweetens the deal.
As I mentioned earlier I like to think of air fryer tater tots as a blank canvas for toppings and sauces. There are so many different combinations to choose from and with a little experimenting, you can tweak existing recipes or create entirely new ones based on your own ideas and recipes.
My go-to game-day snack is Air Fryer Pizza Tots! Simply combine crispy, delicious air fryer tater tots with a little tomato sauce, some mozzarella cheese, and pepperoni.
I top the air fryer tater tots on a heat-safe dish and then put it back in the air fryer for a few minutes until the cheese is bubbly and delicious. They always disappear super fast, so I have to keep my air fryer (for this recipe, the trusty Emeril 360 air fryer oven) running to keep pumping out batches. With a prep time of under 20 minutes, it's not hard to keep an entire party fed out of one medium-sized air fryer.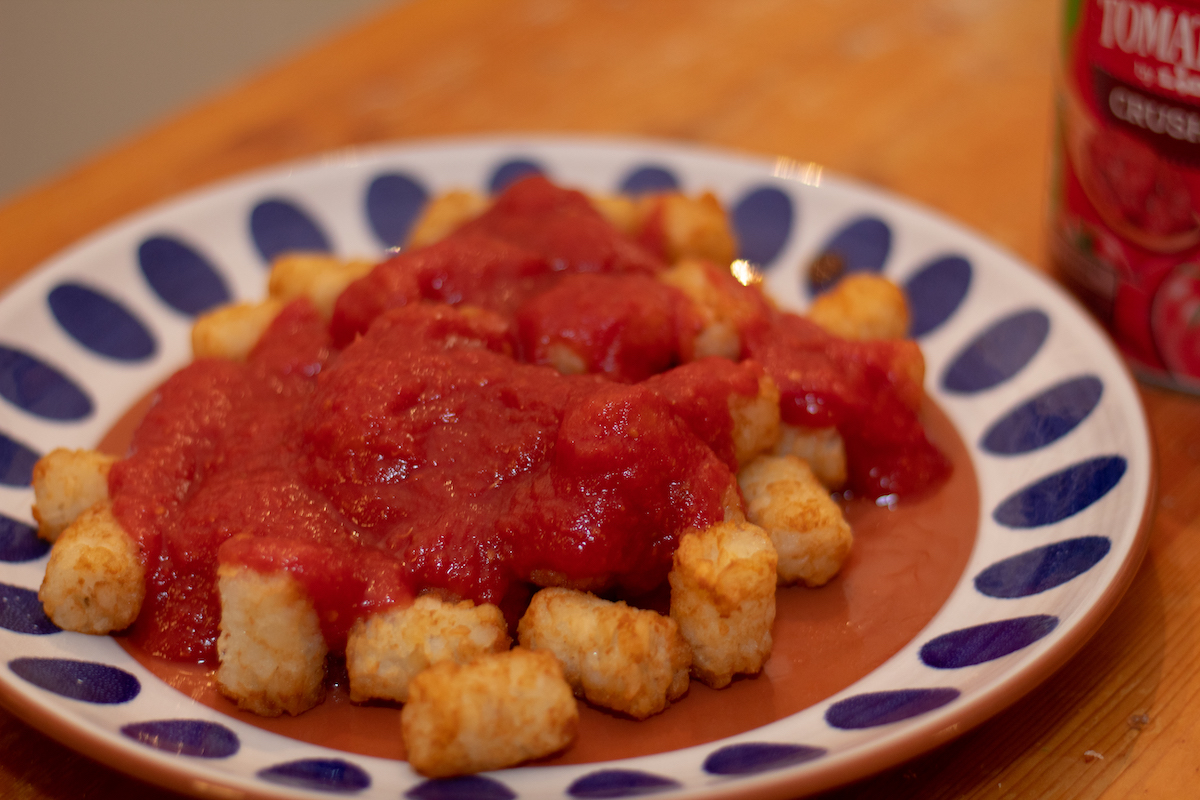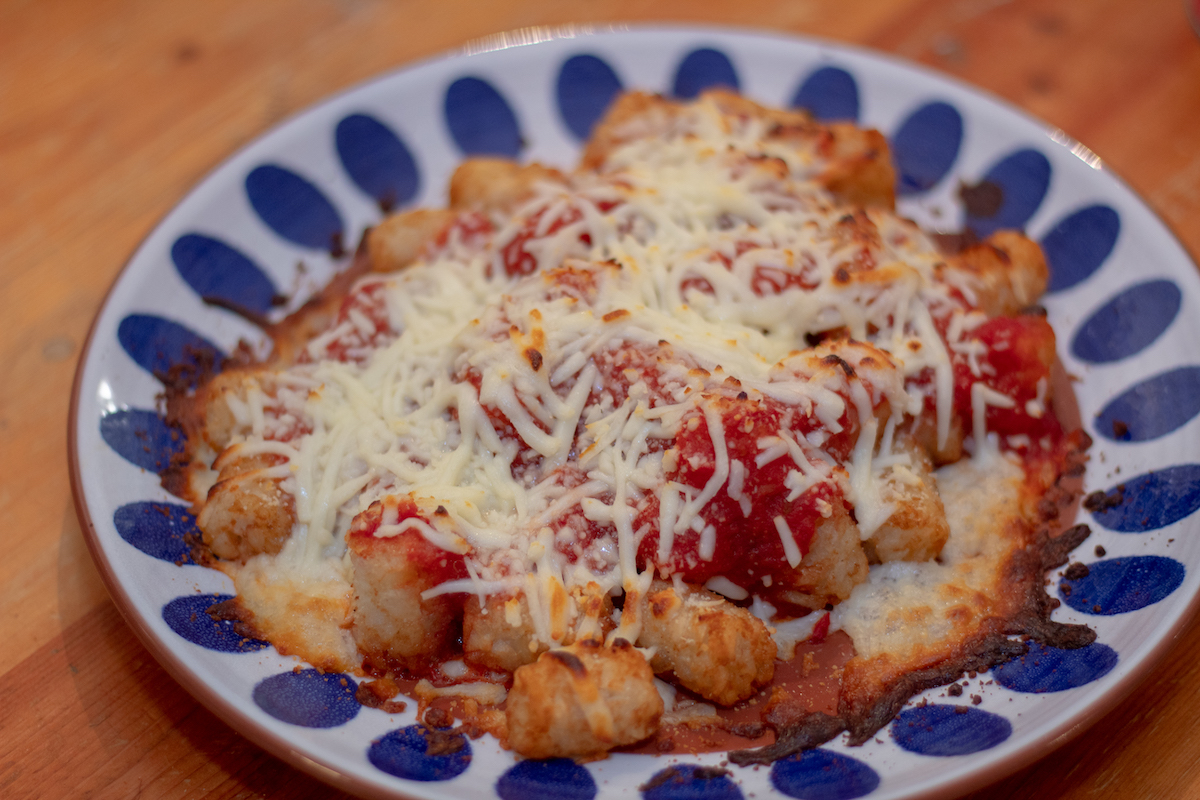 Mistakes To Avoid
The only place I consistently see folks going wrong when preparing things like air fryer tater tots or french fries is overcrowding the oven chamber. It's super important when using an air fryer to try to fry in reasonably sized batches that allow the air fryer to circulate air efficiently around the tater tots while cooking.
When cooking a frozen potato product like tater tots, the key is to maintain a hot oven temperature and this is only made more difficult if you overfill the fryer basket and cause the air fryer to struggle.
Always fry a single layer of food, whether tater tots, chicken drumsticks, or pork chops, to make sure you give your air fryer the best chance of creating delicious air-fried foods.
Alternative Approach
While not specifically a tater tot cooking method, frozen hashbrowns are like giant tater tots and make great gluten-free crostinis for parties or get-togethers. Simply cook the hashbrowns like you would the air fryer tater tots in a single layer. Once the hashbrowns have finished cooking you can top them with things like bruschetta or barbecue chicken and cheddar cheese for a fun passed appetizer or party snack.
Making your own tater tots from scratch is a completely feasible process, but it's often a much larger time investment than people are willing to make when preparing air fryer tater tots, especially when frozen tater tots are so inexpensive.