I love grilling and smoking meats. Some of my favorite cooking memories come from barbecuing on my offset smoker or roasting kebabs over an open fire. Sadly, sometimes lighting the barbecue just isn't the most efficient way to get dinner on the table especially during the colder months when the long hours outside are less than ideal. Luckily, I recently happened upon a fun air fryer ribs recipe that had me reconsidering what kind of barbecue I could effectively produce in my new air fryer oven.
When I smoke ribs on the barbecue, I like to go with minimal seasonings and a light bbq sauce finish. I prefer to let the smoke and roasted meat flavor combine to create a one-of-a-kind flavor experience.
Without the all-important smoke factor, I try to utilize richer, saucier flavors when cooking ribs in the oven or on the stovetop. So, when I decided to try making air fryer ribs, I chose to try to recreate my semi-famous sticky Chinese ribs.
Table of Contents
The Strategy
To create delicious air fryer ribs, I decided to start with country-style pork ribs. Country-style pork ribs are a nice cross-section between a pork chop and a pork rib. They are usually meatier with a small bone that helps maintain juiciness and incredible pork flavor in the finished product. Meatier than normal ribs, one or two is more than enough for a full meal, which is great because an air fryer definitely has a smaller capacity than my oven or barbecue.
To recreate my favorite, sticky Chinese ribs I wanted to use a multi-step cooking process. First I seared the pork chops by seasoning them and placing them into the air fryer oven at 400°f for 20 minutes. Once the ribs had been properly seared I wrapped them in tin foil and covered them in the sauce before returning them to the air fryer to cook at a lower temperature for an hour.
The overall goal when cooking ribs is to cook them for long enough that they reach an internal temperature of above 200°f. By cooking the ribs low and slow we are able to keep them from drying out while they reach the proper temperature. At 200°f ribs and really all meat will fully relax, creating that fall off the bone, fork-tender texture that we associate with amazing barbecue.
By wrapping the ribs in tin foil we are able to concentrate the heat and trap in the moisture, allowing the ribs to create an incredible barbecue sauce and absorb all the amazing garlic, ginger, and hoisin flavor from the sticky Chinese sauce.
Because these country-style pork ribs have a lot more meat on the bone than spare ribs or baby back ribs will, you need to cook them for longer. Thanks to the high-powered convection fan and heating elements in your air fryer you can confidently cook, fall off the bone, fork-tender ribs in around an hour. If you are cooking baby back ribs or spare ribs you can reduce the cooking time by about 20 minutes.
Why This Works
By searing the air fryer ribs at a high temperature we can create an awesome texture and help lock in flavor.
Using the tinfoil packet method to finish cooking the ribs surrounded by a delicious barbecue sauce we can cook them "low and slow" while keeping the air fryer ribs moist and delicious.
By locking in all the moisture we can create an environment that allows the ribs to get to temperature quickly and reach that fork-tender stage that makes ribs special.
Recipe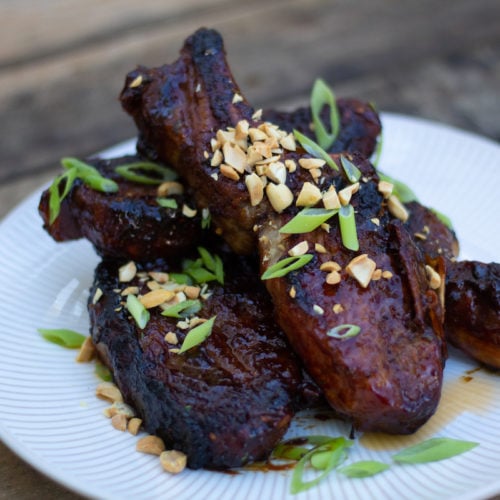 Falling Off the Bone Air Fryer Ribs Recipe
This fun air fryer ribs recipe makes use of hoisin sauce and a generous amount of garlic and ginger to recreate the delicious flavors of sticky Chinese ribs.
Ingredients
1

package

of country style ribs, 4-5 ribs total

1

tsp

kosher salt

½

tsp

crushed red pepper flakes

1

tsp

ground black pepper

1

cup

hoisin sauce

1

tsp

sambal chili paste

1

tbsp

soy sauce

1

tbsp

honey

2

tbsp

chopped cilantro

1

tbsp

chopped garlic

1

tbsp

chopped ginger
Instructions
Preheat your air fryer to 400°f.

Season the country-style ribs with salt, black pepper, and crushed red pepper flakes.

Arrange the ribs in the air fryer basket and insert them into the preheated oven chamber. Set the timer for 20 minutes and allow the ribs to sear fully.

While the ribs are searing prepare the barbecue sauce by combining the hoisin sauce, soy sauce, garlic, ginger, cilantro, sambal, and honey in a small bowl.

Once the ribs have finished searing remove them from the air fryer, place them in the center of a large sheet of tin foil, and spread the barbecue sauce over the ribs.

Wrap the ribs in the tinfoil creating a sealed tinfoil packet that will contain the sauce/juices as the ribs cook.

Set the air fryer oven to 325°f and place the tin foil packet of ribs into the air fryer basket.

Set the timer for 45 minutes and allow the ribs to cook until tender.

Once the timer goes off, check the temperature of the ribs, if the internal temperature is less than 200°f allow the ribs to cook for 20 more minutes.

Remove the ribs from the air fryer once they reach an internal temperature of more than 200°f.

Allow the ribs to rest for 10 minutes before serving.
Notes
Calorie data from MyFitnessPal, based on a single serving with 4.5oz pork ribs and the recipe amount of hoisin sauce (assuming most of it stays on your ribs).
Nutrition
Alternative Approach
I like to cook country-style pork ribs in the air fryer because they are meaty enough that it's worth cooking a smaller amount. Baby back ribs and spare ribs are awesome on the grill but because of the size limitations of an air fryer, it's just not worth it to me to make such a small amount of skinnier, thinner ribs.
That being said, if you find yourself with a great sale on baby back ribs, you can absolutely cook them in the air fryer and get a great tasting product. One thing to make sure to do is to cut the ribs away from the entire rack before roasting them in the air fryer. Because of the smaller size of most air fryers, the oven chamber won't typically be able to accommodate a large rack of ribs and it's easier to cook them when they are individual instead.
Don't forget to remove the membrane from the back of the pork ribs as well. Again this isn't something you need to worry about with country-style ribs, but it's important to pull away the membrane at the back of the ribs before cooking them to get the best texture possible.
The Perfect Accompaniments for Air Fryer Ribs
Ribs go with so many different side dishes it's hard to really nail down my favorite. When I'm cooking southern-style barbecue ribs I like to serve them with cornbread and a super refreshing coleslaw, or braised greens. These options work well for these sticky Chinese ribs as well, but the flavor profile on this recipe works with a ton of other options as well.
One of my favorite ways to serve these sticky air fryer ribs is with fresh lettuce, in cooling lettuce wraps. I like to top the ribs with peanuts and scallions, and serve them with more hoisin as well as fresh romaine lettuce and cilantro for wrapping.
Air fryer ribs are great, but if you have a pod-style air fryer they are going to take up the entirety of your oven chamber, so multi-tasking is going to become impossible. If you have a toaster-oven style air fryer on the other hand you can cook veggies or starches on one level, while your air fryer ribs cook away on another, which can be really handy when trying to keep the mess/dishes to a minimum.
Mistakes To Avoid
While this recipe isn't hugely complicated, there are still two major hiccups I see people making when attempting it. Avoid the mistakes below and you're sure to create unforgettable sticky Chinese ribs that will be a fan favorite in your home for years to come!
Don't undercook your ribs. Some people like tougher, chewier ribs, but I'm not one of them. I like ribs that fall off the bone and need nothing more than a fork to enjoy. Make sure to continue to cook your ribs until they reach an internal temperature of more than 200°f for best results.
Make sure to wrap your ribs in tin foil completely. If you are worried about sauce leaking out, go ahead and wrap them again. The sauce is one of the most important components of this recipe and you don't want to lose any from a leaky tinfoil wrap.