Chicken drumsticks are an incredibly misunderstood protein in my opinion. While many chefs I know will go on for hours about chicken thighs, and the rest of the world would have you believe that "all-white meat chicken breast" is the ideal cut, I personally love a good drumstick especially when I'm working as a home cook outside of the restaurant kitchen.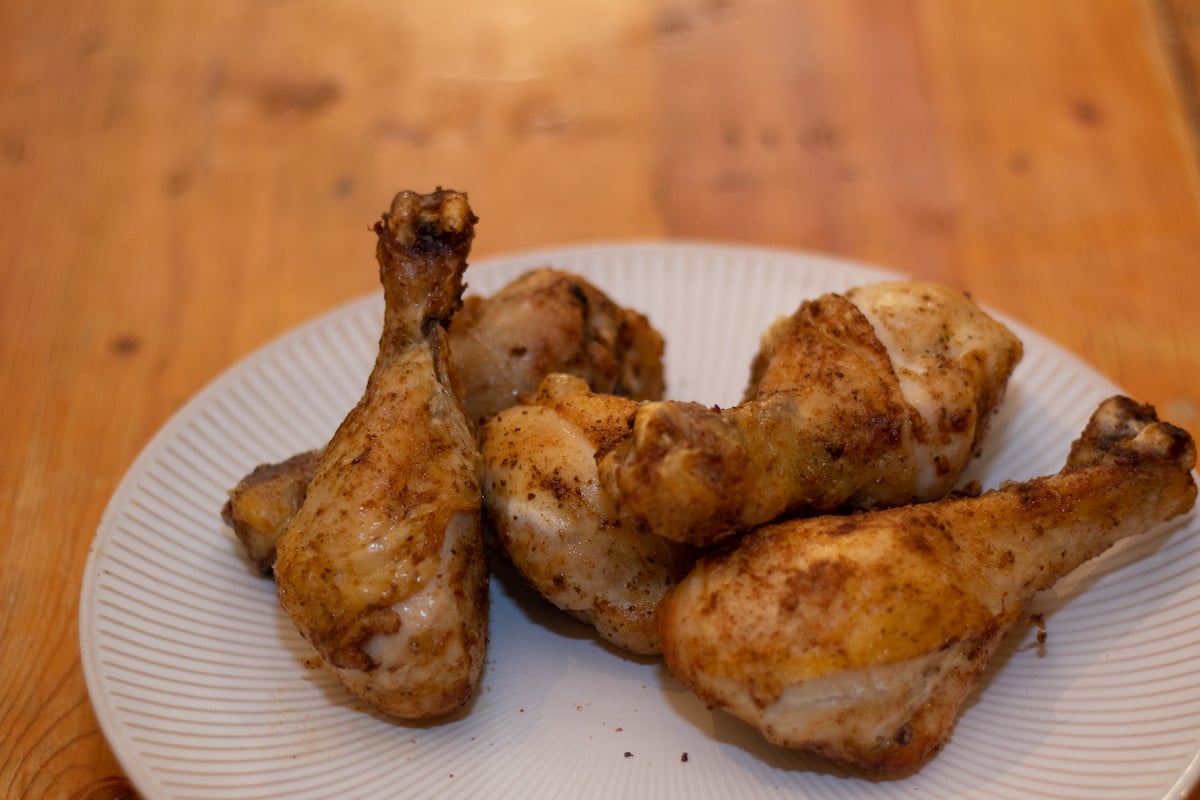 First of all, drumsticks are hand-held and I love food that I can eat with my hands. Drumsticks are like a wing just more convenient. You can eat a drumstick on the go, or while hanging out at a barbecue without worrying about making too big of a mess.
Secondly, thanks to their relatively smaller size, you can cook them quickly and evenly without a lot of hassle. Drumsticks are relatively uniform and at around 6oz each, they are easy to prepare in a hurry, and can be a great meal prep item for weekly meal planning.
Finally, chicken drumsticks are an amazing palate for sauces or seasonings of any style. From vinegar-based barbecue to braised chicken for tacos or Chicken Tikka Masala, you can use drumsticks as the base for so many different dishes, and overall drumsticks are usually less expensive than most other cuts of chicken.
Table of Contents
The Strategy
I love fried chicken as much as the next fella, probably more. When it comes to my favorite way to prepare air fryer chicken drumsticks I like to go without the breading and get the skin super crispy while maintaining a juicy, fall-off-the-bone texture.
In terms of seasoning, you can go in any number of directions, but one of my absolute favorite seasoning combinations is a liberal dose of Old Bay and some lemon juice along with a little olive oil to help build a nice marinade. I used to prepare a ton of this marinade for half roasted chickens in a restaurant I worked in earlier on in my career and it has remained my go-to chicken marinade.
The salty Old Bay seasoning has the perfect blend of savory and spicy qualities that works perfectly with the acidic lemon juice and rich, crispy air fryer chicken drumsticks. The oil is there to help build a marinade and it also helps to start rendering the chicken skin when it goes into the air fryer.
The beauty of air frying chicken drumsticks sans breading is in the incredibly crispy skin you can achieve. When you bread chicken, the skin doesn't have the ability to crisp or render as it can when you leave it naked save for seasonings. Thanks to the high-powered heating element and convection fan found in an air fryer, you can make restaurant-quality roasted chicken drumsticks at home with less fat and crispier, crunchier skin.
Finally, when cooking chicken leg pieces, whether thighs or drumsticks, I've always found it's best to go over the recommended internal cooking temperature. While 165°F is considered fully cooked for chicken, I always take my thighs or drumsticks to 175°F at least when cooking them in the air fryer or on the grill. Chicken legs are tougher than breast meat, and they benefit from a longer cooking time as it helps make them more tender and enjoyable overall.
Why This Works
Thanks to the powerful heating elements and high-powered convection fan, air fryers are able to move super-heated air around their well-insulated oven chambers resulting in crispier chicken skin overall.
By roasting the drumsticks without a breading or flour dredge we are able to render the fat from the skin creating a super crispy air fried chicken drumstick with less fat and calories than a "fried' or breaded version.
Because of the even and consistent size of chicken drumsticks, we are able to cook them quickly and evenly in our air fryer.
Recipe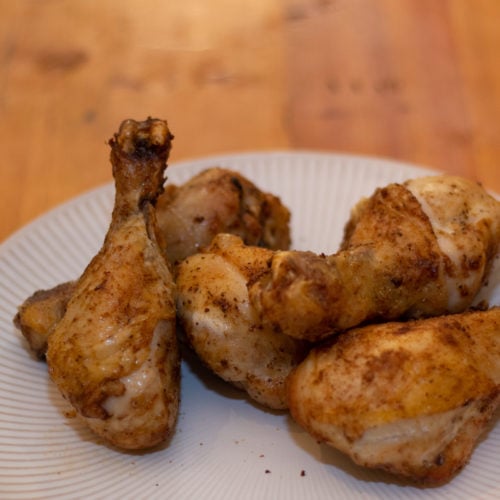 A Chef's Next Level Air Fryer Chicken Drumsticks Recipe
Here's how to cooking crispy skinned chicken drumsticks in your air fryer... without drying them out.
Ingredients
4-5

Chicken drumsticks

1

tbsp

Old Bay seasoning

1

tbsp

Lemon juice

2

tbsp

Olive oil or vegetable oil
Instructions
Preheat your air fryer to 400°F.

Put 4-5 chicken drumsticks into a medium-sized bowl.

Season the drum sticks with Old Bay, Olive Oil, and lemon juice.

Coat the drumsticks well, and transfer them to the air fryer basket.

Load the air fryer basket into the air fryer oven chamber and allow the drum sticks to cook for 35-40 minutes.

Check the internal temperature of the air fryer chicken drumsticks before serving to ensure proper doneness.

Enjoy.
Nutrition
Mistakes To Avoid
One of the biggest mistakes that home cooks continue to make when preparing Chicken Drumsticks is undercooking them. Though 165°F is considered fully cooked, chicken legs need a little longer and I've always found that taking them to 175°F helps create a more tender fully cooked drumstick.
It's also important to make sure you don't overcrowd the oven or the air fryer basket. Allow for 1-2 inches of space between each drumstick to ensure optimal air flow. This in turn ensures a crispier product overall, as the increased air flow will allow the chicken skin to render more fully.
Lastly, if you are using a toaster oven style air fryer (I've got my Emeril 360 fired up for this recipe) make sure to put a drip tray under the air fryer basket as the chicken drumsticks cook. This isn't an issue for pod-style air fryers, but most toaster oven-style appliances will have top and bottom-mounted heating elements, which can create a fire hazard from dripping grease if you don't use a drip tray. Simply place the drip tray on the oven rack below the air fryer basket to catch all the fat as it renders out of the chicken skin.
Alternative Approach
As I've mentioned I like a naked approached to roasting my chicken drumsticks when using my air fryer. That being said you can add a light dredge of seasoned flour, rice flour, or instant mashed potato flakes to help create a slightly starchier, crispy skin. Simply ommit the olive oil and lemon from this recipe and substitute a few tablespoons of your flour/starch of choice and coated the chicken drumsticks liberally before placing them in the air fryer basket.
As the starch cooks on the outside of the skin/drumstick it will crisp and brown creating a crunchy 'fried" texture on the outside of your drumsticks. It will lock in moisture and the skin won't render quite as well, but if you are a fan of lightly breaded chicken then this can be a great option for you.
The Perfect Accompaniments for Air Fryer Chicken Drumsticks
Air fryer chicken recipes are a dime a dozen and that's because of how adaptable they are to different situations. Beyond the marinades and seasonings, you can toss your drumsticks in a sauce or dry rub before serving, and there are almost limitless numbers of dipping sauce options to choose from.
I love making Nashville hot style drumsticks by mixing some oil and cayenne pepper together with a touch of brown sugar and salt, then tossing the drumsticks in the sauce before serving. Alternatively, a simple buffalo drumstick is always delicious as is a parmesan lemon pepper dry rub.
In terms of dipping sauces, I love to serve mine with a buttermilk ranch dressing or a spicy garlic aioli. If you are going buffalo style you can always use blue cheese, and if you want something more Asian-inspired, teriyaki sauce is always a delicious choice.
Pro Tips
This is an already simple recipe, so there's not a lot in the way of improvement or pro tips. One way to really nail the cook on these chicken thighs is to use an oven thermometer to monitor them as they roast. By using a wifi version I'm able to keep track of the time and temperature left and pull the chicken drumsticks at the perfect cooking temperature. Also, an in oven thermometer helps maintain an even oven temperature by allowing you to monitor the temp without opening the door. Some air fryer ovens like the Nuwave Bravo XL come with a thermometer like this, but if your air fryer doesn't have one, any you have will work.
One really important tip I have for owners of toaster oven-style air fryer models is to wrap your drip tray and crumb tray in aluminum foil. This will help make cleanup a snap, especially when making recipes like air fryer chicken drumsticks that create a larger amount of pan drippings.