Cooking fresh brats over a charcoal grill is one of my favorite summer past times. There's something about a delicious, crispy bratwurst on a warm summer evening with the fireflies out and a cool glass of iced tea in my hand that makes everything seem right with the world.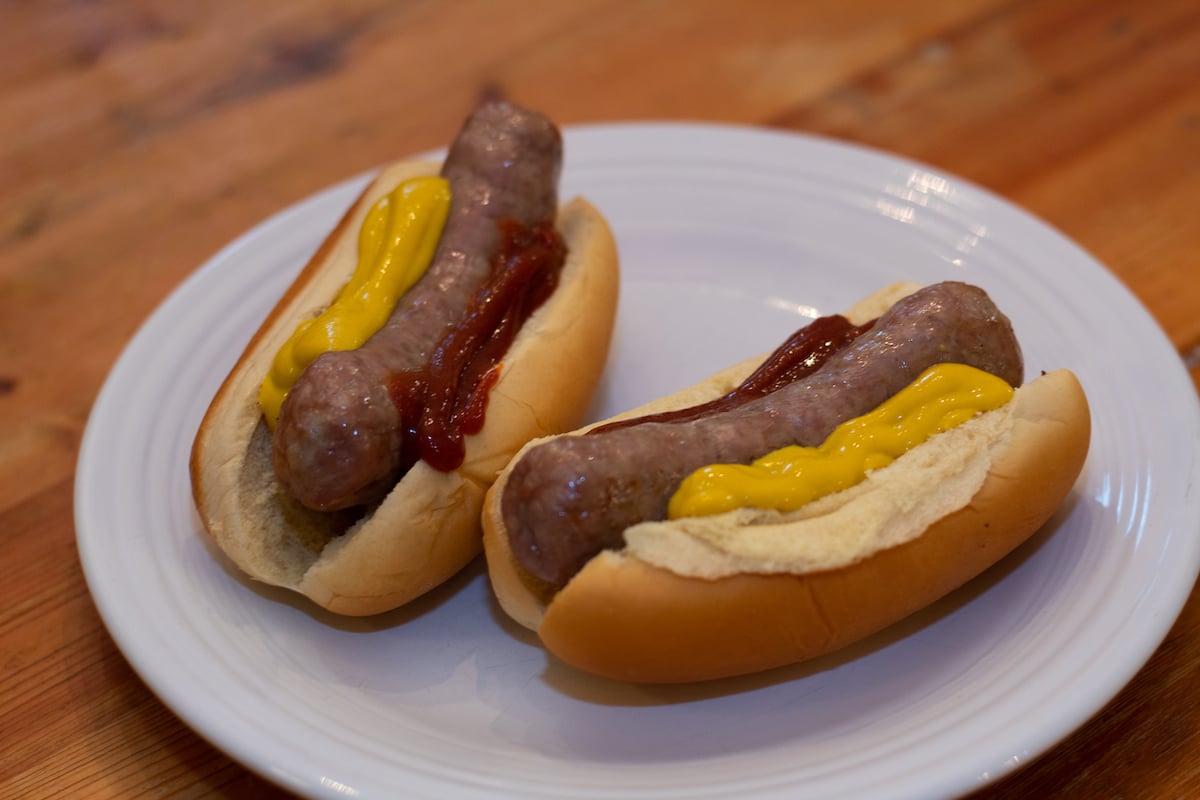 That being said, I like to enjoy bratwursts more often than just during the summer months, and sometimes it's just not feasible for me to get the grill going in time to make dinner, especially with a hectic schedule and a growing family. This is where my trusty air fryer comes in
One of the neat benefits I've found to owning an air fryer has been the ability to cook meats quickly and efficiently in the high temp convection oven. While an air fryer can make delicious wings, french fries, and chicken nuggets, making brats in the air fryer, or pork chops, and even steaks has been an awesome addition to my cooking capabilities.
Now that I have an air fryer at home, I've found myself relying on it more and more to create one-pan meals, and air fryer brats work perfectly for this. While I love a good brat on a potato roll with sauces and some chips on the side, it's always nice to put together an easy sausage with peppers and onions, or bratwurst with roasted cauliflower. By cooking the air fryer brats directly on a baking tray with the veggies you can throw together an easy air fryer brats meal with just one pan!
Table of Contents
The Strategy
Cooking proteins like bratwurst, steaks, or roast chicken in the air fryer is a very straightforward procedure. To begin you need to preheat your air fryer to 375°f and set the time for 12-14 minutes depending on the size and amount of your bratwurst.
Next load the air fryer basket, spread the bratwurst out so they aren't touching and they have at least a ½ inch between each of them. This will allow the convection fan to air around the brats and get the best possible sear.
Allow the air fryer brats to cook for 6-7 minutes before rotating them to ensure even cooking and great texture from the bratwurst. Allow the brats to finish cooking in the air fryer. Once the timer goes off, carefully remove the brats from the fryer basket before topping them or serving them in your preferred style.
Why This Works
By preheating the oven you allow the oven chamber to reach a super hot temperature quickly, this creates a high temp environment that allows you to sear the air fryer bratwurst easily and effectively. This creates a great snap and awesome texture while helping lock in the juicy bratwurst flavor.
The superheated air inside an air fryer is primarily thanks to the high-powered convection fan and heating elements. While an air fryer is less a fryer and more a high-powered convection oven, its small size, and relatively large power supply allow it to create an environment that can crisp and perfectly roast almost anything.
Recipe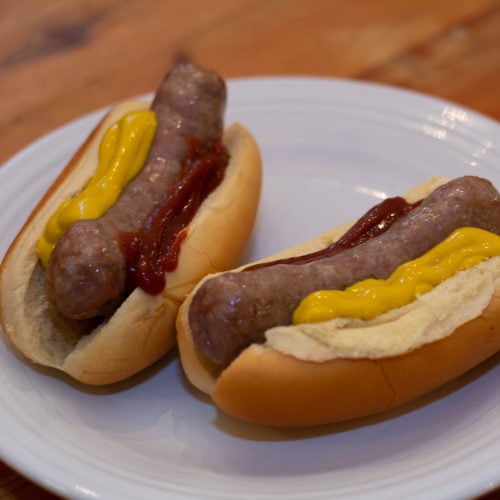 A Chef's 15 Minute Air Fryer Brats Recipe
Delicious juicy brats from your air fryer, with a perfect snap to the skin. Cook as many as your air fryer will fit and be happy.
Ingredients
1

package

Fresh bratwurst sausages

Your favorite sauces, toppings, or accompaniments.

1

pack

Potato rolls
Instructions
Preheat your air fryer to 375°F

Arrange the brats in the air fryer basket, allow a ½' of space between them to promote even cooking

Once the air fryer is preheated place the air fryer basket into the air fryer and set the timer for 12-14 minutes

Halfway through the cooking process flip the brats to get the best possible sear

Once the timer goes off, carefully remove the air fryer brats from the air fryer basket and place them on a plate

Serve the air fryer brats with your favorite accompaniments and sauces!
Notes
Calorie data from MyFitnessPal, based on one hotdog with 1tbsp of ketch and 1tbsp mustard.
Nutrition
Alternative Approach
I prefer to roast my air fryer brats on the air fryer basket, instead of directly on the oven surface or a roasting pan. This allows the brats to get fully seared by the high-temperature air and creates an awesome snap and a juicier texture. On the other hand, using the air fryer basket doesn't lend itself as well to creating a sausage and onions dish or similar one-pan meals.
When I want a saucier approach to easy air fryer brats I like to use a baking pan in my toaster-oven style air fryer. This allows the veggies to roast while retaining some of their moisture, creating a natural sauce and a 1 pan meal that goes great with rice or mashed potatoes. If you have a pod-style air fryer go ahead and roast the brats and veggies directly on the oven pan with the air fryer basket removed. just make sure to thoroughly clean the oven chamber before your next use.
The Perfect Accompaniments for Easy Air Fryer Brats
Air fryer brats go well with a ton of different toppings and accompaniments. While I'll always love a simple brat with some mustard and maybe a little sauerkraut, one of my favorite ways to eat them recently has been with a line of spicy dijon mustard and a line of spicy sriracha ketchup on a potato roll with chips on the side.
You can always roast your air fryer bratwursts alongside sliced peppers and onions or shaved cabbage for a delicious one-pan meal as well. Simply arrange the ingredients on a roasting tray and place it in the air fryer in place of the air fryer basket. This will create a saucier, richer air fryer brat that's better served with rice or mashed potatoes.
Mistakes To Avoid When Cooking Brats in the Air Fryer
While I always recommend seasoning proteins before cooking, it's important to not season your air fryer bratwurst. Sausages come seasoned with a specific amount of salt and if you were to season them before cooking you might find the salt level to be unpleasant. This is one of the reasons I like to cook my air fryer brats with veggies from time to time. The added volume of vegetables can soak up some of that seasoning and you can create an easy 1 pan meal without a lot of muss or fuss!
Pro Tips
I recently tried roasting a pan of brats in my air fryer while roasting a second tray of sweet potato fries beneath the air fryer basket. I started the sweet potato fries first because they had a longer cooking time, and then loaded the brats into the oven once a few minutes had elapsed.
I cooked the air fryer brats in the air fryer basket while I cooked the sweet potato fries on a baking pan. I sacrificed some of the crispiness of the fries, but as they cooked the fat and juices from the sausages dripped down onto the sweet potato fries and added a salty richness that matched perfectly with the sweeter notes from the sweet potato.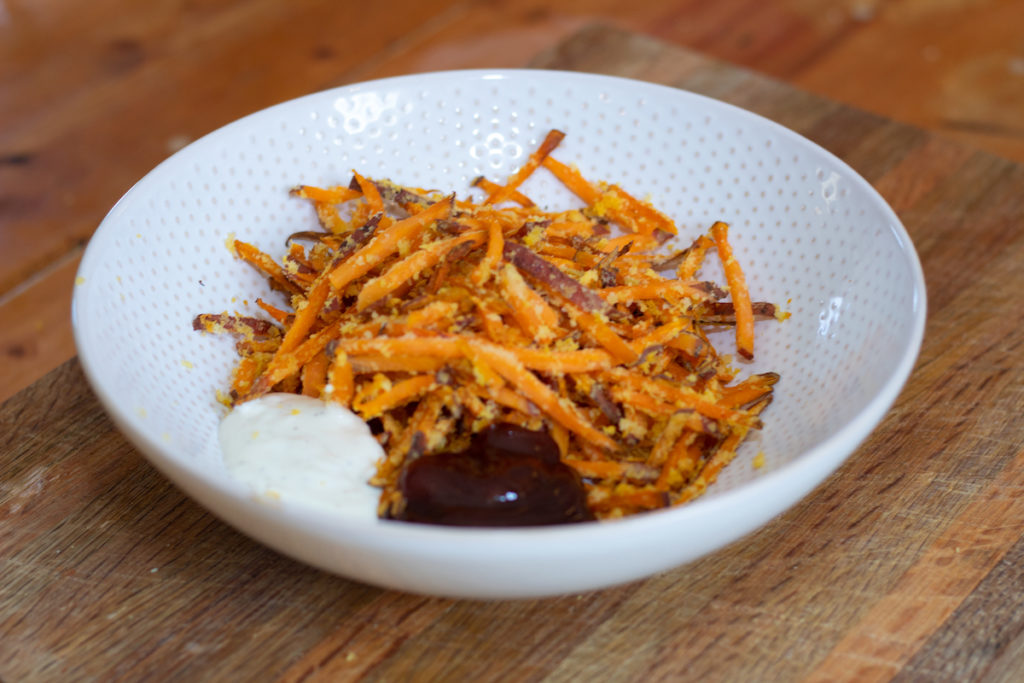 Once everything had finished cooking I sliced up the air fryer brats and put them over top of the sweet potato fries. I finished them by melting some gruyere over the fries and sausage for an amazing game night snack!
As a bonus, by doing this I used two pans, my air fryer, and avoided almost any clean-up at all. To make it even easier I keep my crump tray wrapped in aluminum foil to help reflect the heat waves back into the oven and allow for an even smoother cleanup overall.
I do want to note that this method is only really available to you if you have a toaster oven-style air fryer. If you have a pod-style air fryer you can use the basket divider to cook multiple things at once but the effect will be slightly altered, though no less delicious!