Basil is one of the easiest herbs to plant and take care of. Sweet basil, lemon basil, Thai basil, and purple basil don't require special requirements to yield a good harvest. But if you're like me, who likes planting different herbs and produce for optimal taste and health benefits, you must wonder if you can grow basil near other herbs. The quick answer is yes!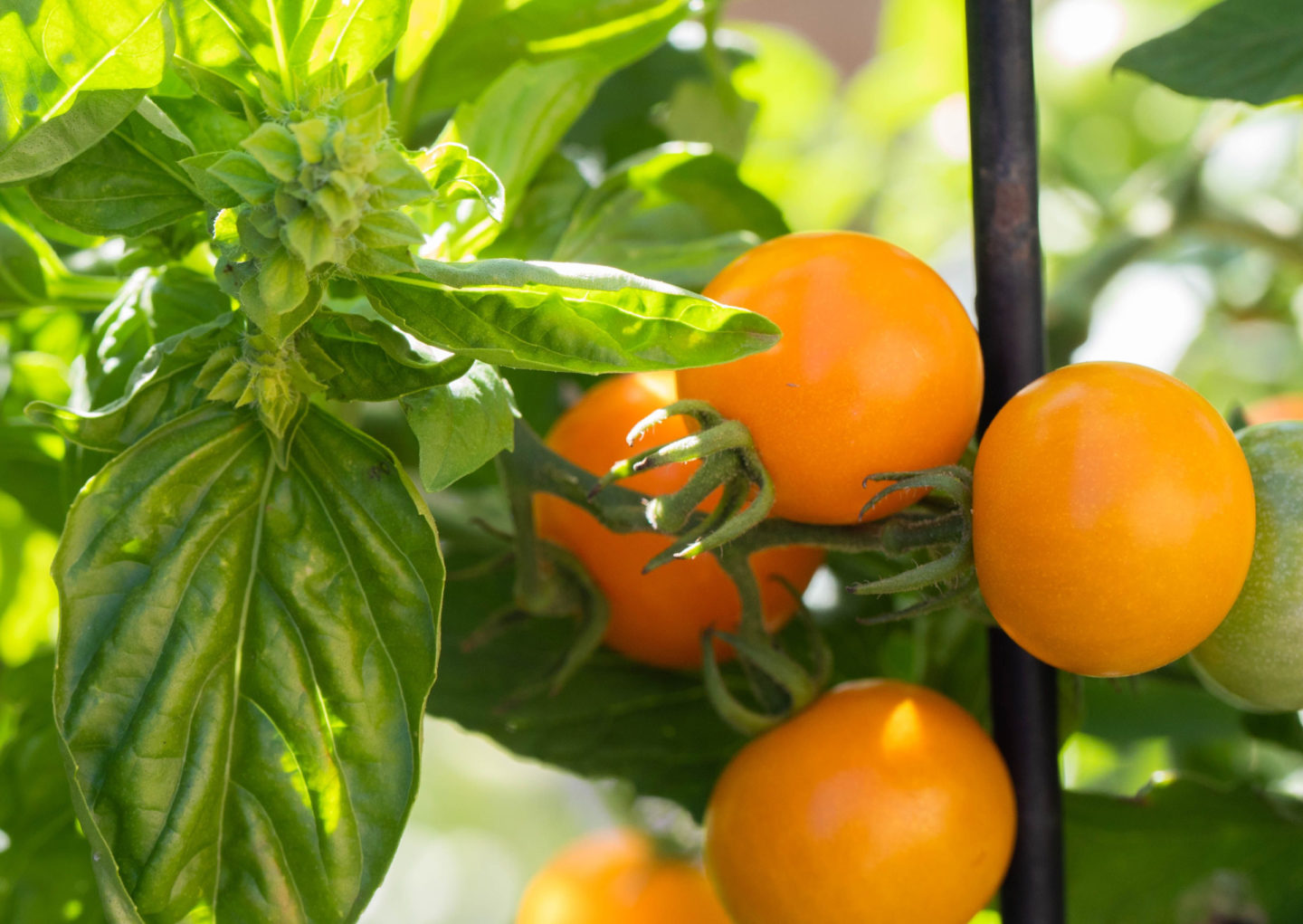 Since basil has no special growing requirements, you can plant it with other herbs and spices like pepper, anise, chives, rosemary, marjoram, borage, parsley, oregano, cilantro, and garlic. You can also try surrounding them with vegetables and fruits like tomatoes, asparagus, carrots, beets, turnips, radish, parsnips, broccoli, grapes, potatoes, and other root crops.
Lastly, you can add flowers near your basil plant to add color and beauty to your garden. For example, you can plant marigolds, nasturtiums, petunias, and chamomile. This article will discuss each of these plants, their importance to basil growth, and their benefits.
Table of Contents
What is Companion Planting?
Companion planting is an agricultural technique that enables you to maximize your garden space while enhancing the growth of the plants you place near each other. In addition, this technique helps the plants prevent insect pests while encouraging the presence of beneficial insects that promote pollination.
While this method is commonly used on large farms, you can do this at home to maximize your space. You can plant as many as 25 different plants to grow in the same area, giving you access to healthier and fresher produce for your diet.
Basil Companion Plants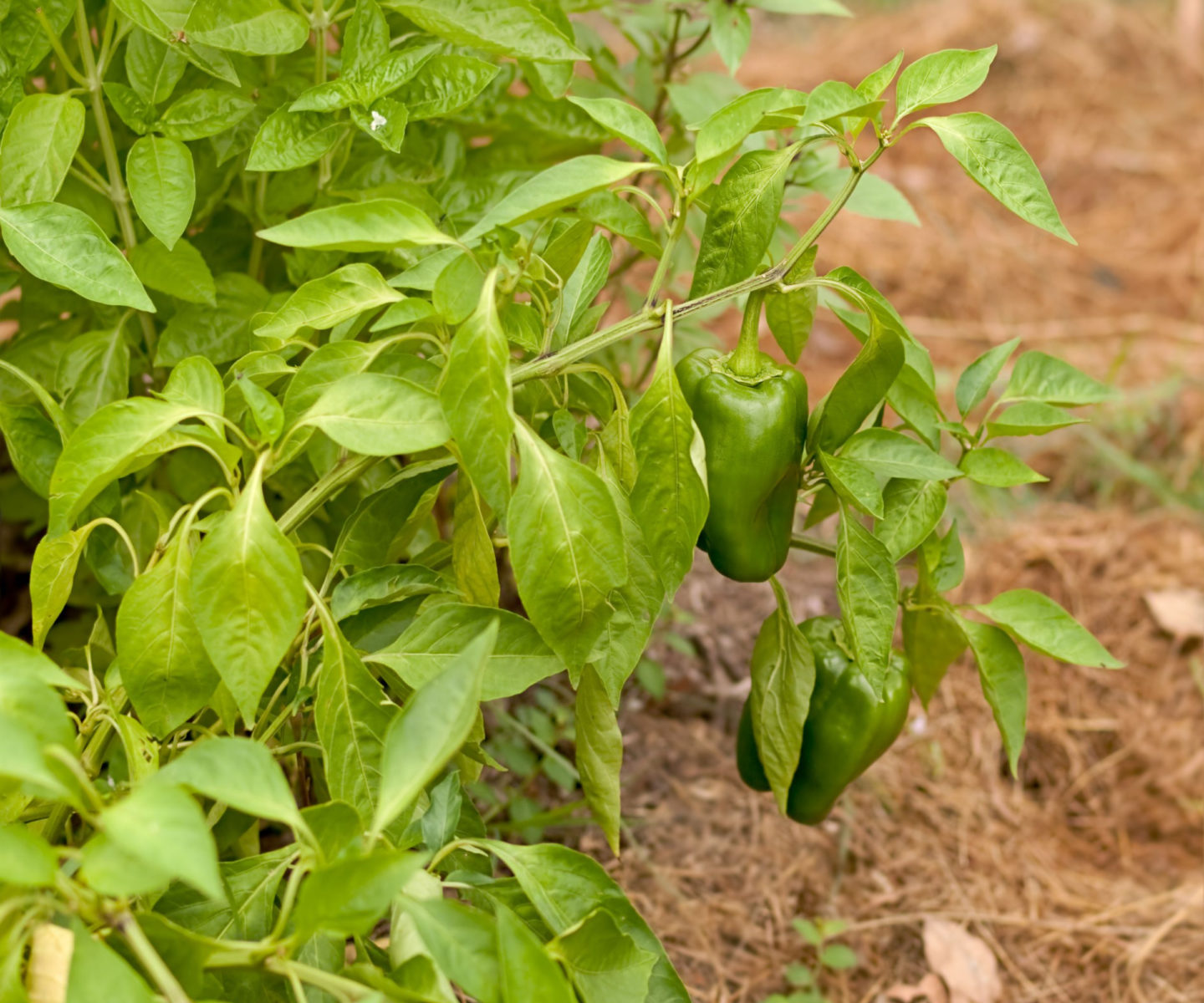 1) Pepper
Bell peppers, chili peppers, and sweet peppers are all pepper plants we use daily. Aside from adding flavor to our dishes, they also provide vitamins A and C, folic acid, potassium, and fiber for easy digestion. However, these plants often attract bugs and insects that eat their young.
Basil acts as an insect repellant that allows peppers to grow fruits without worrying about the bugs. Additionally, basil enhances the flavors of pepper.
2) Anise
Anise is known for its antifungal and antibacterial properties. Planting basil near your anise protects it from rotting due to bacterial infections. Moreover, anise encourages essential oil production in basil, which helps its growth.
When used in cooking, anise offers excellent flavors and aromas that work well with dairy products, meats, candies, and savory dishes like curry, spiced meat, and other Middle Eastern cuisines.
3) Chives
As a member of the onion family, chives offer a great aroma when fresh or cooked. This aroma helps get rid of insects and pests. They don't occupy much space and can survive in small land areas. Chives are easy to tend to and can be harvested a month after planting.
Aside from pest control, chives also encourage the essential oils in basil, strengthening their growth and aroma. You can plant either the Giant Siberian Chives or the Garlic Chives.
4) Rosemary
Rosemary is another famous perennial herb you can grow near your basil plant. Rosemary offers a great aroma to your dishes and has powerful effects when used as an essential oil. Rosemary oil relieves stress, repels bugs, improves brain function, and stimulates hair growth.
Due to its powerful aroma, planting herbs near your basil will surely dispatch insects that could harm your basil and other companion planting herbs.
5) Marjoram
You might mistake marjoram for oregano, but these two herbs offer different aromas and flavors. Marjoram is a small, bushy perennial herb that shares the same water and light needs as basil. When planted near each other, both plants attract pollinators and get rid of pests. You can grow sweet and wild marjoram as they have the same effect on basil.
6) Borage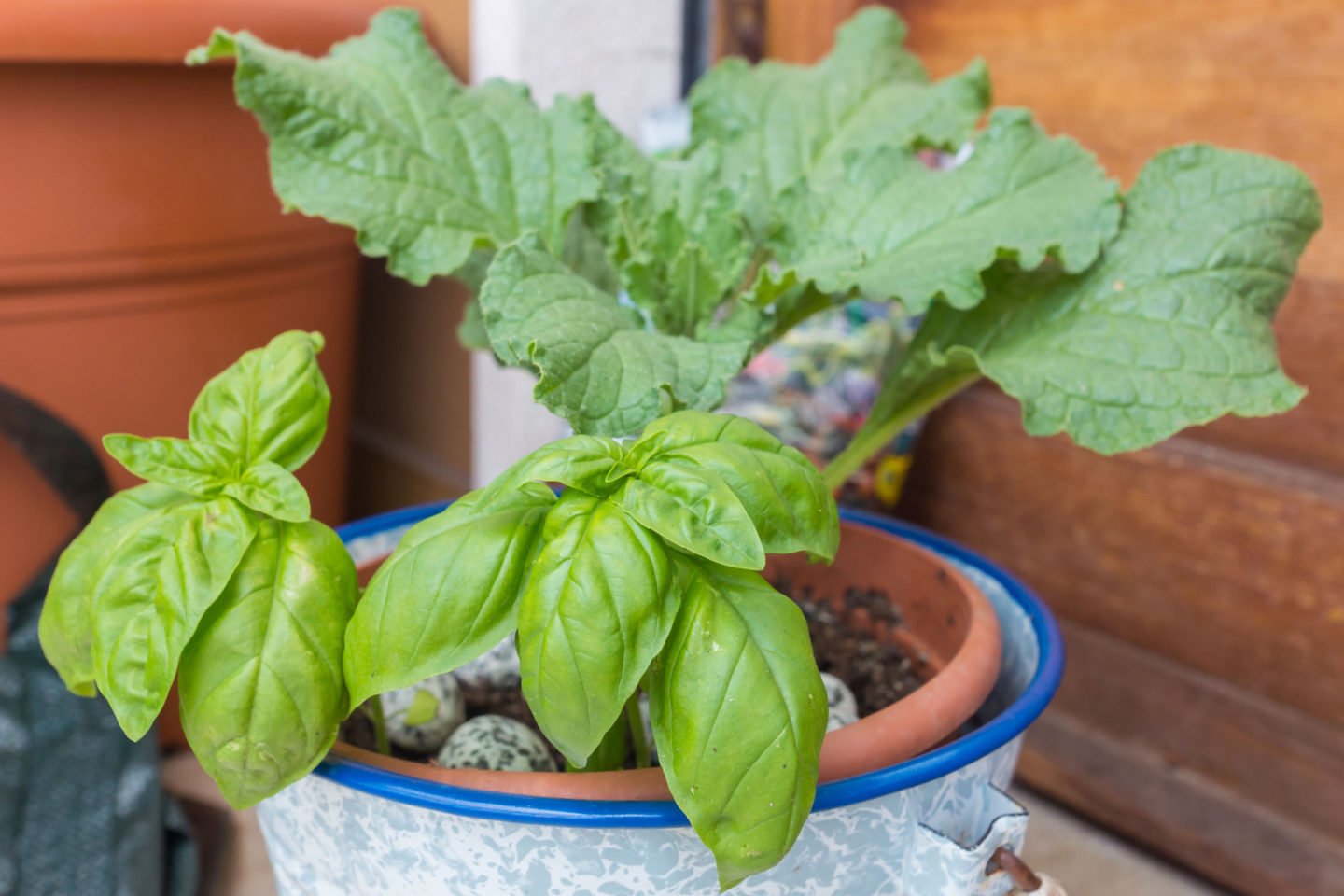 This lovely, fast-growing herb grows to a height of 2 feet in an erect habit, bearing vibrant blue-and-pink star-shaped blooms that hang down in clusters from red stalks. Like the borage blooms, the dark-green oval leaves have a hairy and wrinkled texture with a cucumber-like aroma and flavor.
The flowers of this herb attract bees and other pollinators, and the scent this herb offers also helps repel pests and harmful insects. You can grow common borage, starflower, or creeping borage.
7) Parsley
Parsley is an excellent addition to food and is a favorite garnish as it adds fragrance and flavor to any dish. In addition, parsley demands no special requirements when grown, making it a good companion plant for basil.
8) Oregano
Oregano is a creeping plant that provides shade for smaller plants, including your growing basil. Due to its spread, the leaves cool the soil and provide a healthy growing environment for other plants. The leaves also welcome bees that promote pollination.
9) Cilantro
Cilantro, or coriander, plants have tiny light-green stalks that branch into little needle-like leaves and more extensive, waxy foliage with fringed ends. Cilantro works well as a garnish for salads and dips or as an oil flavor. When grown near basil and other companion plants, the oils from cilantro act as a repellant against flies and other insects.
10) Garlic
Garlic enhances the flavor of basil while repelling common basil pests like aphids, spider mites, and whiteflies. Once harvested, you can also use garlic as an overall spice and benefit from its antioxidants.
11) Tomatoes
The tomato plant and basil complement each other very well. Through its intense aroma, basil eliminates tomato pests like the tomato hornworm and makes it a good tomato companion plant. Tomato plants also cultivate the soil well, paving the way for healthier basil plants.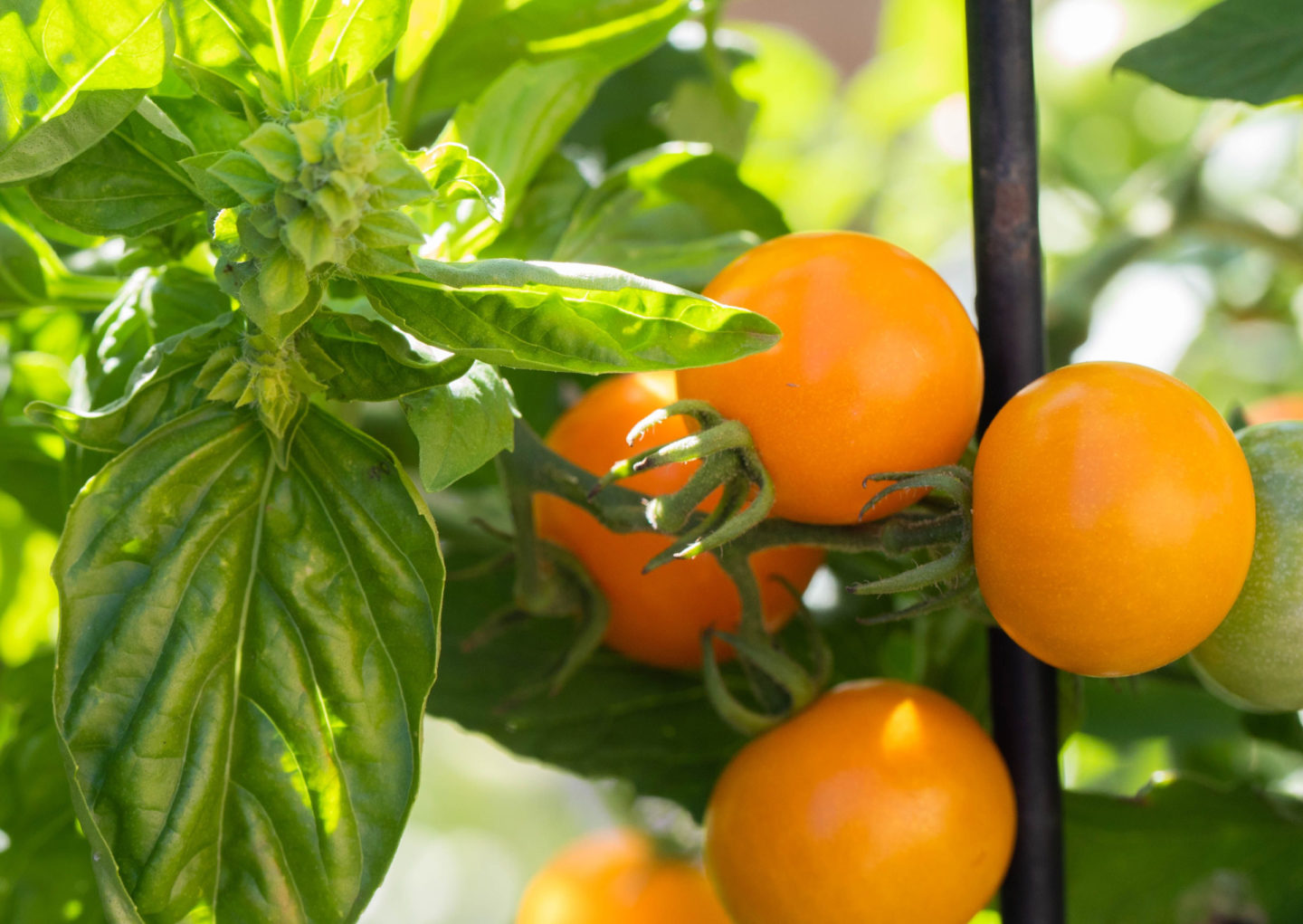 12) Asparagus
Although asparagus does not provide aromatic benefits, it attracts ladybugs that feed on aphids, making them beneficial for your basil companion plants. Bail also protects them from the asparagus beetle, gaining a mutual relationship.
13) Carrots
Planting root crops like carrots loosens the soil, aiding the roots of your basil plant. The large leaves also provide shade for your smaller plants and protect them from insects and pests.
14) Beets
Like turnips, beets grow up to 3 feet and provide shade for growing basil plants. They also act as a trap crop to drive away pests like flea beetles that may target your basil plant.
15) Turnips
Aside from their uses in cooking, turnips act as a trap crop to lure pests away from sensitive plants. Turnips don't grow too tall; they are only about a foot tall and are ready for harvest after two months.
16) Lettuce
Planting lettuce near aromatic herbs like basil enhances their flavor. Aside from lettuce, cabbage and other crops from the cabbage family, like Brussels sprouts, also benefit from basil as it protects them from insects like cabbage looper and cabbage moth.
17) Radish
Radish is among the tallest crops you can grow near your basil. It provides shade and acts as a market for growing basil, as it grows fast and is ready for harvest in a month.
18) Parsnips
When its blossoms mature, parsley attracts predatory insects that feed on basil-eating bugs. Parsnip roots also produce a chemical harmful to spider mites and aphids.
19) Broccoli
Broccoli is a crop that benefits from growing with basil, thyme, mint, dill, sage, rosemary, and garlic. Aromatic herbs help get rid of pests like parasitic wasps.
20) Grapes
Grapes are very attractive to pests and worms that often damage their fruits. Planting them near your basil plant helps eliminate the probability of these bugs that destroy your grape vines.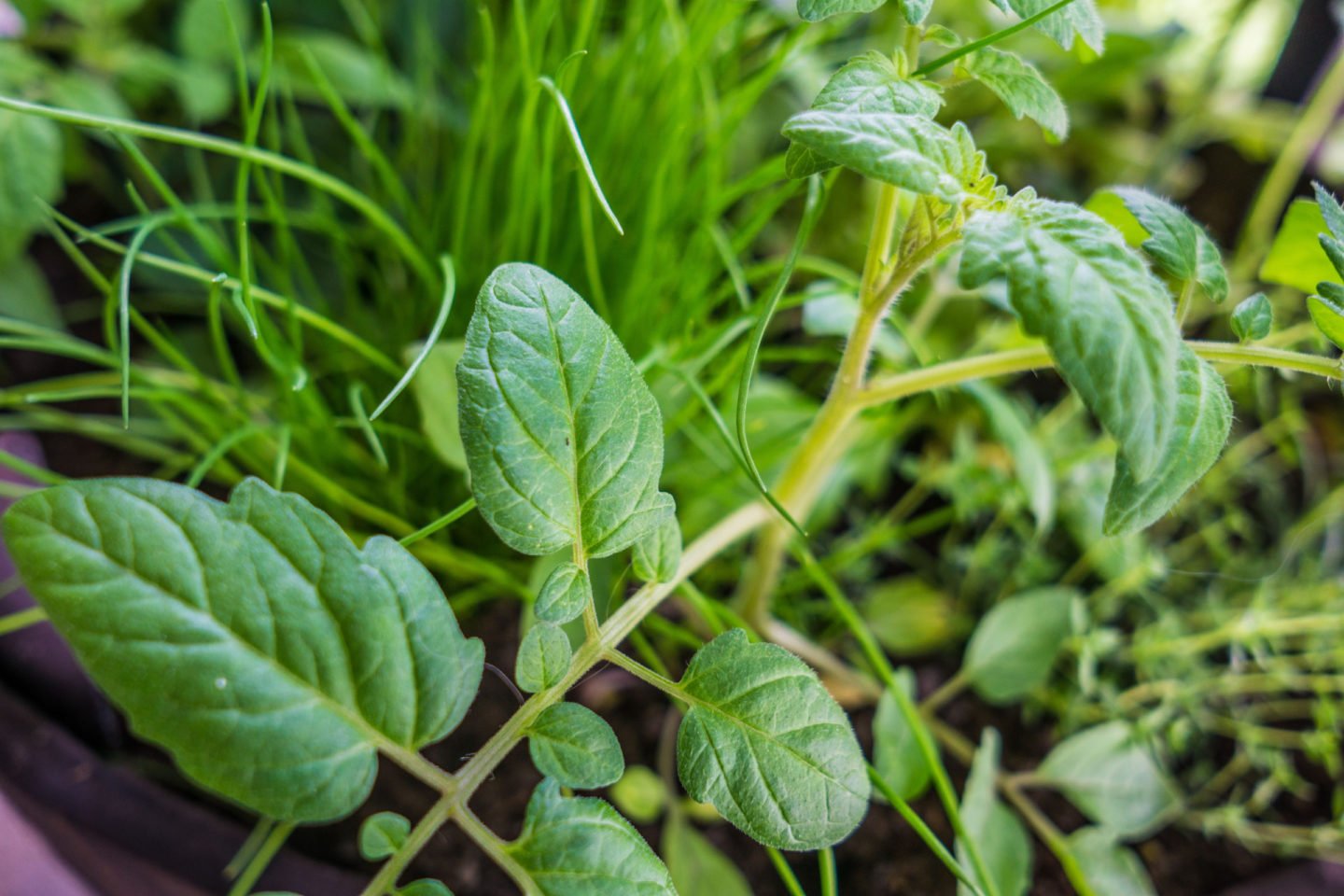 21) Potatoes
It is believed that basil aids in the development of potato tastes. Potato plants are also prone to worms and other pests like the Colorado potato beetle and Japanese beetle, so placing them near basil helps their overall growth.
22) Marigolds
The pungent aroma puts off many insects. French marigold cultivars emit limonene from their roots, sending pest-repelling signals to adjacent plants long after the marigolds have died.
23) Nasturtiums
Nasturtiums produce bright yellow and orange flowers that attract pests away from your fragile plants. Once harvested, you can turn these flowers into tea and use them against colds, sore throats, coughs, and fungal infections.
24) Petunias
Basil is supposed to thrive alongside petunias. Petunias are excellent herb garden companion plants that resist pests such as asparagus beetles, aphids, leafhoppers, and tomato worms.
25) Chamomile
Chamomile plants provide beneficial compounds in the soil that increase growth and basil flavor. They also attract bees and other beneficial insects that promote pollination.
Related Questions
What plants should not be grown near basil?
Plants that require too much water, like cucumbers, could drain your basil of nutrients. Herbs like sage and thyme are also not good companion plants as they thrive well in sandier soils.
When should you plant basil?
You can plant basil two weeks after winter, but they also grow in warmer temperatures like summer.