Jason Phillips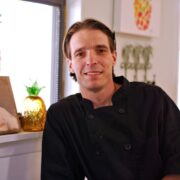 Jason Phillips is a recipe developer, culinary arts graduate, and coffee connoisseur. After culinary school, he cooked professionally for a while and published a cookbook his chef instructor advised him to write. Jason has a passion for culinary arts and coffee and is always looking for new, innovative recipes. He loves creating chef-quality meals that are also simple to make so that any home cook can do the same. 
Jason sold gourmet coffees for a while online, and the complexities and different varieties of coffee fascinated him. Now, he seeks out coffee beans from all over the world. He uses these beans to create diverse recipes and, of course, make delicious coffee.
 Jason's cookbook is The Sea Cook: Recipes and Tales From The Galley. The book chronicles his journey as a cook onboard offshore tugboats and the places he has traveled. There is a collection of essays that highlight these unique places. After each essay, there are recipes that highlight the uniqueness of those ports of call. Jason's hope is that the book encourages others to create their own culinary journey.