Mushrooms are becoming increasingly popular in the kitchen, and more people are becoming aware of the different varieties and their subtle flavor variations. They're delicious in soups, sauces, on the grill, and even raw in salads, and they're low in calories and highly nutritious.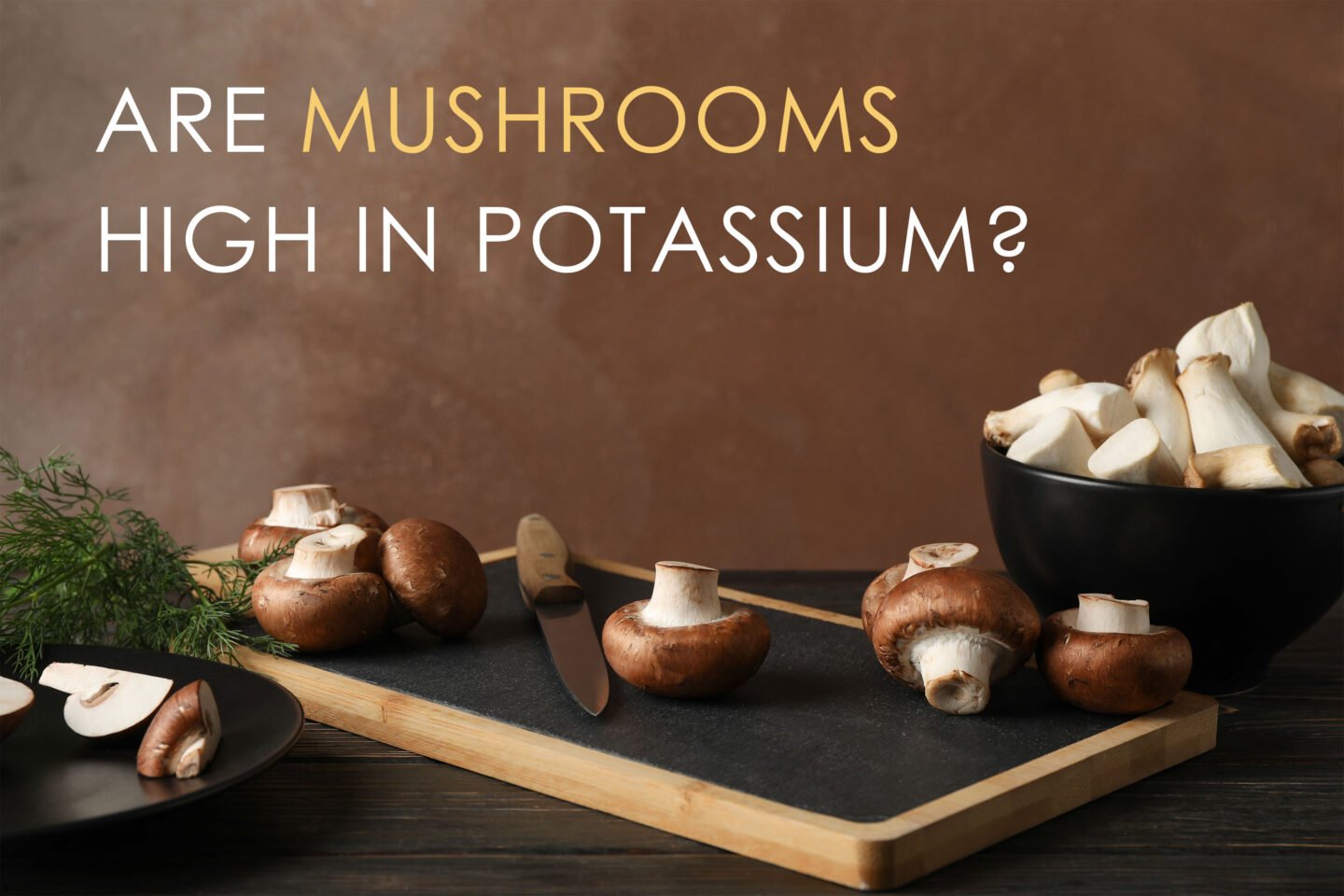 However, many people follow a diet aimed at increasing or decreasing their intake of specific nutrients, such as the low-potassium diet followed by those with kidney disease. Followers of this diet must know the potassium content of common foods and stay within a daily intake recommended by their doctor.
How well do mushrooms fit into the meal plans of people on such a diet?
Table of Contents
Are Mushrooms High or Low in Potassium?
Mushrooms are quite high in potassium, so many on a low-potassium diet should limit their intake or avoid them altogether.
However, if your potassium sensitivity isn't too severe, they're an excellent addition to a healthy diet.
How Much Potassium Is in Mushrooms?
A cup of raw white mushrooms contains around 223mg of potassium, more than the 200mg per serving threshold for low-potassium foods.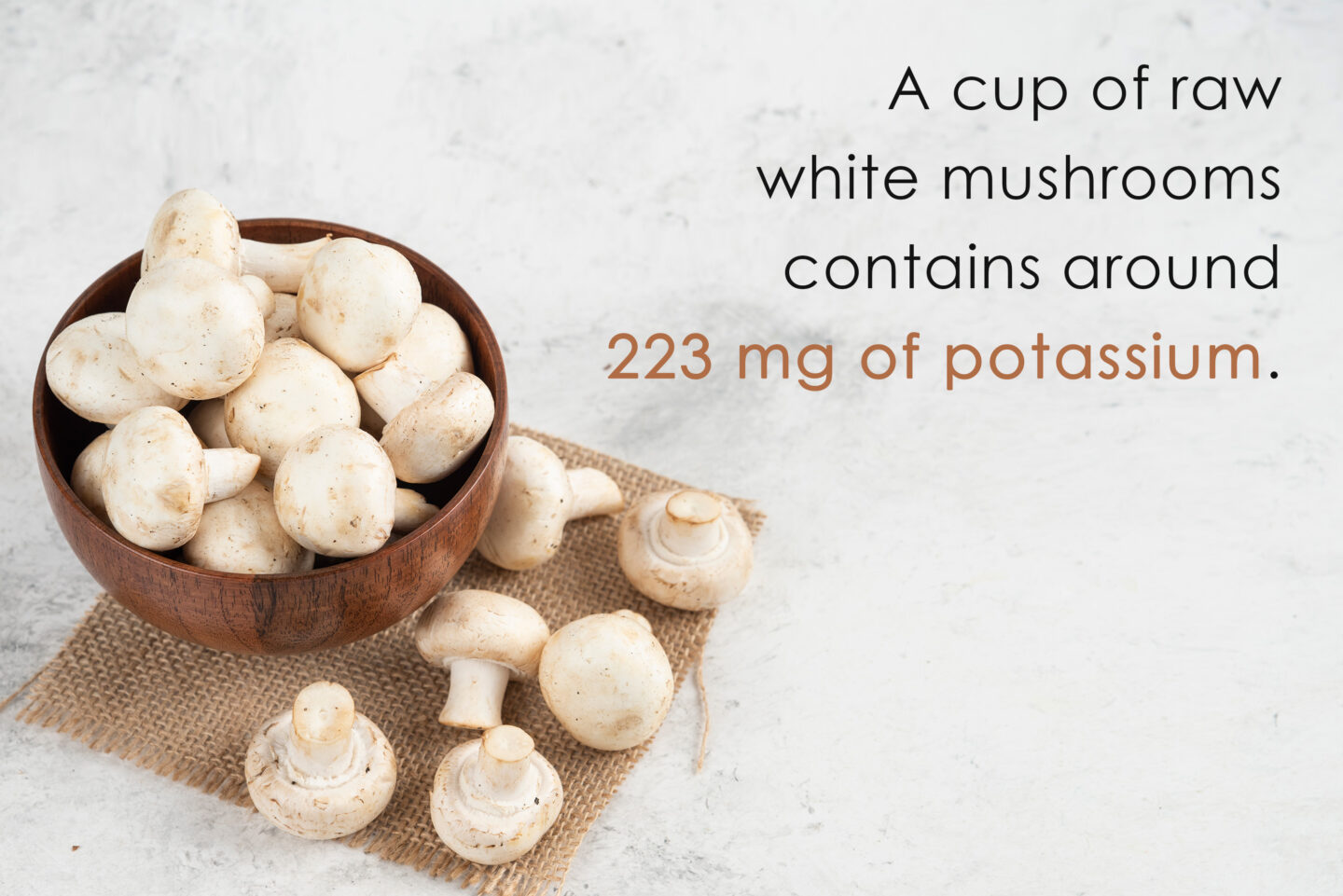 Portobello mushrooms are even higher in potassium, with a cup containing 416mg.
Are Mushrooms Healthy?
A cup of mushrooms contains around 15 calories but a good amount of vitamin B2 (riboflavin), which aids metabolism and protects blood cells and the digestive tract.
Mushrooms also contain antioxidants, which flush free radicals out of your body, preventing cellular oxidative damage. Oxidative damage can lead to age-related issues and premature death. Some studies also show that antioxidants lower your heart attack risk.
Mushrooms contain beta-glucan, a soluble dietary fiber that can treat and prevent type 2 diabetes. Oyster and shiitake mushrooms contain the most effective beta-glucan, which may also support heart health and regulate blood sugar levels.
Mushrooms are an excellent source of copper, which supports red blood cell formation and bone and nerve health.
Cooking mushrooms reduce their copper content slightly, but they still contain up to 33% of the recommended daily intake.
Can You Get Too Much Potassium from Mushrooms?
Although they're high in potassium, it would be very difficult to get too much just by eating mushrooms. However, some varieties, such as enoki, brown, oyster, and portobello, contain more than others, so ensure you don't exceed the potassium intake suggested by your doctor.
Varieties like shiitake and maitake are lower in potassium and safer for those on a low-potassium diet.
Is Cream of Mushroom Soup High in Potassium?
A cup of cream of mushroom soup contains around 74mg of potassium, under the low-potassium food threshold.
However, it's less nutritious and higher in calories than fresh mushrooms. Canned soup is also high in sodium, which can lead to high blood pressure and cardiovascular disease.
Don't know which foods are high in potassium? Read our article, 15 Best Food Sources of Potassium. We also have a guide to this important mineral: Potassium 101: All You Need To Know About Potassium.