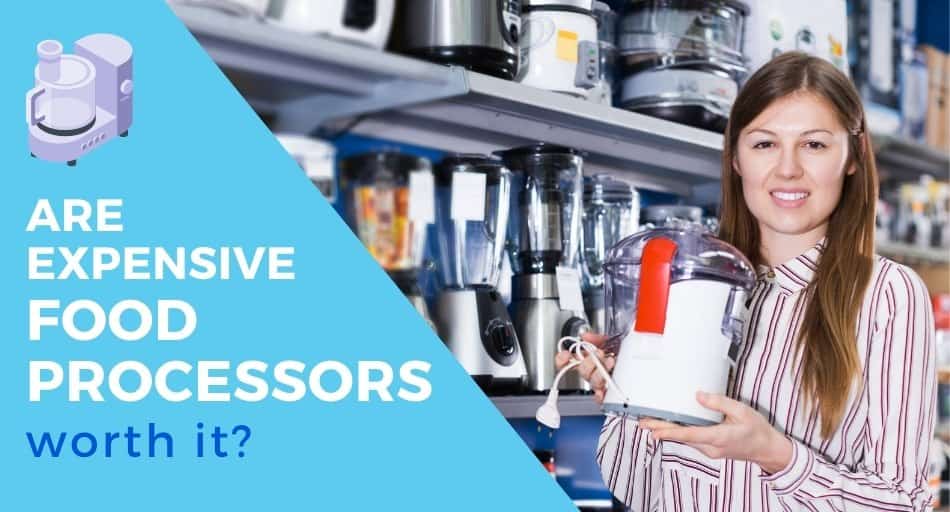 Food processors have become increasingly more popular in recent years. They're designed to work as an extra pair of hands in the kitchen to help you create delicious and healthy meals.
This appliance often comes with various accessories and functions, so it works as a multitasker, able to perform several functions even though it's just one machine. If you've ever looked into buying a food processor, you've definitely noticed that the price range is rather broad.
So, are expensive food processors worth it? Should you even invest in one?
An expensive food processor can help you make tasty and healthy meals quickly and without too much hassle. But depending on how often you plan on using it, it might not be necessary to spend an excessive amount of money on one appliance.
There are several other things to consider when buying a food processor besides the price, so keep reading to find out if you should break the bank or choose a cheaper option and also to see our recommendations.
Table of Contents
What does a food processor do?
Food processors are very similar to blenders, but they come with a lot more functions. Most food processors are electric and used to blend, chop, dice, and slice, allowing for faster and more efficient meal preparation. Unlike a blender, a food processor doesn't require water for the blade to work properly.
This appliance also comes with various attachments, which means that it can be used for a wide variety of meal preparations.
Another smaller version of a food processor is called a food chopper. It's best suited for a smaller kitchen as it doesn't take as much space as a food processor. It's also better at chopping than making smoothies, so before you decide what type of appliance you're going to buy, think about what features are important to you.
Should I buy food processor?
Buying a food processor is a great idea, especially if you have a big family or want to save time when preparing food. Having this appliance in your kitchen is almost like having another person help you since you no longer have to chop or blend things by hand.
This shortens the time it will take you to prepare most dishes as you will be able to focus on other tasks as the food processor does the chopping.
Most food processors also help you eliminate the need for hand-held appliances, such as small blenders, cheese graters, mandolins, and dicers. This can save you cupboard space and time when you're cooking since you will have one appliance that does everything for you.
Because of that, many people with food processors swear by their functionality and effectiveness.
What should you consider when buying a food processor?
The most important thing you should keep in mind when shopping for a food processor is the size. Most food processors are large and take up valuable counter space, which you know is important if you have a small kitchen.
If you don't have space to keep the food processor on the counter all the time, you have to store it somewhere with either easy access (if you'll be using it often) or hidden (if you'll only be using it sporadically). What's more, if you know you won't be using the food processor often, it's probably better to choose a cheaper one.
Food processors are also rather hard to clean. There are a lot of moving parts and attachments, so it might be easier to clean one small appliance than a large electric processor. The cleanup gets even messier if you're grating cheese or making pizza dough as those kinds of food tend to stick to the blades and other parts.
You might be better off with a smaller food processor or a hand-held appliance, especially if you only need several functions, such as blending and chopping.
Another thing to consider is that while food processors are similar to blenders, they don't work in the exact same way. If your main goal is to make smoothies, margaritas, and cocktails that require thorough blending, you're better off with a blender
. This is because food processors aren't as careful with blending, so you might end up with big ice and fruit chunks. On the other hand, if you purchase a more expensive food processor that comes with a lot more parts, you might be able to get the same final product as with a blender.
Again, it all depends on the meals and dishes you want to make with the appliance.
If you are cooking for the whole family, you also have to keep the capacity of the food processor in mind. This is important since some blenders have bigger containers that allow you to prepare the food in larger quantities, which saves you time.
If you are cooking for yourself, though, you may want to choose a smaller food processor that often comes with a lower price tag. Luckily, there are many food processors to choose from, depending on your needs and requirements.
Are cheaper food processors also good?
If you live alone or know you won't be cooking a lot, it's best to opt for a cheaper food processor. These are still good and come with several attachments but won't empty your wallet. Cheaper food processors also tend to be smaller, so you'll be able to save precious kitchen counter space, especially if you have a smaller kitchen.
They do come with fewer attachments than more expensive food processors, but if you don't cook a lot, you will be able to make the majority of dishes with the basic ones.
Whether you should buy an expensive food processor or choose a cheaper one depends on how often you cook and what you need it for. More expensive food processors come with more attachments, which means that they also take up more space, which might not be good for those with smaller kitchens.
What's more, if you don't cook a lot, it's best to save money or something else and opt for a budget-friendly food processor.
Our recommendations
If you buy through some of our links, Amazon will give us a small commission at no cost to you. You're also supporting our website. Thank you!
1. The Sous Chef 16 Pro by Breville, BFP800XL
If you need to turn nuts into nut butter, slice carrots, or do other chopping, dicing, shredding, or kneading, this powerhouse will deliver perfection time after time. With various feed chute options and 8 precision tools, the Breville Sous Chef 16 Pro brings professional food preparation to your kitchen.
2. Cuisinart FP-13DSV Elemental 13 Cup Food Processor
Take on any food prep task with Cuisinart's Elemental 13 Cup Food Processor. Big enough to chop ingredients for a party-sized portion of salsa, the Elemental 13 can also dice ingredients in the same bowl.
3. Ninja BN601 Professional Plus Food Processor
The Ninja Professional Food Processor makes food preparation easier with its powerful 1000-peak watts, 4 Auto-iQ intelligent preset programs, and a unique blade system for ultimate versatility. Now you can spend less time prepping and more time enjoying delicious meals and desserts.