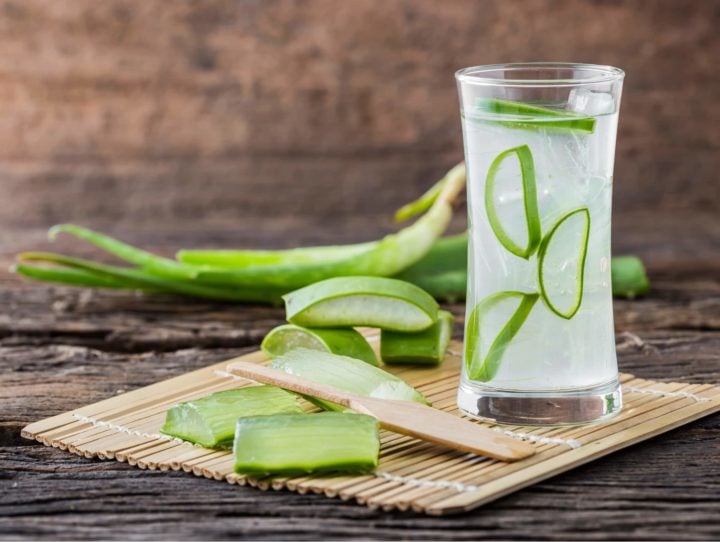 Aloe is one of humanity's most popular medicinal plants. Its health benefits date back even to ancient man. To date, it's one of the widely accepted choices in health supplements. Not only that, but this succulent has also gained popularity for decorative purposes. Aloe, however, is more than what meets the eye.
There are hundreds of different aloe plants, but aloe vera is the single species that can heal you both inside and out. Aloe vera is an edible form of aloe. Over time, people have realized that aloe vera provides more than aesthetics as a flowering succulent plant for many centuries.
Several studies have been conducted over the years to prove aloe vera's role and efficacy in medical practice. The use of aloe vera had evolved, too. Aloe vera gel isn't just good for skin problems. The gel and juice found inside the aloe plant are becoming a popular herbal remedy for digestive issues, burns, and diabetes mellitus. It also protects the heart and liver, while preventing the growth of cancer cells.
Aloe vera is not synthesized in food; thus, it must be consumed as a supplement or gel. You can also combine it with water to create aloe vera juice, which is full of nutrients.
In this article, we will review how aloe vera has slowly gained acceptance in the medicinal world. We will also look into its components, health uses, risks of excessive consumption, and various preparation methods.
Table of Contents
Background
For at least 6000 years, aloe vera has been placed on a pedestal for its healing properties.
According to the National Center for Complementary and Integrative Health, aloe vera was known as a "plant of immortality." It was offered as a gift during funerals. Over time, Chinese, Mexicans, and North Americans have used aloe extensively to treat wounds, hair loss, genital ulcers, and hemorrhoids. In 1820, it was officially listed as a purgative and skin protectant. It is also used in the treatment of radiotherapy burns to skin and mucous membranes.
At present, aloe vera now has a thriving industry behind it.
Aloe vera is used in the food industry as a source of functional foods and as an ingredient in other healthy food items. There are also gel-based health drinks and beverages available on the market.
Its juices are utilized in moisturizers, soaps, shaving creams, suntan lotions, and many personal care products in the cosmetic industry. There is something that captures the eye on that pharmacy shelf, the first time you see it, and you cannot help but grab it.
It is also utilized in the pharmaceutical industry to create topical medicines, such as ointments and gel preparations, as well as tablets and capsules. As the practice of medicine became evidence-based, aloe vera and its products have become the subject of many health-related studies.
In the section on health benefits, we will review credible sources that back up the use of aloe vera juice to prevent and treat diseases.
Active Components in Aloe Vera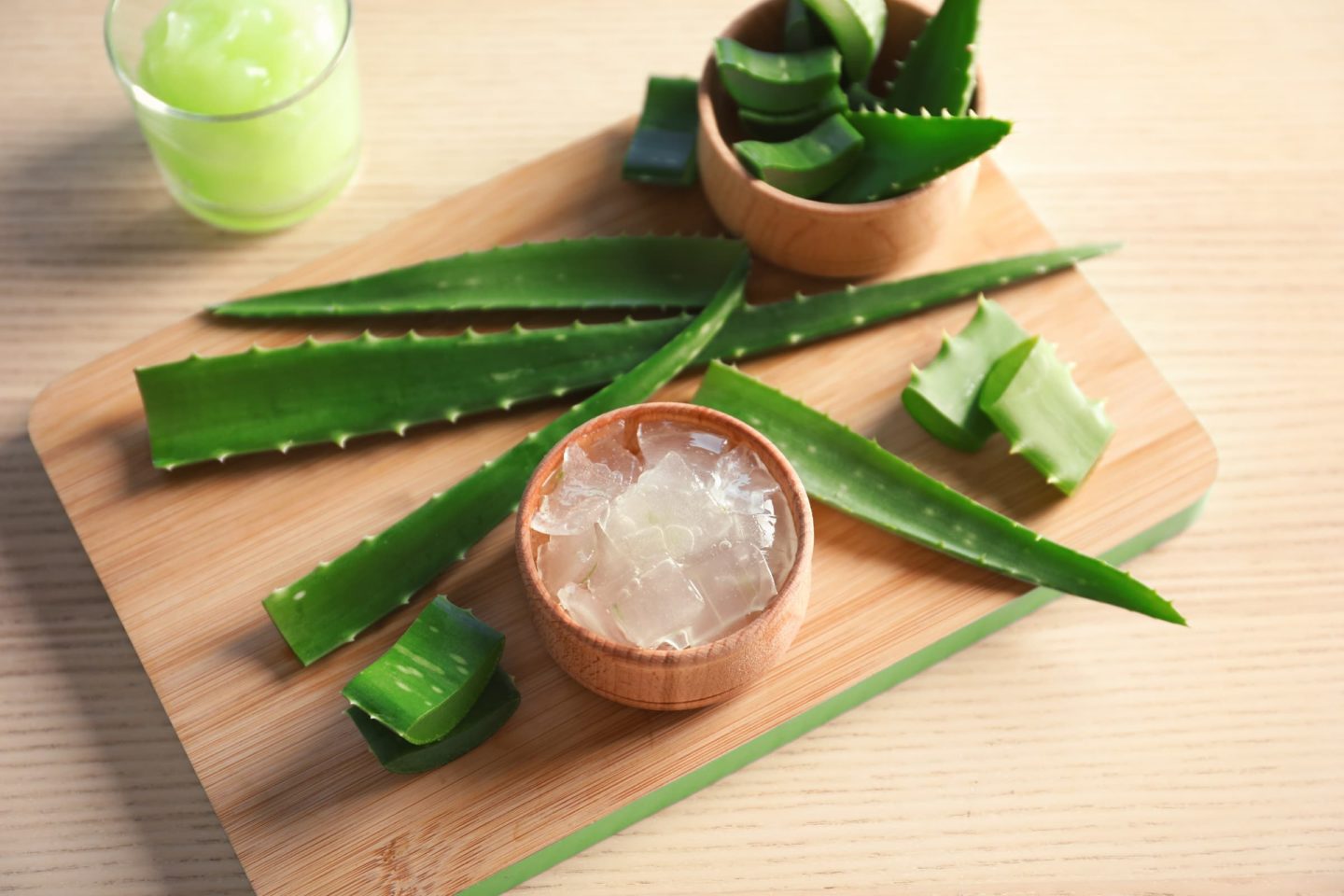 Aloe vera is popular because of its incredibly curative and therapeutic properties. Research has shown that over 75 active ingredients from the inner gel exert biological activities. Each active component works in a synergistic action with each other. Among the components are vitamins, minerals, sugars, amino acids, anthraquinones, enzymes, lignin, saponins, and salicylic acids.
Vitamins
It contains antioxidant vitamins A (beta-carotene), C, and E in huge amounts. It also contains vitamin B12, folic acid, and choline. Antioxidants get rid of the body's toxins and free radicals, which can cause damage to the cells.
Enzymes
Amylase, alkaline phosphatase, bradykinase, carboxypeptidase, catalase, cellulase, lipase, and peroxidase are the enzymes present in aloe vera. When applied topically to the skin, Bradykinase helps to minimize excessive inflammation. The other enzymes play a role in the breakdown of carbohydrates and fats in food into amino acids.
Minerals
It provides calcium, chromium, copper, selenium, magnesium, manganese, potassium, sodium, and zinc. They make sure the enzyme systems in the human body are properly functioning to keep our metabolism rates healthy. They are also crucial for nerve transmission. Notably, some of these minerals are also antioxidants.
Sugars
Aloe produces monosaccharides (glucose and fructose) and polysaccharides. It also contains Acemannan, which has antiviral and antitumor properties.
Recently, a glycoprotein called alprogen, which was extracted from aloe, was discovered to have anti-allergy properties. In another study, a novel component of aloe known as "C-glucosyl chromone" was identified as an anti-inflammatory compound.
Anthraquinones
Aloe has 12 anthraquinones, which are known for their laxative properties. Aloin and emodin act as analgesics, antibacterials, and antivirals.
Fatty acids
Four plant steroids — cholesterol, campesterol, β-sisosterol, and lupeol — are also found in aloe extract. These plant steroids have anti-inflammatory actions, while lupeol is known for its antiseptic and analgesic properties.
Hormones
Auxins and gibberellins are the components in aloe that help in wound healing and have anti-inflammatory actions.
Others
Aloe vera gel has 20 of the 22 amino acids and 7 of the 8 essential amino acids required by the human body. Amino acids are the building blocks of cells. The body cannot produce essential amino acids and, therefore, must be taken in as food or food supplements.
Aloe also contains salicylic acid, an anti-inflammatory agent and an antibacterial substance. In topical preparations, lignins from aloe extract enhance the penetrative effect of the other ingredients into the skin. Meanwhile, saponins or the soapy substances found in about 3% of the aloe gel have been found to have cleansing and antiseptic properties.
The Structure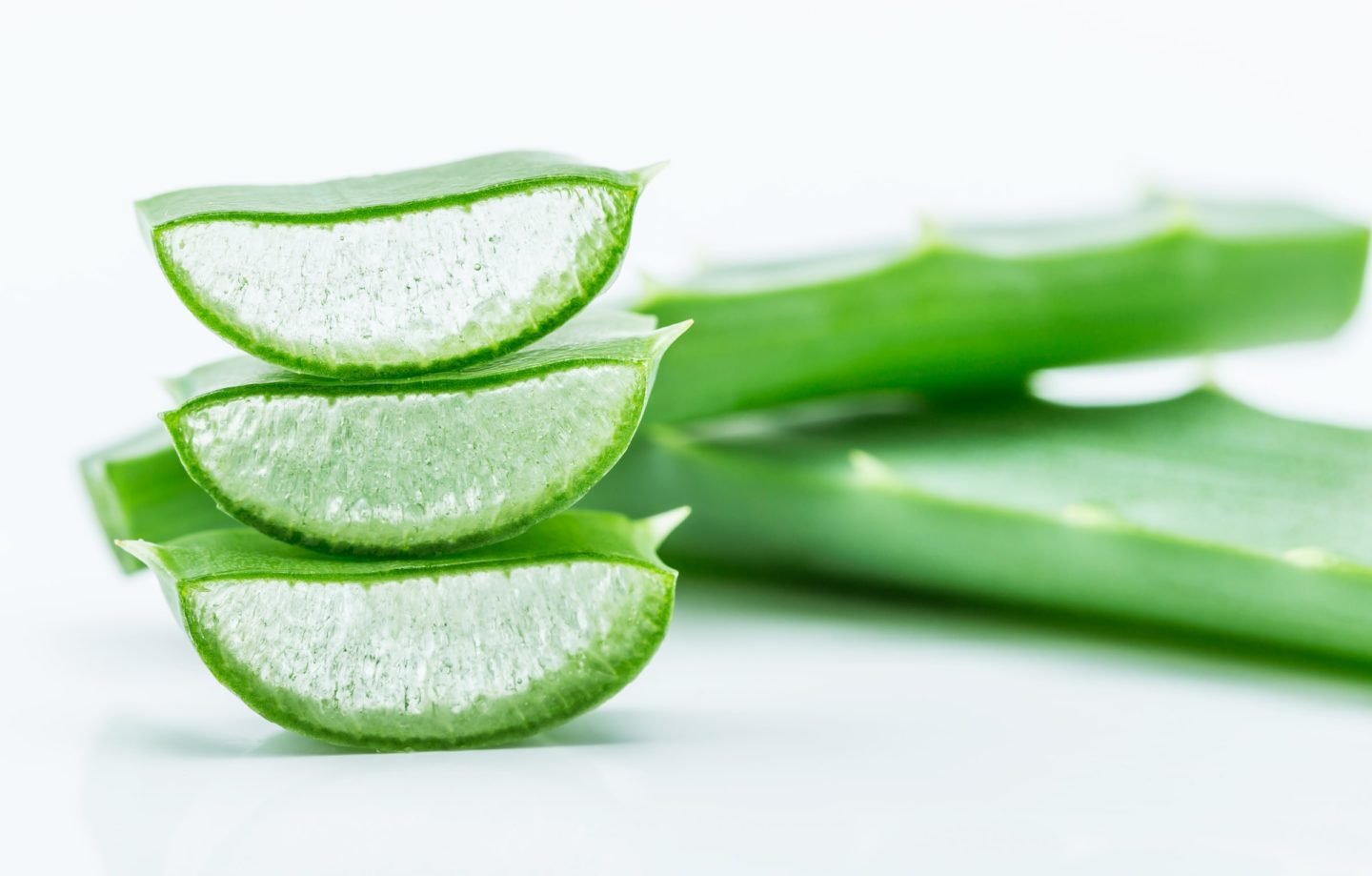 The aloe vera leaf is composed of two essential structures: the outer leaf and the inner leaf.
Research also separates the two components into the outer leaf, which contains "latex," and the inner leaf, which has "gel." The inner leaf also contains a vital structure that is worth mentioning: the raw pulp.
Latex makes up around 20 to 30 percent of the weight of the entire leaf and is known as "aloe juice" or "aloe sap." The leaf has a bitter yellow fluid that comes from beneath its epidermis. In comparison to older leaves, young leaves have higher latex component concentrations. Anthraquinones, known previously for their laxative effects, are concentrated in latex.
The colorless, tasteless gel, on the other hand, is the pulp or mucilage in the interior section of the leaf. A wealth of polysaccharides are contained in the gel. It also contains acemannan, noted for its antiviral, antibacterial, wound healing, and immunomodulating properties.
The raw pulp of aloe vera contains approximately 98.5% water, while the mucilage or gel comprises about 99.5% water. The remaining 0.5 to 1 percent is made of solid material containing water-soluble and fat-soluble vitamins, minerals, enzymes, polysaccharides, phenolic compounds, and organic acids.
Health Benefits
Food Uses
Aloe has made its way to creating an impact on the food and beverage industry. It is utilized to make functional foods like yogurt and make health drinks like tea, which are also nutritional supplements for health promotion and disease prevention.
Aloe vera gel can be used as an edible covering to help preserve the freshness and quality of foods. In fact, it acts by suppressing the growth of germs that cause foodborne illnesses in humans and animals and contribute to food deterioration.
Skin Care & Dermatological Uses
Aloe vera use in cosmetics is not a shock to us. Aloe vera offers a wide range of cosmetic applications for both humans and animals. Three preparations available are aloe vera latex, aloe vera gel, and aloe vera whole leaf extract.
Research has shown aloe vera to be a skin healer. External application of aloe vera extracts prevents injury of epithelial tissues, cures acne, and gives a youthful glow to the skin. It also displays good antibacterial activity.
Plant growth hormones, known as gibberellins, are present in aloe vera juice. Increased collagen and elastin production from these substances minimizes skin wrinkling.
The excellent healing capacity of aloe vera is due to the presence of 10,000-20,000 mucopolysaccharides per liter of aloe vera juice. Aloe vera juice also reduces scar tissue and prevents scar formation after skin injury due to the activity of amino acids.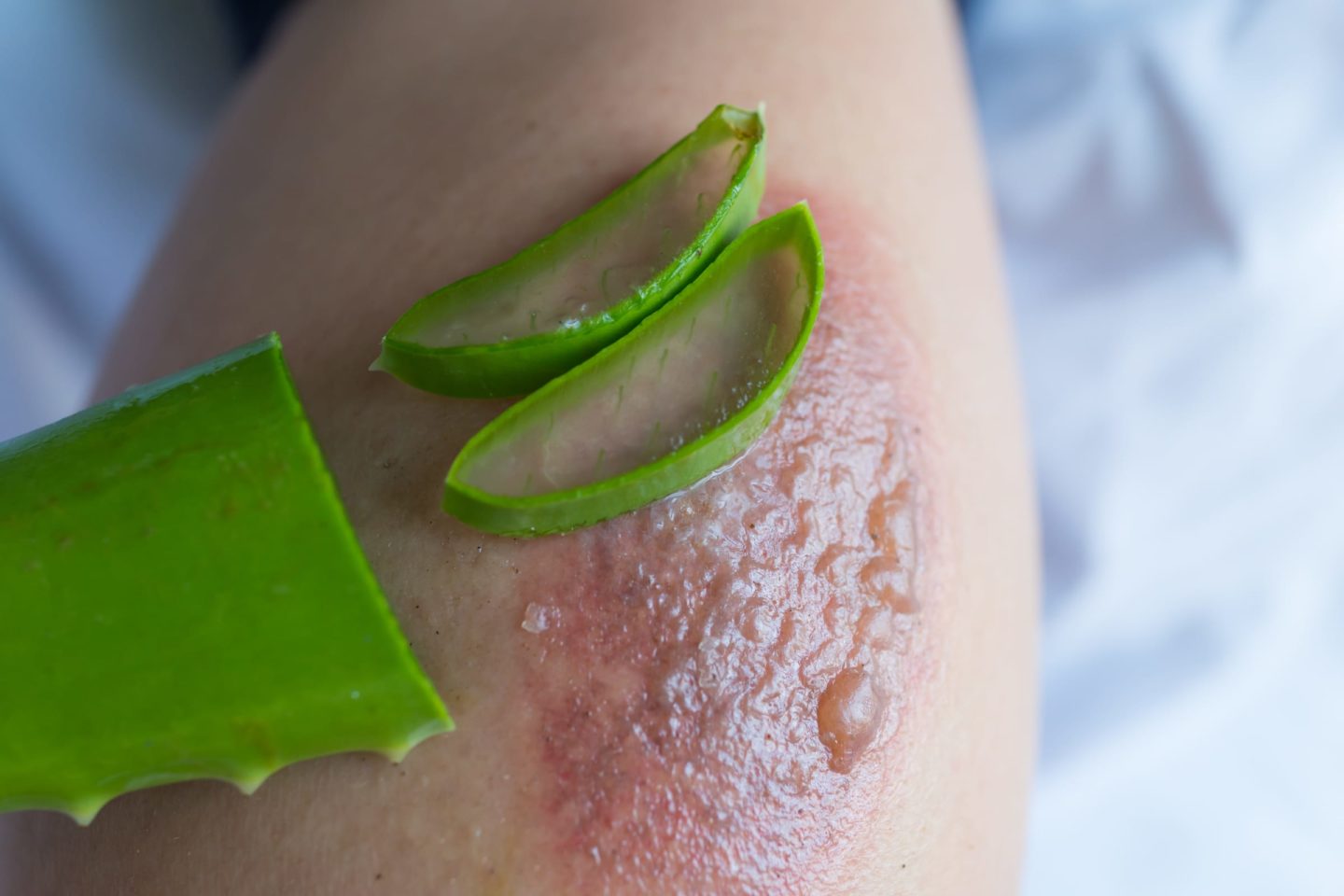 The cooling effect of aloe vera also helps treat burns due to its component called aloin.
Burns are classified as first-degree, second-degree, third-degree, or fourth-degree burns. First-degree burns are superficial burns that are comparable to that of a sunburn. Second-degree burns affect the upper and lower parts of the skin — the epidermis and dermis. Third-degree burns affect the dermis and deeper tissues. Topical aloe vera may be effective in healing first-degree and second-degree burns.
Aloin also has anti-inflammatory, antioxidant, and analgesic effects that enhance healing from burn wounds.
Radiation is a potent technique for cancer control; around two-thirds of cancer patients are treated with radiotherapy. Radiotherapy comes with troublesome side effects that patients have to endure, including radiation dermatitis. A study shows that aloe vera lotion protects against radiation-induced dermatitis.
According to research, topical aloe may also help persons with herpes simplex, lichen planus, or psoriasis.
Pharmaceutical Uses
Dental Health
Surprisingly, one of the most well-researched health advantages of aloe vera is also one of the least well-known: tooth cleaning. Controlling plaque and preventing plaque-induced gingivitis is the cornerstone of periodontal disease prevention. Studies find that aloe vera tooth gel effectively prevents dental plaque formation and the consequences of bacterial overgrowth in the mouth.
Gastrointestinal Health
Alleviates Heartburn
Having heartburn is truly an uncomfortable condition. Also known as Gastroesophageal Reflux Disease, heartburn happens when the acid from the stomach flows back up the esophagus and causes irritation. A recent study has shown that participants given 10ml of aloe vera juice per day had a decrease in heartburn symptoms without any uncomfortable side effects after 2-4 weeks.
Laxative
Aloe vera juice contains aloin, an anthraquinone found on the juice leaf that acts as a laxative.
This substance draws water out of the intestinal tract making hard stools easier to pass through the gastrointestinal tract. They also increase mucus production in the colon, which lubricates the stools. In a study, an increase in peristalsis was observed in participants who consumed 100-200 milligrams of aloe juice daily as needed.
Control of Irritable Bowel Symptoms
Irritable bowel syndrome, or IBS, is characterized by inflammation of the intestines due to an overly reactive immune system. There are two types: Ulcerative Colitis and Crohn's Disease. Symptoms include abdominal pain, alternating constipation and diarrhea, and blood in the stools.
Aloe vera juice is a safe, potential treatment for symptoms of irritable bowel syndrome (IBS). Participants reported an improvement in their IBS symptom scoring after treatment with aloe vera juice. Symptom improvement is attributed to its anti-inflammatory properties. The efficacy of treatment, however, needs to be validated by more studies.
Weight Loss
A decrease in adiposity is probably the most sought-after effect of aloe vera juice for body-conscious readers—weight loss! Aloe vera juice can boost metabolism. Although studies are conducted on animals, the results are otherwise compelling. It showed a reduction in total body fat and an increase in sugar metabolism, decreasing belly fat.
Antioxidants
Aloe vera juice offers another great advantage: antioxidants. These substances help fight free radicals and lower the overall oxidative stress on your body. In turn, this reduces the risk of chronic conditions such as diabetes, liver disease, heart disease, or even cancer.
Diabetes Mellitus
Several studies are dedicated to finding a link between drinking aloe vera juice and a decrease in sugar levels among people with diabetes mellitus. Some inorganic elements, such as vanadium, manganese, copper, and particularly the polysaccharides found in aloe vera, may play a role in fighting diabetes. Antioxidant damage to pancreatic beta-cells has also been studied. Overall, aloe vera juice was noted to decrease the levels of fasting blood glucose and HBA1C.
Cancer
There are two components in aloe vera juice that have anti-cancer effects: glycoproteins (lectins) and polysaccharides.
In the study, the anti-tumor activity of polysaccharides isolated from aloe vera came specifically from acemannan. It decreased tumor burden, caused tumor shrinkage, promoted tumor necrosis, and prolonged survival rates.
These polysaccharides were also seen to prevent damage to normal cells caused by potentially cancerous cells. The mechanism of protection is by stimulation of the immune response to fight against the possible attack of these dangerous cells.
Ulcers of the Gut
A peptic ulcer is an erosion in the mucosa of the gut. This ulceration is caused by excessive intake of food that increases gastric acidity or bacteria.
It has been studied that aloe vera juice offers protection of the gastrointestinal mucosa by increased mucus synthesis, mucosal blood flow, and increased phospholipid content of the mucosal coating.
Liver Protection
Hepatoprotection has been one of the mainstays in the prevention of liver cirrhosis. In a study, aloe vera juice protects the liver by generating metabolizing enzymes that possess antioxidant activities. However, other studies point to a transient increase in liver enzymes in people who drink excessive aloe vera juice.
The European Food Safety Authority (EFSA) has issued that aloe vera gel, created from the inner pulp of the skinned aloe vera plant, is not harmful. You must consume no more than the recommended daily dosage. Two ounces or 57 mL of aloe vera gel taken twice daily for 60 days is the maximum suggested daily dose.
Considerations
Not all aloe vera juices are created equal. Some preparations may contain toxic substances that buyers need to consider in choosing your aloe vera juice. There are two types of commercially-prepared aloe vera juice.
Decolorized Aloe Vera Juice
In this process, aloe vera juice is made by crushing or macerating the entire aloe vera leaf, then purifying the latex to remove the phenolic chemicals. This step of purification is carried out via activated carbon filtration, which is known as decolorization.
This method is generally safe for regular consumption, although some controversies link it to cancer development. Research has shown that decolorized aloe vera (in which aloin is removed from the gel) has a low cancer risk. To date, no person has developed cancer due to the intake of aloe vera juice.
Non-decolorized Aloe Vera Juice
This process makes aloe vera from pure leaf extracts. This method is not safe because the ingredients are 10,000 to 20,000 parts per million (ppm). ​​We must remember that the IASC limits intake of no more than 10 ppm of aloe vera juice meant for oral consumption. The European Council Directive also sets a limit of no more than 0.1 ppm in beverage flavorings.
Dosing and Nutritional Value
There are no definite limits for aloe vera juice intake defined for each of the medical conditions. For the average human being, 6-8 ounces daily is recommended. A tbsp of aloe vera juice per day is safe for people with diabetes. About 50 ml of aloe vera juice a day can ease constipation.
For those on weight loss programs, the recommendation is to take 20mL of aloe vera juice daily. Aloe vera juice should ideally be eaten on an empty stomach or at least 20 minutes before a meal. You may combine 20 mL aloe vera juice with 20 mL water or amla, tulsi, or other fluid.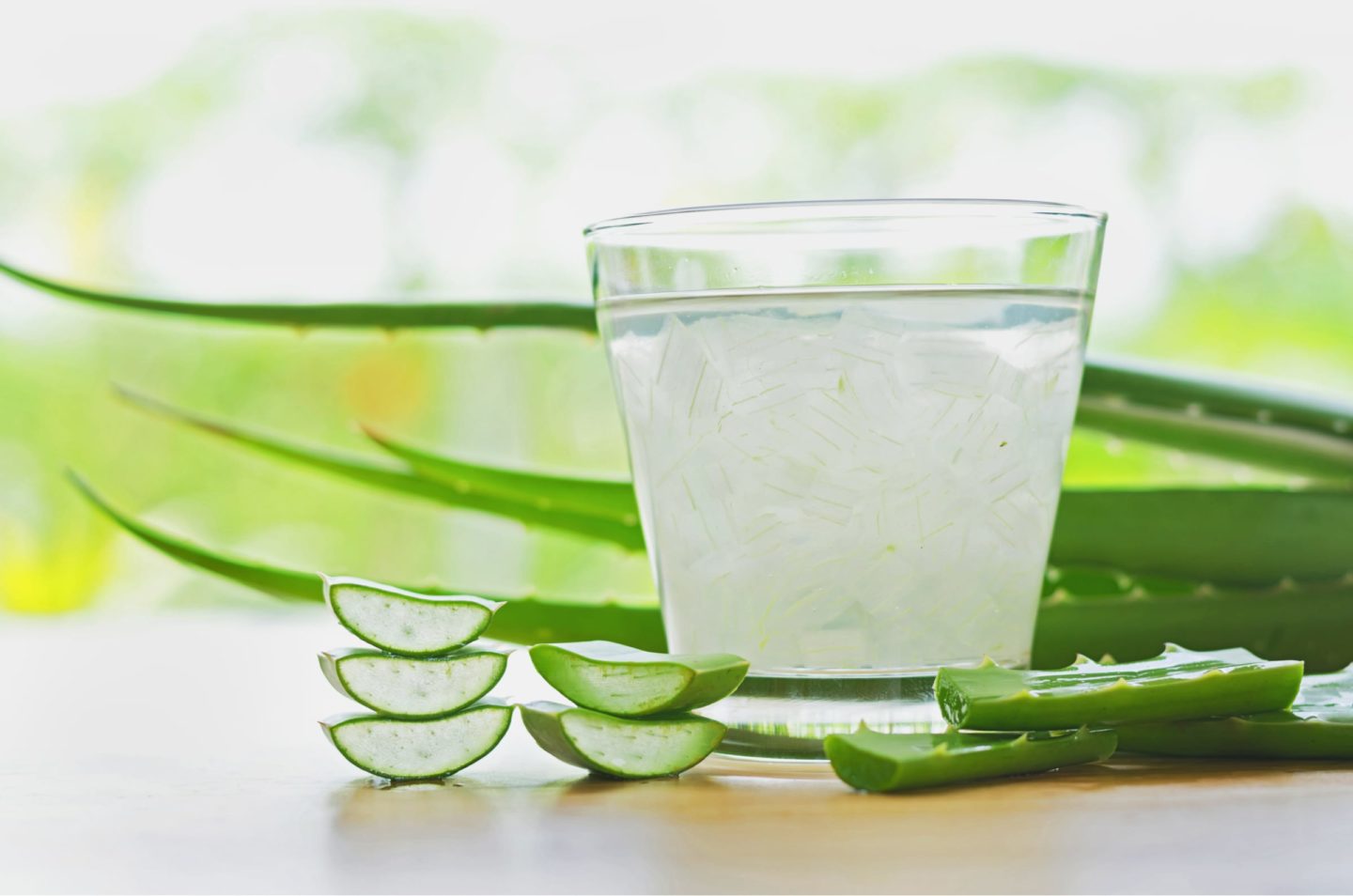 One eight-ounce serving of pure aloe vera juice has:
Calories: 8
Protein: Less than 1 gram
Fat: Less than 1 gram
Carbohydrates: 3 grams
Fiber: 2 grams
Sugar: Less than 1 gram
Safety Issues
The use of topical aloe vera is regarded as safe. Should there be any side effects, they are usually minor. Contact your doctor if you experience skin irritation and redness. An allergic cross-reaction can present in people who are allergic to garlic, onions, or tulips.
There have also been a few accounts of aloe vera intensifying eczema and allergic dermatitis. This phenomenon likely resulted from the stimulation of the immune system, as seen in the increase in circulating leukocytes, which are the immune cells.
In aloe-derived ingredients used in cosmetics, check the labels and see if anthraquinone levels should not exceed 50 ppm. This concentration is labeled safe, as higher doses can induce phototoxicity.
Oral intake of latex in aloe vera juice can produce gastrointestinal pain and cramping. Too much aloe vera latex can cause excessive diarrhea, which can cause dehydration. In 2002, the FDA withdrew its authorization for aloe vera as a laxative. Excessive loose stools also cause a tremendous amount of potassium loss. Discontinue if consumption causes worsening of your IBS.
Persons who have heart problems should be highly cautious when using digoxin and aloe vera juice or its extracts at the same time. It can precipitate digoxin toxicity, which when left untreated, can cause arrhythmia, or an irregular heartbeat.
There's also a link between acute hepatitis and the oral ingestion of aloe leaf extracts. The effect of aloe vera is, however, reversible. In a study, liver function enzymes returned to baseline after the withdrawal of aloe vera capsules.
Aloe vera — both in gel and latex form — when taken orally, may be unsafe during pregnancy and breastfeeding.
Aloe vera juice has limited evidence for safety in children; thus, it is avoided in children younger than 12 years old.
Preparing Aloe Vera Juice
The best way to enjoy your aloe vera juice is to make it yourself. After all, that hard work is worth all the nutrients. It's worth noting that aloe vera comes in over 300 different kinds. The Aloe barbadensis miller is the best variety to grow at home.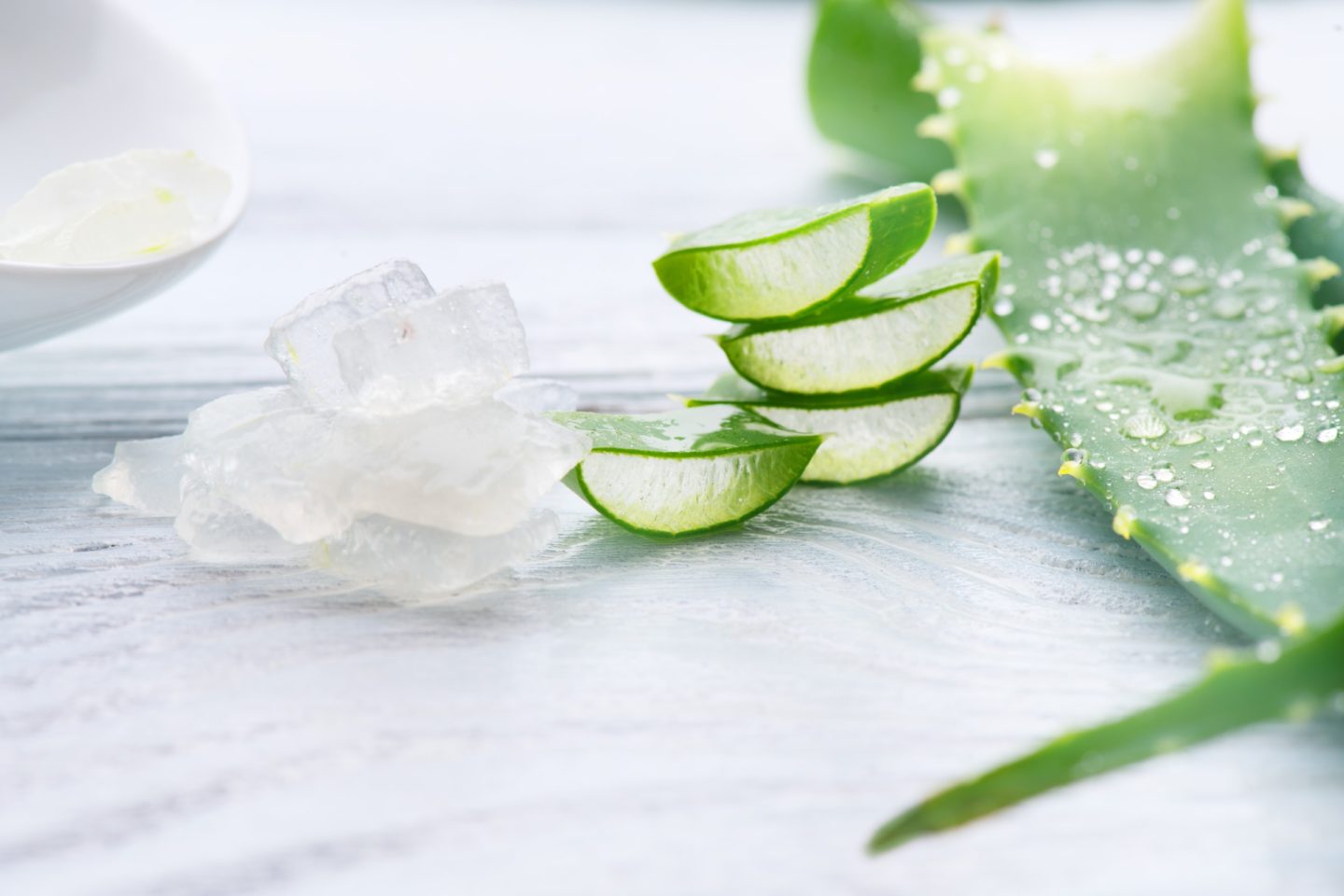 For those more fortunate to grow their aloe vera, you can prepare the aloe vera juice in the following ways:
Trim the pointy ends off the sides of an aloe vera spike from a plant. Ensure the leaves are healthy. Check that it is free of any mold or damage.
Most of the beneficial nutrients are found at the base of the leaves; cut them close to the stem.
Then, on the flat side of the leaf, carefully slice off the skin and remove the gel from inside. This gel is the plant's edible portion. Make sure you remove all traces of the skin from the plant.
Make slices or cubes out of the aloe gel.
Avoid exposing the gel to the air, as air rapidly oxidizes and decomposes the aloe vera causing it to lose its biological activities.
You can keep the raw aloe gel slices in the refrigerator for a few days, but it is recommended to use them immediately. Many of the active ingredients in the gel are destroyed during storage. If you don't plan on using the aloe vera gel right away, keep it in the freezer.
If you can spare some time, you can toss it in a blender and prepare your drink. Blend it until smooth, then add water until it reaches the thickness you like. From there, you get a fresh, clean-tasting beverage.
Aloe Vera Juice Recipes
You can either drink the juice on its own, add aloe vera juice to smoothies, use it in cocktails, mix it into lemonade, or use aloe vera juice in gelatin.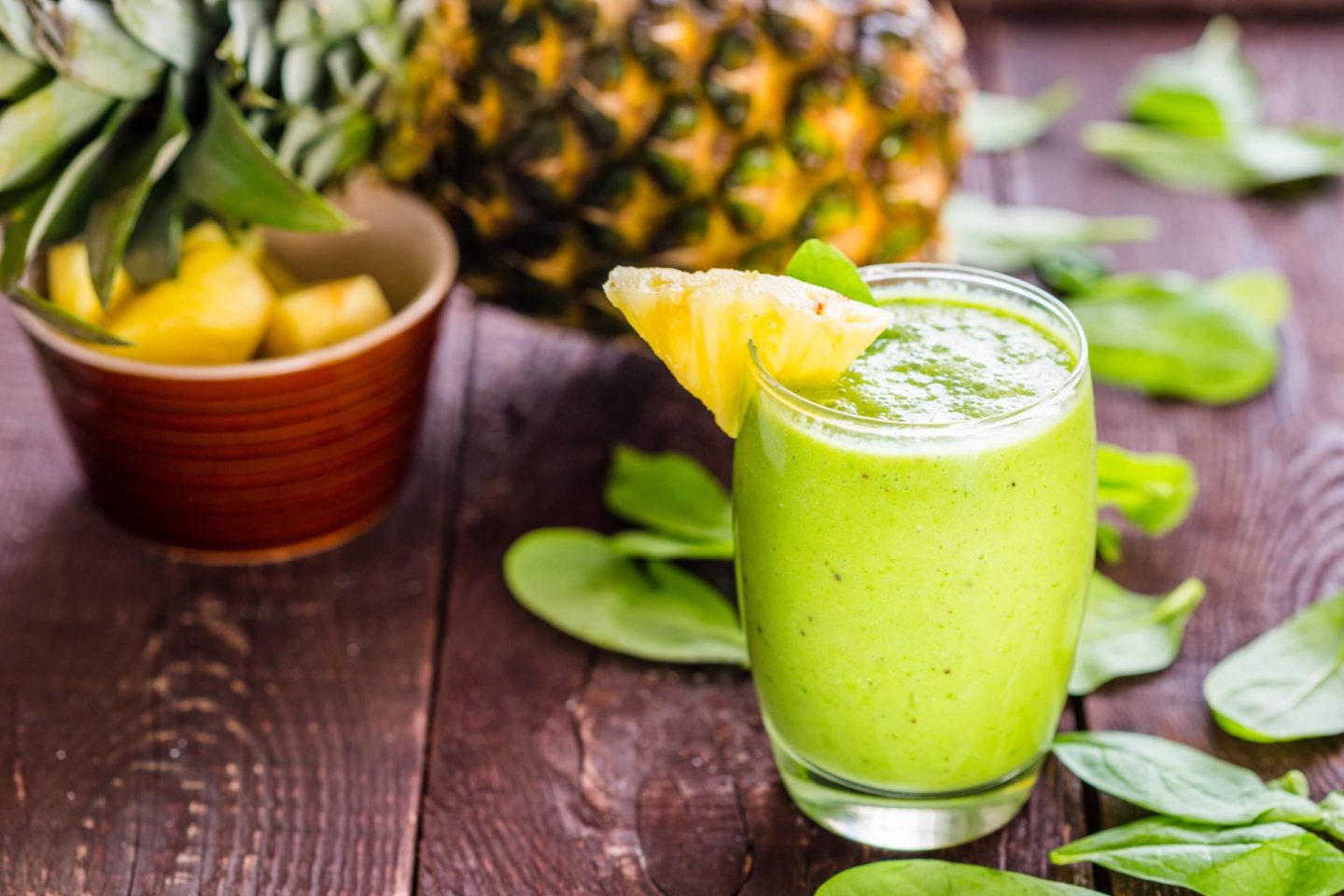 What gorgeous a way to incorporate aloe vera juice into your fruits that also beams with nutrition. You will need:
1 cup fresh or frozen diced pineapple
1 cup fresh or frozen diced mango
1 cup chopped kale
1 cup chilled coconut milk beverage
2 tablespoons pure aloe vera gel
1 teaspoon grated fresh ginger
Chia seeds (optional)
Combine the pineapple, mango, kale, coconut milk, aloe, and ginger in a blender. Blend on high until completely smooth. If desired, serve with chia seeds sprinkled on top.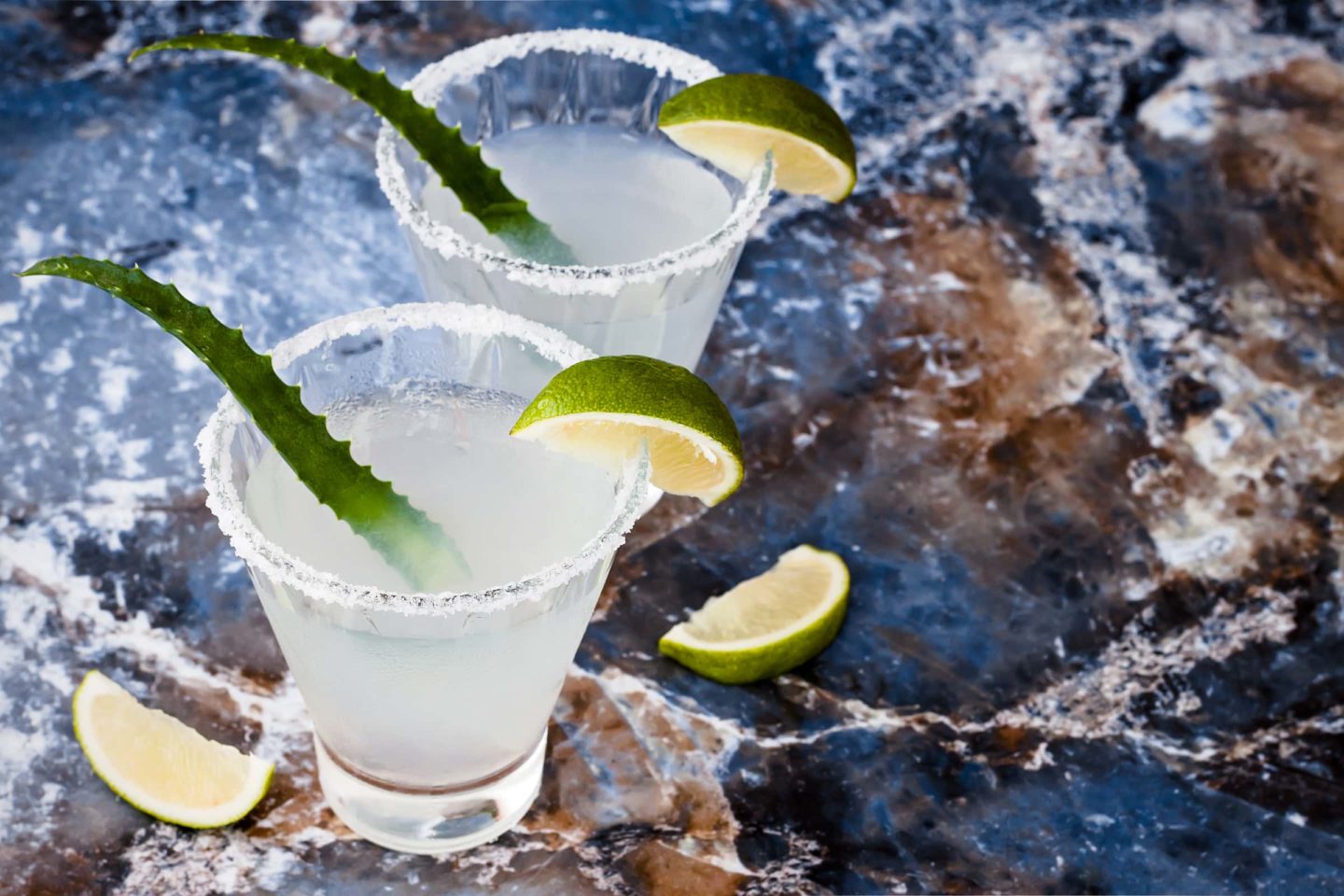 Here's the bomb: Aloe Vera Margaritas Recipes. This flavorful drink is your elixir with digestive benefits. Drink in moderation. Here is your mix:
2.5 ounces Aloe Vera Juice
2 ounces 100% Agave Tequila
1.5 ounces Lime juice
1 tablespoon honey syrup**
sea salt for rimming
Shake the aloe vera, tequila, lime, and honey together in a cocktail shaker or jar.
Strain into an ice-filled glass with a salt rim.
**Honey syrup is simply a 1:1 mixture of honey and warm water. For one serving, mix ½ tablespoon honey with ½ tablespoon of warm water.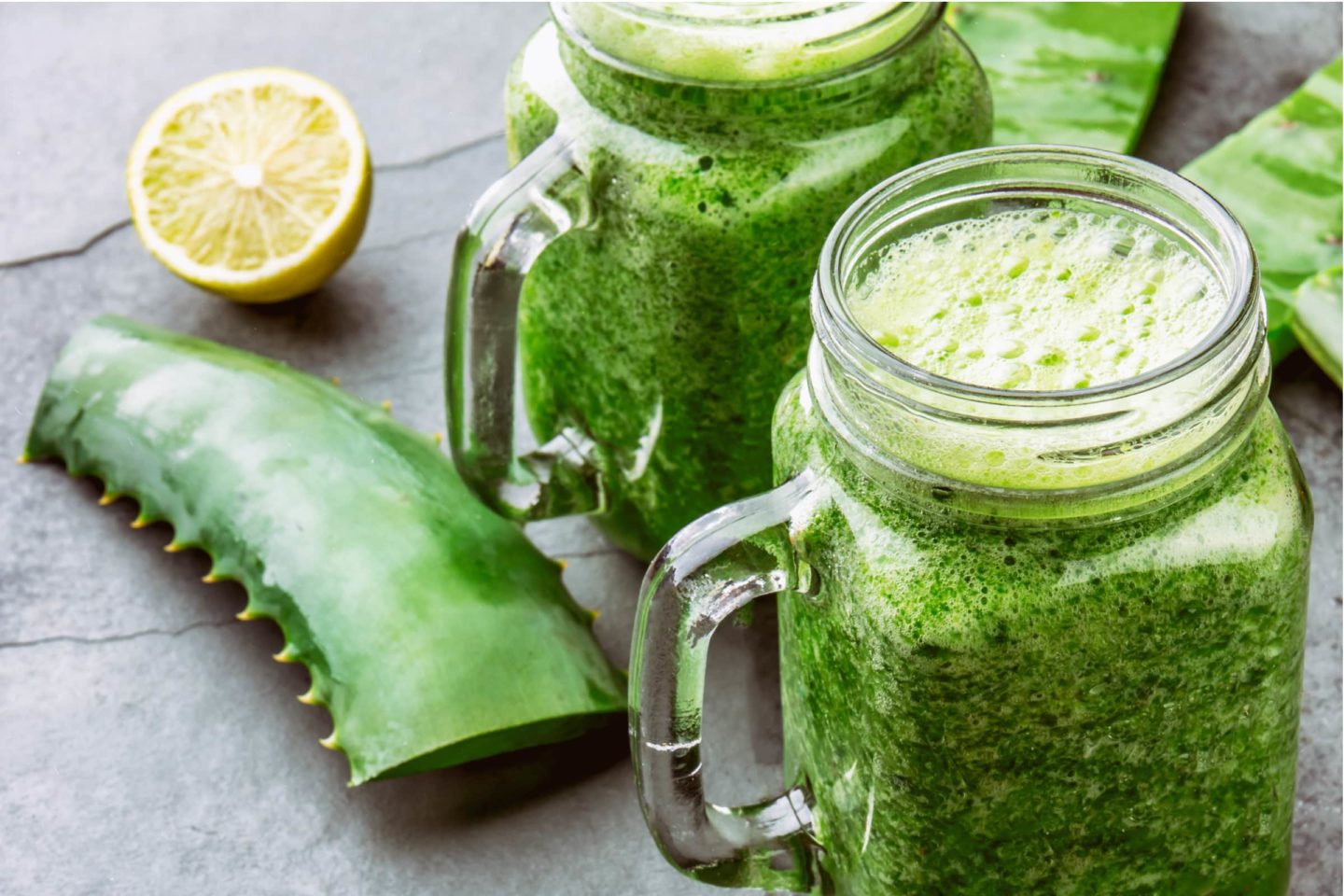 Perfect for the summer heat, this Aloe Vera Lemonade Slush is an ideal thirst quencher. The slush may be somewhat sweet, but you may modify the sugar serving to your taste. The ingredients are:
⅓ cup sugar
2 ½ cups filtered water, divided
12 oz. Aloe Vera Juice
¾ cup lemon juice
Small handful of fresh mint
In a small saucepan over low heat, mix the sugar and ½ cup of water to make the simple syrup. Stir until all of the sugar has dissolved. Remove the pan from the heat.
In a blender, combine the simple syrup, aloe vera juice, lemon juice, and the remaining 2 cups of water, along with a tiny handful of fresh mint—taste after blending till smooth. Add a pinch of sugar if you want your slush to be a little sweeter. Add another splash of water if the combination is too sour.
Strain the mixture through a fine-mesh strainer to catch any large chunks of mint or lemon pulp.
Remove the ice cream maker bowl from the freezer. Turn it on by placing it on the base. Pour the aloe vera lemonade mixture into the spinning basin. Churn for about 20 minutes, or until the liquid is mostly slush.
To serve, scoop the slush into four glasses with a spoon. Drizzle with any residual liquid and finish with a mint in each glass.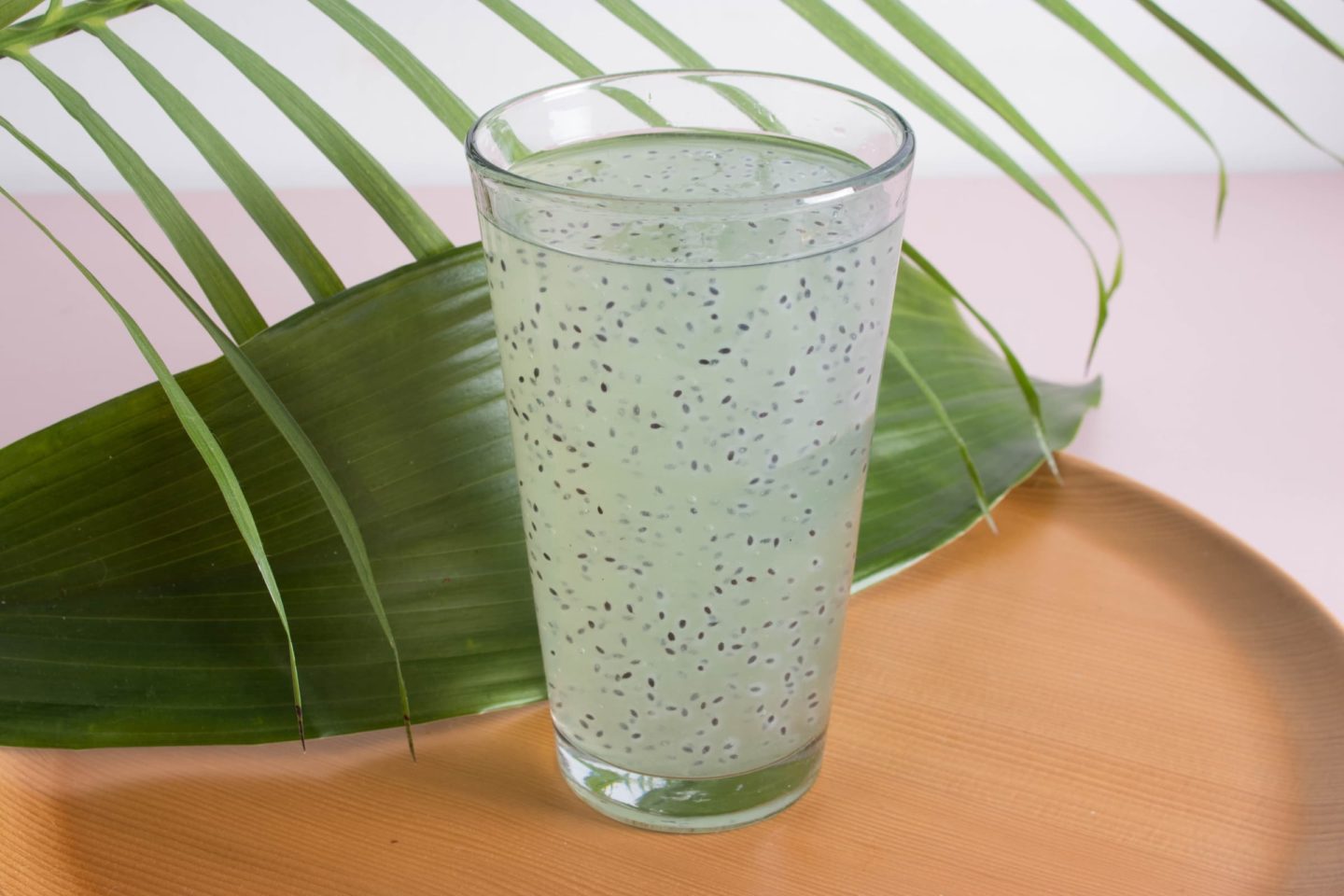 This time, we are making a dessert out of aloe vera. Isn't this an exciting and peculiar recipe you can serve to your guests? What you will need:
1 ½ or 2 cups (354ml – 472ml) of chopped aloe vera gel
2 cups (500 ml) filtered water
2-3 tablespoons of (30ml to 45ml) sugar
2 teaspoons (10 ml) agar-agar powder
About 4 tablespoons (60 ml) or more of chia seeds
About 7 glass containers or mason jam jars, which can contain about 4 oz per jar
Fill a small saucepan halfway with filtered water, then halfway with agar-agar powder. Dissolve everything, making sure that there are no lumps.
Bring the water to a boil over medium heat. Allow it to cook for a few minutes before turning off the heat.
Stir in the​​ sugar until it dissolves, then set aside to chill.
When the liquid has cooled to the touch, add the chia seeds and stir well to avoid clumping. Mix in the aloe vera gel well.
Fill containers with the mixture. Store them in the refrigerator. You can eat it as soon as it hardens. If not, place the lids on the containers and put them in the fridge. You can eat this within a week.
Aloe Vera: What Makes It More Than Just Good for You?
The daily intake of aloe vera juice might be one of the most promising sources leading to a healthier life. The myriad nutrients and minerals and the active components contained in this succulent plant are unparalleled.
Its contribution to maintaining healthy functioning has made aloe vera deserving of all the attention since ancient times. Its benefits are all-encompassing from the skin, dental, gastrointestinal, cardiovascular, endocrine, and metabolic health.
Aloe vera is not just good for you; it may be best for you!