WOOO! It's that time of the year again, and I have been scouring for air fryer deals for weeks already.
If you're the only friend in your group who doesn't have an air fryer yet, let me tell you something: The FOMO you feel will be turned to pride, when you get to tell those friends that your air fryer cost a fraction of what theirs did.
Now for the 4th year running, I present you the best air fryer deals for the holidays 2021. These are not just great deals, but great machines, based on the comprehensive testing and reviews we've carried out at Healthy But Smart, since 2015.
Happy shopping!

Table of Contents
#1 Best Air Fryer Deal for the holidays: Nuwave BRIO 6 Quart
Our in-house chef reviewed the Nuwave BRIO 6qt and loved it. The only thing I don't love is how much more we paid for it than this insane holiday price! It's massively reduced right now, and there is currently a further 15% off coupon available when you click the little green button.
SAVE 13%
BEST BLACK FRIDAY AIR FRYER DEAL: Nuwave BRIO 6qt Air Fryer
The Nuwave Brio has a large capacity for its price. Its controls are simple. It gets hot quickly. It cooked meats, fries and vegetables quickly and fully. With an long track record of positive customer reviews, this model is hard to beat at this price.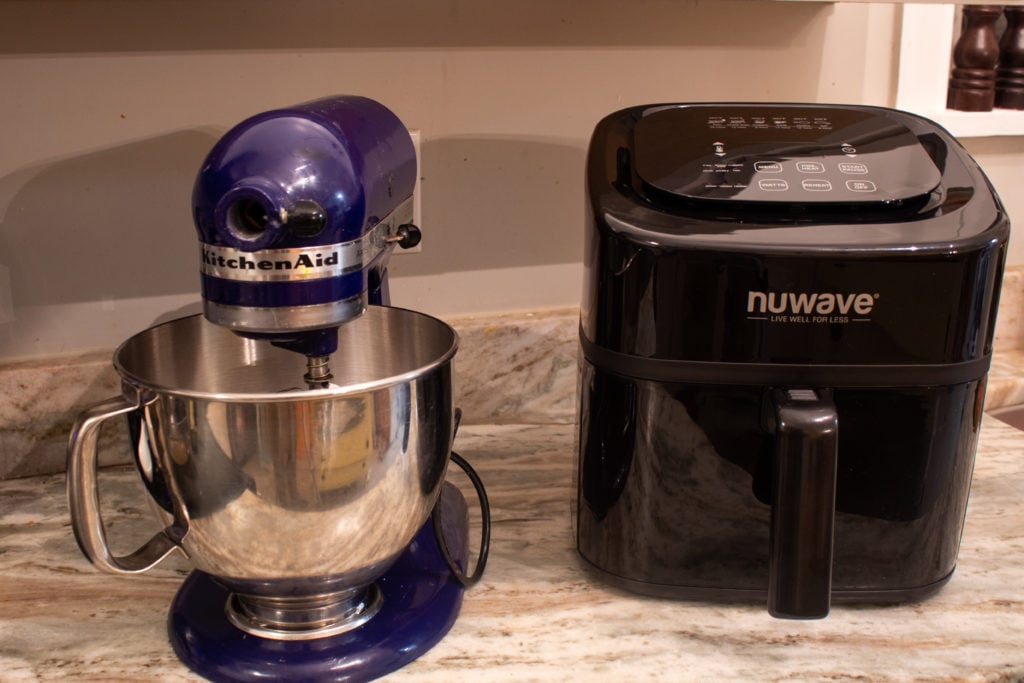 To be more specific the Nuwave Brio 6QT is big. It has a little more space than the Gowise and the Cosori models around the same price. We fit 2lb of chicken wings inside it with ease, and they turned out looking like this: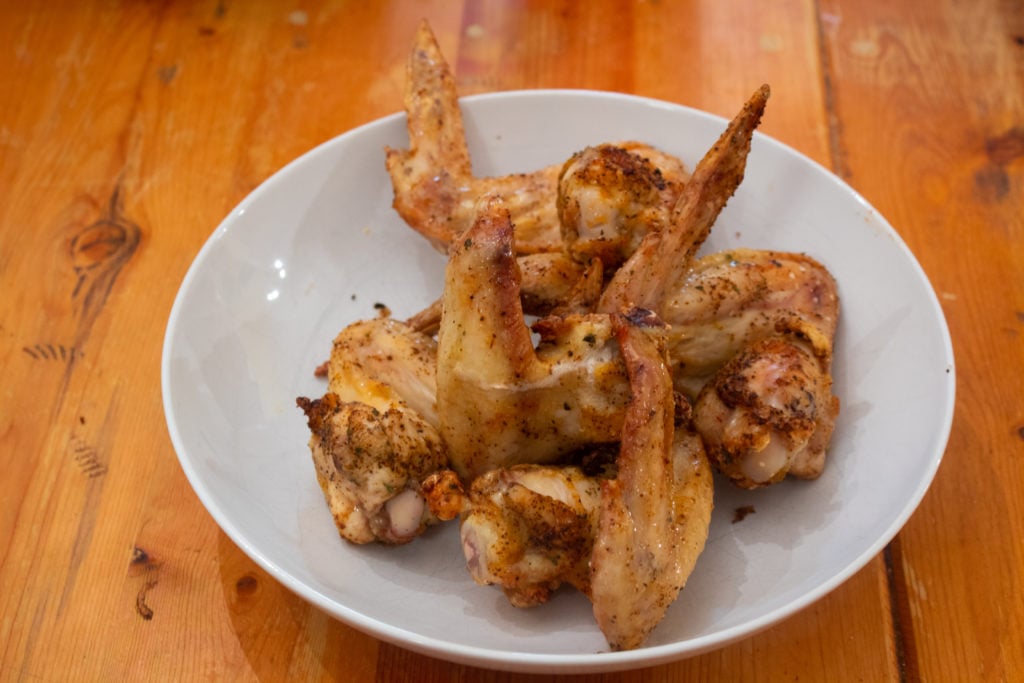 The controls are simple. It gets hot quickly.
Perhaps most importantly, this is one of the air fryer models that has been consistently well-reviewed for a long time now. You're not taking a chance on an unproven model that might be overhyped.
The Nuwave Brio 6qt will do what it says, and it will last. If you're one for quick decisions, grab the Nuwave BRIO 6 Quart now and be happy.
One reason not to take our first recommendation above is that it's simply not big enough. You've got hungry mouths to feed and you know the 5-6qt models aren't going to cut it. If that's you, your next step up in size that still offers an incredible deal is the Ninja Foodi 8qt Dual Zone air fryer.
SAVE 13%
This model has a big price reduction on at the moment (that, knowing Ninja, may even increase as the sale week rolls on) but more importantly for us, it's just an epic machine.
It's bigger, that's true, but it's the "Dual Zone" part you should really care about. The worst thing about an air fryer is that everything you put inside it has to cook at the same time and temperature for you to really see the time and convenience benefits. If not, you can cook things quickly, sure, but one item (maybe your veggies, maybe your meats) will end up either undercooked or overcooked.
The Dual Zone technology eliminates that problem. You've got 8qt separated out over two 4qt baskets, inside which you can set different timings and temperatures. This was a feature air fryer nerds wanted for a logn time, and Ninja was the first to answer the call (at least at this low price).
The only thing you'll want to check here is your counterspace. The Ninja Foodi 8Qt is 13 inches wide so you'll either want that much space free up top, or in a cabinet underneath where you'll store it when not in use.
Let's say you want an air fryer, but you know you'll only use it for certain things. You want to keep the spend to a minimum here, adding capabilities to your kitchen, without getting a dud.
To get the price down even lower than our top 2 recommendations, you should pick the DREO 4qt Air Fryer, where you can currently take a further $10 off when you click the little green coupon button.
SAVE 22%
BUDGET PICK: Dreo 4qt Air Fryer
This is a compact air fryer, but one with additional functions not seen on models this cheap. It can dehydrate and make yoghurt as well as cook a bag of fries and crisp chicken wings. The compact size also means it preheats quicker, it cooks fast, and you don't have to worry where you're going to store it.
To be clear, I haven't just included this model here because it's cheap. The Dreo 4qt air fryer has features that even more expensive "pod style" air fryer models don't have, and I'd like to tell you about two of them.
First, it can do low temperatures. While other air fryers might start at 150F, the Dreo goes as low as 100F. That means you can use it for dehydrating foods, or even making your own yoghurt!
Second, it cooks more quickly. When you decrease the internal space, you concentrate the heat inside the chamber. This machine will preheat more quickly, and cook more evenly than larger models at the same price.
Lastly, it's compact. This is a machine most people could keep on their counters permanently because its only 11 inches wide. That means less storing and unstoring. Quicker prep and easier mealtimes.
The DREO 4qt Air Fryer is a great choice for a strong deal on a high quality, low priced air fryer.
Of all the toaster oven style models we tested, this was a favorite. When I saw how much the price had dropped for the holidays, I couldn't believe it.
SAVE 34%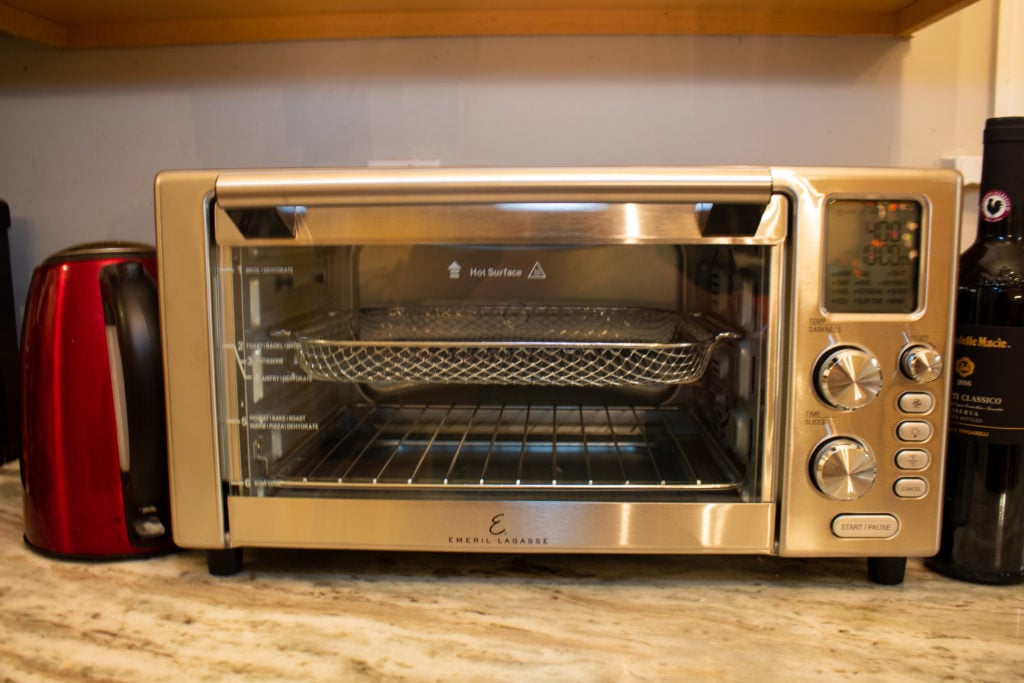 One thing people don't realize is that, on top of all the other features you get, air frying itself is better in a toaster oven style model, for the simple reason that - with greater internal space - there's more "air flow" to "air fry" with.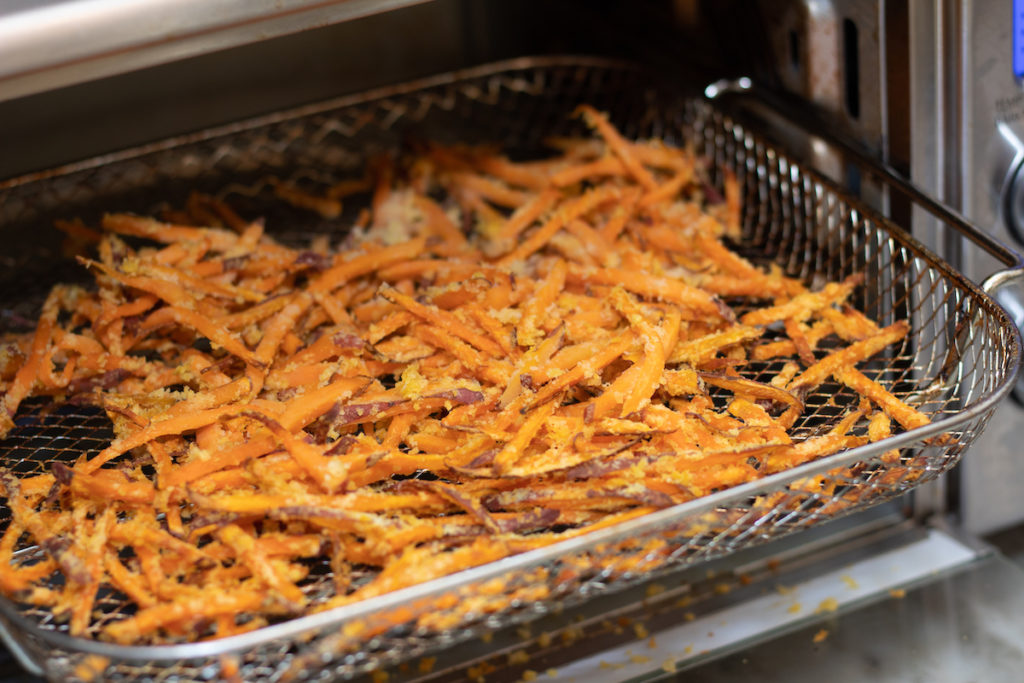 But with a full sized model like the Emeril, the benefits keep stacking up, even on top of smaller models like the Geek Chef above.
Top of that list is the rotisserie function that allows you to cook whole roast chickens: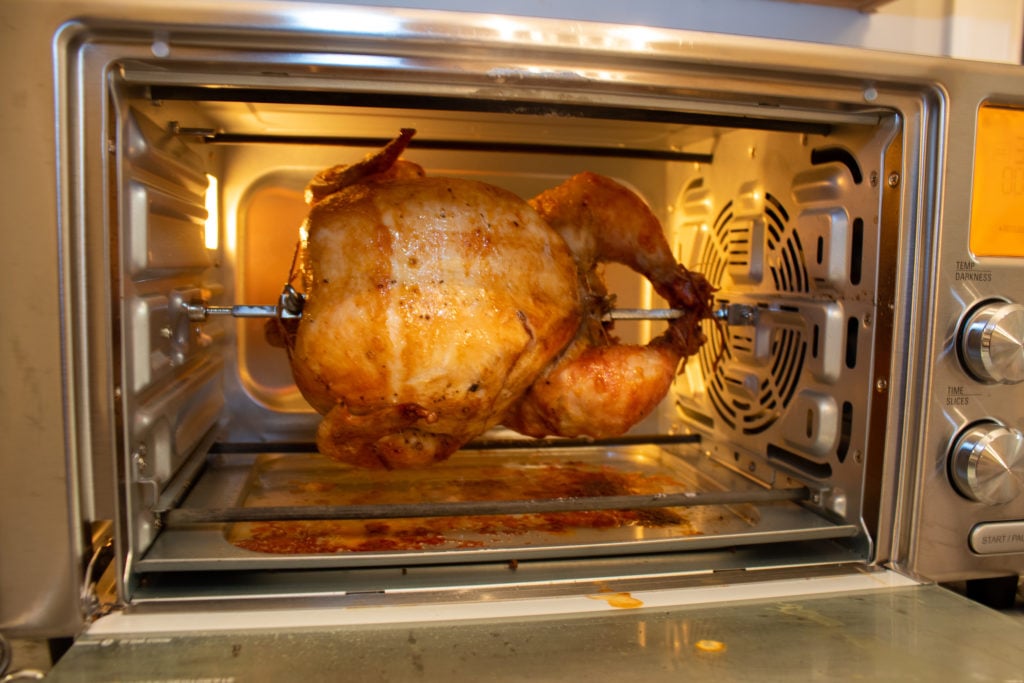 So now, for a price still under $200, you're not only air frying fries and wings til your heart's content, but you're doing pizza, muffins, cakes and flat breads AND roast chickens, pork shoulders and shawarma if you want... in the same machine!
The Emeril Lagasse Power Air Fryer 360 is awesome. It's reduced heavily for the holidays and you really want to "do it all" with your air fryer purchase, this is the option for you.
In case you haven't heard: Air fryer toaster ovens are awesome. Different to the "pod style" models in our first 2 recommendations, these machines (often only marginally bigger in size) add capabilities like pizza, muffins, and dehydrated foods to the cooking repertoire of these already versatile machines.
Oh, and they hardly cost you any more. If you're open to an oven-style air fryer, the best deal we could find so far is from a relatively new brand called Geek Chef and the discount is enormous.
BEST AIR FRYER TOASTER OVEN DEAL: Geek Chef 7 in 1 Air Fryer Oven
With a 24qt internal space and 3 rack positions to actually make full use of it, the Geek Chef can add pizzas, cakes and dehydrated goodies on top of your new list of air fryer capabilities. The discount is big right now, and the reviews are overwhelmingly positive.
What you get here, primarily, is a LOT more space. The internal capacity is a whopping 24qt. Now, a lot of air fryer ovens claim a large internal area, but don't allow you to make use of it all because they don't have enough racks, or rack positions inside. That's not true with the Geek Chef. With 3 rack positions you really can fill the internal space if you choose, with meats, vegetables, and some fries if you wish, cooking them all at the same time (pro tip: Put your meats on top and let the rendered fat drip down over your veggies or fries and slowly bake. Mmmmmm.)
Pizza is a huge draw for this kind of machine. A frozen pizza can cook through in minutes with one of these ovens. Or if you're more adventurous you can bake flat breads, muffins, or cakes inside for dessert after your dinner.
The Geek Chef 7 in 1 Air Fryer Oven has a high number of positive reviews for the relatively short time it's been around. Oh, and by some voodoo, it's only slightly wider than the Ninja Foodi 8qt, coming in at 18 inches.
How to Choose the Right Air Fryer from the List
Air Fryers might seem more complicated than other pieces of cookware, but when it comes to choosing one, there are only really 2 "do or die" criteria.
They are:
#1 How much food are you cooking?
Given the low prices at the moment, most people won't need to consider the air fryers smaller than 5qt. The decision here is really just "Is 5qt big enough, or do I need bigger?"
If you're regular feeding more than 4 hungry people, and you're wanting to cook multiple foods at the same time (say chicken and fries), it's probably worth looking at the bigger models like the Ninja Foodi 8qt
If not, you'll be fine with any of the 5 qt models on the list.
#2 How much do you value convenience?
With the slightly more expensive models, you get faster cook times and less fussing (say with flipping/rotating contents). If you're preparing dinner while chasing toddlers and trying to have a conversation with your spouse, the extra convenience could be a good investment.
But even if that's the case and you can't stretch the budget, options like the Dreo 4qt will still do the job. You're already saving kitchen time with this machine anyway.
What not to Worry About
Don't fry your brain (I had to say it. I'm sorry!) trying to understand the differences between the technology of different models. Mostly it's marketing-speak the brands use to try and make their products stand out.
What matters are the results. How well does the food cook and what does it taste like? Any variations of this kind I've noted in my descriptions above.
A Note on these Deals
I hope this article helps you choose the right air fryer for your household. Just note that through the holiday season, prices change regularly. I'll try to keep updating this article through December and notify you if anything new and worthwhile pops up.
Good luck!